Taco Madness
Taco Madness 2022: Congrats to Our First Back-to-Back Champ, Villa's Tacos! Come Celebrate at Our Live Event!
11:00 AM PDT on May 9, 2022
You all did it. You broke the record and made this Taco Madness online taco tournament the biggest yet with over 35 thousand votes counted since the voting began over a month ago.
Without further delay, we present to you the winner of Taco Madness 2022: With a whopping margin of 204 extra votes, L.A. TACO is officially naming Villa's Tacos the champion of our 2022 Taco Madness. The final vote count in this final vote was 6,267 votes for Villa's, and 6,053 votes for Sonoratown.
We commend Taco Madness's runner-up Sonoratown for their last-minute hustle to get the votes. It was a nailbiter all the way until 8:59 PM.
Villa's Tacos was ready to win. An Instagram Live video posted on their feed shows they had bottles ready to pop off and a corrido band set up on York Boulevard ready to serenade Villa's loyal customers who stood by his side. There were chants of "back-to-back" and Victor Villa bouncing up and down in celebration.
Villa's is our Taco Madness's first-ever back-to-back champion and joins Sonoratown as the only taquería in L.A. to have two Taco Madness championships.
What now? We are glad you asked!
Come take part in our official ceremony in the return of our in-person event happening at Santa Anita Park in the San Gabriel Valley! On Saturday, May 21st from 2 to 7 PM!
All while feasting on L.A.'s best taquerías in one place. Our confirmed list (and growing) taquerías who will have available for purchase at our event are:
Villa's
Sonoratown
Teddy's
Tacos y Que
Macheen
Los Dorados
Tacos Don Cuco
More to be announced soon...
For more information, check out the link here. Every single dollar from our ticket sales goes towards supporting our independent newsroom. (Tickets start at $15, which includes free parking.)
We hope to see you all there and celebrate with all the tacos.
---
FINAL ROUND
It has come down to this: Last year's champ, Villa's Tacos, versus, the 2x champion (2017 and 2019) Sonoratown.
The final four had over 14,000 votes last week. Los Cholos were looking to pull the upset of the century by almost beating Villa's Tacos, but in the end, Villa's pulled ahead with over 300 votes more than Los Cholos. Villa's is looking to be the first L.A. TACO MADNESS back-to-back champion, but not if Sonoratown has anything to do with that.
It's San Luis Rio Colorado mesquite-fired carne asada vs. Highland Parque's original crispy cheese gangsters.  Flour tortillas versus blue corn masa. There can only be one.
The polls are now open and will close at 9 PM on Sunday.
May the best taco win (though man, both are damn delicious).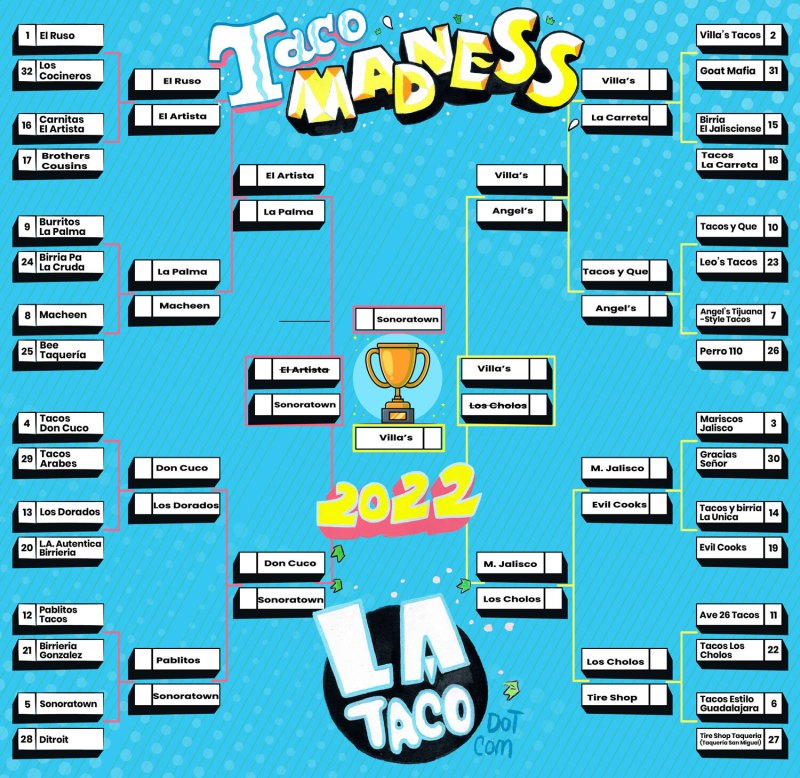 ---
Round 4
Are you tired of dueling to the death in the name of taco legacies in Los Angeles? We are not. Behold, the Final 4.
Last year's winner, Villa's Tacos VS.  Upstart Los Cholos, a #22 seed.
And another cinderalla story, Carnitas El Artista VS two-time champion Sonoratown.
Sonoratown and Villa's have been on a collision course since the 1st round, but the Cinderellas Carnitas El Artist's and Los Cholos have the power to change history and prevent either a three peat from Sonoratown, or another victory win for Villa's.  What a matchup.
Vote below. The polls are now open.
---
Round 3
Taco championships are earned, not given. This round saw the fall of a #1 seed, and underdogs thrive.
L.A. TACO would like to acknowledge Los Dorados L.A. who fought valiantly until the very last minute and lost to Tacos Don Cuco by one mere vote. What a buzzer-beater!
Past taco contenders will tell you: If you fall, pick yourself back up. There is always next year. There is plenty of Taco Madness left in the madness, so keep voting and supporting your favorite taquería below. Welcome to Round 3.
Meet the Sabrocho:
Carnitas El Artista
Burritos La Palma
Tacos Don Cuco
Sonoratown
Villa's Tacos
Angel's Tijuana-Style Tacos
Mariscos Jalisco
Tacos Los Cholos
---
Round 2
That was a battle royal to remember. Over five thousand of you bravely acted and heeded to your call of Taco Madness duty. You valiantly voted for your favorite taquería and after the first extended week of taco dueling, the results are in.
Meet the Spicy 16.
El Ruso
Carnitas El Artista
Burritos La Palma
Macheen
Tacos Don Cuco
Los Dorados LA
Pablito's Tacos
Sonoratown
Villa's Tacos
Tacos La Carreta
Tacos y Que
Angel's TJ-Style Tacos
Mariscos Jalisco
Evil Cooks
Los Cholos
Tire Shop Taquería
A couple of early upsets in this year's competition already includes Tire Shop Taquería, which won their opponent Tacos Al Vapor Estilo Guadalajara by a mere 10 votes! Newcomers from Orange County, Los Cholos, quietly took out L.A.'s $1.50 a taco neighborhood juggernaut, Ave 26 Tacos! Let's see what this next round will bring.
To all the victorious taqueros and taqueras who rallied their customers and are one step closer to being the Taco Madness champion, celebrate winning this battle, but remember the job isn't done yet. There is still lots of TACO game time left to play and it's still anyone's ballgame. This second round of voting will end at 11:59 PM.  The online taco battleground is once again open. Best of luck to everyone and thanks for supporting your friendly neighborhood editorial trompo's annual taco tournament.
---
Round One
The moment many of us have been waiting for all year has arrived: Welcome to L.A. TACO's 2022 Taco Madness. The Taco Life is calling upon you, Los Ángeles-dwelling and hardworking person, to show up for your favorite taquero or taquera.
For some of us, tacos mean the world. They represent nostalgia, regional pride, hard work, accessibility, culture, and perhaps most important of all: sustenance. Tacos unify everybody in this city. No matter where you are from and how much this city changes, the one constant will always be tacos and the desire to know where to find the best ones for residents and visitors alike. Yet, as you're rushing through the streets of Los Angeles to get to your next destination, it's easy to take the flashing neon signs, trompos, and smokestacks that dot almost every other corner of this city for granted. This is why we created Taco Madness more than 12 years ago, to remind you that we live in the best taco city in the country and it is up to you to keep it that way.
Keep driving a little bit out of your way to try a new spot out. Keep hitting one up to feast after going to a show. Keep challenging yourself to better pronounce their names in Español. Keep tipping your taqueros and taqueras, and keep supporting your taquerías.
This year's 32-seed taquería competitors were carefully chosen because they stay putting in work consistently on a daily or weekly basis, perfecting their taco muse for our amusement. This is your moment! Of course, L.A.'s legacy taquerías are all there too to reclaim their glory days. As equal-opportunity taco eaters, we have flour tortillas, corn tortillas, seafood, meat, plant-based, y todo. At Taco Madness, we believe in taco equality, after all.
All eyes will be on last year's champions; It's Villa's Tacos against the world.
Meet this year's Fierce 32. ¡Vote Now! Round 1's polls will close at 11:59 PM on Sunday, April 11, 2022.
El Ruso
Villa's Tacos
Mariscos Jalisco
Tacos Don Cuco
Sonoratown
Ave 26 Tacos
Angel's Tijuana-Style Tacos
Macheen
Burritos La Palma
Tacos y Que
Tacos Estilo Guadalajara
Pablitos Tacos
Los Dorados
Tacos y birria La Unica
Birria El Jaliscience
Carnitas El Artista
Brothers Cousins
Tacos La Carreta
Evil Cooks
L.A. Autentica Birrieria
Birrieria Gonzalez
Tire Shop Taqueria (Taquería San Miguel)
Leo's Tacos
Birria Pa La Cruda
Bee Taquería
Perro 110
Tacos Los Cholos
Ditroit
Tacos Árabes
Gracias Señor
Goat Mafia
Los Cocineros
Winner of This Year's Play-In Games:
Tacos La Carreta
Brothers Cousins Tacos
This year has proved once and for all that L.A.'s thriving taco life remains undefeated. Not even inflation, COVID variants, or high gas prices can knock down the fierce taqueros and taqueras of Los Angeles. To honor their resilience, L.A. TACO is once again proud to announce and kick off our annual online taco tournament, for its 14th year.
But before we announce the official lineup. We are doing things a little bit differently this year. With so many emerging taquerías, we are introducing a "play-in round" consisting of four competitors that we've kept a close eye on over the last year. The winners of this pre-tournament wild card round will move on to the official bracket to be announced on Thursday morning and have a shot at de-throning Villa's Tacos.
The first four competitors are:
Tacos La Carreta vs. Tacos El Champ
Brothers Cousins Tacos vs. El Chori-Man
For the first plain-in seed, it is a battle of the carne asadas with the taco truck Sinaloan-style La Carreta versus taco stand Tijuana-style El Champ. For the second, it is a battle of suadero vs. chorizo with Brothers Cousins Tacos representing West L.A. going up against the pride and joy of San Pedro, El Chori-man.
The online polls are now open and will close at 11:59 PM on Wednesday, March 30th. You may only vote once per round. The winners of this play-in round will be announced on Thursday morning at 10 AM, along with the rest of this year's competitors. The team behind L.A. TACO is working hard and monitoring COVID restrictions to culminate this year's bracket with a live in-person event, so stay tuned on that front for any announcements.
We encourage all L.A. TACO readers to make your way to all the taquerías in competition this year to support and taste their specialty tacos for yourself before voting. May the best taquería win. There can only be one TACO MADNESS winner.
Stay in touch
Sign up for our free newsletter