Los Angeles
'You Have My Support' — A Look Back at the Tenure of Outgoing LAPD Chief Charlie Beck
4:18 PM PST on January 29, 2018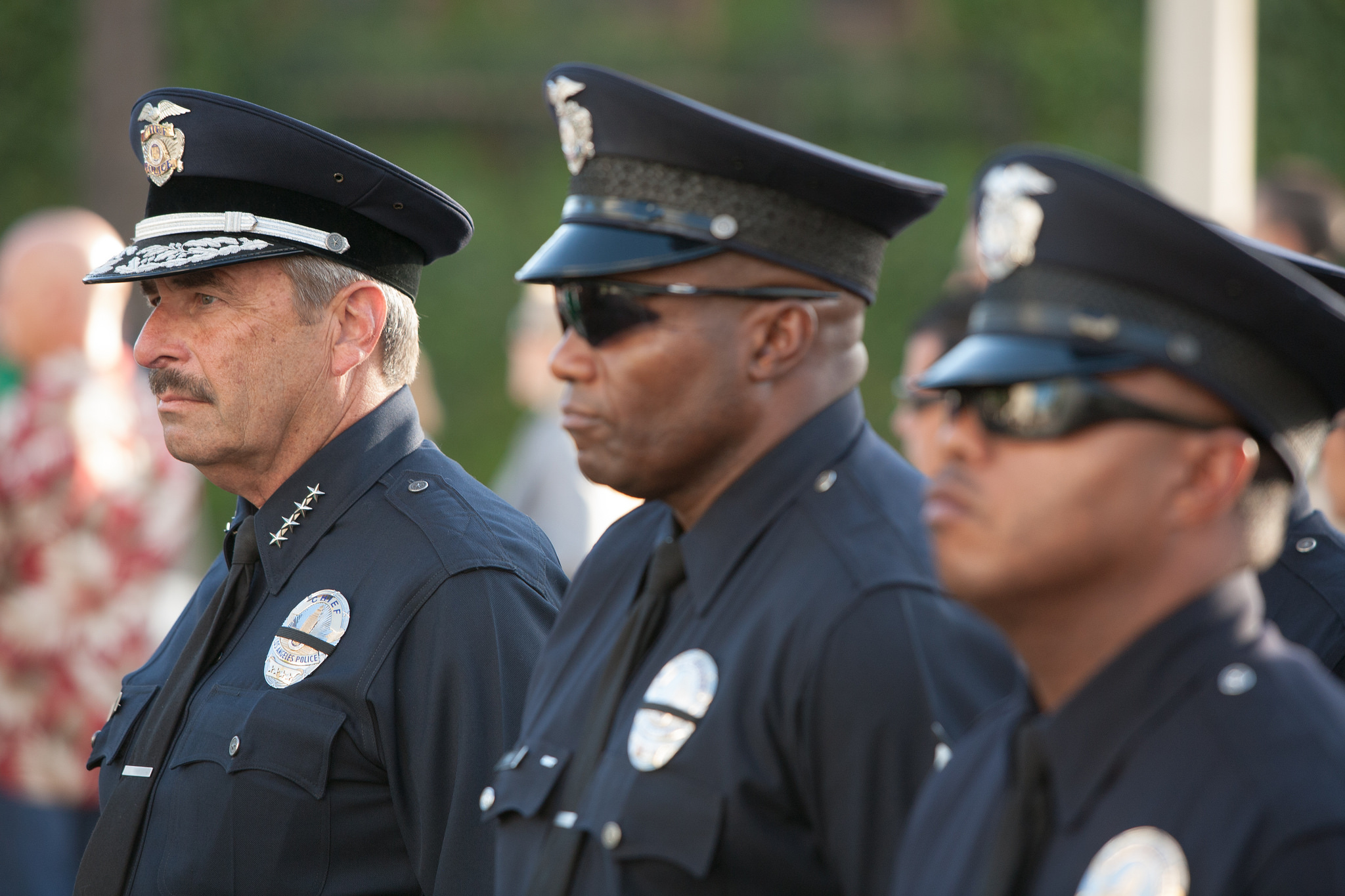 LAPD Chief Charlie Beck announced his retirement on Jan. 19, after more than 40 years on the force. Beck's last day will be on June 27, his 65th birthday. How did Beck do as chief of one of the most emblematic police departments in the nation?
Beck's tenure began in 2009 and spans a period from the federal consent decree authorized after the Rampart scandal, to the current-day push for progressive reforms around officer discipline and accountability.
Overall, L.A.'s historically low crime rates more or less held, and the chief also held the line on Special Order 40, the LAPD's long-standing policy that prevents officers from questioning people for the sole purpose of determining their immigration status. Yet during Beck's run, the release from the federal consent decree did little to affect the high number of police killings of civilians in L.A. Nor did the likelihood increase that an officer who is faulted by the civilian Police Commission for improper use of force winds up being punished.
Instead, Beck sought gradual reform of LAPD culture and policy, by emphasizing new training and the use of less lethal alternatives for force. City officials have acknowledged the reforms are a work in progress, and Beck's successor will have to decide how far the department is willing to go to satisfy increasingly vocal calls for deeper reform.
Along the way, Beck had to navigate a political landscape changed utterly by a national upheaval over the police killings of unarmed black men and women. Thirty-eight men and women were killed by LAPD officers from 2015-2016, the most of any U.S. city during that time, according to data compiled by The Guardian. Since L.A. has a larger population than most of the cities on the list, it did not have the most shootings by police per capita, though it did rank above similar-sized cities like New York and Chicago.
'Why didn't an Ezell Ford story become an Eric Garner story? Why didn't Wakiesha Wilson's story become a Sandra Bland story?'
Supporters and detractors alike attribute Beck with a political savvy and intelligence that is unusual in a city whose police chiefs had been known mostly for the tough, on-hands, and in-the-spotlight approach.
"If you're asking where he is on the continuum of chiefs in the time that I've been in L.A., no one compares to him," says Carol Sobel, a civil rights attorney and board member of the National Lawyers Guild in Los Angeles. "Even though we haven't always seen eye-to-eye, and I repeatedly sue him (I have lawsuits against him now), there is no chief in my time in L.A., which is since 1971, who has been as willing to enter into discussions, who has been as willing to at least listen on some issues."
Sobel has litigated police crackdowns on protesters in L.A. since the '80s, and she says it is now the safest big city in which to demonstrate.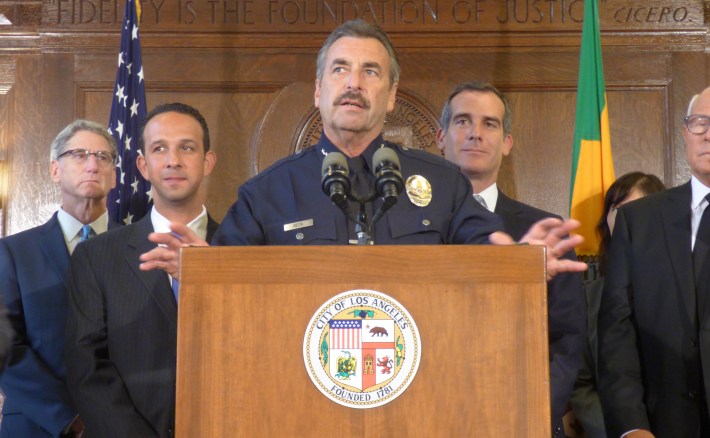 Beck was a protégé to his immediate predecessor, Chief William J. Bratton, a colorful and headline-grabbing outsider who from New York who engineered the department's release from federal monitoring. Beck, the son of former LAPD deputy chief George Beck, nonetheless embraced Bratton's then-unorthodox model of "community policing" that emphasized the cultivating of relationships in the community to help reduce crime.
"The LAPD under Beck is no longer policing like an army of occupation as they did really until Bratton came in," says Joe Domanick, associate director of the Center of Media, Crime and Justice at the John Jay College of Criminal Justice, and author of Blue: The LAPD and the Battle to Redeem American Policing.
"One of the things he always says is you have to be a police chief for your time. And he was a police chief for his time," he adds.
In Sync
Beck's style and outlook were in sync with the low-key liberal mayors, city council members, and police commissioners under whom he served.
He didn't hesitate to express support for L.A.'s massive community of immigrants, some 375,000 of whom live within city limits but are in the country without papers. He made a new policy on vehicle impounds that restricted when officers can seize the cars of unlicensed drivers. This came in 2012, when undocumented immigrants were still forbidden by state law to obtain driver's licenses.
He was also one of the first law enforcement officials after Donald Trump was elected to announce that the department would not comply with the new president-elect's pledges to toughen federal immigration laws or deport millions of people.
L.A. Police Commissioner Matt Johnson reacted to Beck's retirement with a statement giving Beck credit for, among other reforms, equipping every officer in the field with a body camera and starting an LAPD training program on de-escalation, implicit bias, and skills to handle cases involving the mentally ill. These steps to reform policy were taken amid high-profile police shootings of unarmed black civilians including Brendon Glenn in Venice, Charly "Africa" Keunang on skid row, and Ezell Ford in South L.A.
Johnson, who was appointed to the commission by Mayor Eric Garcetti in 2015, called Beck "a true partner" and "a good friend." A presidential task force under then-President Obama even cited the LAPD's community policing efforts and civilian oversight under Beck as models for other agencies to draw upon.
'A police chief for his time.'
It was a far cry from the tarnished reputation the LAPD was left with after the Rampart scandal of the late '90s. Ultimately the case left 70 officers implicated in a disturbing pattern of excessive force, false arrests, and unreasonable searches and seizures. The Los Angeles Times called it "the worst corruption scandal in LAPD history."
An investigation by the U.S. Justice Department's Civil Rights Division found "serious deficiencies" in the training, discipline and accountability of officers, a failure of the department "to identify and respond to patterns of at-risk officer behavior," and an overall lack of meaningful oversight of the LAPD. It was another major setback to LAPD's overall relationship to the community, less than a decade after the L.A. Riots of 1992.
Beck was both the fortunate and unfortunate heir to the administration of the more self-assertive Chief Bratton, says Glynn Martin, former director of the Los Angeles Police Museum and a 20-year veteran of the department who served with Beck in the '80s.
"Fortunate," Martin says, "because Bratton did so many things to advance the department, particularly getting the department released from the federal consent decree. And unfortunate, because those are pretty doggone big shoes for somebody to fill, even though he had the advantage of spending many years with the department prior to that."
Beck guided the LAPD through the final three years of the federal consent decree, which wasn't lifted until 2013. But the following year, Beck's department found itself embroiled in the swelling national uproar over the police killing of unarmed civilians.
Killing Ezell Ford
It was 2014, the year Michael Brown was shot and killed by an officer in Ferguson, Missouri, and Eric Garner was choked to death by police in New York. In Los Angeles, a 25-year-old black man named Ezell Ford was shot to death by two LAPD officers who had stopped him while he was walking near his South L.A. home. Ford, diagnosed with schizophrenia and bipolar disorder, was unarmed.
The killing of Ford, and the convoluted judicial review that ensued, reopened old wounds in L.A.'s black community, and renewed old doubts in the LAPD. When the city's revamped civilian review board later concluded that one of the officers responsible for Ford's death should not have stopped him in the first place, Beck disagreed and recommended the officers be cleared.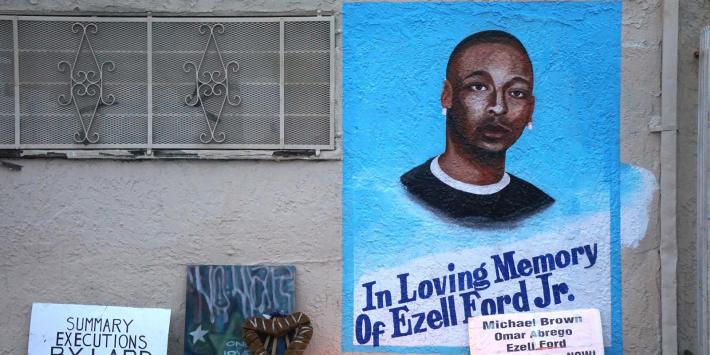 Beck drew the ire of activist groups two days after the commission's decision, for a statement he delivered to LAPD officers, via a video message: "You have my support. You have the support of the mayor. You have the support of the vast majority of the people of Los Angeles. … That support is what will protect you, just like the vest that you're wearing protects you."
It was a pattern to be repeated, with some variation, in the years that followed.
"When he did that, it made us recognize that even in situations where the oversight body has said these officers are out of policy, we have a police chief who's going to condone police murders," says Melina Abdullah, chair of Pan-African Studies at Cal State University Los Angeles and a leading member of Black Lives Matter L.A.
Black Lives Matter L.A. and its supporters have called on the city to fire Chief Beck since 2015. The following year, when the group's members raised the ante with a 54-day protest encampment across the street from the mayor's office, they made "Fire Chief Beck" a protest mantra.
Los Angeles managed to avoid the scale of unrest over the killing of unarmed black men that rocked cities like Baltimore, Minneapolis, St. Louis and New York — even though L.A. outpaced them all in officer-involved shootings in 2015 and 2016.
Abdullah gives Beck partial credit for the difference.
"He is very savvy in terms of his PR," she says. "L.A. has really ducked the national media scrutiny around its role in killing black folks. Even though LAPD has led the nation in the killing of its residents for years, that is not a national media story."
Adbullah adds: "Why didn't an Ezell Ford story become an Eric Garner story? Why didn't Wakiesha Wilson's story become a Sandra Bland story?  Part of it is Charlie Beck has invested a huge amount of department resources in a PR team that includes between 60 and 70 sworn officers plus civilian support staff and workers. He's very PR savvy. It's a skill set he has."
A 2015 report by the Police Commission's watchdog found that the LAPD did not uphold any of the 1,356 complaints of biased policing by officers that the agency investigated between 2012 and 2014.
Chief Beck upset a far different constituency when he recommend criminal charges against an LAPD officer who killed an unarmed homeless man in Venice in January 2016. It was the first time that Beck called for criminal charges in an on-duty shooting.
"I'm going on 37 years in this department and we've never, ever had a chief recommend criminal charges on a police officer in a shooting," says Craig Lally, president of the Los Angeles Police Protective League, the union that represents rank-and-file police officers, which opposed the chief's decision.
Though the Police Protective League has been highly critical of Beck at times — suing the chief in 2016 to stop what it called Beck's "corrupt influence" over a board that decides discipline cases for officers facing long-term suspension or termination — Lally says he generally agrees with Beck on policy.
"He's done over forty years of service, and being the chief of police in the city of Los Angeles is a very, very difficult job," Lally said.
'I think the body cam policy is the one of the best in the country.'
Chief Beck's legacy as a reformer will come into clearer focus in the months and years ahead as city officials continue to work out ways to modify reforms like the body cam, and new use of force guidelines he supported as chief.
Beck's strongest critics have called the policies insufficient, even toothless. In several recent officer-involved shootings — including one of a teenager in Boyle Heights — the officers didn't even turn the cameras on until the shooting was over.
Melanie Ochoa, a staff attorney for the ACLU of Southern California, told me last year that the current policy undermines the use of body cams as tool of transparency and accountability. "It furthers the perception that police are hiding something, and doesn't allow the public to understand how and why its officers choose to use deadly force," she said.
The Police Commission asked the public for feedback last year as it considers changes to the policy. And though city officials appear ready to ease the restrictions on the release of footage, Beck has recommended waiting until police have collected witness statements, forensic analysis and coroner's reports, which entails a lengthy delay of weeks or months after a shooting.
"I think the body cam policy is the one of the best in the country," says Lally of the LAPPL. "One thing the chief did, he allowed officers to review the videotape of an incident, a shooting or crime report, prior to any documentation. And the reason he did that is because he wanted accuracy."
As for changes to the use of force guidelines, the ACLU called them encouraging, but ultimately withheld support in part because the new language "left ambiguous whether the de-escalation provisions are requirements or toothless introductory statements."
Beck's supporters, like author Joe Domanick, have hailed the reforms as important gains in a long effort to transform the internal culture of the LAPD.
"They're groundbreaking. And they're permanent," Domanick says. "And if they're not perfect, that's because that's what the culture [of LAPD] will stand right now. So you just build on it, which is what the police commission is trying to do right now."
He added: "I think Beck has a real streak of decency in him. He also has a very good political instinct."
Jason McGahan is a two time LA Press Club award recipient and a former staff writer for LA Weekly.
Stay in touch
Sign up for our free newsletter