Street Vending
SELA'S Patata Street and NELA'S Avenue 26 Street Vendors Team Up After Bell Shuts Down Its Growing Night Market, Citing 'Risk to Homeless Shelter' Nearby Among Concerns
11:48 AM PDT on August 25, 2021
[dropcap size=big]I[/dropcap]t's been three weeks since the abrupt closure of Lincoln Heights famous Avenue 26 night market, and vendors are still waiting for answers from the city. Despite having meetings with councilmember Gil Cedillo and his team, vendors have not received a word regarding a possible relocation. 
Cedillo's team shut down the street vendors' own attempts to relocate near Avenue 26 and has not responded to a PowerPoint with five different locations as possibilities presented to them by Joseph Calderon, CEO of ATM Dependable. To make matters worse, two weeks after the closure where fences were seen going up on Artesian Street, Cudahy's popular Patata Street market, another beloved market in southeast Los Angeles was also shut down. Now the street vendors from both markets are teaming up in their search to find a new permanent location. Combined, the total number of vendors displaced from these closures is somewhere around 130 according to each market's vendor count. 
The early beginnings of both markets began almost at the same time, out of necessity during a continued pandemic that left many in the city of Los Angeles out of a job. Most who were laid off from their jobs turned to what they knew best: food. Thanks to street vending, many were able to stay on top of bills and family expenses. Both markets also became overly popular thanks to videos circulating on TikTok showing the variety of cuisines these markets had to offer.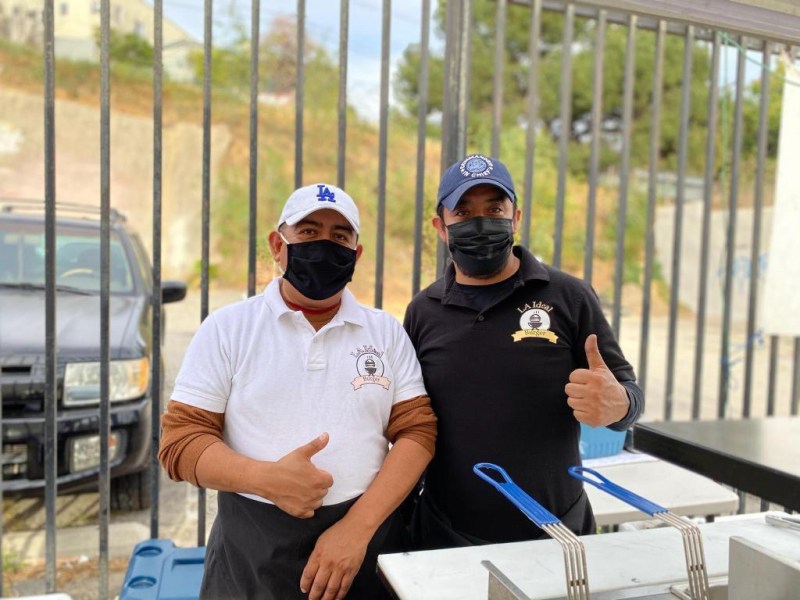 Ultimately, overcrowding, sanitation, and safety issues were the reason for closing Avenue 26 night market and Patata Street. Although street vendors from both markets understand the reasoning behind the closures, some vendors from Avenue 26 said they still don't know why there was no warning. 
"I've heard of other places where they get up to a two-month warning from the city, letting them know when they'll be shutting down to give people time. But with us, it was just fences going up, and that was that," said the owner of LA Ideal Burger, Sergio Madriz.  
Madriz, who runs his burger stand with his compadre, is one of the vendors who mobilized during the shutdown and attended the protest outside Cedillo's office. He said all they want is a concrete answer as to what the next step is for vendors. "They just said to wait, but you get tired of waiting, and we can't wait too long because, as I said—we have to pay bills."
The vendor who used to sell at Avenue 26 sells a unique variety of hamburgers like Al Pastor burgers, La Poblana, and a Oaxacan-inspired cheeseburger. The vendor said he started selling food due to him being laid off from his job during the pandemic. The two friends first started selling in Echo Park before they were directed to Avenue 26. After talking to vendors and finding a spot to sell, he never left the market until the fences went up.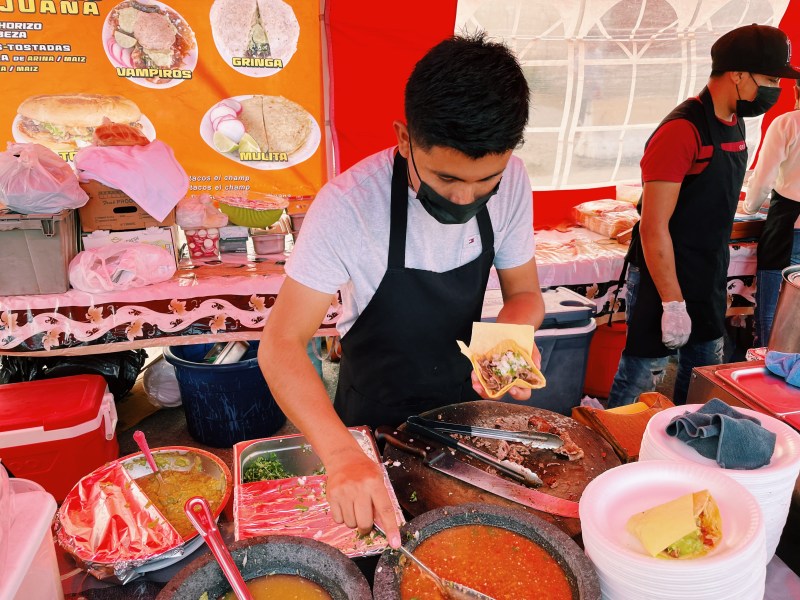 "When we moved to Avenue 26, it helped us out so much financially because we were out of jobs and fully depended on our sales," Madriz explained. "Plus, we would split the earnings, so to make enough for the both of us at Echo Park was difficult, but at Avenue 26, it was stable and consistent."
The owner of Pizzeria Principe, Germán Pérez, said he also benefited from his time at Avenue 26. Pérez is a part-time street vendor who works at a restaurant during the week and sells his famous firewood pizza's on weekends. He is also one of the few vendors who began selling at Avenue 26 before the exposure from TikTok popularized the market. 
"Fue mucha ayuda (it was a lot of help) for us because we established our spot at Avenue 26, we already had our regular customers and were always guaranteed new ones because of how popular it got," Pérez said. "Ahí estábamos bien, (we were good there) we had secured what we thought was a safe spot."
Stability and safety are what vendors in Los Angeles continue to look for as they navigate a complex and, at times, confusing permit system. For vendors of Avenue 26 and Patata Street, the markets were safe spaces. 
"The response is always to shut down these types of spaces, and that should never be the answer, and certainly not when there's no clear path forward," Policy Director for the non-profit Inclusive Action, Lyric Kelkar, said. "These markets also show the need for these types of spaces because vendors see them thriving, and they want to be a part of that."
One week after the closure of Avenue 26, vendors did attempt to relocate to the city of Bell, where on Rickenbacker Road, they temporarily set up for that weekend only. "It was pretty successful, or so we thought," said Madriz.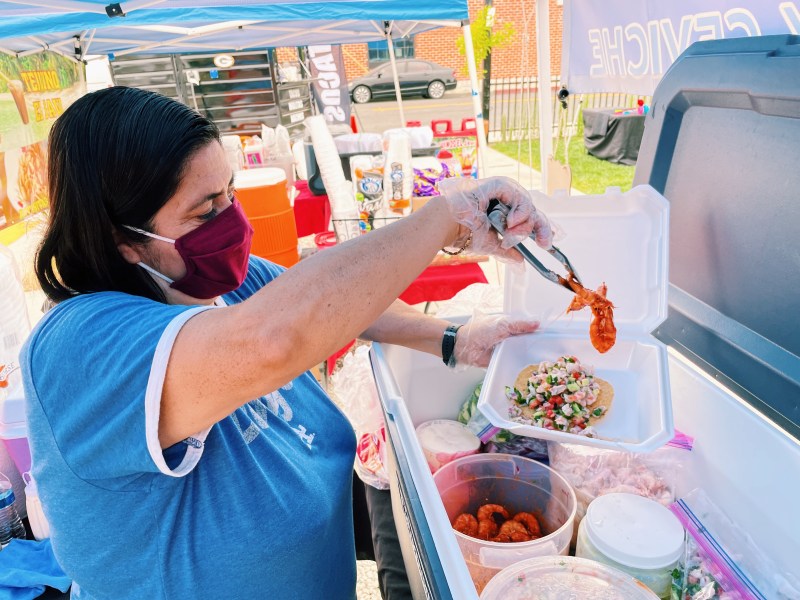 Vendors were hopeful that the move to Bell would be a good one until the city raised their concerns regarding the location. In a public statement, the city who had been in communication with vendors from Avenue 26 that Friday said vendors failed to communicate with adjacent businesses that included the Salvation Army, Shelter Partnership, Pacific Industrial, and the Los Angeles Unified School District in regards to the market taking place that weekend. The city of Bell explained that the event "limited public safety access to a critical regional center that serves the homeless, placing the residents of the shelter at increased risk during the event." 
They added: "As representatives of the property owners and the Bell Police Department monitored the event, it was noted that significant sanitation, public health, and safety issues occurred during this unauthorized event. Most critically, fire department access to the Salvation Army shelter was blocked by the vendors on Third Street...Based on the inability of the vendors collective to organize professionally with the property owners and the City, all three property owners have authorized the City of Bell to enforce laws applicable to property infringement and trespassing. All parties remain sensitive to the needs of the vendors and are open to solutions that would lead to an organized and professional event, but to preserve public health, civilian safety and protect the at-risk homeless population, the Bell Police Department will limit access to the area and will not allow the Night Market to occur."
In response to the statement from the city and out of respect, vendors from Avenue 26 did not set up the following weekend in Bell. Instead, most either found different locations to go to or simply did not sell again. But they said the Bell event was well organized. They took everything Lincoln Heights said was wrong with the market and once again addressed the concerns. 
"The city likes to say that we vendors are not united or organized, but that's not true; we are in this together, and we are doing the best we can."
At the Bell location, L.A. TACO confirmed that there were multiple trash cans throughout the event, hand sanitizers at vendor stands, and outside the portable restrooms. Whether selling food or goods, vendors all wore masks, and some even wore gloves. Vendors went as far as to showcase how clean everything was left the following day on their social media accounts. 
"The city likes to say that we vendors are not united or organized, but that's not true; we are in this together, and we are doing the best we can," Perez said. Madriz couldn't help but agree with him. "Being organized is very important. At Avenue 26, we tried doing everything they told us. They wanted restrooms? We got some. Trash pick-up? We hired someone. But I don't know what happened. It always seems like one step forward and three steps back."
Vendors at Patata Street Market in Cudahy share some of the same opinions about the closures as Avenue 26 vendors. Yasmin Alvarez, 27, owner of Pica Osita, and Lorena Armenta from Mariscos Lore said Patata street was something special. They both began vending in the pandemic after losing their jobs, and when they turned to the market to start their new businesses, they were met with open arms. 
"In these types of spaces like Patata Street, we have been able to build and find community in very trying times," Alvarez said. "We truly tried our best in organizing with vendors, especially when concerns were brought up in June. We all addressed that together, in person and our group chat," Alvarez said, referring to the first closure on June 18th when the Union Pacific Railroad Police shut down the market.
In their group texts, vendors most recently shared information on potential new locations, events soliciting specific types of food and vendors, and resources on how to obtain their permits. Vice Mayor Elizabeth Alcantar, who has been a supporter of the market, assured members that the problem wasn't the lack of available parking lots or spaces but really that vendors need their permits. 
In particular, a health permit, which is required to sell legally in Los Angeles. Both have also been pointed to events where they can sell, but these events often come with high fees and ultimately will ask for all required permits. Officials have also directed vendors to get a TFF or a Temporary Food Facilities permit, often used for farmers' markets. But as stated on the LA County Health Department's website, vendors are still "required to obtain a health permit." Although the way these events are managed is something for organizers to look at, they said they aren't necessarily the answer. 
When dealing with farmers' markets and TFF permits, aside from having the proper paperwork, vendors would only be able to set up a limited amount of times per month. Something that does not align with the weekly set-ups that night markets have. Even if vendors did decide to apply for these permits, the processing time of a permit varies depending on the type of product the vendor is selling. For Alvarez, who sells candy, it took her eight months to get all the permits required, including the health permit. But for someone who sells food out of a stand or cart, that health permit is nearly impossible to get.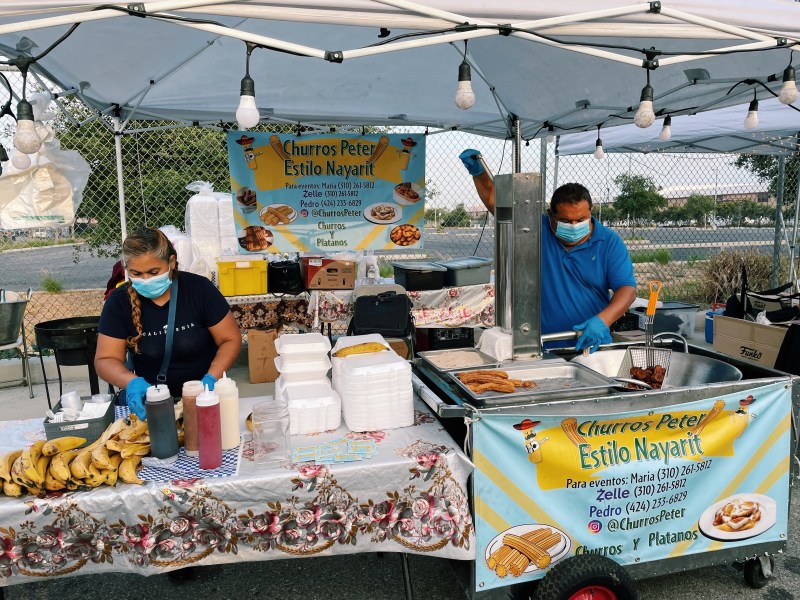 "The problem stems from a tangled web of state, county, and city laws that deprive sidewalk vendors of access to permits to legally sell food, denying vendor dreams of entrepreneurialism while hurting all Angelenos by undermining the food safety principles the laws claim to protect," said Scott Cummings, a co-author of a new report titled "Unfinished Business," which was conducted with the LA street vendor campaign, UCLA Law, and Public Counsel. 
Yesterday, vendors from both markets were set to meet with Cudahy's Interim City Manager, Alfonso Noyola, to discuss possible next steps for the vendors. Unfortunately for vendors, the meeting did not go as planned. Vendors and a local vendor advocate, Edin Enamorado, tells L.A. TACO that Noyola showed up 30 minutes late, and in front of the vendors, said, "I didn't want to meet them." Enamorado continues, "When [Noyola] noticed the vendors present, he was super rude and disrespectful, he ended up leaving, but his assistant said they weren't going to offer anything temporary," Enamorado said.
We won't stop fighting and searching until we find a new location.
Instead, vendors were told by Noyola's assistant that a permanent location was being looked at, but getting the site ready would take a couple of months, according to those present. L.A. TACO reached out to Noyola for comment regarding a relocation, to which he responded via email, "The City is currently exploring options that include meeting all state, county health department, and local ordinances." No further details about the location were shared, but vendors who sell food will undoubtedly need a health permit by then. 
As for Cedillo's office, L.A. TACO is yet to hear back from his office despite multiple emails sent. 
Vendors from both markets expressed wanting to stay in the city where their markets grew, so for now, vendors from Patata St. will be setting up temporarily on Atlantic Boulevard Cudahy, and vendors from Avenue 26 will be on 15th street and Alameda Street in Lincoln Heights.
"The community enjoys coming out to try new food. If people in the community didn't like any of the many markets in Los Angeles, these markets simply wouldn't exist," said Pérez. "But we have to follow the rules. If the city says you can't be here, we have to move, no hay de otra (there is no other option). 
'But, we won't stop fighting and searching until we find a new location."
To stay updated on any new information regarding both markets, follow @Avefamilynightmarket and @Patatastreetvendors on Instagram.   
Janette Villafana is a multimedia journalist from Santa Ana, CA who often covers stories that highlight diverse communities, their issues, success, and personal stories.
Stay in touch
Sign up for our free newsletter