Music
Reyna Tropical Aims To Revolutionize Latinx Music By Creating Their Own Space
10:54 AM PDT on May 25, 2021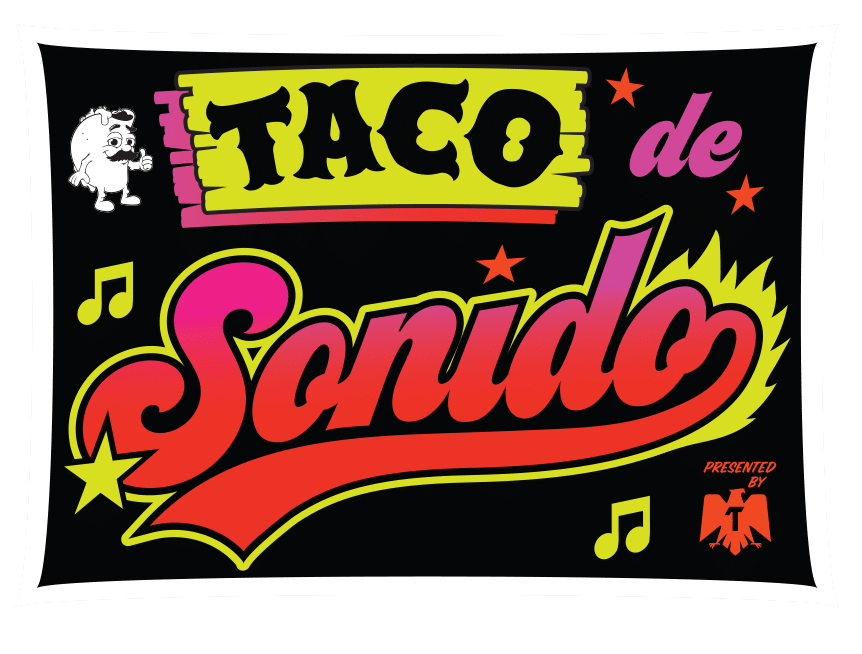 Welcome to Taco de Sonido, our new monthly music column presented by Tecate, the official beer of L.A. TACO. Each month we'll bring you the latest up-and-coming artists that are staking a claim to the new sound of Los Ángeles. Read, listen, share, and don't be afraid to share your comments or suggestions for new artists for us to check out. We've got our ears on the street but we want to hear from YOU.
Subscribe to our Spotify playlist to hear all of the artists we've profiled for Taco de Sonido.

[dropcap size=big]T[/dropcap]he story begins after a 5 AM DJ session. Two artists, Sumohair and Fabi Reyna, who make up the electro-world pop duo Reyna Tropical made a celestial connection in the wee small hours of the morning when they decided to start making music together. "We come from two different worlds," Reyna recalls. Her counterpart Sumo aka Nectali Díaz is based out of Los Angeles, and Fabi lives in Portland, yet despite the distance between them they sought to create something new. They found themselves bonded through their love of psychedelic cumbia sounds, which the duo found on the seminal compilation series The Roots of Chicha.
Fabi, a guitar virtuoso who had just come off a stint with early no-wave composer Glenn Branca's Orchestra and Diaz being known for his unique beat-making skills made up of sounds from around the globe came together to form the group.  Their diverse backgrounds are what ultimately led them to find that creative spark allowing them to create music together. The music of Reyna Tropical aims to defy any type of preconceived notions of music and genre. Given that fact, the band still maintains the ability to craft a sound that is very much of the moment featuring a solid amount of world appeal.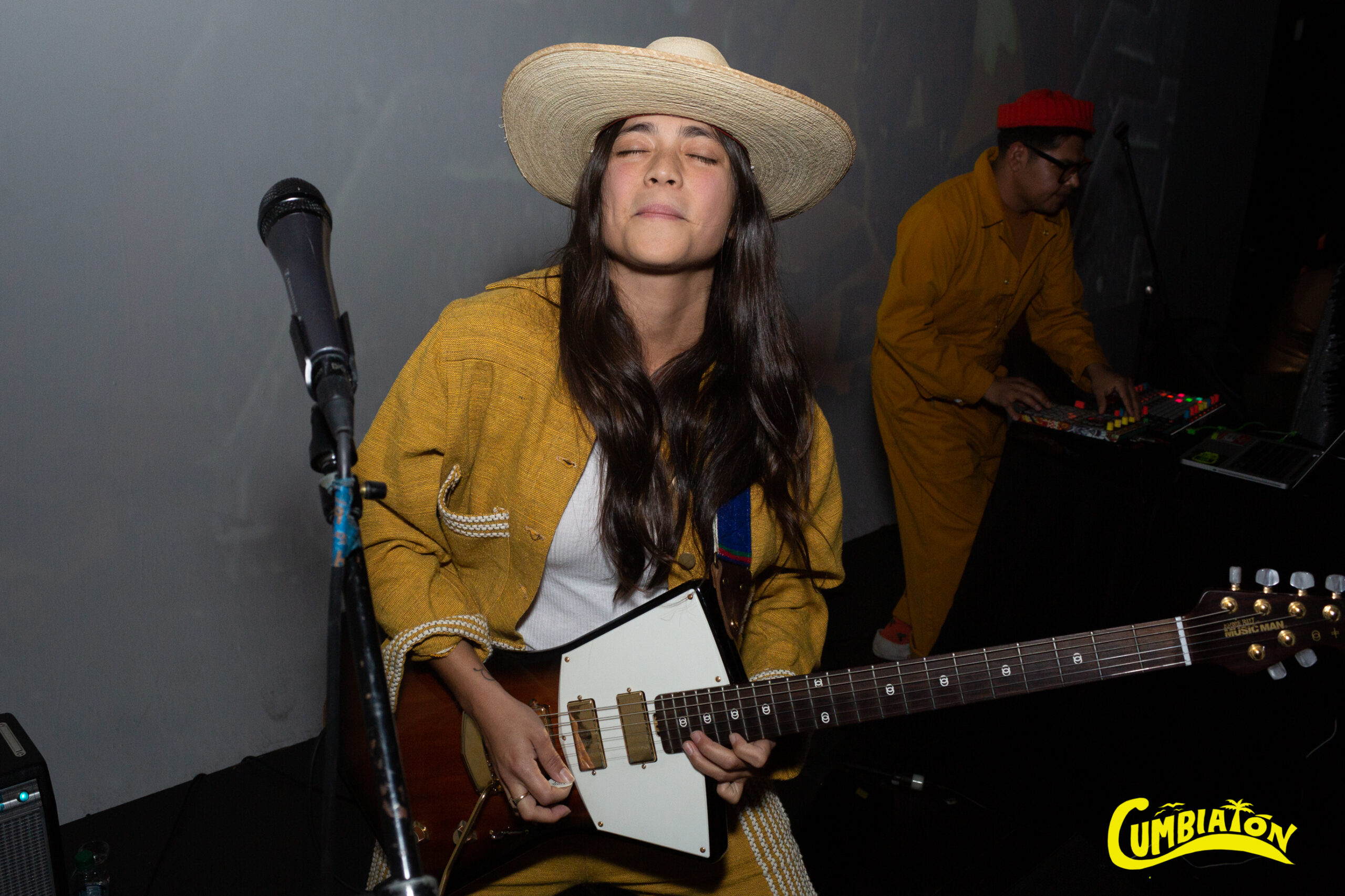 Being inspired in part by the sounds of Chicha allowed Fabi to think differently about how she approached her guitar playing. "The Peruvian psychedelic cumbia really gives the guitar like a whole other melodic identity," she muses. 
Reyna Tropical's music and writing style occurred organically as the pair began working together. "We didn't question it. We went into the studio just to see what would happen. That's kind of how we've gotten to know each other and our tastes," says Fabi. 
In the before times, the duo had cultivated a work ethic allowing them to tap into their creative energy at breakneck speed and efficiently. "I'm the kind of person that doesn't like to work on something for too long. Because I feel like when I do, we begin to lose momentum," says Diaz. 
The duo has always been drawn to the idea of documenting a sense of time and history through their music. Songs such as Como Fuego begin with Fabi's cosmic guitar tones, which seem to shimmer like the late afternoon sun that you can find reflected off the coastal water of some far-off and exotic place. As you take it all in, Diaz's percussive sounding beats emerge, providing the song's heart center. Before you know it, the song's essence has drawn you in, and you're whisked off to that far-off place with these new friends you've just made to help show you the way.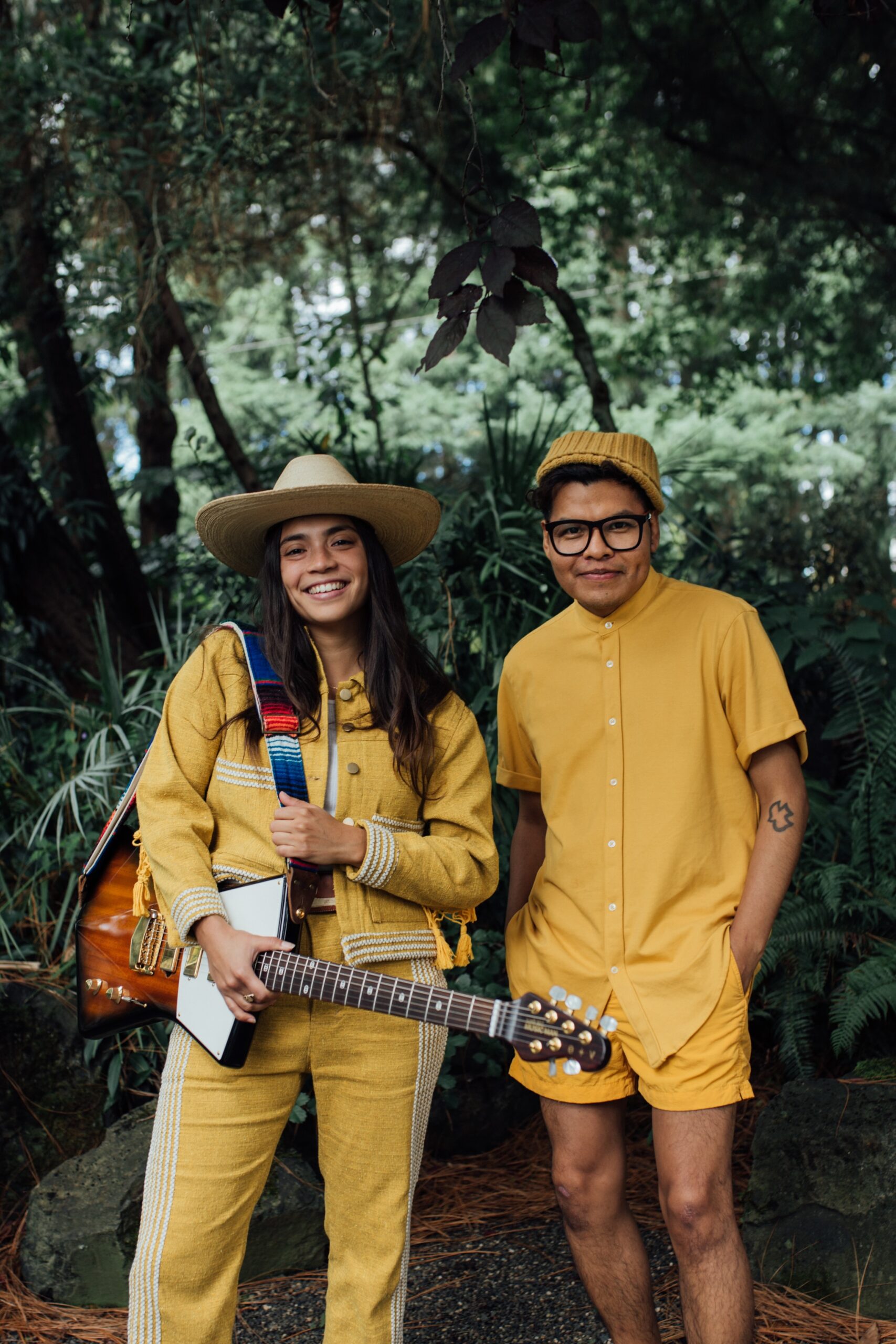 The two friends, despite living in two different places, in the past would have to come together in-person to create their sound. However, because of the global pandemic, the duo was forced to reconsider what was required of them both as musicians and as people.
The result from those lockdown sessions is Encerrada (featuring the work of guest vocalist Y La Bamba). It took the group an entire year to write and release the record but for good reason. The song finds the group delving deeper into their creativity and emerging as a more mature and self-realized version of themselves. The song's subject matter deals with the feeling of being closed off from the rest of the world yet still manages to convey a sense of inner peace.
"I've had to learn how to be a frontwoman which has brought out such a different character," remarks Fabi. As the founder & CEO of She Shreds, Fabi was primarily a guitar shredder but since starting Reyna Tropical, she's forced herself to take on singing lead vocals along with playing guitar and synth.
 The move represents something deeper for Reyna Tropical, who are emerging from the past year as an opportunity to re-introduce themselves, especially as they begin to take the stage again. Finding the balance of wanting to capture some of the raw and fluid energy of their early work along with their newfound sense of calm and cohesiveness from this past year.  Building on that momentum derived from previous live performances allows Reyna Tropical to continue to sharpen its focus. "I feel that performing is a real art, you know, engaging with an audience, making sure that their experience is connected," says Fabi. 
Taking cues from the dysphoric sounds of Latin America, especially the African cultural impact on music in Latin America, Diaz's influences were cultivated through scouring the internet. Rattling off some of his favorites could easily serve as a Master's thesis in Ethnomusicology. From Soukouss from Central African that features a signature and distinctive guitar sound to the rhythmic sounds of Champeta and Bullerengue with roots found in places such as the Caribbean shores of Colombia and parts of Panama just to name a few. "When I think of Reyna Tropical and how I describe our sound, it's these sounds being connected and trying to find a balance between electronic music and these old folkloric sounds," says Diaz. He is quick to give credit to these influences as to not appear as appropriating these sounds but rather paying a genuine homage.  
Having such a distinctive sound fueled by such influences has allowed Reyna Tropical to create their lane in many ways, especially for a band from the United States. Diaz, recalling the feeling of putting out their first record said: "I felt like not a lot of people were making music like ours. I heard people in Colombia and Latin American were making music like we're making. I couldn't think of a lot of people here that were messing around and working with those sounds." 
Discussing their songwriting process, Fabi's influences can be found beyond what the common listener might think of when it comes to the idea of conventional music. "I've been thinking of myself as someone interested in certain frequencies and sounds. I think part of that is being in a deep, deep relationship with listening, not just through music but also nature. To me, there's a lot of story in the sounds of sound, not just human voice, but like water and even the breeze through the trees," says Fabi.
Through the collages of sound that Reyna Tropical creates, they aim to distinguish themselves as entirely their own sonic entity. "People who listen to genres I had mentioned before, they would probably hear our music and be like, 'Yeah, that's not that" and that's great! We don't want it to sound like [those genres]!"  The same goes for anyone who is looking to categorize them in any capacity, which is an idea that Reyna Tropical is still grappling with.  
"I wouldn't want to be defined as anything, period. I hate for us to get put into a box. People say "'you guys belong in the Latinx box' because we are Latin. That's something that I'm really against," Diaz says. Diaz believes that cultural identity can be seen as more fluid, which makes sense when you hear Reyna Tropical's music. "We are what we want to be whenever we want to be, you know? We have our own identity," Diaz says.
Taking it a step further beyond that, what Reyna Tropical aims to continue to do is what Fabi describes as having the urge to "revolutionize" the meaning of Latinx. By allowing for a more multi-dimensional approach when thinking of the term. "I'm interested in making a space for it to exist since it doesn't have that right now. I want it to be an important blend of cultures that it becomes Latinx, because Latinx is a blend of cultures, a blend of people, a blend of identity, but right now, people don't think of it that way", she says.
In terms of what they hope that listeners take away from their music: challenge expectations, hear something different, and of course dance. When discussing why it's important to make music for people to move to, despite the sometimes sad nature of lyrics, Diaz refers to the Spanish word "malegria", meaning finding both a sense of joy and melancholy in a situation when describing their lyrics. "There's a perfect balance of happiness with the beat and the rhythm and you can dance to a situation that's not the happiest. You can find a way to celebrate sadness," says Diaz. 
The notions of duality ring true in many ways when it comes to their music, whether referring to cultures or emotions.  The group ultimately aims to embrace all things by providing a more nuanced lens in terms of their artistic and creative endeavors. Despite all of that, the group remains humble, especially navigating what it means to be musicians in a post-pandemic landscape. 
"We're very grateful because we've already surpassed our expectations. We've been very fortunate that people have, even throughout COVID, been seeking us out," said Diaz. Fabi adds the band has emerged this past year with a new sense of purpose. "To serve another community to be present for other people, you need to be solidly connected and really, solidly aware of yourself," says Fabi. In May 2021, Reyna Tropical donated 100 percent of their sales to the Museo Del La Culturas Afro Mestizas in Costa Chica, Guerreo—an area of Mexico that houses the largest group of Afro-Mexicanos as well Diaz's hometown.
"Before COVID, I wasn't in the place to serve other people. Now we are much more in a position to not just make music anymore. We want to have a purpose and agenda. Now we have bigger reasons for doing this," remarks Fabi.
Gabriel Chabrán is a food writer and journalist from Highland Park. He currently lives in Long Beach with his wife Katie, their new baby, and their Russian Blue cat, Mars.
Stay in touch
Sign up for our free newsletter