News
How the Rams and Chargers Stadium Under Construction in Inglewood Is Already Impacting Local Restaurants
11:47 AM PST on December 16, 2018
[dropcap size=big]B[/dropcap]everly Brinson loves to redecorate her restaurant every month. She likes to keep Ms. B's M&M's Soul Food trendy and different for her loyal customers.
"I've had customers come in here and say, 'Ms. B, you've been at it again', because I change everything.'" she said on a recent weekday. "And I have some customers that have a favorite table and they go, 'That table is not there anymore.'"
But now, she's being forced to make a change that will affect her business and her employees – she may have to leave Inglewood. The new L.A. Stadium coming to Inglewood is two years away from being open, and it's already having an effect on her business.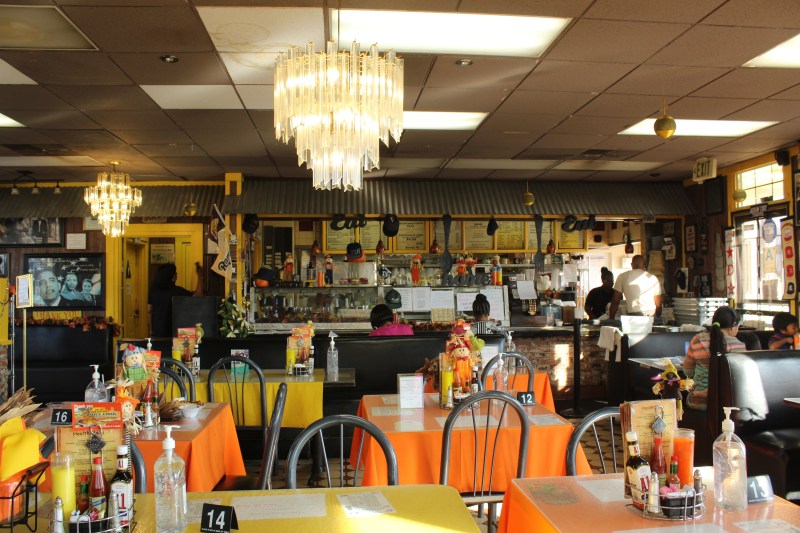 The Los Angeles Stadium and Entertainment District at Hollywood Park began construction in 2015. It is expected to open in the summer of 2020 and will be home to the NFL's two Los Angeles franchises, the Rams and Chargers. L.A. Stadium will be a rare two-team single-sport venue in the United States. Also in the NFL, the New York Giants and Jets have a similar arrangement at MetLife Stadium in New Jersey. Here in L.A., the Lakers and Clippers share Staples Center for NBA games.
The massive development project, estimated to cost more than $4 billion, was rapidly approved by local political figures like Inglewood Mayor James Butts. But the plan was always controversial. Housing advocates warned that it could displace thousands of low-income tenants in the area. Inglewood home prices already increased.
Local restaurants have already been impacted. One restaurant directly across Hollywood Park is planning to revamp into a sports bar. An ice cream shop that has worked with the stadium's construction company hopes to be part of the change, and find a permanent brick-and-mortar nearby.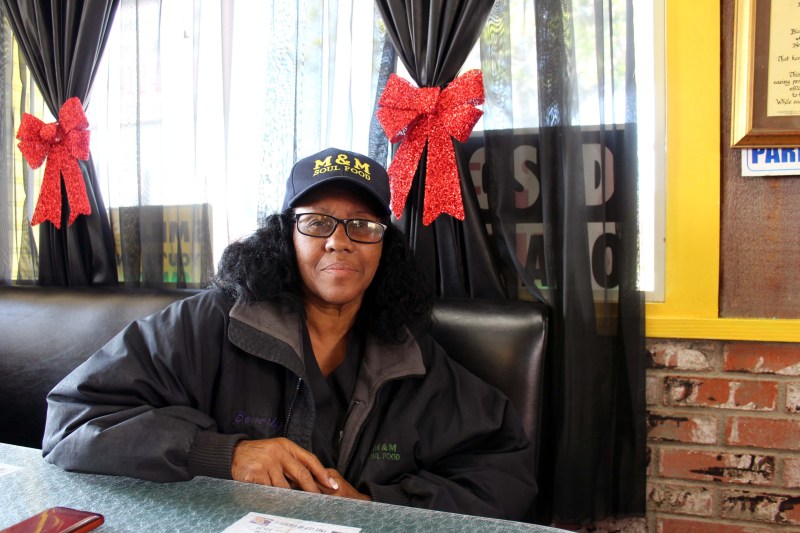 Rent Hike
[dropcap size=big]A[/dropcap]s for Brinson, she's looking for a location to move to because her monthly rent increased from $6,282 to $14,000.
Brinson said she loves to have continual change in her life and she is no stranger to it. In 1974, she ran away from an abusive husband and took a bus to Los Angeles from Mississippi with her two children. She worked at a telephone company before taking over her godmother's M&M's Soul Food restaurant in 1991 and adding "Ms. B's" to the name. Before moving to its current location in 2008, the restaurant moved all around Inglewood in the past 25 years.
Brinson told Eater LA she began looking for places in July after her landlord told her he was looking to sell the building. According to Brinson, her landlord first proposed a month-to-month lease, but has now doubled the rent.
"We can't afford that," she said. "And all of this is behind what everybody thinks. It's the stadium and all that. It's gonna bring so much money into the community, which it might, but take care of the little people in the community. Find a way for them so that they can get part of this."
She said she told her landlord, "The stadium and football teams aren't in Inglewood yet, so why raise the rent?"
He told her it wasn't negotiable and that he already had someone who's willing to pay him $14,000 a month, she said.
RELATED: Downtown Development Is Pushing Homeless Encampments and RVs Into Residential Streets of South Central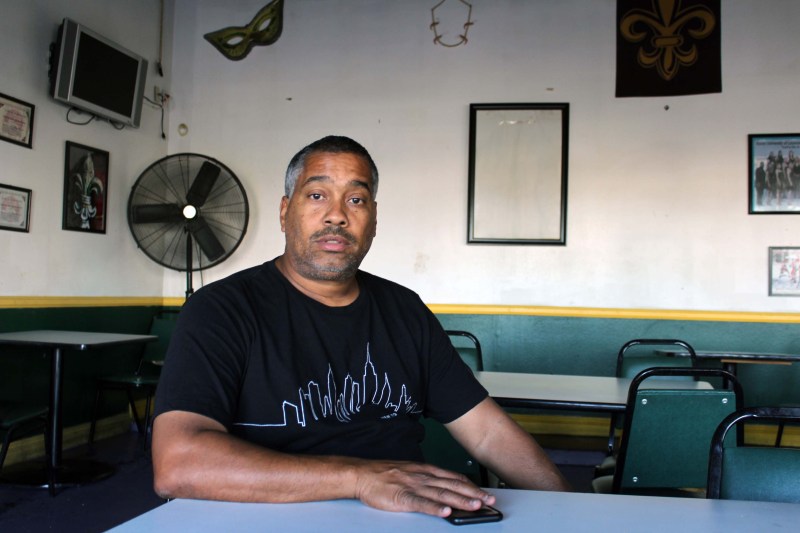 Expansion
[dropcap size=big]D[/dropcap]errick Brown, owner of Bourbon Street and Fish Grill, has a front seat view of the stadium's construction. Directly across from it on E. Kelso St/Pincay Dr, the street that divides the Forum and the stadium, Brown said he gets a kick out of watching it all unfold because he plans to rebuild his restaurant into a two-floor sports bar just in time for the new stadium.
He planned to rebuild his restaurant seven years ago but kept putting it off because of money, he said. "Now it makes more sense to do it cause of what's coming."
The restaurant was a gas station before he remodeled it. First he made it into mini-market, and then turned it into a fish market in 2000. But this was never in Brown's plans for his personal career. He was in real estate and marketing before getting into the restaurant industry.
"To tell you the truth, I would've been out of this business a long time ago, that's why I'm trying to go in a different direction. My dad [is] a motivating factor for us because he did this for 30-plus years," he said.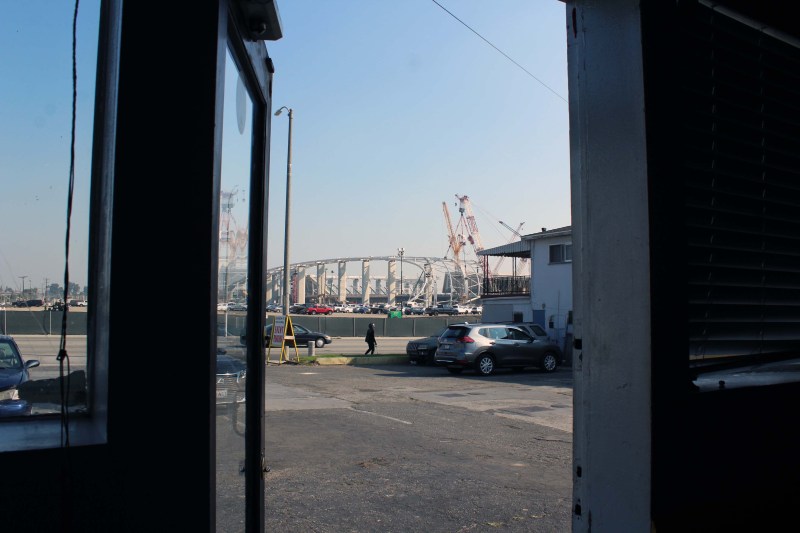 His father, who died in 2017, was in the restaurant business for 35 years. His father wanted Brown and his brother to keep the restaurant going, Brown said. Bourbon lost a big portion of his customers when the Hollywood Park race track closed in 2013. Racetrack employees and trainers would often eat at Bourbon, he said. "We've been here for 18 years and our business was dead in this community. We came after the Lakers left [the Forum]. We were here when the Forum didn't even have events, so we've survived all this time," Brown said.
But with the stadium coming, he sees it as an opportunity to grow his business.
"I only can see it as a positive. I don't see it as a negative thing cause like I said, the traffic, that's everywhere you go if you have a stadium. They're all in the cities now. They're building these things in the middle of cities. That's the way it is. That's the new style of sports," Brown said.
RELATED: With Seizure and a Suicide, Redevelopment Struggle Takes Ugly Turns at Ports O'Call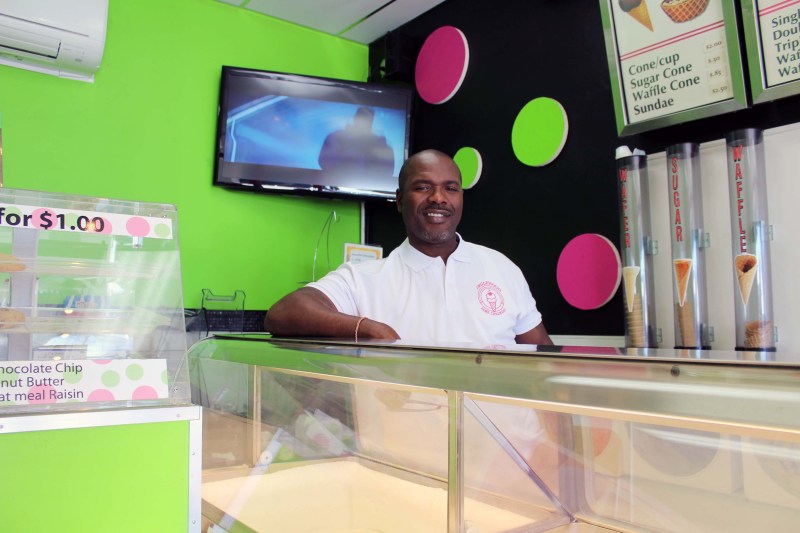 Legacy
[dropcap size=big]A[/dropcap]s a kid, J. Allen worked on an ice cream truck. Now, he has a 10-year-old son who helps him serve ice cream to customers at his ice cream shop Jamz Creamery. In 2016, he opened Jamz, which is right along Inglewood's Market Street downtown area, because he saw that there wasn't an ice cream parlor in sight.
Allen's business is one of the few local businesses whose catered for the stadium project's events, others include Dulan's Soul Food Kitchen and Woody's Bar-B-Que, to name a few. Allen catered for three events, two that were part of the Good Neighbor Program overseen by the general contractor.
The stadium hosts these events twice a year where they invite residents from residents from the Renaissance homes, 11th Avenue, and the Carlton Square gated community.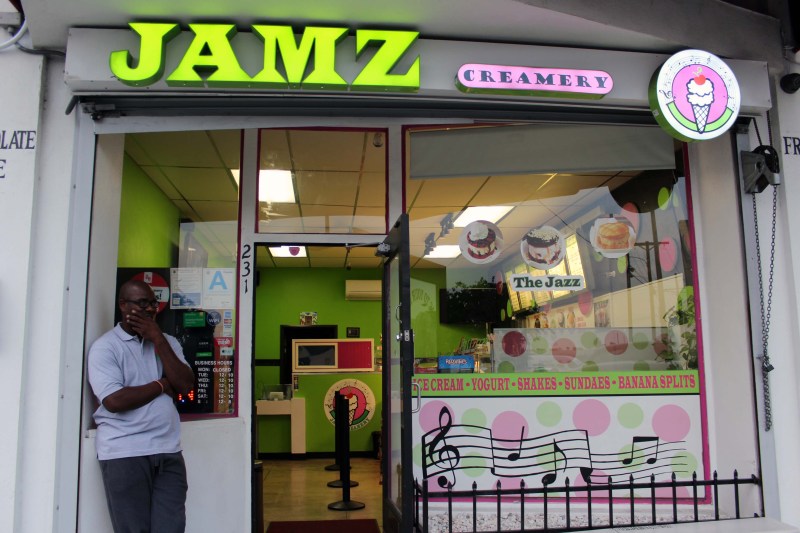 Jason Witt, community and citizen specialist for Turner Construction Co., said that since they began construction in 2016 they've had an ongoing communication with the local community, specifically the adjacent neighboring community.
The stadium project has held community events, put up a sound wall and are doing what they can to help take care of their neighbors, Witt said.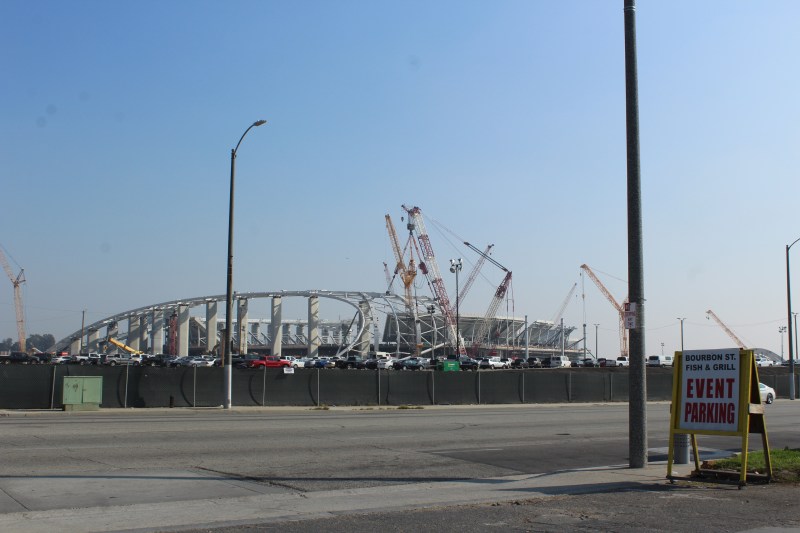 Gentrification
[dropcap size=big]A[/dropcap]s gentrification expands throughout Inglewood, Allen said, "I understand what's going on and there's no way that me as one person or us as restaurant owners can stop it because you know, it's a big deal. It's big people behind it, bigger people than us. You almost gotta think about it like, 'How do you get involved?', as opposed to being down about it."
Allen said he reached out to the stadium to get involved with them. Everybody has different beliefs and theories about the stadium, he said, but he thinks it's important that he's part of the change. "I don't see it as a negative. I see it as an opportunity. And I know a handful of other restaurant owners that feel the same way," Allen said.
Allen is preparing for the stadium, but says he's not relying too much on the stadium to bring him more business. He's more focused on expanding his restaurant on his own to secure the future. "I want to build something for my son. And that's what it means for me, truly. A future for my son. That's my end goal."
RELATED: A New Mural For Boyle Heights Commemorates the Past and Comments on Gentrification of Today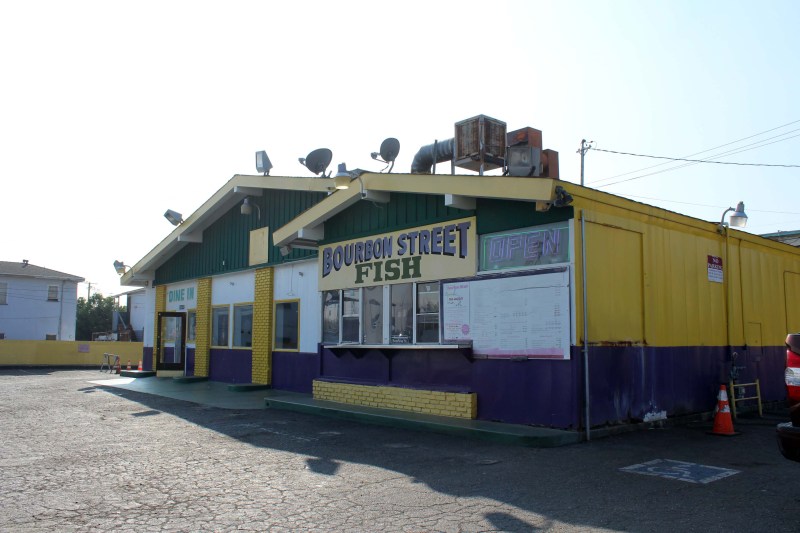 Brown, of Bourbon Street Fish and Grill, said he's reached out to the stadium but hasn't heard back from them. "That's been there over a year and a half. I've never catered or did anything for anybody. The only thing I've gotten is construction workers stop by to have lunch. Other than that, nothing," Brown said.
Brinson, of Ms. B's M&M's Soul Food, also said she's reached out and hasn't heard back from them yet. "It makes me feel sad because with me being in the community for so long and one of the most popular soul food restaurants in L.A., it seems like they would have talked to me by now," she said.
Witt said that it's a two-way street when it comes to working with local restaurants. They collect business cards, but also hear about restaurants through word-of-mouth and reach out to work with them. He said the construction will last for two more years, which means there is opportunity to work with more local establishments.
"We're striving to do as much business with the Inglewood community as we can," Witt said.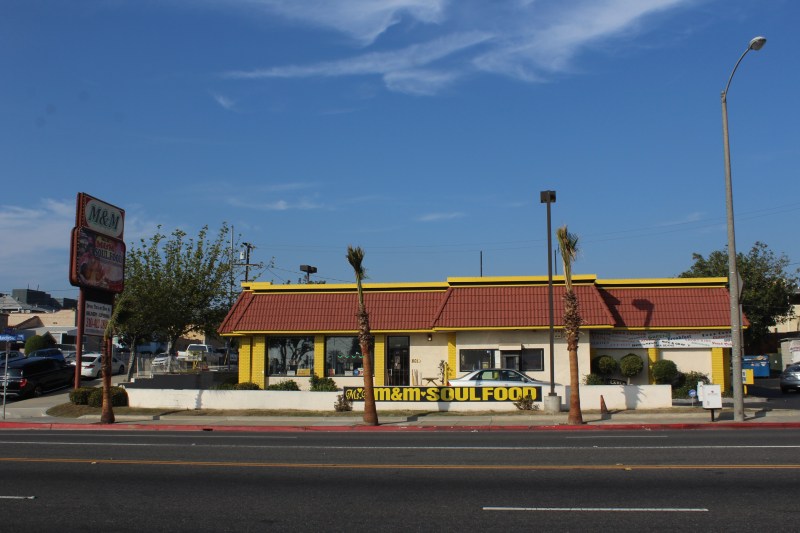 But there might not be enough time for Brinson to get a chance to work with the stadium. As other restaurants prepare for the stadium and entertainment park, Brinson is preparing to leave Inglewood.
She said she's found a couple places outside of Inglewood and is waiting to hear back. "I live in Inglewood. I'm a resident here. It's not like I'm an outsider," she said.
"I have shared some of the stuff with my employees [but] I haven't shared everything. Like this last thing about the $14,000, I haven't told them that. But they know we can't afford it. We're struggling here to make what we pay now. I really don't know. It's just scary right now."
RELATED: A Project to Revive Southeast L.A. by the River Draws a Line Between Development and Gentrification
The reporting for this story was completed as coursework in the Journalism M.S. Program at the USC Annenberg School for Communication and Journalism.
RELATED: Study: Business Improvement Districts Use Your Tax Dollars to Harass Homeless People
Jessica Flores is a multimedia journalist covering arts and culture in Los Angeles.
Read More:
Stay in touch
Sign up for our free newsletter