Tacos
Jet Fuel and Carnitas: The Taco Trucks That Feed LAX's Workers Face an Uncertain Future
3:54 PM PST on November 9, 2020
[dropcap size=big]L[/dropcap]os Angeles International Airport is mighty quiet these days. Gone is the honking of impatient drivers snaking along the departure level. Outside the arrival exits, no waiting motorists are being asked to move along. The clatter of luggage rolling against the pavement as flight crews on layover cross Sepulveda toward their hotels is only a memory. The air travel industry is in disarray as furloughs become layoffs, more routes are scrapped, and business travel is projected to remain less than half of what it was a year ago. The effects of the pandemic-induced slowdown ripple with grim finality through the car rental business and every other industry associated with air transportation—including the persevering taco trucks that provide daily nourishment to workers around LAX. 
Roberto Marroquin, who owns El Sabroso Mariscos, has parked his lonchera on Arbor Vitae, right by the Hertz lot, for close to 25 years.  It wasn't so long ago that the auto detailers at the surrounding rental car agencies would call up with their orders. "Voy por un burrito," they'd say, speeding up the process by phoning ahead. "But now, no," he says in Spanish. "Silencio." 
That 'silence' is a figure of speech.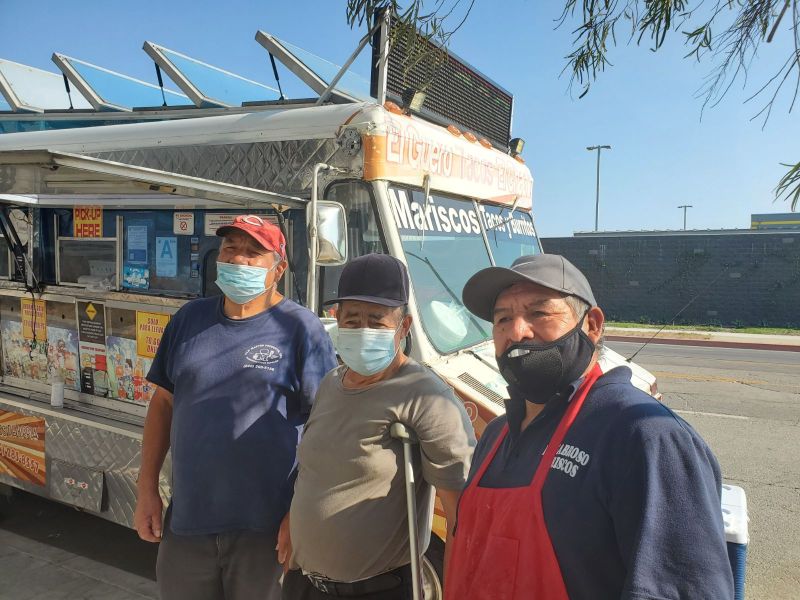 El Sabroso Mariscos is stationed close enough to the airport runways that the noise from landing planes drowns out the rumble of the generator chained to the front of Marroquin's weathered, well-traveled truck. The words "El Chapin" (he's from Villa Nueva, Guatemala) and "El Güero" (the name of his original partner) are stenciled above the windshield. A request to social distance, written on a paper plate, hangs by the order windows. But none of the gathered customers—construction workers, TSA agents, courier van drivers and, still, the occasional car washer—seem aware of the roar overhead as they break shards of tostada into lime-laced seafood cocteles and chomp into quesadillas, thick with charred shrimp and molten Jack cheese. 
Every morning except Thursday (the day the truck travels without him), Marroquin rolls up at about 10 AM after driving from the Lynwood commissary, a well-known storage yard for food trucks, where the truck spends the night. The truck's curbside tires go up on short wedges to compensate for the slope of the street, and a few minutes later the windows above the rail of Tapatío bottles slide open. Inside, two men are already dicing white onions and chopping the cilantro. This is not business on a scale that will be benefiting from congressional rescue packages, but the sense of ownership is real. Before heading back to Lynwood, Marroquin uses a leaf blower to leave his stretch of street clean. As a telenovela plays on one of the TV screens he added a few years ago, Marroquin considers his trusty truck and the men working inside: "It supports all our families." 
And out here, where the scent of carnitas mingles with jet fuel and the sea breeze, it takes on a flavor that, for many, really hits home.
These few blocks of Westchester have their own rhythm. Spend some time here, and you begin to pick up on it.  A few minutes past 1 p.m. on most weekdays, the regularly scheduled Lufthansa flight is coming in low for landing. The aroma rising from the taco truck griddles mixes with the smell of something sweet—sugar glaze—trailing from Randy's Donuts by the 405 to the north. Just a few blocks south, the airport is an imposing presence. Even during this time of reduced air travel, a taxiing plane might suddenly appear on an overpass looming above traffic lanes as if it were just one more merging vehicle, and, occupied or not, the various shuttles circulate in an endless caravan from parking lot to parking lot.
The smaller the businesses around here, it seems, the more they rely on airport-related activity. Across from In-N-Out, Tarpy Tailors specializes in altering airline uniforms. At Francisco Care, behind the new Target, Francisco Granados runs a compact barbershop housed in what was once a drive-through coffee booth.  With hardly any limo drivers asking for haircuts now, Granados had time to talk about the food trucks. "I go down there because I can keep an eye on my store," he said, nodding toward the stretch of the Westchester Parkway where the Flores Arandas truck sits during the day. "But I go to the other one for tripitas," he said, glancing in the direction of El Sabroso. "They make them crispy there."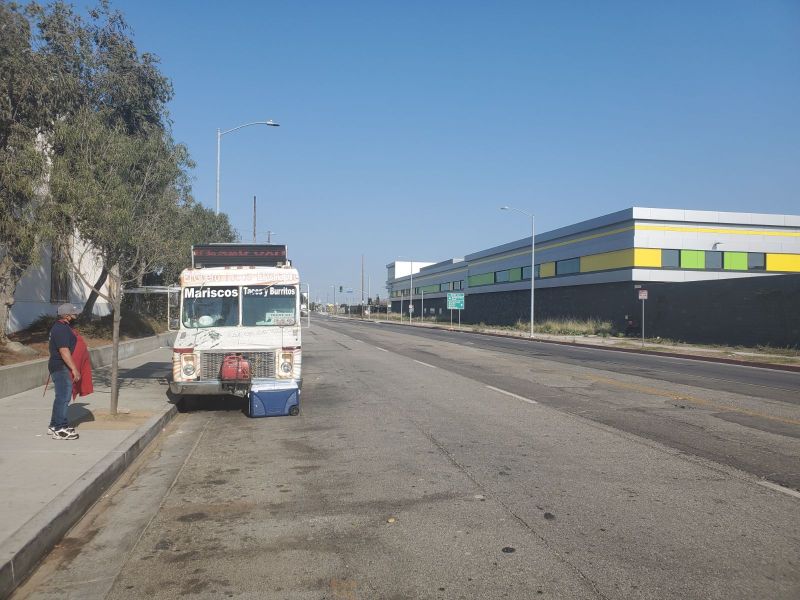 The food trucks weave in and out of traffic on separate but somehow coordinated schedules, different vendors using the same stretch of sidewalk at different times. El Poblano, for example, pulls in on La Tijera near the Water and Power Community Credit Union around 10 in the morning, but it is long gone by the time Taco Dollar shows up around 6 PM. 
Taco Dollar is known for a great version of suadero, the middle layer of a beef stomach lining, that the cooks crisp into nuggets. It usually serves until 3 AM, and the nighttime scene would ordinarily include baggage handlers, construction workers, and a smattering of partiers, but right now, only an Uber driver and a man in a Domino's Pizza shirt stood, eating, by their cars. After a while, two airport police officers pulled in for dinner on the go: "Cinco de pollo para llevar."  
Eating the chicharrón—a nugget of heavily marbled pork belly he renders to crisp perfection—you might find your finger scooting the disc of vinegar-sharp carrot escabeche closer on the paper plate.
The changing of the food guard takes place on the other side of the enormous lot, too, where a trailer, Taqueria Guadalupana, sets up shop at night on the same block Flores Arandas is found during the day. The latter is named after the family of 40-year old owner Jose Flores and the town in Jalisco's high tequila country from which he hails. Flores's tacos are pure, austere, corn discs bearing heaps of the meats he flips to order on the flat tops you can see through the trailer's plexiglass front. It's a high-end kitchen with wide, polished-steel-door refrigeration and drop-in cutting boards. He estimates the loan he took out for the trailer and the Chevy Silverado he uses to tow it at a hundred thousand dollars.  
At $1.50 per taco, Flores can't afford to lose customers. Not only for obvious financial reasons but because gaining a loyal following—what he calls aclientando—is a time-consuming process of getting people to like your food and count on you to provide it. Building that connection is what makes the best trucks feel special. The activity of the airport is the bonus ingredient in these parts. And out here, where the scent of carnitas mingles with jet fuel and the sea breeze, it takes on a flavor that, for many, really hits home. A customer named Etag who'd walked over to Flores's truck from the Avis sales office said the well-balanced level of spice reminds her of the Ethiopian food she'd grown up eating. "There are other trucks," she said before heading back to work. "I like the tacos here."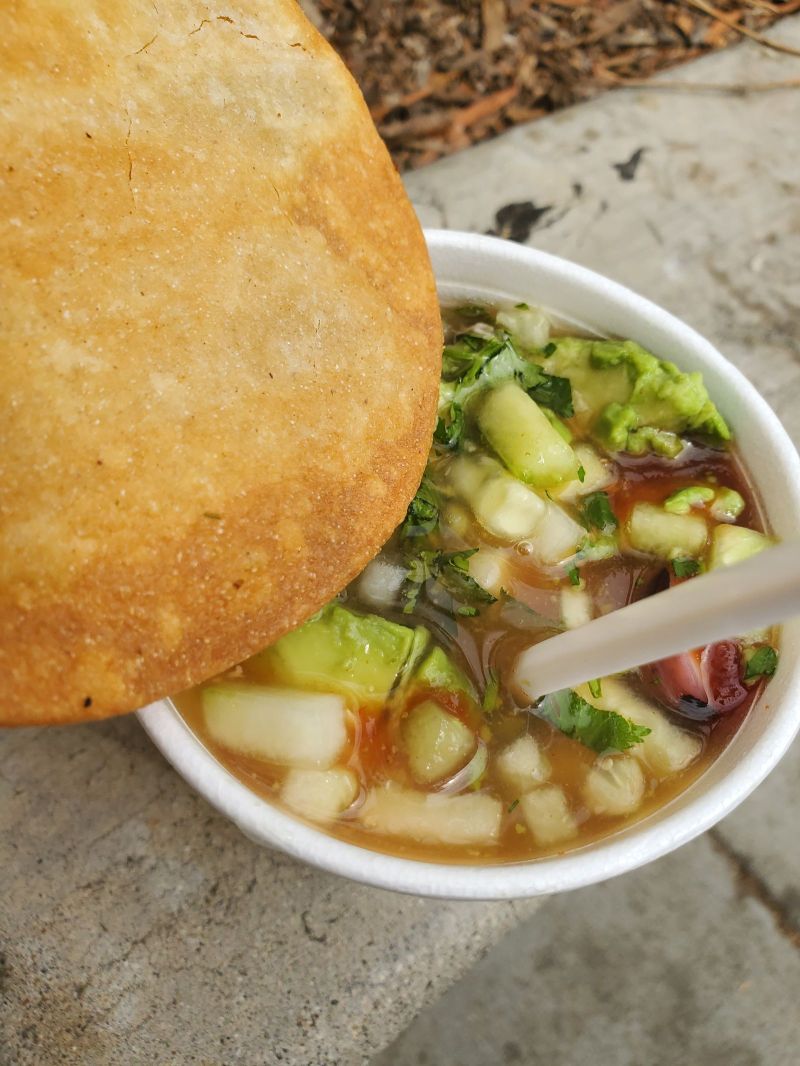 For El Sabroso's Marroquin, the process of aclientar began decades ago when he and a partner—El Güero—stepped away from the taco truck they'd been working on and launched their own, finding a spot nearby on Arbor Vitae Street. A deeply religious man, he says God played a role in deciding on the spot. "Dios nos iluminó y nos dio esa gracia," he says, describing the decision in terms of a received blessing. But it's fair to say that the quality of Marroquin's cooking has also played a role in his 25-year run. If Flores is a minimalist—diced white onion and a lick of tomatillo sauce sharpening the steamed delicacy of cabeza al vapor—then Marroquin is a maximalist. He aims for the layering and the contrasts of pickled or roasted elements. Eating the chicharrón—a nugget of heavily marbled pork belly he renders to crisp perfection—you might find your finger scooting the disc of vinegar-sharp carrot escabeche closer on the paper plate. Those tripitas benefit from the crunch of raw radish and the strips of pickled jalapeño he drapes over them to parry the musky intensity of the organ meat.
...But as this stretch of Westchester is reconfigured with access, security, and mobility in mind, there may not be much room left over for the delicious bites a battered, old taco truck can provide.
Offering great seafood and great meat dishes is an achievement that even Marroquin's competitors acknowledge. "El marisco es delicado," says Flores in a taquero's tip of the hat. Of course, the two vendors share many qualities—a strong work ethic being the first among them. Both are committed to being there for their customers, greeting regulars from inside their cramped galley kitchens. Both are the opposite of loquacious when it comes to their recipes. Flores will allow that there's chile de arból in his red sauce. Marroquin credits "un secreto de la abuelita," or Grandma's secret, for the quality of his birria. And, even if air travel is starting to show signs of recovery, both are worried about the future. 
There's just enough activity around the Airport Valet office on Sepulveda to suggest a positive shift. Across the street, a uniformed LAPD bomb squad officer chatting with the Starbucks barista was overheard saying he hadn't seen as many travelers inside the airport as he has recently. "Things are coming back," he said. Around 1 AM in early October,  two baggage handlers with IDs strapped to their upper arms even turned up to order tacos at Taco Dollar.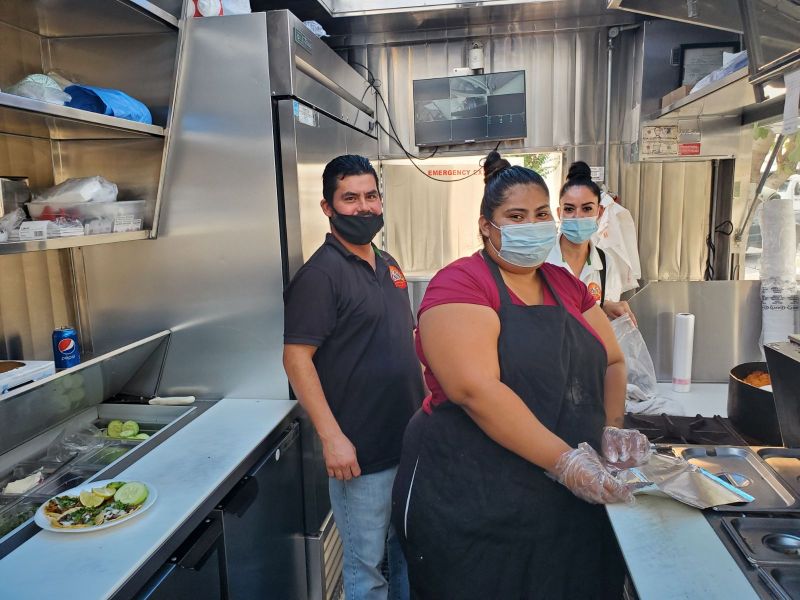 But even if business does someday bounce back to what it was before the COVID-19 shutdown, Marroquin is also concerned about the changes to the area where he's parked his truck since 1996. 
Back then, the Dollar car rental lot was across the street. Now that's gone, and a huge Metro project is in the works. When it's done, it will be the final destination of the rail line running from West Adams, through Leimert Park and Inglewood, and connecting to the airport itself with a people mover. It's a worthwhile, important, and long-hoped-for development both for airport workers and for travelers, but as this stretch of Westchester is reconfigured with access, security, and mobility in mind, there may not be much room left over for the delicious bites a battered, old taco truck can provide.  
"Todo es dinero," he says quietly. Everything costs money.
Already the curb across the street has been painted red. Parking meters might create spots for customers, or they might take them away. Marroquin doesn't know. He mentions all the measures that would change the ability of his customers to pull in and recharge.  He's thinking of repainting his truck blue to heighten its appeal. The last time he did that was three years ago, adding the brown- and-tan pattern to the front that is now starting to peel. But is this really the time to invest? "Todo es dinero," he says quietly. Everything costs money. 
For more than two decades, Marroquin's food truck has brought life to this area, transforming what was not much more than a thoroughfare into a destination. It still does. A long flatbed rig that had hauled rebar to the Metro construction site, recently parked in the median, the driver in his orange work vest hopping out of the cabin to cross traffic and peer at El Sabroso's listed choices. There were already customers waiting by the window, talking and participating in the comfortable call-and-response as finished orders were announced. A nurse in purple scrubs wanted to make sure there would be plenty of pulpo, or octopus, in her cóctel. A car washer still wearing his back brace asked for the chile torreado, a roasted jalapeño Marroquin keeps as an off-menu garnish. A woman named Norma and her friend had stopped only because they saw the crowd, saying, "And that's always a good sign, right?"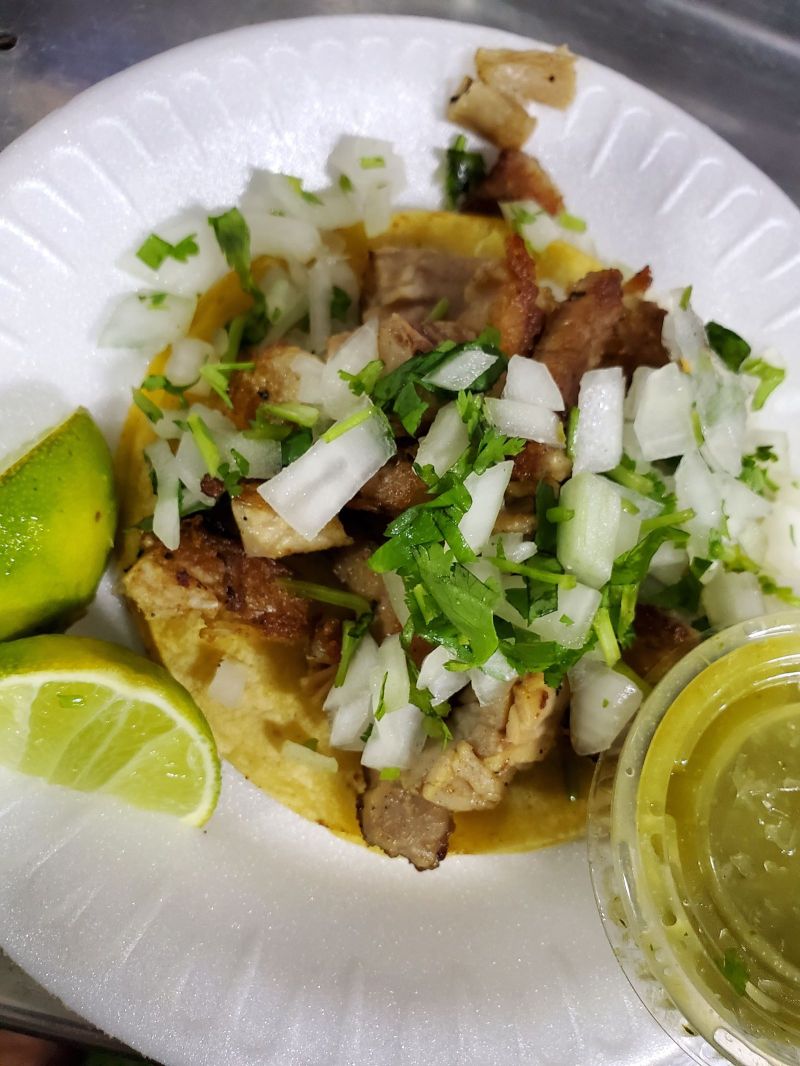 The lunchtime rush had died down by the time Marroquin was able to step out of the truck in the afternoon. Just two customers remained. They were older men who had driven from Hawthorne for a feast of mariscos and said the food is always worth the drive and that Don Roberto has given them credit on many occasions. Jose Guadalupe added, while raising an instantly recognizable half-liter glass bottle of Mexican Coke: El Sabroso serves "La Coca chingona de Mexico." It was enough to make Marroquin crack a smile behind his face mask. Then they too were gone, and he was left alone with his thoughts. While his assistants prepared for the trek back to Lynwood, he took out the leaf blower and began cleaning the gritty city blocks where El Sabroso has been a fixture for a quarter-century. No planes thundered overhead. For the time being, it was just Marroquin working under a massive, empty sky.   
Patric Kuh used to write for Los Angeles Magazine and currently works as a restaurant manager in the South Bay.
Stay in touch
Sign up for our free newsletter