Tacos
Looking Back at Times of Optimism, Resilience, and Tacos in an Earlier Kyiv
1:03 PM PST on February 24, 2022
In September of 2018, my little family of three flew from LAX to Kyiv to visit my wife's parents and her younger brother and his wife, who made the 242-mile train trip from their southeastern oblast of Dnipropetrovsk to spend ten days with us in Ukraine's capital.
It took a couple of bleary, jet-lagged days before Kyiv's magic captured me. At which point, time seemed to stretch in all directions. Standing on a typical Kyiv street, I couldn't help being struck by the confluence of epochs surrounding me: ancient past, the molting from a tragic modern era, and an uncertain, conceivably bright future.
"This is where the city defended itself from Mongol invasion," Valery, my father-in-law-a former officer in the Soviet military who, in his sixties, runs about 11 miles a day and can still kick my ass- told me through his infectious smile, pointing to the eternal valley below.
We stood high on a hill cresting a public park that buzzed with babushkas and rowdy children, overlooking the vast plains of brutalist apartment buildings. Gazing down, the long arc of the city's 1,500-year-old history hit home like an arrow sprung from a recurve bow.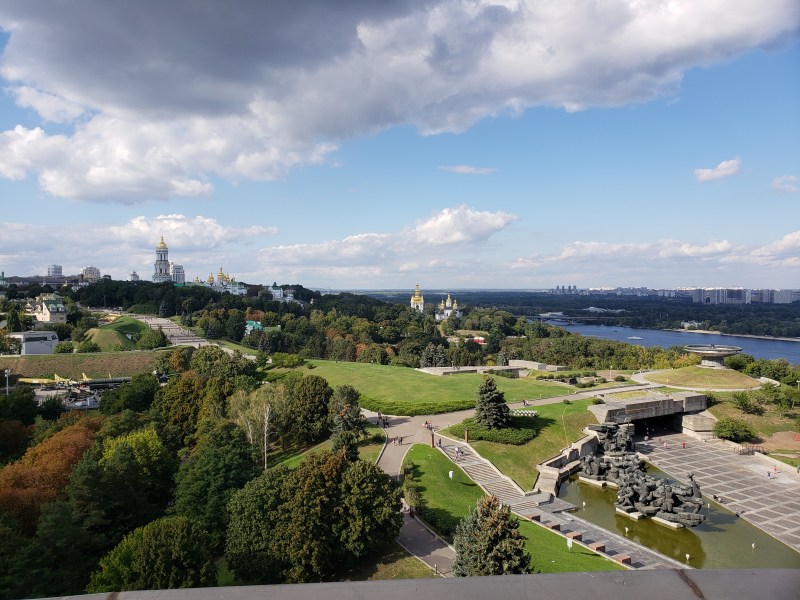 Everywhere, distinct eras were encapsulated in our surroundings. Encircling the real ruins and recently restored fictions of the city's ancient Golden Gate, once the primary point of defense from the Kievan Rus, ancestral forbears of the Ukrainian, Russian, and Belorussian nations.
Stumbling upon the golden domes of the 11th century Saint Sophia Cathedral amid an evening of liberally sampled Crimean wines and Georgian brandies. Nuzzled into Kyiv's Opera House for "Swan Lake" and a stunning phantasmagoria based on Mikhail Bulgakov's once-prohibited "Master & Margarita." Stooping underground, navigating Kyiv's catacombs to gaze on the waxy faces of mummified monks, and idling down the Dnieper on a riverboat, spying canoodling couples on sandy islets while hopelessly hooked on cracking big black sunflower seeds from a rolled up cone of newspaper with our front teeth.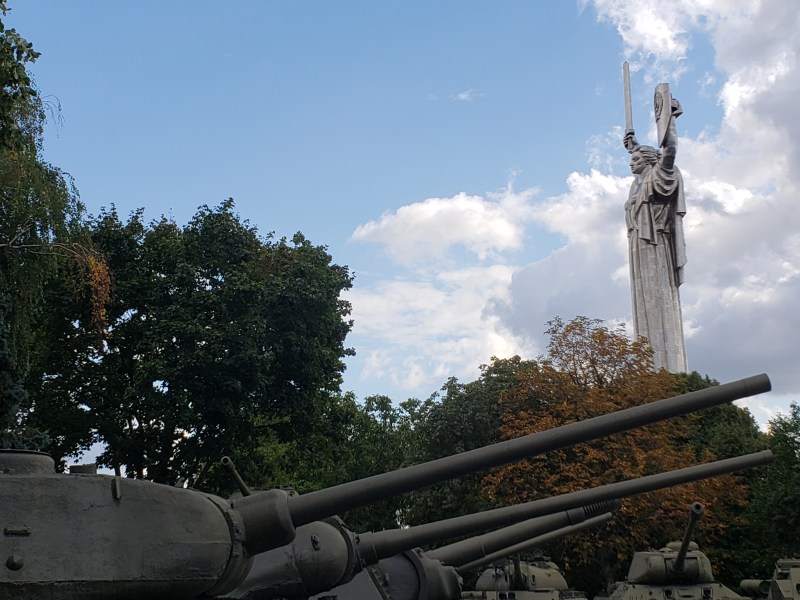 Kyiv's recently shorn off Soviet era and its oligarch aftermath were just as salient; spotted in the occasional remnants of a hammer-and-sickle insignia adhering to some ornate, historic ceiling. Or in a dull, stocky building, titling from its orderly block like a gravestone of Communist bureaucracy.
It was obvious in the crumbling facades and electrical wire-snarled innards of utilitarian apartment blocks. And among an epidemic of public smoking and museum exhibits lined with dark green tanks and chisel-cheeked, state-commissioned sculptures. In shadowy corners strewn with broken glass and among tough, wide-shouldered men, their black Benzes parked in the middle of the sidewalk, daring you to say something smart as you swung a wide semi-circle around their menacing frames.
And then there was a new era in sight, not yet gleaming exactly, but radiating optimism and hope for newfound freedom. Marked much less by what had happened in the past than by what the future portended.
My wife's upbringing and family history is rooted in that bygone Soviet epoch still longed for by today's tsar. Ethnically Russian, with bloodlines rich with heritage from Ukraine and various other Western and Central Asian points, the maternal side of Tatiana's family was exiled from southeastern Ukraine on an often deadly journey to the Northern Caucasus amid Stalin's 1928-1935 collectivization, deemed to be rich "kulaks" for possessing one cow and a tiny house, despite little else. With zero contacts or belongings, they were forced to sift through garbage on foreign city streets to find the food that would help them survive what killed most who surrounded them.
Tatiana was born in Azerbaijan in the late seventies. Her military family's yearly reassignments carried them on to destinations including Georgia, Turkmenistan, St. Petersburg, Vologda, and Pyatigorsk.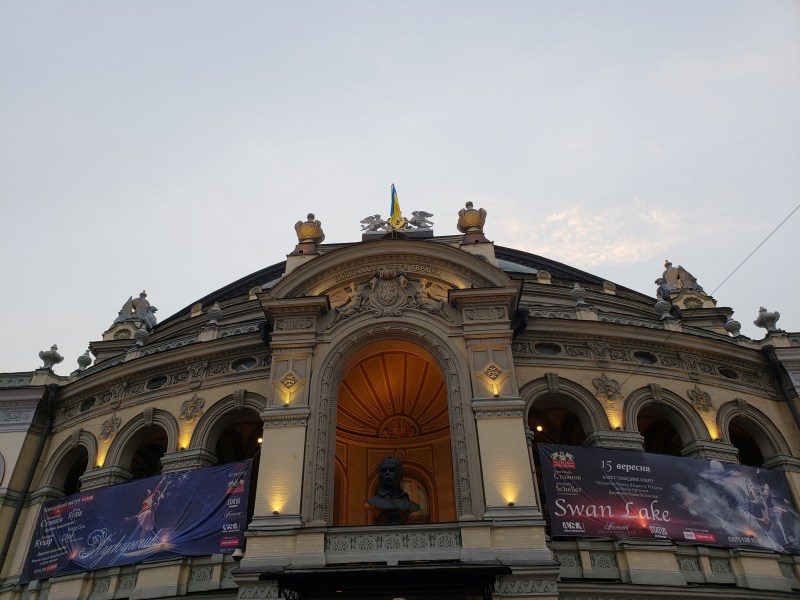 Shortly following the family's transfer to eastern Ukraine in 1988, the entire Soviet government soon fell apart, stranding them on an air force base outside of Dnipro in perpetuity. They would eventually embrace this beautiful country as their own, a national pride that flourished further in the aftermath of the Crimean incursion, elevating the urgent need of Ukraine's right to sovereignty.
Tatiana is filled with warm memories for her Soviet upbringing, when she played safely outside in ubiquitous apartment playgrounds without any parental oversight, tuned in to "Ну погоди!" each night before bed, waited patiently overnight in long lines to obtain shoes for her baby brother, and learned the proper way to chuck grenades at imperialists in school. Her stories, whether tender or terrifying, can pack Mayberry levels of nostalgia for simpler times.
Of course, things have not typically been so sunny for these Slavs.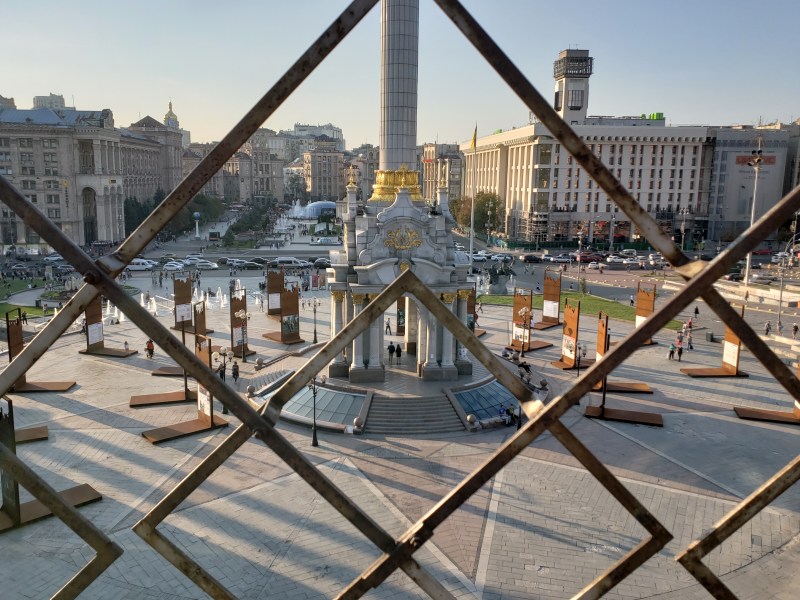 Ukraine's history bears eons of war and barbaric wreckage, including Kyiv's total destruction in 1203. There was serfdom. Russification. Bolshevik revolt. Stalinism, show trials, and collectivization. Mass-exile, resettlement in distant wastelands, and the forced famine known as Holodomor. The Great Terror. Nazi invasion and a ping-pong ball's position in World War II. Nuclear meltdown. Pervasive corruption, low salaries, and crushing inflation. Oligarchs, gangster capitalism, and Vladimir Putin.
It's hard to pinpoint any modern period when Ukrainians had a reasonable shot at self-determination.
However, our trip to Kyiv fell on a fascinating precipice in the country's history. Paving stones ripped from the sidewalks to hurl at government security forces in the Maidan Uprising of 2014 still remained, loosely jumbled in piles on its streets. Scrawled graffiti urged compassion for the beleaguered in Donetsk and condemnation for the Goliath of an enemy. Makeshift memorials to the fallen of the recent "Revolution of Dignity" marked sites of life-shattering violence, sometimes directly in the middle of traffic.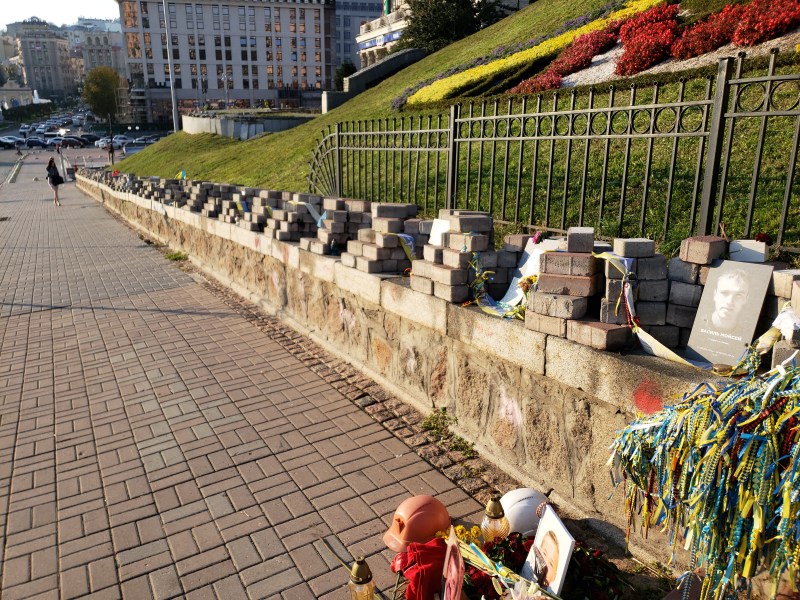 Photos, flowers, ribbons, stupas of red brick, and the ad hoc armor of civilian martyrs lined a short wall on the sidewalk that stemms from the besieged Maidan to the October Palace above it.
A giant question mark seemed to be hanging over Kyiv in the time we explored its streets. Would it finally be offered a shot to decide its own destiny? Or would it be pulled back into authoritarianism by an unrelenting Russian leader?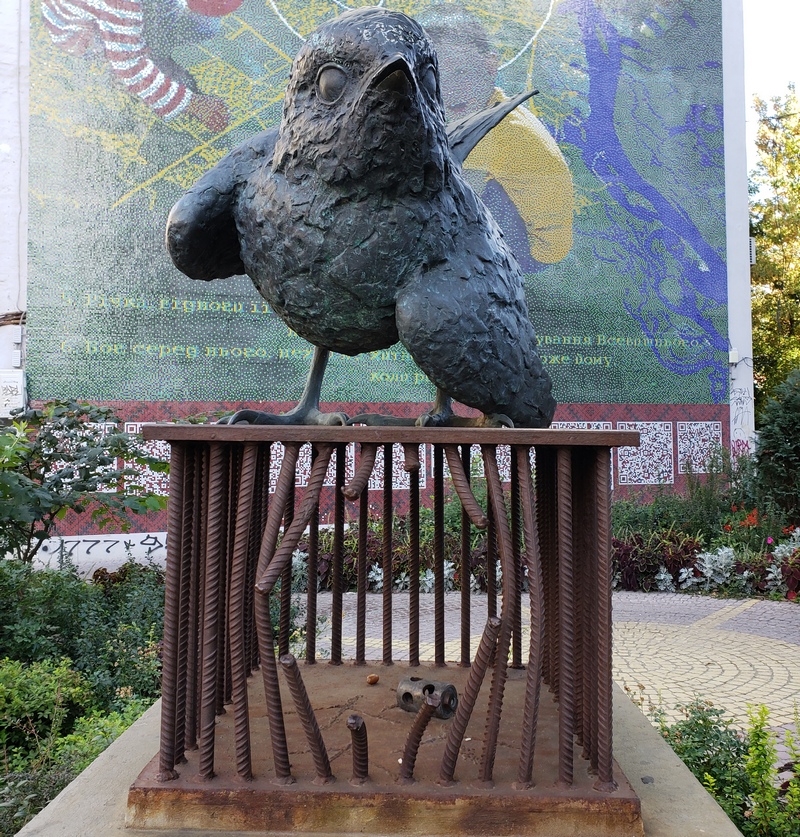 The new optimism and pervasive openness to western culture manifested in various ways in Kyiv, including a profusion of public art, bustling parks, crowds filing into once-banned churches, anti-authoritarian graffiti and big, wild-style burners, Tarantino-themed bars, contemporary galleries, upstart businesses, and a food scene that paired the nation's notably fresh ingredients with far-ranging restaurants, including those that honored Vietnamese fine-dining, Lebanese bistros, and U.S. steakhouses.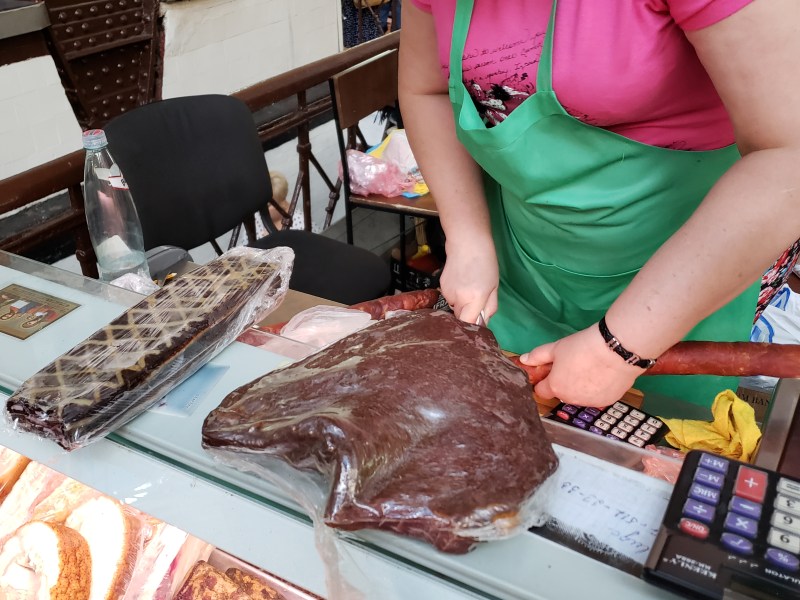 Committed eaters to our marrow, we gnawed on salty, slightly sweet Carpathian black bear jerky, slivers of live sturgeon, and dramatically dangled churchkhela (strings of candied, fruit-juice-glazed nuts) at small indoor markets. And we slurped up the letter-perfect flavors of beef stroganoff in playful, cosmonaut-themed tubes, chicken Kiev bursting with scalding juice and irony, and multi-colored shots of infused rakias, set like mottled pawns on a chessboard, among Kyiv's more modernist restaurants.
We also indulged in paper-thin cuts of tongue, khinkali dumplings, and various regional permutations of khachapuri at Georgian cafes (Georgian food being to Russian cuisine somewhat like Mexican food is to U.S. cooking, aka the good, spicy, life-affirming stuff). This is a country in which a term like "farm-to-table" is an unnecessary redundancy, as its street markets are packed with corn, roots, tubers, and mushrooms picked from front yards that could compete with the produce at any trendy L.A. farmers market.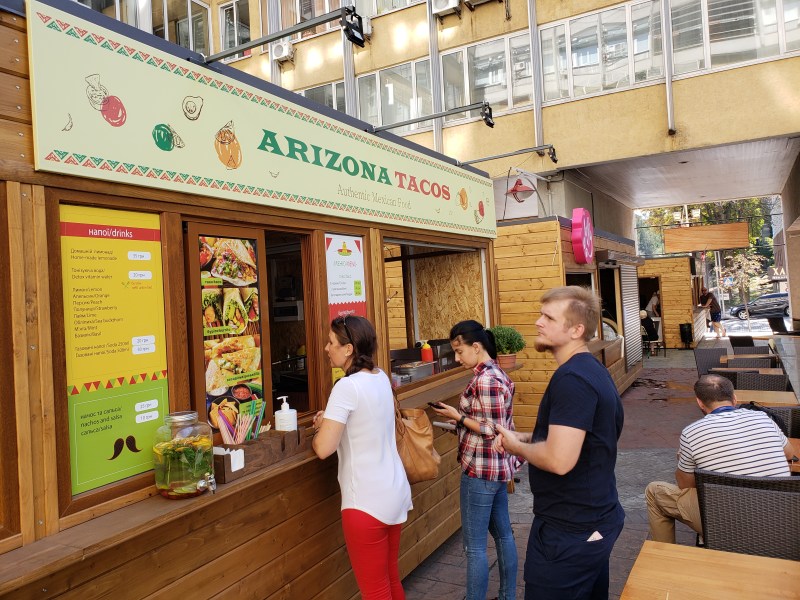 Convinced after awhile that we could not land on a bad meal if we tried, one afternoon Tatiana and I took the precarious step of ordering tacos from a courtyard food cart called 'Arizona Tacos.'
Mexican food in this new millennium is a global phenomenon stretching well beyond the borders where arguments over authenticity and the best salsa bars typically oscillate. One never knows where Mexicellence may be found today. Tatiana and my own romantic bonds had been forged years earlier in Reseda over a mutual preference for tacos de sesos. Meat, as well as food in general, was hard to come by in her childhood, making offal cuts such as brain, tongue, and kidneys her favorite foods to this day.
A giant Mexican flag tacked to the wall behind him, a beanpole of a young man with closely cropped hair told us how he'd once traveled to Arizona, where he was completely taken with the taco, pushing him to make his own to introduce to his fellow Kievans.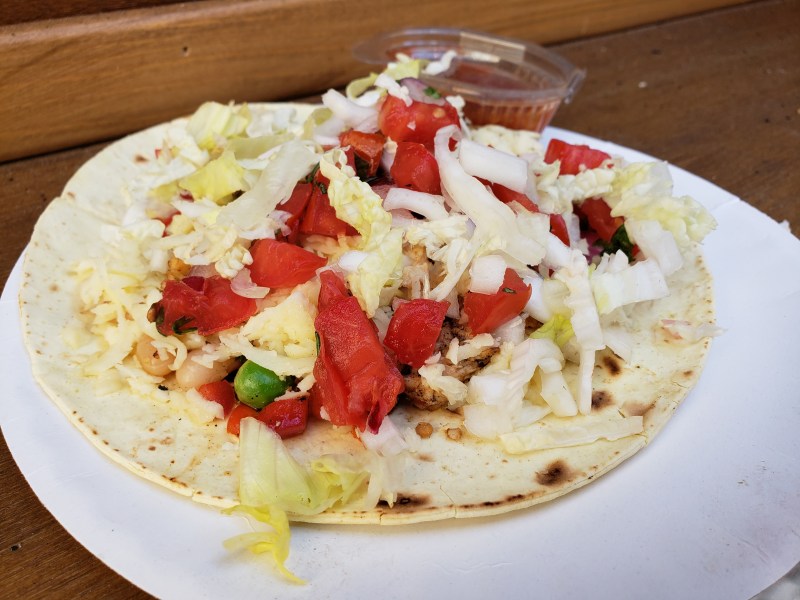 The tacos, which sat on a handmade piece of white flour-based flatbread made in-house, and bearing such ingredients as peas, rice, bell peppers, iceberg lettuce, and grilled chicken—all things beloved in Ukraine and Russia—was about as notable as you'd probably expect from a taco in Kyiv.
Nonetheless, we were both impressed to see a motivated young entrepreneur take a passion shared from his trip abroad and manifest it into reality, dreaming his impossible taco dreams in ways we only wish we were brave enough to undertake.
In retrospect, it's tempting to see his business as an illustration of Ukraine's new westward lean, symbolizing its citizens' eagerness to become part of a world it was long denied access to amid historic suffering, Soviet bungling, and the heavy thumbs of oligarchs on the scale.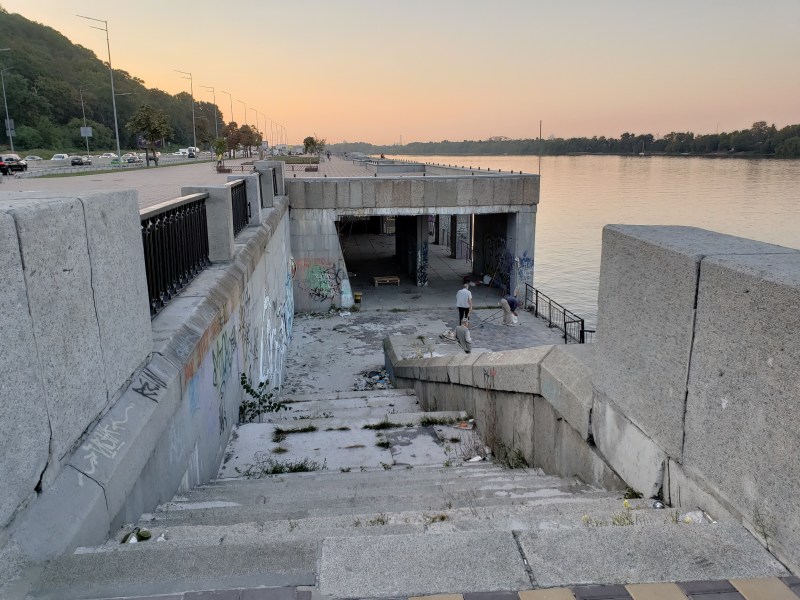 Last night our hearts broke seeing another outbreak of war become Ukrainians' new reality, same as the old. Our tongues turned paralyzed, watching as this sovereign nation close to our family's hearts and hopes was invaded by a new czar in need of fresh blood.
Calls were frantically placed to family. My mother-in-law, Lubya, had felt the terrible quakes of bombs falling nearby during a trip to the market and later, blowing out the glass in their apartment stairwell as she attempted to hunker down at home. Soon, they'd be cracking the seals on ancient Cold War-era shelters. Today, emotions run high as we plead for them to get out.
Here in the States, we tired of the MAGA crowd echoing Tucker Carlson's pro-Kremlin propaganda on conservative America's Pravda to "let Russia have Ukraine" several weeks, in what now feels like a lifetime, ago. Pining for a "stronger president" who "wouldn't allow this to happen" continue to ring hollow as Crimea and Donbas remain occupied after so many years.
If the world can't halt this precedent-setting attack from bigger, stronger countries, who would take over their neighbors for real or imagined historical connections and grievances, it is certainly not be out of the realm of imagination that more geo-political dominoes could fall. China could snatch Taiwan, North Korea could up its bellicose threats towards the South, Russia may decide to switch its aggression to Latvia or Poland, and on and on.
In every way, this invasion, based on lies and already killing innocents, is wrong. And sadly, it's just beginning, dashing dreams and blurring hope for a new generation that is now faced with having to fight or flee, no longer allowed their visions of the future.
As Dr. Martin Luther King Jr. said, so famously we feel cliché to include it, "Injustice anywhere is a threat to justice everywhere. We are caught in an inescapable network of mutuality, tied in a garment of destiny. Whatever affects one directly, affects all indirectly."
People deserve to decide their own destinies, no less a people long shackled by corrupt systems, schisms, and cowards. People that only eight years ago were willing to die in the streets to kick out a corrupt ruler and recharge itself with new hope. A dream that now feels all but dimmed following yesterday's invasion by Russia and Belarus.
We stand with Ukraine and its people and are closely watching the situation for developments. As always, hoping for the safety, sovereignty, and security of people everywhere.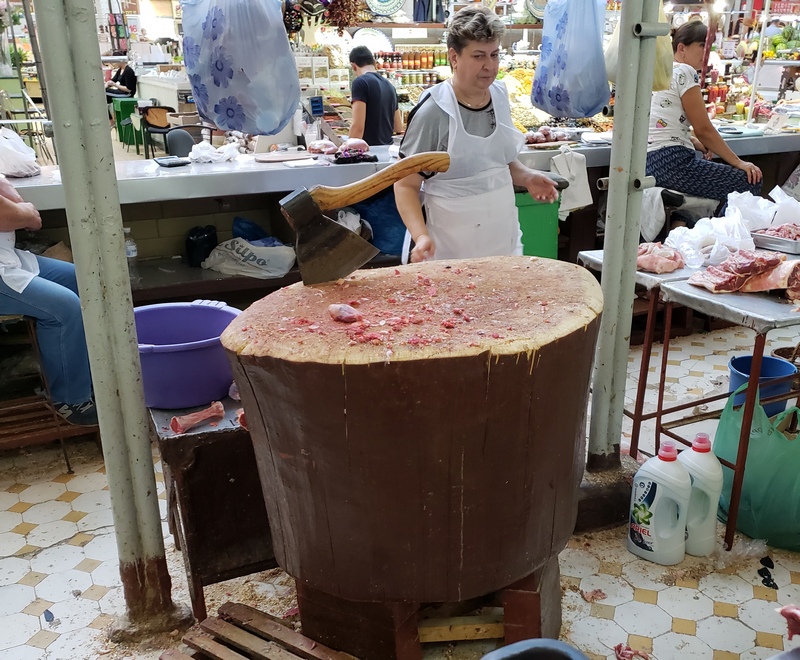 One of L.A. TACO's co-founders, Hadley Tomicki is a critic and journalist whose work has appeared in the Los Angeles Times, New York Magazine, and many other places.
Stay in touch
Sign up for our free newsletter