Featured
The L.A. Taco Guide to Japanese Curry and Where to Find the Best in Los Angeles
1:31 PM PST on February 10, 2021
[dropcap size=big]I[/dropcap]t's impossible to make a fancy version of Japanese curry. Unlike Thai curry, there's no patient pounding of ingredients with a mortar and pestle. That's because preparing Japanese curry is a simple matter of dissolving curry flakes, paste, or, most commonly, square tablets in the cooking liquid. 
As such, it's excellent as a quick meal and for repurposing leftovers. Nevertheless, Japanese curry is a dish full of meaning for those who grew up on it. For those of us who didn't, it's a touchstone we can tap into, one that gives us a glimpse of a community's continuity and provides something delicious at the same time.  
Not to mention it hits the spot on those rare overcast L.A. days. 
"Japanese curry is the most common thing eaten in the Japanese household," says my friend chef Jeff Osaka. He was raised in Leimert Park and today operates six restaurants in Denver, including Osaka Ramen, a buzzy spot where he uses curry (he favors S&B brand flakes) to flavor one of his broths. Another friend, chef Atsushi Takatsuki, owns Painter's Tape in Gardena, one of my favorite L.A. restaurants because of the skillful way he infuses dishes as varied as honey-glazed brioche Texas toast and garlic-sesame organic rice with coffee-shop heartiness. Until he recently had to streamline his menu, he made his kare pan, the popular Japanese street food that's like a jelly doughnut except it's filled with sweet and savory curry.
Atsushi grew up in Gardena—Denker Avenue Elementary, Peary Middle School, Gardena High—and that meant a steady diet of pork shoulder curry, which his mom, Yoshi, prepared as a treat on Friday nights. He's carried on the tradition throughout his career. During his two-year stint at New York's Le Bernardin, he prepared weekly batches of curry for himself; he still finds a way to eat curry once a week, and, even if they're only momentarily off the menu, he misses being able to grab one of those kare pans for himself. "Curry is one of those things people are ridiculously addicted to," he says when I reach him by phone after a long day of preparing takeout.
Since I started using Hershey bar-like pieces of curry a few years ago, I, too, have become hooked. I love how a hodgepodge of ingredients—say, two leftover roasted chicken legs and half a bag of frozen corn kernels—can become something glistening and inviting when I simmer them in a little water, break off a curry square and drop it in to make the sauce. When I want to make it super special, I might add the traditional pinch of fukujinzuke, the sweet, hibiscus-hued pickled radish which contributes just the right contrast. Talk about food providing transitions: One minute, I'm bummed and hungry; Fifteen minutes later, all is right with the world.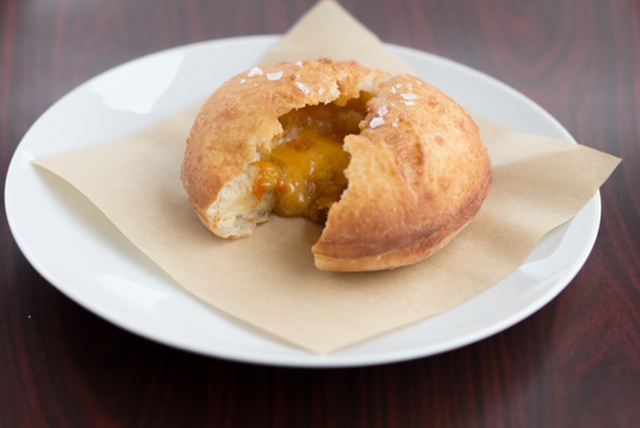 Curry, in fact, so effortlessly solves the hunger pangs of the moment that it's easy to overlook the staple's storied past. The ingredient is a relic of Japan's late Meiji period and the British Empire's attempt to open a new market in a country balanced at the time between the forces of modernity and the waning days of Shogun power. Having already ruled the Indian subcontinent for a couple of centuries by the late 1860s, the British found a way to transform the seasoning for Indian curry into a powder that could be spooned from cans. For their part, the Japanese proved themselves adept at cherry-picking the tastier traditions of colonizing forces—for instance, helping themselves to the tempura technique Portuguese merchants introduced in the 1500s. 
There's a neat story to be told of other subject people spotting culinary winners: The swirl-topped concha is one of the few edible vestiges that remains of France's 19th-century intervention in Mexico. One of Egypt's favorite dishes is a pillowy casserole of macaroni and white sauce bechamel that also reflects a complex history. (Cairo Restaurant & Cafe in Anaheim serves a great rendition.) But I digress. For the Japanese, curry would hold vast culinary potential. So much so that in modern Japan—in cafeterias, homes, and specialized places clustered near commuter hubs—its scent of warm spices is always somewhere in the air.         

Those are the same sorts of low-key, unassuming places where curry is enjoyed in L.A. today. Outside the Coco Ichibanya location in Torrance, a group of office workers wearing ID lanyards josh around, waiting for their orders to be called. Not too far away, at the Tokyo Central Market on Artesia Boulevard—an excellent resource for everything from seaweed to single-malt whiskey—competing curry brands S&B and Vermont are stacked conveniently at the end of aisles for shoppers to grab quickly.
Japanese curry is part of how we hungry Angelenos roll, but it also exists on another, deeper level. It tugs powerfully at the past.
But you don't have to wait until you get home to enjoy Japanese curry. At Kagura, one of the handful of stalls in the food court near the Tokyo Central exit, you can savor a bowl together with the crisp tonkatsu with a dab of fiery mustard and a side salad of shredded cabbage. (While you're at it, stop at the Gindaco stall and get a six-pack of takoyaki). The legendary restaurant chain Curry House may have shuttered, but the Little Tokyo space, Rike, with its pale-wood vibe, has popped up, ready to give the dish a new slant: vegan curry onigiri rice balls, which I'm dying to try. 
Japanese curry is part of how we hungry Angelenos roll, but it also exists on another, deeper level. It tugs powerfully at the past. That's not all that surprising. Many communities have time-consuming, pull-out-the-stops dishes they reserve for holidays and ceremonies. Unique as those are, the ones that can be brought to the table fast, between job shifts, school homework, and extracurricular activities, exert their own special attraction. So what a bowl of fideos might mean to one Angeleno, a helping of curry means the same for another. It's full of memories of the quiet rituals of home life, its flavor a constant in a city that is continually transforming. 
For example, Chef Jeff grew up on Coliseum Street, a looping arc of apartment buildings and small homes running one block south of what is now Obama Boulevard. It doesn't take him long to segue from describing the curry dishes of his youth to recollections of the Holiday Bowl, the 36-lane bowling alley on Crenshaw, that, with its coffee shop known for serving everything from Louisiana hot links to Chinese char siu pork, became the center of the multicultural community. "The chefs from there went on to open Hide on Sawtelle," he tells me, naming one of the city's great sushi institutions.    
The eggs are soft-scrambled but contained within the thinnest outer eggy layer, the rice packed with peas and shrimp, and the fragrant curry is served in a deli cup, steaming and ready to be poured.
For Atsushi, the step back in time is to a particular kind of diner that used to be found in L.A., particularly in the South Bay. "They all served katsu, udon, and tempura," he recalls. "Oh, and omurice, too," he says, adding the classic dish of stir-fried rice folded into a ketchup-squiggled omelet. 
Those places may be a little harder to find, but they're there, just waiting to be discovered. Otomisan on 1st Street near Soto in Boyle Heights radiates homey comfort.  Akane Chaya on Redondo Beach Boulevard has a time-burnished elegance. At chef Glen Ishii's Jist Cafe, a storefront in an old brick building on Judge John Aiso Street just east of City Hall, the Thursday special of shrimp curry omurice sits nestled amid other diner options such as Tres Leches pancakes. The eggs are soft-scrambled but contained within the thinnest outer eggy layer, the rice packed with peas and shrimp, and the fragrant curry is served in a deli cup, steaming and ready to be poured. The dish compresses flawless technique, a nod to heritage, and a ton of flavor into one badass takeout container. 
But what is that elusive flavor? It's less spicy and sweeter than Indian curry. It doesn't have the kick of galangal you might detect in Thai curry. It's quietly assertive—it draws out the woody notes of king trumpet mushrooms in the mix at Akane Chaya—yet remains hard to pin down. I can't hang up the phone with Atsushi at Painter's Tape and not ask him. "I don't know what it is," he says of the flavor he has known all his life. "I associate it with the feeling of Fridays."
I didn't grow up in a Japanese household, but the moment he says that I know exactly what he means.
WHERE TO GET YOUR CURRY FIX IN LOS ANGELES 
Champion's Curry: A bright interior and friendly service provide the backdrop for regulars dunking katsu sandwiches into bowls of curry. Also, dunk-worthy are the thick-cut fries. (Little Tokyo and, soon, Irvine). japanesecurry.com
Akane Chaya: L.A.'s crowning example of yoshoku, or westernized cooking. Loungy jazz plays as chef Tadashi Kimura, in a toque, works the stove. Thick with braised beef ragu, the curry spaghetti is definitive. (Gardena). akanechaya.com
Coco Ichibanya: A chain that prides itself on offering an encyclopedic selection. Breaded vegetarian croquette crackles deliciously into the curry. The natto, or fermented soybean topping, rings true. (Torrance, Koreatown, Brentwood, Irvine) ichibanyausa.com
Jist Cafe: A breakfast and lunch spot with a sunny disposition where a pork belly chashu hash skillet entices as much as the Tres Leches pancakes. Curry shrimp omurice is the Thursday special. (Little Tokyo). jistcafe.com
Painter's Tape: Omelet with miso butter, crème brûlée toast, and other knockout dishes share a menu in a neighborhood favorite that combines sharp execution with counter-service smarts. Regulars await the return of the signature kare pan. (Gardena). painterstapellc.com
Patric Kuh used to write for Los Angeles Magazine and currently works as a restaurant manager in the South Bay.
Read More:
Stay in touch
Sign up for our free newsletter