Events
An Insider's Guide to Night on Broadway
10:10 AM PST on January 26, 2017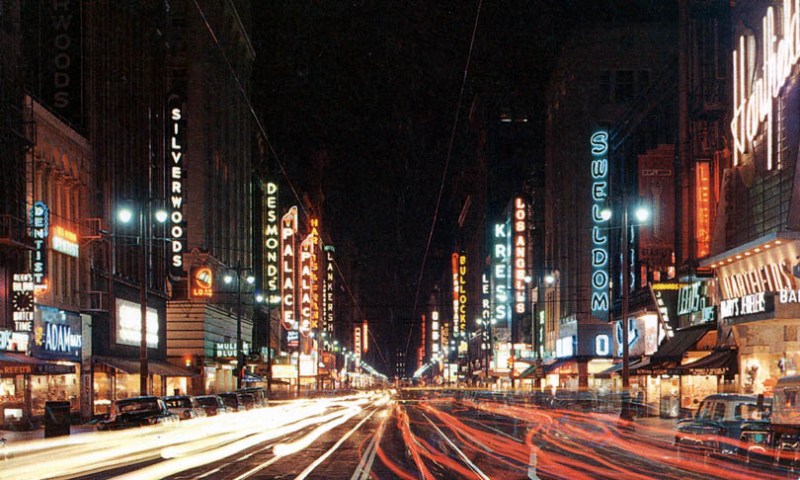 L.A. City Councilmember José Huizar's hugely successful Night On Broadway will take over Downtown Los Angeles for the third year in a row on Saturday, January 28th, 2017 – the expansive and increasingly popular free arts & music festival offers something for all Angelenos and is expected to eclipse last year's attendance of more than 60,000 people.
It has been a privilege for me to serve on the core planning team in bringing this event to life along DTLA's most important street. Let me fill you in on everything you need to know about Night on Broadway, and what I am most looking forward to – from an insider's perspective.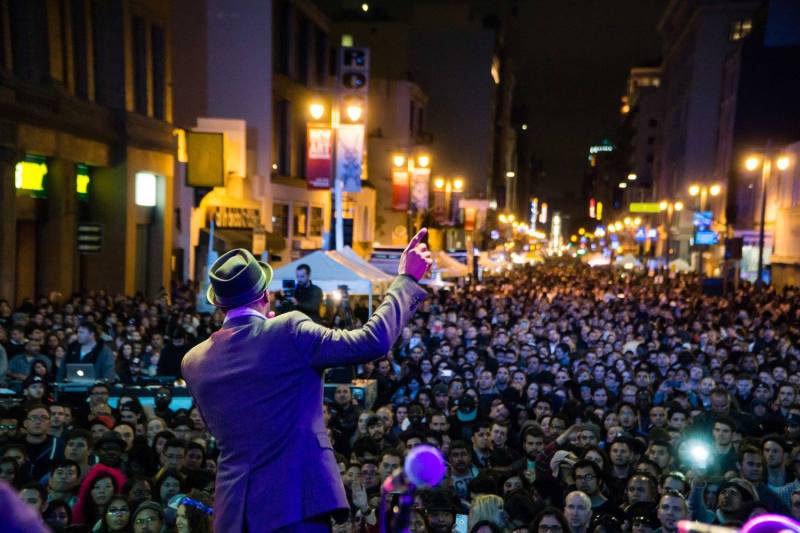 A mile-long stretch of Broadway between 3rd St. and Olympic Blvd. will be closed off and transformed for the free event, offering music, games and activities for people of all ages, food trucks, art installations, and one-of-a-kind-experiences featuring hundreds of acts, including performances on four stages in the street and in six of Broadway's historic theaters. Night on Broadway celebrates the 9th Anniversary of Huizar's Bringing Back Broadway initiative, a 10-year plan that has spearheaded revitalization along the historic Broadway corridor in DTLA.
Night On Broadway first debuted in 2015 with 35,000 people in attendance. In 2016, that number nearly doubled. 2017 promises to be bigger and better than ever.
"Night on Broadway has been described as a love letter to Los Angeles and that is exactly what it is," according to Councilmember Huizar. "Opening up a mile of Broadway to pedestrians and inviting tens of thousands of people into six historic theaters on the same night is our way of reminding Angelenos about Broadway's past as the City's entertainment and retail mecca, and to see firsthand that its present and future are bright. Broadway – like all Angelenos – is uniquely Los Angeles, and that is what we're celebrating."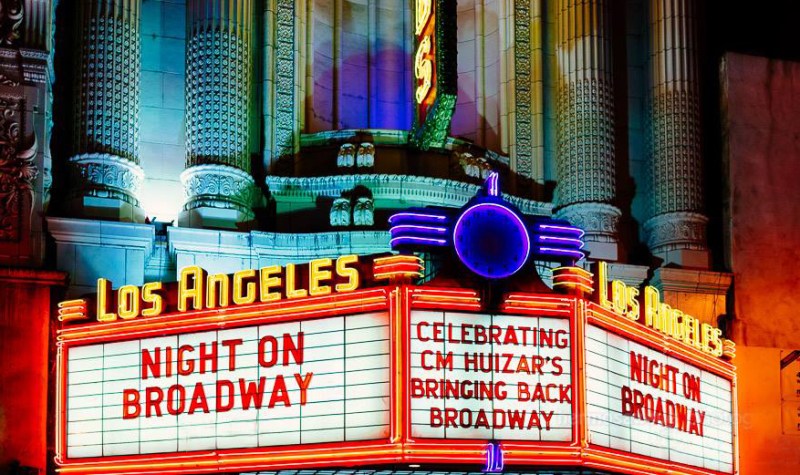 OUTDOOR STAGES
The Olympic Stage, the largest outdoor festival stage at Olympic Boulevard, will be headlined by Mayer Hawthorne, Oingo Boingo Dance Party, Las Cafeteras, the Spazmatics, Rodney-O & Joe Cooley, and others with DJ Earry Hall keeping pace. Adjacent to the Olympic Stage will be a beer garden sponsored by local craft beer favorite Angel City Brewery and Pabst Blue Ribbon.
At the 5th Street outdoor stage, Viva! Presents emerging Los Angeles area talent. Acts such as É Arenas (of Chicano Batman), Thee Commons, Buffalo 2, Sad Girl and others will explore the depths of the current indie musical mentality and today's Los Angeles rock 'n' roll community.
STAR Education, innovators in children's education, will present the Kids' Zone and Kids' Stage at 6th Street. Kids of all ages will get to explore science projects, see exotic animals, meet Disney celebrities, and enjoy musical performances by talented kid rockers in their very own bands. The Kids' Zone will also include interactive carnival games by the Two Bit Circus Foundation.
Pride comes early to Downtown Los Angeles with the DTLA Proud Block Party, which will feature an "LGBTQA Stage Spectacular" curated by Downtown's most celebrated drag duo the Boulet Brothers, with special guest DJs between performances including local favorites DJ Mateo Segade, DJ Pogo Pope, DJ Whitney Fierce and DJ Josh Peace. Visitors can enjoy queer-themed games, an interactive art installation by Homo Riot, live entertainment, community booths and fun for all ages, backgrounds and identities. I am most excited for this stage – located at 4th & Broadway, the DTLA Proud Block Party celebrates the growing LGBTQ community in DTLA and showcases some of the best local talent and community resources that the flourishing gaybourhood has to offer.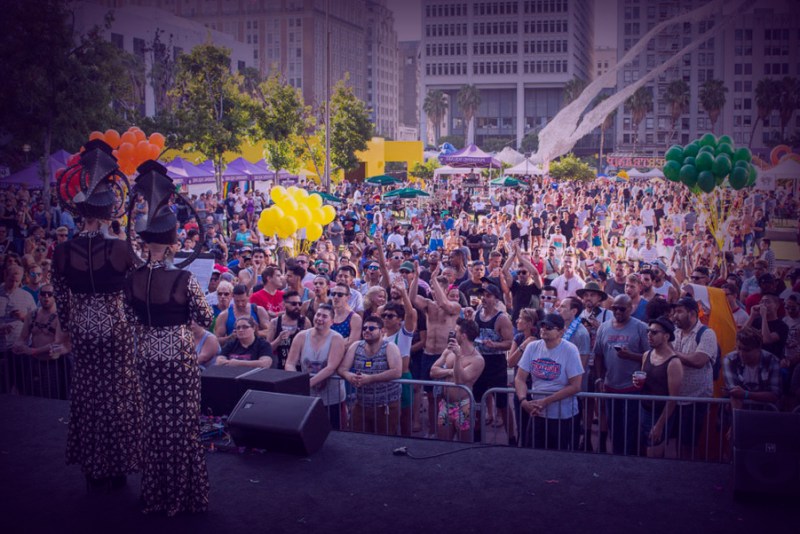 THEATRES
Other highlights of this year's world-class lineup include longtime online radio station (and soon to be on the FM dial in L.A.) dublab's takeover of the Theatre at Ace Hotel (a.k.a. the 89-year old United Artist Theatre) with live electronic and experimental music alongside video art, featuring Tim Hecker, Loscil, M. Geddes Gengras, Cat 500, and many more.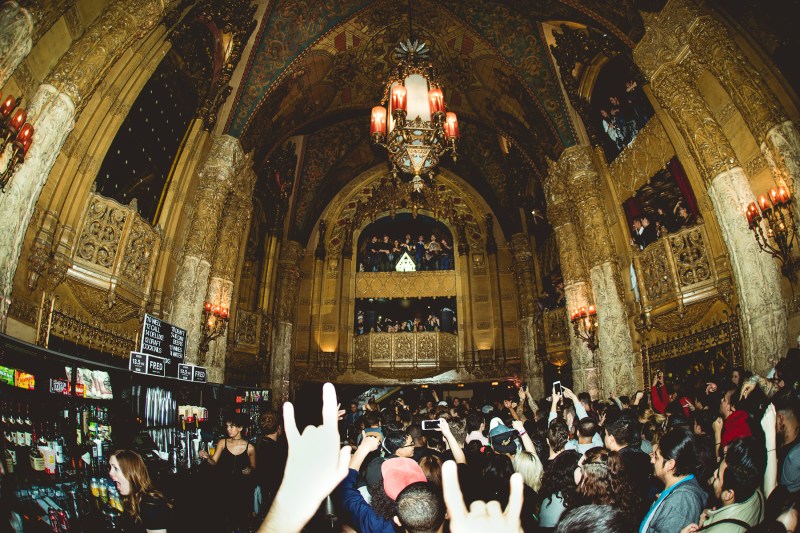 IAMSOUND Studio will create an immersive installation of music, dance and visual art in the Los Angeles Theatre, which opened on Broadway 86 years ago this month. Performances by Morly, Harriet Brown, The Sunland Dancers and others will be complemented by stunning visual presentations by IAMSOUND visual artists along with Dazed and Sedition film programs. Stick around late for the official after party featuring a full bar complete with light installations and special guest DJs spinning until 2am.
Comedy will be king at the Palace Theatre, featuring both music and stand-up variety at the 105-year old venue. Kabir Singh (Gabriel Iglesias's Stand-Up Revolution), Allen Strickland Williams (CONAN, Comedy Central's Comics To Watch) and David Studebaker (one of the SF Weekly's "10 Best Comics To Watch") will begin the evening. The memorable PPL MVR, members of various famous bands disguised head-to-toe as Yetis to be able to anonymously play together, will entertain mid-evening. BAKED! is back for a debut performance, hosted by Brendon Small (Metalocalypse, Home Movies) and Steve Agee (The Sarah Silverman Program.) Drennon Davis (Seeso's The Comedy Show Show! and LA Weekly's "Top Ten Comedy Acts to Watch") will finish out the night. Downstairs, enjoy a psychedelic black-light art installation by Debi Cable.

The 90-year old Orpheum Theatre will feature the "Advent of the VJ," a behind-the-scenes look into visual artistry created as part of the live music world. Moderated by Michael Patterson from the USC School of Cinematic Arts, key figures in the Los Angeles live visual community will speak about their work. Special musical guests will include L.A.-based artists currently pushing the boundaries of real-time audio and visual. I am most looking forward to the Orpheum Theatre's program – this is something new for Night on Broadway and I think it will be very interesting, akin to an interactive talk you might experience at South by Southwest (SXSW).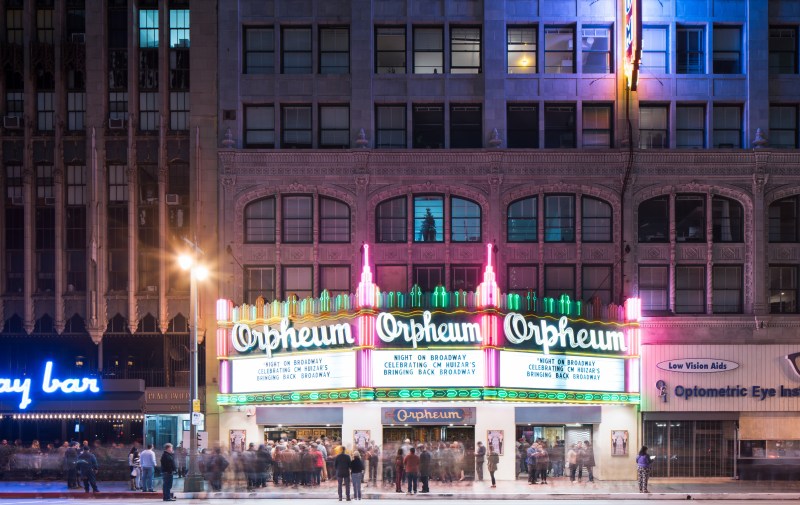 DJs Music Man Miles & Clifton welcome special guests for an exclusive rendition of Funky Sole, L.A.'s longest running funk and soul weekly DJ dance party. They will bring their mix of '60s and '70s all-vinyl sounds to the 104-year old Globe Theatre for an all-night-long groove-athon, including dance contests for those ready to step in the circle and show off their best moves.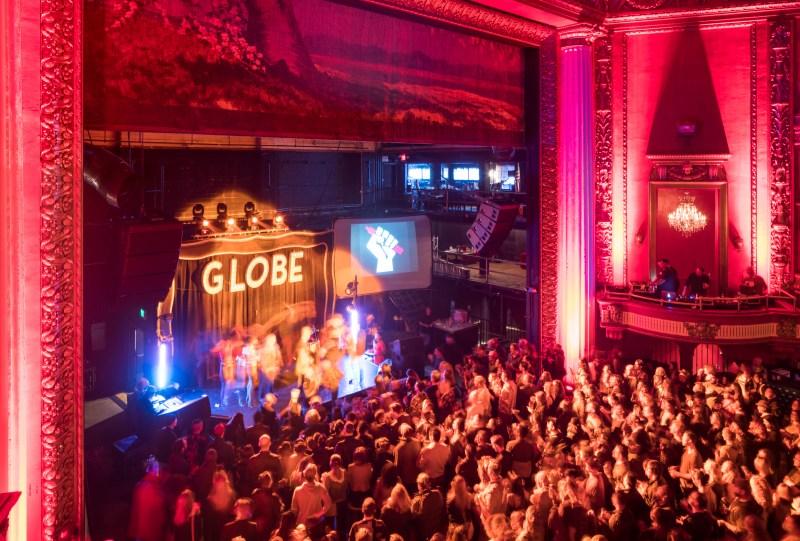 Recalling the Golden Age (Recordando la Epoca de Oro) will be the theme at the Million Dollar Theatre, which will turn 99 years old in February. Special highlights include Latinx artists Lupita Infante, tributes to Antonio Aguilar, Jorge Negrete and José Alfredo Jiménez. Reminiscent of the 1950s-1980s heyday of the Million Dollar Theatre, mariachi, swing, and mamba music will round out the retrospective with live bands and folklorico dance.
OTHER THINGS TO SEE
The KCRW Sound Clash: A Silent Disco by HUSHconcerts will put KCRW DJs in head-to-head battles to see who can deliver the most irresistibly danceable mixes for a crowd of hundreds dancing in the street to beats created for this unique experience heard only through special headphones. Don't miss Anthony Valadez vs. Jason Bentley, and Mathieu Schreyer vs. Jeremy Sole.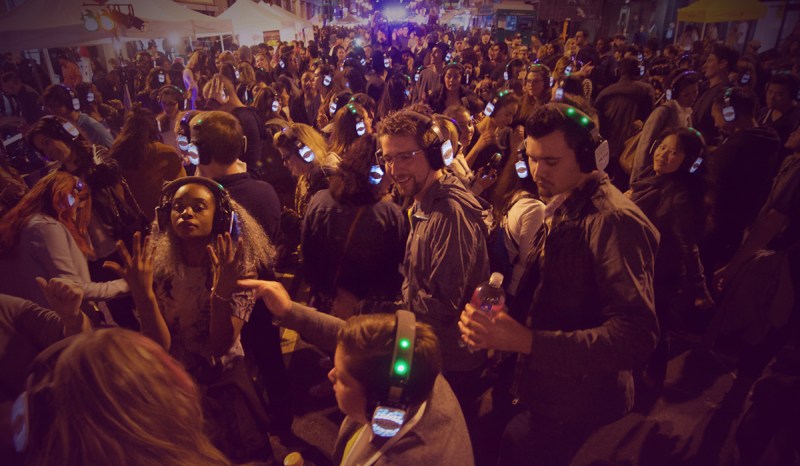 Chessboxing is back for a Night on Broadway encore, and will be splitting the evening in the 3rd Street Ring with Lucha VaVOOM. Chessboxing has opponents compete in three-minute tandem rounds of chess then boxing until one emerges victorious, either by checkmate or knockout! Lucha VaVOOM is where lucha libre, hi-octane performances and comedy collide. Wild, incredibly popular and action-packed, Lucha VaVOOM is a Los Angeles legend, celebrating 15 straight years of sold-out shows at the historic Mayan Theatre in DTLA.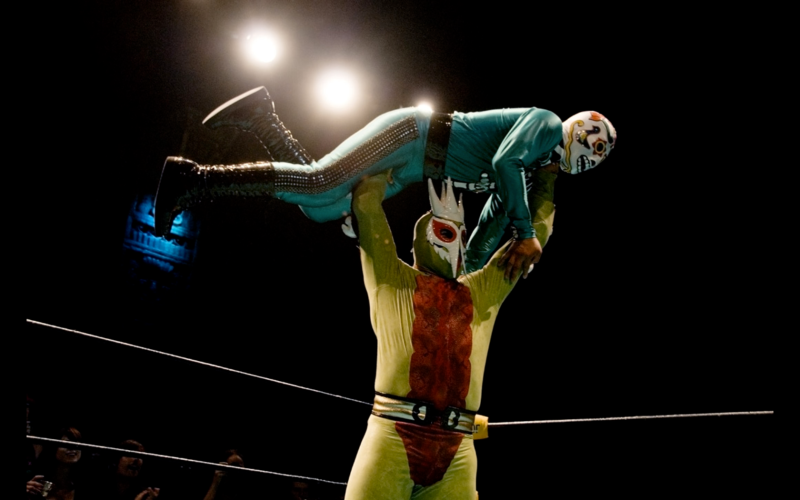 Monster Energy presents the first Night on Broadway Dodgeball Cage Match at 8th Street. Teams will spend the evening battling it out in an outdoor tournament coordinated by dodgeball aficionados, the Eagle Rock Yacht Club.
Artist, musician and inventor of numerous musical instruments, William Close will bring his magnificent Earth Harp to Night on Broadway. Two hundred feet of harp strings will be strung from the street to the top of the 12-story Beaux Arts State Theatre office tower at the intersection of 7th Street and Broadway, and the iconic 92-year old Broadway building and the street itself will become the spectacularly symphonic instrument played throughout the evening. I am particularly looking forward to seeing this – it will certainly be hard to miss.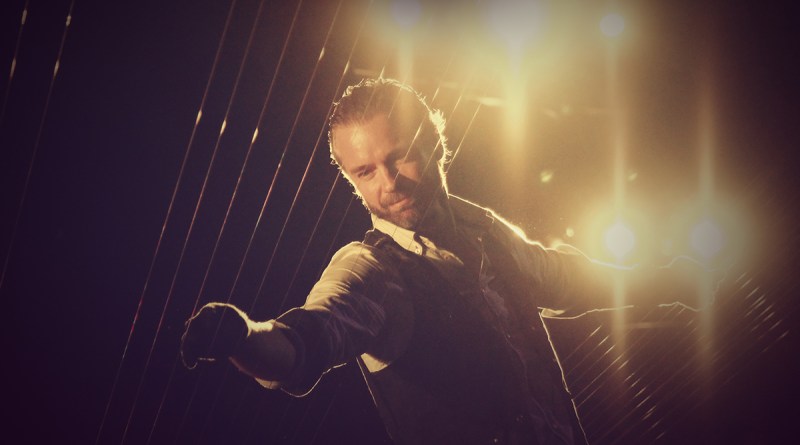 Curated by Full-On 360, the notable virtual reality pros at VR Playhouse have teamed with a half dozen other VR creators to showcase numerous immersive experiences in the Virtual Reality Dimension Zone at 7th Street. Whether scaling Mount Everest, painting a masterpiece, riding a roller coaster, falling from a skyscraper, or colonizing Mars, participants will be taken on a 3D and sometimes 4D/tactile journey like never before. In the Dome, no goggles are required to be part of the immersive experience.
Between 4th Street and 5th Street on Broadway, catch a glimpse of the Dunk Tank Flambé – designed by the inventors and entertainers at Two Bit Circus, this is not your typical dunk tank. If you are successful in hitting the target, a tornado of flames will engulf the brave soul inside the tank who wears a special flame-resistant suit.
Near the intersection of 6th & Broadway, a seven-story Ferris wheel will be nestled among the historic buildings providing a high perch with unparalleled views of downtown and its iconic, evolving skyline.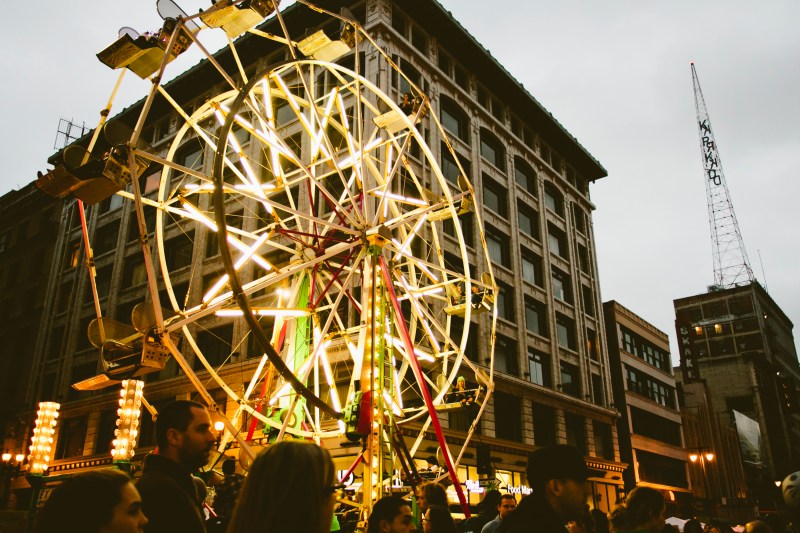 Among a number of vendor clusters throughout the event, the very special Connected Fest brings together a community of L.A.'s creative elites, tastemakers, and pathfinders in music, art and fashion. Curated by The Well and Ladies First, Connected Fest is a beacon for progressive culture and a shopping experience like none other.
The mile-long, seven-block outdoor festival area will also be teeming with large-scale art installations from creators such as Aphidoidea; H Plus Creative; Todd Granger Bank; Anthony Caldwell; LT Mustardseed; Susan Narduli; Phil America and Think Tank Gallery; Davia King; Fresh Fruit and many more. The Mural Conservancy of Los Angeles will stage a Street Art Challenge where numerous notable street artists will face a blank canvas and a countdown to create something incredible while spectators cheer them on.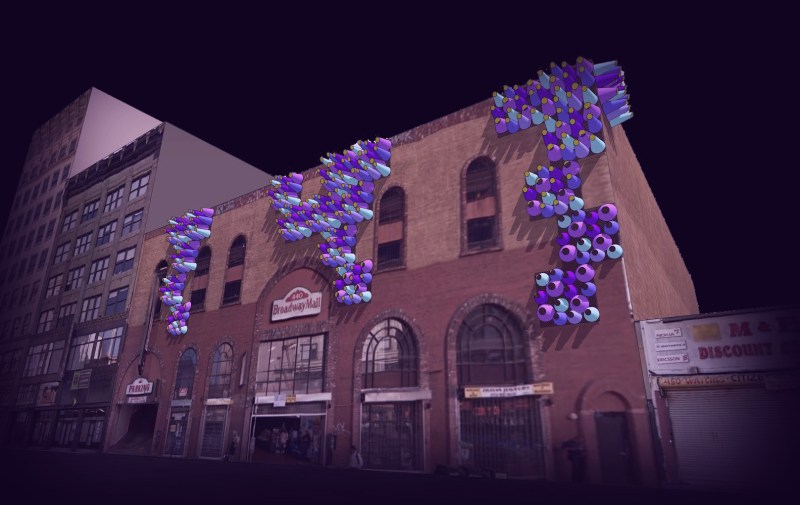 An itinerary tool at www.NightonBroadway.la provides info about all of the evening's acts and experiences. Explore photos, bios and an event map to plan your own unique Night on Broadway experience. The new Night on Broadway mobile app will be available January 20 for download. Designed by Augmenteum, pioneers in the art of augmented reality, it will provide itinerary information, photos of acts and artists, event mapping and geo-location, as well as a built-in augmented reality platform that will game-ify the live on-site Night on Broadway experience, allowing users to interact in real time with holographic characters and icons within the app. This fusion of digital technology with existing event locations is a first-of-its-kind, created especially for Night on Broadway.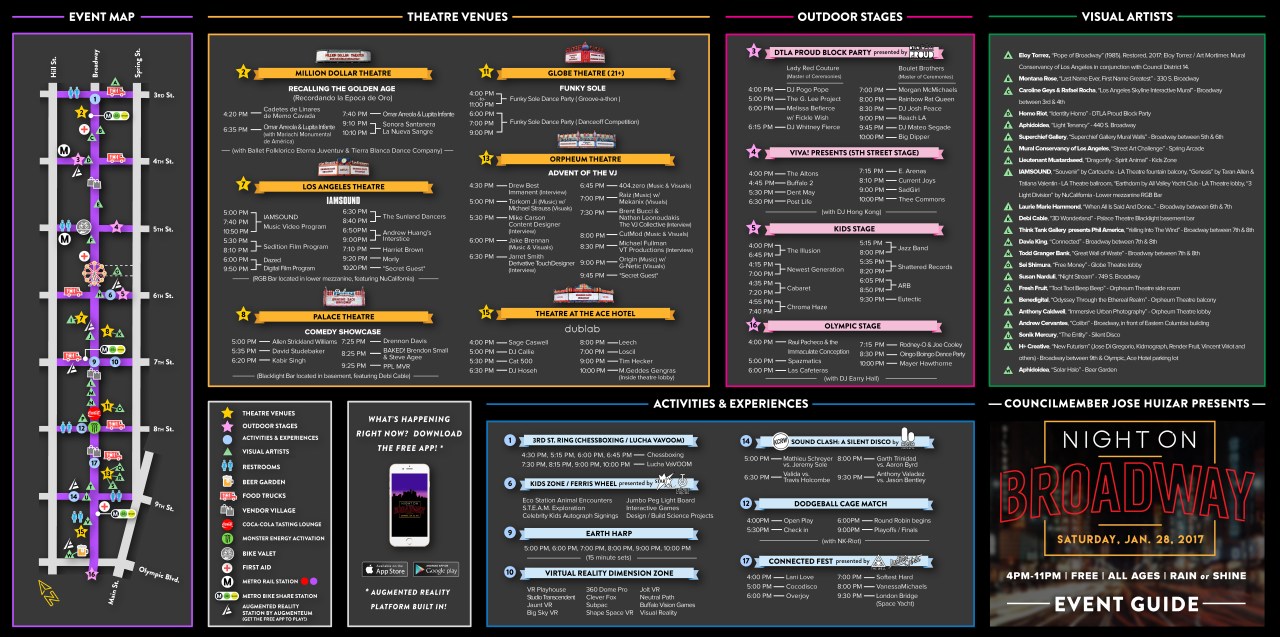 With SO much going on, there's no way you will be able to see and experience everything in one night, so draft up your agenda in advance. Parking and traffic will be tough, so plan accordingly - I suggest you take Uber or Go Metro into Downtown. There is even a complimentary bike valet available, and there are three Metro Bike Share stations along the festival route. Have a great time out there, and see you next year on January 27, 2018 as we celebrate the 10th anniversary of Bringing Back Broadway.
Creative thinker and doer based in DTLA with a focus on architecture, art & design, festivals & events, urban photography, food, and local LA culture.
Read More:
Stay in touch
Sign up for our free newsletter