Featured
How Trap Music, Corridos, and the Mexican American Identity Created the L.A. Anthem 'Radicamos en South Central'
2:26 PM PDT on September 9, 2020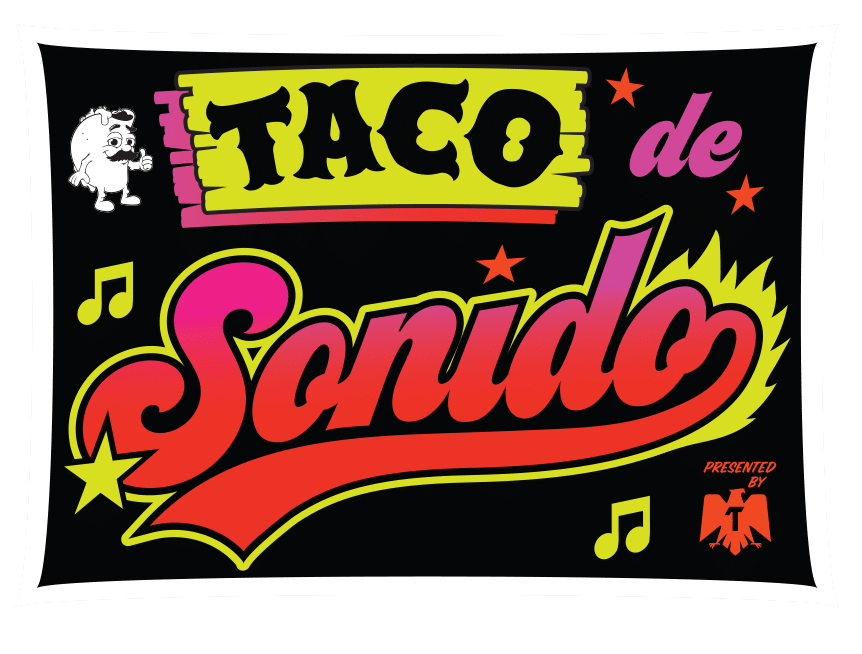 Welcome to Taco de Sonido, our new monthly music column presented by Tecate, the official beer of L.A. TACO. Each month we'll bring you the latest up-and-coming artists that are staking a claim to the new sound of Los Ángeles. Read, listen,  share, and don't be afraid to share your comments or suggestions for new artists for us to check out. We've got our ears on the street but we want to hear from YOU.
n las calles de San Bernardino...vamonos!" Fuerza Regida's lead singer Jesus Ortiz Paz (known as JOP), shouts as their music video for Del Barriobegins. It's an anthem about proclaiming one's own love from where you come from through the language of street hustling—the video itself is just a few clicks shy of eight million views on Youtube. The Mexican American band hails from areas that dot San Bernardino counties, such as Colton and Loma Linda. Their blend of regional Mexican Corridos meets the Trap spirit of hip-hop has become one of the most popular new-school corrido bands to come out of Sur Califas. 
"En el barrio fino en que yo radiqué
Por las calles del CB me la pasaba bien al tiro
Con bolsitas de veinte yo comencé
De a 40 y de a 60 nos empezó a ir muy bien
Todo al 100"
Their origin story began in 2015 when lead singer JOP met Khrystian Ramos and Sammy Jaimez at the barbershop. JOP was initially hired to play bass, but JOP stepped up to the mic when the original lead singer left the band. Soon after that, Jose 'Pelon' Garcia rounded out the musical group with his tuba. The rest is "nuevo corrido" history.
The band often refers to their dedication to husting as a large part of how they got their start. The band regularly played a circuit of backyard flyer parties and slanged CD-Rs of recorded covers out of their cars' trunks around San Bernardino, Colton, and Riverside. Places that often go unnoticed with so much of an emphasis being put on bands and music coming out of the L.A. metro area, but to FR, these Inland Empire communities provided prime real estate in building their steadfast following.
If the band were to pinpoint when they earned a certain level of notoriety, all roads would lead to their breakout hit Radicamos en South Central. The anthemic nature of the first notes of the song hit hard with the perfectly blended mixture of 12-string guitar (known as Bajo Sexto in Español). It becomes celebratory as soon as Garcia's tuba enters the ballad. Finally, JOP's rapturous vocals enter the fray with the opening line: "Radicamos en South Central/El negocio anda muy fuerte/Esta zona controlamos/Polvo blanco manejamos/ Para ser exacto en cuadritos los mandamos."
These lyrics, like in Del Barrio's, allude to selling drugs. It is the element that these "Trap Corridos" share with the Trap subgenre in hip-hop. Along with romanticizing the daily grind of getting up every morning to work and provide for your family, these two themes form the pillars of most Trap Corrido lyrics.  
"We are American. We all listen to Snoop Dogg and Easy-E. My parents are Mexican. At home, we'll be listening to Ramon Ayala, Los Bukis, my dad be bumpin' Valentin Elizalde."
Upon the release of "Radicamos en South Central," with little to no other streaming platform support other than what was posted on YouTube, the band racked up a cool million views within a few months of its debut. And it's easy to see why. The expressive nature of the music allows FR to resonate deeply with its audience base. With strong ties to regional Mexican music by adopting the traditional corrido melodies paired with street-wise lyrical content, it quickly became the #1 go-to cover song for the thousands of backyard corrido bands that roam around the backyards and mariscos joints of Los Angeles and beyond. 
The confluence of hip-hop and street culture can be found throughout their particular genre of music. The instrumentation draws from traditional banda sounds and sometimes feature instruments such as the charcheta (alto tuba) and tololoche (small upright double bass), effortlessly matched with signature braggadocious lyrical content, except, of course, sung in Spanish. A perfect example of the style-blending would be the music video for Radicamos containing imagery of West-Coast hip-hop culture such as lowriders, references to drug dealings, and band members encircled by a cadre of adoring female fans.
"We are American. We all listen to Snopp Dog and Easy-E. My parents are Mexican. At home, we'll be listening to Ramon Ayala, Los Bukis, my dad be bumpin' Valentin Elizalde," said Paz. Growing up Mexican American to Mexican immigrant parents created a cultural shift that made it harder to identify who you were back then. Paz recalls when growing up, it was uncool to say that you liked Mexican music. "Everybody would hate on us [for liking Mexican music.] But now, all the homies that be hating on that stuff then be bumpin' it now you know? Now it's cooler than back then." 
Not long after Radicamo's success, the band got a call from Ramón Ruiz, of fellow southern California-based corridos group Legado 7. He is also the co-founder of Lumbre Music, a label affiliated with Rancho Humidle, the premier record label known for signing the best in the up-and-coming genre. He asked them to join his label and request FR to join the "Smoke Me Out" national tour featuring Legado 7 and other nuevo corridos luminaries such as Arsenal Efectivo, and El de La Guitarra.
[the_ad_group id="24560"]
"That song (Radicamos en South Central) is still feeding us to this day. That music is forever...now we be selling out shows all over the U.S. and Mexico….thank God….from starting in a backyard in San Bernardino," said Ortiz 
When asked to describe what type of music they play, JOP and Pelon of FR have trouble naming a specific genre, but instead, rattle off series influences that provide the blueprint that makes up the genre. Their music is referred to as "Nuevo Corrido" or "Urbano Regional" often. 
"That song (Radicamos en South Central) is still feeding us to this day. That music is forever...now we be selling out shows all over the U.S. and Mexico….thank God….from starting in a backyard in San Bernardino."
It is the type of music that doesn't strictly come from one place or the other but instead, exists in a harmonious space that encompasses both sides of the border. The brevity of their influences weighs heavy like a Kevlar vest. The music FR makes is yet another facet of bicultural music representative of the timeless "Ni de aquí, ni de allá" identity struggle. It is an attitude that many listeners can relate to, whose own parents immigrated from Mexico and other parts of Latin American but were born here or have grown up the majority of their lives here in the States. It also sounds excellent when played loudly out of a car stereo system—especially a lowered truck. 
Despite their millions of fans, FR's music hasn't always been well-received from some traditional Mexican audiences. The band had heard such criticisms, though not directly as "musica de gringos or güeros,'' said Paz. Another criticism is that their music that they and their contemporaries create isn't worthy of being a "corrido," given that it originates from America. However, with consistently sold-out shows both in the United States and Mexico, it's clear who has the last laugh.
"We do everything," said JOP. On their most recent release, Aditco aims to expand their sonic horizons with the band taking more liberties with their sound and dipping into more of introspective lyrics. At the same time, maintaining the same raucous energy that garnered them attention in the first place. They hope that as the band continues to grow, fans will follow suit. 
The final track on the album Estoy Aqui is the perfect example. It is a nostalgic song about being at home and maintaining a sense of being content with friends and loved ones. The stripped-down sound has more in common with Ed Maverick and Ed Sheeran rather than the usual bold banda sounds. It relies on a simple, maybe even poppy guitar riff as JOP croons his way throughout the song, reflecting on the moment that many took for granted during pandemic times.
Despite the moment of pause on the final track of Aditco, the band continues to blaze their path with another release titled "Otro Pedo, Otro Mundo" on September 25th. It is their sixth release since 2018. With no signs of slowing down anytime soon, Fuerza Regida attributes the success to their musical genre's universal appeal, from "the young foos to the older foos…" as Pelon Garcia says.  
No doubt, the streets of San Bernadino are smiling right back at them.
Gabriel Chabrán is a food writer and journalist from Highland Park. He currently lives in Long Beach with his wife Katie, their new baby, and their Russian Blue cat, Mars.
Read More:
Stay in touch
Sign up for our free newsletter