Featured
The Daily Resilience of Operating a Multi-Generational, Family-Run Chinese Restaurant During a Pandemic in L.A.'s South Bay
2:36 PM PDT on August 25, 2020
[dropcap size=big]A[/dropcap]lice Lau glances out the kitchen window at Chubby Rice in Hawthorne. Two customers who ordered several bagfuls of food are loading up their dented Prius, oblivious to the one clamshell take-out container they forgot to pick up. Alice's 71-year-old mom, Helen—decked out in a Celine Dion cap and a sky-blue face mask—darts from behind the counter, passing the overlooked container into the hands of the pair just before they pull out of the Inglewood Avenue lot. 
It's but one of the suspenseful mini-dramas that play out during the long days that go into operating a multi-generational, family-run Chinese restaurant during a pandemic. The corner spot that shares the lot with local favorite Mi Zacatecas opened in 2016 when Alice, her sister Linda and Linda's husband Joe Fang saw an opportunity to update Chinese take-out food with a modern flair. "We're not traditional as in Alhambra," Alice says. Instead, it's a visually appealing, well-known accessible menu, executed with great care, and an emphasis on speed.
With most local offices closed, business at Chubby Rice is off by 50 percent. But that doesn't mean Alice and Helen are dropping their exacting standards—the thick chow fun, or rice, and noodles are still sent out garnished with a flurry of Thai basil strips. And their unique, vibrant green aji sauce remains the perfect counterpoint to the sizzle of salt-and-pepper calamari. That's not to say the Laus, who have spent more than four decades in the restaurant industry, haven't had to adapt like every other restaurant in the age of COVID-19.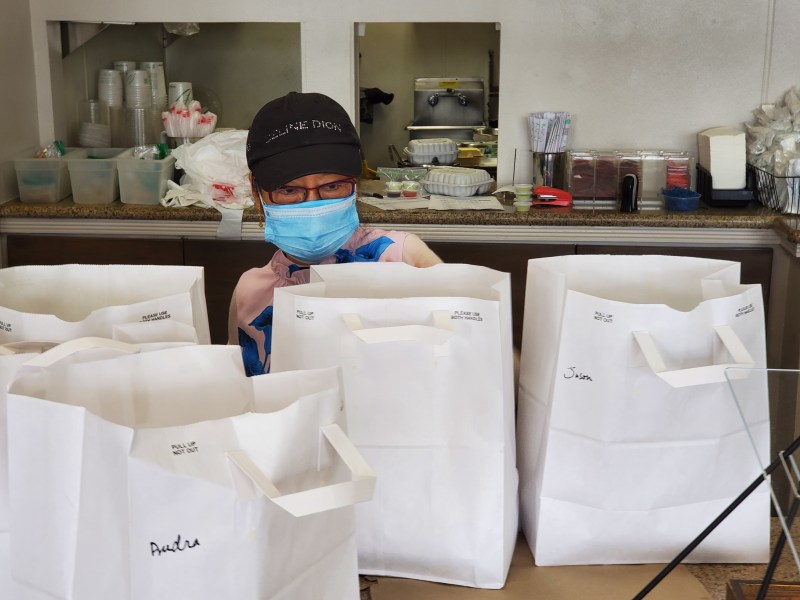 Working as a family, Chubby Rice has been able to slowly bounce back, tapping their resourcefulness and years of experience to retain customers and stay afloat. They now include bagged free homemade Rice Krispy treats with packets of soy sauce and flatware to thank patrons for supporting their small business during these unprecedented times. The Plexiglas guard encasing the cash register is new, but they still take time to get to know Doordash delivery drivers and, when possible, greet them by name as they rush in and out.
...Chubby Rice's tofu version is smoky from the breath of the wok, draped in caramelized mushrooms and green-onions, all redolent in a garlicky sauce.
Speed is the essence of any take-out restaurant, and, at Chubby Rice, the Laus rarely miss their goal of getting orders out in less than 15 minutes. Time-saving efficiency permeates the operation, starting the moment the phone rings with a request. "When you answer the phone, you really have to know the menu," Alice says during a rare break. Customers might not remember the name of the dish they've enjoyed previously and want to eat again. A few pointed questions—fried or not? Dark sauce or light?–quickly reveal the sought-after dish, and the specialty is typed into a tablet-like monitor. 
Hours of food prep have already occurred before the restaurant opens at 11 AM, and there's more to do after it closes at 8 PM. Vegetables must be cut to a uniform size, so they cook evenly; wontons must be filled and tightly sealed by hand; and thinly sliced chicken breast must be poached and chilled in an ice bath so Helen's husband, Jason, need only sear, season and swirl for a moment or two before it reaches stir-fried perfection. "He's 76 and still running the wok," Alice says proudly of her dad.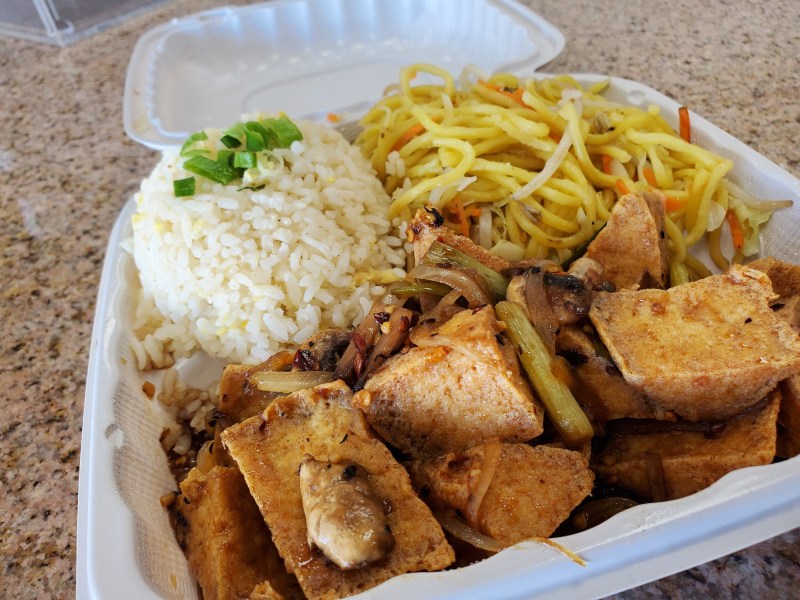 Take-out containers are pushed out the order window with acronyms jotted on the lids with a Sharpie for faster packaging. Regulars recognize menu items by the scribbled shorthand. "GTT" stands for General Tso's Tofu, a vegetarian take on the ubiquitous (and often underwhelming) chicken dish. But Chubby Rice's tofu version is smoky from the breath of the wok, draped in caramelized mushrooms and green-onions, all redolent in a garlicky sauce. "CER" is the shorthand for chubby egg roll, a crisp, golden wrapper generously stuffed with a mix of diced celery, shredded cabbage, and ground pork, that calls for dunking into the two-ounce cup of sweet-and-sour sauce riding shotgun. 
One of my favorite options is the signature pork sandwich—"PK Sammy"—a marinated pork cutlet fried in a gossamer-thin cornstarch dredge, then given a squeeze of fresh lime juice and crowned with a thatch of vibrant slaw that peeks out from a griddle-browned telera roll. "We want to be able to offer different stuff," Alice says. "Sometimes people aren't in the mood for Chinese."
The Laus' is a Chinese American restaurant where the familiar is deftly infused with a contemporary sensibility. They offer scoops of fried rice and chow mein and the entrée, but they've also invested in three-section take-out containers that are recyclable. 
It takes Jason six hours to slow-fry a variety of dried peppers to craft the chili oil that makes an order of wontons deliciously spicy. Still, the kitchen offers a ginger- and rice vinegar-laced Coca-Cola sauce that is an essential complement to the crackling chicken drumettes. There are no stereotypical pagodas or ersatz Asian lettering to be found inside the tight corner space. Instead, four pistachio-colored metal stools form a line under the flat-screen TV. Unused though they may be at the moment, the handful of dark reclaimed-wood tables evoke a gastropub rather than a formal banquet hall. Orders are recorded on the latest Square tablet. There's even a hint of punchy humor in the restaurant's name.
The stretch of Inglewood Avenue, where Chubby Rice is located, is also home to a halal restaurant, a carniceria, Hawthorne's Moose Lodge, a Lutheran church, and numerous body shops. SpaceX is nearby. And so are the 405 and 105 freeways, which means customers can come from anywhere—and do.
Like many immigrants, Helen remembers the date she and Jason arrived in the U.S: April 1, 1973. The couple—she's from Hong Kong and he's from Guangzhou, China—came to help his uncle run a motel in Mountain Home, Idaho, a small town southeast of Boise known for its large Air Force base. She was four months pregnant with their eldest daughter, Stephanie, at the time. Seven years and three more children later, in 1980, the Laus launched Golden Crown restaurant, where Jason—already raising culinary expectations—hauled smokers into the parking lot to make char siu, the red-hued pork he made to elevate his stir-fries. 
Alice looks back fondly on the Idaho community that embraced her family. "The kids you go to kindergarten with are the same ones you go through your entire school with," she says. "They're friends for life." (In fact, Mountain Home residents visiting L.A. have been known to ship Chubby's egg rolls home as a form of delicious nostalgia.) One by one, the Lau children pitched in at the restaurant by plating, bagging, and taking calls. "They all started in the kitchen, in the bassinet," Helen says. 
Alice studied business at Oregon State University in Corvallis. Her sister Linda, who graduated from Albertson's College in Caldwell, Idaho, gravitated to cooking. After studying at the Culinary Institute of America in upstate New York, Linda worked at Manhattan Beach's M.B. Post for five years. In creating a small restaurant, the sisters saw an opportunity to update and honor the tradition they'd grown up in—one that became all the more meaningful when Helen and Jason offered to help. Hawthorne, close to LAX but still recognizable as a community, seemed like a perfect site.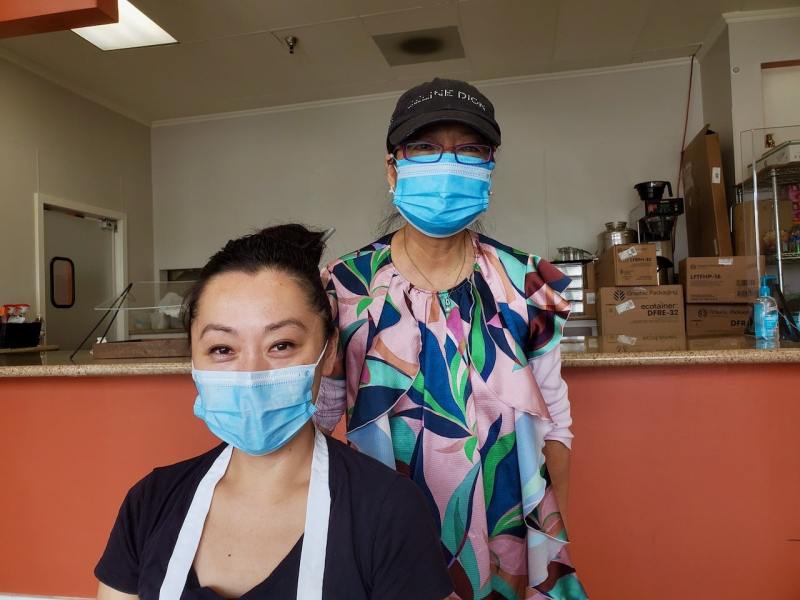 The stretch of Inglewood Avenue, where Chubby Rice is located, is also home to a halal restaurant, a carniceria, Hawthorne's Moose Lodge, a Lutheran church, and numerous body shops. SpaceX is nearby. And so are the 405 and 105 freeways, which means customers can come from anywhere—and do.    
At any given moment, as people dart in to order their Mongolian Beef and egg drop soup, you can feel that the challenge of blending worlds has been pulled off. On occasion, the Laus has also been reminded of the baggage that can suddenly seem as old as the Chinese experience in California. "'You don't have COVID, do you? I don't want to get COVID,'" Alice recalls one customer asking in the early days of the pandemic. Even while recounting this from behind a mask, she visibly winces. "We're from here," she says, her voice trailing off. "What can you really do?" 
On a late morning in mid-August, mother and daughter are in the dining room, waiting for whatever lunch rush might materialize. Jason can be heard chopping in the kitchen, still knocking out the prep. At the counter, Helen plucks Thai basil leaves off their stems. Alice sits at a bare table, gamely fitting a quick interview into the day's tasks. The subject of using those sustainable take-out containers instead of the Styrofoam kind comes up. "Trying to do what we can," Alice explains, noting the additional cost of the new containers. "We know Chinese food is a take-out business. Using eco-friendly stuff is a way to do our small part for our world." 
When the phone rings, Helen jumps to answer it. "Stir fry veggies with chicken, stir fry veggies with tofu," she repeats back to the customer as her fingers punch in the order. "About ten minutes," she says cheerfully. "See you soon." The lunch rush has begun, and the Laus are off and running again. 
Chubby Rice is at 12836 S Inglewood Ave, Hawthorne, CA 90250. (424) 456-4341
Patric Kuh used to write for Los Angeles Magazine and currently works as a restaurant manager in the South Bay.
Stay in touch
Sign up for our free newsletter