Featured
Harlem and Boyle Heights Unite to Bring L.A.'s Best Carnitas to New York
3:43 PM PDT on May 8, 2020
[dropcap size=big]H[/dropcap]eads up New York, Los Angeles is about to drastically improve your taco scene. 
In what's shaping up to be the bromance of the year, a Spanish chef from the Harlem Projects and a homie from Boyle Heights are teaming up to bring Manhattan arguably the best carnitas you will ever find in the U.S.
Carnitas El Momo needs no introduction. But if you're a New Yorker and haven't got a clue, El Momo's Michoacán-style carnitas is one of L.A.'s most prized taco assets.
Don Romulo "Momo" Acosta learned the art of preparing and cooking pork in the large traditional copper pots through the quietest hours of the night from his father, Felix Acosta, a butcher and carnitas master from the state of Guanajuato, Mexico. For the past 60 years, the DIY taquería has continued as a family tradition operating out of a cramped parking spot behind their alley-adjacent home in Boyle Heights. It simply doesn't get more L.A. than Carnitas El Momo. 
Last week, El Momo's Instagram account posted pictures of a restaurant, Amigo, with its name in large pink letters against a black backdrop. Painted on the window is the white iconic font "El Momo." The location tag offered only the slightest, but loudest of hints: New York, New York. 
The caption didn't offer any more clues. Only a beautifully written prose by son Juan Carlos Acosta, aka Billy, reflecting on their family's long journey.  
Different cities and roots, yet similar immigrant upbringings and struggles
Unlike most people, it wasn't El Momo's juicy, tender, gelatinous morsels of slowly cooked carnitas that caught Chef Ruben Rodriguez's attention. It was the love, devotion, and humility that Billy projects when speaking of his family that Rodriguez really connected with and sought after. 
Rodriguez was first introduced to Billy through a popular video on VICE titled Taco Royalty of East LA. In what could have been just a video about tacos, you learn that for the Acostas, it's about more than that. Their carnitas represents family, love, and support. Being humble, working, and helping folks are themes consistently uttered by both Billy and his parents, especially through the tear-jerker moments in the video. As Billy says, "I'm just trying to take it to another level. It's not about Instagram for me. It's not about none of that. I'm here to work." 
"When I saw him, and I saw his real, like, wanting to represent his family, where he comes from, the struggle," Rodriguez tells L.A. Taco, "It really resonated with why I started doing this." 
Born in Galicia, Spain to restaurant and bakery owners, Rodriguez, much like Billy, grew up with a strong connection to food and family. At the age of 11 after going through some hardships, his father moved them to Harlem where they eventually found themselves in the Projects. A few years later, his father passed away ensuring a life of struggle for the young Spaniard in the States. As Rodriguez recalls with a sense of laughter and pride, "I was a nerdy kid from Spain with tight pants. I got my ass whooped plenty of times."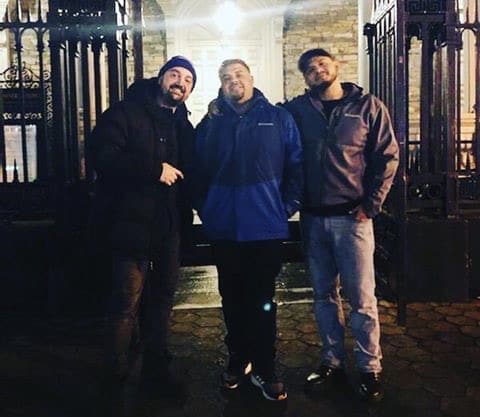 After a couple of odd jobs at 16, including a stint at a barbershop, he decided he wanted to get back into cooking and follow his family's footsteps like in Spain. After years of working his way up from dishwasher to line cook, the kid from the Harlem Projects bought the restaurant in which he learned to be a chef.  
As he got older, driven by impulse and fueled by his desire to establish his own identity, he signed a new lease to the site of his new restaurant Nai in 2010. An ode to his family and traditions, It's now lauded for its Spanish cuisine combining his roots in traditional Galician tapas with a modern touch. He was broke, but managed to gather the $47,000 he needed for the first three months rent plus deposit, an exemplification of his resilience and perseverance he learned growing up. 
Yet, with that success, Rodriguez admits, "The food world has turned into kinda wanting to be such an exclusive elite thing and I kinda lost my purpose in that lane too." It's a feeling Rodriguez hopes to reconcile with his next venture, Amigo, and why he flew to Los Angeles just four days after seeing the VICE video. "So when I reached out to Billy, it was because it was the growth where I wanted Nia as a company to go." 
The first bite of the taco that almost didn't happen
He recalls walking to El Momo through the back alley and finding Billy on the other side of large sliding glass doors. "He just looked at me and said, 'We're not open today. Come back tomorrow or put an order in through Instagram.' I told him why I was there and he seriously thought I was full of shit." Rodriguez tells L.A. Taco while chuckling. With a flight back to New York at 7 AM the next morning, Rodriguez convinced Billy to serve him at 4 AM. "I had two tacos and thought fuck, there's nothing like this in New York City." I went home and bought him a flight to come visit me in Manhattan.
The timeline of events is something out of a Romantic Comedy, except it's with two dudes and a plate of pork tacos.
Rodriguez wanted to add Mexican food to the menu because as he describes, "Mexican food had that feeling of family I wanted to have in my food." He explains while sharing his fond memories of lunch time with his closest staff. "They always brought tacos and I feel like we always bonded over those meals and it's crazy because we're at a high-end tapas restaurant, but we're eating tacos together through our laughs. I want that feeling of family and meaning for Amigo."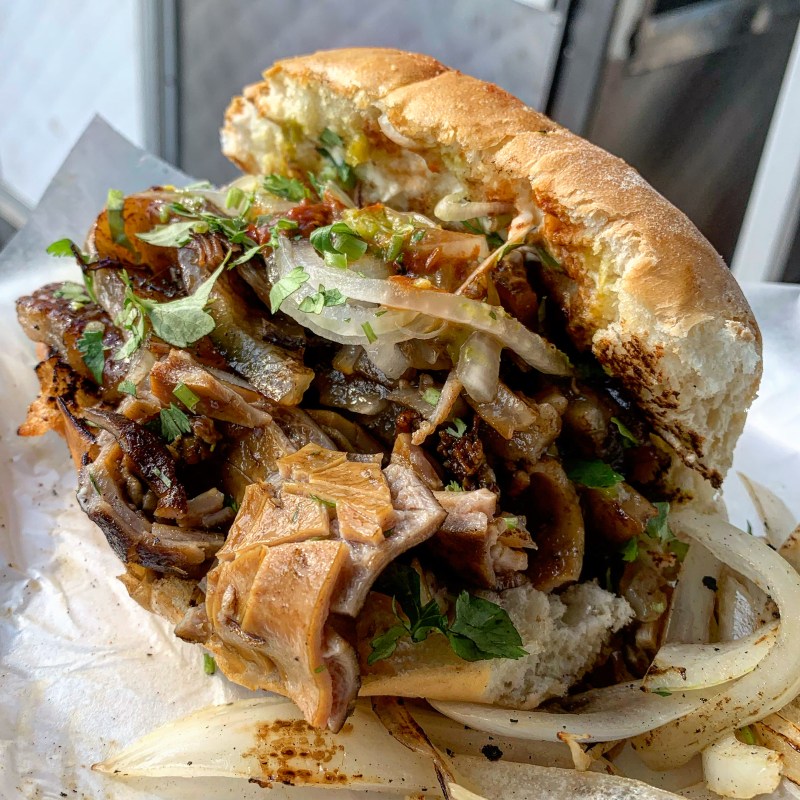 When asked about the New York Mexican food scene, Rodriguez quickly replied, "It's a bust." He admits he's going to get knocked for saying this but, "I have to lead with honesty. My girlfriend spent a lot of time in L.A. and we would argue back and forth about it. She would say there's no comparison and I couldn't accept it. The Mexican food scene here in New York is at its sweetest point. There's a buzz going around it and it's getting up there where many great chefs are doing big things and getting notoriety around it. But then I went to L.A. and I can tell you this from the most humble place: Any food truck in L.A. is infinitely better than any [Mexican food] here in New York. She was right." 
He did go on to say that he believes New York's food scene as a whole is up to a certain quality and standard that's higher than L.A., but we'll just agree to disagree on that one. 
An expansion deal that happened in about two weeks 
The timeline of events is something out of a Romantic Comedy, except it's with two dudes and a plate of pork tacos. Rodriguez had never had El Momo's tacos before. On January 10th, Rodriguez saw the VICE video. On January 14th, he flew to Los Angeles. On January 16th, he met Billy and tried the carnitas for the first time. On January 25th, Rodriguez flew Billy and his cousin, Ricardo Sandov, out and they instantly hit it off over drinks and tapas at Nai. A new deal and a new bromance formed instantly. Just two weeks from when Rodriguez first learned about El Momo. 
"I know it's weird and I know when I talk to my people here, they think I'm crazy," Rodriguez tells L.A. Taco. "This was an impulse thing for me. When I met him you know it felt right, and I was like let's do this man. So taking this to New York, mixing the popularity he has in L.A. with the popularity that Nai has in New York, it's a recipe for straight success." 
You can feel the sincere respect, admiration, and excitement for one another from listening to each one discuss the venture in separate interviews.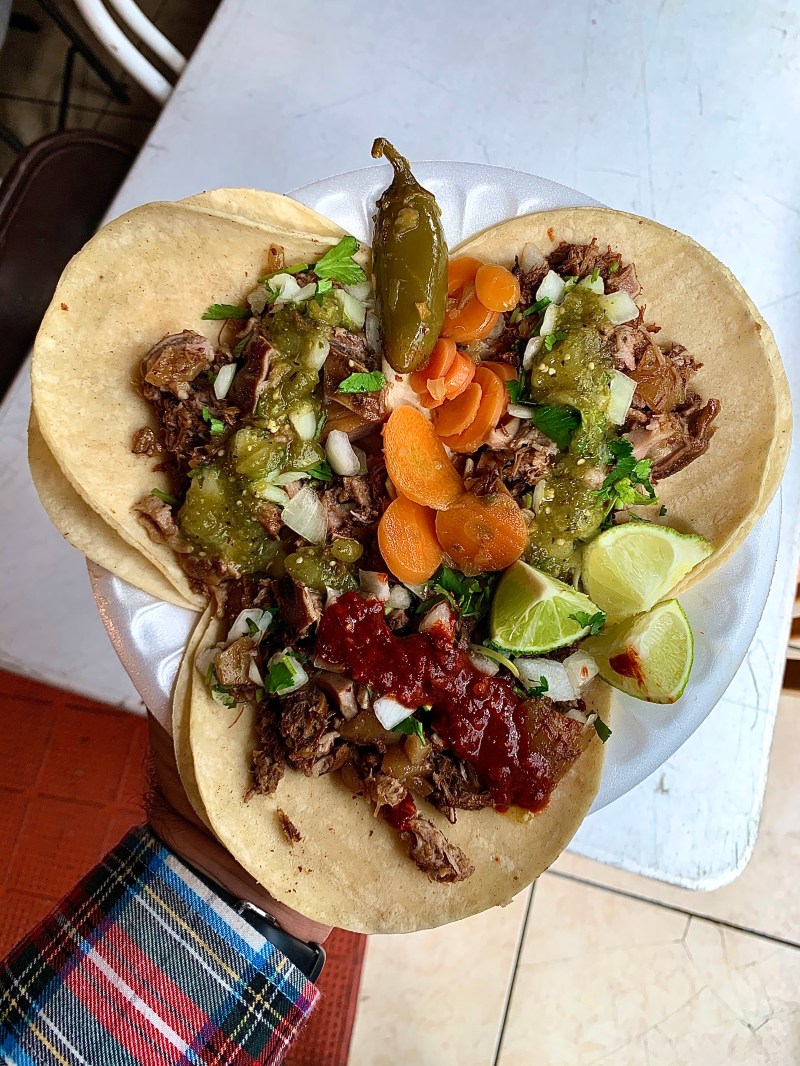 "It's a really dope collab," Billy tells L.A. Taco. "His food is really tasty and Spain is known for eating a lot of pork. Everything in our menu will be in the Amigo menu as well as some of the collabs we have in mind." 
Speaking with Billy about why he's doing this, he responded, "I jumped on the opportunity because of both our backgrounds, upbringings, and struggles." Just as Rodriguez lost his father very young, so did Billy lose his older sister, Maria Antonia Acosta, at the age of 23 due to a car accident. Billy explains, "At the time she was my parent's right hand, and with her passing my family took a downhill spiral. She was the light of our family. But my parents had no choice but to continue pushing. I took that struggle personally and being the youngest, I felt the responsibility to show the world what my parents are made of, and well, here we are brother, with this opportunity of a lifetime to keep moving forward."
An elevated taqueria without "the stereotypes" with a nice bar is the idea.
As for how the OG Don Momo feels about this, Billy tells us with a laugh, "Equivalent of like getting into Harvard or some shit like that. It's a huge thing to happen to our family. Especially for someone from the barrio to be selling tacos in New York. My pops is thrilled to be able to share the carnitas with other races especially since there's not a lot of bomb Mexican food in NY." 
What We Can Expect
An elevated taqueria without "the stereotypes" with a nice bar is the idea. The menu is going to be composed of what Carnitas El Momo is known for "because what he does is beautiful," according to Rodriguez. He'll be adding an oxtail taco and a smoked trout taco to the menu and they will both be collaborating on some menu items together, but that's still to be determined.
It's no secret that El Momo's recipe and technique are a highly sought after treasure and when asked about it, Rodriguez answers: "It's a very emotional thing, especially when we are talking about our food. This is how we relate to emotions, our family, our past. So I wanted to make sure he felt comfortable. [Billy] as well did his part for me to feel comfortable."
"I will be going out there for the beginning and get it rolling" Billy explains. "I'll be bringing a few of my crew mates to ensure the same quality and eventually I'll be leaving a full staff running it." The plan is to have the family's trusted nephew, Ricardo Sandov, who has worked his way up over the years, to man the taqueria. 
The original schedule was to open in June but due to the situation there, it is now looking like July. "We need to get Billy out there at least two to three weeks before opening to make sure we can get the collaboration menu items going. So right now, we're shooting for August." 
If all goes well, we could be seeing an Amigo in Los Angeles next year. Rodriguez tells L.A. Taco, "First of all, I wanna also be able to bring what I do to L.A. because when it comes to food from Spain, I feel it's very misrepresented there." 
In the meantime, Amigo has a long road trip to look forward to. Billy insists that they drive down to Michoacán, Mexico to pick up the large bath-tub sized deep copper pots needed to make the carnitas and drive it up to New York. Laughing about it, Rodriguez tells us, "I think there's gotta be a better way, but I'm down for a good road trip."
Memo Torres is a multi-media taco journalist and Director of Partnerships for the James Beard award-winning L.A. Taco. He was a finalist for the Ruben Salazar Award for Latino Journalists. He has functioned as a taco scout for numerous shows and can be seen on Netflix's Taco Chronicles and Pressure Cooker. Memo is also currently hosting a food guide on all iPhones' Apple Maps.
Stay in touch
Sign up for our free newsletter