Drink
Still Got It: These Eight Breweries Have Been Open For More Than a Decade and Helped Put Greater L.A. On the Craft Beer Map
Currently, California has over 1,100 breweries and, counting, the most in the country. From Craftsman to Three Weavers, these O.G.s have brought home gold, silver, and bronze from beer festivals around the country with some of the state's most memorable and delicious beers. They've grown devoted local craft beer followings with steady consistency and the communities they cultivate.
1:28 PM PDT on May 11, 2023
Welcome back to L.A. TACO's column, "Dr. Beer Butch," where Professor Hidalgo examines L.A.'s craft beer scene using her background in academia, LGBTQ, and [real] L.A. culture.
This year, more than 75 local breweries will pour their suds at the L.A. County Brewers Guild's 14th annual Los Angeles Independent Beer Fest on June 10th, returning after a three-year hiatus to showcase the present and future of L.A.'s growing craft beer scene. It's exciting to see so many options for fresh craft beer around town, which wasn't always the case. 
L.A.'s craft brewery scene began in earnest in the post-2008 Great Recession period. For context, this is decades behind Northern California, often hailed as the "birthplace" of U.S. craft brewing (San Francisco's Anchor Brewing was founded in 1965), and ten years or so behind San Diego, which bills itself as the "Capital of Craft" and the home of foundational beermakers like Karl Strauss (1989), Pizza Port (1992), AleSmith (1995), and Stone Brewing (1996).
Currently, California has over 1,100 breweries and, counting, the most in the country. The L.A. County Brewers Guild counts nearly 90 members or about 8% of the state's breweries. Though smaller and younger than California's more established craft brewing regions, greater L.A.'s mighty beer presence began with a handful of breweries that held their own with—even won medals alongside—their storied cohorts to the north and south. 
Here are eight great "OG" breweries founded in greater Los Angeles at least a decade ago that helped put our city on Cali's craft beer map. These first-generation L.A. brewers are still the ones to seek out for their consistently reliable quality beers and signature styles—L.A. originals who opened the doors for the growth of local craft beer we see today.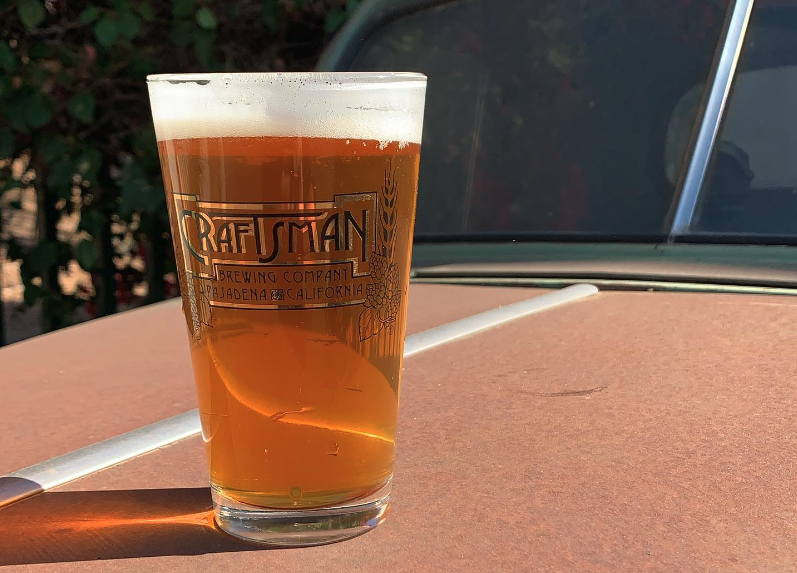 1995: Craftsman Brewing, Pasadena
Memorable vintage pre-Prohibition-inspired ales and lagers are the hallmarks of Mark Jilg's Pasadena brewery, launched in 1995 out of a homebrewing hobby that goes back to the 1980s. "I like beer that tastes like beer," says Jilg, eschewing today's trendy hopped-up hazies and fruity seltzers in favor of solid, nuanced brews with history made from traditional ingredients.
With no taproom open to the public, Craftsman fans have to look for it on draught at one of 75 bars, pubs, and restaurants that serve Craftsman's core beers, including Poppyfields Pale Ale, Heavenly Hefeweizen, a rotating seasonal or experimental beer, and 1903 American Lager—Craftsman's delicious flagship brew since 2003. Find 1903 and other Craftsman beers at gastropubs and bars like Stout Burger and Beer Bar (Hollywood, Santa Monica), The Guild Hall (Burbank, Whittier), 38 Degrees Ale House & Grill (Alhambra), Lucky Baldwin's (Pasadena), the Crooked Gaff Kitchen (Whittier), or follow their Instagram for updates.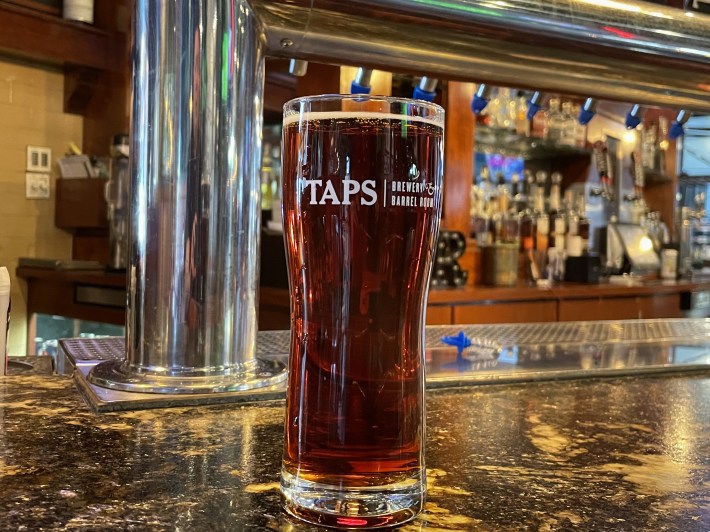 1999: Taps Fish House & Brewery, Brea (Orange County) 
As someone who covered L.A.'s early beer scene and saw Taps represented at many L.A. brew fests, I would be remiss to exclude the award-winning brewery once headed by the celebrated SoCal brewmaster Vic Novak just because it happens to be in Brea, Orange County. But in my book, Brea is 'L.A.-adjacent' and falls within the "borderlands" of LA and OC, a short 5 miles from the county line, and Taps Fish House & Brewery has been a SoCal craft beer fixture on Imperial Highway since it opened in 1999. 
Novak is long gone from Taps, but his legacy is alive on the walls of the Brea brewhouse, twice awarded brewpub of the year (2010 and 2011) by Denver's Great American Beer Festival. Several banners hang commemorating over a decades' worth of gold, silver, and bronze medals for Taps stalwarts like the American Cream Ale and Irish Red Ale, two of Taps' top brews and great introductory beers to their other European-style offerings. Try the English ales, German Schwarzbiers, and Vienna lagers at the Brea and Corona brewhouse locations.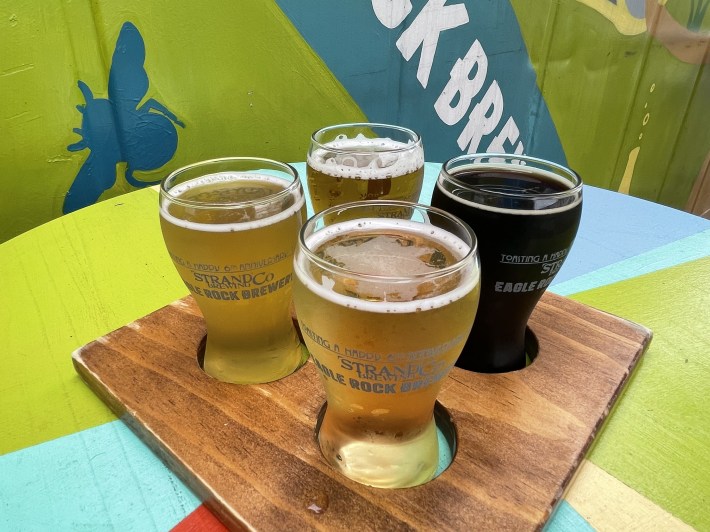 2009: Eagle Rock Brewery, Eagle Rock 
When Eagle Rock Brewery opened in 2009, it was the first brewery and taproom to open within L.A. city limits in the decades since Prohibition. Notably, it's the only brewery in L.A. city proper on this list. 
Founders Ting Su and Jeremy Raub effectively kick-started the Los Angeles craft brewery scene we enjoy today with "beers for the people" bearing names that conjure craft brewing's collaborative community spirit like "Solidarity" English dark mild ale and "Populist" American IPA. Crisp, clean, and thirst-quenching, Eagle Rock's Manifesto Belgian-style Witbier and Amwolf German-style pilsner round out their signature core four award-winning beers. 
Now in its fourteenth year of operation, Eagle Rock Brewery continues to please craft beer palates with inspired recipes, commemorative one-offs, and innovative collaborations such as Local Source Helles Lager made with native plants in cooperation with the Theodore Payne Foundation, the Future is Female English Summer Ale made to celebrate the 10th anniversary of ERB's Women's Beer Forum, and Love Fights Back guava mango blonde ale produced with Norwalk Brew House and L.A. hip-hop musician 2Mex.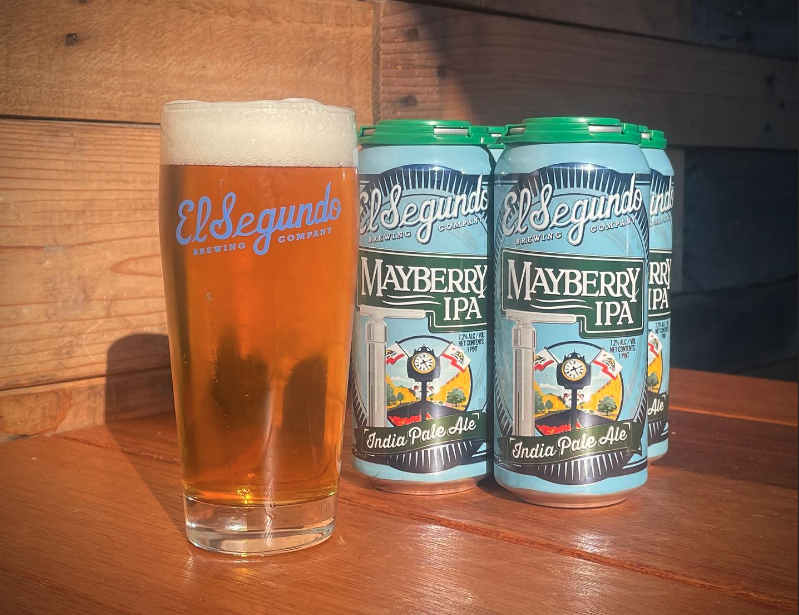 2010: El Segundo Brewing Company, El Segundo
According to their website, El Segundo Brewing Company opened to make beer "as delicious as" the ones they found in San Diego, known for hoppy West Coast beers that verge on palate-killing dankness. When founder Rob Croxall couldn't find such beers "closer to home," he did something about it and opened El Segundo Brewing Company in 2010. Since then, the brewery has been delighting L.A.-area hop-heads with their wide range of IPA, Double IPA, and other ales bursting with Citra, Mosaic, Simcoe, and other hop varieties. 
El Segundo Brewing Company also makes "Broken Skull," a line of beer for wrestling star "Stone Cold" Steve Austin that includes an American lager, IPA, and Double IPA, and a West Coast IPA called "Come Original" for the band 311. Head over to the tasting room in El Segundo or pick up a 4-pack at your local craft beer retailer.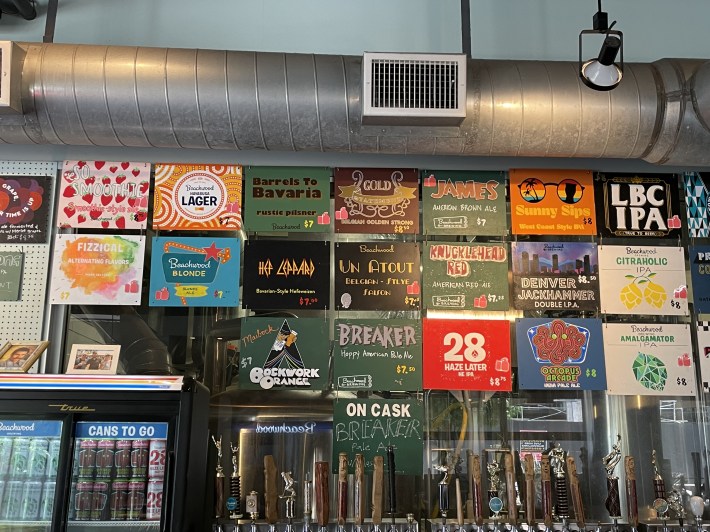 2011: Beachwood Brewing, Long Beach
The original Beachwood BBQ & Brewing in Seal Beach closed in March 2020 after 14 years of slinging smoked meats and regional craft beers. They weren't yet brewing their own in-house beers, but that changed when the owners opened Long Beach's Beachwood Brewing in 2011, where they began making classic West Coast IPA styles and seasonal beers. Beachwood has grown to two more locations in Huntington Beach and Garden Grove, along with a "Blendery" in Long Beach dedicated solely to producing barrel-aged Belgian style beers. 
Beachwood Brewing has grown a loyal following over the years thanks to their Citraholic and Amalgamator IPAs, Beachwood Blonde, and Hayabusa Japanese-style lager—a favorite "crushable" beer due to its crispy rice flavor profile. Other signature brews include LBC IPA and Knucklehead Red Ale. Visit the original Long Beach brewery or other locations to enjoy Beachwood's more than twenty-five taps of reliable and delicious beers.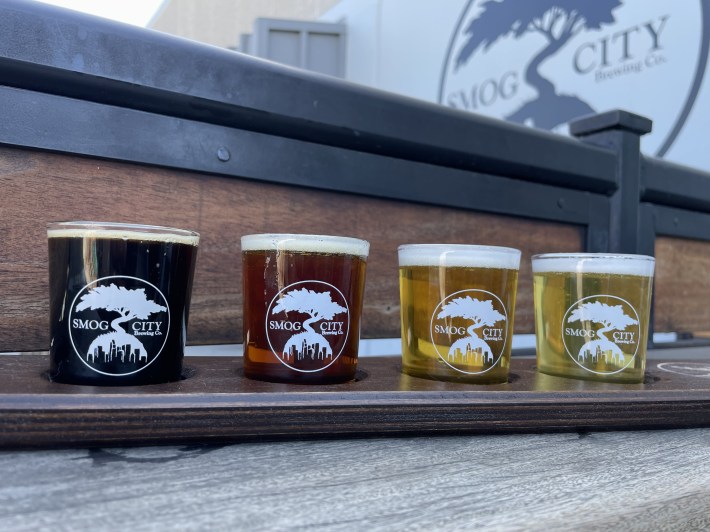 2011: Smog City Brewing Co., Torrance
For 12 years, Smog City Brewing Co. has been making some of L.A. and the South Bay's original craft beers that have been mainstays on tap lists and retail shelves since opening in 2011. The Torrance-based brewery makes a range of beer across the craft spectrum, from light lagers and golden blondes to hazy IPAs and barrel-aged sours. Other favorites include seasonal brews made with fresh local fruit, such as Kumquat Saison, Xanabru Belgian-style white ale with passion fruit, and Mango Pango fruited ale. 
Smog City's "core four" signature beers made it an award-winning brewery. There's Little Bo Pils, a delicious Czech-style pilsner; the robust Coffee Porter with chocolate and espresso notes; Sabre-Tooth Squirrel hoppy American amber ale; and the namesake Smog City IPA with three kinds of hops. "If we ever have to stop brewing all the others, we'll always brew these four," said Todd Worley, Smog City beertender and brewery tour guide.
Find these and other Smog City favorites like From LA Wit Love and Smog City IPA at one of two Torrance taprooms, at Steel Craft in Long Beach, and Glendora Public Market, or find cans at your local craft beer retailer.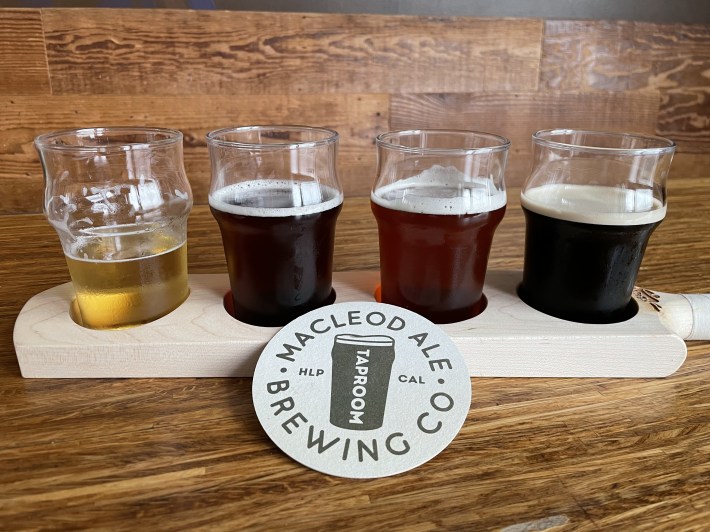 2012: MacLeod Ale Brewing Co., Van Nuys
Beer styles from the British Isles "with a California twist" are the specialty at MacLeod Ale Brewing Co. Founded in 2012 in Van Nuys, it would take two more years for the taproom to open to the public. The San Fernando Valley brewery is famous for its house-made pizza as much as its impressive range of Scottish, English, and Irish ales and lagers made with traditional English grains and hops and served on draught, nitro, and hand-pulled cask. Award-winning favorites include the Luckypenny ESB or Extra-Special Bitter, Cut & Dry Irish Stout, London Lager, and Van Ice American Light Lager. 
MacLeod brews pair exceptionally well with any of their specialty pizzas, such as the Mushroom & Sage, Classic Margherita, or staff-created Steak & Bleu Cheese pizza. Find them at the original Van Nuys location or the new pizzeria and taproom MacLeod on York.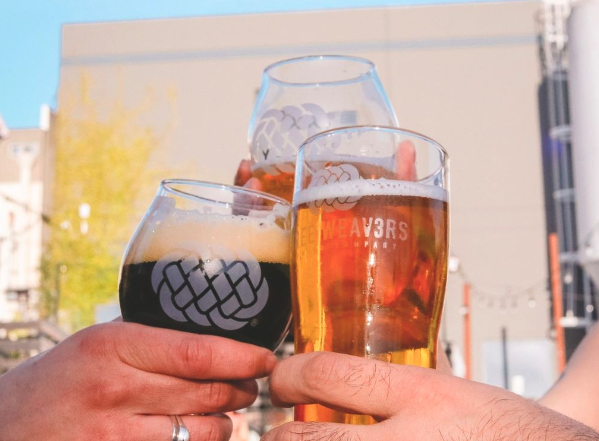 2013: Three Weavers Brewing Company, Inglewood
Inglewood's Three Weavers Brewing Company joined L.A.'s craft brewing community in 2013. Founder Lynne Weaver and head brewer Alexandra (Alex) Nowell built their local following on the flagship Expatriate IPA and other creative IPAs that range from the juicy and hazy to sour and dank. Three Weavers also excel with Seafarer Kölsch, a palate-refreshing departure from the more hop-heavy offerings. Seafarers Kölsch is a creamy, balanced, flavorful ale-lager 'hybrid' inspired by the classic beer from the German city of Köln (Cologne) and makes for a satisfying choice all year round. 
In 2017, Craft Beer & Brewing named Three Weavers a "Breakout Brewer," which as has grown into one of greater L.A.'s larger independent craft breweries, and their expanded operations have allowed wider distribution and collaborations with numerous breweries around California and the West Coast. They have also just introduced a new line of "NA" beers, including an NA lager, IPA, and Hazy IPA.
From Craftsman to Three Weavers, these first-wave breweries put Los Angeles in the mix as a serious craft beer contender, up there with some of the best beer makers in Northern California, San Diego, and around the state for over a decade. They have brought home gold, silver, and bronze from beer festivals around the country with some of the state's most memorable and delicious beers. They've grown devoted local craft beer followings with steady consistency and the communities they cultivate. These might be "older" breweries, but they're always goodies. 
Melissa Mora Hidalgo was born in Montebello and grew up in the L.A./O.C. borderlands of East Whittier and La Habra. She holds a Ph. D. in Literature from UC San Diego and is the author of Mozlandia: Morrissey Fans in the Borderlands (Headpress UK, 2016).
Read More:
Stay in touch
Sign up for our free newsletter