Music
A Brief History of L.A.'s Thriving Cumbia Party Scene and Where to Go Dance to It On Weekends
1:16 PM PDT on June 30, 2021
This article is produced in partnership with KCET Artbound.
[dropcap size=big]I[/dropcap]f you've ever spent time in the city of Angels, you might find yourself walking down the street hearing the sounds of cumbia without even realizing it. Maybe it's emanating from a backyard party at a nearby neighbor's house or even a passing car as it cruises down the street. The sauntering sounds have the ability to permeate the atmosphere and become part of the collective air we breathe.
Cumbia's origins are a mash-up of cultures. Most notably, a product of slavery brought to the new world, featuring sound fueled by the African diasporic rhythms mixed with Indigenous melodies that spread across to South America specifically from parts of Colombia, Peru, Argentina, and El Salvador in the mid-1800s.
Later, in the 1940s and '50s, cumbia caught on throughout parts of Mexico. The style of Mexican cumbia that remains popular today is referred to as Sonidero. Gaining popularity in the 1980s and '90s in Mexico City and later in Los Angeles, Sonidero features DJs playing popular tunes, performed on DIY sound systems while speaking over music, reading off personal dedications submitted by the audience. The makeshift stage show is often accompanied by lights and is traditionally performed in nightclubs or commandeered outside spaces where people come to dance and let loose.
Here in Los Angeles, cumbia remains a lifeforce for its residents made up of recent immigrants who are looking for a taste of home and others looking to connect with their ancestral culture.
In 2008, Alexandra Lippman moved to Los Angeles to pursue a Ph.D. in Anthropology. It was during that time, she began to attend a variety of underground club nights around L.A. where she became exposed to what the city's cumbia scene had to offer. She frequented Wildness at The Silver Platter bar, one of the city's oldest gay bars located in MacArthur Park. Wildness parties were known for their queer cumbia meets bass music meets performance art party that often attracted the Latinx trans/drag community to its dive bar setting.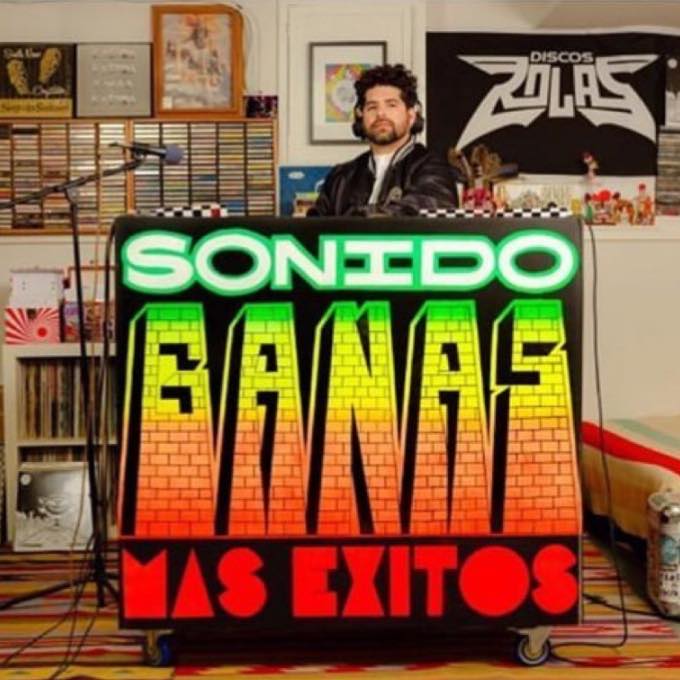 Another haunt was Más Exitos, an all-vinyl selection of exclusively Latin American music curated by Gary Garay aka Ganas. "I began learning more about cumbia by dancing and talking to the DJs about what they were playing. Many of my closest friends and future collaborators I met on the dance floor at these parties", says Lippman. It was during that time when she began to curate, produce, and DJ on her own, tapping into all the L.A. cumbia-verse had to offer)  
One of those collaborators Lippman met was artist and writer, Jace Clayton aka DJ /rupture who introduced her to Vicente Pedraza, the owner of Discos Barba Azul, an unassuming CD store on Broadway in the center of downtown and one of the most prolific cumbia sonidera music labels. Vicente had since shuttered because of the rise of music piracy, streaming, and rising rents in downtown Los Angeles. "I hung out with Vicente for over a year, listened to his stories, and sorted through his catalog of hundreds of tracks. The end result being "¡Un Saludo! Mexican Soundsystem Cumbia in LA," which Lippman produced in 2017.
When asked to reflect the importance of the city's cumbia scene Lippman remarks "I think is unique to cumbia is that there are multiple cumbia scenes — from queer cumbia parties to family gatherings to massive sonidero bailes in nightclubs — in the same city." It's that spiritual cohesion translates today with current parties such as Cumbiatón. Spaces such as these create an environment where people can come to dance and listen to cumbia, connoting a type of universality that somehow seems distinctive of Los Angeles. 
Nectali Diaz, aka Sumohair, a DJ and half of the tropical world pop duo Reyna Tropical, was also a regular fixture at these parties. Growing up in Long Beach, Diaz's introduction to cumbia music was thought of as traditional music that was often heard at family parties such as weddings and birthdays. According to Diaz, "There was a disconnection for a while 'cause we only saw it as that type of music."  It wasn't until later and listening with more mature ears did Diaz, along with his friends Eduardo Gomez and Diego Guerrero, seek out to create a similar type of vibe.
They found what they were looking for on North Broadway in the barrio of Lincoln Heights at beloved dive bar The Office, a space that was already known for regularly hosting live cumbia house bands on the weekends. The three friends came up with the name Metralleta De Oro for their cumbia party but then decided to change it to Dinamita due to people having a hard time pronouncing the original name. 
The monthly club night consisted of cumbia through the lens of the millennial and Mexican American selectors. The evening's tunes would consist of mixing traditional Mexican cumbias (most of the time Sonideros) expertly blended with sounds of reggae and hip hop. In part, the inspiration for the evening came from regularly attending another club night whose deep dives into the cumbia-verse propelled Diaz and friends into wanting to capture a similar kind of energy in their party. Más Exitos served as a catalyst for Diaz and his crew when thinking about throwing a party specifically around cumbia "What they were able to do and package made it such a special trip," recalls Diaz.   
Más Exitos was founded in part with L.A. Native Gary Garay aka Ganas. Beginning in 2008, according to Ganas, Más Exitos was the only party of its kind to exist where patrons could hear music exclusively played in Spanish aside from traditional Mexican bars or salsa clubs. 
The impetus for the party according to Ganas came from a place that was "resistance-based held out of sonic protest" as well as out of the need for having a place to hear cumbia as traditional spaces that either hosted bands, DJs, or even on the jukebox began to disappear due to gentrification. Ironically, the new bar establishments took over and occupied the same places. Ganas saw the work of Más Exitos as a way to reclaim space that had existed before, representing something that belonged to the community. "The whole reason we started Más Exitos was to put the sonics in the places where it had existed before but had already been missing for youth in the Los Angeles landscape."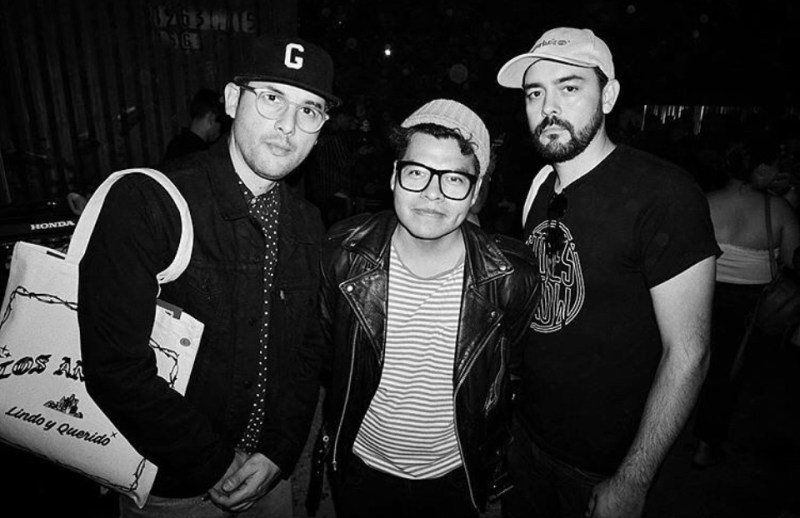 When Ganas met Kevin Ramos aka Enorbito, whose family was from Quinto, Ecuador, as a fellow ArtCenter School of Design student, the two bonded over their love of music funk, soul, jazz, psych rock, and even the occasional beat tapes. The two classmates had connections to Dublab, a non-profit L.A.-based internet radio station. 
Quickly the two noticed that they shared a love of Latin music. Both were fueled by the desire that there wasn't a specific place to hear the majority of Latin music being played. Instead, what already existed was a song here or there mixed into a hip hop block as part of a break in the song but never the main focus. "We wanted someplace where we could hear Latin music all night long," says Ganas.  
An important factor that went into understanding Más Exitos was attempting to create a new sense of meaning when it came to listening to Latin music, smashing the assumption that most of it consisted solely in the salsa and mambo realm. That open-minded approach to listening to music meant that their DJ sets did not only consist of cumbia, but also was a deep exploration of other types of music performed by a myriad of Latin artists from a variety of different places throughout the Americas
Always coming from an earnest standpoint, the collective never shied away from what is described as "queso fino" as Ganas puts it. "It was a place where there could be both humor and seriousness. We would play cheesy cuts, but only the finest of the cheese," he says. It wasn't uncommon to hear the occasional classic rock cover of a Cheap Trick song, "whether it was well done or not, it didn't matter," laughs Ganas.
As the collective grew, adding more members such as Dublab DJ Jose Salguero aka Hoseh along with producer Chico Sonido from Sonora by way Monterrey, Mexico, and one part of Sonido National-formed fellow Mexican DJ producer Toy Selectah. Also added to the roster was DJ Lengua aka visual artist Eamon Ore-Giron, rounding out the lineup. In total Más Exitos featured five selectors whose backgrounds consisted of  Guatemalan, Peruvian, Ecuadorian, Mexican and Mexican American descent.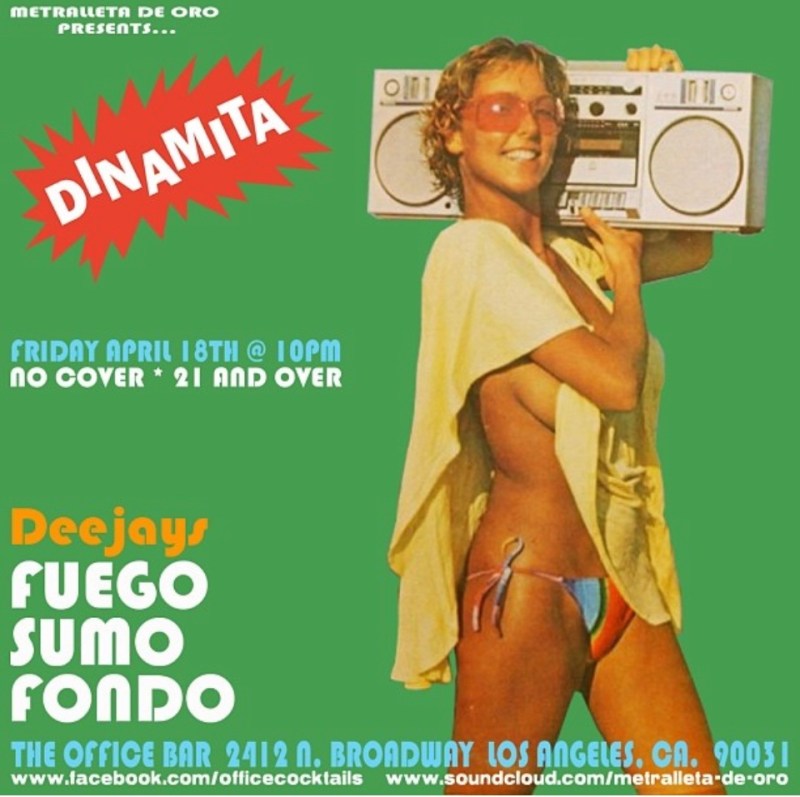 The group would regularly raid their families' record collection and dig and search for sounds to play to regular attendees. Over time, they each would expand their collective knowledge towards different genres in Latin American music.  The reality was that Más Exitos wasn't simply DJs but became de facto archivists, cultural-anthropologists and musicologists for whoever was interested in listening.
"No matter who you were, if you're African American or an Anglo rocker, or you're some kind of South Central paisa punk, and you'll hear us jamming, you'll get something, You'll get a Led Zeppelin cover, or you'll get a rap cover.  You'll get some dembow or you might even get a Madonna cover in Spanish," Ganas remarks. 
From a steady flow of nights at Verdugo Bar which would later transfer over to nearby Footsies in Highland Park until 2016 when Ganas moved to Oakland. Never really wanting to hold nights without the assembled crew, he would be asked to host his own Dublab radio show, monthly Más Exitos con Ganas.  
Cumbia is a movement especially, in places like Los Angeles and beyond, which is reflective of its vast population.
His Dublab radio show has allowed Ganas to dig even deeper into his archival findings. "For me, the archive is important. It became more than rocking parties. I'm into field recordings of old Indigenous records and the radio show gave me a platform to showcase this where you can't do that in a club or bar," he says. 
"It never really stopped, it just kind of paused, and right now it's about to bust out again, which I'm excited about," Ganas exclaims. Más Exitos will make its return as a monthly night at Footsies on Saturday, July 3rd. 
Ganas also co-founded the record label Discos Rolas with Lippman after becoming friends when the two co-curated a live performance by Papago Warrior, a Tohono O'odham cumbia/waila, Indigenous social dance from the Arizona-Sonora, Mexico border, with Sonido La Cumbia and Sonido Rumbandela, for a Dublab event at the Levitt Pavilion and an Más Exitos afterparty.  
Wanting to tap into the energy further, according to Lippman, the  Disco Rolas record represents what she calls "a creative research project and platform for events combining artist talks, screenings, and parties." 
In nearby Boyle Heights, another brand of cumbia has been birthed, that speaks to that type of malleability that cumbia can possess. The band Spaghetti Cumbia is a special blend of what they refer to as "un poco cumbia, un poco vaquero" (a little bit of cumbia, a little bit of cowboy). Spaghetti Cumbia performs live cumbias infused with Spaghetti Western soundtracks. 
Formed six years ago by members Marcel Campos "Chido One El Asesino" (small percussion instruments such as the güiro and lead vocals)  and Pedro Aguire aka "Pedro Pistolas" (guitar and lead vocals) who along with their bandmates Bobby Guerrero aka Roberto "El Gallo Digital Guerrero" (lead guitar and backup vocals) and Paolo Paredones aka "Maniacs" (bass) and Adolfo Mercado (drums and backup vocals). The group blends their musical genealogy consisting of their punk rock roots along with the traditional cumbia sounds and other Latin music performed by Juan Gabriel, Los Bukis, and Ramon Ayala. 
Growing up immersed in the sounds of Latindad played at social functions or even just at home while their parents prepared dinner along with later discovering punk allowed the group to cross-pollinate their influences. Spaghetti Cumbia defined the specific genre of music they play as "cumbiaquero." To the group, the term represents their musical focus by honoring traditional sounds they seek to honor. "When we get together we create this sound that is paying an homage," Pedro says.
The residents of Los Angeles are fortunate to also be exposed to other types of music related to the genre. The longstanding L.A.-based band  Very Be Careful plays the cumbia adjacent Vallenato, another form of folk music that also originates from Colombia. Typically played with percussive instruments such as the caja, guacharaca, and accordion, form the signature style found in the region of Vallenato. The music, like cumbia, is a mezcla of musical traditions of African, Indigenous, and European influences.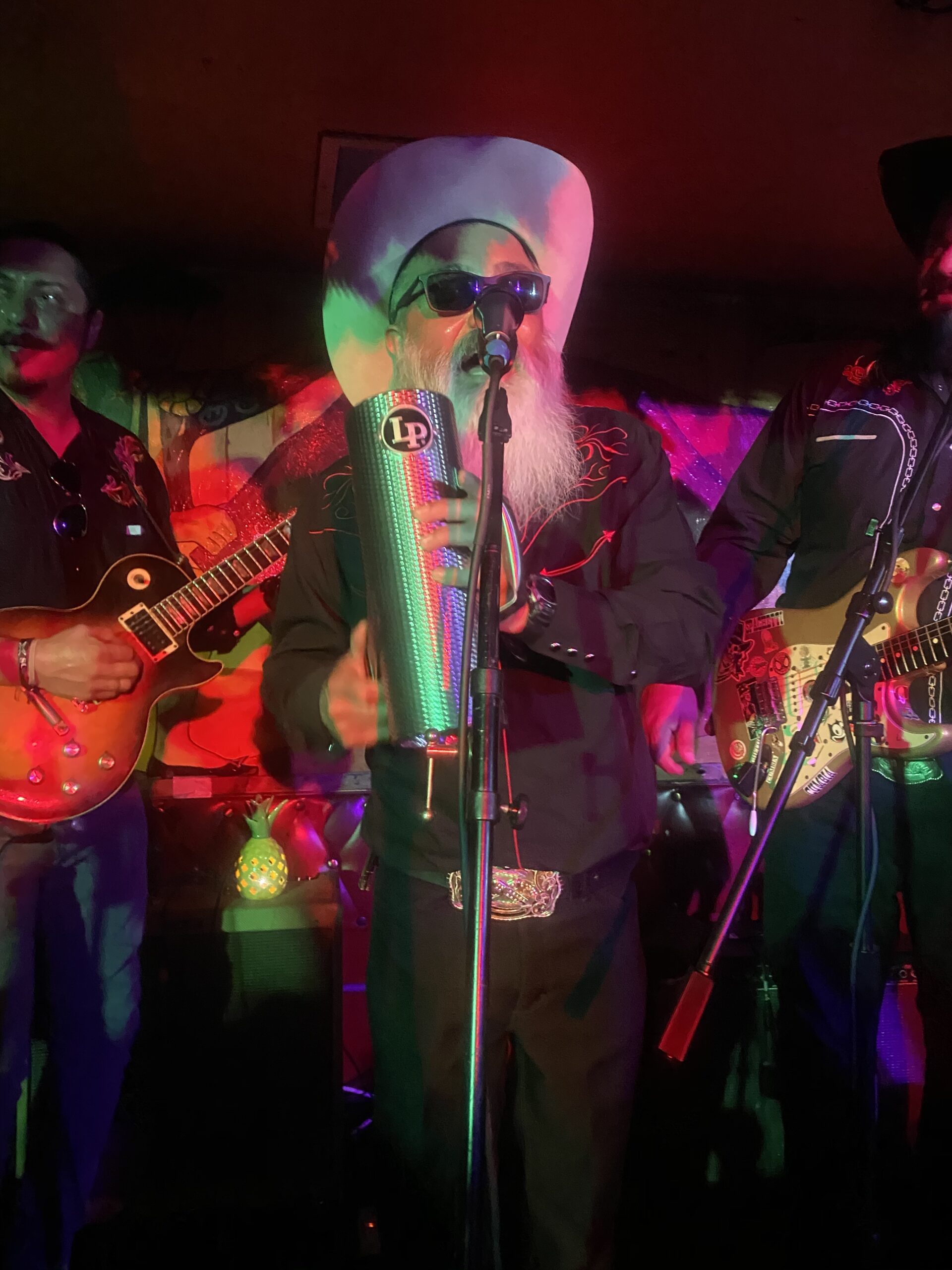 Campos, of Spaghetti Cumbia, mentions the group for paving the way and exposing L.A. audiences to a similar type of sound. "Give it up to Very Be Careful cause they've been doing for a long time here in L.A.," Campos says. Speaking with Alberto Guzman, the bassist of Very Be Careful, who has been wowing audiences with their sound for over 20 years, "the reason people are drawn to cumbia is that it rules the dance floor.  It's easier to dance to and that's what people want to hear and that is why it's so popular, he said.
At a Spaghetti Cumbia show, attendees are strongly encouraged to dance their hearts out. "Our number one goal is to have people the whole night dancing," says Pedro. The group can be found usually at the residency on Thursday nights at Las Perlas in downtown Los Angeles as events sponsored by La Junta and Barrio Beat. Their promoters and their fans are passionate about spreading the word of cumbia with their regular DJ nights and live performances hosted throughout the city.
"We have people from every nationality at our shows and there's something for everybody. It might be a familiar memory or just the feeling of wanting to dance. I feel like we are ambassadors of cumbia to people," says Pistola. The universal appeal of cumbia runs deep throughout the streets of Los Angeles. 
"There's not many things that are so adaptable, so fluid, so malleable (as cumbia) to the point where almost anybody can take it and use it and make it theirs or abuse it, mistreat it, love it, polish it, take it to new places, or regress it like cumbia," according to Ganas. Cumbia is a movement especially, in places like Los Angeles and beyond, which is reflective of its vast population. 
Songs
Fito Olivares Y Su Grupo Juana La Cubana 
Subterranean Homesick Cumbia_Remix- (Los Jaichackers) Julio César Morales & Eamon Ore-Girón AKA DJ Lengua 
Grupo Soñador- El Paso del Gigante    (available soon of LP for first time on Discos Rolas)
--
Spaghetti Cumbia Performs Weekly Thursday nights at Las Perlas, DTLA, 
Más Exitos Returns as a monthly night at Footsies on July 3rd, 2021
Dinamita Returns to The Office Bar on July 16th and will be held every 3rd Friday of the month.
Gabriel Chabrán is a food writer and journalist from Highland Park. He currently lives in Long Beach with his wife Katie, their new baby, and their Russian Blue cat, Mars.
Stay in touch
Sign up for our free newsletter