Featured
From Low Riding to Craft Beer: How 'Brewjería' Is Changing the Latino Perception of Alcohol on Whittier Boulevard
12:44 PM PST on January 29, 2020
Welcome to L.A. Taco's new column, "Dr. Beer Butch," where Professor Hidalgo examines L.A.'s craft beer scene using her background in academia, LGBTQ, and [real] eastside L.A. culture. For our first story, she visits Brewjería in Pico Rivera and documents the effects of craft beer in a historically Latino community.   
[dropcap size=big]B[/dropcap]rewjería has been open for just over two months, and the Pico Rivera craft brewery already teems with regulars.
On one end of the bar, smack-talking homies in football jerseys play corn-hole with a beanbag in one hand and a pint of "Hop Off the 605" IPA in the other, while their dates chat and sip "Tomo la Flor" hibiscus ale at picnic tables made out of salvaged wood from the previous tenant. On the other end, a lone wolf local fresh from the office orders another Belgian Dubbel, happy to have a place to chill after a long day at work serving his city. And way in the back, a party group cheers as their friend's tipsy tile crashes the Jenga tower to the floor. 
"It's home," says Adrian Díaz, a veteran Pico Rivera municipal worker. "I grew up here, went to school here at El Rancho High, I work for the city, and this is my fifth or sixth time at Brewjería. I see a lot of locals around. And the beers are great, as good as any Belgians out there."
Since Brewjería Company opened its taproom doors on November 15, craft beer fans east of East L.A. have lots to celebrate. Locals looking for community, a family-friendly hangout, and tasty craft beers with a "Mexican twist" finally found a space that offers all that and more in the neighborhood brewery on the corner of Whittier Boulevard and Durfee Avenue in Pico Rivera.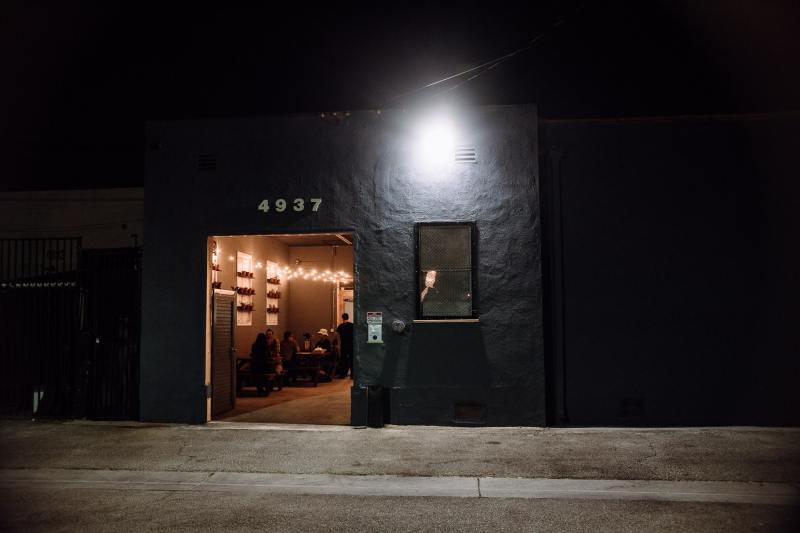 Community cervezeros 
The gente behind Brewjería started as homebrewers with SoCal Cervezeros. After a few years of homebrew experimentation, Agustin Ruelas and company started brewing under the name Brewjería. They took their beer and poured it at fundraisers around town put on by local community organizations and other nonprofit events to start showing people the power of Mexican flavors and craft beer, where the 'brewjos' built their name and brewing style. 
California law does not permit homebrewers to sell their beer, but they can donate it. Ruelas tells L.A. Taco, "We got our bosses and our bosses' friends to try out beer, and we just started putting the word out. We started by doing around five events a year, and I don't know what happened, but we went from doing five to doing 30 events the following year, still as homebrewers."
Ruelas credits their involvement with SoCal Cervezeros as key to Brewjería's success and name recognition. "The non-profit events we did helped us build the brand. Four of our co-owners are founders of SoCal Cerveceros, and that was huge in putting our name out there and brewing with other Latino homebrewers in L.A.," said Ruelas. "Latinos have a place in craft beer, and we want to drink it."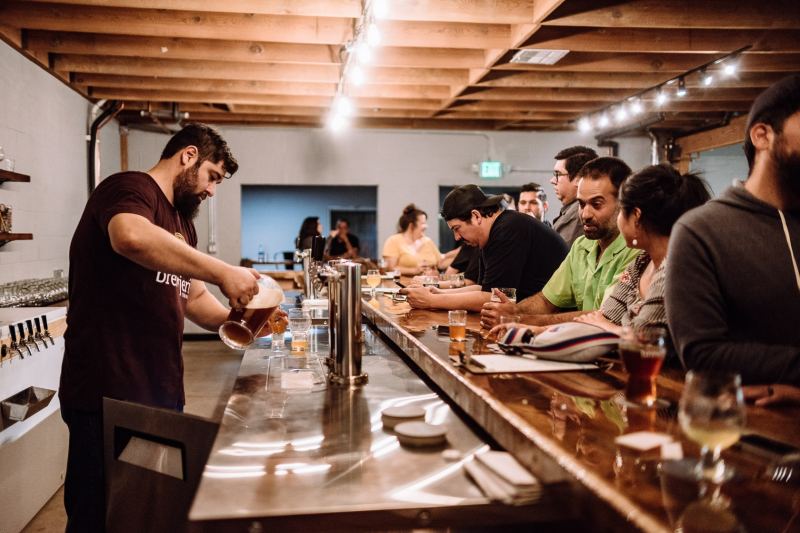 After serving beer at non-profit organizations' fundraisers since 2015, then doing popular events such as Coldchela to benefit The Gumball Foundation, Ruelas and company came to a point where they had to decide between their day jobs and brewing beer full time. "We were taking time off from work to brew for all these events. We had to pause and think, is this what we want to do? Do we really want to do this as our day job? We could keep doing our non-profit work, but then the beer thing would die," said Ruelas. "We were already building the brand and pouring beer for everyone under the Brewjería name, and everyone loved it, so we said, 'let's go for it.'"
It didn't take much to convince Ruelas and his four other co-owners that opening up their own Brewjería taproom was the way to go. Drawing from his Chicano studies and business administration degrees, as well as years of experience in community service in the nonprofit world, Ruelas, with his cousin and assistant brewer Raul Gómez, his sister Evelyn Bond-Ruelas, and a handful of other close-knit family and friends who invested in their vision, broke ground for the new brewery and taproom on Durfee Avenue in Pico Rivera. 
"Pico Rivera found us"
Ruelas and his family live in Hacienda Heights. Co-owner and brewer Jimmy Cárdenas hails from Compton. 
So why did they choose Pico Rivera for the site of Brewjería?
Ruelas tells L.A. Taco that for practical reasons, Pico Rivera made sense. "We were priced out of a lot of L.A. locations, and we didn't want to contribute to the gentrification that was already happening in places like Boyle Heights," he explained. "So we kept coming east. But we had to convince the city it was a good idea." 
Pico Rivera officials at first balked at the idea of a brewpub in their city. Reulas and company did their research and shared it with the city council. "I found articles to show what a brewery can do for a community and a neighborhood." He suggested that city council members should visit other local breweries to see what they're about. "When they went to places in Placentia and Fullerton, they saw families there, they saw community environment," said Ruelas. "Nobody was getting piss drunk. The city council changed its mind and supported us."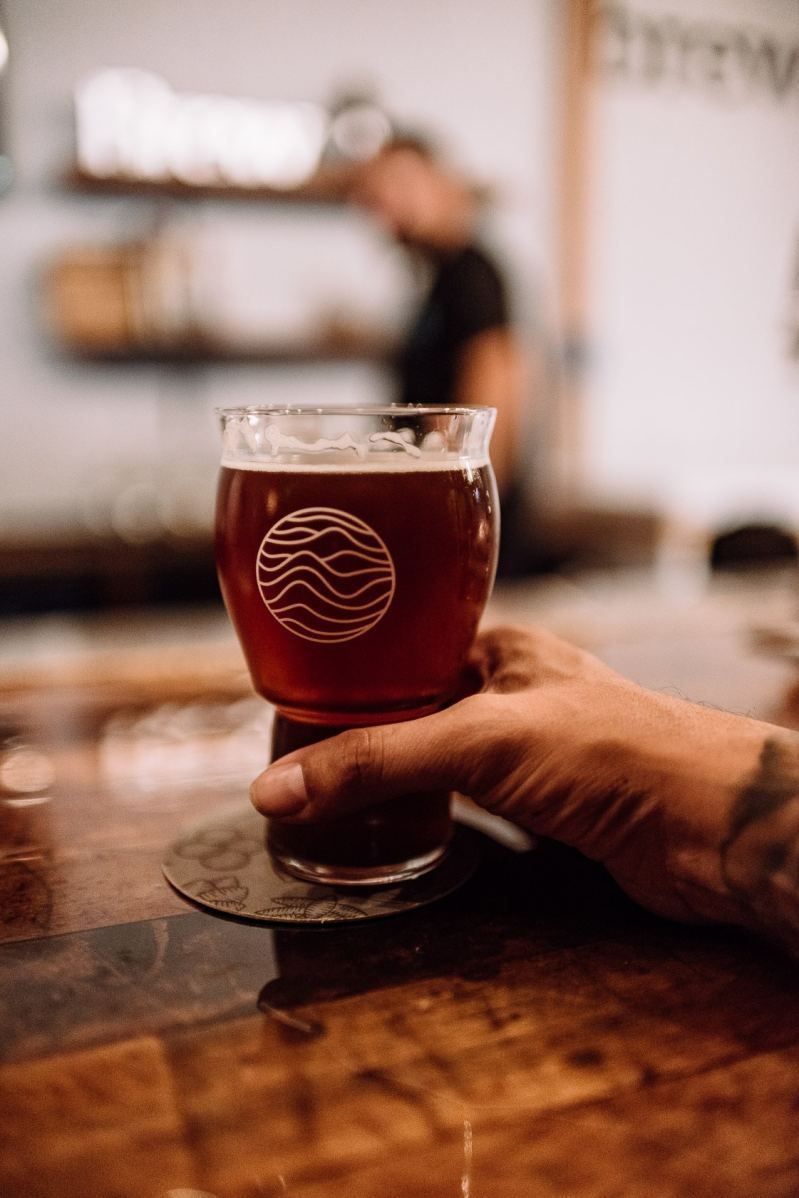 As Cárdenas puts it, "Pico Rivera chose us versus the other way around." Its location made it reachable by all the Brewjería principals. Beyond convenient geography, Cárdenas points to their longstanding community relationships with local organizations and events, such as Rio Hondo College's A Taste of Rio. "We already had attention from the City of Pico Rivera," said Cárdenas, "and they saw we were giving back to the community. And we wanted to bring our beers to people who would appreciate our beers with a Mexican twist." 
Brewjería means Belgian with a Mexican twist
A perfectly Spanglish term that conjures all sorts of romantic, fantastic, and specifically Latina notions of beer-making alchemy, the name "Brewjería" captures all the elements of this particular brand of cerveza. When I first heard of the name, I assumed that its creators had some kind of cool story about being inspired by the mysterious elements of the process, or perhaps by the ancient Egyptian women who created and brewed the world's first recipes thousands of years ago.
Ruelas laughs and admits there was no such sorcery or romance, just some drunken idea that he and his fellow brewers wrote down and forgot about until the next morning. 
"We were totally drunk and coming up with all sorts of names one night," said Ruelas. 'Brewjería' stood out and made the most sense to them as a name that captured their Latino roots, their beer style, and the process behind it all. "We started using the name when we were brewing with SoCal Cervezeros, and our friends, folks in the community at the events we poured at loved it and really responded to it," he explained.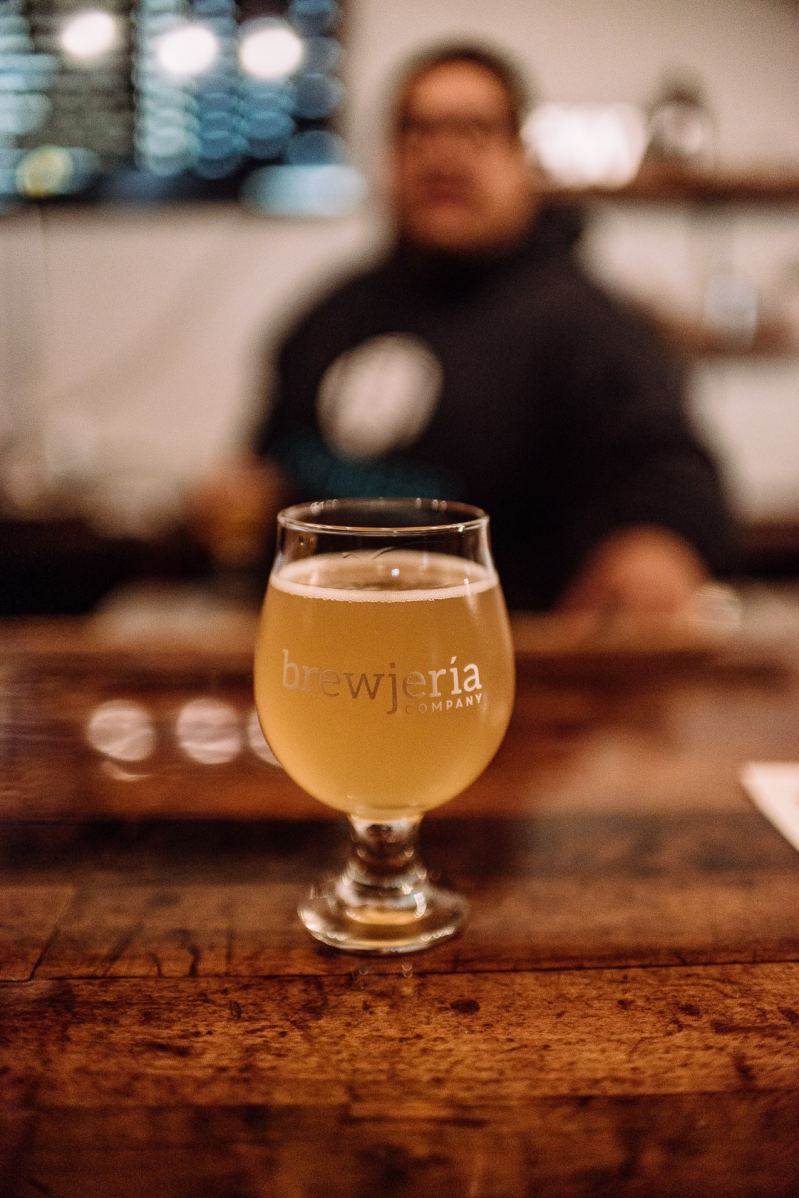 The name recognition bodes well for Brewjería, whose beer profile can best be described as Belgian with a Mexican twist. The brewery's main draws are the Belgian Trappist-style dubbel and trippel ales, but they offer one or two hoppier ales to appease those who prefer to drink dank West Coast-style IPAs. The "twist" in the Belgian ales comes from the use of tamarindo, hibiscus, and piloncillo flavors that characterize their most popular brews. 
"People like our Rubia Fuerte and Tomo la Flor," says beer-tender Erika Orellana. The only employee at the moment—everyone else who works at Brewjería is a co-owner or family member—Orellana is most excited about introducing area beer drinkers to their Belgian style beers, Brewjería's signature style.
Brewers Raul Gómez and Jimmy Cárdenas started brewing Belgian beers because that's the style they liked to drink. "We started with Belgians because I was fascinated by the whole process, fascinated by the Trappist monks' style of brewing, the way the beer was fermented a certain way," explained Gómez. "We wanted to learn more about the style and to replicate those recipes here." 
Gómez developed Brewjería's popular Belgian dubbel recipe, while Cárdenas created "Grapes of Wrath," a Belgian trippel made with Muscat grape juice and coming in at a strong 10% ABV. "Beer is centuries old. I love that I get to tap into something that's ancient and also serve people the beers that I love," he said. 
Evelyn Bond-Ruelas, a master's student in marine biology, said that she looks forward to helping her family develop new beer recipes. "As a scientist, I love the science behind beer," says Bond-Ruelas. "I love that you can have a certain set of ingredients and you can simply change the temperature or yeast strain and have a totally different kind of beer," says Bond-Ruelas. "We're working on things like changing the pH of the water and new yeast strains so that I can be more involved in the brewing process."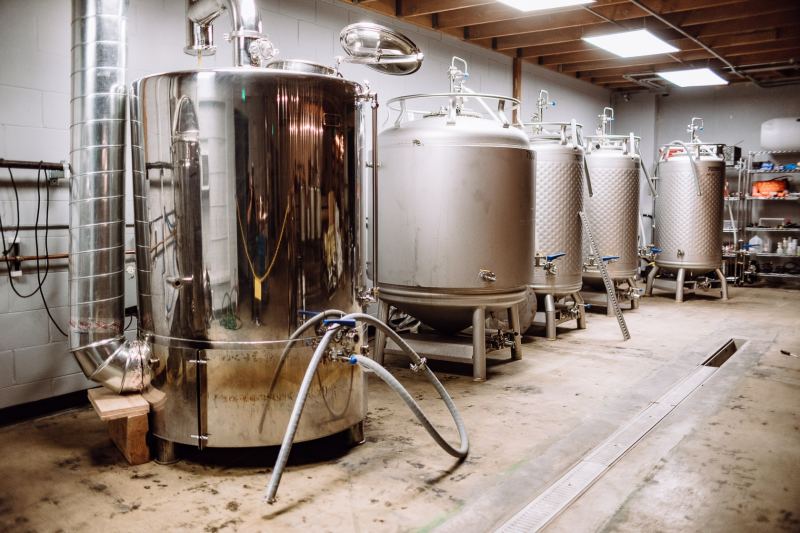 For a community that for generations drank mostly light lagers and other Tecate-style beer, Bond-Ruelas and Orellana both see exciting potential in introducing new styles to beer drinkers in and around Pico Rivera. "People are coming in with an open mind," says Bond-Ruelas. "They're drinking the Rubia Fuerte or something else they tried here, and they're excited to come back next time and try other styles."
A new generation: brewery culture comes to Whittier Boulevard
Whittier resident Jesse López, 25, appreciates the culture that Brewjería is building in the neighboring city of Pico Rivera. "The name itself says, 'This is who we are, our beers are gonna have that Hispanic cultural twist to it," said López, sipping a Belgian dubbel. "That's why we're here and why we enjoy it. Brewjería is doing a good job of putting their stamp on the community here, and we knew we had to come support all this."
López was accompanied by two friends from Montebello, Ramón Becerra and Dani Rosales. The three of them have visited Brewjería a few times already. 
Becerra, 33, said, "I'm originally from Orange County, and I moved here to Montebello about four years ago. There are not a lot of places where young people can get together around here without going to L.A. Jesse and Dani became friends of mine through beer."
Rosales, 21, chimed in, "It's great to see something like this in our neighborhood, to see the brewery culture coming around. We love our craft beer and our culture, so when we see a name like Brewjería, of course we're interested and want to support it."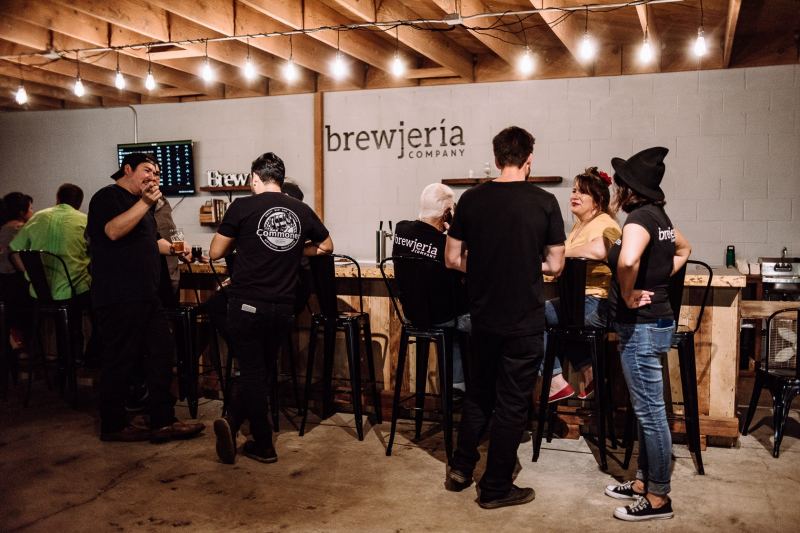 They also recognize the cultural significance and intergenerational history connected to the mythical Whittier Boulevard, where our parents and grandparents back in the day cruised and socialized. "Whittier Boulevard used to be the place to hang out with your friends and family, all together as one," noted López. "We may not have the lowriders or cruising so much anymore, but we have something else now in the brewery culture."
Citing their disinterest in going to clubs and slamming shots of liquor to "get wasted," these three amigxs want their generation to know the value of craft brewery culture. "This is a casual environment," said López. "You can meet new people, have conversations, build relationships, and that's what I've always loved about breweries. They were never a place to go get trashed. You're there to enjoy the quality and taste of beer, to appreciate the craft of someone's work and creativity behind it." 
López, Becerra, and Rosales represent a new generation of young Latinx and people of color whose preference for local brewery culture reflects a larger shift towards politics rooted in community consciousness and investment. In the age of AOC, young people yearn for homegrown, independent, and community-based alternatives to big corporate brands. They recognize the value of spending their precious little spare cash by supporting the local economy and buying from independent artisans, creatives, vendors, and brewers.
A spark that's just the beginning
Another group of locals enjoy a few pints in the cozy confines of Brewjería's taproom. Brothers Kevin, Peter, and Steve Obregon, owners and operators of The Commoner gastropub in Uptwon Whittier, are thrilled to see a new brewery in their hometown. "Being local Pico boys, we're excited about this place. It's a great space, and Brewjería's done a great job bringing their beers here," said Kevin.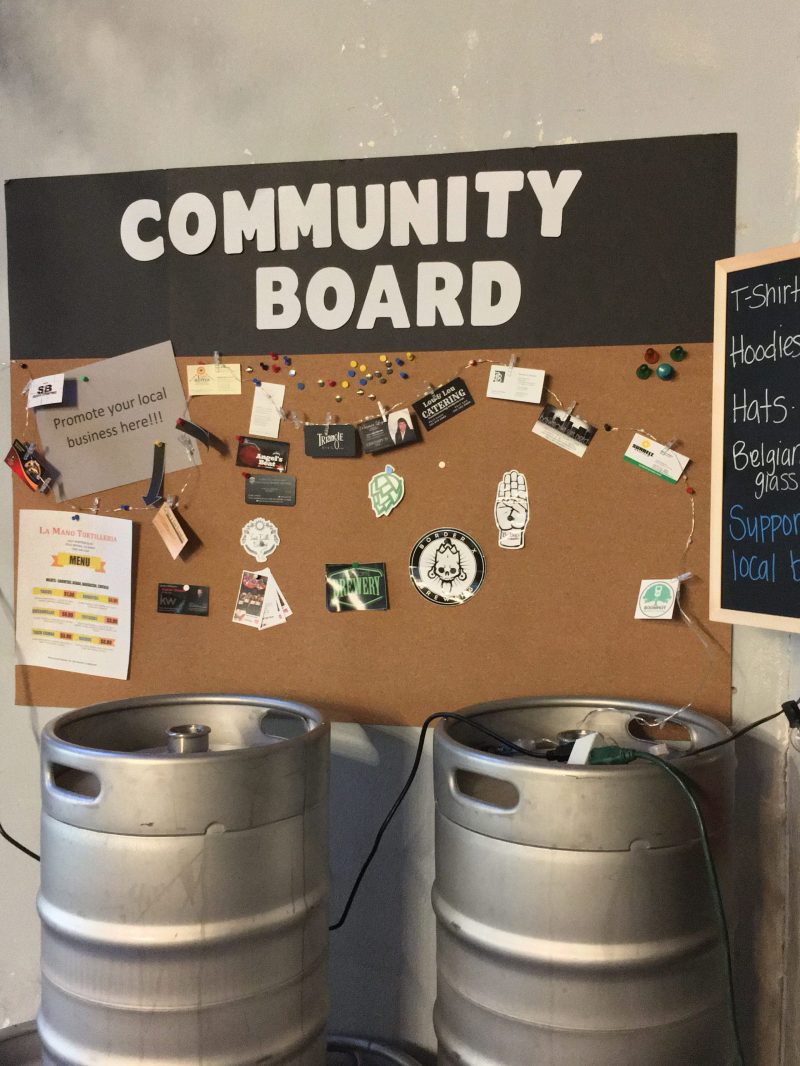 The brothers look forward to the day they can cook at pop-ups and bring a bit of the Commoner's comida to the Brewjería taproom. "They're a spark, and I hope they ignite other small family-owned and homegrown independent businesses to come to Pico Rivera and the surrounding area," adds Steve.
Bond-Ruelas acknowledges that Brewjería's goal was always about getting the community through their doors. And so far, members have responded in droves. "A couple, neighbors near the brewery, came in when we first opened and noticed we didn't have flight boards," said Bond-Ruelas, referring to the paddle-boards used to hold the four tasters of beer that comprise a flight. "So they made us some! The neighbors made us flight boards, wrapped them up in a bow, and they brought them over to us and said welcome to the community, welcome to Pico. We have families come in, and people have brought us games for the kids. Neighbors make a genuine effort to know us, and when they find out we're a family business, and it changes their perception of the brewery."
Dani Rosales sips her hazy IPA and smiles as she looks around. "This is our safe space, right here in our community. I want to see young people coming out and the older generations, our parents and grandparents who like to cruise and bump their oldies all sharing and drinking beer together here at Brewjería. We all feel welcome here."
And it's only the beginning.
Melissa Mora Hidalgo was born in Montebello and grew up in the L.A./O.C. borderlands of East Whittier and La Habra. She holds a Ph. D. in Literature from UC San Diego and is the author of Mozlandia: Morrissey Fans in the Borderlands (Headpress UK, 2016).
Stay in touch
Sign up for our free newsletter