Music
Brainstory's New Music Is Your Jazzy Tripped-Out Summer Soundtrack, From IE to the World
11:29 AM PDT on July 9, 2021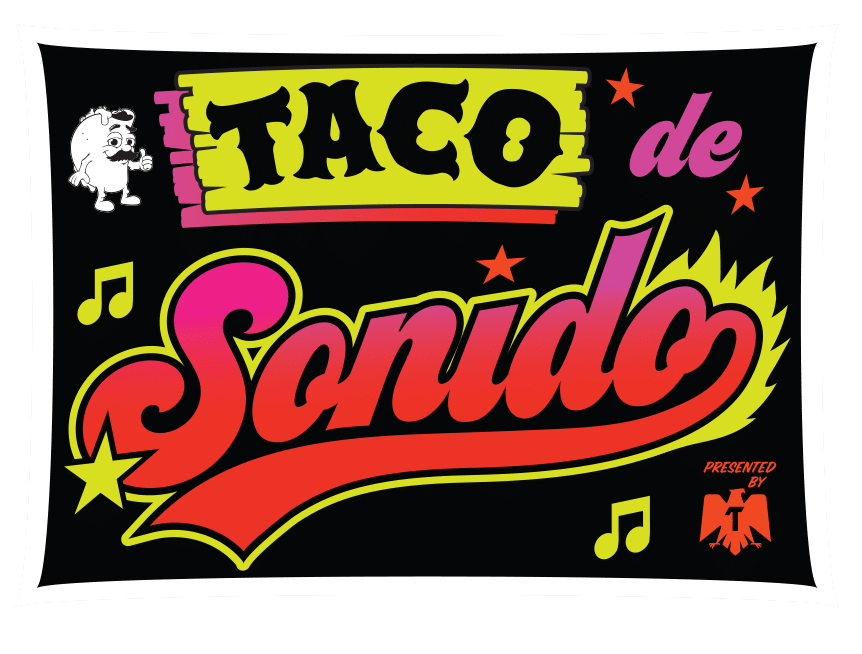 Welcome to Taco de Sonido, our new monthly music column presented by Tecate, the official beer of L.A. TACO. Each month we'll bring you the latest up-and-coming artists that are staking a claim to the new sound of Los Ángeles. Read, listen, share, and don't be afraid to share your comments or suggestions for new artists for us to check out. We've got our ears on the street but we want to hear from YOU.
Subscribe to our Spotify playlist to hear all of the artists we've profiled for Taco de Sonido.

he groove is ingrained in us." 
Tony Martin, the bassist of Brainstory, tells the band and me as we find ourselves packed into their small studio and practice space one night. Brainstory's music is the groove personified, showcasing their unique blend of jazz-meets-soulful R&B. Their sound provides the listener with an overwhelming sense of newness and growth and being something familiar and confident. Yet, at the same time, you are bearing witness to something on the precipice of greatness. 
Martin, along with his brother, Kevin (guitarist, lead vocals) and Eric Hagstrom (drums), created something remarkable on their latest EP, "Ripe." They exemplify a type of music that exists on its own plane by adopting certain retro sounds while still sounding very much of the moment.  
Growing up in the IE, the Brainstory's soundtrack consisted of early West Coast 90s G-Funk-inspired hip-hop mixed with 90s indie and alternative acts such as Beck, Stereolab, Bjork. Those eclectic sounds of the era, along with the occasional song, heard on whatever skate video they were watching at the time was also part of what they absorbed. Additionally, Eric's upbringing consisted of being exposed to jazz fusion acts such as Herbie Hancock, L.A. Express,  Al Di Meola, Mahavishnu Orchestra, and Billy Cobham.
Kevin first met Hagstrom when they were both 19-years old and attending Riverside Community College. When Martin caught Hagstrom playing a set as part of a combo, Oliver Nelson's Blues and the Abstract Truth. The seminal recording is known for its unique ensemble arrangements, serving as the perfect touchstone for Brainstory's origins.
From there, the band's universe-building abilities began to take shape; it's easy to see how the trio have crafted their unique sound. Case in point, as the first note hits on the introductory track of their new record, Scissors, that begins with the whack of Eric's snare rim. From that point, Brainstory immediately transports you to another time and place entirely. The clean and well-executed hooks immediately take off with semblance. Once you find your footing, you are privy to equal amounts of funky dexterity and lush arrangements-making you feel like you are on a velvet carpet ride jetting through a cosmic dimension. 
From that point in their lives, the future bandmates were looking to take the next step in their musical journeys. Hagstrom recalls after meeting the brothers and being drawn to magnetic energy and wanting to break creatively. Around that time, Tony was in the Bay Area, focused on perfecting his bass playing abilities, sitting in on sessions hosted by various jazz luminaries such as Chris Amberger and Henry Franklin.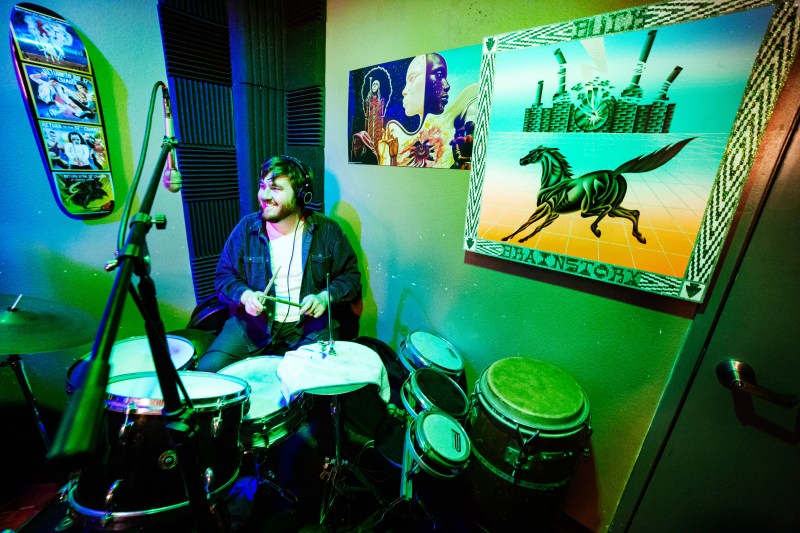 As time went on, Kevin and Eric lost touch for a while, while Hagstrom finished his bachelor's degree at Cal State Long Beach. Kevin recorded a demo EP with a group of songs with a producer who assisted with drums in Riverside, and Tony would frequently take bus trips down from the bay to lay down a few tracks throughout a weekend. Eric had begun his career as a jazz drummer but encountered rigidness from the younger musicians he played with who only wanted to play jazz music released before 1969. He eventually heard Kevin's EP and reconnected with his Brainstory brethren when he realized, as Eric recalls his thought process at the time: "You know what? This shit way more fun."
When you hear a track like "Long Day," it is easy to hear why he felt that way. In the span of the two-minute and 18-second song, Brainstory shows their listeners that they arrived fully formed, ready to take you on their quest of epic awesomeness. The track comes alive with staccato accented drum rolls, paired with spacey sounding keyboards that seem to float like purple clouds at sunset, made up of synth and Fender Rhoades, all while the bass expertly hums along in the background.  
The music of Brainstory is deeply rooted in jazz traditions; make no mistakes about it. However, the group injects their own laid-back trippy foo weirdness, making it sound fresh and ready to consume by their fans. It's the kind of music you can no doubt hear wafting out car speakers or poolside with your homies at the next staycation.
...like rooting for the Dodgers or slightly bending into taking that first bite of a new street taco spot after a long night of kicking it with some homies; Brainstory somehow manages to encompass it all.
"We wanted to make an album that people could sample," Kevin said. Using their jazz roots, Brainstory flexes their skills as part of their already established repertoire by leveling up. It's the type of music that could easily fit alongside other like-minded artists such as  BADBADNOTGOOD or even Yesterday's New Quintet with songs such as Vortex. However, the group manages to do it in a way that is somehow distinctive on their own. Part of that distinction seems to emanate from Southern Californian frequencies that come naturally, from a local perspective, like rooting for the Dodgers or slightly bending into taking that first bite of a new street taco spot after a long night of kicking it with some homies; Brainstory somehow manages to encompass it all.   
The group manages to use their third eye to look even further into the future, with songs Bye Bye and Seasons featuring Kevin's laid-back vocal croon. With today's retro-soul-inspired acts drawing heavily from the 50s and 60s of the likes Ralfie Pagan and Thee Midniters, Brainstory embraces a fuller and more composed sound that appears to explore beyond that space and time, with something would find on a deep cut on War-Platinum Jazz (1977) or El Chicano's-This is (1976).
The song Seasons feels especially appropriate for these times. First, with the chorus lyrics, with Kevin singing: "Everything is changing now...everything is changing now... either you go with or without...changes are happening now..right now." It makes for essential listening as we begin to emerge from quarantine and the world opens back, forcing ourselves to reconnect with that part of ourselves and the people around us.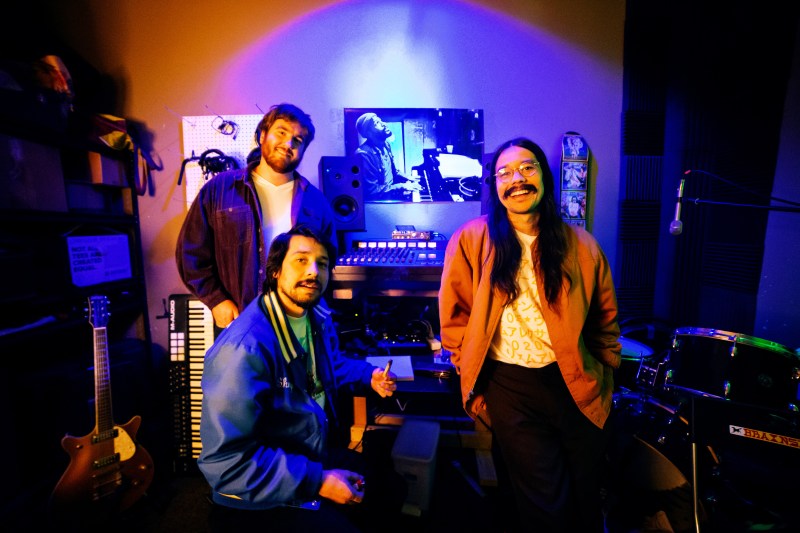 It's a story that very much rings true to the Brainstory boys as well. At the pandemic's beginning, the group automatically went into survival mode with their touring schedule on hold. "I kinda freaked out...everything we had been building on for the past four to five years because our shit was mostly live. We made a big impression playing live, and during the pandemic, I realized that shit could be taken away from you," said Hagstrom. So, jumping into action, the group immediately began work converting their small practice space into a studio, adding a Tascam 338 studio recorder purchased on eBay,  along with other recording material bit by bit. 
Additionally, they began hosting weekly Twitch streams to broadcast their practice sessions to stay connected with their fans. "It kept us connected, and this (the studio) kept us working," says Kevin. "Just growing in another way, " adds Tony as he finishes his brother's sentence. "...and maturing hence the name Ripe," Kevin says.
"I just want to make things that are important to me," Eric says. After 2020, it forced the Brainstory boys to continue to grow. Hagstrom got a job as a substitute teacher, and Tony and Kevin helped take care of their grandfather. "I feel like all of us like we're going through some heavy shit," adds Eric. "It had nothing to do with the pandemic. It was just like adding to it", adds Tony. "We had to like to grow up," says Eric.
That much is clear for Brainstory, who have taken such great strides in their music on this record, making the world keenly aware of just what they are capable of. 
"When we didn't play because of the pandemic, we were all missing a huge void of spiritual connection, '' says Tony. Adding ' [Playing live} You connect with the earth, you connect with the universe, connect with the audience. You connect with whatever your reality is. And that was taken away. But I learned how to communicate through our recording."
However, as the group begins to ease into performing their live set once again, they must confront the notion of looking for new ways to connect with listeners again with their newly acquired sense of purpose and focus they find themselves with. For a band like Brainstory, playing to live audiences is part of their spiritual consciousness.  
Gabriel Chabrán is a food writer and journalist from Highland Park. He currently lives in Long Beach with his wife Katie, their new baby, and their Russian Blue cat, Mars.
Stay in touch
Sign up for our free newsletter