Featured
The L.A. Taco Guide to Decolonizing Your Tacos: Our Nine Picks for the Best Vegan Taco Pop-Ups in the City
11:01 AM PST on January 16, 2020
[dropcap size=big]S[/dropcap]o, you're trying to eat less meat this year, but you think to yourself, ¿Que chingados voy a comer? 
You're accustomed to the usual, tacos de carnitas, de carne asada, de al pastor—and your mouth waters at the thought. 
In 2020, in the time of Impossible Burgers and oat milk that is just as good as dairy milk, the myth that vegans eat rabbit food should surely be dispelled. In Los Angeles, there's an abundance of vegan food. After all, we are one of the country's top vegan-friendly cities; here, you'll find just about anything veganized. 
But, you don't want to give up that Taco Life. 
Luckily for you, there are plentiful taquerias that offer vegan options or fully vegan menus for your taco cravings. However, the really good stuff may be nestled in the Mexican pop-ups peppered all around town. The taqueros who do pop-ups don't operate daily and are usually run by people who also hold other jobs––sometimes even full-time. But they are special for that reason; fueled by passion and sustained by the people who fall in love with them. Keeping up with their next service is only half the fun, and getting to meet these hard-working and inspiring individuals is like meeting local celebrities. 
Their grit and imagination––like reworking shredded carrot to resemble tinga or using tofu skin for carne asada– served on paper plates is a reminder of what's possible with a little elbow grease (okay, a lot) and community support. Even more heartening are the people behind the booth who show incredible humanity by making it their mission to provide their neighborhoods with healthful, tasty and cultural options. 
Culture is healing. 
These chefs get that and nail it with every hand-pressed tortilla and decolonized—synonymous for "meatless,"  before Mexico was colonized and introduced to pigs and cows via Spain—taco that hits the comal. Get to know them and make the trek to taste plant-based versions of classics in Mexican cuisine, this Veganuary and beyond.   
Cena Vegan
Tacos at Cena Vegan are reflective of their mission, creating healthier and cruelty-free options for the Latinx community––without sacrificing taste. A single bite holds a wealth of nostalgia: transporting the eater's palate with the textures and flavors strongly reminiscent of a typical street taco. Cena Vegan focuses on their production of plant-based meats, and uses seitan for carne asada, pollo asado, al pastor, and tofu skin for barbacoa. They marinate in co-founder Carmen Santillan's family recipes from Guadalajara and are sold in select stores in California. 
Catch them for Taco Tuesdays in Highland Park's York Boulevard from 6 PM to 11 PM, Fiesta Friday also at Highland Park from 6 PM to 12 AM, and Smorgasburg every Sunday from 10 AM to 4 PM. Their event calendar is available here, and you can follow them on Instagram at  @cenavegan for more updates.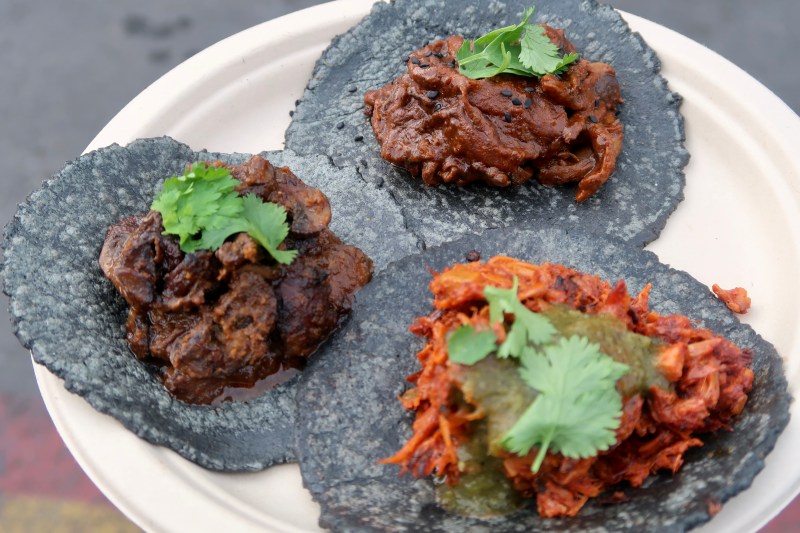 Todo Verde
Lack of access to health foods in her community, after facing her dad's cancer for a second time, is what drove chef Jocelyn Ramirez to start the health-conscious pop-up, Todo Verde. The pop-up's (soon-to-be brick and mortar) Latin American menu derives influence from her Mexican and South American roots while spotlighting nutrient-dense ingredients like cauliflower, jackfruit, and mushrooms. Their tacos, however––bundled with fresh deep blue tortillas hand pressed per order––are not to be missed. Try the tinga, a mushroom-based taco that packs flavor and just enough heat to decolonize what "healthy eating" can look like. For more wholesome plant-based recipes, pre-order chef Ramirez's cookbook, La Vida Verde, here. Find them every Sunday from 10 AM to 4 PM at Smorgasburg, and follow them on Instagram at @todoverde.     
Vegatinos
Vegatinos (a mash-up of "vegan" and "Latinos") founders Carol Panguina and Alex Vargas got their start in 2017 to provide their food-deserted community in the San Fernando Valley with vegan options. Chefs like Señoreata's Evanice Holtz dub Vegatinos a favorite for its variety of plant meats and really great flavor, "From the rice to the beans to the meats. It's all good." Holtz tells L.A. Taco. Their menu offers al pastor, "chikin," jackfruit carnitas, jamaica tinga, chicharron, suadero, and asada. Aside from making vegan Mexican food accessible and delicious (just take a peep at their menu), they also run a scholarship fund that awards undocumented students living in southern California. Try their rave-worthy tacos by keeping up with their events calendar and updates on Instagram at @vegatinos. 
Hijo de su Madre
Hijo de su Madre is not your regular taqueria. Expect the unexpected tucked into a tortilla, like their 'banh mi from doing this again' taco with daikon radish and pickled carrot, or 'Murica, a Beyond Meat taco with a "super-secret sauce." Chef-owner Gregory Owens credits his "crazy menu" to his mom, whose recipes were passed down from and modified for Hijo de su Madre. Not-so crazy is his commitment to lowering his carbon footprint. Owens keeps it eco-conscious by running a solar-powered food truck, using compostable utensils, and sugar cane paper plates. Follow them on Instagram at @mijhijodesumadre, and find their calendar here. 
Tacos sin Karma
Renowned for their "karne asada" meat, this pop-up slangs tacos, pozole, nachos, and more weekly at Donut Friend in Highland Park, and as of November last year secured a residency at Abby's Diner in Eagle Rock. Try their succulent tacos by catching them anywhere from Pasadena to Long Beach. Stay on their trail by following them on Instagram at @tacosinkarma, or peep their schedule here. 
Plant-food for People
Plant-food for People is credited as the pioneers of the Mexican plant-based taquerias a year shy of a decade ago before the scene exploded in 2016. Operating out of northeast Los Angeles, PFFP is still serving up the jackfruit tacos that put them on the map. In a 2015 article by Los Angeles Magazine, Genise Nichole said of her beginnings with partner Jeremy Castaneda, "The first day we did it, I didn't know what I was doing, but there was a line of people waiting, so I knew it was needed in the community." Nichole taught herself to cook jackfruit with Mexican sazón, a fruit that grows in the tropical parts of Mexico, after seeing it used for a barbecue sandwich on a blog. These days they've added breakfast items to their offerings, serving up scrambled tofu with your choice of soyrizo, mushroom or jackfruit burrito-style, or in a taco. Try the OG jackfruit taco, with your choice of four different toppings, at their next pop-up by following them on Instagram at @plantfoodforppl. 
 

View this post on Instagram

 

A post shared by Rafa's Tacos (@rafastacos) on
 Rafa's Tacos
Rafa's Tacos, a little-known but fiercely loved pop-up, and pick-up service is one to keep an eye out for. Their Instagram account at @rafastacos, the most active of their platforms, is where hungry Angelenos is alerted to the available menu items to order. People place their orders via Venmo or PayPal and in the notes, write out what they'd like. Lately, it's been extra "muddy" salsa roja or salsa verde tamales, but there's hope that their cultishly coveted tacos will make a return. As low-key as they operate, they are five years strong. So they are definitely doing something right.  

Xochitl Vegan
This is the self-proclaimed home of the "Hibiscus Asada" taco, Xochitl Vegan, and truly, if you haven't had that combination, run, don't walk to the next pop-up. It is run and founded by chef Stephanie Villegas. Villegas focuses on tacos that reflects decolonizing your diet, and aside from her menu being vegan and plant-based, she stays away from soy and gluten. Her "meats," which are used in tacos, nachos, burritos, mulitas, and tortas, are made from whole ingredients, like the aforementioned hibiscus for carne asada, lentil and walnut for chorizo, and mushroom for her carnitas. Follow Xochitl Vegan for details on upcoming pop-ups, menu updates and context, and history behind her ingredients at @xochitl.vegan. 
Alchemy Organica
"When people ask me how I make my food taste so good, my favorite answer is brujería," chef Denise Vallejo, who has roots in Mexicali, said in a 2019 interview with Hip Latina of her food for Alchemy Organica, a Mexican plant-based pop-up. Vallejo focuses on pre-colonial dishes honoring Mesoamerican staples that are vegetable-forward, like using carrots in place of chicken for her new tinga tostadas. The stars play a part in her culinary style as well, hosting supper club dinners like her Astro-Gastronomy series (this one will focus on Capricorn, tickets available here) and peppered throughout her instagram posts. While the tacos, like her Mexicali-style seitan asada, are not-to-be-missed, vegan or not, try her quesadillas. A rarity in the vegan community, Vallejo has concocted a cashew-based Oaxacan quesillo, available for sale, that she writes, "slices, shreds, and melts like a dream." Follow her on Instagram to catch her next pop-up at, @alchemyorganica. 
Andrea Aliseda is a Tijuana born and San Diego grown writer, cook, and dog-mom living in Brooklyn, NY. Her work is anchored in Mexican food, its history, and plant-based present. You can follow her on Twitter at @alisedaandrea or Instagram at @food_hound for updates, travels and foodie things.
Read More:
Stay in touch
Sign up for our free newsletter