Redondo Beach
The 11 Best Tacos—and Neighborhood Restaurants—In Redondo Beach
12:31 PM PDT on March 21, 2023
L.A. TACO is embarking on its biggest mission yet: to create a reliable taco and food guide for every neighborhood in Los Angeles! Along the way, we will also be releasing brief histories of each neighborhood to understand L.A. a little more and why each and every neighborhood makes our fine city unique. Check out the rest of our history and food guides on our neighborhood page. 
With a population of 75 000, the beachside community of Redondo Beach is nestled between Palos Verdes and Torrance beach to the south and Hermosa Beach and Manhattan Beach to the North. It is a thriving upper and middle-class city, with the southern parts nearing the coast and the more northern inland parts bordering the 405 Freeway. With the Pier and King Harbor, the South Bay Galleria, and all the crevices in between, there are many places to eat. Whether elegant and expensive steakhouses, seafood spots, breakfast diners, modern healthy vegetarians, and more, Redondo Beach has tons to offer, including many Mexican restaurants, Thai restaurants, and burger joints. Here, we highlight 11 establishments worth checking out in Redondo Beach.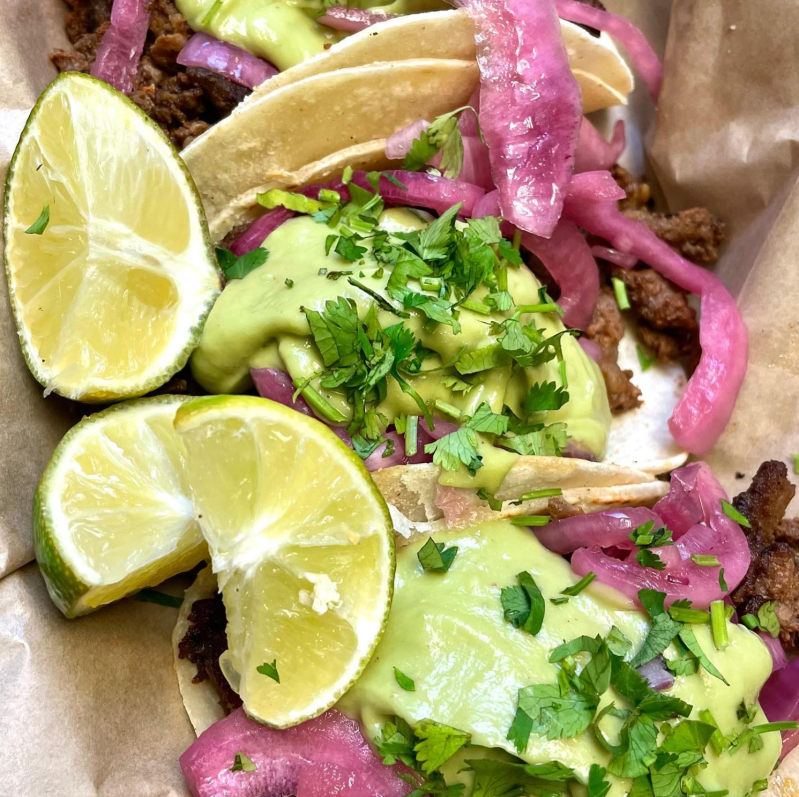 Located in South Redondo, in the Riviera Village, this is a tiny hole in the wall that has some seating but is mostly takeout, where locals are seen coming in and walking out with brown bags of food. If you are lucky enough to find a parking spot close by or don't mind a bit of a walk from your car, then dining is a treat. They serve chips as whole-fried tostadas and, in the corner, is a self-serve salsa bar with five varieties of sauce ranging from fiery red habanero, a piquant green serrano, and a mild red sauce. With a menu offering everything from flautas and taquitos to traditional enchiladas and wet burritos with meats such as chicken, carnitas, al pastor, and carne asada, the tacos here are delicious. Served both fried crispy with lettuce and cheese or soft with cilantro and onions, you can't go wrong with a taco platter. Two tacos, your choice (In this case, one carne asada and one al pastor), come served with a nice serving of tasty orange rice and refried beans topped with melted cheese. The portions are generous for the price, and the meats are tender and well-seasoned, with plenty of lime juice to squeeze over the tacos. Also, the Mexican street corn, served in a bowl, was a nice appetizer. Warm, slightly spicy, creamy, and zesty, the corn was swimming in a smattering of cotija cheese and had a spicy lime-chile seasoning. Well worth the time it takes to find a spot or order takeout if possible. This place is a local favorite.  
1903 1/2 S Catalina Ave. Redondo Beach, CA 90277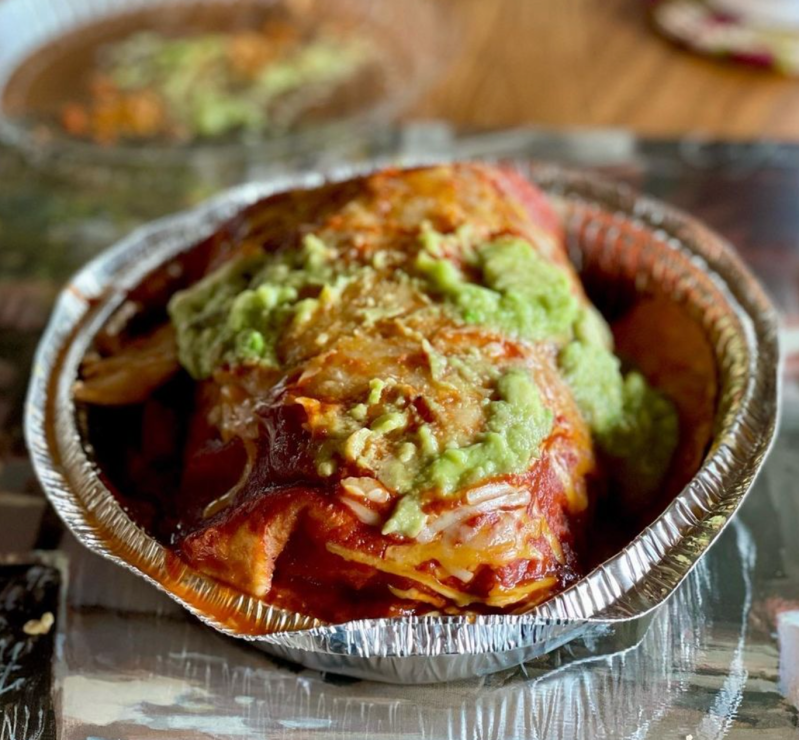 El Burrito Jr.
This hole the wall with on Pacific Coast Highway with absolutely zero online presence is known for its yellow sign and has been part of the community for at least three decades and has always been a take-out-only cash-only spot. There is an ATM, however, and some benches right on the side in the parking lot if you must, but some people eat in their cars, while most pick up takeout. The menu offers a wide selection of heaping wet burritos, fried and soft tacos, and enchiladas, as well as breakfast plates like chorizo and eggs and machaca (shredded beef) and eggs. The chile verde combo place has corn or flour tortillas and a generous mound of tender pork simmered in savory, slightly spicy green chile sauce. This all comes next to some of the best Mexican rice and beans available in the South Bay. This is enough for one starving person or two reasonably hungry people. The Burritos are also legendary for their weight and girth. When it comes to the wet burritos, don't be fooled, the Junior Deluxe Burrito, filled with a choice of meat, rice, beans, and Pico del Gallo, all covered in a red sauce, topped with melted cheese and globs of sour cream and guacamole is enough for two people. If you want to go super authentic, they offer options for meats such as lengua, buche and more, but the carne asada and carnitas are delicious. Fried tacos are also delicious here, and the chicken taco hits the spot with a crispy pan-fried shell, shredded iceberg lettuce, and a blend of jack and cheddar cheese. It's doused in red taco sauce. This place is known for lunch specials involving various combinations of tacos and burritos, including the well-known 'Special C.' It is two bean and cheese burritos and a large drink, which inspired the name of the South Bay reggae rock band called Special C.  Even though it's mostly taken out, there is almost always a line, but sometimes it's longer than usual.  Since this place serves stick-to-your-ribs kind of food, expect to get a generous amount of whole Fried corn tortilla tostadas as chips along with tiny plastic containers of their slightly spicy tomato Chile Pico de Gallo salsa.
919 S Pacific Coast Hwy Redondo Beach, CA  90277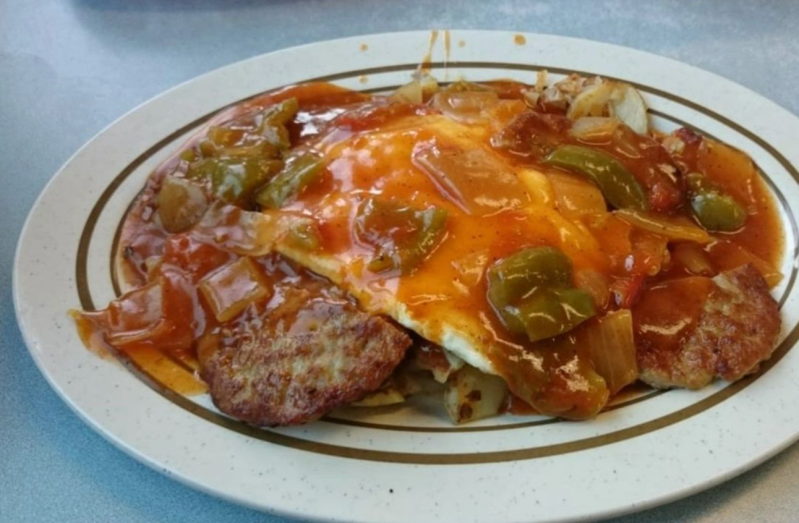 They don't make diners like this anymore. This place is essentially a time capsule of the 1970s when home-cooked diner foods, and mom and pop-owned breakfast joints were more common.  The Original Eat at Joe's was founded in 1969 and has its own historiography among the locals. It's open every day but only until 12 noon, so get there early, they only serve breakfast and early lunch. The menu has the typical and standard choices of eggs, omelets, French toast, pancakes, biscuits and gravy, and more, but its most famous dish is "The John Wayne Special," named after the iconic 1950s cowboy movie star. It's an oval platter, where the bottom layer is two soft-fried corn tortillas. Topping them is a crispy layer of home fries, then two fried eggs, Amirian cheese, and a red savory salsa. Also smothered on the plate are breakfast sausage patties. This was said to have been the perfect meal for a hangover, and it's clear why. It's a sloppy huge mound of food, served hot and steaming, ready for you to dig in. It's salty, crispy, fatty, and heavy but also very satisfying, especially if you love fried eggs. But the kicker is the sausage patties and home-fried potatoes. This place also serves up some great hamburgers and sandwiches and even offers specials of the day, which they write on a whiteboard with black markers. Such recent specials included Beef Stroganoff and Meatloaf with mashed potatoes.  Not to be confused with Joe's in Huntington Beach, this local gem is just a few blocks from Redondo Union High School.  They offer some tables indoors and some outdoors, and part of the joint have benches where its communal seating, which is odd nowadays but could be a great way to make a new friend over breakfast.
400 Pacific Coast Highway Redondo Beach, CA 90277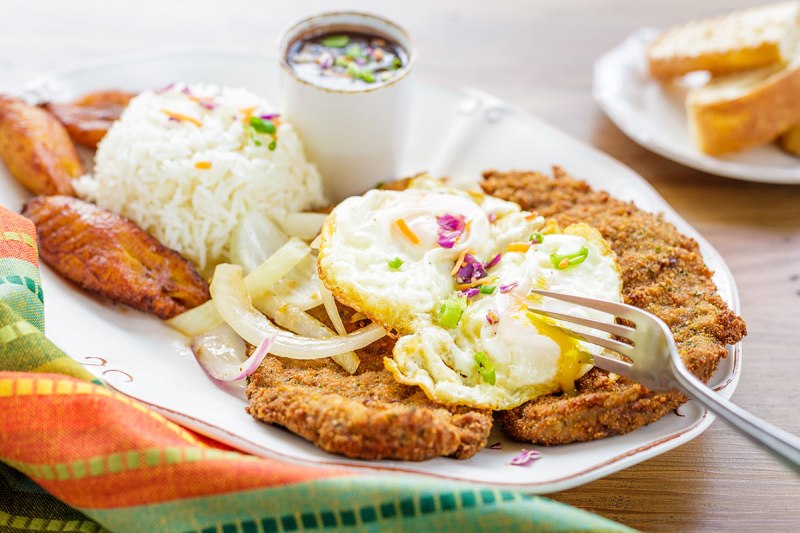 Another establishment that has been part of the city's culinary history for at least 25 years, Havana Mania serves authentic Cuban food in a comfortable but casual place, in a strip mall just off the 405 freeway. They also feature an exclusive rum bar, with some special Cuban rums available. But the food is worth checking out as well.  Of course, they offer sandwiches,' including the famous Cubano, which has ham, mojo-marinated roasted pork, Swiss cheese, mustard, and pickles, all pressed between a soft, crusty white roll. If you want a plate of hot food, a quarter of a roast chicken dinner or half a roast chicken dinner is a great option. The mojo-roasted chicken is served with a pile of cooked, mojo-marinated onions and garlic, which keeps the meat flavorful and juicy. Alongside a tiny pile of steamed white rice, the plate includes traditional Cuban black beans, and fried sweet Plantains. The Criollo platter came with a trio of meats: the first was ground beef seasoned with an onion and tomato olive picadillo, then the carnitas slow roasted tender shredded pork shoulder, also served with the citrus-marinated mojo onions and garlic on top; the third meat was ropa vieja, shredded beef strands simmered with green peppers onions tomatoes and green olive. This all came with black beans, white rice, fried sweet plantains, and boiled Yucca root.  If you like Cuban food, this is a place you must check out. Reasonable prices, a great bar with a great atmosphere, and Cuban music always playing in the background.
3615 Inglewood Ave Redondo Beach, CA  90278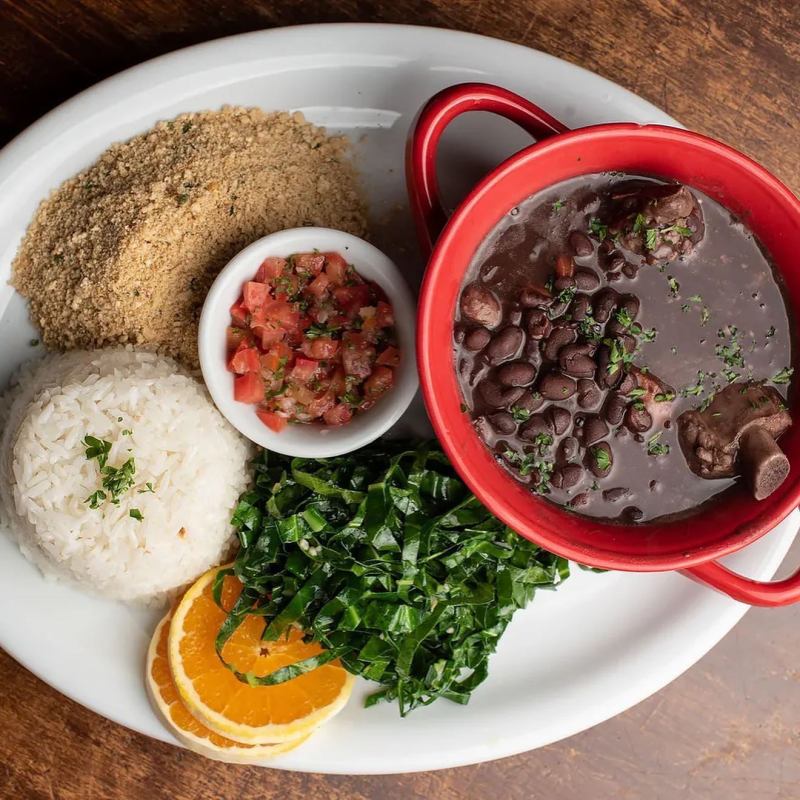 Located in a residential area next to a tiny park, this is a hidden gem that has been serving up home-cooked Brazilian cuisine for several years.  It is not huge, but there are tables for probably a few dozen customers, yet the place seems spacious. Parking is ample unless it's super crowded, but the restaurant also serves as a bakery, where people pick up pies, cakes, and other Brazilian pastries. The food is authentic Brazilian and has sandwiches and salads, but also meat-centric plates like churrasco-style grilled sausage, chicken, and steaks, with of course, dishes like feijoada, the traditional black bean and meat stew being featured, along with salads and rice dishes.  The very popular BBQ sample plate comes with a Brazilian-style picanha steak, with a nice fat cap, nicely seasoned and well-cooked. Also, a grilled sausage, BBQ-style crispy chicken thigh, and white rice—all plated with a small bowl of black beans and farofa (toasted yucca powder) fortified with fried pulverized garlic and a refreshing pico de gallo style chimichurri.  A great appetizer was the traditional crispy, gooey pao de queijo (Brazilian Cheese Bread), filled with melted cheese. This place offers a generous mound of modern but home cooked food served up for hungry people.  You can also order a Brazilian lager, an authentic cup of Brazilian roasted coffee, or freshly squeezed fruit juice. This is a local gem.
2808 Phelan Ave Redondo Beach, CA 90278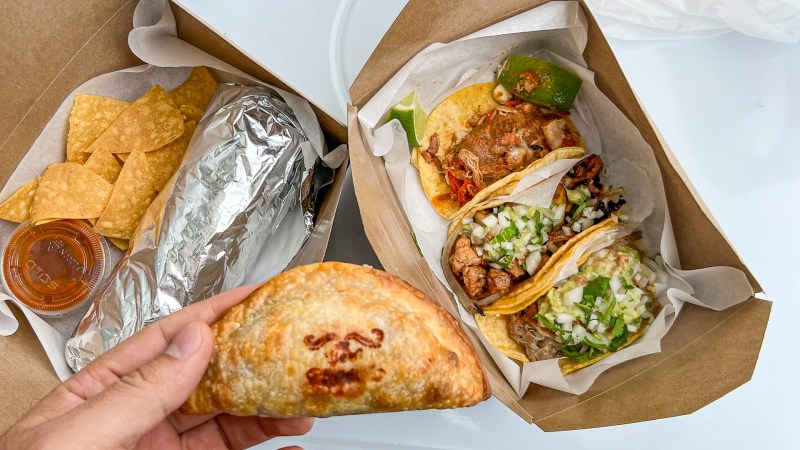 Is this an empanada spot? A tamal shop? Or a taquería? This spot on Artesia Boulevard has evolved over the years taking advantage of the great kitchen viewable through the large window from the front counter. Empanadas filled with Mexican recipes from the sweeter arroz con leche to the picadillo or even, yes, of course, birria. They've recently added the Takaria concept to this location, that will satisfy your deeper Mexican guisado needs with chicken tinga, shredded brisket, or al pastor. The whole menu, including the chilaquiles and breakfast burritos, tastes of fresh quality ingredients. It both feels nutritious and indulgent at the same time. - Memo Torres 
1908 Artesia Blvd, Redondo Beach, CA 90278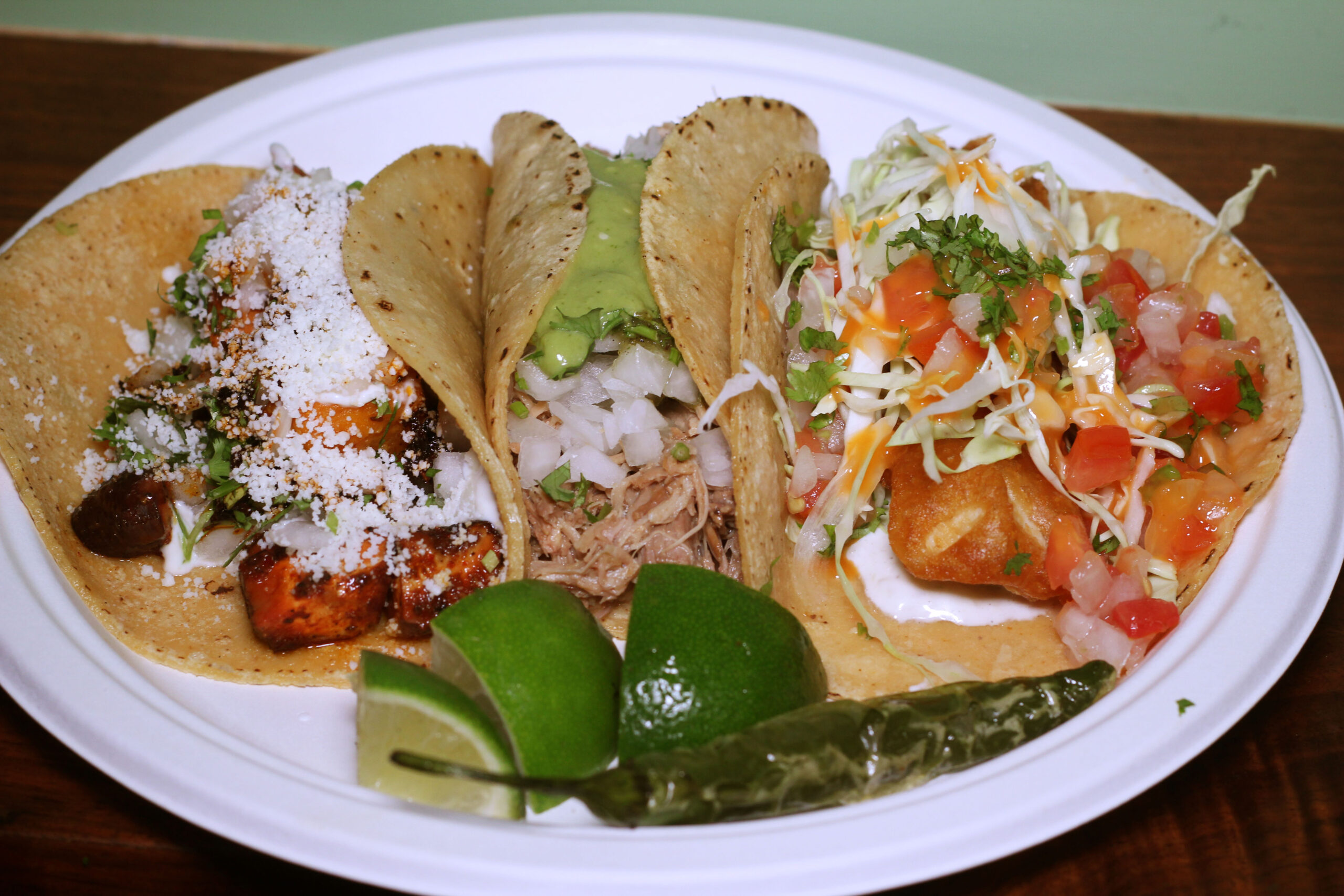 Tigres Fuegos
This taquería has a simple concept: Tacos and ceviche. Each taco is fully dressed but all five are distinct with their construction.  The carne asada is modeled after the perrón: flour tortilla with melted cheese, asada, onions, cilantro, salsa de aguacate and roja, and pinto beans. The turkey carnitas features succulent poultry on a corn tortilla with two salsas, avocado, and verde. It has a pronounced turkey flavor but with the acidity and freshness of a taco. The beer-battered swordfish taco draws inspiration from Baja with a crunchy shell and one of the best fish tacos in the South Bay. They have a sweet potato and mushroom taco if you want to skip the meat, which has salsa macha made with pecans. The al pastor is shaved from a spit and topped with pineapple for that tangy-sweet contrast. This is one of the best places to get tacos in the South Bay. -Cesar Hernandez
1223 S Pacific Coast Hwy, Redondo Beach, CA 90277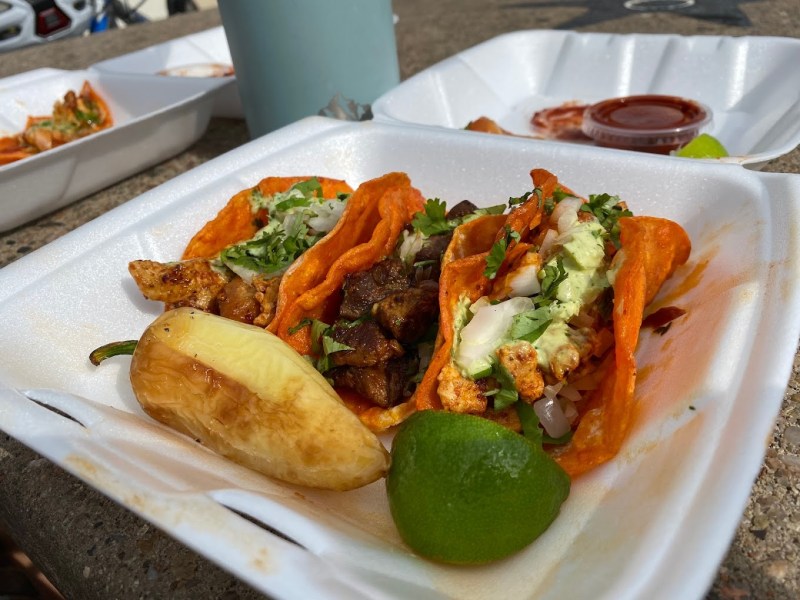 On the pier, just west of Old Tony's (Old Tony's and the El Torito on the pier belong on your list of classic restaurants with terrible food but great ambiance. Just go upstairs to the upper bar at old Tony's for a drink and the vibe). El Cinco de Mayo won't knock your socks off, but it's a great little taco stand on the pier with birria. For those moments when you need tacos while walking around and breathing in the salty air, this spot will take care of that sudden taco urge. - Roger Carlson, a Redondo Beach local
240 Fishermans Wharf, Redondo Beach, CA 90277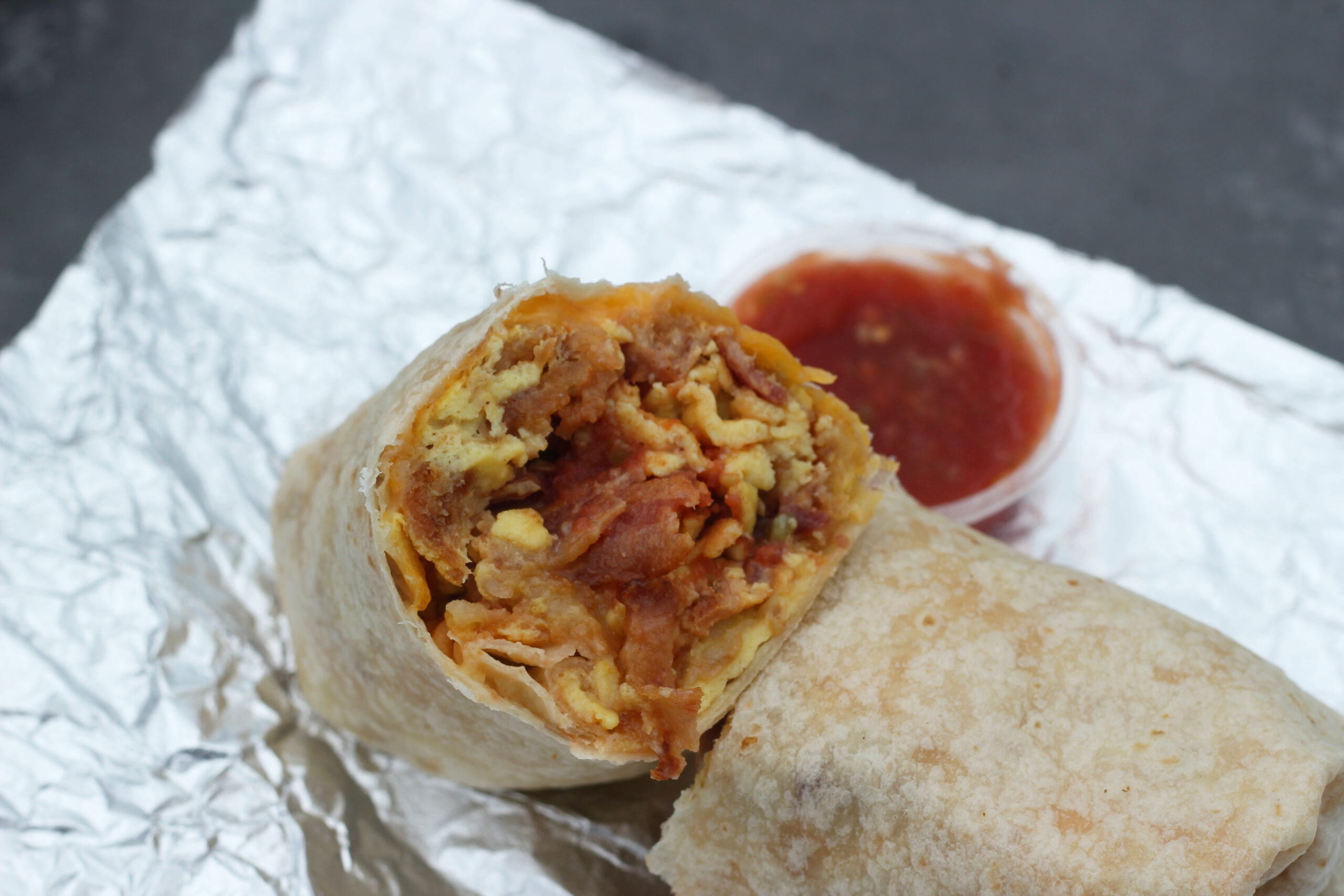 One of the South Bay's favorite breakfast burritos, but get there early because they close at 2 PM. Located right off PCH, Phanny's has the appeal of a local burger spot, the kind of joint where you make your first deep connections to food. Of course, they have burgers, but the real reason you and everyone else are here is for the breakfast burritos. While you could certainly go with classics like bacon, ham, or sausage, they also have proteins like soyrizo and carne asada. They even serve Stumptown coffee, a detail that suggests an eye towards modernity, giving their customers a taste of specialty(ish) coffee. Each breakfast burrito includes your choice of breakfast meat, eggs, hash browns, cheese, and a mild tomato salsa. They even have croissant sandwiches if that's your vibe. Get there early and bring cash. - Cesar Hernandez
1021 S Pacific Coast Hwy, Redondo Beach, CA 90277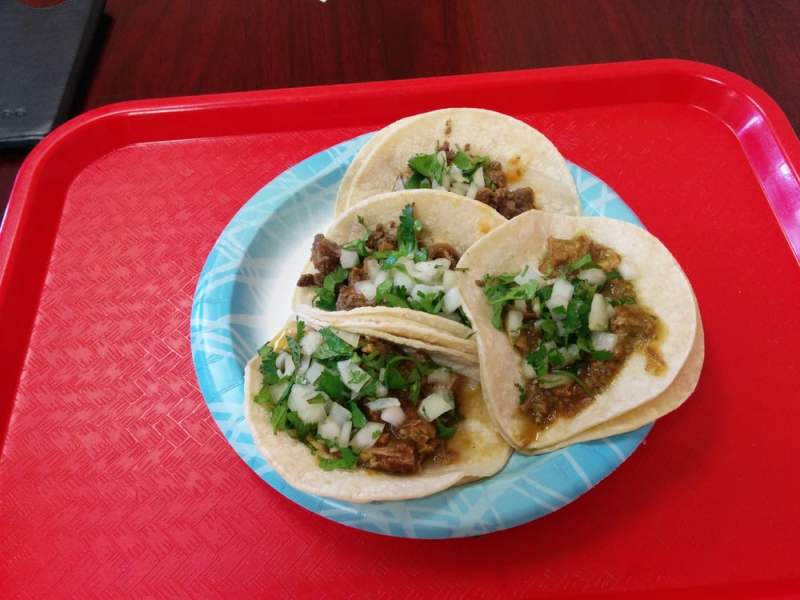 This is a great brick-and-mortar taco stand with a salsa bar, pickled carrots, and radishes—the way it ought to be done to round out your taco-eating experience. Dare we say they have the best breakfast burritos in town, too? We love the saucy beans they put in them. They also have tortas, tortas ahogadas, taquitos, and bowls, and we are really happy to have them in the area. - Roger Carlson, a Redondo Beach local
 2299 190th St #4, Redondo Beach, CA 90278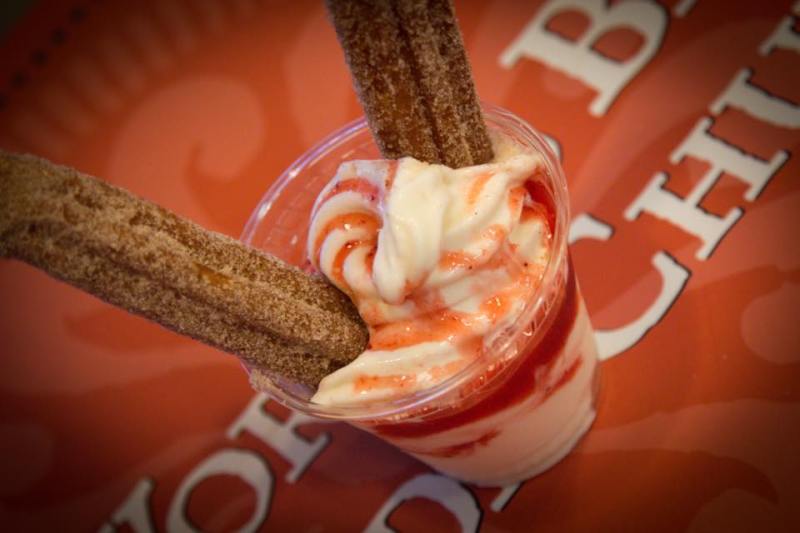 There are two stands on the pier that make freshly made churros. One under El Torito, one in the middle of the international boardwalk near Naja's (go to Naja's for beer). I think the second one is better, but they are the same shop. One woman has worked there for 19 years and still loves looking at the sunsets every day. She's cool. These are the best we have ever had, and we rarely bother trying one anywhere else, tired of disappointment. - Roger Carlson, a Redondo Beach local
122 International Boardwalk,

Redondo

 

Beach

, CA  90277
Alex Distefano is a professional freelance journalist with two decades of experience, and articles published in the LA Times, LA Weekly, OC Weekly, and High Times Magazine. He specializes in heavy metal music, punk rock, cannabis, tattoos, and food. He lives in his hometown of Redondo Beach, California.
Read More:
Stay in touch
Sign up for our free newsletter