Featured
The 13 Best Tacos Along L.A. Metro's 33 Bus Line, From Santa Monica to Downtown
Is this the best bus line to hit all of LA's classic tacos?
1:26 PM PDT on August 31, 2023
It's hard for L.A. TACO to contain its excitement about rapid transit. Especially today.
Because we're highlighting one of the most taco-filled lines in the universe: Metro's 33, which runs along Venice Boulevard from Downtown to Venice, passing some of the most legendary, most beloved, most crushable tacos and Mexican food in Los Angeles.
We're talking about a line that expediently whips you straight to Sonoratown, El Parian, Leo's Tacos, Flor de Yucatán, Birria La Única, and Tacos Tamix, just to name a handful, as well as to the doors of a few of our most recent Oaxacan favorites and in-house nixtamalization programs.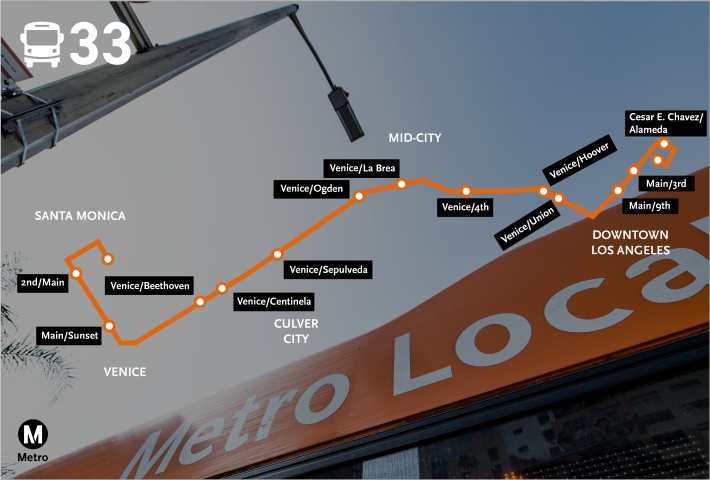 For all these reasons, we're just about ready to deem Metro's 33 Bus Line the route to the most comprehensive taco tour of L.A.'s classics, a perfect one-day adventure through some of L.A.'s most terrific edible masterpieces wrapped with a tortilla.
But enough of our yapping. Let's get to tapping. The only way to do it… is to chew through it.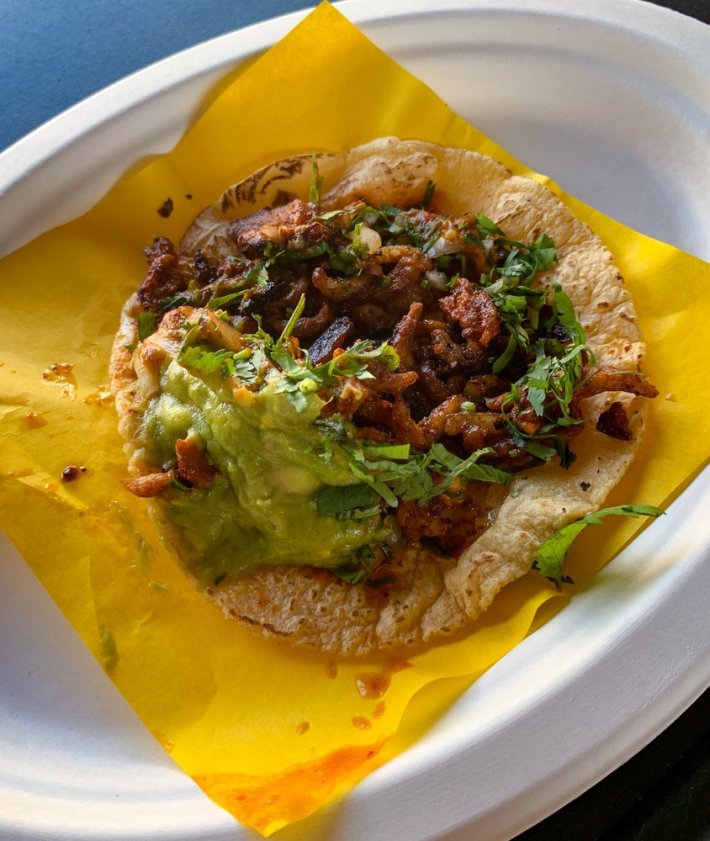 2nd / Santa Monica ~ Tacos 1986
Tacos 1986 offers four types of tacos: chicken, carne asada, puerco adobado (also known as al pastor), and mushroom for vegetarian taco lovers. The portions are generous, with the tortilla providing more space for fresh fixings than commonly used taco truck tortillas. One item not on the menu and a customer favorite is the perrón. The perrón is a flour tortilla with creamy melted Monterey jack cheese topped with lean carne asada, pinto beans, and guacamole. The tacos pack the right flavor and chewiness but do not leave your hands covered in enough grease to turn transparent cardboard. Wash the whole meal down with some ice-cold horchata or jamaica and bask in the taco life right by the beach.
135 Colorado Ave, Santa Monica, CA 90401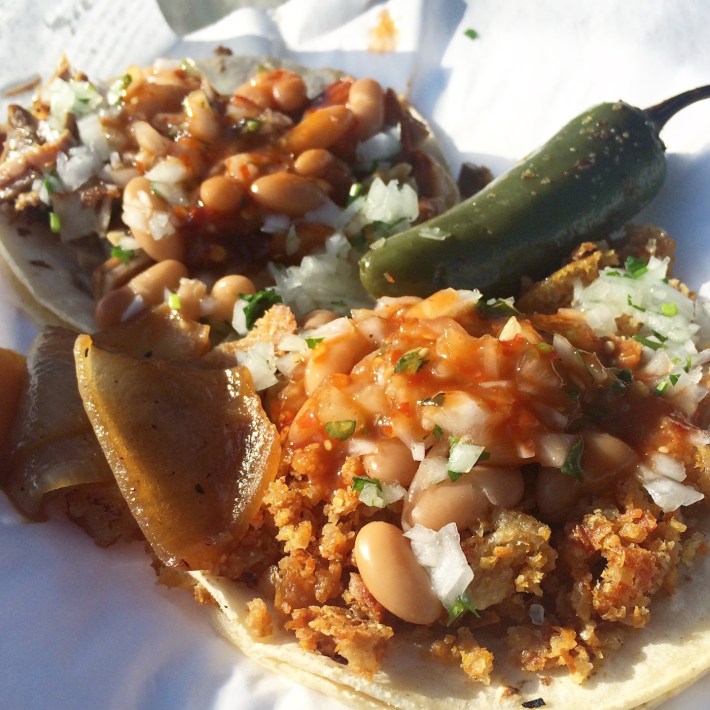 In 1986, Madonna's hit song, "La Isla Bonita," hit the top of the Billboard Hot 100, and on the side, the Gonzalez family opened their brand new taco truck. It's been parked on Rose Avenue since then and still serves Jalisco-style mariscos and tacos. The tacos are still topped with fresh frijoles and a splash of their lively salsa,  a touch you'd have to return to parts of Mexico to experience again. Pro-tip: When you go, ask what's on the menu today. There's usually a different taco being cooked up every day. 
400 Rose Ave, Venice, CA 90291 
Venice / Centinela ~ Quiadaiyn
This is Oaxaca in Mar Vista, down to almost every ingredient sourced directly from the motherland. Quiadaiyn takes no shortcuts, from preparing chocolate from scratch for their moles to having their nixtamal program for fresh tortillas. There are no wrong choices here, only difficult ones. If you can look past the rainbow of moles, enmoladas, and tlayudas, the tacos de barbacoa made with fresh handmade corn tortillas is exceptional. Goat stewed in chiles for hours, topped with fresh crunchy cabbage, dripped with a bit of tangy green chile, and drizzled with lime on fresh yellow corn is a bite of Oaxacan heaven on this Mar Vista stop.
12326 Venice Blvd., Los Angeles, CA 90066.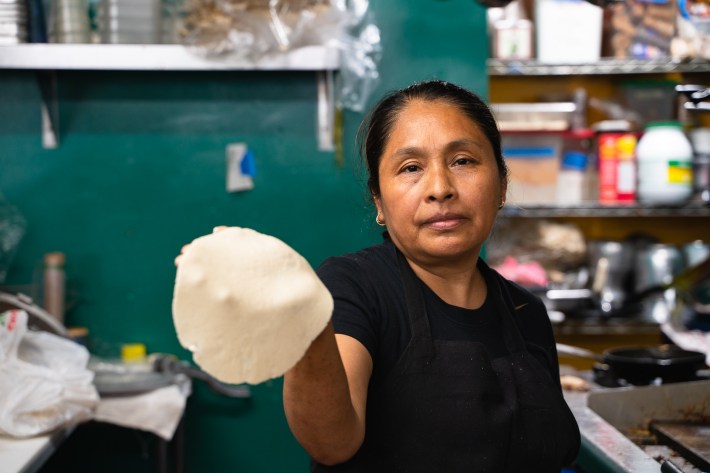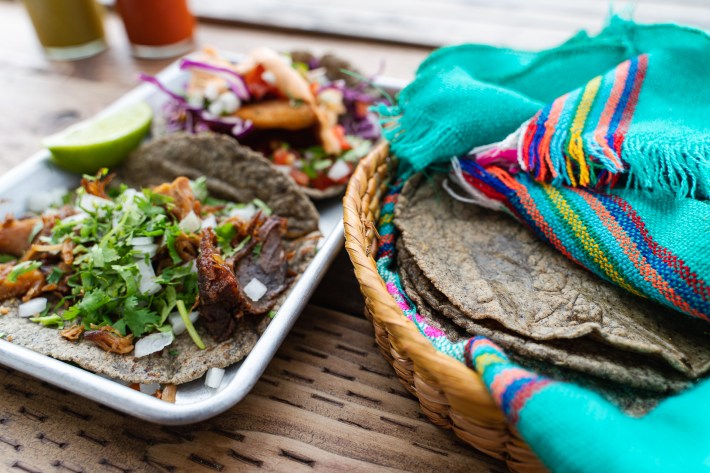 This little unassuming corner cafe run by mother and son boasts its humble blue corn nixtamal program, making fresh blue corn tortillas for every order. The crispy fish tacos with cabbage and chipotle mayo are a local favorite, but go big and try a machete-style quesadilla with flor de calabaza or huitlacoche as a filling. Split a French toast made with a concha sweet bread and drizzled with dulce de leche. Wash it all down with the cinnamon aroma of a sweet cafe de olla or a refreshing agua fresca. 
12900 Venice Blvd., Los Angeles, CA 90066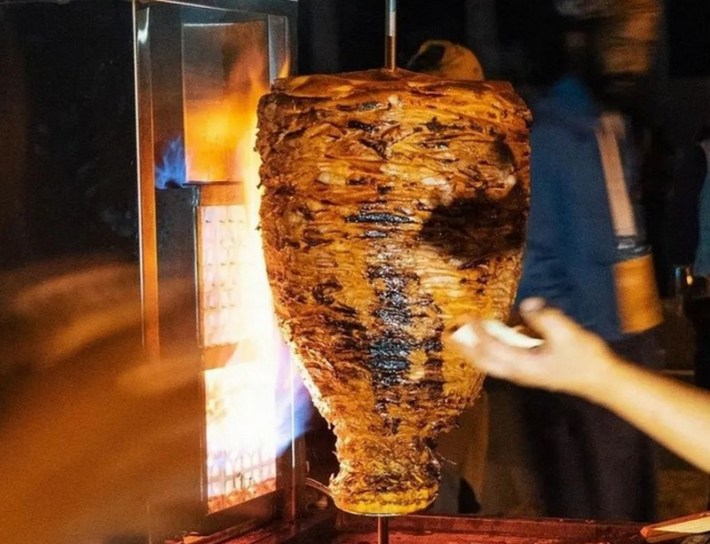 These Mixe-run trucks, seven dotted around L.A., make some of L.A.'s most consistent al pastor, sliced surgically off a bright red trompo with a complementary pineapple wedge to boost their tropical flavor. You'll find one a few blocks east of where the 33 stops at Venice and Sawtelle, serving $2 tacos and cold Jarritos late into the night. Along the way, perhaps you'll also discover how good Tamix's cabeza and buche can be tucked into its tiny corn tortillas, too.
3801 S. Sepulveda Blvd. Culver City, CA 90230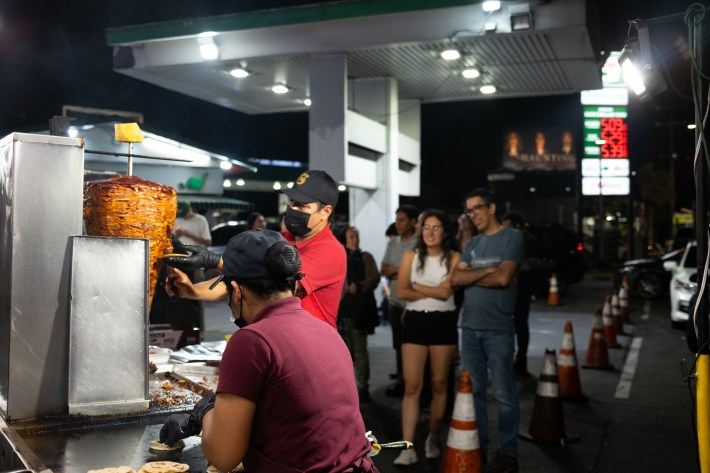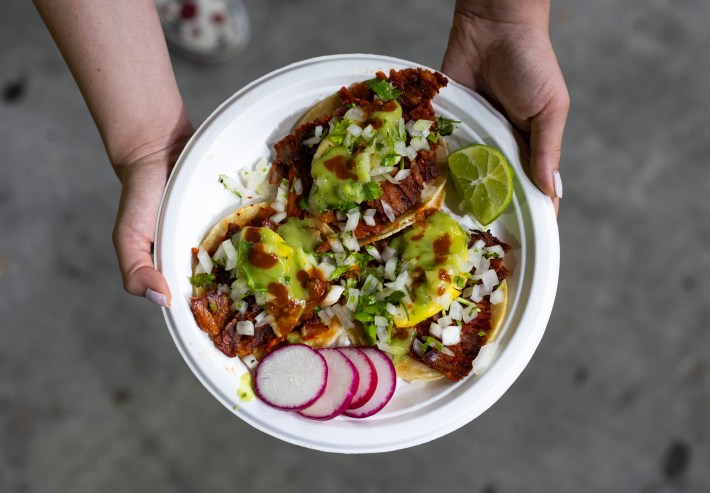 Leo's distinguished itself long ago with the employ of a taquero specializing in al pastor and a hulking trompo that signaled traffic from deep within the chaos of a bust La Brea gas station. While you can now find Leo's in a few different L.A. neighborhoods, it still tastes best to us at its original spot, late at night when surgically sliced fresh from the trompo into thin red bark topped with a wedge of pineapple that lands in the tortilla from off great heights with all the grace of Simone Biles. If this isn't enough, Leo's is also delicious and sufficient for Bad Bunny to feature in his latest music video.
1515 S La Brea Ave, Los Angeles, CA 90019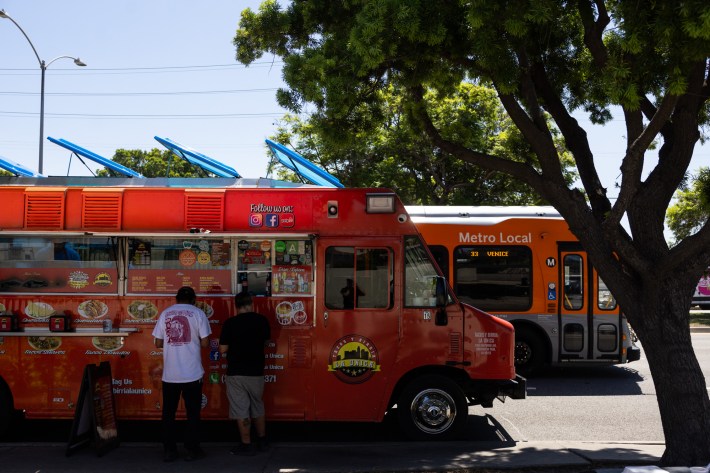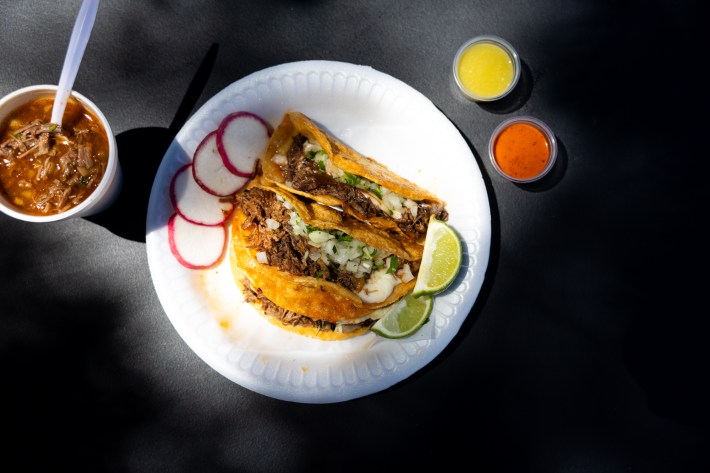 It takes a lot to stand out in L.A.'s oversaturated birria game these days. La Única is among the small handful to rise to the top of the heap by focusing on crunchy tacos dorados and gooey quesatacos with your choice of either birria de chivo or birria de res on handmade corn tortillas, which will be redolent with a clove-rich, tomato-centered adobo, and slow-burning salsa macha. You can get your birria in vampiros, ramen, and tostadas, too, as well as beef cuts like cabeza, labío, asada, and lengua. But it's La Única's dedication to birria and doing just a small selection of things well that has landed them catering gigs for Sean Combs, Chrissy Teigen, and John Legend, as well as prominent standing in the hearts and top ten lists of L.A.'s taco fanatics.
5871 Venice Blvd., Los Angeles, CA 90019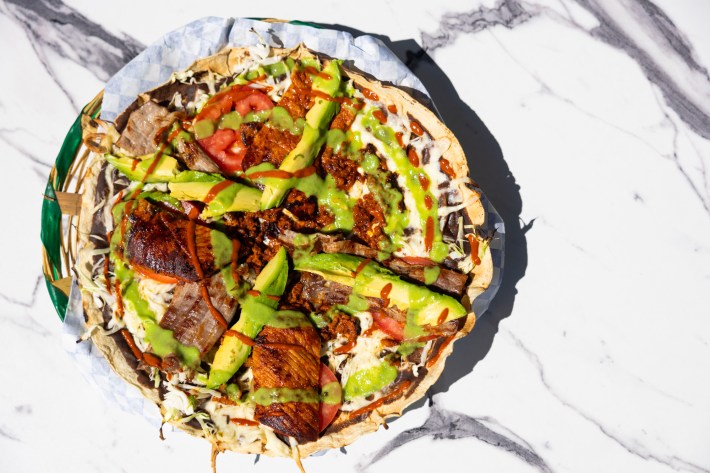 A Oaxacan wonderland awaits you across the menu of chef-owner Filemon Vasquez at Arlington Heights' Somos Oaxaca. In this sequel to his Santa Monica restaurant, a visit guarantees consistently excellent iterations of Oaxacan classics plus some modern recipes, including enchiladas drowned in mole coloradito, crispy tlayudas layered with tasajo, chorizo, and cecina with a spiral of green salsa infused by the earthy magic of maguey worms, and Oaxacan alambres based on pointedly piquant chile de agua, which gets chopped and mixed with tasajo, epazote, and quesillo. Those same Oaxacan meats, as well as fish, shrimp, carnitas, birria de res, and asada, are similarly splendid in Vasquez's simple street-style tacos, their rich corn flavor much more than an afterthought but a compliment to the deep savor of the grill. You can also get your tasajo or cecina on a plate of chilaquiles, beside a morning michelada and a bowl of chapulines. The masa world is your oyster.
3224 Venice Blvd. Los Angeles, CA 90019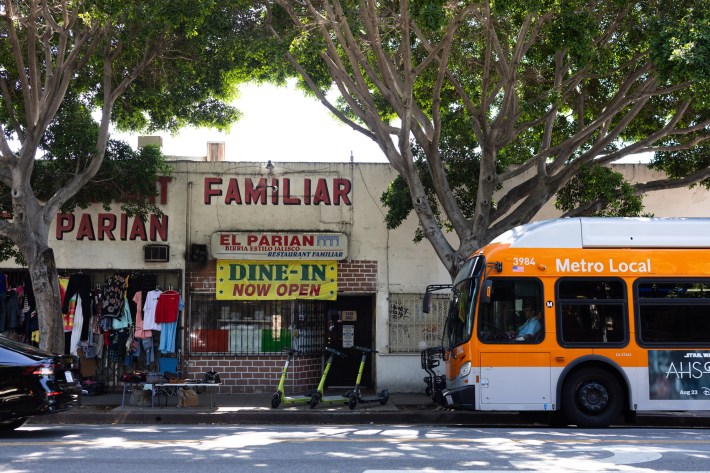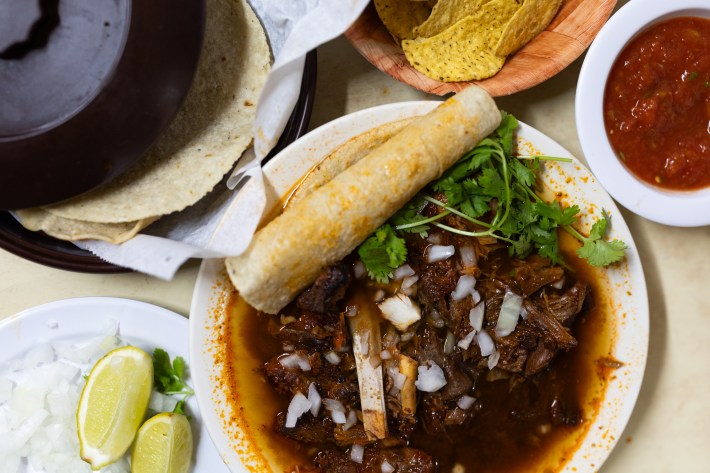 Venice / Toberman ~ El Parian
Welcome to L.A.'s O.G., Guadalajara-style birria de chivo G.O.A.T., the small, nearly 50-year-old Pico Union birrería that helped pave the path to Jonathan Gold's Pulitzer Prize. You'll stride in to the steady thwack of a cleaver cutting clean through bone, take your seat where you can find one, and order your goat birria in a few different ways, from a full plate of chopped, black-barked ribs and limbs to bowls of bright red birria stew, with the option to have it brimming with only maciza for a few dollars more. Either way, it will come served with a stack of tortillas for DIY taco-ing. While goat is the meat magnet here, El Parian's carne asada taco and pozole are also no slouches, sleeper hits dreamed of by South L.A.'s savvy eaters.
1528 W. Pico Blvd. Los Angeles, CA 90015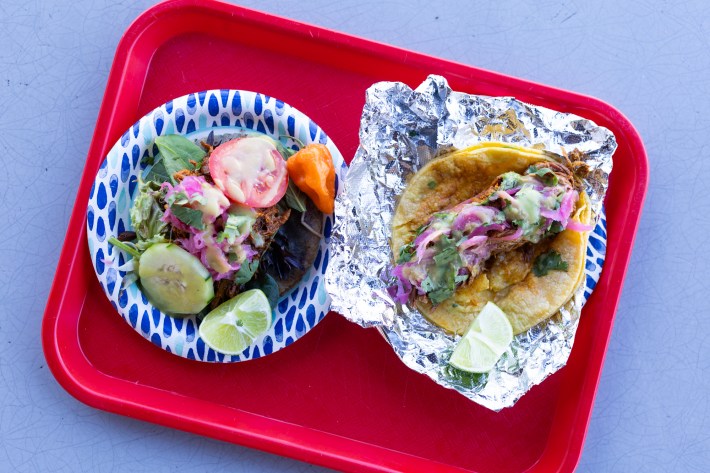 There aren't many places in the city to get thoughtfully crafted tacos filled with cochinita pibil, the famous achiote-rubbed, citrus-marinated, pit-roasted pork of Mexico's Mayan stronghold state. Flor de Yucatán famously offers a pristine model in Pico-Union. A double layer of tortillas cradles a moist wad of shredded pork, powerful with pickled pink onions and whatever salsas you deem necessary. In addition to dealing in tamales, postres, Lebanese-influenced kibis, Yucateco-imported brands, and the occasional cake, the bakery imbues Mayan recipes into occasional daily taco specials, including tacos with a jet-black Belizean chirmole guisado and tacos with blood sausage.
1800 Hoover St, Los Angeles, CA 90006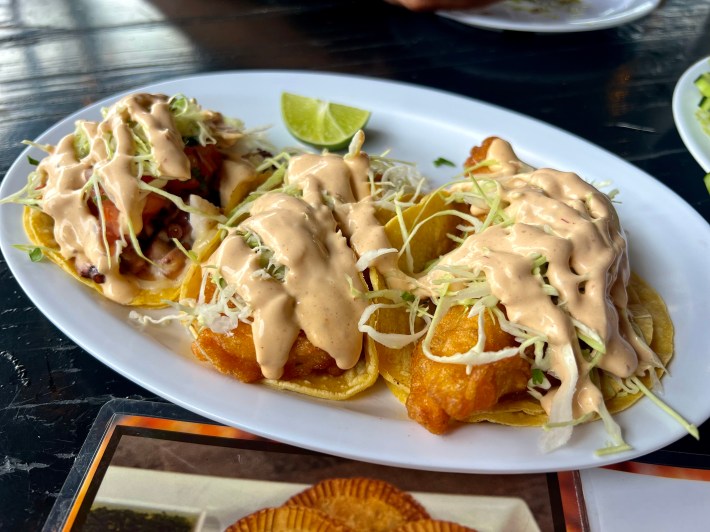 Woman-owned and just waiting to become your next favorite pre-game stop before a game or concert at Crypto Arena, this low-key oasis for fish tacos and fresh oysters is perhaps the most underrated on Venice Boulevard. There are three cooks in the kitchen: Someone from Peru, someone from Mexico, and someone from Argentina, which explains why the menu boasts lomo saltado, Baja-style fish tacos, and empanadas at the same time. They're all tasty, and you can't beat the laidback patio vibe in the middle of the 'hood. It's BYOB, but La Esquinita does sell a michelada add-ons, so you'll be set.   
1205 Venice Blvd., Los Angeles, CA 90006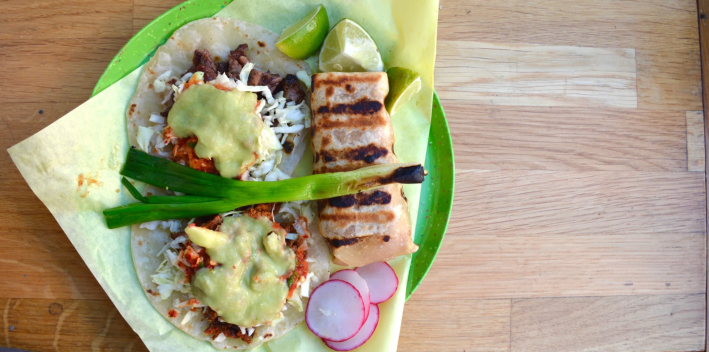 The assembly of a Sonoratown taco is deceivingly simple and, at first, similar to the millions of other tacos in town. And then you take that first bite, and you realize that this taco is utterly different than anything else you've had in Los Angeles: the flour tortilla made on premise, the high-quality short rib cut of beef that they use for their carne asada grilled over a mesquite fire that never seems to go out; the hyperfine shredded cabbage for crunch; the refreshingly spicy red salsa; the runny avocado salsa; and the grilled green onion that comes with every plate. Is this the most delicious taco in the city? It's undoubtedly the most consistent; for some, that is just as important. 
208 E 8th St, Los Angeles, CA 90014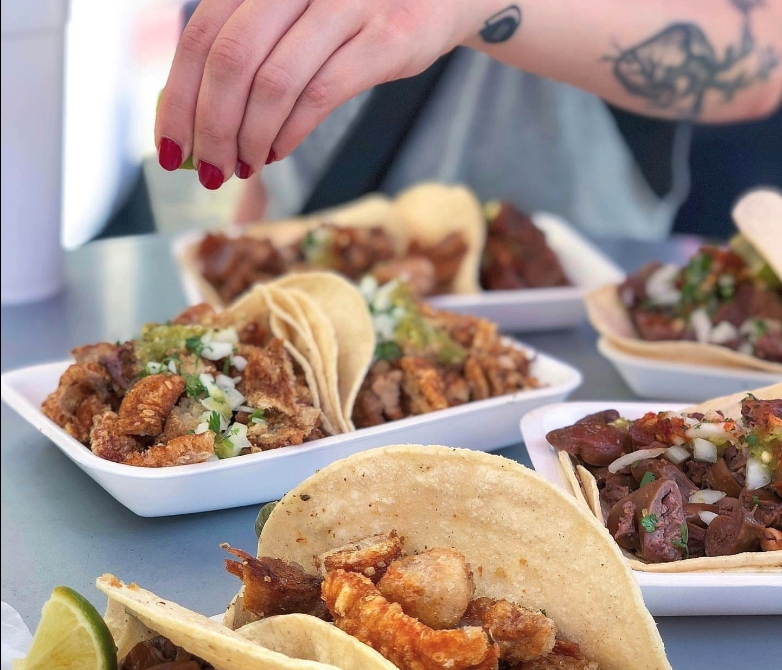 This old-school carnitas institution on the east end of The Grand Central Market is likely one of the few elite carnitas spots in Los Angeles that still gives you that mercado experience. Walk by nonchalantly and let the taqueros catch you peeking at the carnitas steaming up the glass windows. They'll roll up a quick taquito to sample, knowing you won't resist ordering a couple more for yourself. But they also host one of the most unique taco experiences in Los Angeles if you're up for it. A crispy taco de cesos, pig braaaaains. Always get a couple to offset the gelatinous pork tacos you're about to indulge in. The crispy taco dorados offer a nice textural contrast and a tasty experience.   
317 S Broadway St, Los Angeles, CA 90013. 
One of L.A. TACO's co-founders, Hadley Tomicki is a critic and journalist whose work has appeared in the Los Angeles Times, New York Magazine, and many other places.
Memo Torres is a multi-media taco journalist and Director of Partnerships for the James Beard award-winning L.A. Taco. He was a finalist for the Ruben Salazar Award for Latino Journalists. He has functioned as a taco scout for numerous shows and can be seen on Netflix's Taco Chronicles and Pressure Cooker. Memo is also currently hosting a food guide on all iPhones' Apple Maps.
Editor for James Beard Award-winning L.A. TACO. Associate Producer for JBA-winning Las Crónicas Del Taco. Former restaurant scout for Jonathan Gold. Co-Author of "Oaxaca: Home Cooking From the Heart of Mexico (2019, Abrams) and "Asada: The Art of Mexican-Style Grilling" (2023, Abrams).
Read More:
Stay in touch
Sign up for our free newsletter