Historic Filipinotown
The Nine Best Restaurants (and Tacos) in Historic-Filipinotown
3:20 PM PST on January 10, 2023
L.A. TACO is embarking on its biggest mission yet: to create a reliable taco and food guide for every neighborhood in Los Angeles! Along the way, we will also be releasing brief histories of each neighborhood to understand L.A. a little more and why each and every neighborhood makes our fine city unique. Check out the rest of our history and food guides on our neighborhood page. 
Filipinotown didn't get its name until the early 2000s, but its Filipino roots go back generations. Today it boasts what is likely the greatest concentration of Filipino restaurants in the Los Angeles area. There are old-school spots that have been around for decades and newer spots pushing the boundaries of Filipino cuisine. But the food options in Filipinotown extend far beyond Filipino-inspired food. 
On Beverly Boulevard and Temple Street, you'll also find classic burger joints like Tommy's and Jim's Burgers. Salvadoran food that makes you feel at home. As well as new-school Chinese and old-school Cuban food. And although there aren't many places where you can find tacos, there are enough to satisfy your late-night taco cravings most nights of the week.
Unlike its rapidly-gentrifying neighbors, Filipinotown has developed slower than neighborhoods like Echo Park and Silver Lake. And most of the newer businesses are owned by POC chefs or locally raised Filipino-Americans looking to invest back into their community. 
After living in Filipinotown for more than half a decade, I've eaten everything there is to eat in the neighborhood. Here are my favorite restaurants and street vendors in Filipinotown.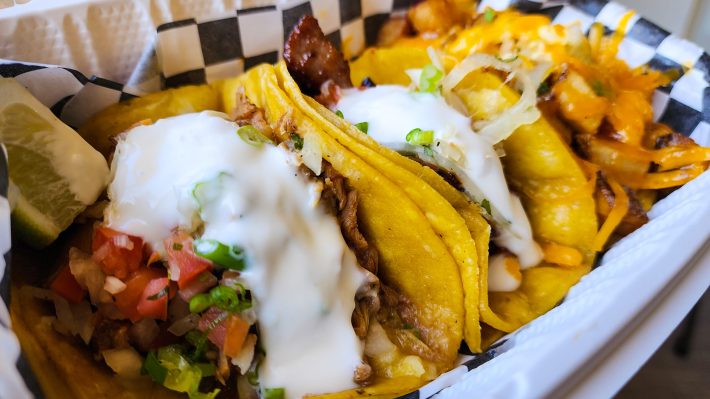 Across from Unidad Park on Beverly Boulevard, HiFi Kitchen mixes popular L.A. staples with traditional Filipino dishes and flavors. "This is HISTORIC FILIPINOTOWN," a sign proudly reads behind the counter as you walk in. Chef and owner Justin Foronda was born and raised here. A former b-boy and musician, Foronda got into cooking as a side hustle to a nursing career and launched HiFi Kitchen in 2018. The tacos here are a good choice if you enjoy sweet, vinegary, Filipino-inspired proteins like chicken adobo. They also make an excellent Filipino-inspired pastor. If you're looking for something more substantial, try their Talib Kwalii, a crispy marinated pork belly with housemade cucumber salad, atsara (pickled papaya), and cilantro chimichurri. The lumpia here are based on a family recipe and rolled in-house.
1667 Beverly Blvd, Los Angeles, CA 90026. Closest Metro line and stop: Bus Line 14 - "Beverly/Union."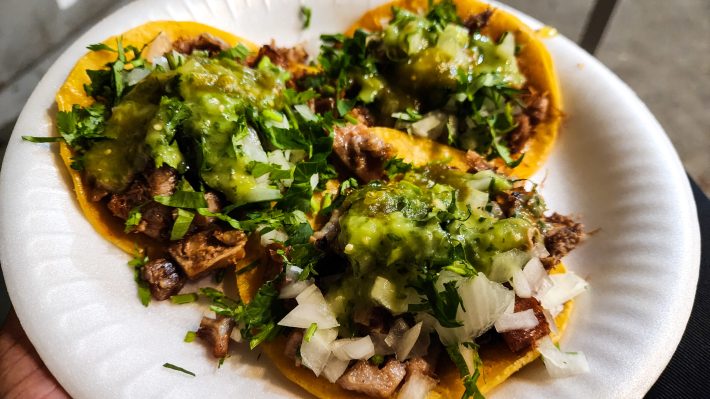 Many taqueros have set up stands in Filipinotown over the years and failed. It's a difficult market to succeed in because there's not a ton of foot traffic or nightlife. But this taco spot outside a Smart & Final on Beverly Boulevard has been serving two-bite tacos for at least a decade. It's a lot of people's favorite taco in the neighborhood, and one of the only taco stands you can count on for a late-night burrito seven days a week. You'll find the usual proteins here (asada, pastor, chicken) and they recently brought back their suadero. Plus, they also have tripas. The asada is cooked over mesquite before it's reheated on the plancha and is surprisingly good. Pro-tip: scarf down a burrito from Tacos Ochoa and then grab an ice-cold pint from Crawford's. And if you forget cash for the burrito, hit up the liquor store.
2720 Beverly Blvd, Los Angeles, CA 90057. Closest Metro lines and stop: Bus Line 14 - "Beverly/Benton" or Bus Line 603 - "Rampart/Beverly."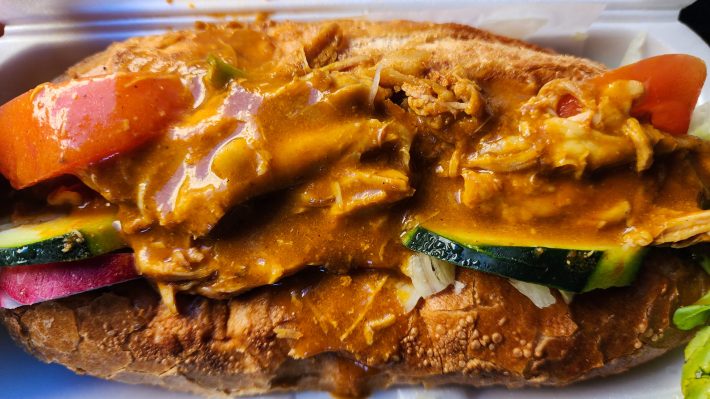 One of the many Salvadoran spots in Filipinotown—a neighborhood with more than a 50 percent Latino population—El Majahual serves excellent pan con pollo and pupusas. Your order might take 20 minutes, but it's worth the wait because most dishes are made with the kind of love that feels like your grandmother was cooking for you at home. The pan con pollo is stuffed with tender, slow-cooked chicken, thick slices of cucumber, and tomato, and layered with creamy mayo. Each order comes with a side of broth that you pour over the sandwich. It's a messy meal. Don't try and keep your hands clean. Just sit back and enjoy it.
1925 W Temple St, Los Angeles, CA 90026. Closest Metro lines and stop: Bus Line 10 - "Temple/Bonnie Brae" or Bus Line 2 - "Alvarado/Temple."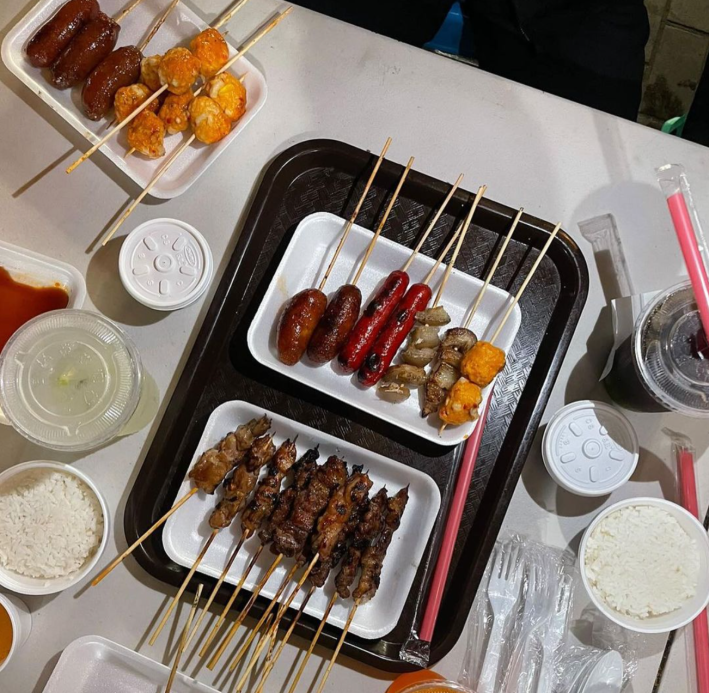 When they're busy, you can smell the charcoal burning around the corner from Dollar Hits. Outside in the parking lot, smokey charcoal grills await you. Inside, you order $1 skewers of meat. Locals have enjoyed Dollar Hits for more than a decade. But many more people have recently been exposed to those smokey grills thanks to a feature in Netflix's 'Street Food.' It's a rare example of an old-school spot in Filipinotown receiving some much-deserved mainstream love. "I am overwhelmed, and I am blessed and grateful," the owner told an L.A. Times reporter this summer. Order everything and bring some friends to help you eat it.
2432 W Temple St, Los Angeles, CA 90026. Closest Metro lines and stop: Bus Line 10 - "Temple/Carondelet" or Bus Line 603 - "Rampart/Temple."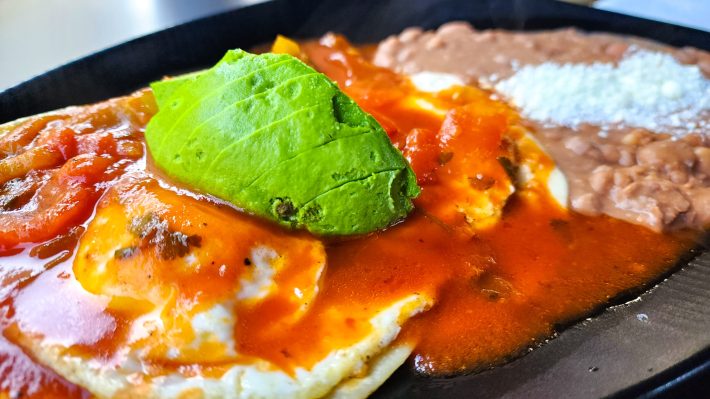 Gigi's Bakery is one of the oldest food spots in Filipinotown. Their bread, empanadas, and pastries are all made fresh in-house. And their coffee is strong as hell. Prior to the pandemic, all of their sandwiches were under $10. Inflation and COVID changed that, but Gigi's remains one of the most affordable places to eat at in Filipinotown. It's a place that I recommend to friends if they're in the neighborhood looking for food and a spot I would take my family if they were in town. My favorite dishes at Gigi's are their pollo al ajillo sandwich Cubano, empanadas, and Cuban pies. As well as their seasonal Cuban-style tamales stuffed with potato and olives. They also serve beer!
2200 W Temple St, Los Angeles, CA 90026. Closest Metro lines and stop: Bus Lines 2 or 10 - "Temple/Alvarado."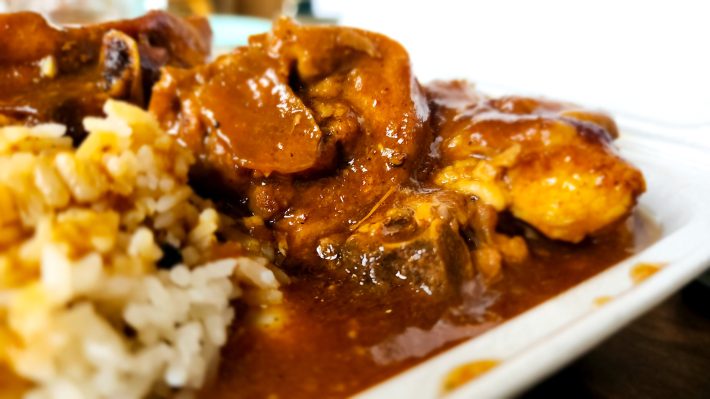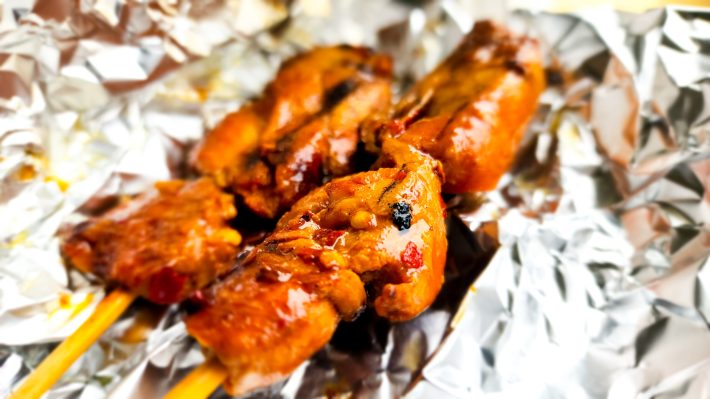 Another old-school, buffet-style Filipino restaurant. It's probably the closest you'll get to a home-cooked Filipino meal in the neighborhood. Their BBQ pork and chicken skewers are tender, sweet, and only $1. I also really enjoy their Filipino fried chicken. The exterior of the chicken is heavily battered and crispy AF. Don't forget a side of vinegar. Eat here while you can. There aren't many of these old-school Filipino restaurants left.
2330 W Temple St, Los Angeles, CA 90026. Closest Metro lines and stop: Bus Line 10 - "Temple/Rosemont" or Bus Line 2 - "Alvarado/Temple."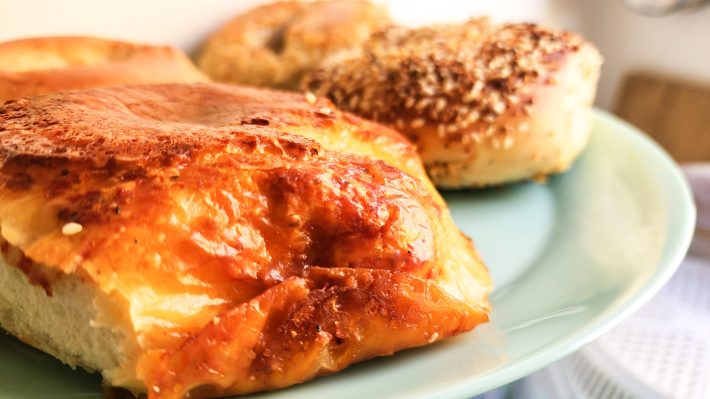 A collapsed roof nearly put Brooklyn Bagels out of business a few years ago after selling bagels for over half a century. But since reopening in late-2019, they've been going strong in a tiny little storefront next to their original building. They're known for stuffing the center of their everything bagels with flakes of onion and garlic. And their onion bagel also comes with poppy seeds. But otherwise, they're your classic New York-style water-based bagels. The bagels here low-key rival the east coast bagels that I grew up with. They've also got some great sandwiches. My favorite is their pastrami sandwich with their in-house cream cheese, dijon mustard, tender pastrami from Factor's Deli, a yolky sunny side up egg topped with jack cheese, and coleslaw. This spot gets busy, but I've never stood in a line that extends down the block like that other bagel spot.
2223 Beverly Blvd, Los Angeles, CA 90057. Closest Metro lines and stop: Bus Lines 2 or 14 - "Beverly/Alvarado."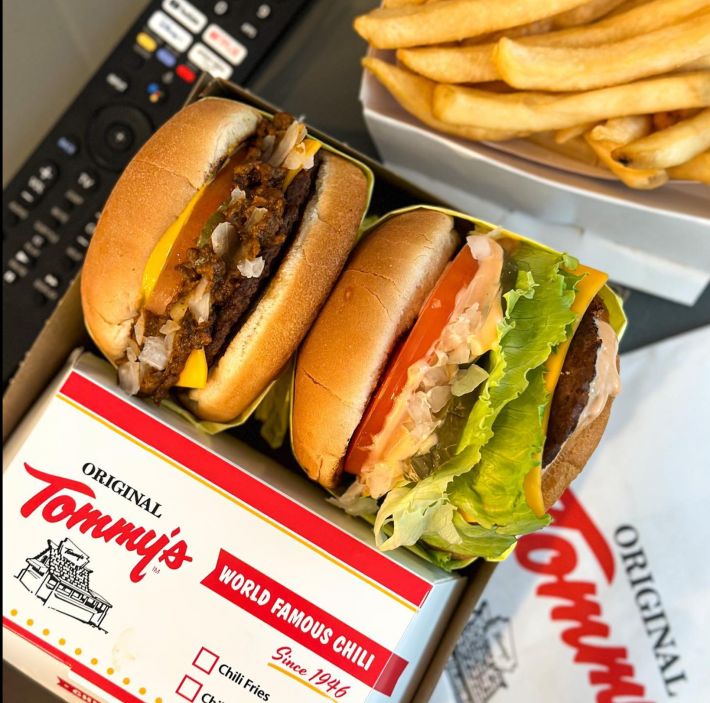 Tommy's is the kind of spot that people either love or hate. Regardless of what you think of their food though, the original Tommy's in the heart of Filipinotown on Rampart Boulevard is something that everybody living in Los Angeles needs to experience. I personally do not fuck with any other Tommy's, only the original. Some people even go as far to only order from the original stand (there are two). If you can't appreciate Tommy's food, at least appreciate the fact that they're always open and you can still get a burger for less than five bucks. It's a spectacle, especially after a big Dodgers or Lakers win. And this list wouldn't be complete without it. Pro-tip: Order their California burger if you don't like their chili.
2575 Beverly Blvd, Los Angeles, CA 90057. Closest Metro lines and stop: Bus Line 14 - "Beverly/Benton" or Bus Line 603 - "Rampart/Beverly."
This family-run former pop up is one of the most popular restaurants in Historic-Filipinotown. It originally started as a pop-up by Keegan Fong and his mother Julie, before growing into this beloved restaurant, which is known for pan-fried noodles. Some eaters like to romanticize that smoky flavor and taste from high heat cooking in a wok as wok hay, which can be translated as "the breath of the wok." Regardless, it's hard to not go crazy for the savory, smoky flavor. The noodles themselves are fat, almost udon-like, but a just a little flatter, and they are chewier than what you're probably used to at your old school favorite Chinese restaurant. The preparation is simple and inspired by Julie's Shanghainese-Cantonese roots: just shiitake mushrooms, bok choy, her housemade soy-based sauce, and beef, if you want it. She was born in Shanghai, raised in Hong Kong, and immigrated to the U.S. the 70s, always cooking these simple noodles, and many other homemade foods, for Keegan and his family, and now the neighborhood. - Javier Cabral
2920 W Temple St, Los Angeles, CA 90026. Closest Metro line and stop: Bus Line 10 - "Temple/Vendome."

Lexis-Olivier Ray is a housing, justice and culture reporter for L.A. TACO.
Read More:
Stay in touch
Sign up for our free newsletter