L.A. Taco Guides
The L.A. TACO Guide to the Best Fish Sandwiches in Los Angeles, Mapped
11:36 AM PDT on March 16, 2021
[dropcap size=big]W[/dropcap]hen I was 19, I worked at McDonald's in Maywood, and I used to love Filet-o-fish Fridays. Maywood's demographics are predominately Latinx which means Catholic by extension, and during lent, filets were flying out the door. The FOF is simple, almost too simple, a fried fish filet, a squirt of tartar sauce from a sauce gun, half a slice of American cheese, and a steamed bun (the only sandwich on the McD's menu that calls for a steamed bun). 
Now I know what you're thinking, "The FOF sucks. It's squishy and doesn't even have a full slice of cheese," you'll say. But if I could counter, I'd say that's the point. Maybe it was Stockholm syndrome, but my miserable time at McD's made me like their food more, especially the FOF. My favorite way to eat the FOF is fast and with Mexican hot sauce packets. 
The filet-o-fish was created by Lou Groen, who owned a McD franchise in Cincinnati. Since Groen was a bag-chaser, he saw that burgers weren't selling during Cuaresma, so he created the filet-o-fish. Without the FOF, I doubt this list would even exist. Groen created the wheel with the filet-o-fish. It's an admirable legacy. 
In Los Angeles, the fried fish sandwich exists as a casual comfort item for many restaurants, and more continue to add it to their menu as an alternative to beef or chicken. The fried fish sandwich makes an appearance on many menus, especially during Lent. Most of the entries on this list have a connection to the filet-o-fish, most of which have a play on the name or similar form. In other words, please put some fuckin respect on the filet-o-fish. But L.A. is a city of innovation, and the fried fish sandwich has many faces. 
Each sandwich is special in its own way. Take a bite and find out for yourself.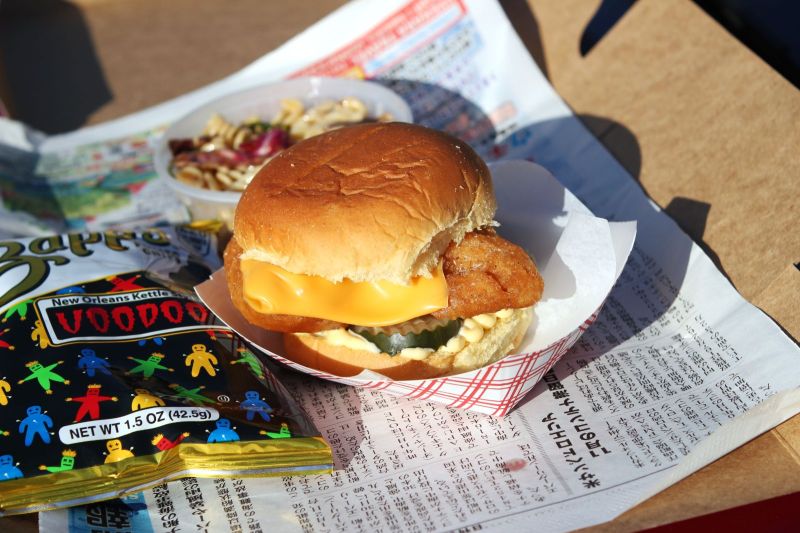 Little Fish expertly fries fish from an Echo Park home. Niki Vahle, Forrest Florsheim, and Anna Soenenshein met working at the restaurant Son of a Gun. After they left, they formed like Voltron. They came up with a fish fry concept that pairs a beautifully fried fish, often koji-cured, with side dishes that are dictated by what's in season, items like pasta, and seasonal veggies. Koji is a mold made from different grains—most traditionally made from rice—and used as a fermentation agent in soy sauce or sake, and even meat and fish. The sandwich used to be an off-menu item but slowly started gaining popularity among customers. For the sandwich, they use striped bass that's koji-cured, then beer-battered and fried. The fish is divine, bursting with umami flavor from the cure. The batter is thick on the outside but airy and crunchy. Each drop is sold as a box, and the sandwich box came with voodoo chips and a tasty pasta salad.
Follow Little Fish on Instagram to find out for details. 
Ototo - Filet O(Toto)-Fish

1360 Allison Ave, Los Angeles, CA 90026
Ototo is the "little brother" sister company to Tsubaki, most known for pastry chef Genna Matsuyama's insanely good pastries. Ototo also serves dope snacks and food items like okonomiyaki and a fantastic fried fish sandwich. The Filet O(toto) fish starts with a pillowy potato bun topped with sesame seeds, fried rockfish, yuzu tartar to keep things saucy, and pickled daikon. This sandwich is elegant. It takes all the same building blocks of a FOF but is engineered and tweaked to the next level.
All Day Baby - LT's Hot Catfish Sandwich
3200 Sunset Blvd, Los Angeles, CA 90026
When hot chicken possessed the streets of Los Angeles, All Day Baby said, "Yeah, that's cool but check my flow," and that's how the Hot Catfish was born. I assume. The sandwich has a creamy mustard aioli, white onion, bread & butter pickles, and a deep red catfish filet, dusted with cayenne. The catfish breading is a crunchy shell protecting the tender white fish. The aioli and pickles provide an excellent acidity and creaminess to balance the heat. The onion adds a sharp bite of freshness. There is a mesmerizing quality to the catfish. The chile-dusted filet radiates a deep scarlet, perhaps the bright yellow color of the aioli makes it stand out, but one thing's for sure, this sandwich looks gorgeous.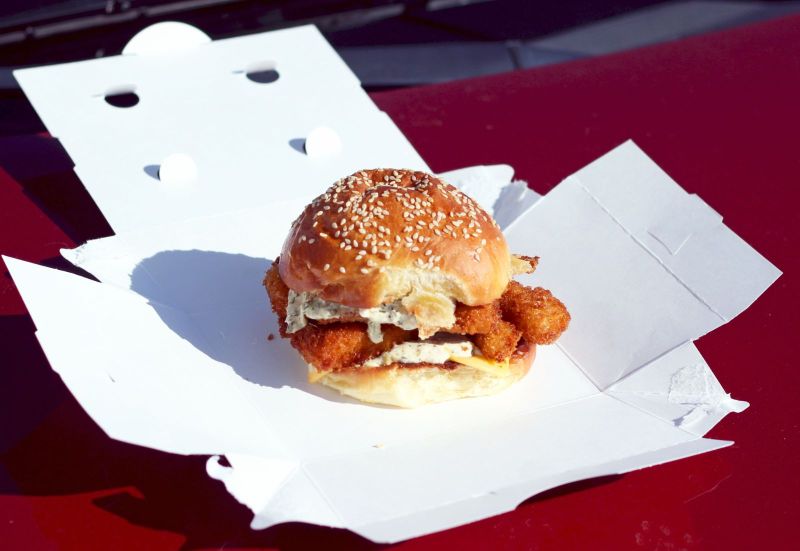 oui. - Fried Cod Sandwich

6909 Melrose Ave, Los Angeles, CA 90038
This sandwich tastes like what the filet-o-fish is supposed to taste like in the best timeline. It's filthy in the best way possible. I'm talking about dripping sauce on your shirt, nasty, like in those old Carl's Jr. commercials. This isn't mandatory but highly recommended. Play Nasty by Janet Jackson as you indulge in this sandwich - "Ms. Jackson if you're nasty." The cod is soft, meaty, and almost buttery. The bun is soft and topped with sesame seeds. The tartar sauce is critical, and it provides lubricant for the sandwich and compliments fried fish exceptionally. And American cheese is the only choice for a sandwich this sexy.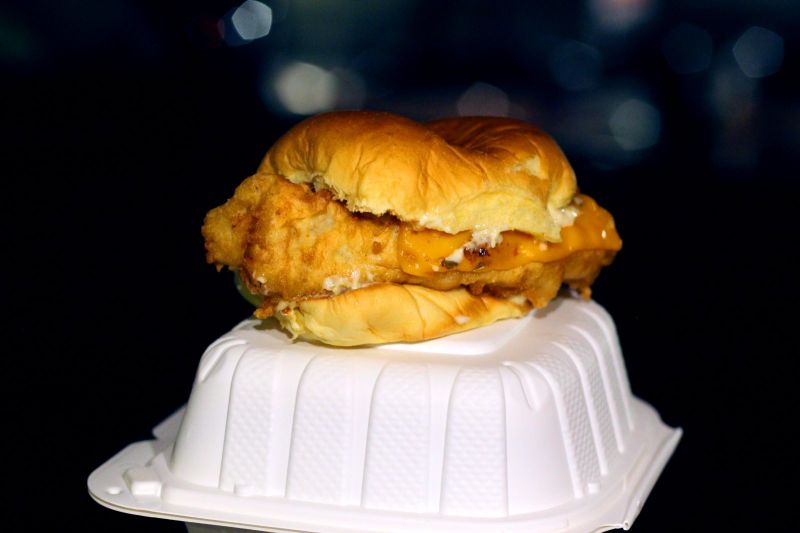 1315 3rd Street Promenade, Santa Monica, CA 90401
Another filet-o-fish acolyte can be found in Santa Monica. STRFSH was started by the Voltaggio brothers of Top Chef fame and specialized in fried fish sandwiches. The filet O'STRFSH is the classic fish sandwich, beer-battered Alaskan Cod, a slice of American cheese, and some tartar sauce. It's soft and steamy, just like the FOF. The hot fish sandwich is similar, but it gets the Nashville hot chicken treatment, dipped in oil and dusted with chile powder. The hot version doesn't bring much heat, but it is the better of the two.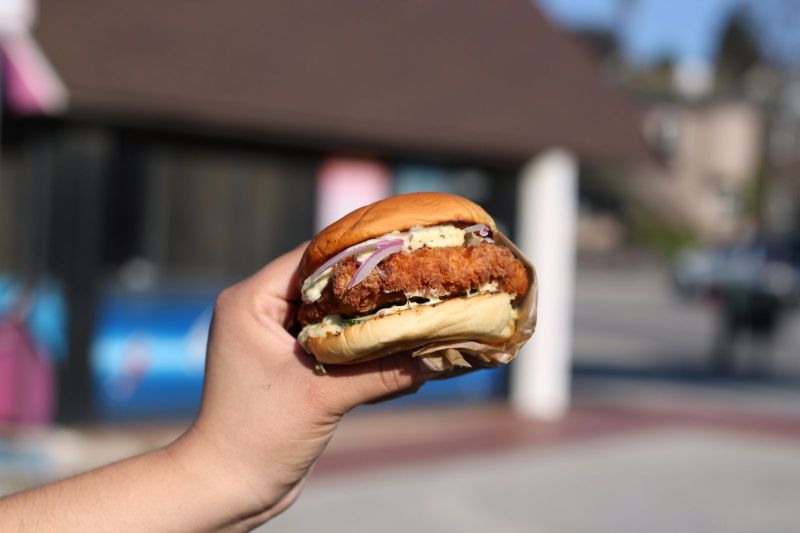 Eszett - Filet-Uh-Fish

3510 Sunset Blvd, Los Angeles, CA 90026
Eszett's fish sandwich is among the heftiest entries on the list. Their Filet-Uh-Fish is made with Albacore tuna, tartar, raw red onion, pickles, all on a soft potato bun. This is another entry that was inspired by the filet-o-fish, but it's substantially more substantive. The albacore is breaded with flour and panko, but the panko is milled to a fine pebble, creating an extra crispy crust. The co-owner Sabrina Bezaire shared her connection to filet-o-fish from Mcdonald's; her dad was a single parent and couldn't always cook, so she ate many filet-o-fishes growing up. Shout out all the single dads and this sandwich.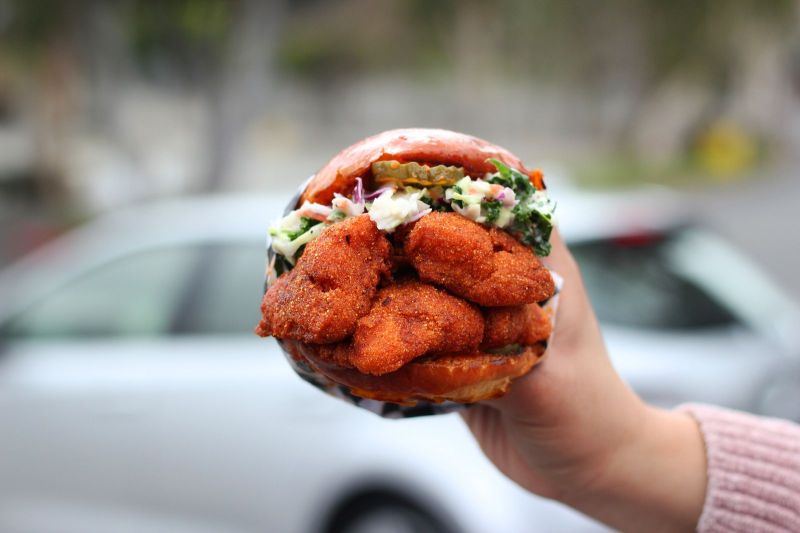 Hotville - Hot Fish Sandwich
4070 Marlton Ave, Los Angeles, CA 90008
Hotville sells some of the best fried chicken in L.A., but the way they fry fish is equally delectable. The shaw is what they call their fried chicken sandwich, but you can sub out the poultry for hot fried swai instead. The sandwich is packed with two plump swai filets in a cornmeal breading, then dipped in oil and dusted in their chile spice shake. The breading is brittle and mealy, creating an excellent crispy crust. The best part about the hot fish sandwich is that you get to choose how spicy you want it. Mild is plenty hot, but if you want to risk it all, they offer "Music City medium" and "Nashville Hot." Also, pro tip: get some mf mac and cheese with smoked cheese.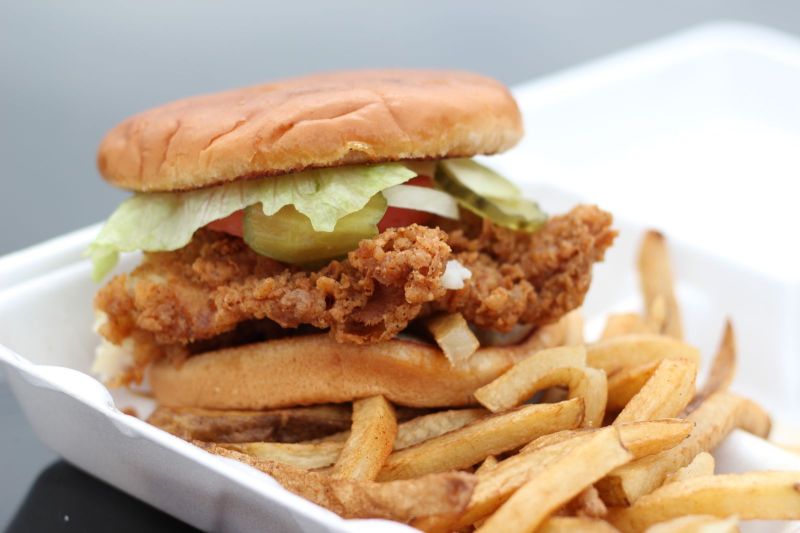 1403 Centinela Ave, Inglewood, CA 90302
The Serving Spoon is a beloved restaurant in Inglewood that's been operating for over 35 years. On weekends, the parking lot is filled with hungry customers waiting for their breakfast orders. But they also have a fried catfish sandwich that's worth skipping breakfast for. The sandwich is huge and consists of large pieces of fried catfish, mayo, tomatoes, onion, and lettuce. It's what you'd expect from a local burger joint: filling and comforting. The catfish is almost indistinguishable from fried chicken.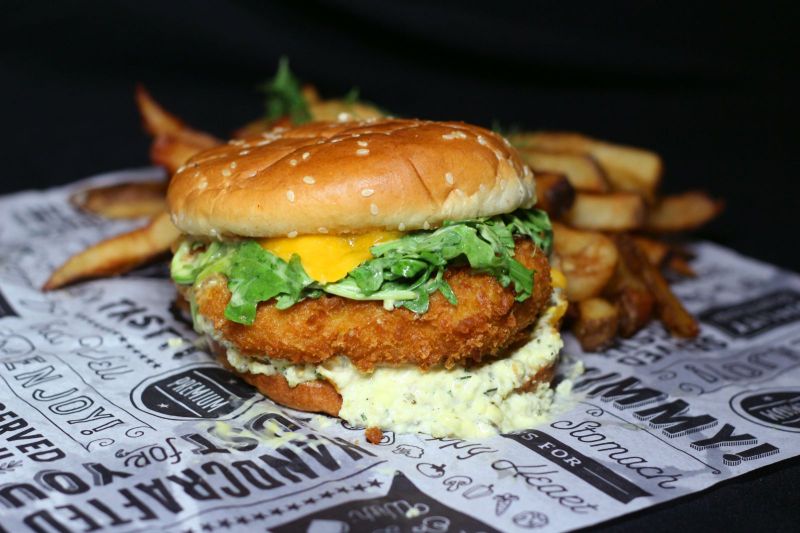 Fish Pop - Joon's O Fish Burger
3458 Wilshire Blvd #1/2, Los Angeles, CA 90010
The best fish and chips in L.A. are found in Koreatown, made by chef Joon Chang at Fish Pop. They have a residency at Egg Tuck, and Fish Pop takes over in the evening. They recently announced a fish burger, and it's as good as the fish and chips. The fish burger patty is made of ground fish, and then it's breaded and fried. This entry is probably the meatiest on the list and closest to a burger. Along with the fish, patty goes a healthy portion of homemade tartar sauce, arugula, American cheese, and a drizzle of their spicy oil for the spicy version of fish and chips. This sandwich is enormous and satisfying. Do not forget to order some fantastic fish and chips, innit bruv.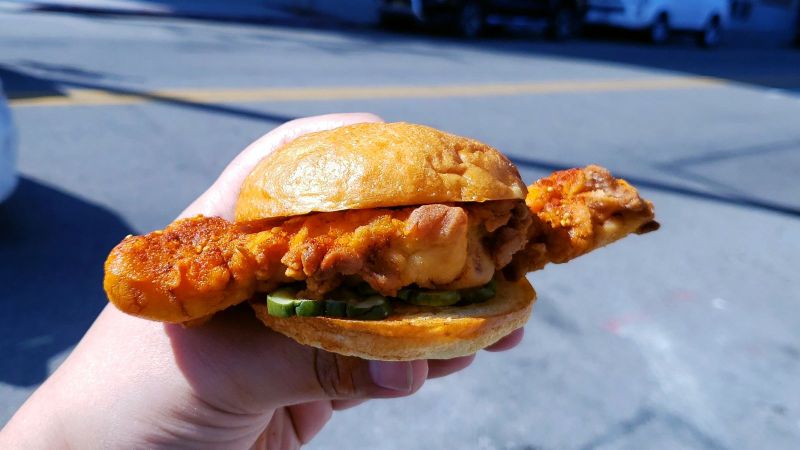 Yess Aquatic - Fish Katsu Sandwich and Fried Shark Sandwich

2001 E 7th St, Los Angeles, CA 90021
Yess Aquatic has one of the dopest concepts for a lonchera I've ever encountered. The name is a play on the Wes Anderson movie The Life Aquatic with Steve Zissou, and everyone on the truck wears an orange beanie. And like Steve Zissou, Yess Aquatic is dedicated to sea life, with phenomenal fish dishes like sashimi salads, curries, fish and chips, and rotating specials based on the most recent catch. They also have a wide selection of skillfully prepared fish sandwiches. The two that I tried for this list were phenomenal. The fish katsu sandwich is simple, crunchy panko-crusted fish with tartar sauce, cabbage, and a sheet of nori. The tartar sauce tastes like an egg salad, with little bits of egg mixed inside. This sandwich isn't afraid of embracing the fishy taste while still indulging in the comfort of a fried fish sandwich. The fried shark sandwich is on the opposite end of the spectrum. It relies heavily on the use of an extra crunchy shark filet. Underneath the crispy shell is a meaty shark that tastes almost like any other white-fleshed fish. The filet is dusted with chiles, Nashville-style. It's a small sandwich, but it packs a flavorful punch and is unlike anything in LA.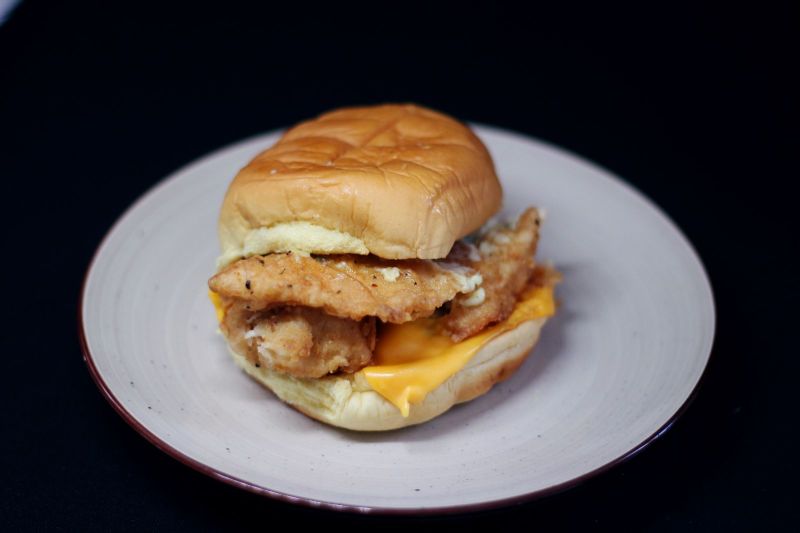 Love Hour - Fish Filet Sandwich
532 S Western Ave, Los Angeles, CA 90020

Love Hour is most known for its ultra-lacy smash burgers, but one of their specials is a fish filet sandwich. Originally, chef Arron Lopez wanted to create a sandwich that used Baja-style fried fish, but "it didn't work with our bread, so I just kept the larger filet," explains Lopez. The sandwich is made with a fried tilapia filet, a slice of American cheese, and homemade tartar sauce that uses their famous pickles, giving it more tang than a traditional one. This is the perfect sandwich if you're looking to skip the beef—also their buffalo fried chicken sandwich rocks.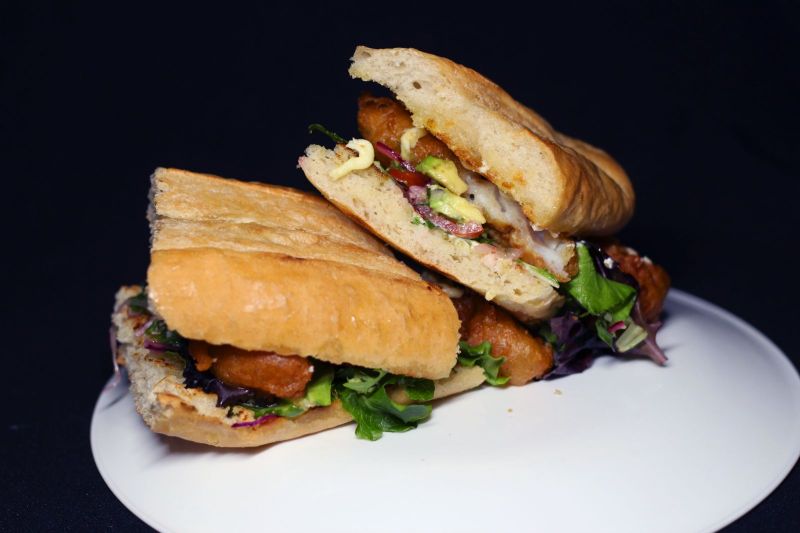 Holbox - (Off-Menu) Baja Fish Torta
3655 S Grand Ave #C9, Los Angeles, CA 90007
Holbox is like a great movie; the more you return to it, the more you uncover. Naturally, when I was researching this list, I had to consider who prepares fish best, and for my money, it's always Holbox. I've had their shrimp torta, and while good, it didn't quite fit the list. But I politely asked (begged) if I could sub out the shrimp for beer-battered fish, and they obliged. So, of course, Holbox made the list. The fish is masterfully fried: airy, crunchy, and meaty. But it's the homemade bread that makes this sandwich excel. It's the same bread they use in their tortas at their sister restaurant Chichen Itza.
Cesar Hernandez is Lynwood's second best export behind Weird Al, and a writer and podcaster. Illustration by Tommy Gallegos.
Read More:
Stay in touch
Sign up for our free newsletter