Tacos
The Crispy 13: The Best Crispy Tacos In Los Angeles
1:40 PM PST on January 12, 2023
Today we're giving you some tacos you can feel. And conceivably even hear.
It's time for "The 13 Best Crispy Tacos in Los Angeles," a tortilla-splintering, incisor-rattling, occasionally iceberg lettuce-shredding ode to crunchy, crisp tacos that promises to fracture the deep-fried masa-verse. For good.
Warning: The risk of shattering noise levels may result from reading the following paragraphs.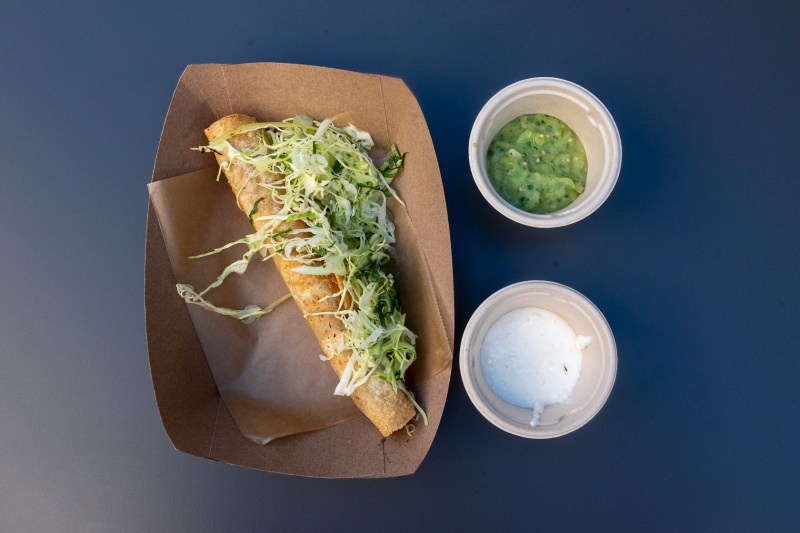 Fish Machaca Fish Flauta
Ditroit, the highly-pedigreed Arts District taquería opened by Enrique Olvera's Mexican restaurant empire, came out swinging with this crispy fish machaca flauta. Fried in rice bran oil and topped with avocado salsa and a creme fraiche-queso fresco blend, is the loftiest expression of the taco dorado in Los Angeles. - Javier Cabral
2117 Violet St. Los Angeles, CA 90021. Closest Metro lines and stop: Bus Line 60 - "Santa Fe/Violet" or Bus Line 62 - "7th/Santa Fe."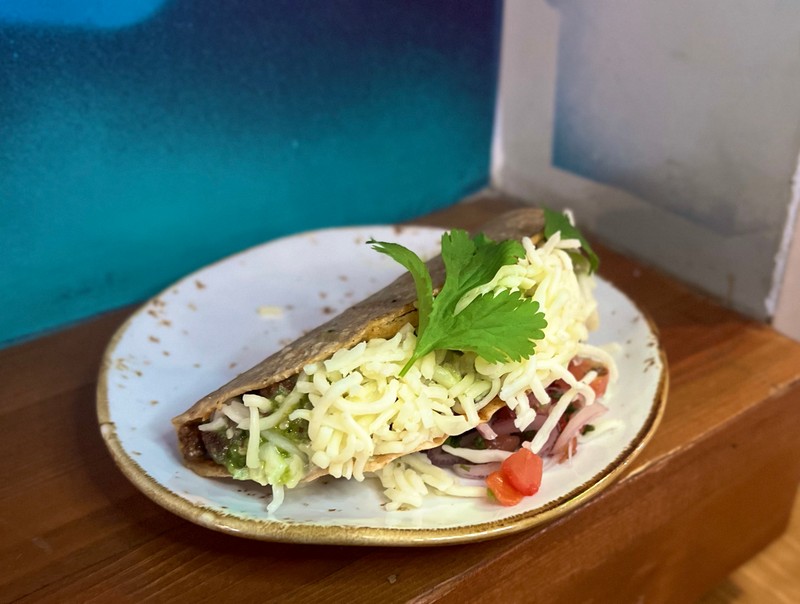 Pocho Taco
Chef Wes Avila crafted the original elevated tribute to everyone's hard-shelled, shaggy-cheesed, school-lunch throwback taco with wild boar meat, aged cheddar, and pine nuts. The significant crunch, savor, and nostalgic spice still resounds in the recipe currently served at Guerrilla, made with ground beef, avocado salsa, Jack cheese, and cotija crema and still holding the title for most astute taco in town. - Hadley Tomicki
2000 E. 7th Los Angeles, CA 90021. Closest Metro lines and stop: Bus Lines 60 or 62 - "7th/Imperial (westbound)" or "7th/Santa Fe (eastbound)."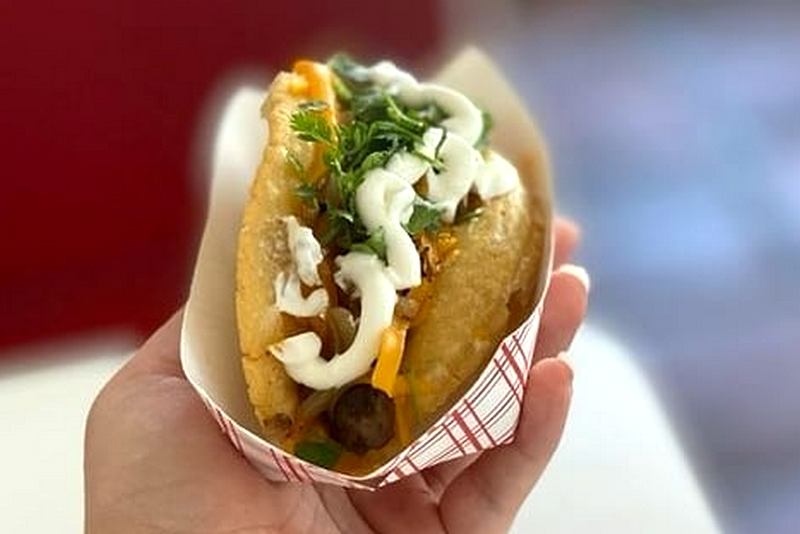 Puffy Tacos
Arturo's first unlocked this new taco in Whittier over four decades ago, serving generations of Angelenos with the minor miracle of puffy tacos ever since. Credited to San Antonio, the style involves masa deep-fried into v-shaped tortilla balloons of airy, puri-thin skins. These get filled quickly and efficiently with iceberg lettuce, fluorescent orange cheese, your choice of carne molido, carnitas, guisado de res, chicken, or picadillo, and chunky salsa roja or a spicier, creamier salsa verde. Hot and messy, sweet dreams are made of these. - Hadley Tomicki
15693 Leffingwell Rd. Whittier, CA 90604. Closest Metro line and stop: Bus Line 120 - "Santa Gertrudes/Leffingwell."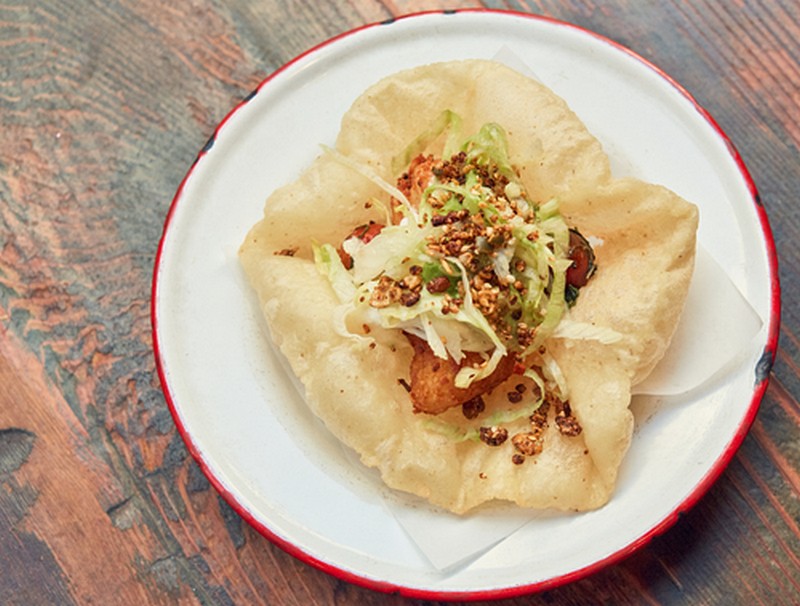 Puffy Taco
Fine-dining chef and son of San Antonio Josef Centeno endowed Downtown with his gourmet off-menu version of the puffy taco with the opening of his Bar Amà in 2012, giving us a kissing Tex-Mex cousin to Avila's pocho taco (which had a recent close-up on Netflix's "Taco Chronicles"). Fresh masa is flash-souffléd for a delightfully brittle carapace that crushes softly in the center, as the guisado plated over its textured surface oozes into every airy nook and cranny. - Hadley Tomicki
118 W. 4th St. Los Angeles, CA 90013. Closest Metro lines and stop: Bus Lines 40, 45 or 92 - "Spring/4th" or Metro B and D Lines - "Pershing Square Station."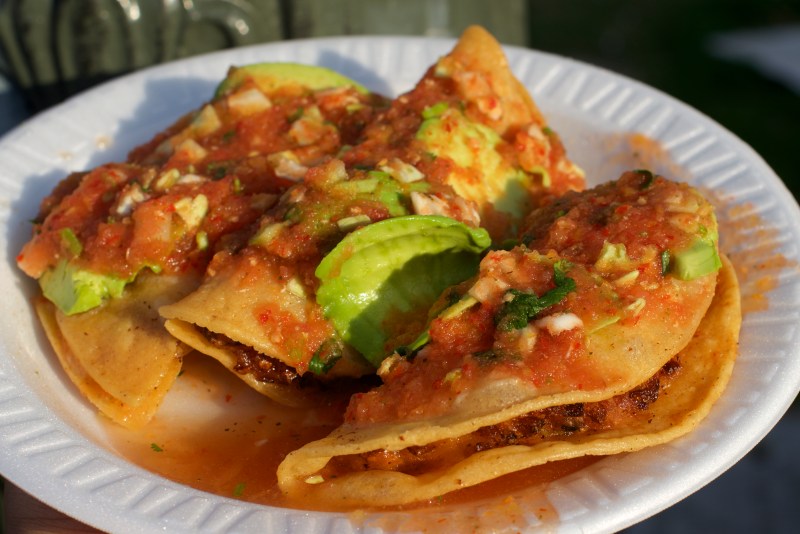 Taco dorado de Camarón
L.A.'s most iconic crunchy seafood taco, no other remains as purely delicious to inhale. It is everything you want in a taco: filling, sufficiently spicy, with a refreshing tang and buttery avocado slices. This taco is timeless; this taco is perfect.
3040 E. Olympic Blvd. Los Angeles, CA 90023. Closest Metro lines and stop: Bus Line 62 - "Olympic/Dacotah" or Bus Line 605 - "Grande Vista/Olympic."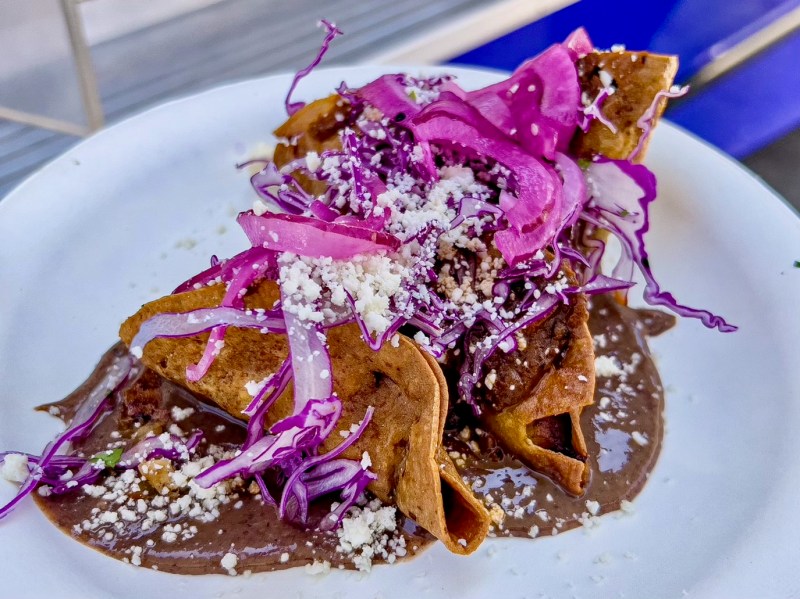 Pescadillas
If you've eaten around the southern part of Mexico's Pacific coast, you will immediately trip out on the "pescadillas" on offer, crispy taquitos filled with a savory filling of seasoned, minced wild fish served over a tasty puddle of umami-intensive pasta de frijol (black bean paste). They are extremely hard-to-find; the type of crispy fish taco that you'll see in Guerrero's Costa Chica and a handful of beaches in Oaxaca, and now also at Simón L.A. – Javier Cabral
3667 W. Sunset Blvd. Los Angeles, CA 90026. Closest Metro lines and stop: Bus Lines 2 or 4 - "Sunset/Maltman."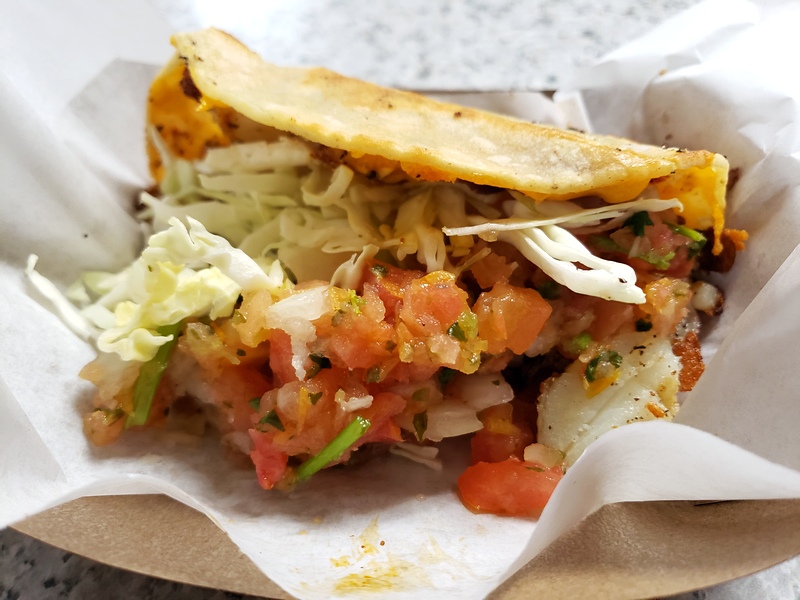 Potato and Cheese Taco
In its characteristic stand-alone style, Sky's prepares potato tacos much differently than the tightly-sealed tacos dorados full of mashed spuds you usually find around town. Boiled potatoes are chopped then fried on the plancha before getting stuffed into a cheddar-padded tortilla given a light char. Served piping hot, there's an audible crunch in this superlative multi-textured taco. Vegetarian by nature, it can also be turned dairy-free with the addition of vegan cheese and made extra crispy. - Hadley Tomicki
5303 W Pico Blvd Suite #01, Los Angeles, CA 90019. Closest Metro line and stop: Bus Line 33 - "Venice/Cochran."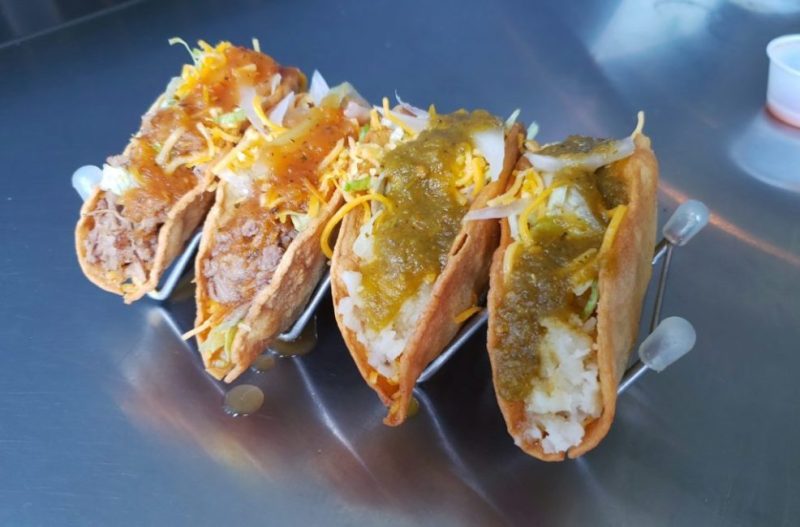 Carne Desebrada Taco
If Tito's Tacos can be compared to Burger King or McDonald's, then Chuy's Tacos Dorados, built on recipes descended from owner Betsy Leon's grandfather's restaurant from Culiacan, would be more like In-N-Out or Shake Shack. The potatoes are hand-peeled, and the cheese is shredded daily. The beef, from SuKarne, is imported from Sinaloa, then shredded, and simmered over four hours using her father's spice blend. The salsa verde and salsa roja, served hot, are crafted with a blend of beef-and-chicken broth, and the fried tortillas always retain their structure, even when eagerly chomped down upon in four or five frenzied bites. - Hadley Tomicki
1335 Willow St, Los Angeles, CA 90013. Closest Metro line and stop: Bus Line 18 - "6th/Mateo."
6220 Topanga Canyon Blvd, Los Angeles, CA 91367. Closest Metro lines and stop: Bus Lines 150 or 169 - "Topanga Canyon/Erwin."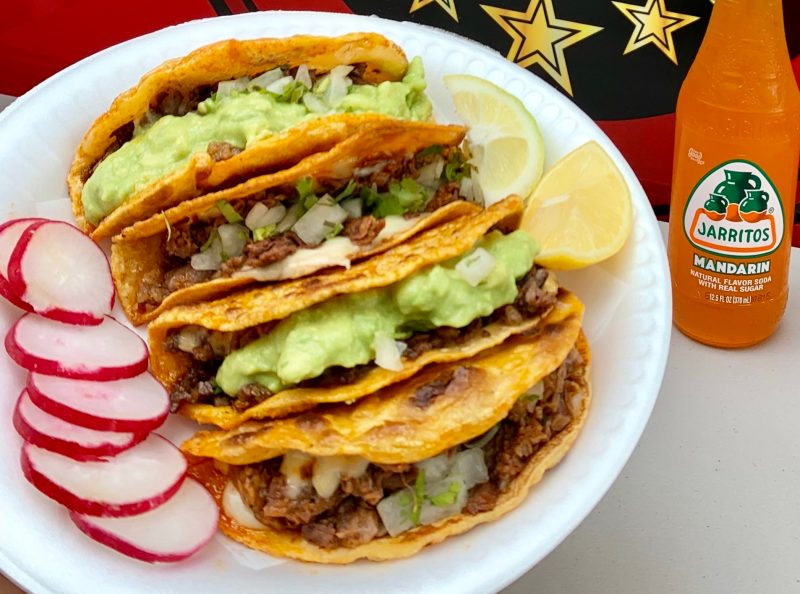 Chivo Taco Dorado
Not too L.A. many taqueros offer tasty versions of both birria de chivo and birria built on beef. La Unica does, and also offers handmade corn tortillas for all their tacos, a game-changer as well as another rarity among L.A.'s cutthroat Birria Wars. Catch me swimming in their clavo-intensive consomé. - Javier Cabral
2840 E. Olympic Blvd. Los Angeles, CA 90023. Closest Metro lines and stop: Bus Line 62 - "Olympic/Camulos" or Bus Lines 66 or 251 - "Soto/Olympic."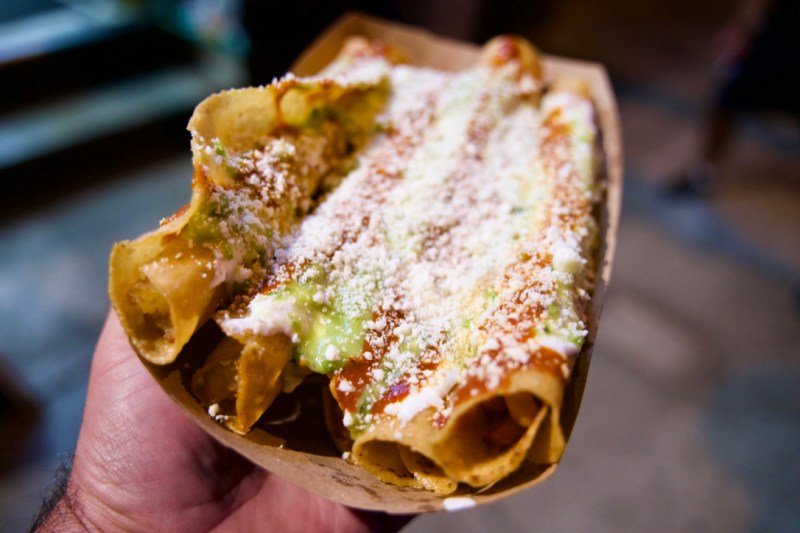 Potato and lamb barbacoa flauta
The flautas from Los Dorados are mind-shatteringly crunchy. I believe that the potato flauta is the purest way to experience Los Dorados because it gives you the chance to really taste the outfit's fantastic green and red salsas. But the lamb barbacoa, covered with a mole-like salsa borracha, is just insanely good, gamey and meaty, but enlivened with a smokey salsa and tangy crema. - Cesar Hernandez
Follow them on Instagram to see when they are going to pop up next.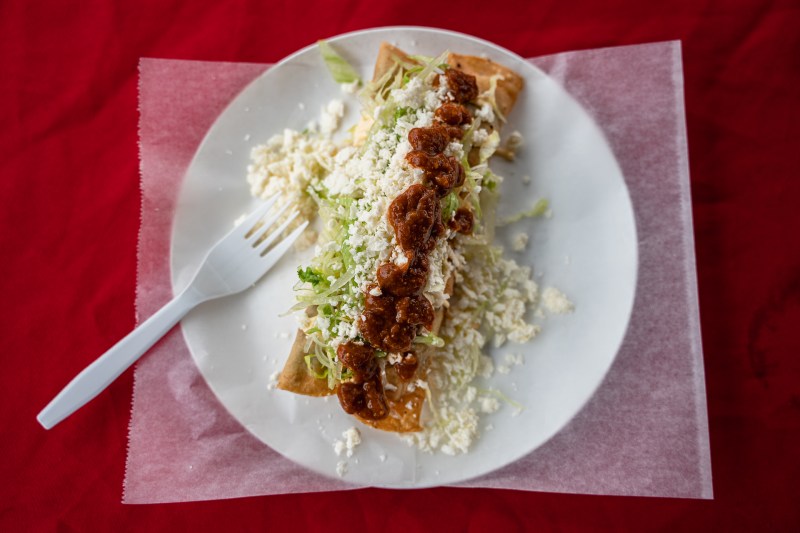 Los Garduños Barbacoa
Lamb Barbacoa Flauta
Every week, Josefina Garduño purchases four live lamb to make a traditional barbacoa in the style of the town of Capuhualc in the state of Mexico. As the youngest sibling, Josefina learned her father's technique and recipe almost 20 years ago from her oldest brother, Ricardo, who serves the same barbacoa from his restaurant, Taquería Capuhualc, in South Central. Garduño graced Lincoln Heights with her family's barbacoa when she moved there four years ago. The steamy barbacoa is simply seasoned with salt rather than marinated in spices or chiles, except for la pancita (the stomach), which is boldened with added flavor. At the stand, you'll see her husband, Carlos Sanchez, pulling meat off the lamb head—the most prized—and preparing tacos. Her son Ryan is helping with orders while her daughter Shanty makes fresh tortillas. Order a cup of consomé filled with bits of stringy meat crumbs, garbanzo beans, rice, and veggies. And if you like your tacos crispy, they make tacos dorados too. They're not just the best tacos in Lincoln Heights; their barbacoa should rank amongst the best in L.A. - Memo Torres
Saturday and Sunday mornings only, on the corner of Ave 24 and Pasadena Street, outside Smart & Final. Closest Metro lines and stop: Bus Line 251 - "Daly/Pasadena" or Bus Line 45 - "Broadway/Avenue 22."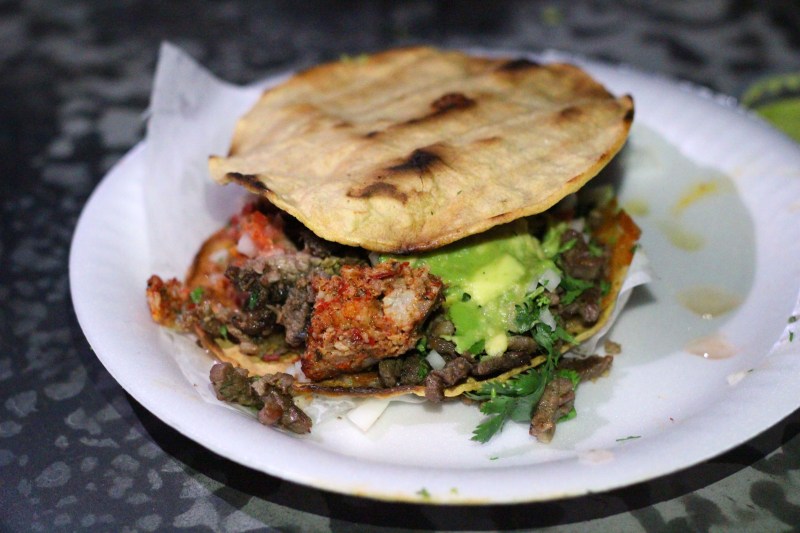 Adobada and Asada Vampiro
One of East L.A.'s best Tijuana-style tacos, Don Cuco's adobada is grilled over coals instead of via trompo as we commonly see with al pastor. The result is a smoky, succulent pork that certainly tastes different. Try the vampiro with adobada and asada, a crunchy and meaty tostada sandwich with melted cheese. - Cesar Hernandez
752 S. Fetterly Ave. East Los Angeles, CA 90022. Closest Metro lines and stop: Bus Line 18 - "Whittier/Ferris" or Bus Line 258 - "Arizona/Whittier."
Flautas and taquitos
Cielito Lindo is the triple O.G. flauta-slanging taquería at Placita Olvera, going strong for over 100 years. The crispy beef taquitos, which have their roots in Zacatecas, are smothered in avocado sauce and always pack a satisfying crunch. It remains the best taco to eat on Olvera Street, and stands as the pioneer of flautas in Los Angeles. - Cesar Hernandez
 E-23 Olvera St. Los Angeles, CA 90012. Closest Metro lines and stop: Metro A, B, D, and J (910/950) Lines - "Union Station" or Bus Lines 28, 33, 40, 70, 76, 78, or 106 - "Cesar E Chavez/Alameda."
HONORABLE MENTIONS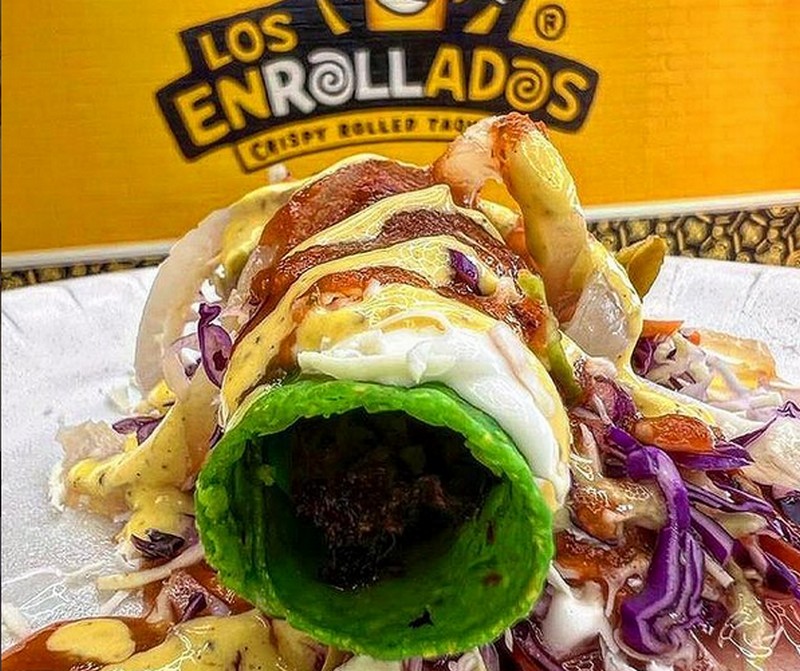 This new taquito restaurant in Anaheim recently caught our eyes with its chaotic plates strewn with crunchy, tightly rolled masa blunts, filled with birria, shrimp, shredded beef, papas, and chicken, and topped with cueritos, pickled jalapenos, and avocado sauce. We haven't been yet. But itching to.
1101 W. Lincoln Ave Anaheim, CA 92801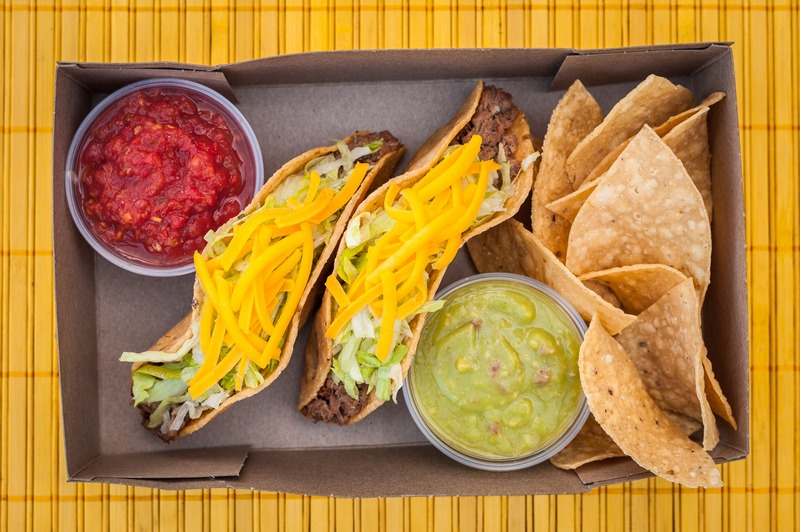 Tito's Taco with Cheese
Whether you love it or hate it, the most famous names in hard-shelled tacos remains popular with or without your gustatory opinions. It's quite crispy, it's cheesy, there's... beef, and the only thing better than one, it's been said, is two. Which will cost you $11.
11222 Washington Pl. Culver City, CA 90230-4618. Closest Metro line and stop: Bus Line 33 - "Venice/Sepulveda."
Stay in touch
Sign up for our free newsletter