Tacos
The Burrito Is Back: 30 Burritos You Need to Try in 2019 ~ An L.A. Taco Guide
1:27 PM PST on February 26, 2019
[dropcap size=big]T[/dropcap]he burrito is on the cusp of a boom in Los Angeles in 2019.
If you think about it, a burrito is the perfect compliment to L.A.'s car culture. You can eat a whole meal with one hand on the wheel. So the L.A. Taco squad got together and fanned out across town to find some of the best burritos popping right now. The following is a list that combines both L.A. classics and new players.
To make it easier to navigate, we've organized the burros into three different categories: Breakfast, Carne, and Everything Else. We went all over L.A. to narrow this down to the top 30, and did so with no antiquated ideas of what is "authentic" or "traditional."
Mariah Castañeda contributed to this story.
RELATED: Free Tacos for L.A. Taco Members
Breakfast Burritos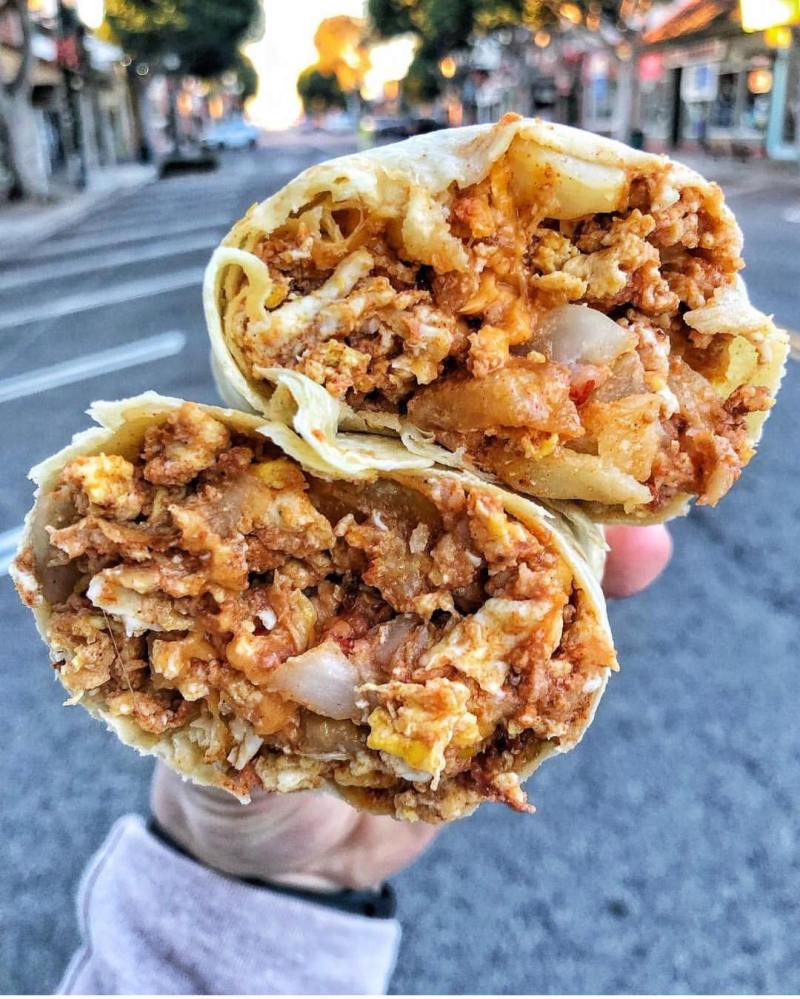 Nick's Deli ~ House Breakfast Burrito
Located just outside of L.A. County in Seal Beach, Nick's Deli is bringing it with the non-descript hole-in-the-wall vibe – everything from the menu items on printed sheets of paper to the sparse seating. Yet, here you will find another solid entry into the Southern California breakfast burrito pantheon. Their house breakfast burrito is a combination of eggs, chorizo, bacon, and cheese made with their special sauce.
The burrito maintains its integrity by not skimping on the details, which, yes, can add to the wait time but trust me, it's totally worth it. The tortilla is lightly toasted, never soggy nor steamed and the potatoes are always fried crisp to perfection. The special sauce is similar to a red enchilada sauce which you will have your choice of mild or spicy, bringing all the flavors together in just the right amount of spice unison. Remember it's cash only, and you pay after your order has been fulfilled. - Gab Chabrán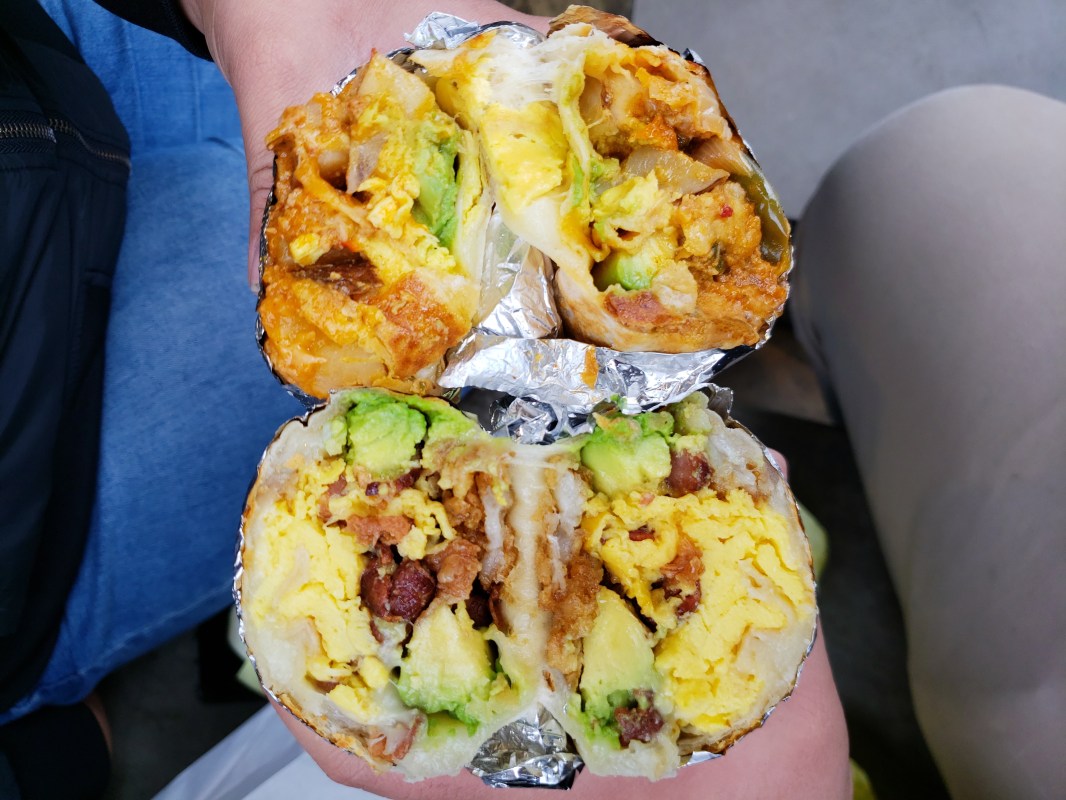 Cofax ~ Chorizo Breakfast Burrito with Avocado
There is no denying the greatness of this burrito. It has perfectly cooked chorizo – not too crumbly or soft – with a fantastic potato hash, cheese, soft scrambled eggs, and the must-add avocado. It might be the reason millennials will never own homes but it makes for a great meal. The key ingredient to this burrito is the smoked potato hash, the mild spice of the bell peppers and smokiness completely envelope every bite. This burrito changed my idea of what I thought a breakfast burrito could be. - Cesar Hernandez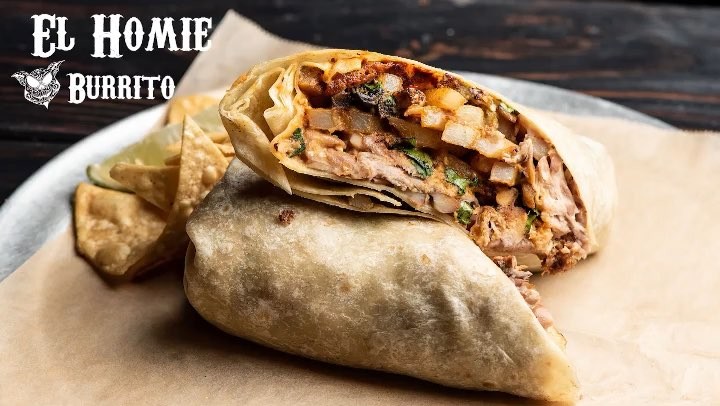 Dia De Los Puercos ~ El Homie Pork Burrito
El Homie is a massive burrito made with a 14-inch tortilla, stuffed with mochomos, refried beans, hand-cut fries, pasilla crema, guaca salsa, salsa roja, cotija, and two fried eggs. You can choose any protein you like for the burrito, but Chef Rick Garcia's mochomos are inspired.
Garcia's mochomos come from an old family recipe that he modified with modern techniques. His take is on Chihuahua-style mochomos – which is typically more like a pork jerky – but slow-cooked for hours and then fried on the griddle until crispy. "We braise the mochomos for about five hours, bone in, until it just falls off the bone," Garcia told L.A. Taco. "When we get an order, we put it on the plancha with oil, garlic, salt, and other seasonings. So when you bite it, on the outside it's really crispy and on the inside it just falls apart." - Erick Galindo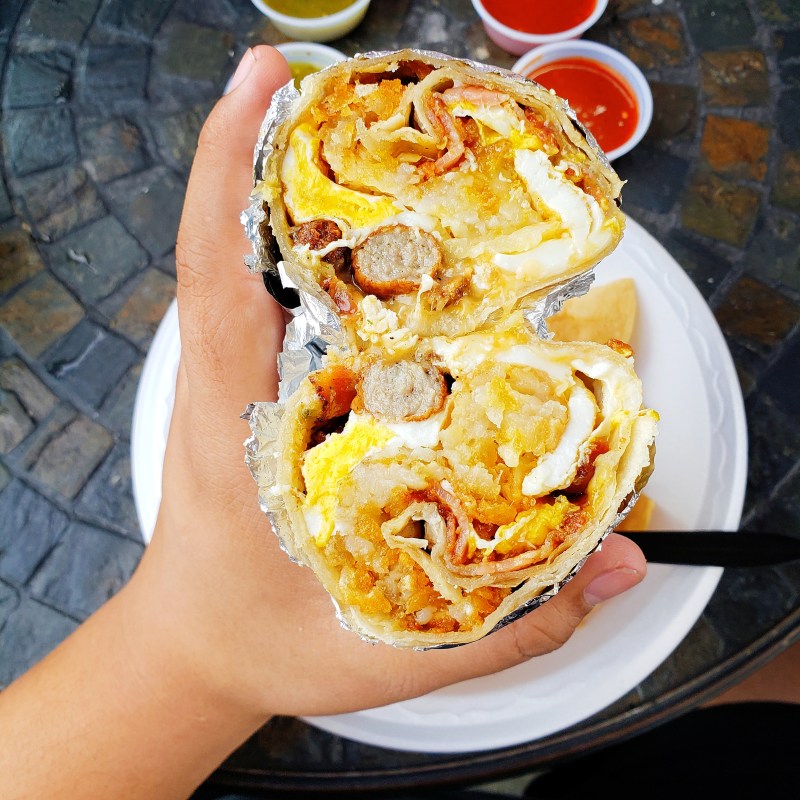 Happy Taco ~ Sausage and Bacon Breakfast Burrito
Happy Taco is located on Hoover in MacArthur Park. It's a small shack with a window that sells great breakfast burritos. There are a few key elements to a breakfast burrito, and one of them is texture. The texture of this wonderful breakfast burrito comes from the tater tots and crunchy bacon. The tots are fried until crispy but soft on the inside, and the bacon and sausage are seared until crisp. Happy Taco understands that once everything gets wrapped in a tortilla what stands out most is those contrasting textures. - Cesar Hernandez
Corner Cottage ~ Sausage and Bacon Breakfast Burrito
If you're one of the many huddled masses who find themselves making the trek out to Burbank on a Saturday morning to get a taste of the legendary breakfast burrito then you know why we've hailed it as one of the best. It's the perfectly cooked mixture of potato, eggs, along with your choice of bacon, sausage or ham. Don't forget to ask for some of their house-made salsa inside of your burrito. That added level of spice creates a superior bite and an excellent way to start your weekend out on a high note. Truth be told, the city of Burbank's breakfast burrito scene is a strong as a whole, but Corner Cottage reins supreme. - Gab Chabrán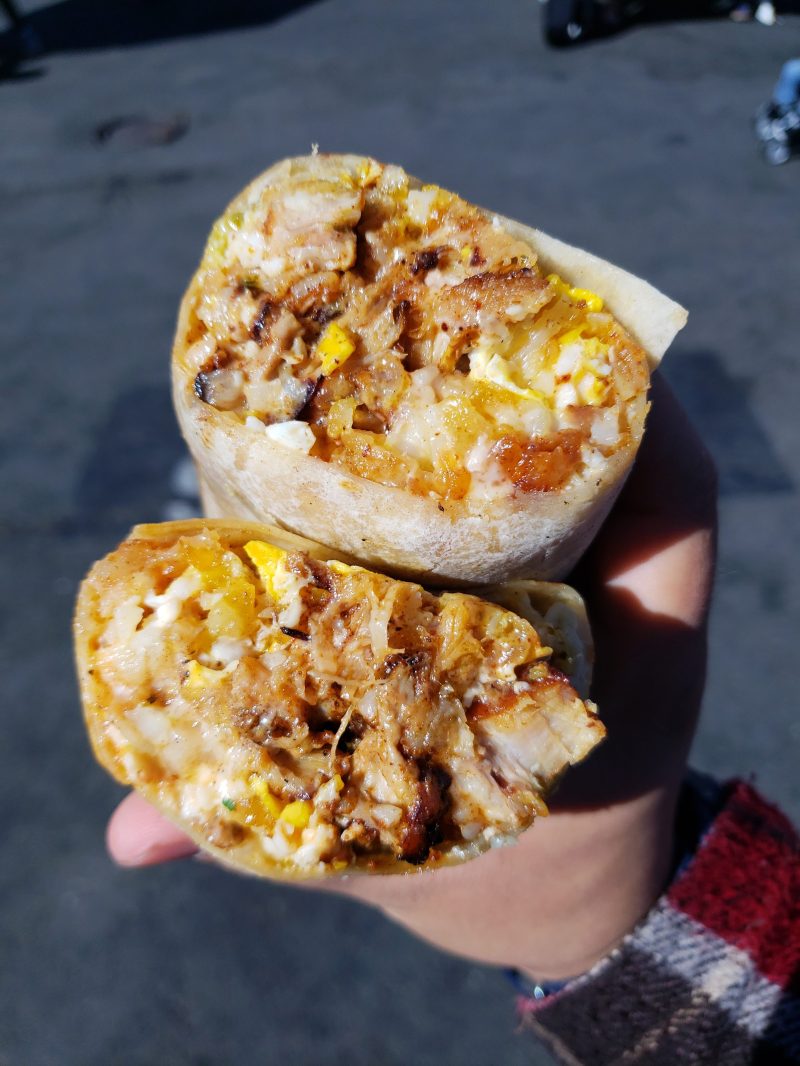 Macheen ~ Pork Belly Breakfast Burrito
One of the most popular items at Macheen is their pork belly breakfast burrito. It consists of adobabdo-style pork belly, hashbrown, green apple salsa verde, soft scrambled eggs, and two kinds of cheese – swiss and cotija. The pork belly is braised in a chiles and citrus juice to create an adobo. Once the burrito is wrapped it is placed on the grill to put their trademark grill marks. The end product is a decadent burrito that might make your knees buckle. Pick yourself up and take another bite. - Cesar Hernandez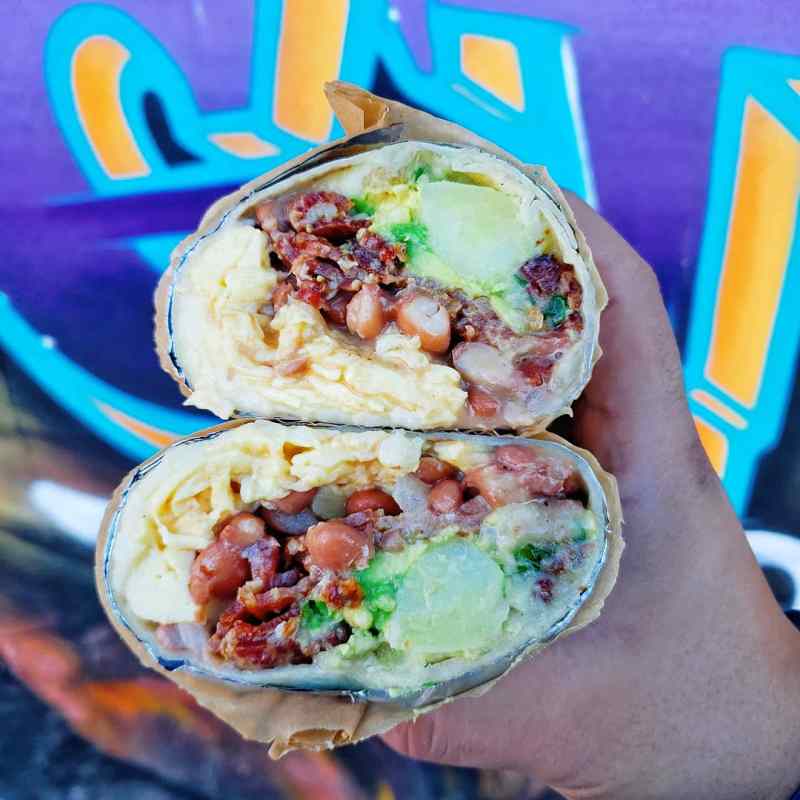 Guerrilla Tacos ~ Avo bacon Breakfast Burrito
Now that Guerrilla has set up roots in the Arts District they've opened a weekday breakfast burrito window. It comes as no surprise that the burrito is carefully crafted to be one of the best in L.A. On paper, the burrito is simple. It has just six ingredients – beans, potatoes, avocado, bacon, eggs, and cheese. But it is the way everything is prepared that makes the burrito stand out. The potatoes are soft. The bacon is at the intersection of juicy and crispy. But the star of the burrito is the beans. They are smoked so they impart that great smoky flavor into the entire burrito. - Cesar Hernandez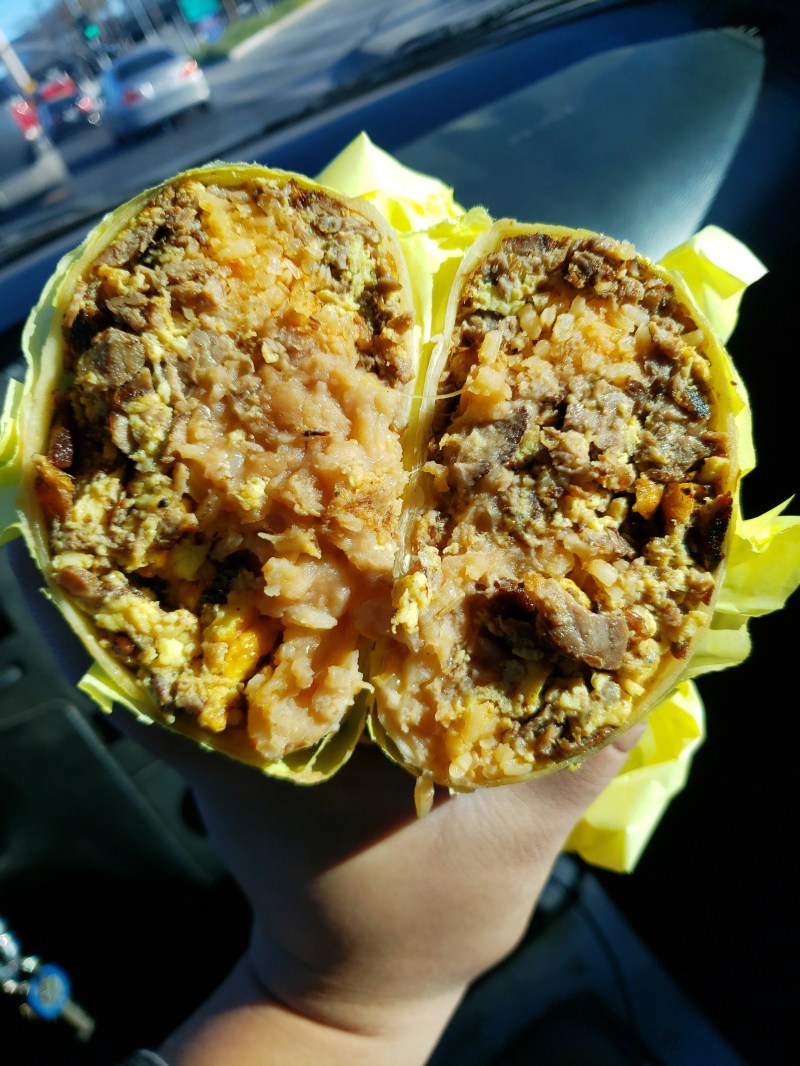 Tam's ~ Machaca Breakfast Burrito
One bite of this burrito and I am home, but be warned it is massive – like the size of a toy breed of dog.
Machaca is best when it's cooked with eggs. Tam's throws a massive amount of this blend into a tortilla with cheese and beans. They also add rice, which is fine if you're into rice in your burrito. But I always order this one with no rice. There's isn't a world I can imagine, where I eat machaca with rice.
Everyone in the hood has their go-to Tams. I grew up with the Tam's in Paramount on Alondra Boulevard. The Tam's in Paramount, the little Sinaloa of Los Angeles, is hands down the best restaurant in America (I will fight you). There you can get great chili cheese fries, very good burgers, a satisfying breakfast, and a great machaca that feels like your grandmother sent it via distant relative and plastic baggie. - Erick Galindo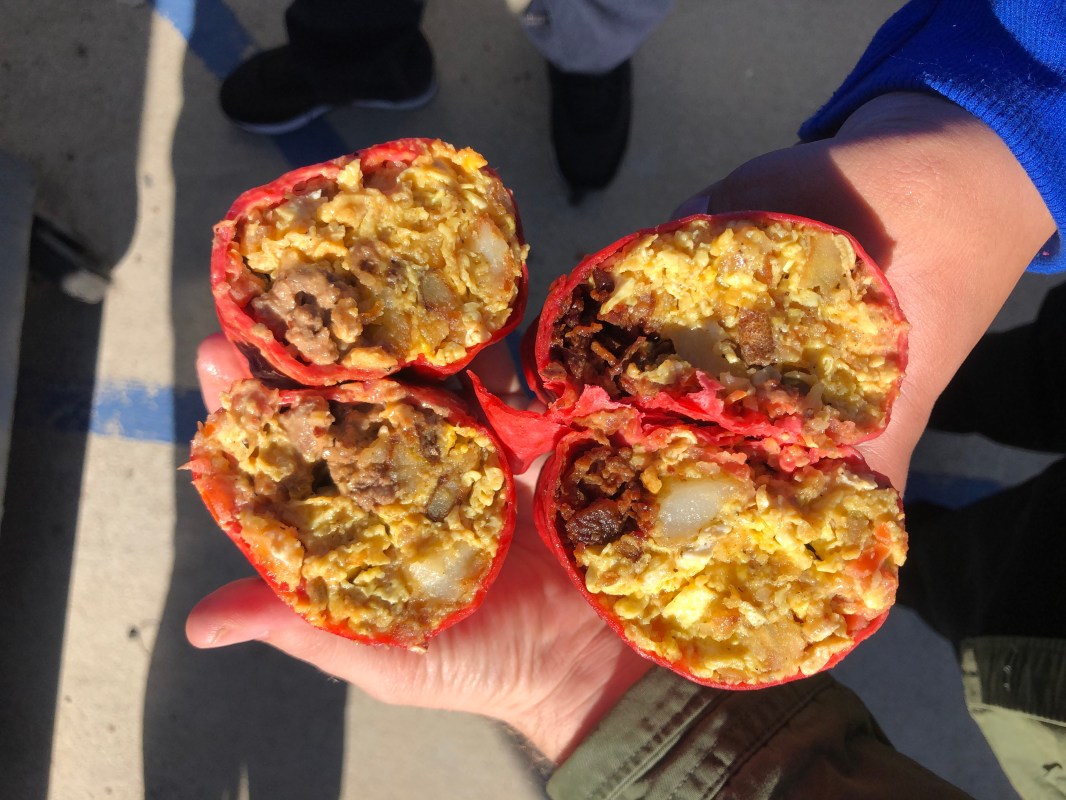 Burrito Bomba ~ Bacon and Steak Burrito
Deep inside the valley, located on a stretch of Lankershim that's usually reserved for auto body shops, comes Burrito Bomba. The outdoor pop-up operation specializes in breakfast burritos made with a signature red tortilla filled to the brim with a cheesy egg mixture goodness, your choice of bacon and/or large, juicy cuts of steak, freshly cut cajun fries, and their own pico de gallo and spicy mayo.
While purists might turn their nose up to such addition, we are here to assure you that it's the perfect complement. The signature condiment adds to an already savory flavor bomba that makes for a transcendent experience, leaving you wondering if it constitutes a burrito that's only specific to breakfast or something completely different entirely? Cash or Venmo only. - Gab Chabrán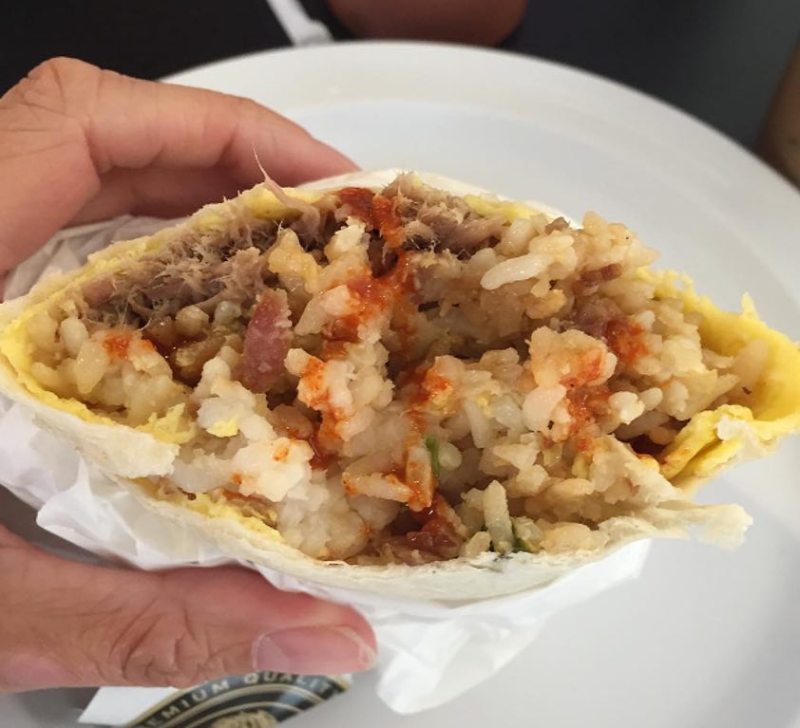 The Grindz at 1601 ~ Grindz Breakfast Burrito
Located inside a business building off of PCH in Hermosa Beach, The Grindz 1601 is a small Hawaiian cafe. The menue has several Hawaiian favorites like Spam musubi or Kalua pork, but I usually go for the breakfast burrito. It is hulking burrito that is packed full of bacon fried rice, scrambled eggs, and Kalua pork. It is one of the most decadent breakfast burritos in L.A. It is probably enough to feed two people or is good for leftovers. Make sure to get some of the various hot sauces like a smoky sweet Hawaiian hot sauce that's in between hot sauce and BBQ sauce. - Cesar Hernandez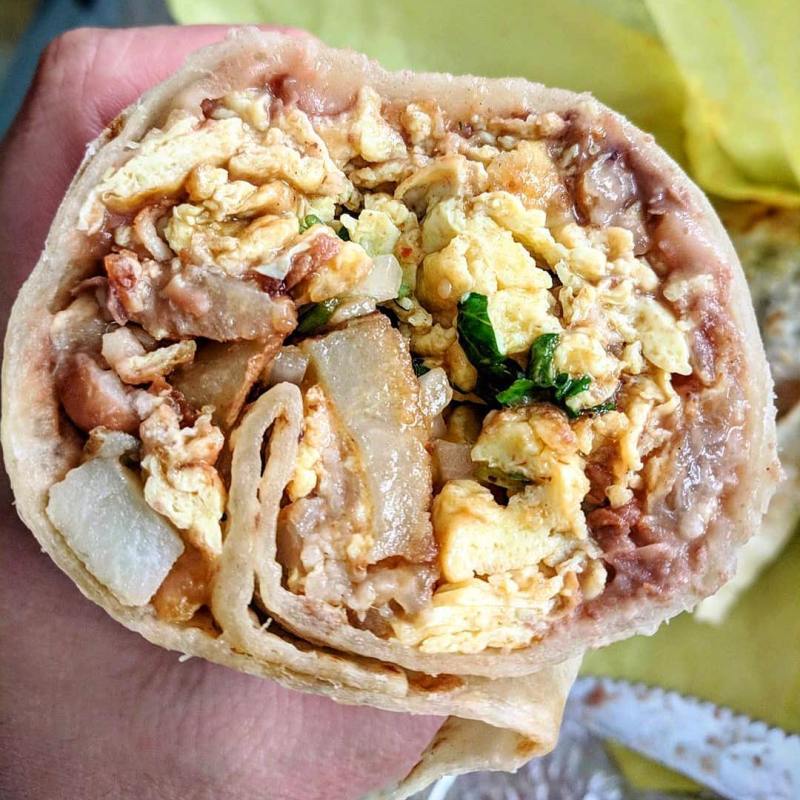 Tito's Bakery ~ Chorizo or Machaca Burrito
Long Beach locals who are in the know about this beloved, little storefront bakery located in downtown is one of the city's overall best. The two best choices being chorizo or machaca mixed with crispy tasting potatoes and large, soft ribbons of scrambled eggs, not to mention large chunks of refried beans, which are often one of the more overlooked ingredients of breakfast burrito periodic table. Then its expertly topped with their house-made green or red, delivering you the perfect amount of fiery goodness. It's like the perfect home-cooked meal or a hug from an old friend. - Gab Chabrán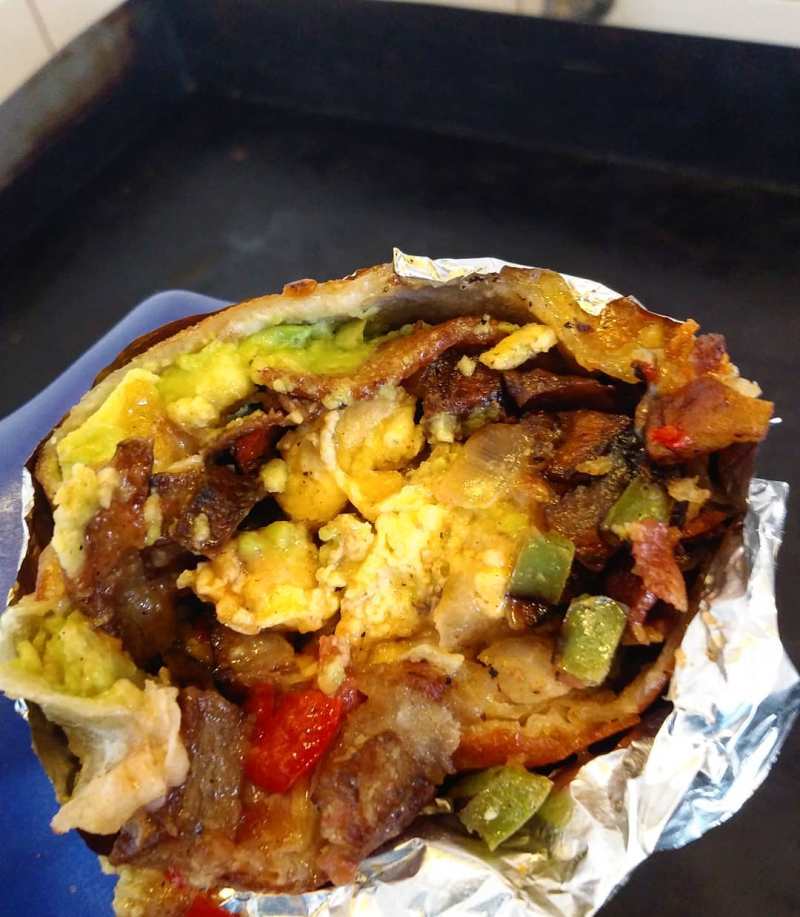 Low Key Burritos ~ Breakfast Burrito
Matt Stevanus was fed up with his previous employer, Phanny's, when it decided to take to the streets. And as it turns out, we are all the better for it. His pop-up around parts of the South Bay, Long Beach, and DTLA have created a stir with his signature breakfast burritos that are loaded with plenty of veggies – such as onions, peppers, and potatoes – along with your choice of protein ham, bacon, or carne asada. It all makes for ooey gooey perfection.  
With one bite and you are hit with a confetti of flavors. Stevanus also specializes in the current breakfast burrito flex du-jour of including a cheese crust on the outer half of the tortilla. It's like finding a secret quesadilla at the end of breakfast burrito rainbow. - Gab Chabrán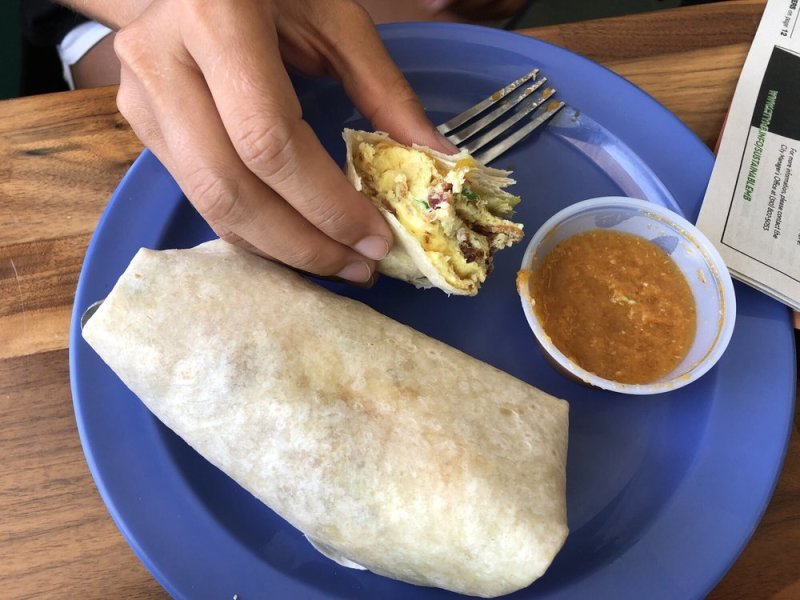 Brother's Burritos ~ 'Triple' Breakfast Burritos
Brother's Burritos is located beachside of Hermosa Beach and it is always full of hungry burrito-seekers. All the burritos I've had from here have been stellar. The gimmick here is that each order comes with two small burritos. Essentially each burrito comes with its own brother. The "triple" is usually my go-to because it has tri-tip and the standard egg-potato-cheese combo. It is the best kind of Tex-Mex. The salsa is good here so splash it on liberally. - Cesar Hernandez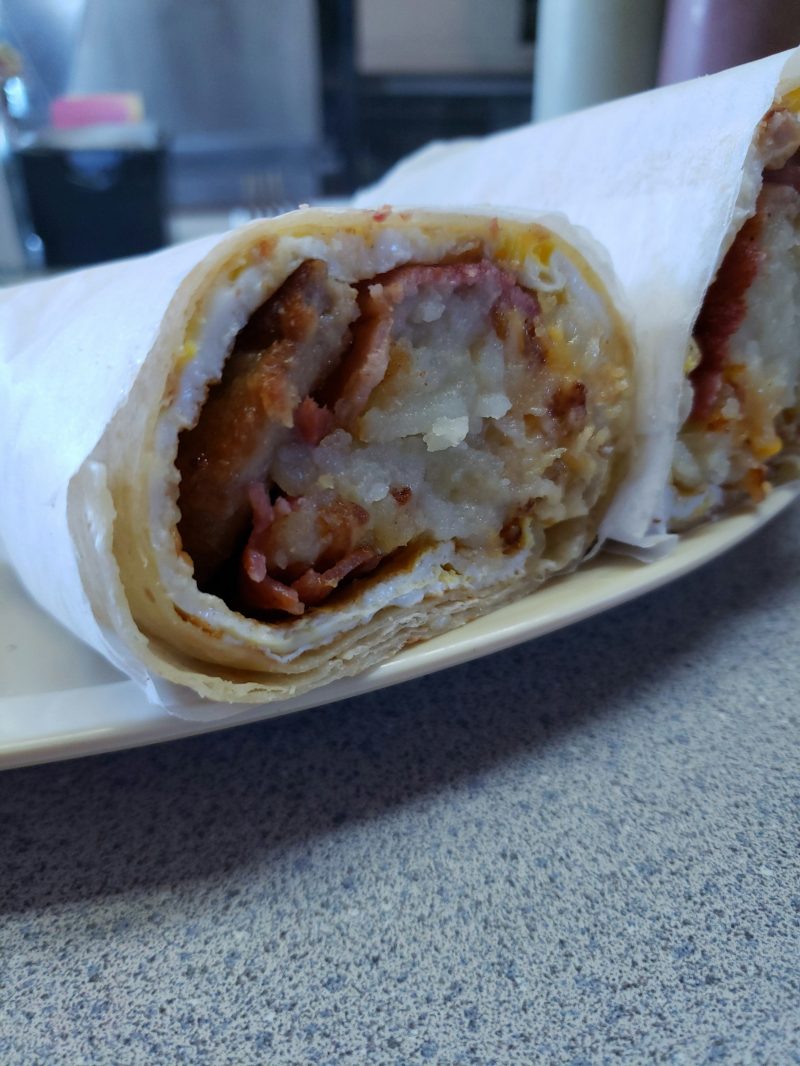 Jerry's Place ~ Bacon Breakfast Burrito
Jerry's Place, located on 4th street in Long Beach, is an unpretentious little restaurant that only has diner counters. They specialize in breakfast burritos. Since the restaurant only has counter seating you can see the way that the owner or one of the chefs prepares the burrito fillings.
They will mesmerize you with the way that they wield the two flat spatulas. The sound of clanging metal is the same kind you would hear at at Benihana minus the extra price tag. The hashbrown is crisped on the flat top, as is each strip of bacon, and the sausage is split in half to sear the entire link. - Cesar Hernandez
RELATED: How to Eat Every Kind of Taco in South Central L.A. ~ The L.A. Taco Guide
Carne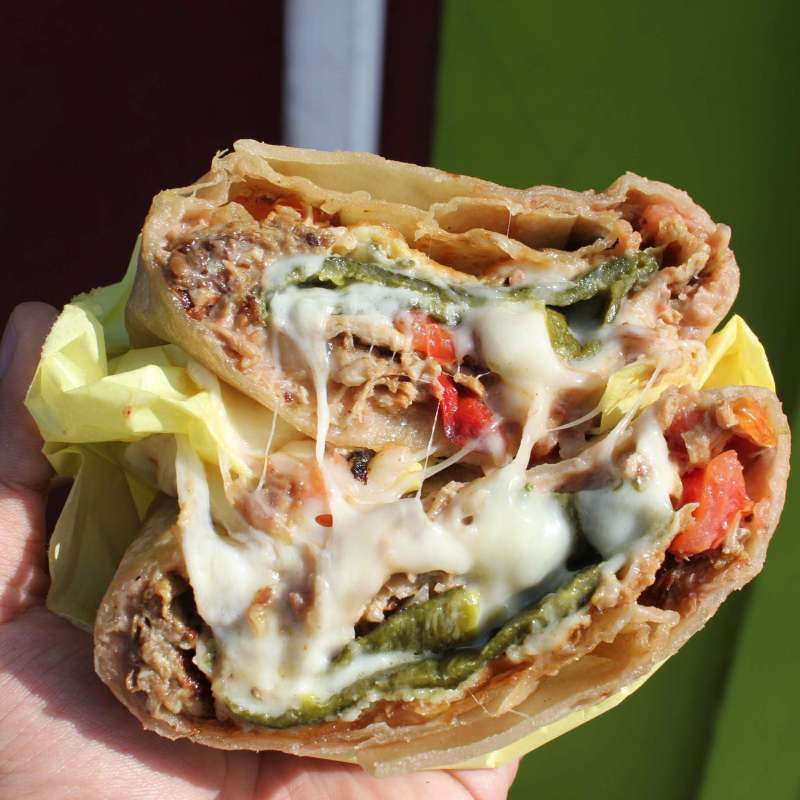 Azteca Tortilleria ~ Chile Relleno Burrito with Carnitas
Azteca is located on a strip in East L.A. right off the 710 freeway on Cesar Chavez. They're famous for the chile relleno burrito which is amazing on its own but I like to add carnitas, which is not uncommon. The burrito is like a russian doll but the third layer is a pool of cheese. The succulent carnitas mix with the cheese of the chile relleno to create a porky and cheesy explosion. You might need to call out of work after this burrito. - Cesar Hernandez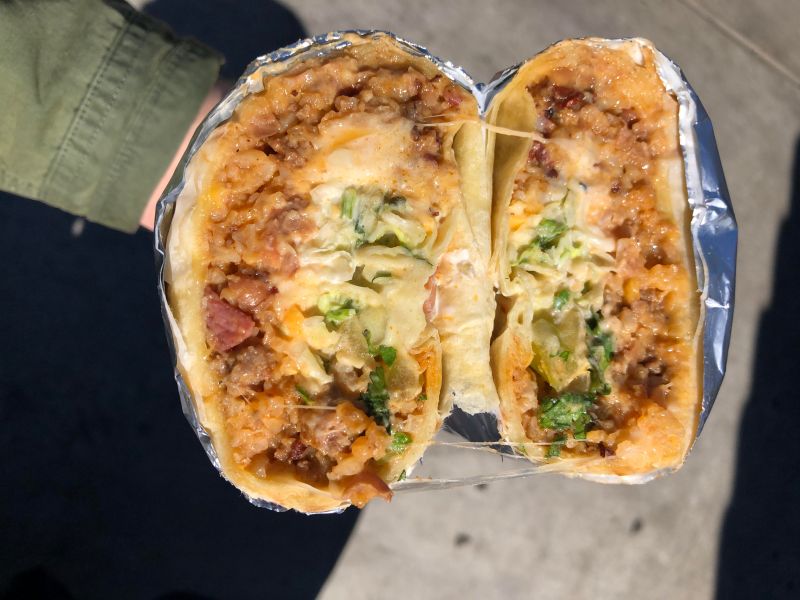 Sr. Cliff's Texas Style Burrito ~ Soul Man Burrito
Located in Compton, Sr. Cliff's Texas Style Burrito has been in business since 1992. Upon ordering, Cliff himself will often come out to greet you. He told L.A. Taco that that the purpose of his food is to bring the community together. You'll need no further proof than the Soul Man burrito, which includes ground beef, pastrami, a hot link, rice, beans, lettuce, tomatoes, salsa, sour cream, onions, and cilantro.
The burrito itself comes in a variety of sizes in 8, 16, 22, and 36 inches. The 8-inch variety will easily feed two people. While it might seem easy to scoff at its inauthenticity, remember that this is Los Angeles, where many come to choose their own paths and here is the burrito to prove it.
Sr Cliff's serves as a prime example of African American inspired Mexican American food – a part of the lineage of Sky's gourmet tacos or Lucy's. It's easy to see why Cliff's is the harbinger of fusion before it was cool. - Gab Chabrán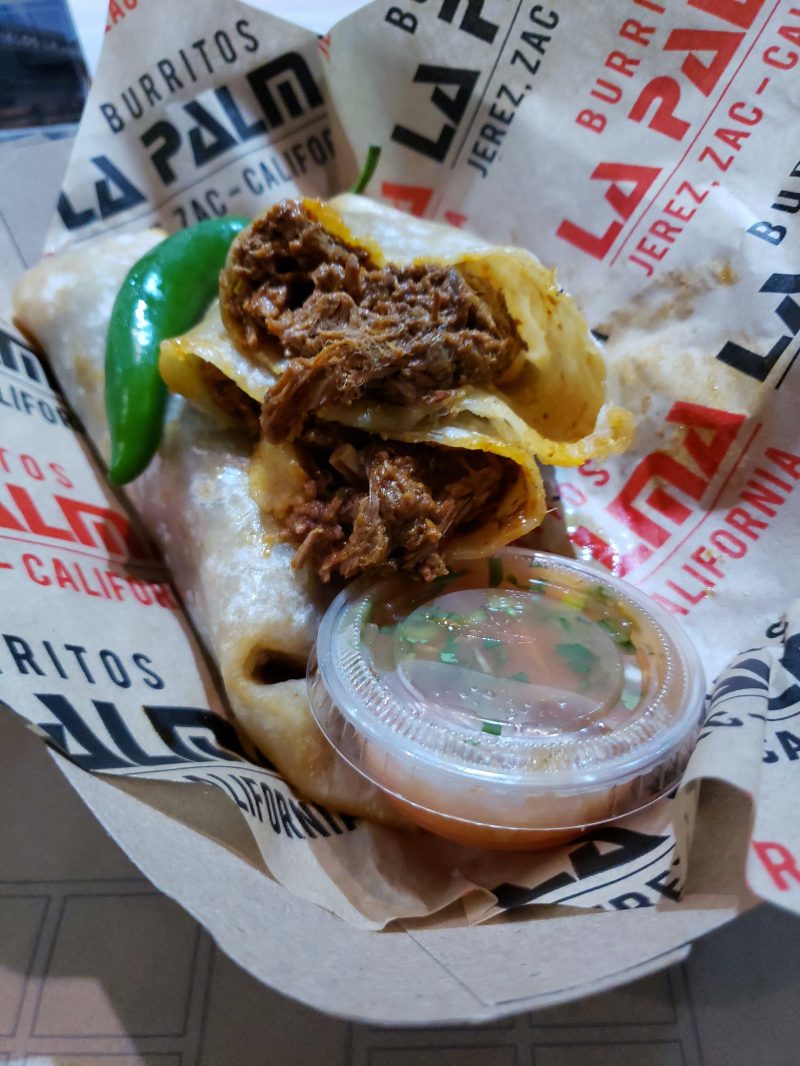 Burritos La Palma ~ Burritos De Birria
Burritos La Palma is one of the O.G.'s in the birria de res game. Their signature dish is a small burrito filled with their Jerez, Zacatecas beef birria. The birria has some hints of citrus and is always accompanied with a chile. It is also served with a mild tomato-based salsa. For such a small burrito it is bursting with so much beef that if you squeeze, it oozes consomé and birria. - Cesar Hernandez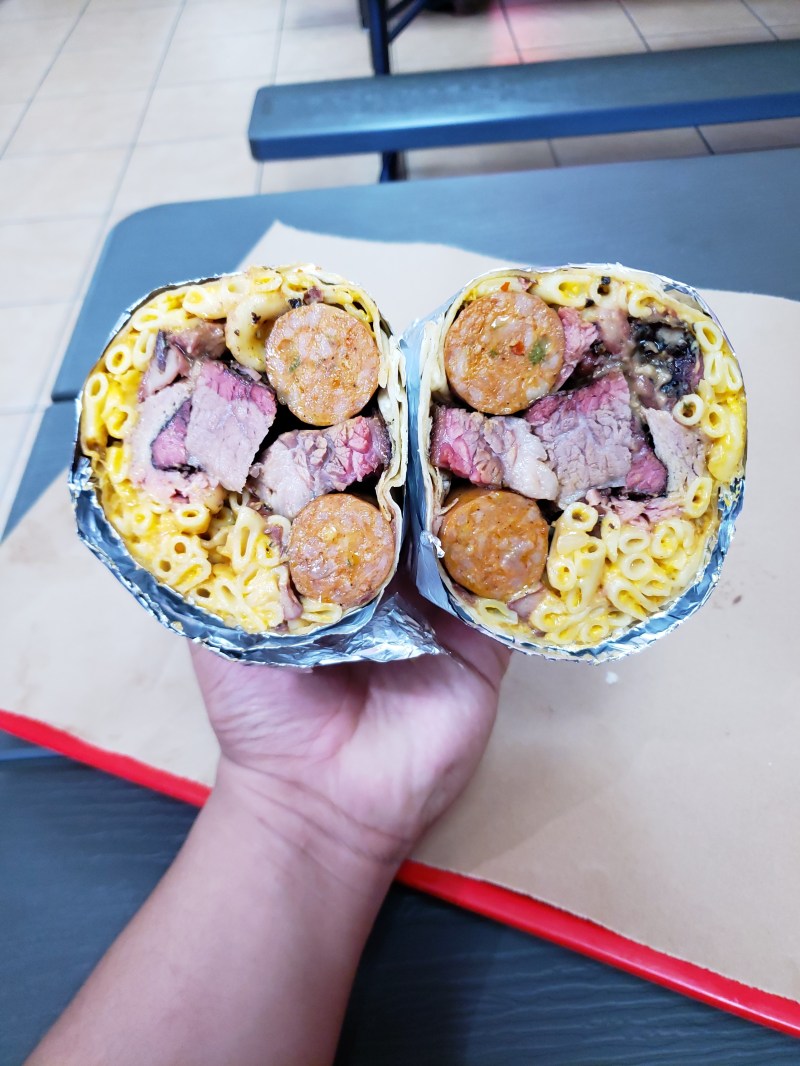 Ray's Texas BBQ ~ BBQ Burrito
A multi-generational family of Salvadorans from Huntington Park make this giant BBQ burrito. It is a delicious monstrosity of brisket, pulled pork, Prime Angus, baked beans, mac-and-cheese, and a Salvadoran-inspired jalapeño cheddar sausage. Chef Ray Ramirez says it's "portable BBQ." I say it's one of the best burritos I have ever had.
The mouth feel is tremendous. The mixture of his much-lauded brisket with the mac-and-cheese is so damn good, you will somehow manage to eat the whole thing before realizing the true undertaking that is. You will also, at least in my case, find that Austin-style BBQ mixed with Salvi love is the combination you've been waiting for your whole life. - Erick Galindo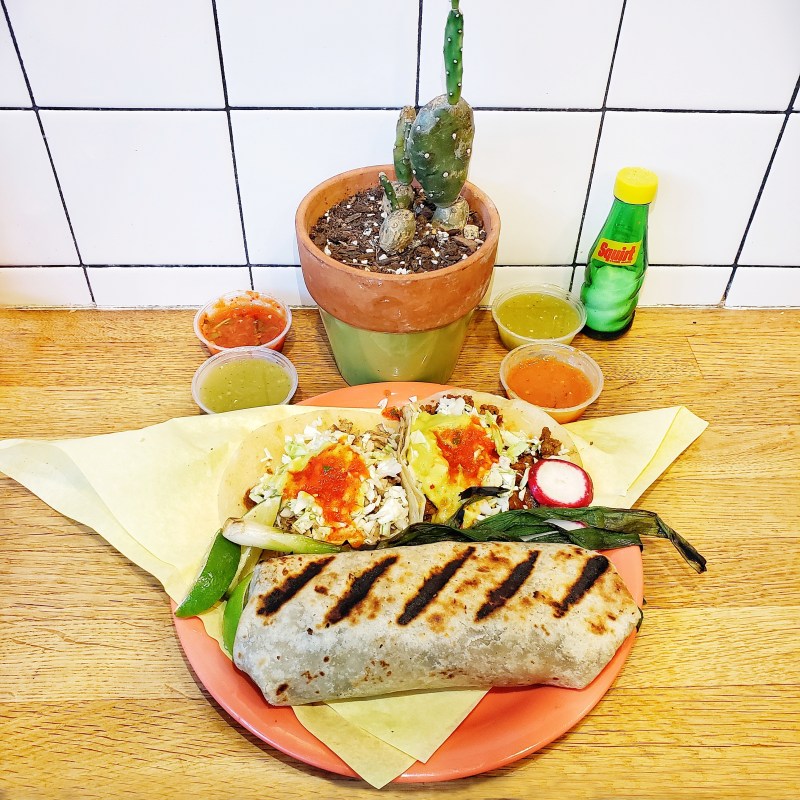 Sonoratown ~ Chivichanga
Much has been said about Sonoratown's excellent flour tortillas, so it is no surprise that they make a great burrito. They call it chivichanga, a burrito that comes from the restaurant's inspiration, Sonora. It is filled with shredded beef stewed in tomatoes and chiles, and plenty of cheese. Co-owner Teo Diaz says that the dish is what his mother used to make for him before she went to work. So the burrito is full of love, without any added fees. - Cesar Hernandez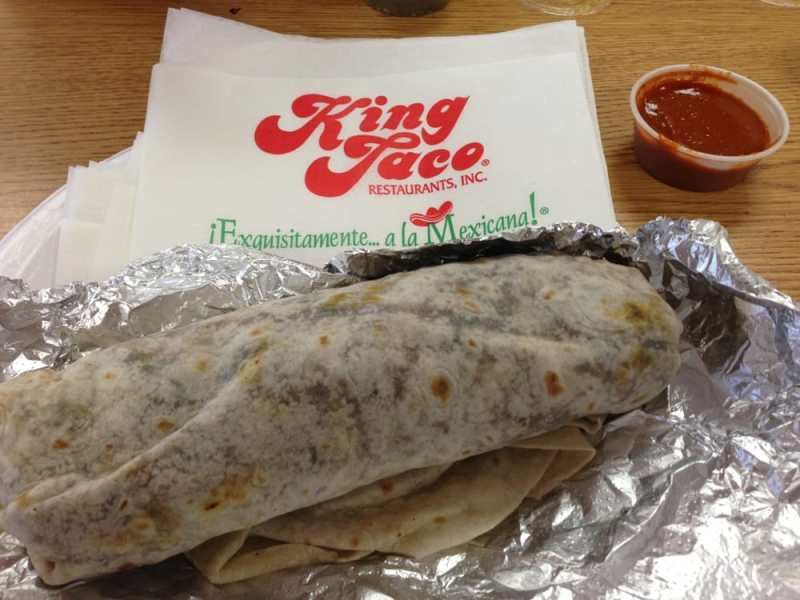 King Taco ~ All Meat Asada Burrito
The true King of L.A. doesn't ball, he slings tacos. King Taco is the hood's answer to In-N-Out – fast, affordable, quality food. It's a classic late night spot, and it has been feeding families in L.A. since 1974. And let's not forget, King Taco is the originator of the modern taco truck.
To me, the carne asada is the thing here. The limey marinate rivals any taquero's and the salsa is some of my favorite in the city. Their asada burrito de pura carne is the best thing on the menu. - Erick Galindo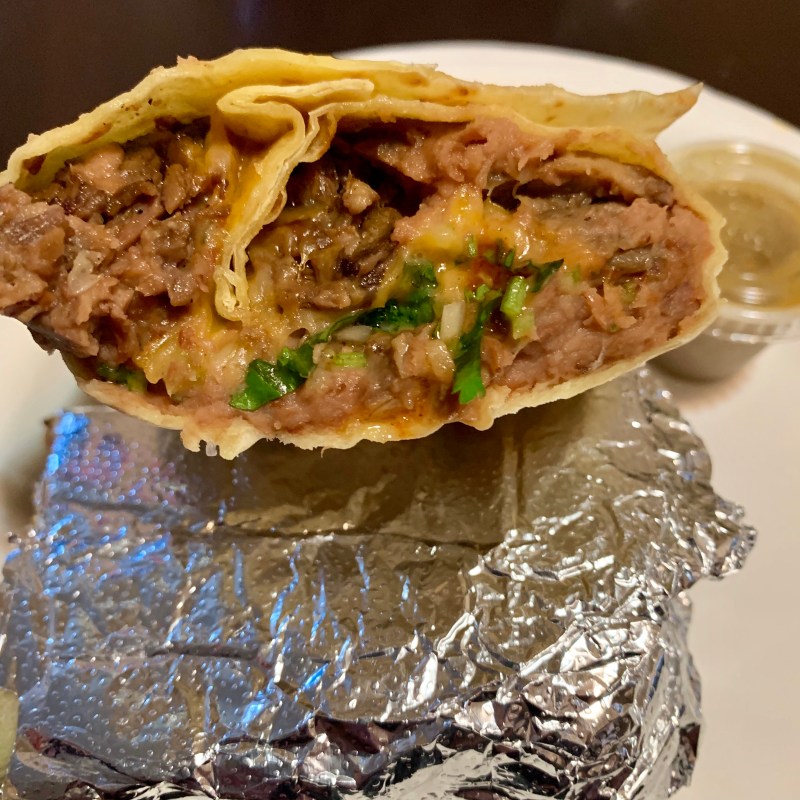 El Chilito ~ Asada Burrito with Cheese
This tiny taquero in Downey has been known by SELA folks for its burritos since the early 80s. The recipes come all the way from Guadalajara and the salsas are so popular, El Chilito keeps an entire fridge stocked with little plastic thimbles filled with red and green.
El Chilito's many burrito options include a very popular wet burrito. But for my tastes, their asada burrito con queso is most excellent. It's not on the menu and you have to make sure you say hold the rice – unless you really like rice in your burrito because they will throw a bunch in there. - Erick Galindo
RELATED: Your Guide to the Best Mexican Food in West L.A.
Everything Else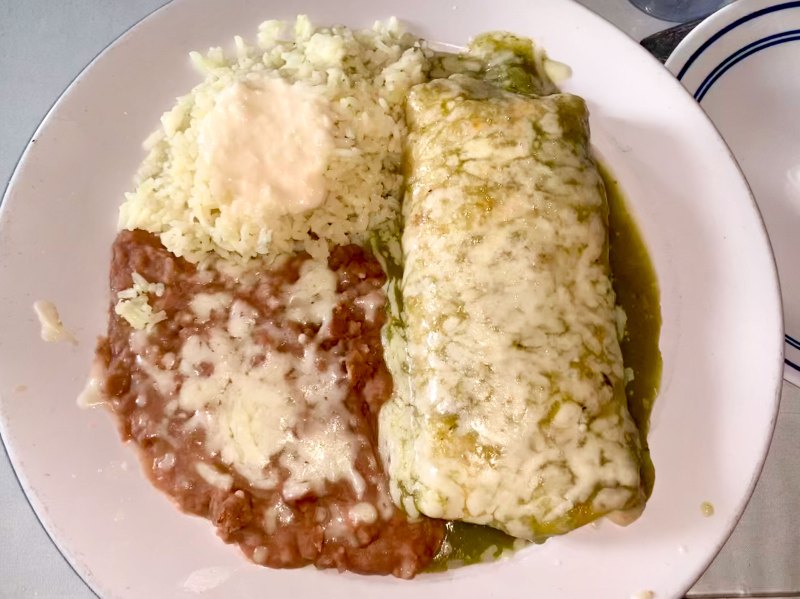 Casablanca ~ Chicken en Salsa Verde Burrito
You know it's going to be a good meal when instead of bread and butter, they bring a freshly made tortilla de harina and butter to your table as soon as you sit down. This place has the best flour tortillas I have had outside of El Espinal in Sinaloa, where my tia would make them outside on a comal sitting on bricks over an open flame. That's pretty much how the tortillas here are made, except the brick stove is sitting in the middle of a replica of Rick's Café from Casablanca.
The themed restaurant is a 30-year-old gem in the Venice community. And it serves a killer combo plate featuring white rice topped with a cheese reduction, refried beans, and a great burrito stuffed with pollo en salsa verde and topped with green sauce and melted cheese. It's as good as Dooley Wilson on piano. - Erick Galindo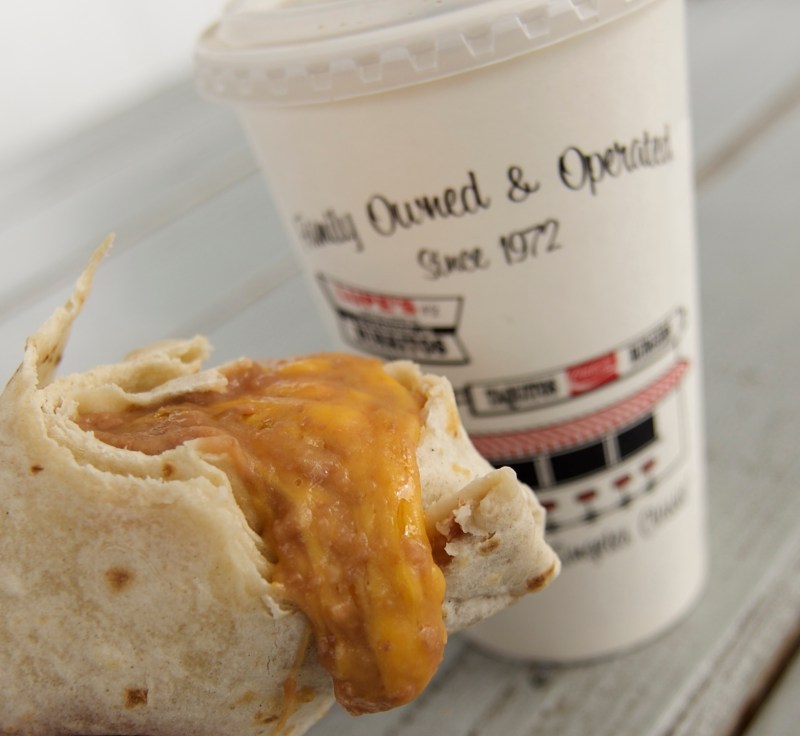 Lupe's #2 ~ Red or Green Bean and Cheese Burrito
This East L.A. landmark has been churning out some of the best Southern-California inspired Mexican American classics for the better part of a century. After taking a bite out of their superb tasting bean & cheese burrito, with your choice of red or green sauce, you will instantly see why Lupe's is such an institution. The next time you're in the neighborhood grab a seat at the counter and place your order as the soft rattle of the Goldline train provides you a soundtrack and taste the love that's been past down from generations. - Gab Chabrán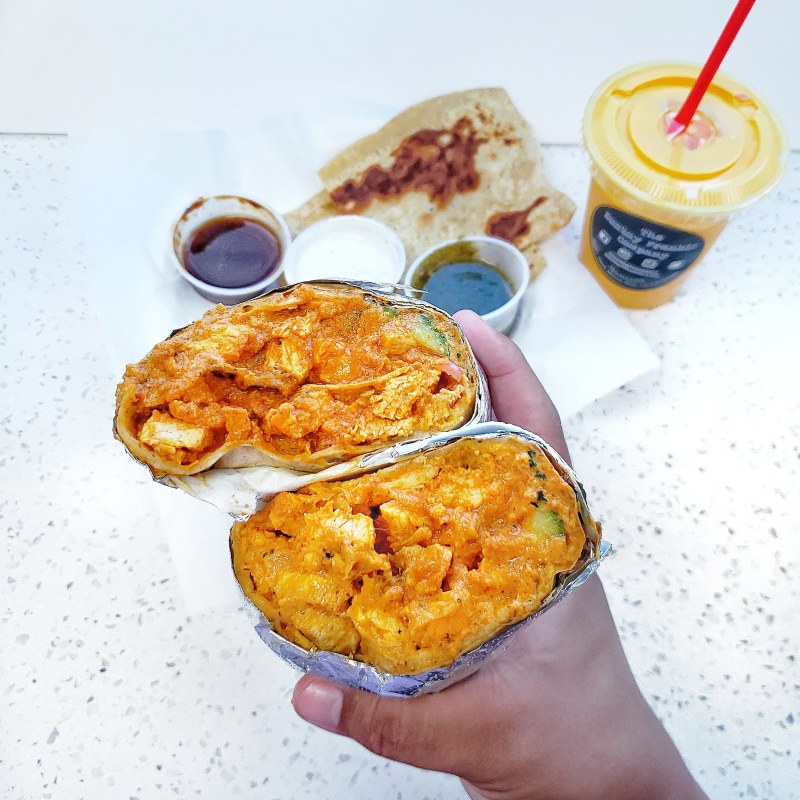 Bombay Frankie Company ~ Chicken Tikka Masala Burrito
Where else but in L.A. can you find an Indian restaurant that sells Indian burritos?! Alright, a Frankie isn't a burrito in the classical sense but it has all the components of one – protein, carbs, and it's wrapped in something. And by those standards, it is entirely a burrito.
The burrito consists of chicken tikka masala (or whatever protein you want), chickpea spread, jeera potatoes, cucumbers, tomatoes, onion, mint chutney, raita, and a tamarind drizzle and wrapped in naan! You can also sub out for a garlic naan or a paratha, which is similar to a flaky scallion pancake. From a socio-political standpoint Bombay Frankie Company is capitalism, food fusion, and enterprise at it's finest. - Cesar Hernandez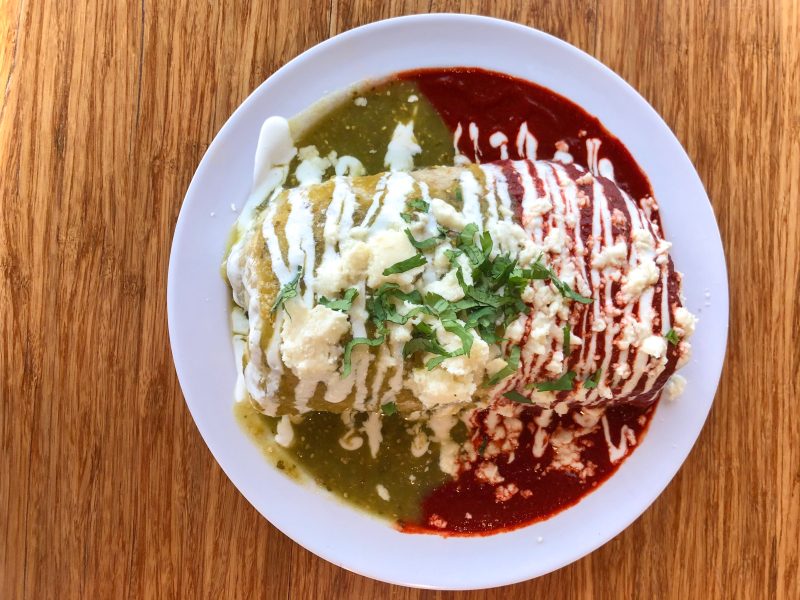 Tirsa's ~ Grand Relleno Burrito
Tirsa's the Grand Relleno is a chile relleno burrito that you can get smothered in multiple salsas. The Grand Relleno concoction sounds insane, but actually when you bite into it, the perfectly prepared chile relleno is just nonchalantly chilling there, as if it always belonged inside a flour tortilla. The chile relleno is both crispy on the outside and soft with melted queso fresco on the inside, along with beans, rice, tomato, onion, and guacamole. The fresh flavors dance together, and it's delightful. – Mariah Castañeda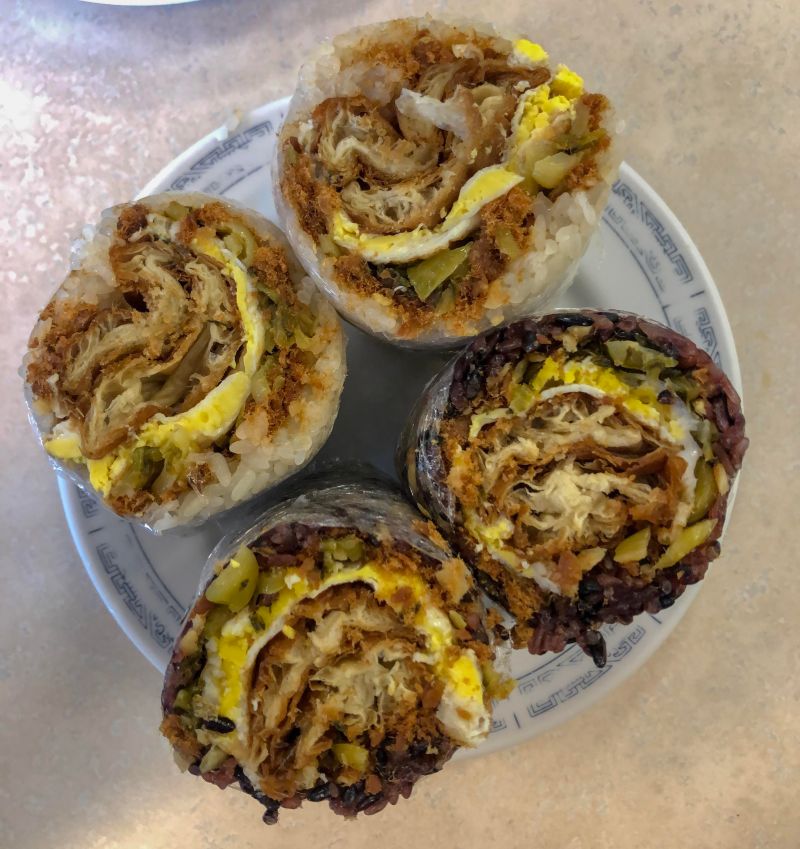 Huge Tree Pastry ~ Salty Fan Tuan
What constitutes a burrito? Is it the ingredients/contents or perhaps the way we consume it? Huge Tree Pastry makes you ask yourself those exact questions while consuming one of their delectable fan tuans, which is a staple of Taiwanese breakfast. Picture an oblong shaped hot sticky rice roll (similar to a burrito) made with your choice of sweet white or purple jasmine rice and packed with pickled radish, mustard greens, braised egg, pork floss, and an Asian-style cruller (think of a combination of churro and donut but not sweet).
The wrapped contents present a set of flavors that you might not be accustomed to but will hit all of those breakfast sensory parts of your taste buds. You get salty from the picked greens and pork floss, crunchy goodness from the cruller, married together perfectly with the sweetness of the rice. Consume it as you would any a conventional breakfast burrito, by adding some of their chili and garlic sauce, or even chili oil like you would with favorite salsa. You can thank us later! - Gab Chabrán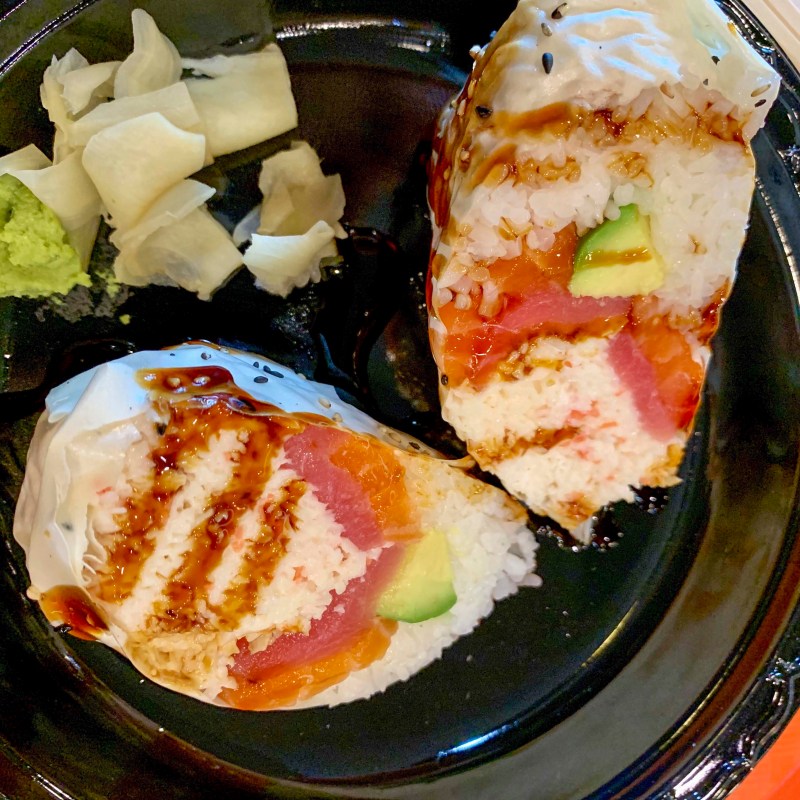 The Rice Teriyaki Sushi Roll ~ Superman Burrito
The Rice Teriyaki Sushi Roll is a classic strip mall sushi joint with a wildly perfect name. It's next to a giant Bristol Farms on a stretch of Rosecrans in Manhattan Beach that's drowning in urban sprawl. The sushi master has remained unchanged since I first started coming here seven years ago. But he can't or won't speak English or Spanish to me. But the rest of his staff speaks both or just Spanish, so who knows?
None of that matters. All that matters is that his beautiful Superman Burrito speaks in volumes of flavors. It comes with a side of good miso soup and is rolled in soy paper, which means you can see right into the burrito as you eat it. Each bite reveals different layers of the burrito – salmon, tuna, crab meat, white rice, beauty. - Erick Galindo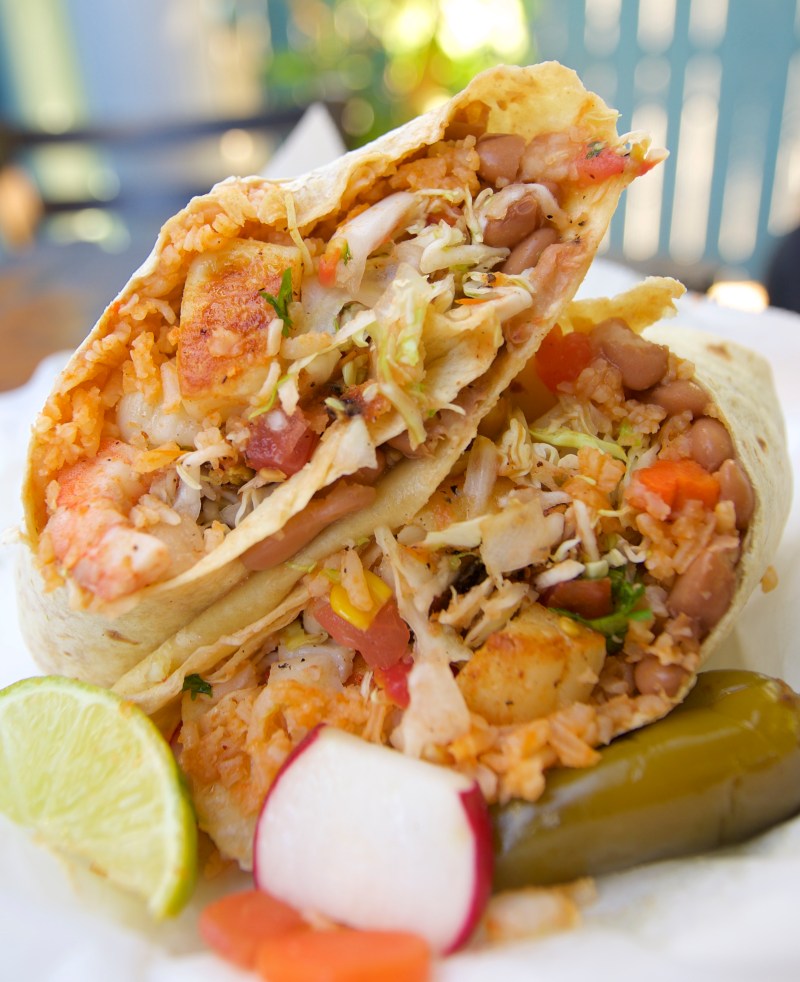 Señor Fish ~ Shrimp and Scallop Burrito
Rice inside of a burrito can be a contentious issue for purists, however, an exception comes in the form of the shrimp and scallop burrito found at Señor Fish in Eagle Rock. It's located in a long-standing Craftsman-style house turned restaurant and has a great outdoor patio area that makes for the perfect setting.  
The seafood combination, that you can either get grilled or fried mixed together, creates something akin to paella in terms of its flavor profile  The sweetness of the seafood mixed with the flavors of the rice, beans, pico de gallo, and cabbage make for mélange of goodness. After taking that bite, you might find that you picture yourself on an island somewhere where you can feel the sand between your toes. Pair it with one of their delicious agua frescas or even a frosty mexican lager for the desired full effect. - Gab Chabrán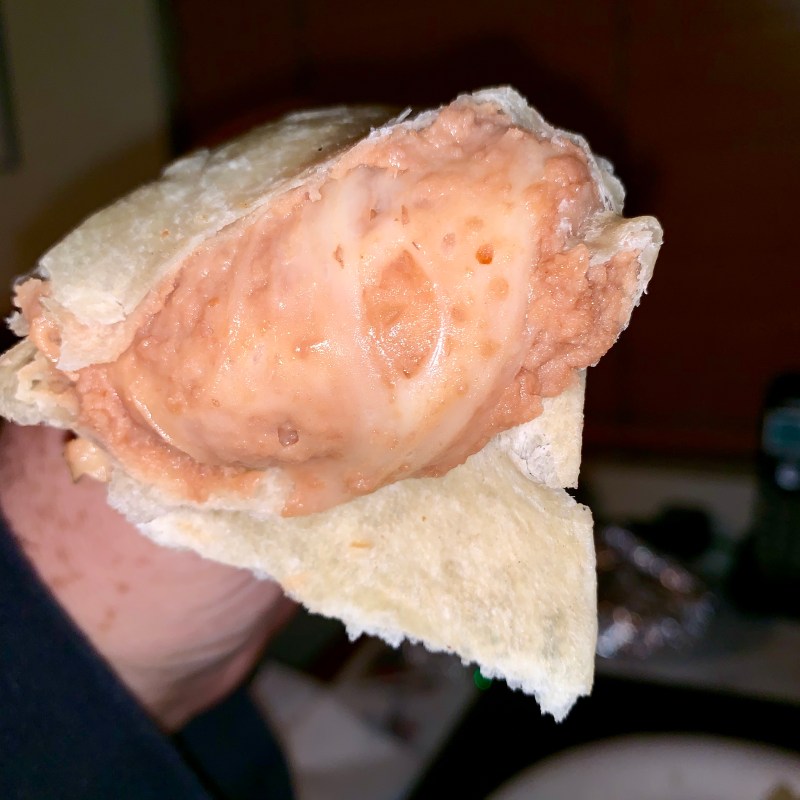 Taqueria Zavala No 1 ~ Bean and Cheese Burrito
Zavala is a hole in the wall on Garfield Avenue. There's hardly ever any legal parking but people are usually there to pick up and head out so it moves fast. The tortillas are handmade and so is the salsa. But the real star here is the beans. The taqueria – which pretty much boasts a great menu across the board ~ makes perfect frijoles with just the right balance of animal fat, legumes, and cheese.
As an added bonus, on Taco Tuesday they sell four tacos for $5 and the proteins at Zavala are also quite good. ~ Erick Galindo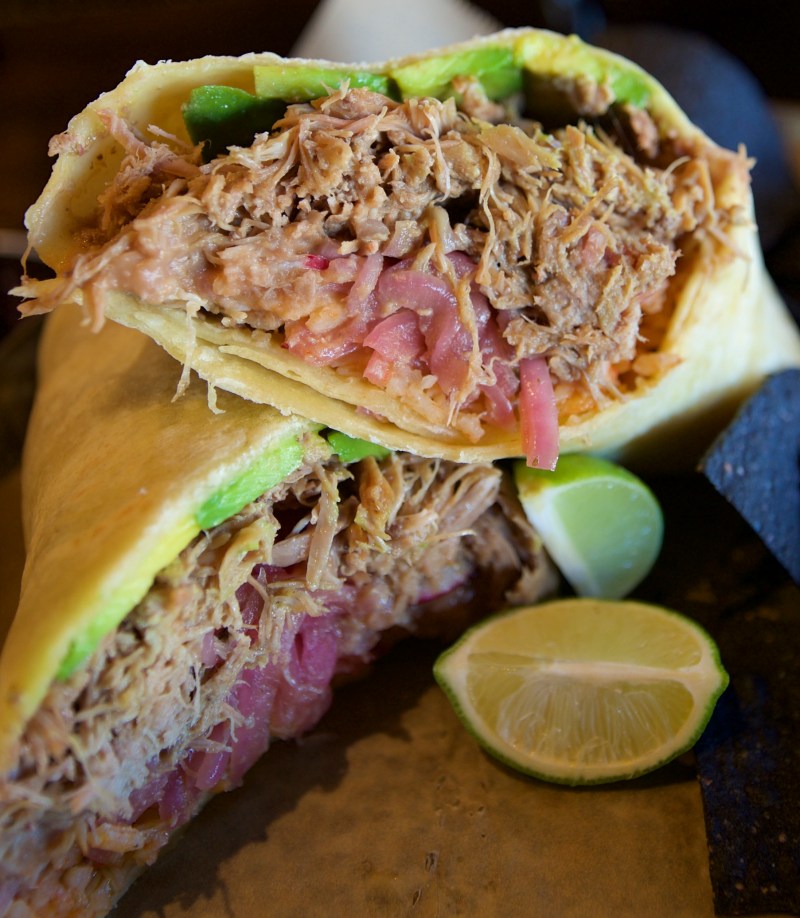 Cacao Mexicatessen ~ Carnitas de Pato Burrito
For the ultimate stunt burrito, look no further than the Cacao's carnitas de pato burrito, which is filled with rich and juicy tasting duck confit, along with fresh sliced avocado, pickled red onions for that added acidity, and fresh tasting radish for that right amount crunch. It's all topped with salsa macha that is made with heavenly combination of dried chiles, peanuts, and herbs for a thick and spicy, not to mention satisfying, bite. Don't sleep on Cacao's excellent selection of vinos from Baja's own Valle de Guadalupe region to serve as the perfect accompaniment to your meal. You are eating duck after all. Treat thyself. - Gab Chabrán
RELATED: The Best Hangover Food in L.A.
RELATED: It's All About the Bread: The 10 Best Tortas Ahogadas in Los Angeles
Erick Galindo is a contributing Editor to L.A. TACO. He writes the Mis Ángeles column for LAist/KPCC and has written essays on food and culture for the New York Times and Los Angeles Times.
Stay in touch
Sign up for our free newsletter