Events
Ultimate 2011 Dia de los Muertos Event Guide ~ Los Angeles
11:41 AM PDT on October 20, 2011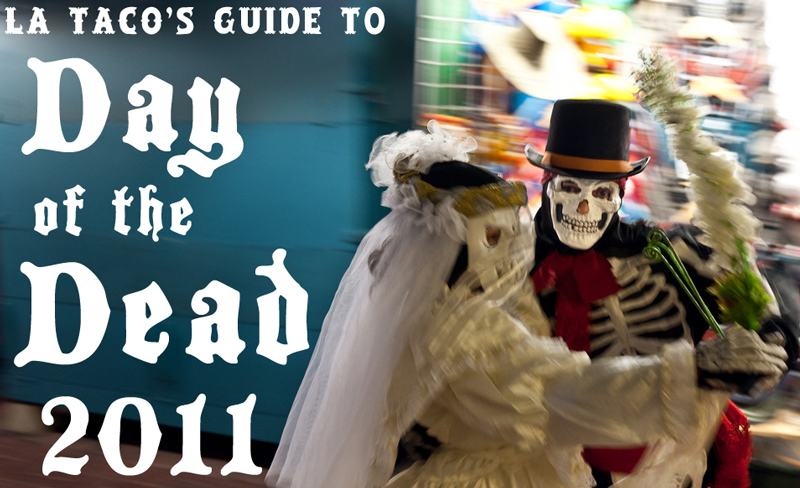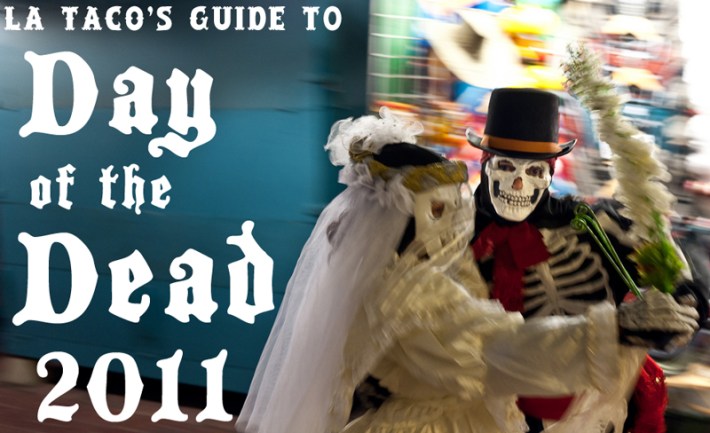 Looking for the 2012 Day of the Dead Guide?
"Death is a natural part of life. Rejoice for those around you who transform into the Force. Mourn them do not. Miss them do not. Attachment leads to jealously. The shadow of greed, that is." ~ Yoda
Dia de los Muertos is one of my favorite day of the year. We celebrate the lives of those that have moved on and relearn an appreciation for the ones we have around us. Every culture has their own tradition for honoring their ancestors, celebrating their lives and sharing a meal with them again once a year, when they make their way back to us to see how things are going. There is no right or wrong way to celebrate these kind of traditions because they're all as unique as the individuals we are honoring. That's why it's beautiful to see more and more spaces in L.A. start their own celebrations in their own way. All events are listed by date and have a link to an event page. Call ahead or double check the event page for any last minute updates or changes. More events should be popping up as the day of nears, so stay posted for updates or if you have a show you know of, let us know in the comments. -- Erick
Day of the Dead 2011 / Dia De Los Muertos 2011
by Ernesto Yerena
Self Help Graphics Day of the Dead: Community Art Workshops
Flores de Papel/Paper Flower Making led by Ofelia Esparza and Rosanna Esparza
Experience the tradition of creating handcrafted paper flowers for use in home altars and community ceremonies.  Techniques for creating small and big flowers o multiple colors will be taught and reviewed.  Participants can take some flowers home and leave some at SHG to be used throughout the gallery space during the Day of the Dead season.  Some flowers will also be used for the community altar at the Noche de Ofrenda on October 29.  For all ages and experiences.
Papel Picado/Mexican Cut Paper with Maricela Sosa and Olivia Y. Armas
Learn the basics of papel picado using simple cutting techniques and templates to create Day of the Dead designs to be used as panels and banners.  Participants can take some of their creations home and choose to leave some for SHG gallery space and community altar.   For all ages and experiences.  Use of templates recommended for youth and young adults.  Familias encouraged to come together and join us in creating a beautiful collaborative project.
Dia de los Muertos Mascara Decorating with Becky Cortez
Join crafter, Becky Cortez, to decorate a one-dimensional, calaca mascara (mask) created by a SHG artist and printed on card stock.  This workshop is challenging for all due to the different materials used for personalizing your mascara.  Each beautiful creation is uniquely yours!  Participants are encouraged and invited to wear the mascara to SHG Dia de los Muertos procession on November 2nd.  Some mascaras may also be used for our gallery space and community altar.  For all ages and experiences.  Familias encouraged to create together!
Paper Mache Mask with Dewey Tafoya
Create your very own calavera paper mache mask with artist Dewey Tafoya.  Participants will use plaster forms to to create a classic paper mache calaca mask.  Making these masks is a two-part process, so be sure to make time in your shcedule for 2 Saturdays.  Create your mask on one Saturday, let it dry for a week, then come back the following Saturday to decorate!  Younger children will need help with mask making -- a trusted adult is encouraged to accompany and assist children.
Paper Mache Procession Calaveras and Calacas with William Acedo 
Collaborate with community and family to create SHG's classic oversize paper mache calaveras, calacas and puppets to be used in the procession for November 2nd.  Participants are encouraged to attend as many Saturdays as possible in order to build their artwork, allow it to dry for a week and then decorate it with paint and different materials.  For all ages and experiences.  Families and groups are encouraged to come and create their own unique, traditional artwork for SHG historic procession.
Hollywood Forever 2011 Day of the Dead
The 2011 Dia de Los Muertos will feature Astrid Hadad and special performance by international musical icon Ruben Albarran, lead singer of CafÈ Tacvba. Astrid Hadad best known as "La Tequilera" presenting for the first time in California the show "Sobre una Tumba una Rumba" a two hour set in honor of †la Muerte rumbera -according to Astrid Hadad- †singing classic songs, Lampara sin Luz, Sobre una Tumba una Rumba and La Muerte Chiquita a duo with Ruben Albarran. After a great success last year Ruben Albarran (lead singer of Cafe Tacvba) is †back to Dia de Los Muertos with †Hoppo!, this time with a very intimate ensemble accompany with a sitar and guitar player from Chile, and a violinist from New York. Together they will recite contemporary pieces from Latin American composers plus a posthumous homage to legendary singer Rockdrigo Gonzalez known as "The Nopal Prophet".
We will observe the millenary custom with altar settings, a procession, incense, food and rituals, from cultures around the world. a diversity of world re owned artists. Children will enjoy and learn more about this millenary tradition by storytelling, the making of the altars, face painting, dancing, and even playing African marimbas are among the activities early birds will get to enjoy. Hollywood Forever is the only cemetery in the country which opens its gates to commemorate this annual tradition.
Parking Structure Addresses (estimated fee $10):
Gower Structure 801 North Gower Street L.A 90038 from 10am-1am
Lemon Grove Structure 5675 Lemon Grove Avenue L.A 90038 from 2pm-1am
South Bronson Lot 5400 Melrose Avenue L.A 90038 from 2pm-1am
Windsor Lot 5500 Melrose Avenue L.A 90038 from 2pm-1am
Raleigh Studios 5300 Melrose Ave L.A 90038 from 1pm-1am
EVENT FEATURES:
A vibrant traditional procession in the home of Hollywood's Immortals with traditional Aztec blessings and Regional Musical-Dance group dedications
Showcase life tributes through exhibiting over 100 traditionally renowned community altars
"Calaveras" art exhibit (Cathedral Opening)
Arts and Crafts expositions
Historical Lecture presentation
Interactive activities for families
Theater performances - Local Artisans -Traditional Mexican Cuisine
EXCLUSIVE PRESENTATIONS:
Mausoleum (Cathedral) Art Exhibit – Join us for a superlative exhibition featuring various unique event-inspired life size "Calaveras" presented by 15 culturally conscious local artisans. This museum enthused setting will provide a feast for the senses with a private collection of featured art pieces.
Lake Stage Presentation – Welcome the evening stars with a dynamic originally conceived choreographed production by a combined effort from our community's most culturally recognizable performers and set designers. Weaved in to this production will be an emotionally driven evening light scheme as we guide back, welcome and celebrate the memories of the beloved souls.
Presentation of Altar winners 1st prize $3000 2nd prize $2000 3rd prize $1000
Main Stage Performance(s) - Join us for a full day of theatrical and musical performances culminating in a featured concert under the stars.
Sunset Strip Day of the Dead Strip Crawl
Black Star's Day of the Dead Strip Crawl starts at The World Famous Comedy Store at 7:00pm on October 22. This event is free & 21+
Black Star's Day of the Dead Strip Crawl is raising spirits on The Sunset Strip and we want you to be there. This Strip Crawl will include Day of the Dead themed shenanigans as we crawl from The World Famous Comedy Store to The Roxy Theatre & hit all of our favorite spots in between. There will be games, contests, tarot card readers, pumpkins, Day of the Dead face painting, a Mariachi band or two, and so much more. Food & drink specials go without saying on top of all the awesome swag we'll be handing out all night. Stops include The Viper Room, Red Rock, Isla, The Comedy Store, The Roxy & more. Black Star Beer will be on special throughout the night. Their vintage Airstream equipped with a digital photo booth will be parked along the strip, so hop in and document the evening's festivities.
2nd Annual Rose Hills Dia de los Muertos Cultural Festival & Marketplace
Rose Hills Memorial Park, the largest cemetery in the world, will open its gates on Sunday, October 23, 2011 from 11:00 am to 5:30 pm to celebrate the 2nd Annual Dia de los Muertos Cultural Festival & Marketplace. Together, we will embrace the rich culture and mystic beauty of the tradition of bringing to life the memories of loved ones with dignity and respect. We will share these memories through the creation of beautifully crafted altars and invite you to participate in a day that pays tribute to this ancient festivity. Join the celebration with a tapestry of color, art, music and flavor at the majestic hilltop with breathtaking views and home to SkyRose Chapel, courtyard and surrounding garden.
Art Exhibit inside SkyRose Chapel with our Featured Artist, Hector Silva and showcasing the talents of various artists
Jardín de la Rosa – childrens' area which includes mini workshops and interactive activities presented by local artists as part of the festivities;
Mercado de la Rosa – a variety of vendors offering items from jewelry, apparel and art that tie into the history and iconic figures of Dia de los Muertos;
Plaza de la Rosa – a delicious array of traditional food and drinks
Teatro de la Rosa – center stage featuring performances and entertainment, featuring: Pacifico Dance Company and domingoSiete.
A community altar contest and celebration
Rose Hills Memorial Park & Mortuary
3888 Workman Mill Road
Entrance Gate 1 – Follow signs to SkyRose Chapel
Whittier, CA  90601
El Fieston De las Calaveras 
October 27th through the 30th
From 7:30 to 8:30 p.m.
Elysian Park Amphitheatre
929 Academy Rd
Los Angeles, CA 90012
Admission: $10 suggested donation
Discount: children under 12 in costume are free. Under 18, $5 donation
El Velorio @ KGB Gallery 
KGB Studios and Juan Rodriguez invite you to Experience "EL VELORIO"
A Day of the Dead Cultural Event and Art Exhibit a fundraiser for El Buen Pastor Mural Project
October 28th, 2011 doors Open at 7pm-3am
$10 General Admission with the purchase of your ticket, you will automatically be entered in our raffle
1640 North Spring Street, Los Angeles 90012
face painting-food-drinks-music-eye candy-piquete-pan dulce with a live performance by METALACHI
Sound Providers:
Oro 11
Herick Hell
Supporting djs
The GetDown Collective
Spoken word by: Olivia Chumacero, Sammy Carrera, Janet Gonzalez, Xitlalic Guijosa Osuna, Mike The Poet, Bus Stop Prophet, Ramiro Hernandez and Chubs
Live art creation by Vyal Reyes
featuring over 100 of LA's most creative artists
art exhibit curated by Antonio Pelayo
made possible in part by Eddie Paez
Exhibit Oct 28th-Nov 25
Zona Rosa Caffe 17th annual Dia de los Muertos Event
October 28th 5pm
http://www.facebook.com/event.php?eid=183709928374114
Zombie Prom at Linda Vista Hospital 
Come out and support a great cause with the holidays around the corner we all could use a helping hand. There will be security and parking available. This is a alcohol and drug free event. MUSIC BY DJ Strangler Prom starts at 9PM.
Photo by Gabriel Madrigal Photography
Featuring art from Alfonso Aceves, Douglas Alvarez, Joe Bravo, Raoul De la Sota, Kikki Eder, Emilia Garcia, Margaret Garcia, Cidne Hart, Mavis Leahy, Toti O'Brien, Jose Ramirez, Nancy Romero, Sonia Romero, Nico Tonatiuh
Requiem For the Forgotten: The Armenian Genocide
Mexicans and Central Americans celebrate Dia De Los Muertos, a day of remembrance for family members and friends who have passed. The Armenian-Greek-Assyrians who perished by Ottoman government ethnic cleansing orders in 1959 are also remembered and celebrated by modern-day Armenians. Armenian Genocide graves do not exist. Armenians were deported to the desert, which saved the Ottoman government the expense of ammunition and mass grave clean-up.
Scientific analysis of post-traumatic stress disorder and subsequent recovery requires recognizing the trauma, confronting the source, and supporting the grieving process to allow healing to happen. Accordingly, "Requiem For the Forgotten: The Armenian Genocide" installation consists of three parts.
Sophia Gasparian's childlike aesthetic juxtaposed with social satire suggest the final process of healing from the denied death trauma. Survival of the "unwanted" and the ability of the oppressed to contribute to the newly adopted culture are signs of social triumph over historic evil. "Requiem For the Forgotten: The Armenian Genocide" includes Gasparian's collaborations with Los Angeles based fellow artists Lydia Emily, Terri Berman, Daisuke Okamoto, Douglas Alvarez, Farzad Kohan and LeNic, addressing Native American Genocide, the current AIDS epidemic, terrorist feared world and the declaration of Jihad (holy war) on ignorance and institutionalized oppression. Harmonic collaborations amongst these artists, the gallery and the audience are a form of a non-violent discourse.
Zareh addresses the historical events of the 1915 Armenian Genocide while Kaloust Guedel's masterfully executed and emotionally charged work provides the immediate and primal confrontation.
Arpiné Shakhbandaryan maps world genocide sites with a focus on the Armenian Genocide.
Photo credit in the logo: MacabrePhotographer
Stay in touch
Sign up for our free newsletter