Sponsored
'To People of Color, Never Oppressed:' Xibalba's Bilingual HardCore Approach Is Still Here to Rattle Your Skull and Push You Into the Pit
11:43 AM PDT on August 19, 2021
[dropcap size=big]A[/dropcap]t one of their recent shows in San Jose, in between the kicks to the chin and punches to the chest in the pit, the Pomona-based hardcore-metal outfit Xibalba broke up the heaviness of their music with a calming tribal beat of a drumbeat and ayoyotl (Aztec jingle). 
Examining the band's song titles and lyrics even further, it becomes abundantly clear the group makes a solid effort to convey their own Latin identity as a factor in each of their absolutely brutal songs. All four LPs are titled in Spanish, as well as bilingual lyrics that make up their songs. Even the group's name Xibalba comes from Mayan mythology, referring to an entrance to the underworld. The decision to sing in Spanish came from wanting to showcase to audiences just who the band was and where they come from. 
In that same set in San Jose, Rebolledo makes a dedication right before Xibalba performs "Guerrilla." In his blood-curdling signature Spanglish growl, he shouts at the top of his lungs: "To people of color, never oppressed."  
Rebolledo explains his bilingual style, "It's a very open window for us to say, "Oh, hey, this is who I am or who we are as people '' We wanted to be blatantly prideful. This is who we are. This is what we do." It's a move that allows the group to connect with members from their community who often don't speak English, Rebolledo explains. He hears from fans who are always excited that they can still connect with the band's lyrics. 
That connection is vital to Rebolledo because he was in similar shoes at one point. Raised in Guadalajara and born in the U.S, he recalls the difficulty of learning the mechanics of both languages at the same time. It left him with an experience that is very much a part of who he is today and, by extension, Xibalba's music.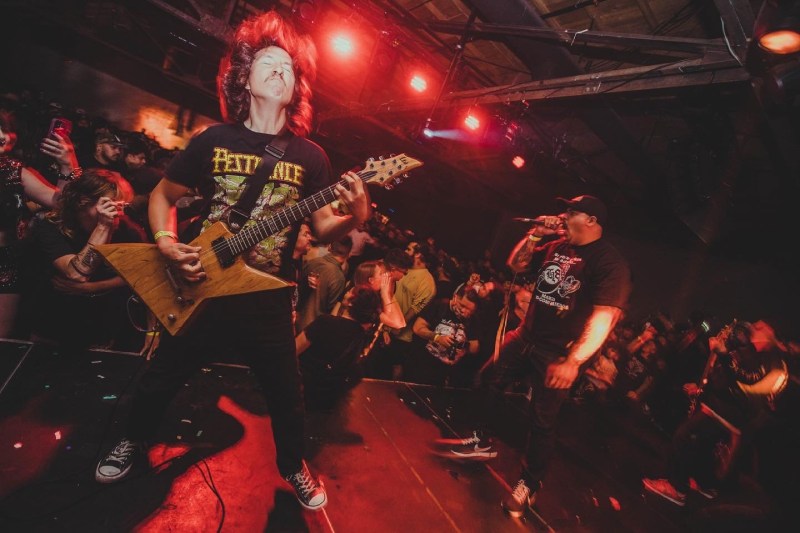 That sense of pride also comes from the reality in the hardcore scene throughout a majority of the United States tends to lean heavily white. "It was sporadic to see a bunch of big Brown dudes on a stage," says Rebolledo. When he first started going to shows as a young person, he recalls, that simply wasn't the case. "It's cool to bring the platform that there are from other walks of life such as different ethnicities and backgrounds,'' he explains. 
Recalling when the group was playing in Argentina, a promoter came up and asked if "everything was cool." Confused by the question, Rebolledo asked why he was asking, and the promoter responded that he had heard Mexicans from Los Angeles were violent gang members. Looking back on the surreal moment that occurred in a Spanish-speaking country, Rebolledo exclaims, "Just because I'm Mexican doesn't mean I I have to be a fucking cholo. I like punk".
Despite any stereotyping that Rebolledo and his bandmates have suffered, they've made up for it in universal adoration. The band released "Hasta LA Muerte" in 2012, representing an artistic leap for the band, having achieved a perfect combination of infused hardcore and doom metal. Having production help by Nails drummer Taylor Young along with SunnO guitarist Greg Andersen playing on a few backing tracks. The record allowed that band to continue to grow exponentially in terms of their sound. 
"It was sporadic to see a bunch of big Brown dudes on a stage."
According to Rebolledo, the gradual effect of achieving a specific sound, whatever particular sound it may be at the time, always existed as part of the band's core identity. This came from the mixing of various frequencies for the group, who came up playing backyard shows. Playing shows in places like their hometown of Pomona to below the boulevard sections of unincorporated parts of Whittier and Boyle Heights—allowed them to pick up a brevity of regional sonic residuals, musically speaking, from each place they played along the way.  
A song like Bright Sun from the band's first release, Madre Mia Garcias Por Las Dias (2011), begins with the sound of a weighty guitar-toned intro before jettisoning into an atmospheric sludge-scape. It serves as the meat and bones of the song that takes the listener on a unique journey. Rebolledo's vocals enter with a characteristic growl while he sings the lyrics: "The sun hasn't got any brighter/And the days haven't got any longer/ As the time progresses, and my heart seems to get emptier." 
Instances such as those, it's not hard to imagine words such as these fitting alongside such early work of The Smiths or Depeche Mode or even a lovelorn bolero if you choose to get down like that.
From the beginning, Xibalba took cues from 90s hardcore acts Disembodied and Sepultura. According to Rebolledo, it was always in the cards for the band, despite never making a conscious decision to continue to evolve the group's sound as part of a natural progression to keep it interesting. "It was never like, I want to make this different. If you look at the span of each record, we've done four records in 15 years. So it's like, between every record is four years. So it was just natural that we wrote something different," Rebolledo explains.
With each release, Xibalba has sought to dig deeper into the realm of darker and more distorted soundscapes. The group's ability to look beyond what is possible each time they recorded an album. Doubling down by not simply relying on a particular set of characteristic sounds or genres. It's these same abilities that have afforded them to continue to find new audiences. Rebolledo notes, because of that, it's not uncommon for the group to play a punk show or a metal show. However, Rebolledo notes that the metal audiences are almost always the most honest when they tell what they think of your work.
In April of 2020,  the group released Años En Infierno. The release of the LP marked a difference in approach for the band when it came to the songwriting process Rebolledo mentions. This time working with Arthur Rizk who's production credits included Power Trip and Cro-Mags. Guitarist Ortiz and drummer Brunes began building the song structure around drum patterns and guitar work. This process allowed Rebolledo to take a step back while releasing the creative reigns more when the lyrics were the central focus. Also, now the lyrics tackling subjects such as oppression and brutality that are felt throughout everyday life. 
The band is also growing up.
"Our priorities [then] were fucked up,"
Nate Rebolledo remarks to me over tacos and beers in Supply and Demand's makeshift outdoor bar space, located off the busy Anaheim Street in east Long Beach, where the frontman now resides. 
He's recounting a time with the band in their earlier years failed to make a show, instead opting to catch a WWE wrestling match. Frustrated calls from promoters ensued, to which Rebolledo imitated the call with his response saying "uhh..," delivered in a goofy-yet-charming tone and a smile.
"It doesn't apply just to Latinos and other members of the Mexican community. It's for all walks of life. Women, the LGBTQ communities can play [hardcore] and be accepted and not just a white dude with long hair. It could be a Mexican dude...it could be someone who's transgender...it could be a female singer."
Despite those growing pains of not showing up for the occasional show, Rebolledo, along with guitarists Brian Ortiz and Martín Stewart, bassist Jensen Hucle and drummer Jason Brunes have stayed current in the L.A.-based hardcore scene for the better part of the past two decades. "We were pretty notorious for not playing a lot of shows. But, of course, we're better now that we are adults. But like when we were younger, it was fucking mayhem," Rebolledo recalls.
The band decided to get serious by hitting the breaks on their grueling full-time tour schedule altogether instead of turning their focus on writing and recording music along with occasionally playing live on their terms. This allowed Xibalba to expand its sound, in the writing process, beyond the confines of the hardcore genre into something else all of its own. 
In terms of what the future might bring in terms of the hardcore and metal scenes, overall, Rebolledo sees a more inclusive environment. In many ways, the music of Xibalba embodies its varied approaches, represents those possibilities. "It doesn't apply just to Latinos and other members of the Mexican community. It's for all walks of life. Women, the LGBTQ communities can play [hardcore] and be accepted and not just a white dude with long hair. It could be a Mexican dude...it could be someone who's transgender...it could be a female singer." 
With good reason, as the band looks towards what's to come, continuing to write new music along with playing the occasional show, which they'll no doubt show up for this time. 
Gabriel Chabrán is a food writer and journalist from Highland Park. He currently lives in Long Beach with his wife Katie, their new baby, and their Russian Blue cat, Mars.
Stay in touch
Sign up for our free newsletter