Film
When Will Latinos Get Our 'Black Panther'?
10:08 AM PST on February 22, 2018
* This post was originally published at Chicana From Chicago.
There's nothing like a fit of jealousy and frustration to get me motivated in a positive way. The recent uproar of the Latino community calling out Hollywood about the lack of Latino representation, juxtaposed with the Black community's successful mobilization towards increasing their representation — which is undoubtedly fueling Black Panther's record-shattering box office this weekend — has jolted me into posting a new edition of Films to Watch Out For Made by Latinos. But first, I want to dig into this question of what can we in the Latino community do if we ever want to SEE A SUPERHERO LIKE US.
I started this blog over ten years ago to raise awareness for American Latino storytellers. I was angry and confused as to why there was a staggering lack of authentic Latino representation in mainstream films, yet at the same time, I was discovering a number of Latino writers and directors in the independent film festival space. Not as many as I thought I would find, truth be told, but definitely a steady number of filmmakers whose storytelling sensibilities reflected a culture I related to. I wanted to use this blog to yell "Yo, there are hella talented Latino writers and directors out here."
As if identifying them would be all it would take to make that change.
It was around that time I kept hearing that ridiculous claim from studio execs and agents that while they would love to champion more Latino talent, they just don't know of any. This statement persists today and is qualified with … 'who are good enough,' or my favorite; 'high-profile enough' (insert fit of frustrated fury and bittersweet irony for that last part).
News-flash: it takes years and lots of money to develop a creator and build the credits necessary before major studio executives come calling and that Oscar stage beckons. Which is why, at the risk of sounding like I'm disparaging the National Hispanic Media Coalition and its valuable advocacy, I don't think that their picketing the Oscars to attack studio heads over Latino exclusion is a fair argument or the most productive use of resources.
It's not like there is a consistently eligible pool of Latino writers/directors who the Academy has been overlooking all these years.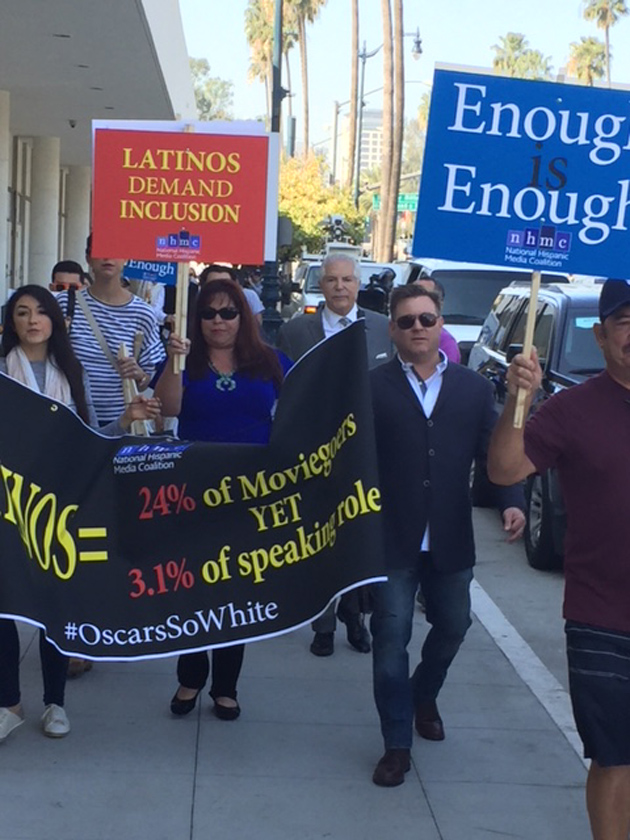 Don't get me wrong. It's a damn shame that Miguel Arteta, who directed Beatriz at Dinner, was technically eligible for a Best Director nomination this year but did not get the campaign needed to make it happen. Or what about Lemon, written and directed by Afro-Latina Janicza Bravo? It's true "For Your Consideration" campaigns are wildly expensive for indie distributors to take on. But we have to ask, what other American Latino writers and directors were even eligible for an Oscar nomination?
Representing the Latino diaspora in the Oscars this year is Pixar's animated feature Coco. But seriously, don't play yourself, people. Disney's long-time-coming co-opt of Dia de los Muertos strategically and conveniently leveraged the co-directed and co-written credit of American Latino Adrian Molina ONLY when talking to Latino outlets and to legitimize its Mexican authenticity. Because oh wait a minute, Molina's name is visibly missing from the official nominee announcement. All I have to say is they better bring his ass up on stage and let him get some words in if they end up winning. And honestly, I hope they do. I genuinely love this movie and like many Latinos, IDENTIFIED.
Let's take a page from the Black community and create our own machine, and do less of that old guard-led raging against The Machine. While there are a number of film organizations aimed at supporting Latino writers and directors to help develop their voices, its critical to support mid-career storytellers so they may continue to master their craft and realize their #brownexcellence. We also need to shift a lot more support towards raising savvy producers. After all the producer is the most critical role for a writer/director to be able to execute their vision.
Getting In the Door
The biggest challenge is how to infiltrate the overwhelmingly white agency and studio system. Real change will come when there are Latinos in decision-making executive roles because then we'll have someone on the inside naturally considering, relating, and understanding the value of bringing in more Latino creators to pitch original ideas.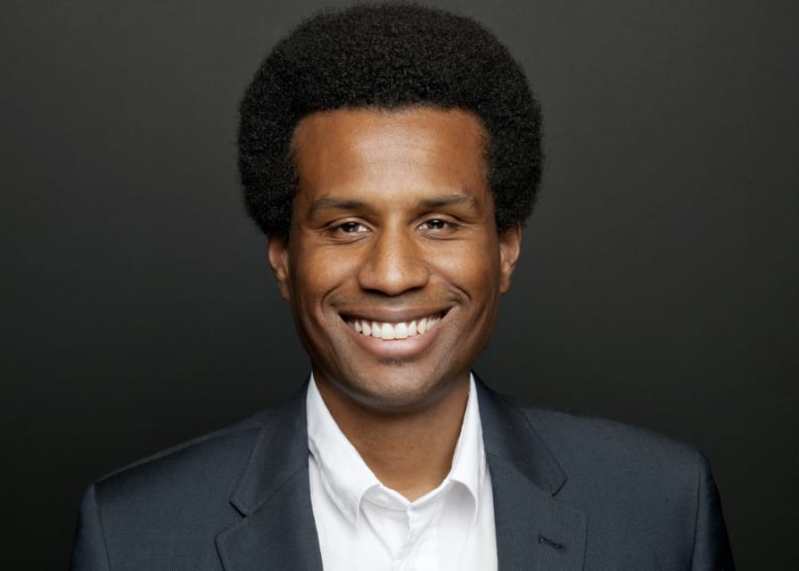 As we know there is a systemic tendency inside Hollywood to reboot proven franchises and intellectual property. So we need to make sure Latinos get the shot to put their spin on them. Just see the African-American community with Tendo Nagenda at Disney backing Ryan Coogler with Black Panther.
By the way, I'm not saying that opportunities should be contingent on creators asked to tell some version of the ethnicity they represent. They should be included and have the opportunity to tell and pitch whatever story they can tell the shit out of. Besides Paul Perez who came to Warner Bros from Pantelion, I don't know of any Latino executive at a major film studio.  
If I'm wrong, please point it out to me.
We need more Latino CREATORS.
Regarding Latino talent on screen, I concede that hiring practices in major motion pictures are more affected by who is on screen rather than the talent of the storyteller. Still, it doesn't diminish the overall long play in-success strategy of focusing behind the camera to position Latino writers/directors/producers. Because as the USC Annenberg Inclusion Initiative study recently discovered, the outcome of hiring more underrepresented directors will organically translate into more opportunities for underrepresented casting choices.
Lastly, supporting Latino culture writers and film critics is vital, like Vanessa Erazo of Remezcla has pointed out with her Twitter thread, because again, those who have a connection or reference to a specific culture can more likely respond and champion the business value of supporting that voice.  This kind of holistic approach from within is more productive than pounding at the gates to demand from a system that does not include our community and one we have already called out as broken be that agent of change. Only then will we see our Barry Jenkins, Ava Duvernays and Ryan Cooglers flex their creative muscles at that next level to gain high profile recognition. And ultimately move the dial on reflecting what our representation actually looks like in this country.
The truth is, I'm getting chills watching the African American community's cathartic joy in celebrating Black Panther's unprecedented success. They have shepherded their own industry leaders from multiple angles and in turn have made the impact necessary to create this unstoppable ripple effect, which is only going to gain more speed with Ava Duvernay's upcoming Wrinkle in Time.
Will and Jada Smith have donated one million dollars to Sundance Institute, which will yield more black creators in the indie to studio pipeline. Charles King's WME background and connection to high profile talent got him to convince investors to get Macro — responsible for producing Dee Rees's Oscar-nominated Mudbound off the ground.
Then there is Oprah, who has the influence and hiring autonomy to bring up a whole network of women and people of color creators. The undeniable and thrilling result of this ecosystem is that more young black kids are beginning to identify with mainstream media heroes!
When will Latinos, who per Forbes will be 30 percent of the country in 2060, experience that feeling and similar "Defining Moment" within my own community.  For a hot second in the 80s, wide release films La Bamba and Stand & Deliver gave our community that sense of validation through representation. It's going to take a lot more work though to pump up the volume so that more than one American Latino writer/director gets the chance to be considered to make a blockbuster and or make a film eligible and backed with the money to cinch a nomination for an Academy Award.  As terrible in reflecting the diverse American reality as those traditional institutions are, they are still key influences in defining mass culture and inspiring the next generation of artists who might suddenly see the viability in pursuing their storytelling art if they see people like them.
In case you are like 'but wait there's been many Latinos who have been nominated or have won Academy Awards' — Don't get it twisted. Keep in mind when I use the word Latino, I make that unpopular distinction between those folks born or raised here who have Latin American and/or Caribbean roots and those born and raised outside of the U.S. That's not to diminish the amazing work of Mexicans like Alejandro Gonzalez Iñnaritu and Guillermo del Toro, or Chilean filmmakers like Pablo Larrain with their recent English language films, but 1) They ain't Latino because 2) there's a disparity of class and resources between aspiring filmmakers born here and those born outside of the States, and unlike their international counterparts, Latinos have been profiled and marginalized as "people of color," a U.S. context that comes with very distinct barriers that keep them from global recognition.
Here is a reality check: the only Latinos nominated in the headliner writing/directing/producing categories has been Gregory Nava in the Best Original Screenplay category for El Norte in 1983 and Lourdes Portillo in the Best Documentary category for The Mothers of Plaza de Mayo in 1985.  In the Best Animated Feature, Jonas Rivera won in 2015 for Pixar's Inside Out, which he shared with Pete Docter.
We damn right will claim the Weitz brothers' nomination for Best Adapted screenplay for About a Boy in 2002. Their grandma Lupita Tovar was a Mexican actor who starred in the first ever Mexican 'talkie' Santa.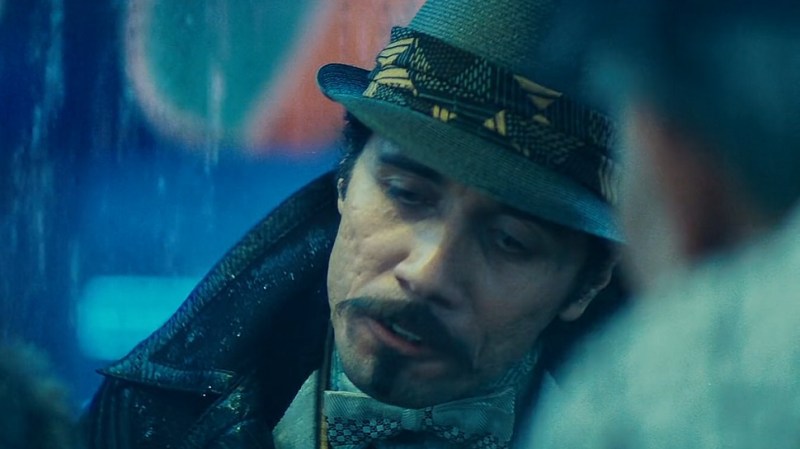 In the Best Actor/Actress categories the first ever Latino was Jose Ferrer nominated in 1949, who won in 1952.  Since then its only EVER been OG Chicano Edward James Olmos in 1982 — who was nominated for Stand and Deliver. That was twenty six years ago!
In supporting roles, nominees include Benicio del Toro —  two time nominee who won for Traffic, Rita Moreno who won for West Side Story, Anthony Quinn, four-time nominated, two time winner, Mercedes Ruehl who won for Fisher King, Rosie Perez and Susan Kohner. That's it folks. More than a minute ago and over the course of 90 years of Oscars. WTF.
What about Robert Rodriguez?
Outside of the Oscar world but definitely more of a pop culture mainstream influence our highest profile Latino writer/director/producers is Robert Rodriguez whose success in capturing a wide audience is due in large part because he likes playing in the genres big studio films generally traffic in.  Machete (2010) is a film that cost under $20 million dollars to make. And its box office made double that (unfortunately the sequel did not do nearly as well). Whether it's the characters in Frank Darabont's Sin City, the beloved Mariachi character, Machete or Spy Kids, Rodriguez has always tapped into his own type of super heroes and world building.
Yet this guy hasn't made a film over $40 million, which is considered low-mid studio movie). If he hasn't proved it time and time again, he can do a lot with a little, so just imagine what mind-blowing next level cinema he can do with a $100+ million dollar film. And at the very top is Roberto Orci.  A writer and producer of the most expensive television and tentpole projects in Hollywood. That's it, right? 1) that's two people 2) dudes 3) who can create (write/direct/produce) at the highest scale of this business.
Needless to say, all of this galvanizes me. We need more Latino CREATORS. I feel the pressure to reach out to my community and do more.  I'll post more frequently about American Latino storytellers. I'm also doing what I can to bring in and develop more Latino voices in my current role as Creative Executive at Warner Bros Digital Network's Stage 13.
And don't forget to check out my latest post 7 feature-length fiction films currently in post that I'm excited for the world to see because they are wildly defiant, visionary, and unique perspectives created by Latinos.
Christine Davila is a longtime film programmer, sometimes blogger, and currently a creative executive at Stage 13.
Stay in touch
Sign up for our free newsletter