Film
Revisiting the L.A. of 'Heat' 24 Years Later with the Iconic Crime Drama's Location Manager
10:56 AM PST on February 10, 2019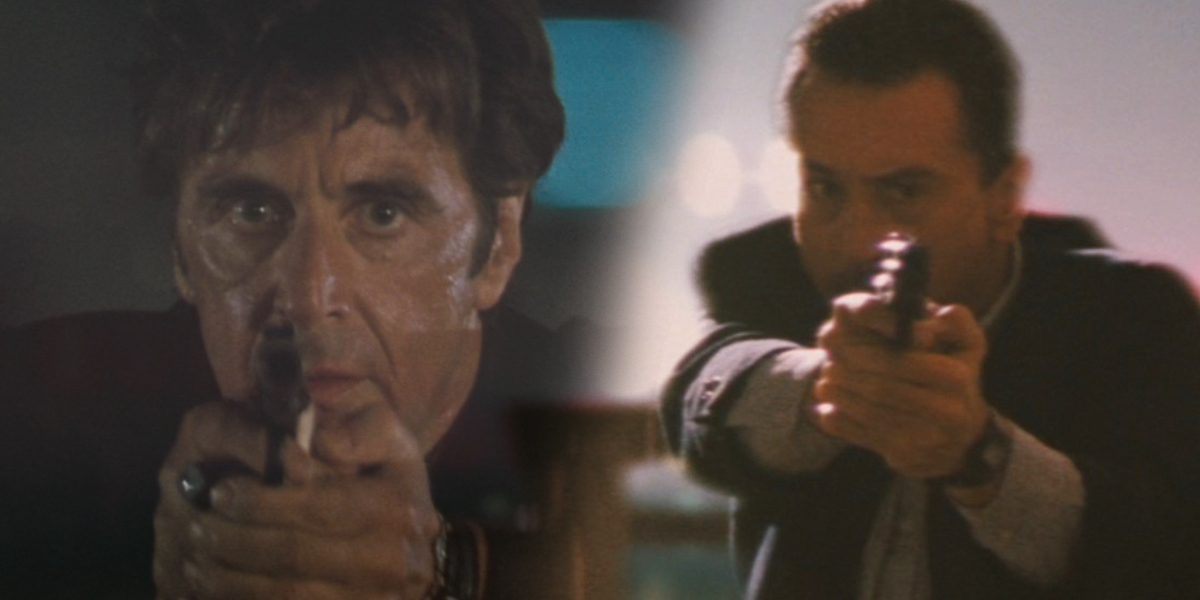 [dropcap size=big]L[/dropcap]os Angeles was once the undisputed champ of what were often brazen, occasionally clumsy, and other times deadly bank heists, skyrocketing to a staggering count of over 2,000 robberies in the region during the early 1990s. Theories ranging from the region's growing population to its complex freeway system, helping to make the perfect getaway, have been attributed to L.A.'s storied rise as the bank robbery capital of the world.
As bank robberies rose, Hollywood took notice, injecting a shot of adrenaline into the long tradition of "stick 'em ups" that dated back to the silent era. From The Driver (1978) and Die Hard (1988) to a slew of films released during L.A.'s heist heyday – Point Break (1991), Reservoir Dogs (1992), The Usual Suspects (1995), Set It Off (1996) – these films flipped the narrative and, in most cases, allowed us to emotionally identify with the thieves – the anti-heroes. Recent L.A. crime dramas like Drive (2011) and Destroyer (2018) have continued to explore the themes.
Perhaps the most authentic, intellectual, and yet visceral, of all bank robbery films is Michael Mann's complex L.A. crime saga, Heat (1995 ) – a film known here as much for its chess match pairing of Al Pacino vs. Robert De Niro as for its use of greater L.A. as the chess board.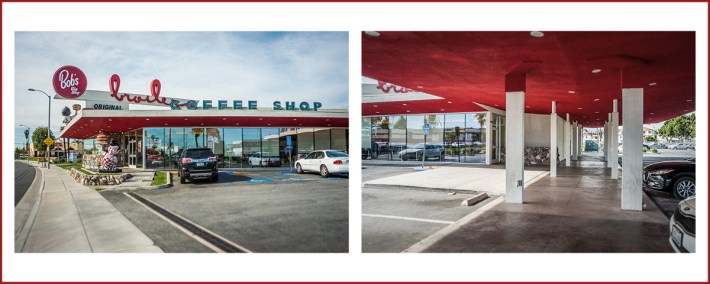 Twenty-four years later, the filming locations of Heat have had their fair share of fame. "Its use of L.A. locations is excellent," wrote Kenneth Turan in the Los Angeles Times. The special edition DVD and Blu-Ray include a behind-the-scenes featurette called Return to the Scene of the Crime, in which location manager Janice Polley and producer Gusmano Cesaretti revisit the film's locations.
L.A. Taco reached out to Polley's colleague and collaborator on the film, location manager and scout Lori Balton. For the purpose of this article, we asked her to consider her favorite locations in the movie; we'd revisit and photograph the places she chose.
She emailed us back with a link to a British Film Institute (BFI) article from January 2018 that explored about half-a-dozen locations from the film and used Google map images to show the places today. Balton wrote us, "Looks like they beat you to the punch! But these are not my favorite locations. And sometimes it's not the actual location, but rather the story and leg work that went into what finally ended up on the screen," she said.
Balton, who has been working in locations for almost 30 years, was the first location professional invited to join the Academy of Motion Picture Arts and Sciences, which she did in 2013. She's highly opinionated, and she doesn't back down to a challenge – or a director. It's a trait she's proud of and one she attributes to the fact that she's sought after and highly respected within her field.
"I really love what I do so I'm not afraid if I'm thinking outside of the box to say, 'Hey, what about this?'," she told L.A. Taco. "Knowing that you could very well say, 'That is the stupidest idea I've ever heard in my life,' or, 'Oh my God, I never thought of that. That's really an interesting way to go.'"
Recent location scout credits on Balton's IMDb page include Quentin Tarantino's highly-anticipated Charles Manson pic, Once Upon a Time in Hollywood, and the long gestating Top Gun: Maverick. She's worked with everyone from Rob Reiner and Paul Thomas Anderson, to Ava DuVernay and Christopher Nolan. And yes, Michael Mann, whom she credits for a big part of her success as a location professional.
"He didn't sit down and teach me, but by what [locations] he refused, by what he rejected, by what he liked, by what his comments were, he taught me how to do my job," Balton explained.
RELATED: Roma Actor Denied U.S. Visa to Attend the Oscars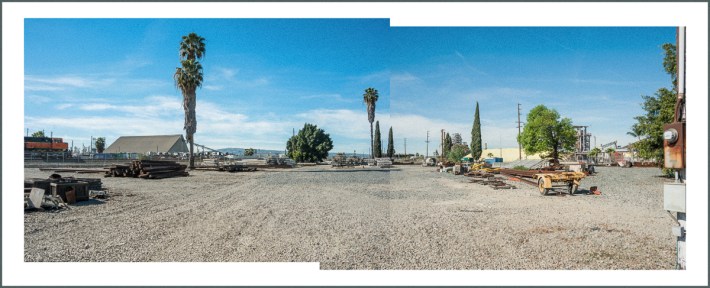 [dropcap size=big]M[/dropcap]ann demanded realism and authenticity in the locations for Heat, the result of which is a tapestry of L.A. places never before seen on film. Balton, who worked on Heat for a year, told us that she was always out scouting.
"You had to really have great respect for the work and the process because if you didn't, you weren't going to find anything special enough for [Michael]. By 'special enough' I don't mean necessarily, Ooo, look at that. You could just be talking about the fact that he needed a certain perspective on a road or something, but it was very particular," she said. "Just this whole idea of having to shoot in South Central as opposed to adding some graffiti and razor wire to something in Santa Monica."
A pilgrimage to the locations from Heat is not merely a nostalgic cinematic excursion. It's a palpable perspective into a director's unparalleled vision of a city that's been captured on film for a hundred years. The journey puts you in the driver seat next to De Niro's Neil McCauley, the heist mastermind evading detection and leaving no trail behind as you jump on and off freeways between Long Beach and Santa Monica, between City Terrace and Beverly Hills.
Buckle up as one of the industry's most respected location professionals breaks down her favorite locations from Heat.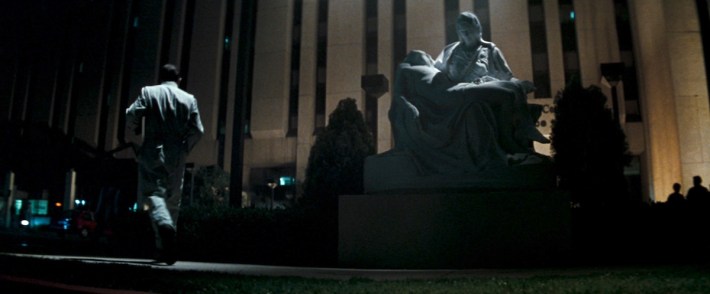 St. Mary Medical Center
[dropcap size=big]T[/dropcap]he emergency room at St. Mary Medical Center in Long Beach was fairly quiet on the weekday afternoon L.A. Taco was permitted to photograph the premises. No paramedics racing about; no rapid-fire medical terminology being barked at eager interns. It was the opposite of what you're accustomed to seeing on every TV hospital drama.
On the day of our visit, two nurses who worked at the hospital when Heat was filmed were thrilled to take a walk down memory lane as we showed them images of De Niro walking through these corridors. The calm of the ER on that Tuesday afternoon was also a far cry from the fast pace of opening scene shot at St. Mary. McCauley steals an ambulance from the hospital, which he uses as a diversion in a masterfully crafted plot to rob an armored truck near the L.A. Convention Center at the beginning of Heat.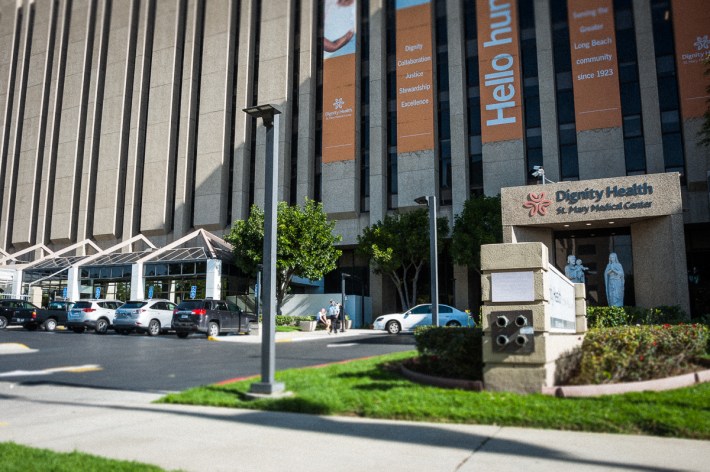 When a film or television show requires a hospital setting, there's any number of permanent, stock hospital sets available for filmmakers to rent for the day or even by the hour if they're really on a tight budget. If there's some cash to spend, closed down hospitals like St. Luke's Medical Center in Pasadena are other viable options.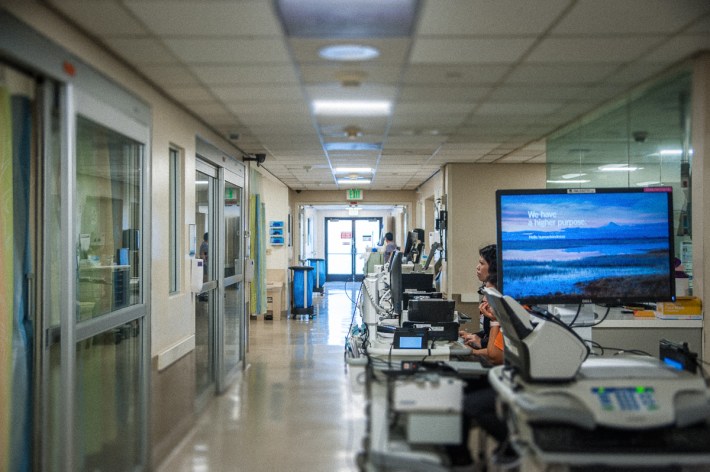 Though St. Luke's was a working hospital when Heat was filmed – it closed in 2002 – Balton said there were a few go-to hospital sets in town during the mid-nineties.
"I think there were two or three of those stock hospitals that we were all hoping [Michael] would go to just because they're so much easier logistically," Balton recalled. "Again, Michael Mann looking for realism in every aspect of the film." She credits Pieter Jan Brugge, who also produced Mann's The Insider (1999) and Miami Vice (2006), for giving her department the time and support to find authentic locations.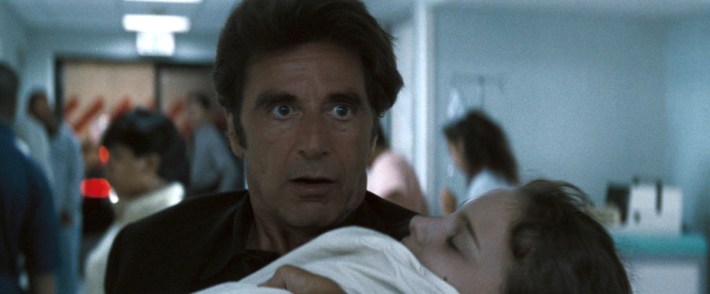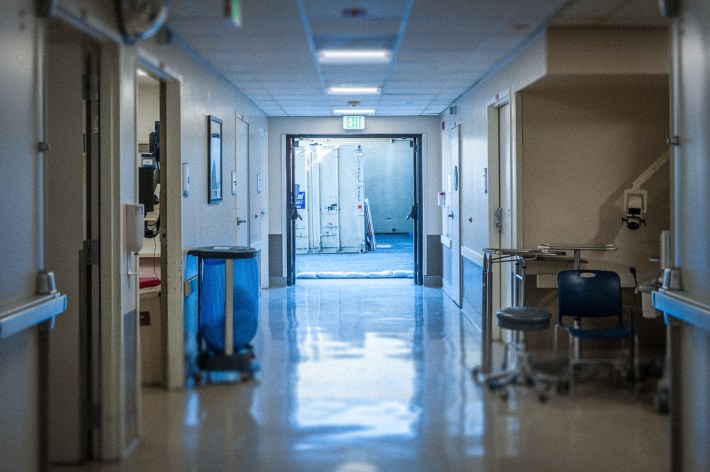 St. Mary Medical Center was originally built in the early 1920s. A 1933 earthquake destroyed most of the hospital, but it was rebuilt soon thereafter.
The ER used in Heat is located inside the hospital's main building that was added the campus in the 1970s. "I loved being able to convince [the hospital] that we could responsibly film in a working ER – that if there was an emergency we would move out of the way," said Balton.
RELATED: Photographing the Filming Locations of Menace II Society 25 Years Later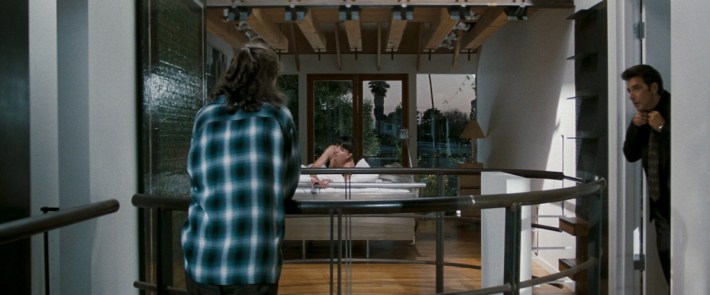 Sixth Street Residence, aka The Blythe & Thom Mayne Residence
[dropcap size=big]'D[/dropcap]ead tech, post-modernistic, bullshit house." Hanna's description of his wife Justine's (Diane Venora) house – built by her architect ex-husband whom we never meet – further enhances this theme that Pacino's cop character doesn't fit into the mold of L.A. norms.
"That is the point with any location – is that it's supposed to telegraph to the viewer everything about the character so that you don't have to go into the whole backstory," Balton said.
The home Mann chose surprised Balton because the 3,000 square feet, 24 feet high remodeled duplex in Santa Monica didn't appear to offer a lot of space in which to shoot.
The Sixth Street Residence, designed by renowned contemporary architect Thom Mayne, is a Rubik's Cube of metal and glass block walls, protruding light fixtures that extend from cut out slats in the ceiling, and exposed concrete and wooden frame.
Balton said that when Heat was filmed, the home was not a famous architectural piece like other buildings designed by Mayne through his Culver City-based firm, Morphosis. Balton said if she's looking for a specific type of contemporary house she will often go directly to the architects with whom she's built good relationships. "They really appreciate getting their work seen and out there," she said. "And for us it's great because they understand so much about design they can maybe say, 'Well, if you didn't like this house, my friend designed a house that I think might work.'"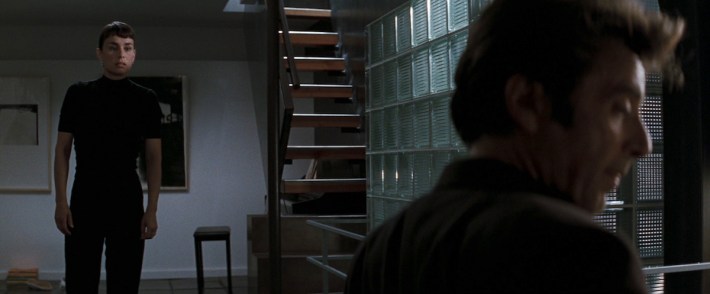 The challenge of filming at the Sixth Street Residence, however, wasn't due to its size, but rather the city in which the home resided, which Balton has dubbed "the People's Republic of Santa Monica." Scenes in the film required some nighttime shooting at the house, which posed a problem: Santa Monica doesn't typically allow evening filming in residential neighborhoods, Balton explained.
She passionately described to us having to attend multiple city meetings in an attempt to get permission to film at Mayne's house at night. "I have 100 percent signatures from every neighbor," she recalled telling the Santa Monica city council. "How can you tell me I can't be there because I'm disturbing the neighbors? Here are the neighbors saying I'm nice, I'm fine, I'm taking care of them." Balton eventually got the permit.
L.A. Taco corresponded via email with Mayne's wife, Blythe Alison-Mayne, but we were not permitted to photograph the location's interior because tenants currently occupy the house.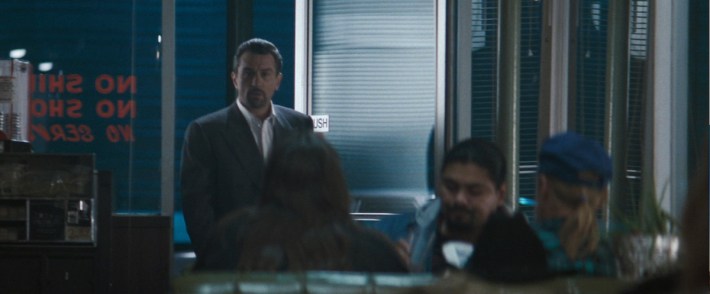 Johnie's Broiler
[dropcap size=big]O[/dropcap]perating under the name Bob's Big Boy Broiler since 2009, the Googie style drive-in restaurant located in Downey has a storied history of its own, separate from its use as a popular filming location.
The restaurant originally opened as Harvey's Broiler in 1958, named after its owner, Harvey Ortner. The diner was specifically built on the site of Ortner's poultry farm, which had the advantageous position of being located on a bend in the road on Firestone, which created the illusion for drivers that they were headed straight towards a restaurant. In 1966, a former cook purchased the restaurant and it was renamed Johnie's Broiler.
RELATED: Setting a Path Across L.A. With the Unhinged Antihero of Falling Down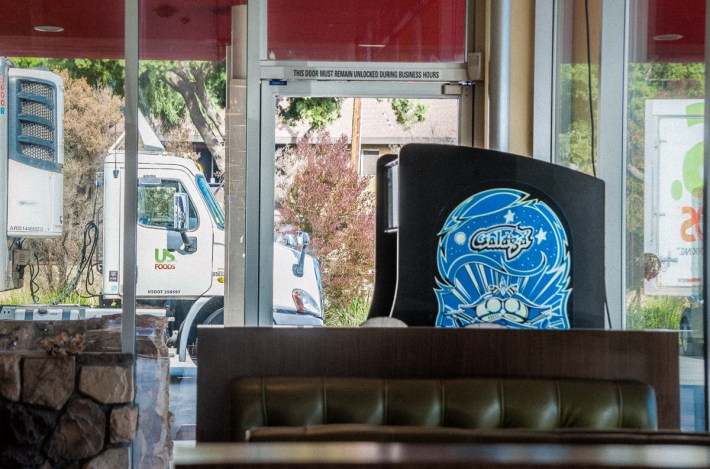 Before Johnie's closed in 2002, it was a sought after location for filmmakers looking for a classic diner ambiance. The added advantage of its covered drive-in area often led filmmakers to use the location a bus station, as it appeared in a 2000 episode of the The X-Files and the Tina Turner biopic, What's Love Got to Do with It.
Mann used Johnie's in Heat for scene in which McCauley's team reconvenes after the aforementioned armored truck robbery goes awry. McCauley's intention is to kill Waingro (Kevin Gage), a newly added member of the group, for going rogue and unnecessarily shooting an armored truck guard in the process of the robbery.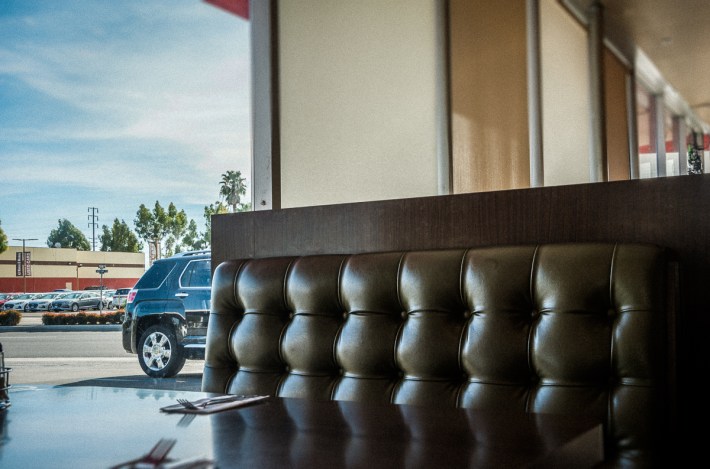 Balton particularly liked the location for a similar reason that the diner was built on this property.
"I love the way Firestone Boulevard curves, so from the booth they are in the cars seem to be coming right at them," Balton said. "Michael built a platform to raise them up a bit so the angle was just right. He is such a perfectionist."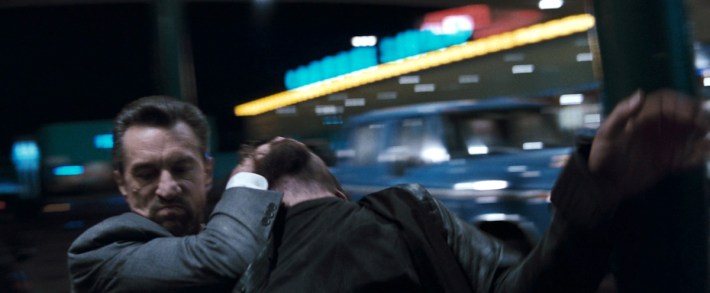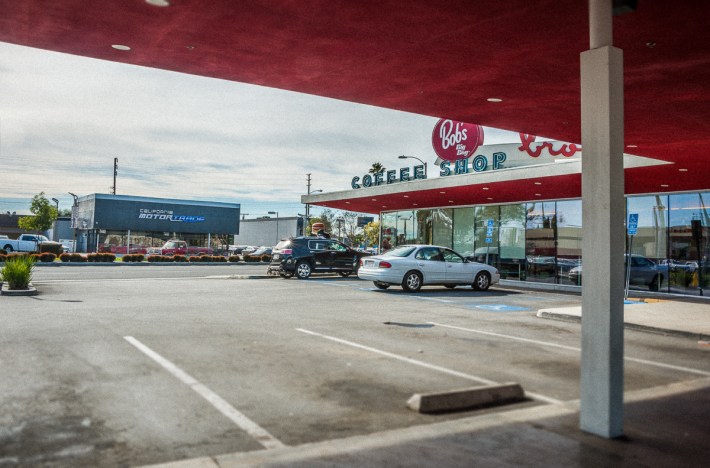 If you visit Bob's Big Boy Broiler today, the location looks somewhat different than how it appeared in Heat and other films like Earth Girls Are Easy (1988), Reality Bites (1994), and David Fincher's The Game (1997). After the location ceased operating as a restaurant in 2002, it turned into a used car dealership.
Five years later, the tenant bulldozed a portion of the building without obtaining the proper permits. The electricity was still on when the demolition began. The community came together in hopes of restoring the restaurant to its former glory. With support from the city of Downey, the Los Angeles Conservancy, Bob's Big Boy, and franchise operator Jim Louder, the restaurant was rebuilt using the original blueprints of Harvey's Broiler. Bob's opened in 2009 and has continued being used as a filming location.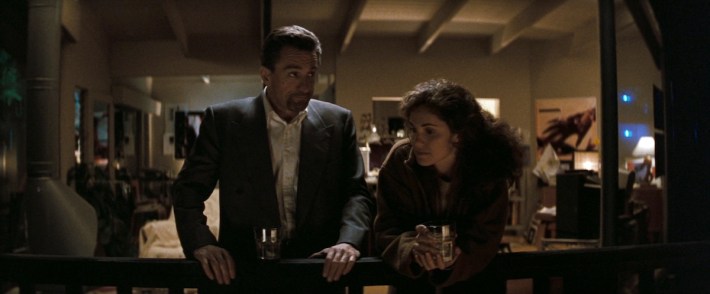 Eady's House
[dropcap size=big]G[/dropcap]oogle Street View is an invaluable tool for location professionals. Drop the little yellow guy down on a city street, country back road, or desert highway of your choice and you can get an idea what a location looks like before spending the time to drive out there.
Heat was released about 10 years prior to Google Earth and 12 years before Google Street View. "You get in your car and you drive," said Balton of the location scouting process of the day. "You get to a location and you talk to somebody, and you talk to someone else. It was never-ending the way you could find things back then, but you had to do the work."
However, in the case of Heat, if a production could afford to rent a helicopter, the filmmaker could create his or her own 3D Google Earth view, which is exactly what Mann did to scout for the hillside location of Eady's house. Eady (Amy Brenneman), a graphic designer who's moved to L.A. after graduating from Parsons School of Design in New York, invites McCauley to her house "above Sunset Plaza" and becomes romantically involved with the professional thief.
"What he was looking for was the right layout of house to city," said Balton of the director. Though the view from the house that was eventually chosen had an incredible, panoramic view, Balton felt it didn't seem authentic. "I said to him, 'You know, Michael, it's L.A. Not everybody lives in an incredible apartment with a great view. I mean, you know that, right?' and he looked at me and said, 'Yeah, I know that. Now go out and find what I told you to find,'" she said, laughing. "It's like, 'I'm the director – you're not. Move it along, lady.'"
In an email prior to our sit down interview, Balton was apprehensive about divulging the specific location of Eady's house because it would be too easy to give away something that was so hard to find. However, she did confirm that it is above Sunset Plaza.
Upon further viewing of the film, we were able to narrow down the area of the location from a glimpse of a home in the background. We further discussed the location during our interview and informed Balton of our findings. She said, "I get emails every couple of months from people asking me where this was in Heat, where was that in Heat." 
She told L.A. Taco that the street of Eady's house had "Blue" in the name. Balton also recalled getting a call from Amazon's L.A.-based TV series Bosch because they wanted to possibly use the same location as Bosch's house, which is on Blue Heights Dr. After emailing Balton the address of the Bosch location, she confirmed the location as Eady's house from Heat.
RELATED: This Is the Century City Skyscraper That Became a 'Leading Man' with Bruce Willis in 'Die Hard' ~ 30 Years Later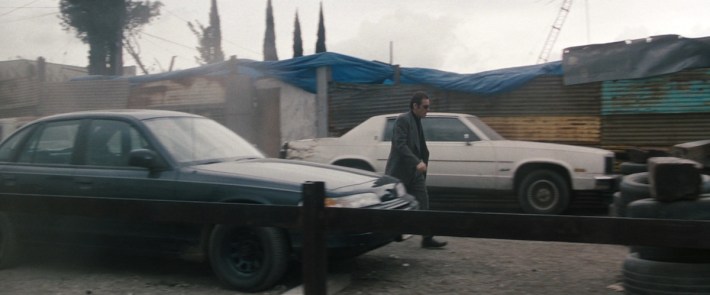 The Chop Shop
[dropcap size=big]A[/dropcap]midst the sound of dogs barking, Hanna walks through a maze of corrugated metal walls, a rusted vintage bus with Central Baptist Huntington Beach scrawled along the side, and cages holding pit bulls. He rounds the corner of a dog-fighting ring and bursts through a door, revealing an open yard where a series of Porsches are being dismantled. Hanna has pays a visit to one of his informants, Albert Torena (Ricky Harris), to gather some intelligence on the armored truck robbery.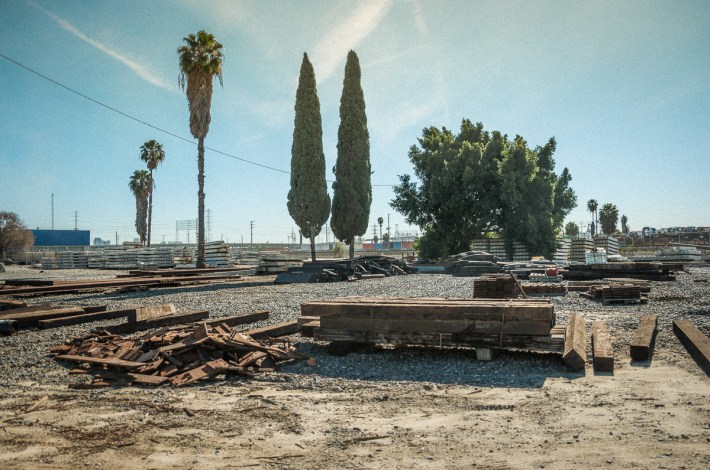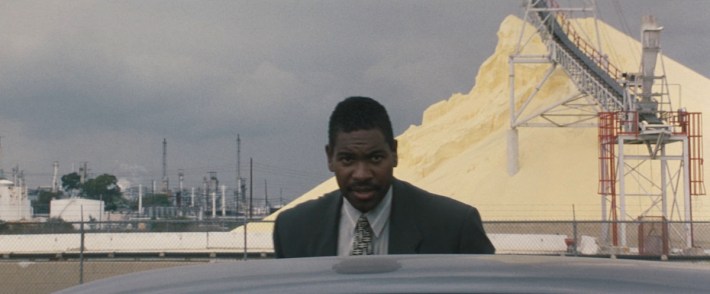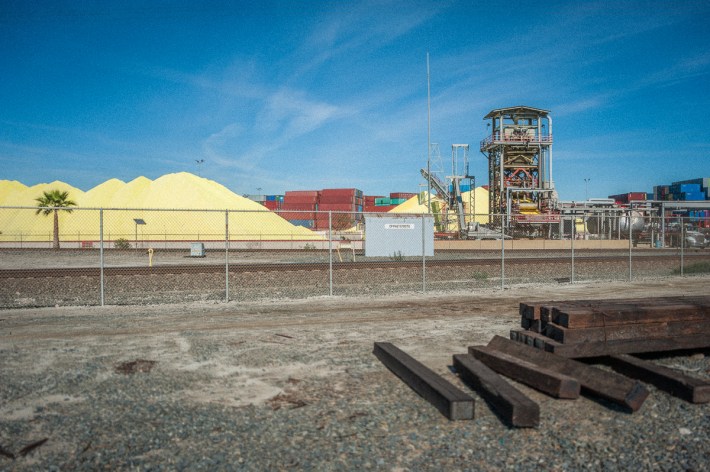 "The best scene in the movie with Al Pacino singing 'By the Time I Get to Phoenix,'" said Balton of the scene that was shot in a real chop shop and cockfighting venue in Wilmington. The location is wedged between two sets of train tracks and is adjacent to a giant mound of sulfur.
Balton described the location as "Just [a] visual collection of weird stuff against weird stuff, and then this huge yellow pile rising out of nowhere. Things that are aged in an interesting way with interesting textures and colors."
She credits producer Gusmano Cesaretti with securing the location. "Gusmano was really instrumental in getting us in with that group of people because they trusted no one. There were a lot of shady dealings going on down there."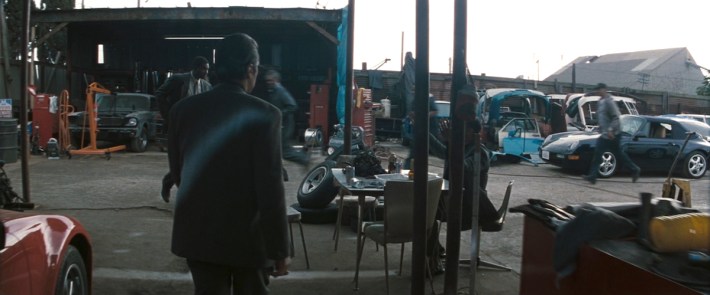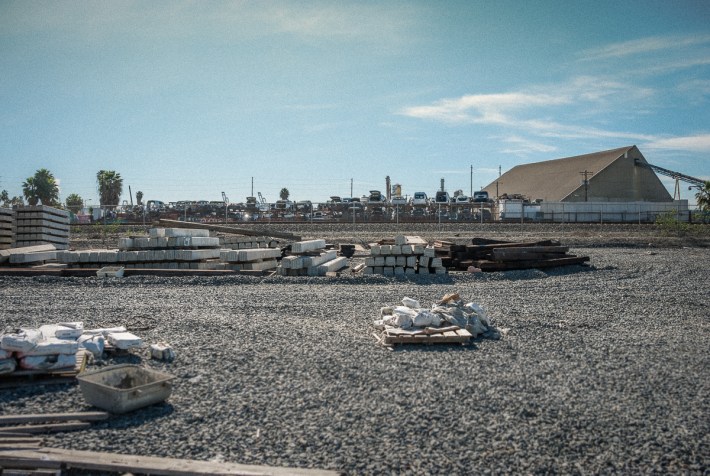 Today, scattered pieces of train tracks and wooden railroad ties are splayed across a gravel-covered lot that no longer resembles how it appeared in Heat. The site is managed by Balfour Beatty Rail, a private contractor that performs maintenance of the Alameda train corridor that connects downtown L.A. to the ports of Los Angeles and Long Beach.
Dodds Circle
[dropcap size=big]W[/dropcap]hen asked about the occupants of what we're dubbing the "antenna house", a neighbor, who owns another home on the same street also featured in Heat, said that she never sees anyone go in or anyone come out. But this is no Willy Wonka's chocolate factory.
Rising over the 10 freeway east of downtown L.A. in City Terrace is a mysterious set of microwave dishes and antennas extending from the roof a small bungalow home. Bars cover the windows and "no trespassing" signs adorn the chain-link fence that surrounds the property. A Google search revealed that the property a host to one of 1600 registered FCC antennas in the L.A. area.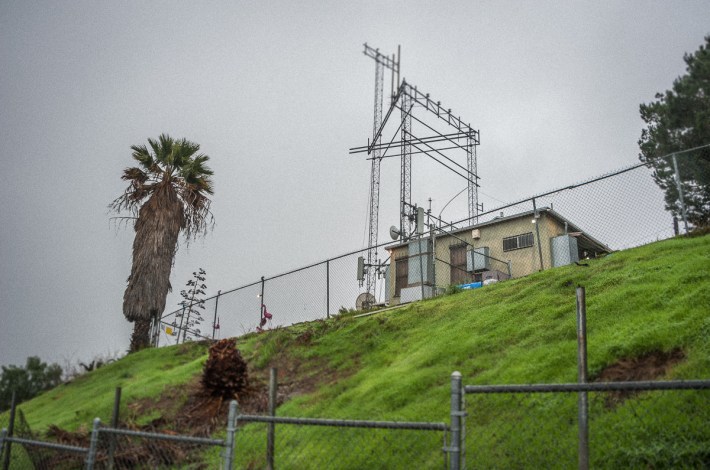 Balton recalled being on Dodds Circle scouting for a different location that would become the home of McCauley's getaway driver, Trejo, played by the inimitable Danny Trejo. The house, built on stilts, faced west with a breathtaking view of downtown L.A.
"I've always been curious about the kind of person who could live in a house that's so precariously balanced because I could not," Balton said. "I just love that whole sense of sort of clinging to the edge."
In a scene filmed inside the house, Trejo would be clinging to life after he was beaten nearly to death and his wife was killed. If fact, the fake blood supposedly oozing out of Trejo's head left a stain that's still on the floor of the home today. "I find that shocking because we really pride ourselves in leaving locations in the same condition find them," Balton said.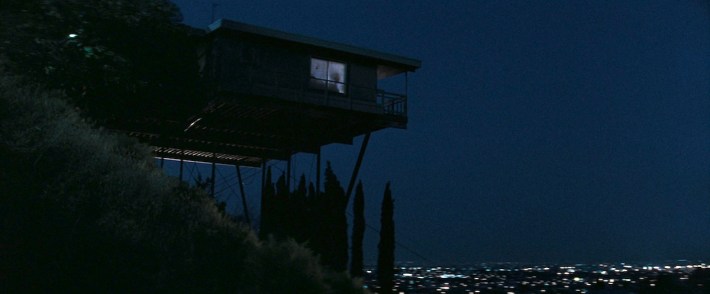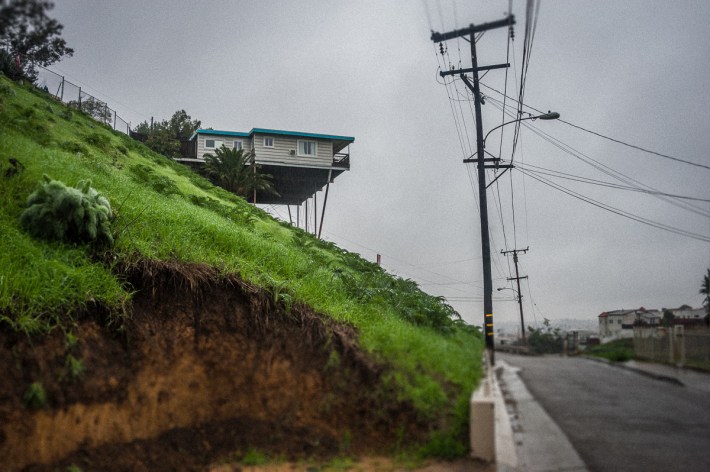 Adjacent to Trejo's house, Balton would find the antenna house for a character named Kelso (Tom Noonan), a wheelchair-bound hacker who breaks into banks' security systems. He is able to obtain building schematics, money drop schedules, and more, weaving that information into comprehensive packages of intelligence that he sells to thieves like McCauley.
"It was just so delightfully, disturbingly weird," Balton recalled. The find was "pure luck", she added.
"I don't remember what [Michael] was looking for, but it wasn't that. And when I found it I said, "Hey, wouldn't this be good?' and he goes, 'Not bad.' He didn't go right away with it. He sort of mulled through things and he ended up going in that direction."
RELATED: My Favorite Taco ~ Danny Trejo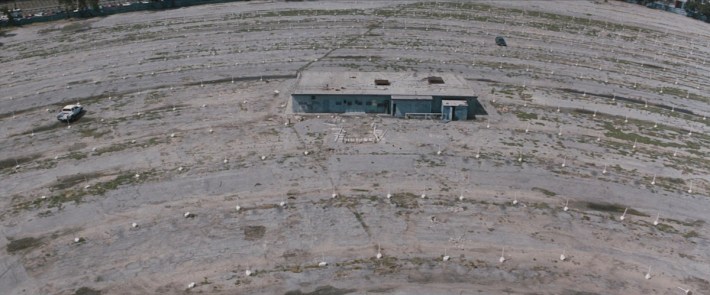 The Drive-In
[dropcap size=big]M[/dropcap]cCauley's fence, Nate (Jon Voight) suggests that McCauley sell the bearer bonds stolen in the armored truck robbery back to their owner. Arrangements are made for an exchange to take place in the open expanse of an abandoned, overgrown drive-in on Centinela Avenue. The exchange goes sour when an attempt is made to kill McCauley instead of paying him for the bonds. McCauley is a step ahead, however, and he's positioned two of his gang members on the premises: Chris (Val Kilmer) on the top of the deteriorating projection booth with a sniper rifle and Michael (Tom Sizemore), stationed just outside the main entrance with a shotgun.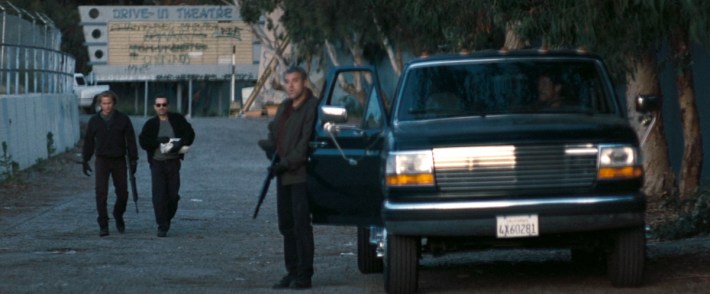 Balton said the scene was written to take place in a drive-in theatre, but by the mid-nineties drive-ins had almost completely vanished. As mentioned in the film's dialogue, the venue that was chosen was the Centinela Drive-In near Fox Hills. The drive-in opened in 1950 and closed in 1993, shortly before Heat filmed there.
"Going back to what I said about the Wilmington area, the drive-in was just sort of quirky with the weeds coming out and that it was old and dilapidated and forgotten," Balton said. "Again, just an interesting side of LA." The drive-in also serves as a self-reflexive moment in the film, speaking to L.A.'s movie heritage.
The Centinela Drive-In was demolished in 1998 to make way for a condo development. "Drive-ins were an important part of my youth. I'm glad we got to preserve one on film," said Balton.
RELATED: L.A.'s Last Drive In ~ Hollywood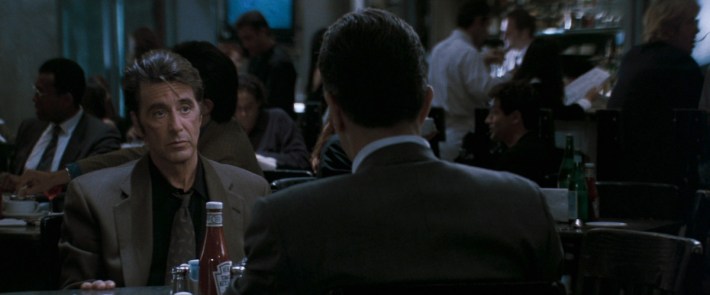 Kate Mantilini
[dropcap size=big]P[/dropcap]erhaps no scene is Heat tops the moment when Hanna and McCauley sit down for a captivating face-to-face meeting in the confines of a bustling restaurant. Never before had these two heavyweight actors shared screen time and the result was nothing short of magnificent. The exchange was based on a meeting between Chuck Adamson and the real Neil McCauley. The two men expressed their respect for one another, but also made one thing unequivocally clear: If one man was standing in the other's way, neither would hesitate to take the other down.
The restaurant location was among the most challenging to find. Balton said that Mann had her looking for it until almost the very end of the shooting schedule. "He'd look through the folders – 'no, no, no' – and he'd get to one, he'd look at it like this over his glasses [and say], 'It's pretty good. Now find me something better,'" recalled Balton.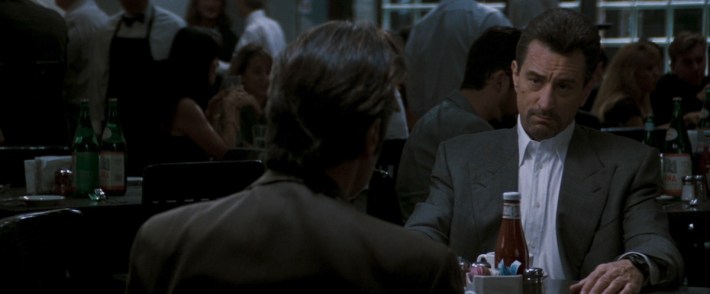 Mann encouraged Balton to think outside the box after scouting every potential restaurant in the L.A. area. She even presented the idea of having the two characters meet at a corner taco cart in South Central as fires burn in metal cans in the background. "I really went with it because eventually you run out of ideas."
Eventually, Mann chose the iconic Beverly Hills eatery on Wilshire Boulevard, Kate Mantilini. "If I recall correctly, Michael decided on Kate's on a Friday and location manager Janice Polley was amazingly able to get the Beverly Hills permit to shoot the following Monday," Balton recalled. "There were some wild managing feats on this movie."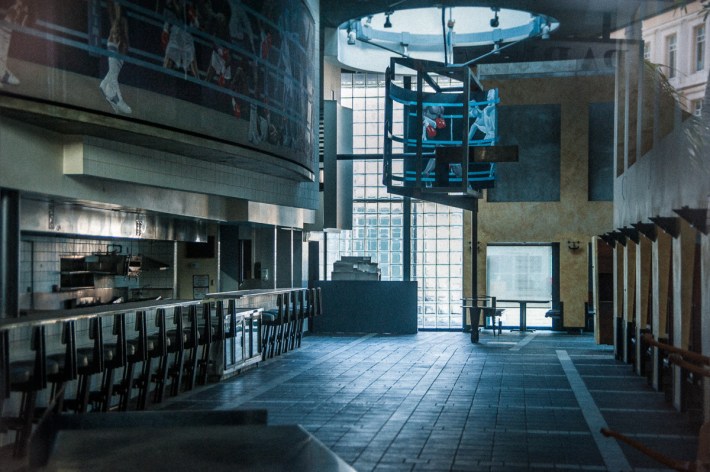 The storied restaurant, named after the 1930s L.A. boxing promoter Kate Mantilini, was designed by Thom Mayne and colleague Michael Rotondi and opened in 1987. It was a favorite of those attending screenings at the headquarters of the Academy of Motions Picture Arts and Sciences just a couple of blocks away. To much disappointment from its regulars, Kate Mantilini closed in 2014 due to increased rent.
The restaurant's famous mural, "Knockout" by John Wehrle, a nod to the location's namesake, is still mounted above the bar in the vacant location.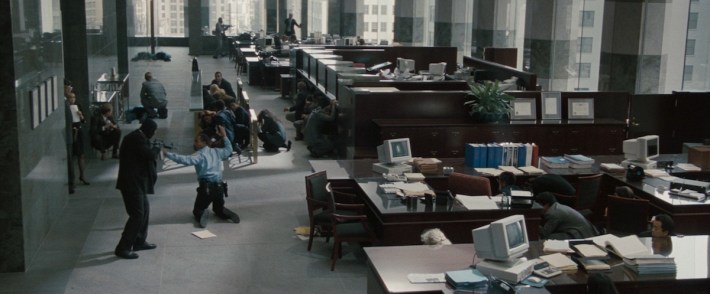 The Bank
haos and automatic weapons are firing in broad daylight in the middle downtown Los Angeles. The famous shootout from Heat took a few weekends to accomplish and it's a feat that Balton doesn't think could be pulled off today.
Most of the film's shootout takes place along Fifth near the Los Angeles Central Library and the Bonaventure Hotel. Interestingly, Balton didn't choose Fifth Street as a favorite location in the film. Instead she specified two peripheral locations: one that led up to the shootout and one that concluded it.
Because of creative location choices, viewers are led to believe that the shooting rampage on Fifth takes place right outside a bank at 444 S. Flower St. McCauley's team exits the building, passing through its courtyard of brushed metal, geometric sculptures. The interior of the bank, however, was about a quarter of a mile away at 350 S. Grand Ave., today known as Two California Plaza, "2Cal", or the City National Bank Building. The bank's floor to ceiling windows overlooking 4th Street to the south made for an appealing location, said Balton.
Upon calling building management at 2Cal, Balton explained, "we were denied permission to photograph the old bank location. With no further comment other than management wasn't interested in participating, we surmised that the response might have been due to the scene in question: a bank robbery."
It's an issue Balton ran into during the production of Heat. "The whole bank thing was just a fucking nightmare because what bank wants to have a robbery take place in it," said Balton, who scouted a lot of banks and spaces that could double for banks.
She recalled that it was her colleague, Janice Polley, who put together a proposal for the bank that offered the least amount of interruption to the business. "I don't know how we did it. We had to prep that for so many nights because they wouldn't close. They wouldn't give us the days to prep it. We were lucky we got the days we needed to shoot it."
RELATED: Watch TAG, a short film about a young graffiti artist on the run in Los Angeles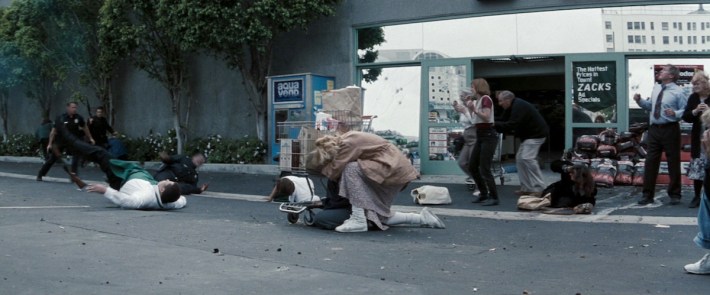 The Grocery Store
[dropcap size=big]P[/dropcap]olice officers duck behind their patrol cars as their windows are shot out and doors are riddled with fist-size bullet holes. McCauley comes to Chris's aid after he's been shot, pulling him off the ground and trying to carry him to safety. They end up in a busy supermarket parking lot, pursued by Hanna on foot. Customers move out of the way screaming as McCauley fires on officers, downtown L.A. looming in the background. Innocent bystanders and cops are shot as the reverberation of McCauley's automatic rifle ring out.
This is Balton's personal favorite location in the film because it's where she that felt she made one of her biggest creative contributions to the film.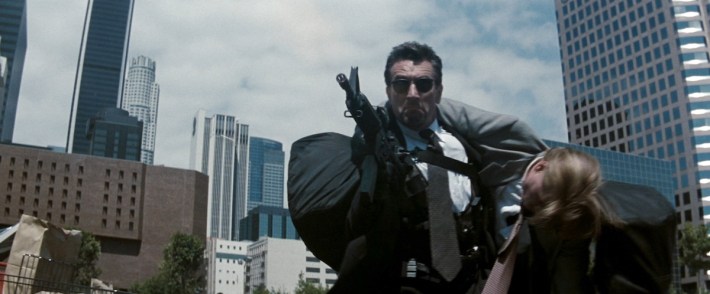 "It was a parking garage. It was just blank walls," said Balton. "I'm not just looking for a grocery store; I'm looking for something that's situated at the right place so that when [Michael] pulls back for all of the action there's a nice wow factor, and then when you go in closer there's something there too," she added.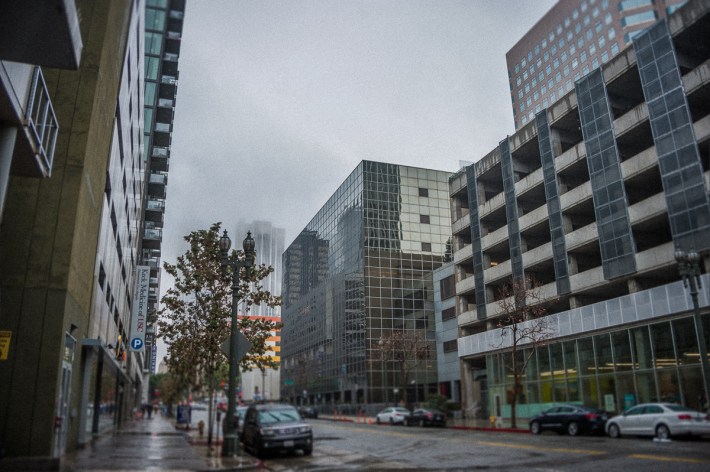 "At that time no one was living in downtown L.A. There were no grocery stores." Ironically, a Ralphs was built at the 9th St. location and opened in 2007 on the street level of Market Lofts.
RELATED: Vintage L.A. Forever: This Archivist is Preserving Los Angeles Pop History in a Massive Digital Archive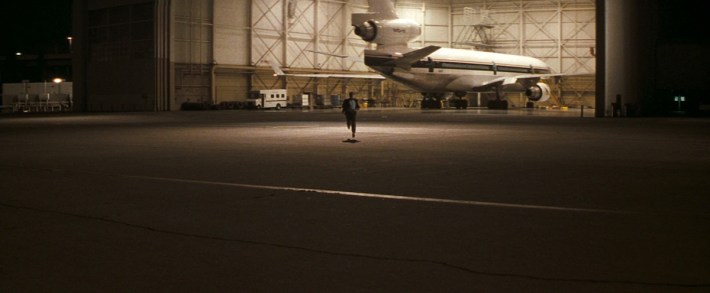 LAX
[dropcap size=big]I[/dropcap]n 2017, L.A. Taco was granted permission to photograph a number of LAX terminals and one of the airport's famous mosaics for an article about the filming locations of Jackie Brown. Taking photos inside the terminals is one thing, but we didn't know what would come of our request to photograph the airfield. Luckily, our contact at LAX is a movie fan and, on a balmy January afternoon, we were escorted through a security booth and onto the south runway of one of the world's busiest airports.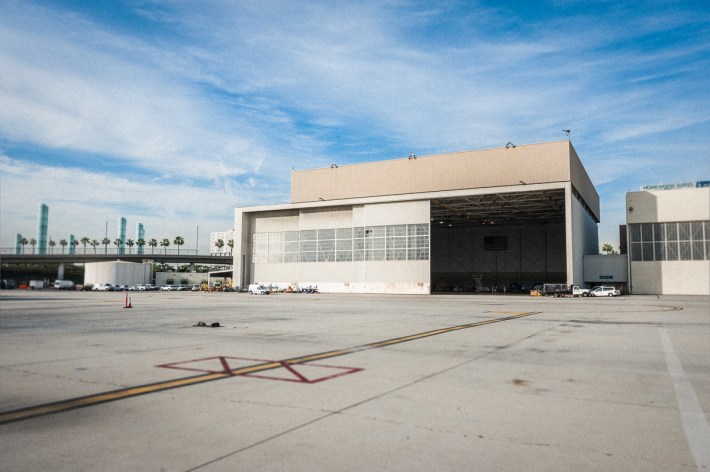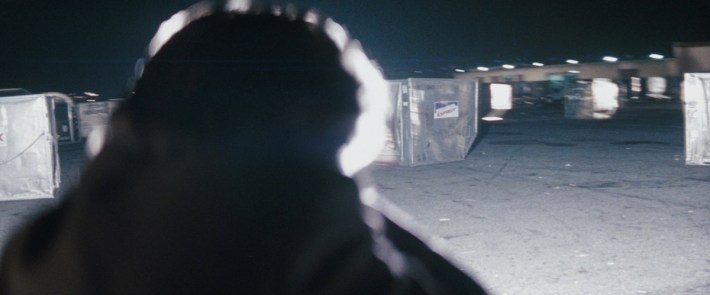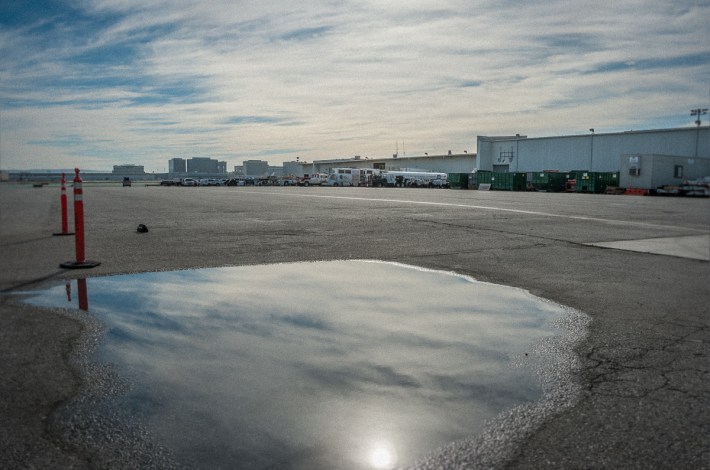 Filming at LAX isn't what it used to be. "Before 9/11 it was easier. After 9/11 it changed dramatically and we all understand why, and for good reason," said Balton.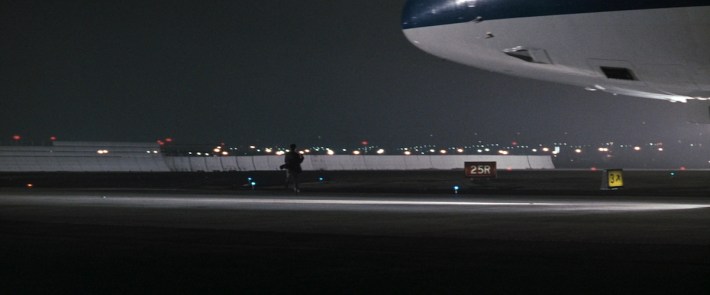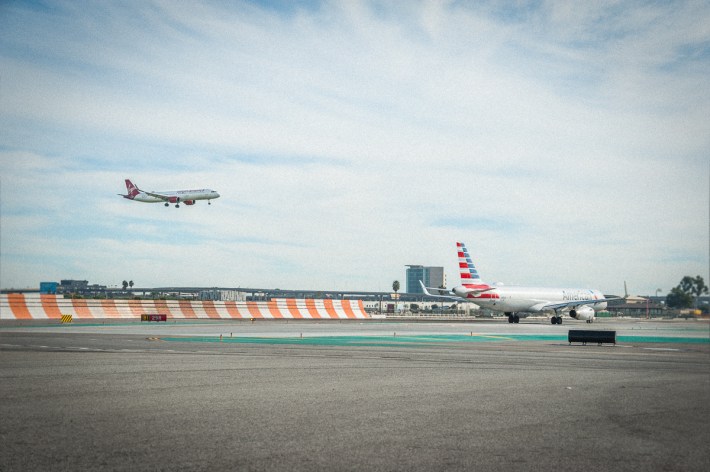 The film's nighttime cat-and-mouse finale on the LAX runway is something the likes of which had never been captured before and, similar the downtown shootout, will probably never happen again.
Hanna pursues McCauley onto the active airfield as planes make their way toward their final departure positions. Hanna fires his shotgun towards McCauley as he tries to evade the detective between cargo shipping containers.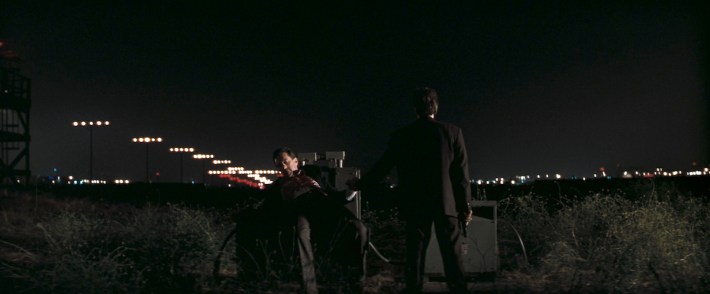 Finally, the two end up on a field on the east side of Aviation, where McCauley comes up with the brilliant idea of using the airport's guiding lights to blind Hanna, giving himself the opportunity to shoot the detective. The tables turn when the lights create a shadow of McCauley's silhouette across the field's dried brush. As a plane flies overhead, its engines roaring, Hanna quickly pivots and shoots McCauley dead.
Balton loved the "nature of shooting in such a dangerous place and how the planes are going by oblivious to what's playing out there. It was just a great juxtaposition of different levels of danger, basically."
Please keep in mind that a number of these locations are on private property. Do not trespass or disturb the owners. 
RELATED: How Quentin Tarantino and Jackie Brown Made the South Bay a Star

Jared Cowan writes and podcasts about L.A. filming locations. He also works as a photographer and camera operator.
Stay in touch
Sign up for our free newsletter