Music
'What Are We Going To Do With Our Wednesdays Now?' ~ A Long GoodBye For Low End Theory
4:07 PM PDT on August 15, 2018
[dropcap size=big]T[/dropcap]he club night Low End Theory was a rip in the city's overdeveloped musical matrix. It did for underground music in Los Angeles what Jonathan Gold did for its food. It had the same impact and lifespan as Sandy Koufax for the Dodgers and Wayne Gretzky for the Kings. It was here about as long as Magic was a Laker.
If you went just once, it was hard to quit.
In the immortal words of Q-Tip on "Excursions," the opening track of A Tribe Called Quest's 1991 album The Low End Theory, the event was where Los Angeles and later the world came for "Beats that are hard, beats that are funky / It could get you hooked like a crackhead junkie."
For much of its existence, Low End Theory was the kind of place where attendees went without questioning who was playing. But when regulars tried to explain what went on there to others, the conversation invariably devolved into name dropping. Thom Yorke spun there. Questlove and Q-Tip too. The likes of Erykah Badu and James Blake did their thing. Even Prince came once, just to check out the music.
If you went to Low End Theory enough, you got used to the way the you'd constantly be introduced to new talent the same way you expected the ceiling in the upstairs room to drip with condensation. You knew where to stand to find relief from an air duct when a A-List surprise guest came through. And you appreciated the flavors each resident brought to the DJing side of curation.
Through it all, Low End Theory never fell victim to a beat-scene crime. There were never advertisements plastered on the walls. It was never brought to you by Red Bull. Even its relative geographic isolation in Lincoln Heights acted as a moat against the invading forces that so often destroy club nights in centers like Hollywood or downtown.
In this way, the night became the castle at the heart of a walled city, a reinforced metronome we grew to believe would always be there.
Although I helped put together a documentary on the subject in 2013, and spent countless Wednesday nights at LET, tracing its significance and impact remains as elusive as classifying the sounds it helped create.
Aug. 1, Outside The Airliner, 2:30 pm
[dropcap size=big]O[/dropcap]n June 6, Low End Theory announced they would throw only ten more installments. A special Forever show at The Regent Theater on Aug. 4 was added later and sold out within a day. The "Final Voyage" show was scheduled to take place Aug. 8. Seven days and seven hours before Lincoln Heights's Low End Theory ended a nearly 12-year run of over 600 shows, L.A. Taco staked out with the rest of Los Angeles to say goodbye to the beloved weekly.
Organizers began selling tickets for the last show several weeks early — something they'd never done before — and charged $20 instead of the usual $10. A week before the Final Voyage, only 50 tickets remained.
The week prior, when 100 tickets were up for grabs, the line began at around 4 pm. By 7 pm, the club recommended people stay home if they weren't already in line. Normally, if you got to Low End Theory before 10 pm, you'd eventually get in. But as the supply dwindled, the demand skyrocketed. The final show had became one of the most sought-after tickets for music heads. Finding resellers online was rare to impossible.
Despite my efforts — and the many insightful and poignant pieces describing Low End Theory — the only true way to understand it is to experience it.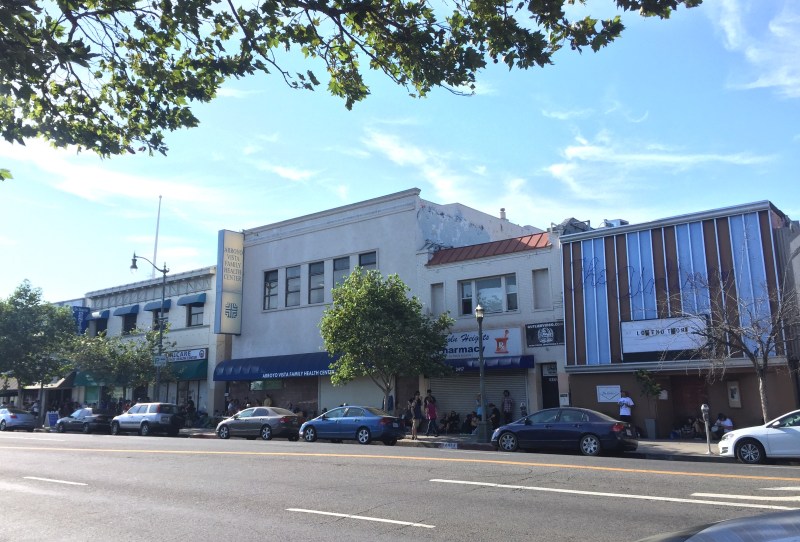 Aug. 1, Outside The Airliner, 4:00 pm
The queue is already fifteen people deep, hours before doors normally open at The Airliner.
"Daedalus sent me a picture of the line and I was just bugging out," artist Wylie Cable said, as he sets down a case of water and a box of T-shirts. "I jumped the fence before I was eighteen to catch Flying Lotus and Daedalus."
Now 30, the L.A. native will perform a Low End Theory set of his own that evening, and it won't be his first time. Cable's Dome of Doom record label — whose logo is etched on the T-shirts he distributes along with water bottles to folks waiting in line — specializes in artists spawned from the beat scene, a catch-all distinction for much of the music that's come out of Low End Theory over the years.
Among the recipients of Cable's good graces is Ken Vukobradovich. Vukobradovich is one of the club's many evangelists, bringing friends and family with him every Wednesday that he could since around 2010. "I'm hoping there will be something else to spin off this," says Vukobradovich, rubbing his greying beard and adjusting on the stoop at his place in line.
Aug. 1, Outside The Airliner, 5:30 pm
The line has stretched well beyond the remaining tickets available for Final Voyage. When I go speak to those who will miss out, I don't have to break the news. They already know.
"Sometimes I take off [when the line is too long] and I just go the next week," I overhear someone say. "But now I can't do that."
So they stay in line. They reminisce about the time Flying Lotus revealed himself as his rap alter-ego Captain Murphy — "Everyone thought it was Tyler" — or when the Odd Future-front man jumped on top of a cop car to tell people to go home when the club was overflowing.
Sprinkled among those hundreds of nights are too many fantastical shows to ever share, but that the Fire Department or LAPD never had to shut down Low End Theory, that it was able to call it quits on its own terms — without resorting to sponsorships or changing course — gave the impression not of the final days being organized as a funeral, but rather a ceremonial Seppuku.
Aug. 4, Forever, 8:00 pm
Forever is the intermission event between the penultimate edition and the Final Voyage takes place less than three miles away from The Airliner, down Spring Street at The Regent Theater. Artists begin performing before sundown and by the time LET regular Teebs finishes his set around 8:30, the venue is standing room only.
The bill features other regulars — Free The Robots, Ras G, Astronautica, Dibia$e, Jonwayne — shuffled between more recent additions to the Low End Theory rotation including Jen Ferrer and Leimert Park native Linafornia. The latter two served as Low End Theory guest residents in March and July respectively, joining an all-female monthly resident push in 2018 that included DJ Shiva, Kronika, Mousey McGlynn, and Huxley Anne.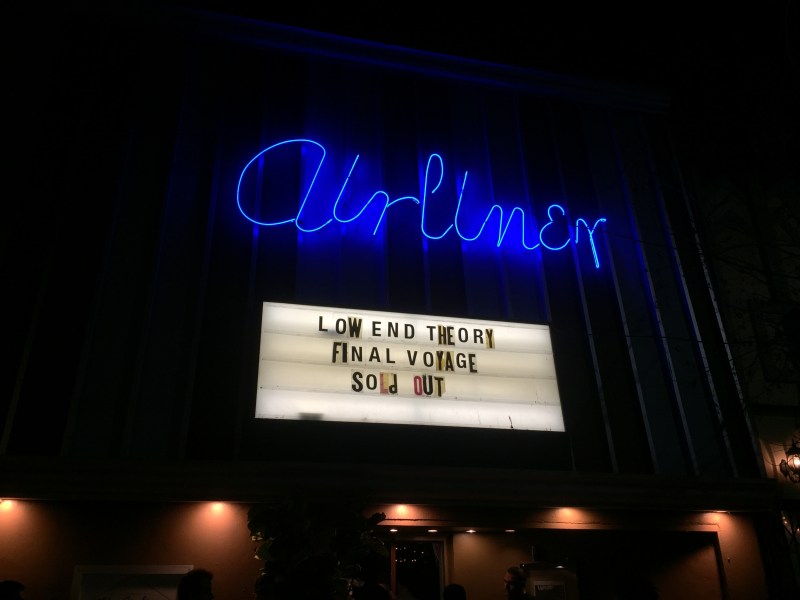 [dropcap size=big]I[/dropcap]In October of last year, a crisis hit Low End Theory. A woman named Chelsea Tadros accused a Low End Theory co-founder and resident William Bensussen — known as Gaslamp Killer — of raping her and a friend, more than five years earlier. The accusation was initially posted on Twitter and soon made the rounds on social media. The artist immediately professed his innocence. Bensussen has filed a lawsuit against Tadros in response.
The Low-End Theory crew parted ways with Gaslamp Killer. Resident and co-founder DJ Nobody told L.A. Taco in July that attendance at the club night had begun to organically slow in 2016. But it saw a more rapid decline following the incident toward the end of last year.
"That whole thing was just a little too much for us to handle," Nobody told L.A. Taco.
As the legal process continues, Low End Theory's organizers tried to move past the seismic event by emphasizing that their platform served all artists, regardless of gender. Every resident in 2018 was a woman, a gesture made to signal solidarity with a core of the LET audience.
Tokimonsta, who is perhaps LET's most prominent female alum, emphasized to the L.A. Times that her experience of Low End Theory had been devoid of disrespect of any kind. "If I made dope beats, it didn't matter if I was a girl, boy, or potato," she told The Times's Randall Roberts.
Since the club announced it would be winding down, the fanbase got reinvigorated. Amidst the crowd, rumors swirl about who will be gracing the stages the night of the Final Voyage several days later. The Airliner usually allowed two spaces for performers: one upstairs, inside, and one outside in a rear yard beneath a tent. But the only names announced beforehand were the residents.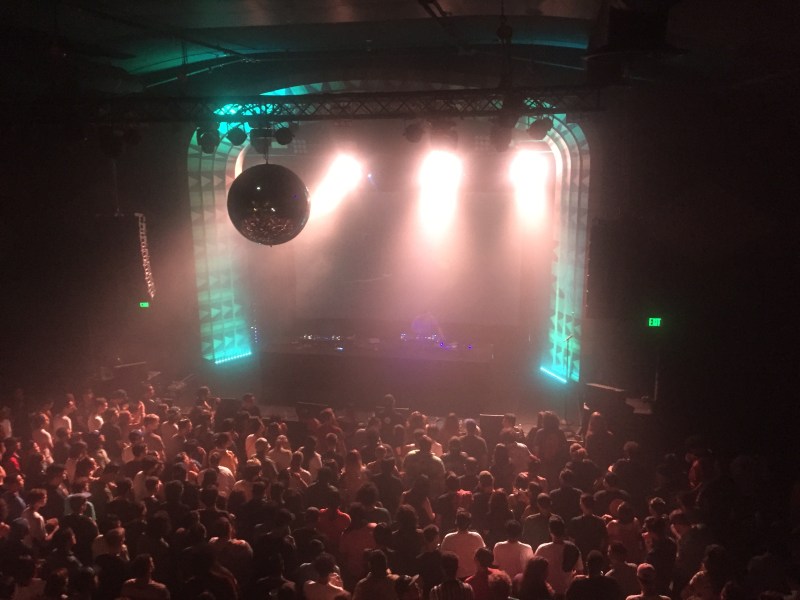 Aug. 4, Forever, 10:15 pm
At Forever, this night, Daddy Kev — another resident and cofounder — spins his quintessential Flying Lotus set. There's a palpable sense that, with even the Regent's Balcony packed to the brim, Los Angeles just isn't ready to say goodbye to Low End Theory. Not yet, at least.
The final lineup mystery only heightened the suspense, but as LET leaves downtown and goes back to home turf for one more show, the whole movement remains poised for its final needle drop.
Aug. 8, The Final Voyage, 10:30 PM
Throngs of people queue up one last time in yet another line, one for which Low End Theory is infamous (once already having braved the line outside, you wait again to be admitted to the upstairs room, which over the years had begun to limit space for fire safety).
The alleyway door creaks open. Half of those in line expect the rest of Los Angeles to pour in. For many, it's the next craziest thing. Tyler, The Creator and his friends — among them Earl Sweatshirt and A$AP Rocky — squeeze through the crush of people and up the stairs to the main room.
The rippled murmurs in their wake are punctuated by clicking phones and a fierce fear of missing out. As people surge toward the stairs, seeming for a moment like they might storm their way up if that's what it took, something else happens.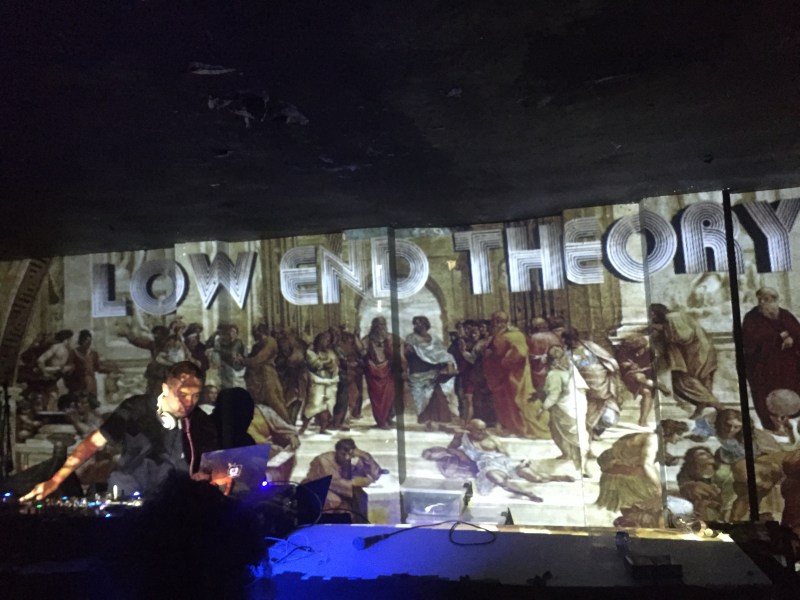 [dropcap size=big]E[/dropcap]ven up until its last breath, Low End Theory was deliberate in the way it welcomed new audiences — young 18-year-olds looking for a sound of their own — and offering new artists to provide it to them and those generations of regulars that always made room for what was next.
An unassuming producer takes control of the decks at the outside stage, announcing that he's Tsuruda, it's his birthday, and that he's thrilled to be there. A few across the crowd clap. He's not unknown in Los Angeles, but neither is he a household name yet. The shift is jarring. Many are still distracted by the prospect of Odd Future and Co. playing upstairs.
But then it happens the way it so often did.
Low End Theory has often been compared to a church service, even by its founders and staunchest fans — the lines of procession, the once-a-week occurrence, the spirited followers and sermon-like pronouncements from performers. And as Tsuruda began to play, heads began to nod — the gesture Low End Theory devotees substitute for prayer hands — and instantly, effortlessly, the worshipping is underway.
Final Voyage was never going to be about the famous faces alone. "Dude's actually pretty right," I hear someone say, nudging his friend in Tsuruda's direction.
Before long, the hype about the more famous performers upstairs vanishes. As Tsuruda spins on, revelers abandon their place in the line to see Tyler, at first in trickles, and then in droves, and turn to Tsuruda. There are beats to be had.
Once at the decks, the beatsmith gets busy forging. The bass booms. Waves of trebly garnishes come in surges and sprites. The elements of the instrumentals seem to coagulate the spirits of all those hundreds of beat women and men who'd come before. If sonic heat could coalesce into icicle-like spires, they would have begun forming on the tented ceiling.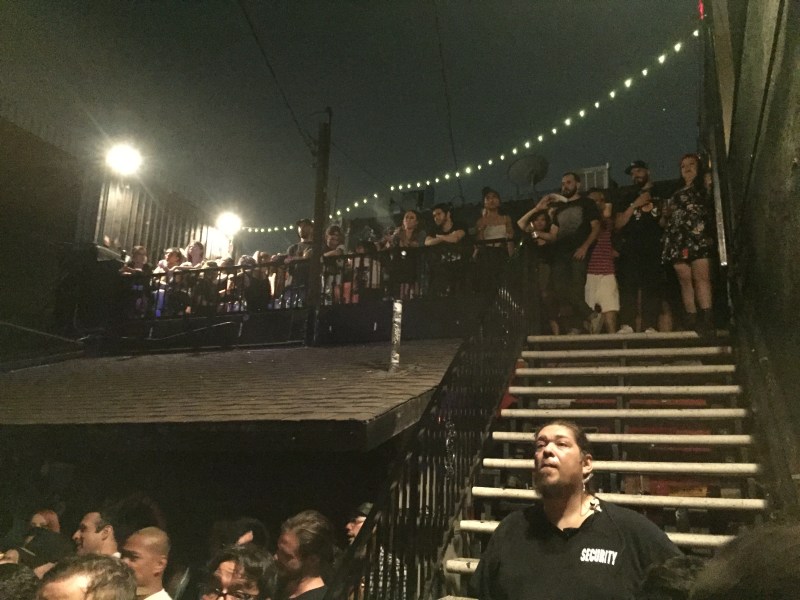 Aug. 8, The Final Voyage, 11:30 PM
Inside, Tyler recounts Odd Future's first LET show, detailing down to the last dollar Daddy Kev pays the then-budding group for their first-ever live performance in 2010 as he articulates his appreciation for the institution.
But it was unexpected inclusions like Tsuruda's that are Low End Theory's greatest legacy. LET was always at least as much about the birth of a new messiahs as the adoration of the already enshrined.
"The best thing you can do as a label owner is to curate your roster correctly," Daddy Kev once told me, emphasizing that things like number of Twitter followers mattered less than intangibles like motivation and acumen for the artists he chooses to work with.
"That's one of my favorite rappers," I hear a young woman say as Tyler and Odd Future make their exit. "He's in my top five since I was 15, I'm 23 now."
The voice isn't that of a screaming-crazy fangirl, Low End Theory didn't attract many of those. It's that of a true believer. "But I'll die if I don't hear Daddy Kev," she says moments later. At moments like this with only the three residents, the only remaining cofounders, the last artists on the bill that I realize that this shit is truly about to end.
Aug. 8, The Final Voyage, 12:30 PM
For long-time regulars, every Wednesday, like clockwork, you appreciated the way the crew's Beat Junkie representative, D-Styles, could pair the triumphant "SpottieOttieDopaliscious" with the saudades of Funk Carioca or Swishahouse slow syrup and an Aaliyah's afterlife hymn, only to remind everyone we were in "M.A.A.D. City" in the end.
Which he does gracefully now, thanking the crowd, and passing the cross-fader baton onto Daddy Kev.
Kev fuses Flying Lotus into B.I.G.'s "Juicy," Snoop's "Drop It Like It's Hot," and Dre's "Xxplosive," only to button the whole package up with those buried Thundercat "Is It Love?" stanzas (originally sung on FlyLo's Cosmogramma a year prior, the album that probably defines Low End Theory more than any other).
"Holy shit," Daddy Kev says wrapping his set. "What a night."
In the final DJ Nobody set ever at Low End Theory, you knew he might drop a record like Vince Staples "Blue Suede," one minute and an obscure Sa-Ra crafted instrumental for Pharoahe Monch's "Agent Orange" off an old Clinton Sparks mixtape the next. You knew he may play a bit of Mono/Poly and Nosaj Thing but what you might not have guessed was how he'd end it all. "Excursions" — that opening track on A Tribe Called Quest's 1991 album, from which the club took its namesake — is the last song ever played at Low End Theory.
Those in the crowd who knew it sung along. Those who didn't — whether because of their age or their catalog's shortcomings — listened and grooved like their lives depended on it. The weight of the moment lived somewhere between the song's hook, – We gotta make moves / Never, ever, ever could we fake moves (come on, come on) – and its sample – Time is running and passing, passing and running – and Nobody's summation afterward, with Daddy Kev beside him and the music cut off.
"Everything that fucking record says is what made us want to make music," Nobody says from the stage.
"This is Los Angeles at its best in this building," Daddy Kev says against the applause.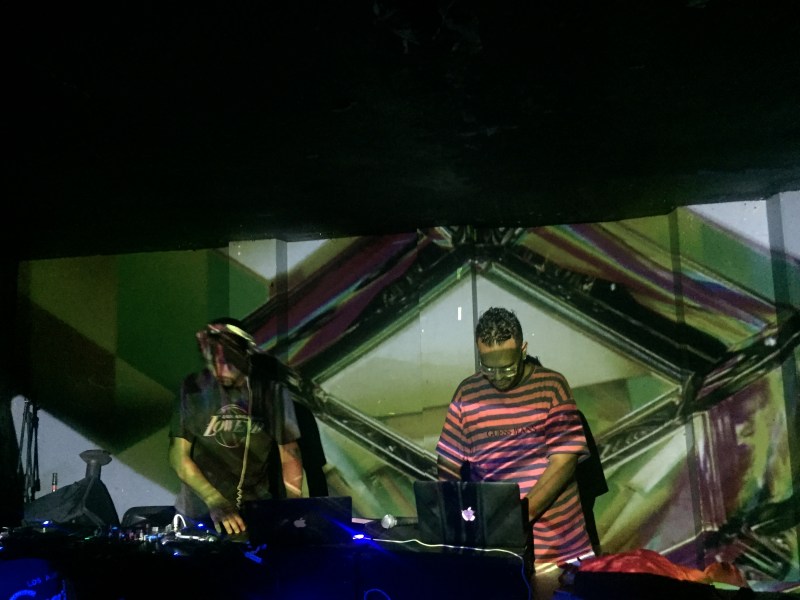 The twelve years of magic ends much the same way it does in clubs across the city and around the globe  — someone flips the lights on.
"End of an era," someone whispers as we head downstairs and toward the exit, with more than a few people in tears.
"Time's are changing," I hear another say, catching whiffs of the bacon-wrapped hot dogs on the sidewalk.
Beside the midnight snack vendors, a squadron of music promoters await, hurling their fliers like confetti toward the Low End Theory faithful, glossy paper promises of what's next. Then someone asks, as if in response, "What are we going to do with our Wednesdays now?"
Photos by Alex Dwyer.
RELATED: 'The Whole Gaslamp Thing' ~ Saying Goodbye to Low End Theory With DJ Nobody: Q&A
Alex Dwyer is a freelance writer living in Exposition Park, where he can be found either eating North African Tacos at Revolutionario, covering LAFC matches at Banc of California Stadium, or drinking Wenshan Baozhong — all the while listening to whatever music Los Angeles in the moment requires.
Stay in touch
Sign up for our free newsletter