Street Vending
SoCal Street Vendors Demand Money Back After Paying Thousands For A Festival That Was Shut Down Before It Started
"Some artisanal vendors that came from Puebla and Veracruz were even crying and were so stressed out because they had purchased a giant booth filled with artisanal items that didn't sell," says one vendor who feels scammed.
12:30 PM PDT on August 31, 2023
It's been almost a week since a group of local street vendors claiming they were scammed out of thousands of dollars united to discuss their plan of action. Each had paid a considerable price to sell food in a festival that promised thousands of attendees, shortly before that promise turned into a personal nightmare.
"We just want our money back," Sonia told L.A. TACO in Spanish.
The pupusa vendor is one of nine other vendors that met outside a Pizza Hut parking lot last Thursday to discuss what had occurred.
Each vendor is said to have paid $1,000 or more per booth in order to reserve their spot for a three-day festival called "El Festival Multicultural de La Alegria". They all came equipped to Thursday's meeting with folders filled with paperwork given to them during the months leading up to the festival. 
"Aquí esta todo," said one vendor, as she raised a stack of forms up in one hand and waved her phone in the other. "Everything is here."
A woman going by the name of Lilia Ramirez, who claims to be the director of the Chamber of Commerce for District 57, approached the vendors around April to discuss having them sell at an event she was planning in August of 2023.
This is according to Rocio, a street vendor who, like many quoted in this story, would prefer to keep her last name private.
"She painted the event to be this grand festival that would shut down ten streets and sold it as this being a big event where we can sell and promote ourselves," said Rocio in Spanish. "That was not the case at all. It has been a disaster."
The paperwork shown to L.A. TACO was sealed with a "Chamber of Commerce District 57" logo on each corner with a layout of the event. At a quick glance, it's clear to see how anyone could easily mistake the documents for being real. It listed an office address and a phone number that worked.
The vendors also communicated directly with Ramirez, a woman known for putting on these types of events.
"I've never worked with her; this is my first time, but I have heard about her events, so I signed up," said one vendor.
To the vendors, Ramirez seemed to be the one in charge of the event. She was, after all, the one charging vendors as well as the person communicating updates to them. 
However, three days before the event was set to happen, after months of planning for the festival, the vendors tell us they were suddenly blindsided by Ramirez.
"I had asked her how everything was going with the permits for the festival, and she said it was all still processing," said Juan Carlos, another vendor who paid for a booth space. "And that's when I got a bad feeling. I demanded that she tell us the truth. We wanted to know what was happening because everyone was investing a lot of money into this."
That's when Ramirez broke the news.
She explained to the vendors that the city was requiring an extra permit for the event, due to miscommunication between departments about the size of the event. Now they were requiring an extra permit from them. Ramirez said she was told that the new permit would take up to 90 days to process.
However, vendors said a day or two before the event was set to take place, she messaged all vendors to let them know that the event would still be happening.
"She tells us that the location has changed and that all permits were approved for the new location," Juan Carlos explained. " I said 'what?'"
"After I saw where they were trying to have this last-minute event, I said 'no, I want my money back, this is not what you promised.' And she said, 'no.' That no money would be returned because it was already used to pay for the event."
The only options these vendors were given were to attend the newly moved event that would begin on August 18. Or wait until mid-November, when they would once again try to hold the festival at its original location on Compton Avenue. 
As if that wasn't enough, vendors got a sinking feeling when they discovered that she was working with a man named Felix Romero. A detail vendors claim to have had no previous knowledge of. Romero, on the other hand, said all the vendors knew about him and everyone else involved.
"Everyone in this community knows him as a scammer and a thief," said Juan Carlos. "When I found out, I asked her about it, and she said he was not involved in this event at all and that she was the one organizing it."
Turns out Romero was involved with the event the entire time. The address on the paperwork that was given to vendors was listed as an office. But when searching for the address, it leads to Las Chapas restaurant in Huntington Park. Las Chapas is owned by Felix Romero. 
When confronted by vendors who no longer wanted to attend the event, vendors were told that none of their money would be returned.
For vendors like Sandra, who paid $2,000 for her booths, missing out on the event was not an option. She had already spent more than an additional $2,000 on produce in preparation for the large-scale festival she was promised.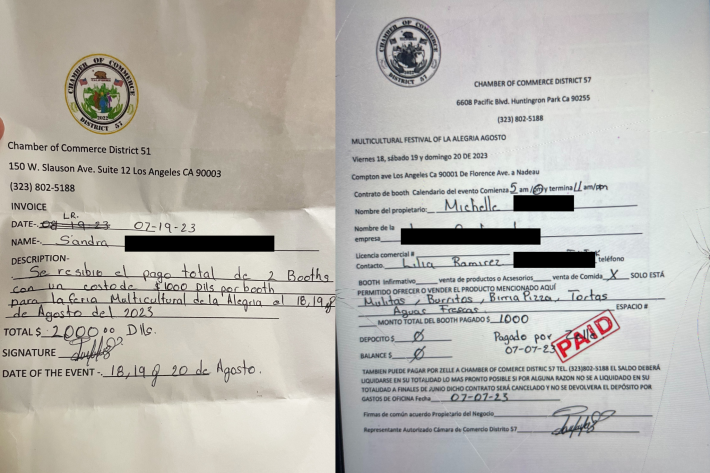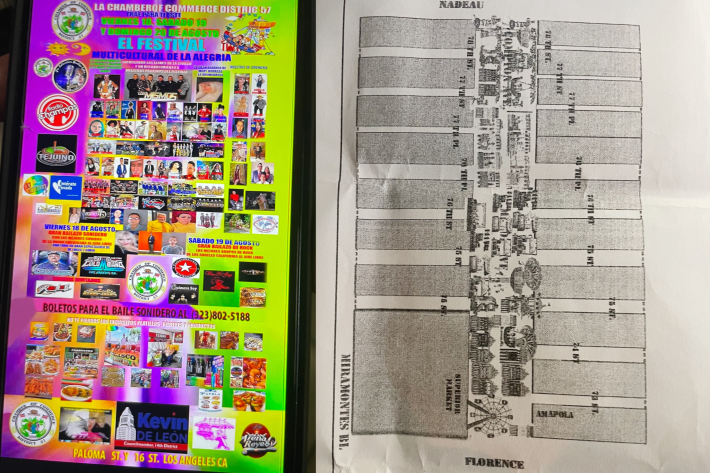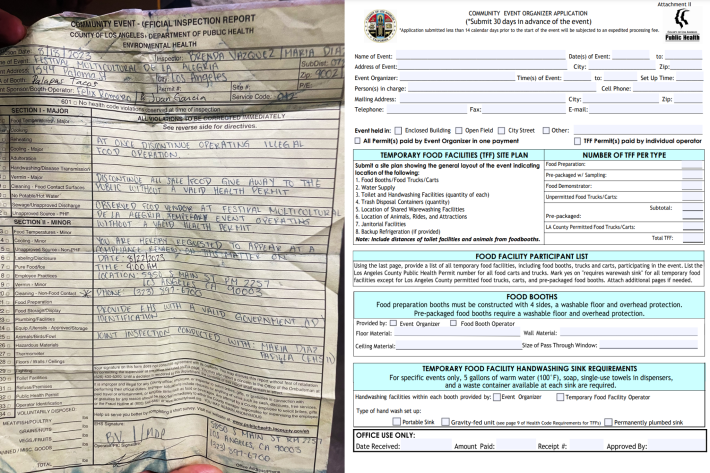 El Festival Multicultural De La Alegria was starting to feel just like the infamous Fyre Festival, where festival goers were promised luxury and days filled with music, food, and entertainment, before the whole thing turned out to be a flop.
The flyer for the event was jam-packed with over 30 performers, promises of mechanical rides, and over 20 food vendors and merchants. Also on the flyer were Councilmember Kevin De León and Dulce Vasquez, who is currently running for state assembly.
L.A. TACO did reach out to De León's office but has yet to receive a response about their possible involvement with the festival. 
Vasquez did respond to our request for comment but decided not to provide a statement on the record. According to the vendors who decided to attend the festival, the entire thing was worse than they thought. 
"There were no people, Sandra said. "It hadn't been that long since we had finished setting up before it got shut down." 
The new location for the event was switched from Compton Avenue to Paloma Street. The vendors who went described the location as unsanitary and as feeling too hidden for a festival. 
Romero, who has been organizing large events like this for years, said he had used this same location successfully before.
"She put us in danger," said Amelia, still visibly upset at the situation. "She changed the location at the last minute and picked the worst and dirtiest street in Los Angeles. I have nothing against the homeless, but the street was a homeless encampment, and I have a feeling she put us there because she had no permits. They probably didn't think the event would get shut down."
According to two vendors who attended the festival, the health department shut down the event right before it started at around 6 P.M., making each vendor fill out a form stating that they there were selling food illegally. 
"I felt bad because all the vendors were upset," said Sandra in disbelief. "One lady had to give away 2,000 tamales because there was no way she was going to be able to sell them before the night was over. Some artisanal vendors that came from Puebla and Veracruz were even crying and were so stressed out because they had purchased a giant booth filled with artisanal items that didn't sell."
In a video recorded by vendors, you can see them confronting Romero and Ramirez. Even then, both organizers stood behind their words and claimed they had no idea why the city would shut them down, considering they had the permits for the event.
During a live video recorded on Facebook Live, Romero and Ramirez alleged that they would sue the city for having their event shut down.
On the Chamber of Commerce District 57 Facebook page, the board posted scanned copies and screenshots of the paperwork they gave vendors and the emails going back and forth with the city.
They alleged that the city discriminated against their festival because it catered mainly to Spanish-speaking communities. Romero and Ramirez posted that they have never had issues with staging any type of event in the city or county until now.
L.A. TACO reached out to Ramirez and Romero to hear their versions of how everything happened. Ramirez responded right before the publishing of this story, denying the allegations made against her and Romero.
"We filed a lawsuit against the city for shutting us down," she said over the phone, still upset at the backlash. "We intend to get the money back, to not just the vendors, but the musicians and everyone else impacted by this."
"The decision to move the location was made in the best interest of everyone. We had approval from the city and have the emails to prove it. We're not scammers. We had good intentions."
L.A. TACO reached out to the health department to confirm that El "Festival De La Alegria" was permitted.
A spokesperson said: "Public Health has no record of having issued a Community Event permit for the Festival Multicultural de la Alegria at 1544 Paloma Street in L.A. 90021 for the weekend of August 18-20, 2023."
When asked about the health permit, Romero insisted that all paperwork was submitted and that they were wrongfully shut down. He explained that they had been in communication with the health department and agreed to show up on Saturday to conduct their inspection. Instead, the health department showed up on Friday.
"No es justo," said vendor Juan Carlos. "It's not fair that they are taking advantage of us. As street vendors, we get excited to be vending at such big events because it's an opportunity to expand our business. So it's not fair for them to do this."
Vendors who did not attend the event lost over $6,000 each on booth space and buying supplies and produce for the event.
Rocio said she even bought a refrigerator to ensure all her ingredients stayed fresh throughout the festival. Others either agreed to attend the event, while some made the decision to wait until the November festival. Or agreed to wait until they got their money back.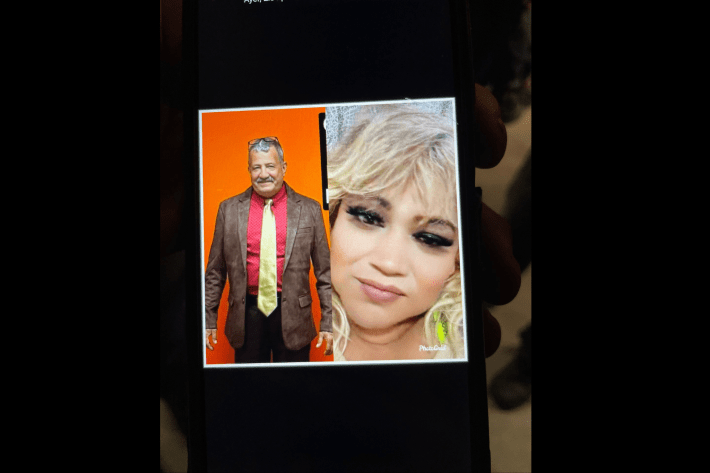 "One way or another, the truth is going to come out, because it's not okay that nothing is being done," Amelia said. "Meanwhile, they're there waiting to see who else to scam. They have another event coming in November; vendors need to know who they are working with, or this can happen to them."
Getting scammed as a vendor for markets, or even community events like the one in this situation happens all too often. Although it has not been confirmed that the event put on by Ramirez and Romero was indeed just a scam, vendors should always be on the lookout for possible scammers.
Those planning to participate in events or festivals should look out for a few things when asked to fill out paperwork. Like knowing what a proper event permit looks like, which may look different depending on where the event is happening, and thoroughly looking through paperwork to check for spelling errors or anything that may look off.
Something that Sandra noticed only after she had made her payment for her booth. 
"I noticed something was wrong when I started to look at the papers she gave us," said Sandra. "Because, in one of them, it says District 51, not 57, the District they claimed to be from. But I had already paid and I thought maybe it's just an error."
For now, the vendors plan on filing a report with the police and are hoping that the situation gets investigated. Ultimately, they hope to recover their money. 
And although the vendors present at Thursday's meeting were a small group, they said the list of vendors impacted goes beyond 20 of them. They are now publicly asking street vendors who attended the event, or who paid but did not attend, to reach out to them so they can seek help together as a group. As for the communication between Ramirez and the vendors, they say it has stopped completely. 
"It was a lot," said Romero, recounting the days after the festival was shut down. "I got sick because of the stress and because I was being called a scammer and thief. Don Felix went to the hospital for the same reason."
She admitted to halting communication with these specific vendors after the festival because she was overwhelmed and stressed from the backlash.
Still, vendors said, regardless of the explanations given to them, what they want most is to have their money returned.
"We do so much, as street vendors work so hard, and we over-prepare for events like this, and it's not fair," pleaded Rocio. "Please, we want our money. It's sad because right now, more than ever, we (street vendors) are so vulnerable, and for them to do this is unacceptable."
"They played with our feelings and emotions too," Sandra added. "That has no price, that's abuse."
Participating vendors who want to come forward can call or text this number: 323-708-1990.
Those wanting to keep updated with the lawsuit for damages that the Chamber of Commerce District 57 board is currently undergoing with the city can follow their Facebook Page where updates for payments will be posted.
Janette Villafana is a multimedia journalist from Santa Ana, CA who often covers stories that highlight diverse communities, their issues, success, and personal stories.
Read More:
Stay in touch
Sign up for our free newsletter