News
Update: Disney Used a Vacant L.A. Hospital as a Set for a Medical Drama as COVID-19 Cases in L.A. County Grew 625%
8:31 AM PST on December 21, 2020
March 1 , 2021 Update: Following our report, L.A. Taco obtained an email that suggests that Soon-Shiong was considering reopening the shuttered St. Vincent Medical Center as a surge hospital in early January, near the peak of the deadliest surge during the pandemic, just weeks after the former hospital was used as a production set. In an email conversation between Council District 13 staffer, Star Parsamyan, and Christopher P. Espinosa, an employee with the Office of the Chief Legislative Analyst, Espinosa wrote: "I got a call back from the person who runs the Shiong Foundation. Currently, they are in direct conversation with the Governor's Office as they may re-open the facility as a COVID-19 surge hospital once again." Ultimately, St. Vincent Medical Center did not re-open as a surge hospital and it's unclear why. We've reached out to the parties referenced in the email, including Soon-Shiong through his company NantWorks, but have not received a response from anyone.
On April 17, when L.A. County reported 567 new COVID-19 cases and 40 deaths, recently shuttered (due to a bankruptcy sale), St. Vincent Medical Center in Westlake reopened as a surge hospital to fight the early spread of the virus. 
Last week, when the county reported a record-breaking 22,422 new cases of COVID-19 (including over 7,000 backlogged cases) and over 130 deaths in one day, the former medical center purchased by LA Times owner and physician, Patrick Soon-Shiong, was being used as a TV production set.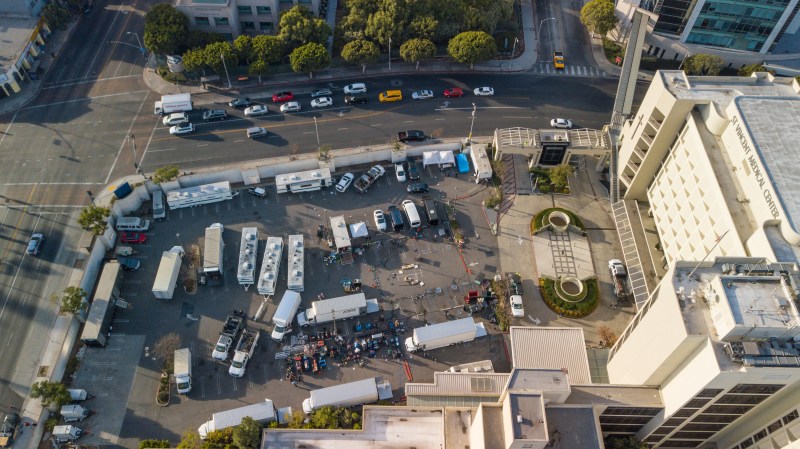 Back in April, Soon-Shiong had ambitious plans to convert St. Vincent Medical Center into a COVID-19 "central command" center where experts could come together and additional patients could be treated. "That's what every city should have done, they should have established a central command," Soon-Shiong told the LA Times in April.
Days later, after Soon-Shiong and his wife, Michele B. Chan attempted to buy the property through their family foundation (The Chan Soon-Shiong Family Foundation), they were accused of "self dealing" by California Attorney General Xavier Becerra. Soon-Shiong's Culver City-based firm, NantWorks, purchased Integrity Health, the company that managed St. Vincent, in 2017, and was listed as one of the failing company's creditors during a bankruptcy sale where Soon-Shiong's family foundation emerged as a buyer. After the state agreed to provide over $2.3 million per month in rent to reopen St. Vincent, Soon-Shiong purchased the former medical center outright for over $130 million to avoid the appearance of any conflict of interest.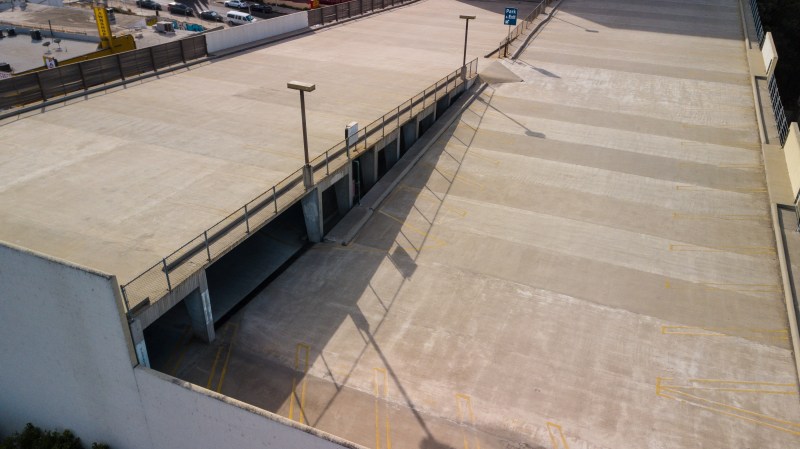 In November, Soon-Shiong hired international commercial leasing conglomerate, JLL, to find tenants to rent out the 674,000 square foot campus. L.A. Taco has reached out to representatives at JLL, the LA Times as well as NantWorks for comment via email and phone but have not yet received a response from JLL or NantWorks.
According to a film permit provided by FilmLA–a non-profit that serves as the official film office for the city and county–The Walt Disney Company and Fox Studios have been working on a new medical drama titled 'Triage,' at the former St. Vincent Medical Center, since November 5. The permit is valid through December 23.
According to data from the health department, between November 1 and December 7, COVID-19 cases increased by more than 600 percent, and between November 9 and December 10, hospitalization increased over 300 percent. It took L.A. County 9 months to reach 600,000 cases of COVID-19 but in just one week between December 11 and December 19, over 100,000 people tested positive for COVID-19. 
"For the past two weeks every day, we've seen a record number of people hospitalized," the L.A. County Director of Public Health, Dr. Barbara Ferrer said last Wednesday. Just a few days after she broke down in tears on live television as she talked about the uncontrollable surge in her county. A trend that has continued. Yesterday the county reported that over 5,500 people were in the hospital for coronavirus.
A public information officer with the L.A County Department of Public Health told L.A Taco via email at the beginning of last week when less than 4,300 people were in the hospital for COVID-19, "[St. Vincent] was opened by the State and the lease for that facility has expired. The State has not indicated that it would be opening another surge hospital or alternate care sites at this point. The State is focused on providing appropriate level staff (RN Critical Care, and Respiratory Therapist) to hospitals at this time."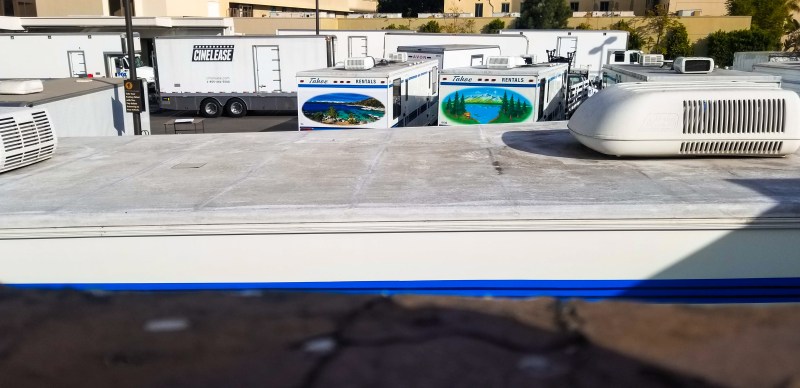 At a press conference on the same day, Governor Gavin Newsom said that he was unaware of the film shoot at St. Vincent and confirmed that the state was not looking at the former medical center as a possible surge hospital, in response to a question from Courthouse News reporter and L.A. Taco contributor Nathan Solis. Newsom joined Mayor Garcetti and Supervisor Hilda Solis at Kaiser Permanente to congratulate several L.A. County healthcare workers who received some of the first vaccinations for COVID-19 in the United States.
Newsom doubled down on the state's position a day later saying, "I don't know the details of that particular location as it relates to the current use." Newsom added that 11 sites are in "warm status" across the state. "[St. Vincent] is not part of one of those 11 for the purposes of our current planning but we maintain vigilance as it relates to looking at alternative sites. In addition to St. Vincent, we are looking at other sites here in Southern California." In response to a question from KNX1070 radio reporter, Claudia Peschiutta.
L.A. County Public Health Director, Dr. Ferrer and other health officials have repeatedly stressed that ICU beds are not the problem. Trained staff that is difficult to come by nine months into the pandemic, also needs to accompany those beds.
"The problem is not physical space. Setting up overflow capacity in non-hospital settings will not solve this problem. Even with the projected shortage of beds, the safest place for a patient who is sick enough to need hospital level care is always within a hospital," said Dr. Christina Ghaly, Director of the Los Angeles County Department of Health Services, on Wednesday. Dr. Ghaly added that even under staffing shortages, hospitals have "critical infrastructure that is needed for the proper care of patients," like laboratory services, radiology services, and cafeterias.
Similarly, last week, Dr. Ghaly said that there were no existing plans to request the USNS Mercy ship that was stationed on the coast of California in May and over the summer. Dr. Christina Ghaly said that the physical set up of the naval ship made it difficult to care for patients. The county also had a hard time finding identifiable patients that qualified for care. Patients had to be physically mobile and meet a number of other stringent requirements, according to Dr. Ghaly.
According to health officials, hospitals have the capabilities to surge within the confines of their own facilities by canceling elective surgeries, discharging patients, diverting emergency patients to other hospitals and requiring nurses to take care of more patients. Dr. Ghaly warned however, "These actions while critical and ongoing cannot continue indefinitely."
"Many hospitals have already broken nurse staffing ratios and their staff are not necessarily getting the breaks or rest that they should be getting," Dr. Ghaly said. "Breaking ratio" pushes nurses to take care of "more patients than is safe to do so," Dr. Ghaly said Wednesday. "A situation that will result in poor patient outcomes and in extreme circumstances, will also result in the rationing of ICU or intensive care units and other hospital beds."
The Cameras Keep Rolling
For the first three months of the pandemic, television and film production was suspended. Since productions opened back up in mid-June, FilmLA has received over 3,500 permit applications. November was the first month that applications slowed down. FilmLA speculates that the decrease was due to the elections, holidays, and an increase in COVID-19 cases.
Despite a downturn in permit applications and record breaking COVID-19 numbers, the film and television cameras keep rolling.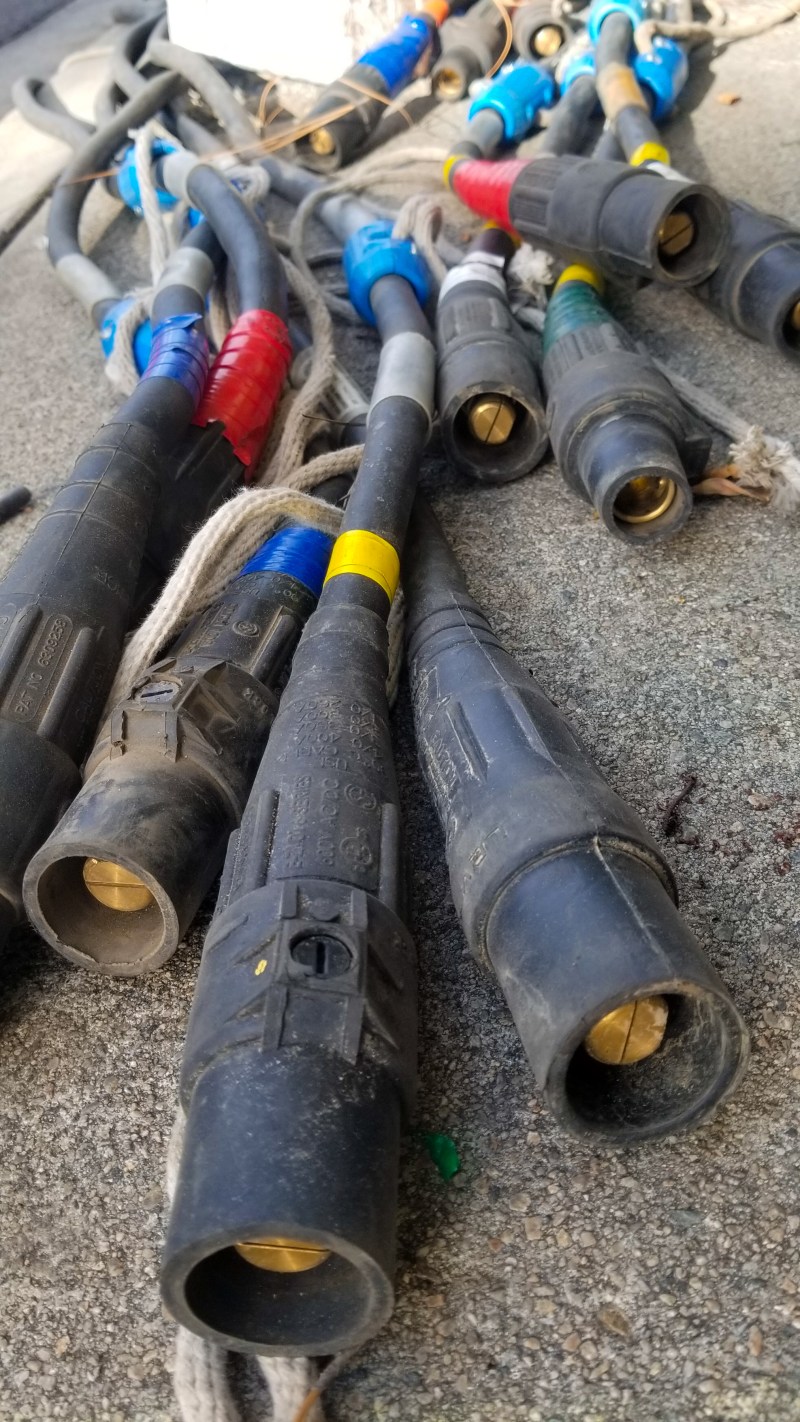 In addition to 'Triage', popular shows such as 'The Kominsky Method' (Netflix), 'Curb Your Enthusiasm' (HBO) and 'Jay Leno's Garage' (NBC), also began filming in November. As well as approximately 40 feature films. A double standard in the county's controversial outdoor dining ban was also exposed earlier this month when an owner of a restaurant in Sherman Oaks posted a video showing how film caterers were allowed to serve film crews in an outdoor dining setup.
According to the L.A. County health department, 50 employees at various production companies–including five employees associated with 'The Kominsky Method'–have tested positive for COVID-19 recently. All businesses in the county are required to report three or more cases to the department.
While dining outdoors in L.A. County has been temporarily banned and residents have been threatened with misdemeanors for leaving their homes for activities other than exercise or shopping at essential businesses, television and movie productions are considered "critical infrastructure" under the state order.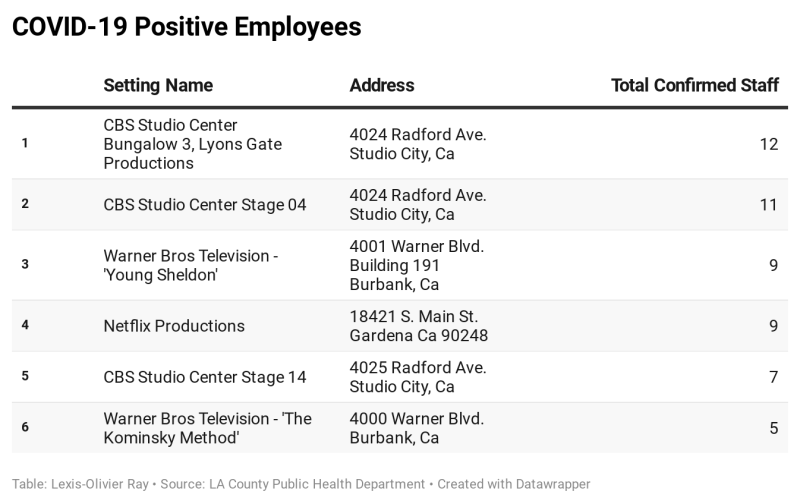 The prioritization of film shoots during the pandemic has come at the detriment to some Angelenos. Earlier this month, a movie production briefly shutdown a COVID-19 testing facility at Union Station. Two weeks ago, unhoused residents near City Hall were reportedly displaced to make way for an Apple + TV show. Television and film shoots have long created problems for residents in neighborhoods, particularly in Black and brown communities, where parking is difficult to come by. A report by The Intercept found that all of the major studios ramped up donations to California politicians at the start of the pandemic in an attempt to lobby for favorable health orders.
On Wednesday, Dr. Ferrer said that while production companies generally adhere to "extraordinary strict rules" that include regular testing, she also urged the public to report any violations or concerns associated with production companies or any other business to the health department. "If you see something that's happening and it really doesn't make sense and it looks like people aren't following the rules whether its a production company or anything else that's associated with a business we are going to ask that you call that into us so that we can investigate."
"The worst is still before us"
In less than forty days, 64 patients were treated at St. Vincent before it abruptly closed down in late May. The surge hospital provided care for some of the poorest and sickest residents of LA County, according to the LA Times. While the program came at a cost of over $20 million dollars it served as an important example of what can happen when insurance companies and administrative staff are largely excluded from healthcare. Only three patients that were provided care had private health insurance, the majority were either uninsured or had Medi-Cal or Medicare.
As we approach another round of holidays, public health officials have warned that we haven't seen the worst of the pandemic yet. An increase in hospitalizations and deaths is usually reflected a couple weeks after cases surge.
"Our hospitals are under siege, and our models show no end in sight." Dr. Ghaly warned last Wednesday. "I haven't said this before, because Los Angeles County has not been in this situation in the pandemic before. But the worst is still before us." A day later Southern California's ICU capacity dipped to zero percent. And while that doesn't necessarily mean we've completely run out of ICU beds, we're certainly getting close. "What we're seeing is hospitals that are strained and under immense stress," Dr. Ghaly said this week.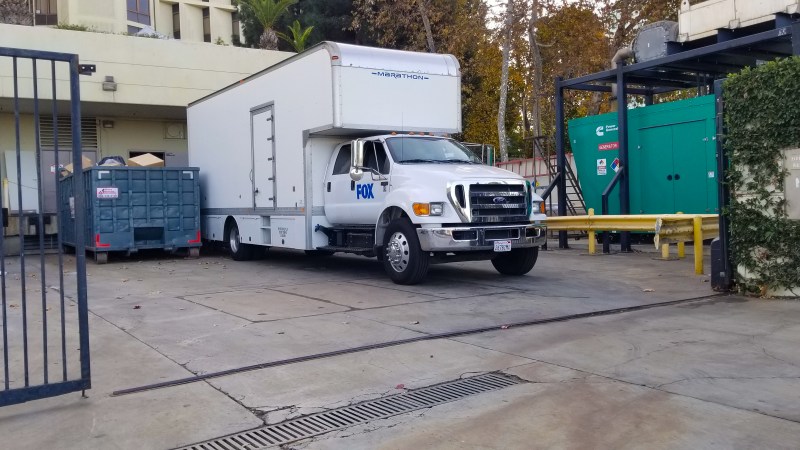 Hospitals reaching capacity means less room for COVID-19 patients but also less room to provide care for cancer patients, victims of car accidents, domestic abuse and anybody else that might need hospital level care. Patients battling illnesses other than COVID-19 have already died because they couldn't get the care they needed, due to the surge in coronavirus cases. Health officials say the number one way to shift the tide is to stay home. Activities that we participated in a couple months ago are no longer safe, Dr. Ghaly explained on Wednesday after the county reported the highest numbers we've ever seen during the pandemic: "Many things are permitted still, but they may not be wise, and they carry immense risks for you and for those around you."
Lexis-Olivier Ray is a housing, justice and culture reporter for L.A. TACO.
Read More:
Stay in touch
Sign up for our free newsletter