Featured
For a Taste of Odessa-Style Ukrainian Food, Head to Babushka Grandma's Deli in Hollywood
11:10 AM PDT on March 23, 2022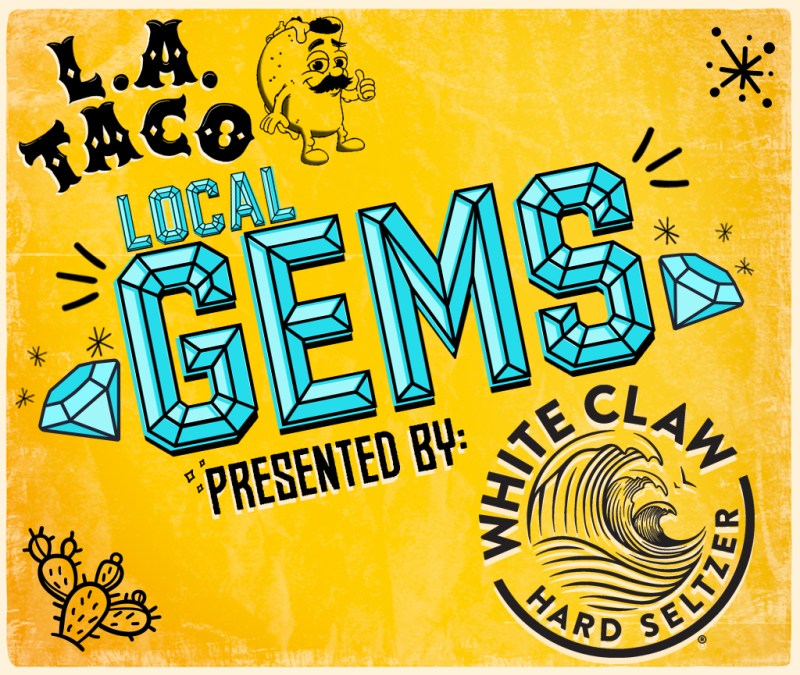 Welcome to Local Gems, our monthly restaurant column presented by White Claw, the official hard seltzer of L.A. TACO. Each month we'll honor neighborhood institutions that make delicious food and have stood the test of time all over Los Angeles. Read, order, share, and don't be afraid to rep your own hood's local gem in the comments.
West Hollywood's Babushka Grandma's Deli is different than other Eastern European markets in L.A.
Brighter, cleaner, kinder, and more indulgent, with a noticeably larger, upgraded selection of prepared dishes, pantry staples, and pastries. It's the rare kind of boutique Eastern European business that you wish could linger at a bit longer over a shot of espresso and a slice of its esteemed Napolyeon tort.
It's a difference owner Konstantin Chvouim credits to the influence of his seaside hometown of Odessa, Ukraine, where a majority of his staff was born, as well.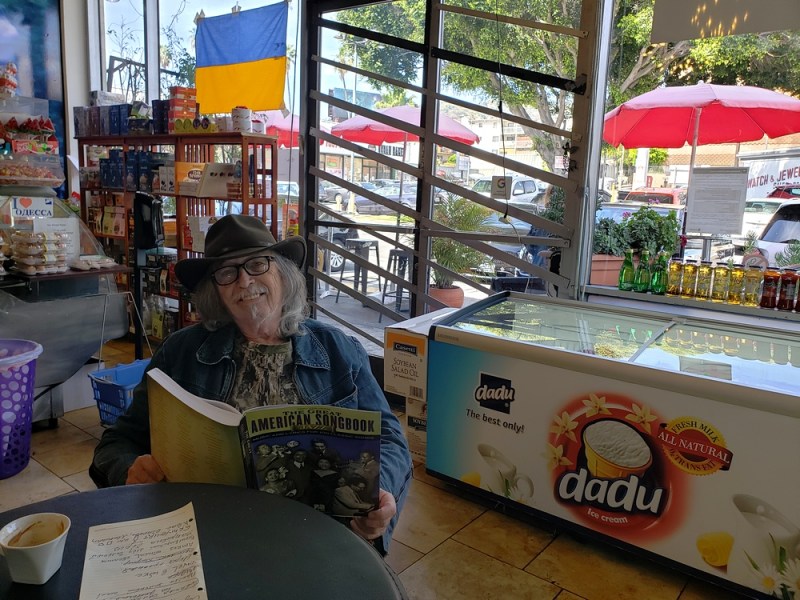 "We bring here the spirit of Odessa, which is a very special city," Chvouim tells L.A. TACO, a glint in his eye recognizable in anyone who has spent significant time on a stage.
"Like New Orleans," he continues. "We have our own architecture, built by famous European architects of their time. Our own way of speaking. Our own music. Our own foods; a mix of Russian-Ukrainian, Jewish, Greek, Turkish, Bulgarian, Armenian. It belongs to Ukraine but is multicultural. It's not Russian, it's not Ukrainian, it's not Jewish. It's Odessa."
Chvouim, 75, is a retired musician from a Jewish family. He fell in love with jazz over 60 years ago by listening, in total solitude and secrecy, to Voice of America, the audio arm of American propaganda that began broadcasting in the Russian language in 1947. The drums, sax, trumpet, and vocals were faint but magnetic through his staticky radio.
"Glen Miller, Miles Davis, John Coltrane, Oscar Peterson, Ella Fitzgerald, Dave Brubeck, Dizzy Gillespie, " he reminisces. "We didn't have any jazz education at the time. The radio was the only source. Traditional be-bop was our education, every night at 11:15. Nobody can hear you listening, even your parents."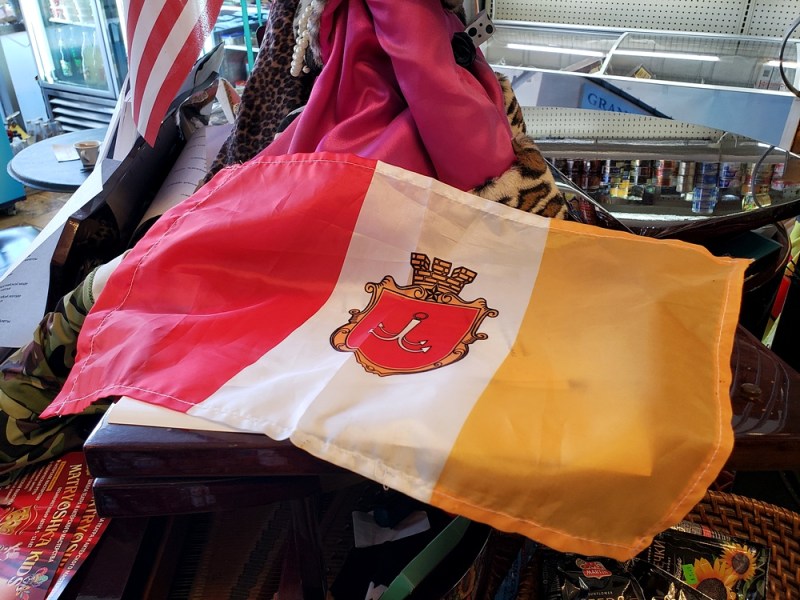 He left Ukraine in 1993 after the collapse of the Soviet Union with no money, no papers, and no plans to stay.
Chvouim opened Babushka 19 years ago in the corner of the same Sunset Boulevard strip mall it still shines in today. The owner remains enchanted by the dark wooden bow of modern design that curves over the space's granite floors, extending out to a photo-mural of Odessa behind the counter, which bears dark loaves of bread and golden-coated dishes.
For years, the small deli served customers who, much like Chvouim himself, led the early wave of Russian-Jewish, post-Soviet emigrees who built this West Hollywood neighborhood, known as "Little Odessa."
Today, he sees those same familiar faces and their offspring mingling with a fresh crop of newer, younger customers who have left Russia, Ukraine, and surrounding regions for the States.
"We know everyone." Chvouim, who lives mere yards away from the business, tells us. "We know who will come today: Uncle Yasha or Uncle Boris or Lady Rosa. It's a small neighborhood and we love all our customers like mishpocheh, which is the Yiddish word for 'family and friends.'"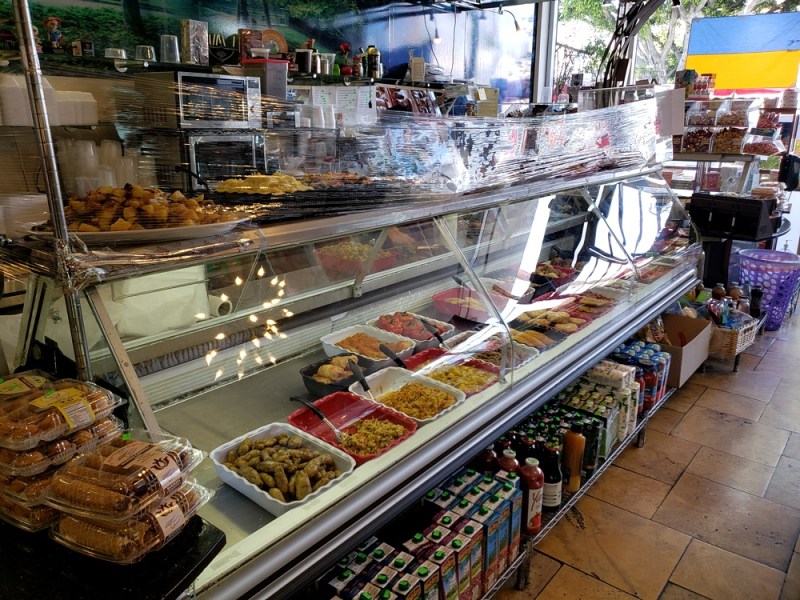 It's not uncommon for loyal customers to stay for a while, too, to tickle Chvouim's ivories, chat over coffee, or tell jokes. Or idle on the patio listening to the speakers play his favorite music. "Half of Hollywood has roots in Odessa," he explains, noting its great legacy of comedians and performers while searching for his sign that reads, "No Bullshit. Jazz Only."
Like any Slavic shop worth its salt, Babushka carries groceries from across Eastern and Central Europe. The kind that can easily stir nostalgia for one's Soviet childhood and are equally treasured by recent immigrants seeking a taste of home. Its shelves and fridges are packed with the edible jewels of the USSR's numerous republics and neighbors.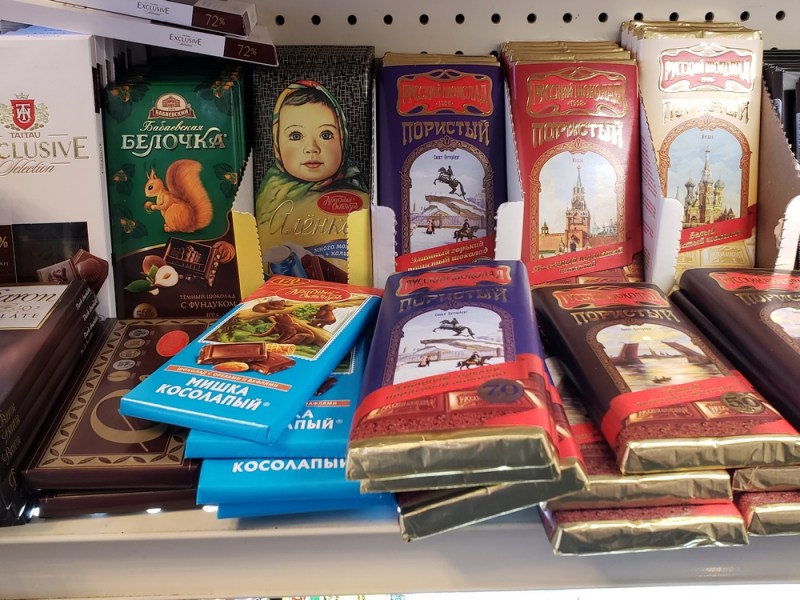 Among the many enchantments one can find among its shelves:
Ukrainian sunflower seeds, sunflower oil, butter, and sour cream rich enough to eat with a spoon; smoked goliaths of Polish and Hungarian sausage; Lithuanian cheeses, black currant preserves, and beloved Dadu ice cream; Georgian tkemali sauce and Borjomi mineral water from the Caucasus; Armenian adjika and ikra; pickled mushrooms from Turkey; chocolate and candies from the company of Ukraine's billionaire former president-turned-armed-resistance-fighter, Petro Poroshenko; Russian-style buckwheat honey, salo (salted pork back fat), pickled tomatoes, and tea stamped with Czar Nicholas II's image; kefir, ryazhenka (baked kefir), and endless sacks of frozen pelmeni and vareniki dumplings; Polish canned "Army" pork loaf and cucumber pickles; fat bottles of kvass, barley water, fruit kompot, and birch juice; and insanely addictive Latvian sprats in oil. To name but a few.
"I grew up in an apartment with one kitchen, one bathroom, and seven different families, each living in their own room," Chvouim says, describing the communal housing typical to life under the Soviet system. "In the kitchen: Ukrainian lady, Jewish lady, Moldavian lady, Armenian lady, Russian lady; they cook together and share their recipes. So they create a special Odessa-style. It's a little bit of everything."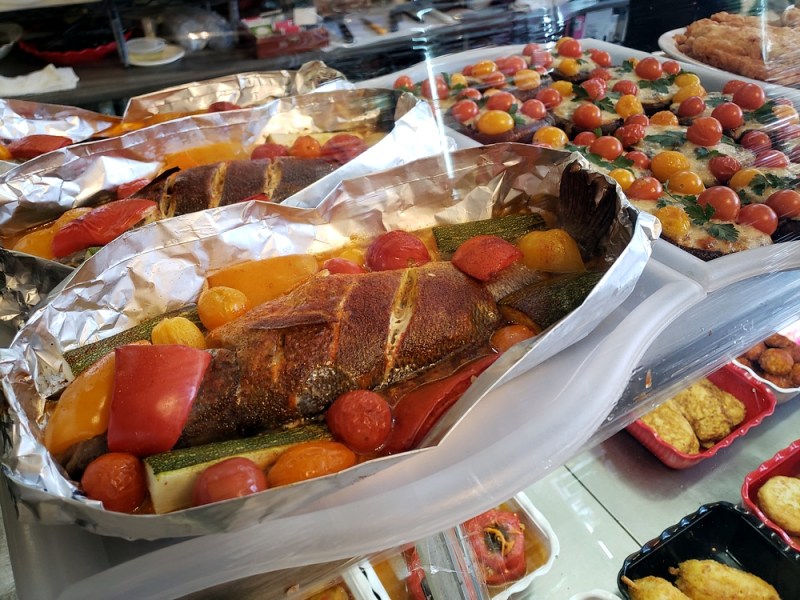 In the middle of the deli is a small dark brown piano, where you'll often find Chvouim, as well. He doesn't need much arm-twisting to play you "As Time Goes By" or another standard from his worn copy of The Great American Songbook. He's a welcoming owner who admits to being shy, but willing to chat up longtime customers and curious looky-loos alike. One who relishes the store and his own position in the community.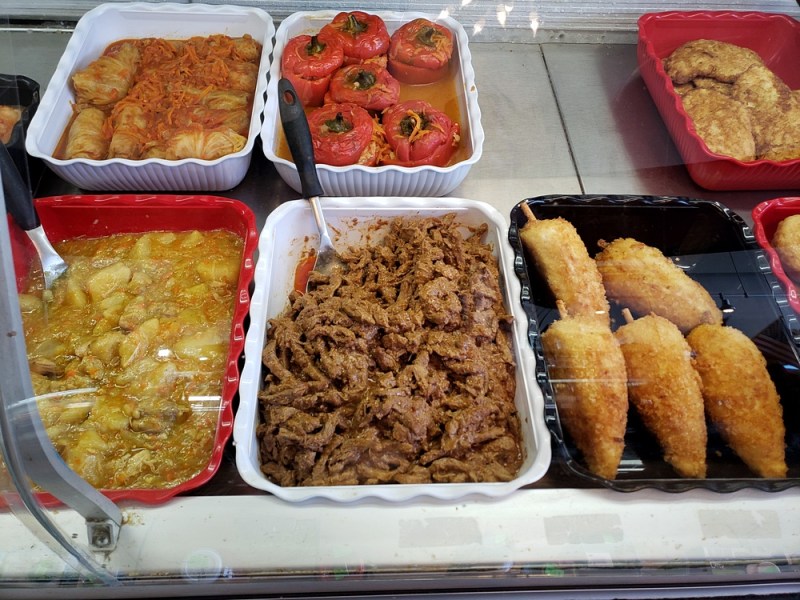 What truly sets Babushka apart from its kind is the unrivaled selection of home-style dishes made in-house with real ingredients that line the cold cases and displays on Babushka's western flank. The selection may change a little here and there but still adheres to the same family recipes Chvouim originally introduced from Odessa, back when a titular babushka (grandma) was in the back kitchen.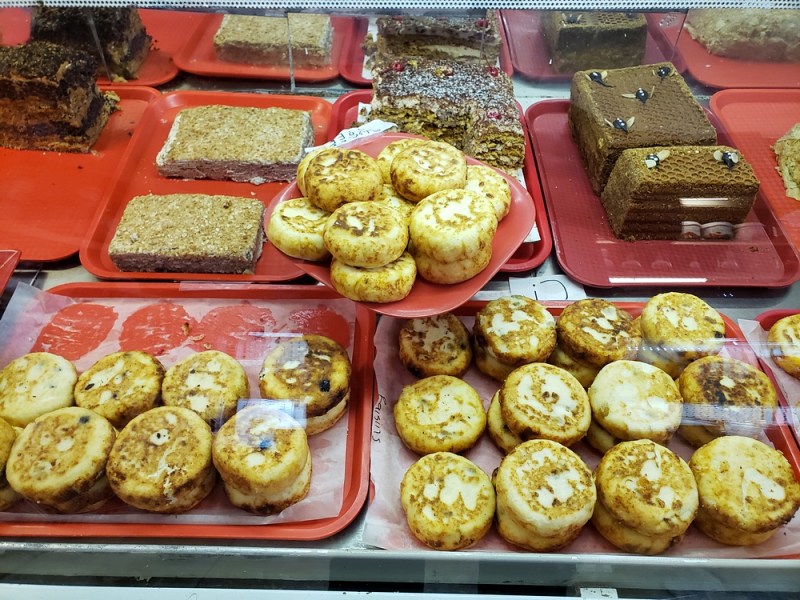 You can typically count on being enticed by multiple flavors of fluffy Ukrainian syrniki filled with farmers cheese; crepe-like blini; Bulgarian banitsa cheese pies; spud-shaped kotlet; large Pyrex trays filled with Russian-Ukrainian classics like aspic-encased chicken-and-egg holodets, salad Olivieh, golubsi, and a hyper-pink herring under a fur coat.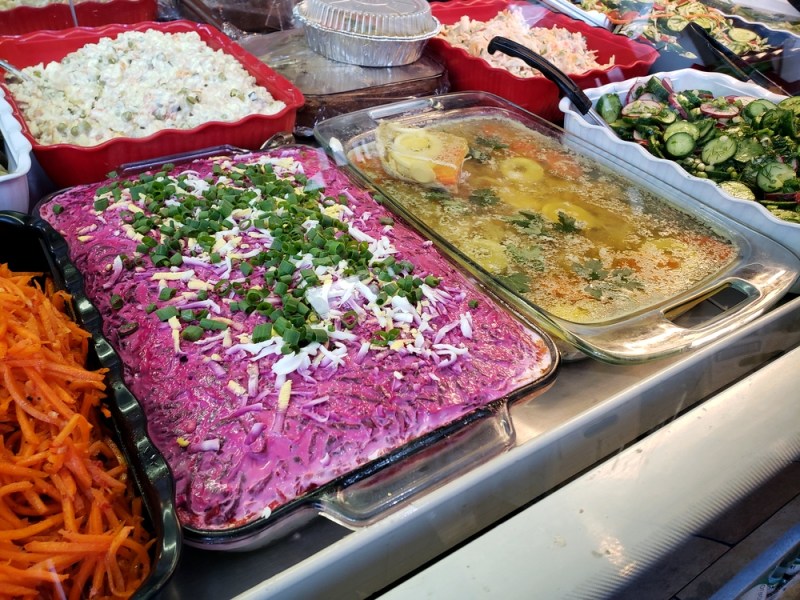 There may be whole stuffed bell peppers ; Georgian karcho; Ukrainian borscht; pounded chicken and oven-roasted, stuffed branzino; Korean-style carrot salad; fish cakes and fried smelt; chicken Kiev on a stick; and on special occasions, roe-filled sturgeon, duck legs, and smoked whole chickens just begging to be shared on the spot or packed up and carried to "Tchaikovsky with Fireworks" at the Hollywood Bowl.
"The menu may actually be the same [as at other places], but the quality is different," he says. "Everything here is breathing Odessa-style."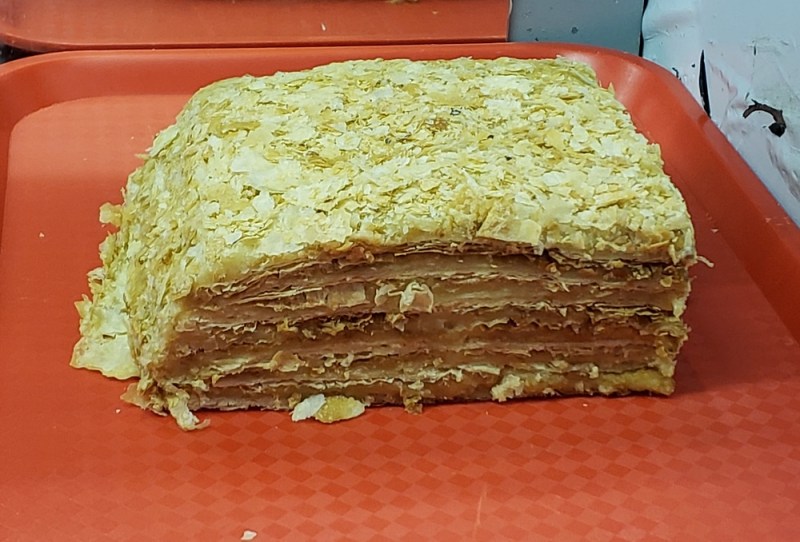 There are also impressive and popular pastries, like a visually stunning version of the layered honey cake, medovik, with a honeycomb top buzzing with confectionary bees. And Babushka's pride, the light but sizable Napolyeon tort (Napoleon cake) people travel across the Southland for.
Since Russia's invasion and sustained slaughter in Ukraine, not much has changed at the store, Chvouim says. He and most of his clientele, be they Ukrainian, Russian, or from elsewhere, oppose the incursion and Putin's long overstayed reign which threatens the places they love.
"Everybody has relatives in Ukraine or in Russia," he explains. "Generally, people doesn't like Mr. Putin. Not Russian people, but the government and their politics and aggression, they don't like it."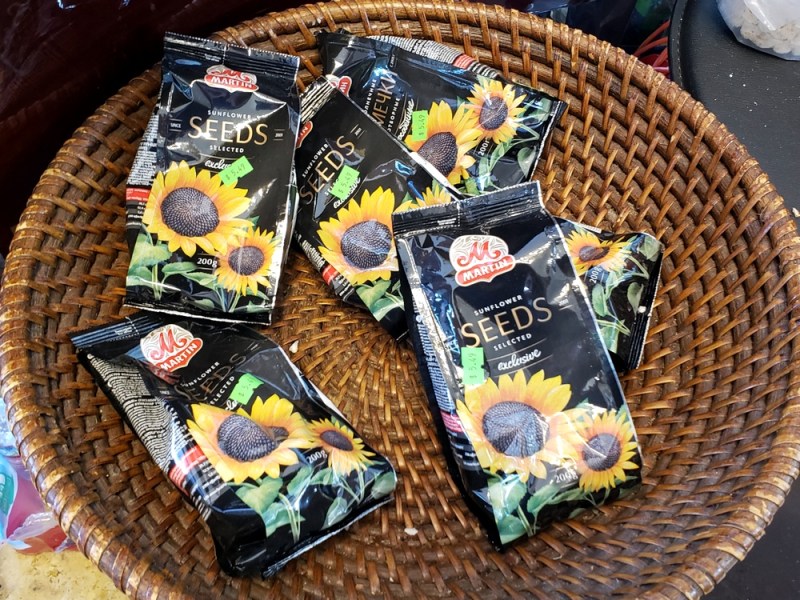 Today in Los Angeles, he's content in providing a safe, uplifting place where Eastern Europeans and his West Hollywood community can comfort themselves through familiar flavors, the solidarity of neighbors, and perhaps a late afternoon tune.
"You talk of the American dream, look at me," Chvouim says, sitting at his piano. "I have coffee. I play jazz. There are beautiful girls. God bless America."
Babushka Grandma's Deli ~ 7300 W Sunset Blvd. Los Angeles, CA 90046 ~ 323-851-2312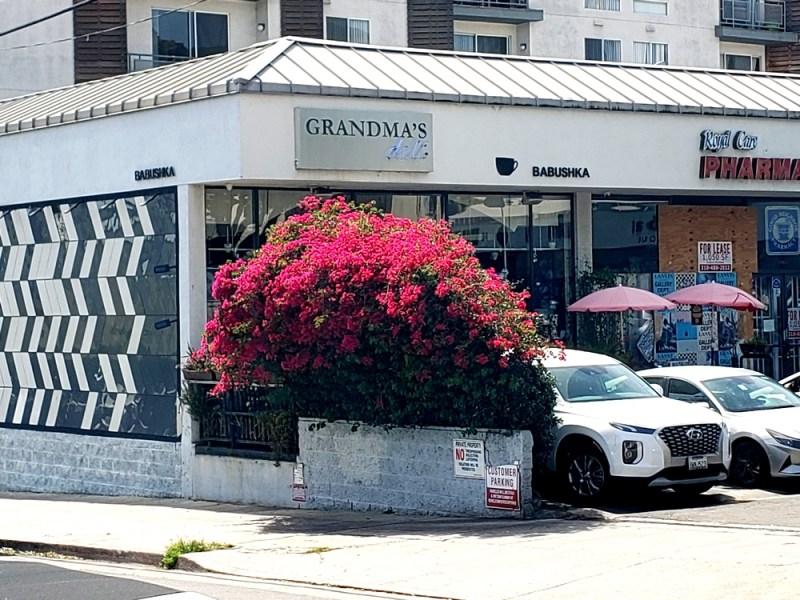 One of L.A. TACO's co-founders, Hadley Tomicki is a critic and journalist whose work has appeared in the Los Angeles Times, New York Magazine, and many other places.
Stay in touch
Sign up for our free newsletter