Sponsored
Five Itineraries for Exploring Los Angeles While Stoned Out of Your Mind
12:45 PM PDT on September 22, 2021
[dropcap size=big]L[/dropcap]ong before you could pack a pipe in public, Los Angeles found itself entangled in an extensive love affair with cannabis.
There's just something about our agreeable weather, protracted coast, and laid-back lifestyle that pairs perfectly with that good-good sinsemilla.
Fine herb is deeply etched into L.A.'s culture, past, and present. From hotboxed VWs chugging along the 60s coast to Cheech and Chong low-riding their "Love Machine" through Lincoln Heights in the 70s to Cypress Hill and Snoop Dogg's push against the tides for the open enjoyment of chronic in the 90s, and their visions now realized.
So if you're thinking of embracing the herb today to enjoy the living shit out of your city—L.A. TACO approve of that decision. After all, we started in 2006 as a blog dedicated to celebrating L.A.'s cannabis, graffiti, and taco culture.
In fact, we placed a fat order at GrassDoor this morning. They showed up with the goods before the hour was done. And then we got to work building you the perfect stoner itineraries in L.A.
So come on in and say "high." We know you're going to love it. Especially as we're giving you 30% off your first order with GrassDoor simply by using the code: ROLL1UP.
And as always, and because lists never totally get this shit right, we'd love to know your favorite places to hang out while blazed in Los Angeles.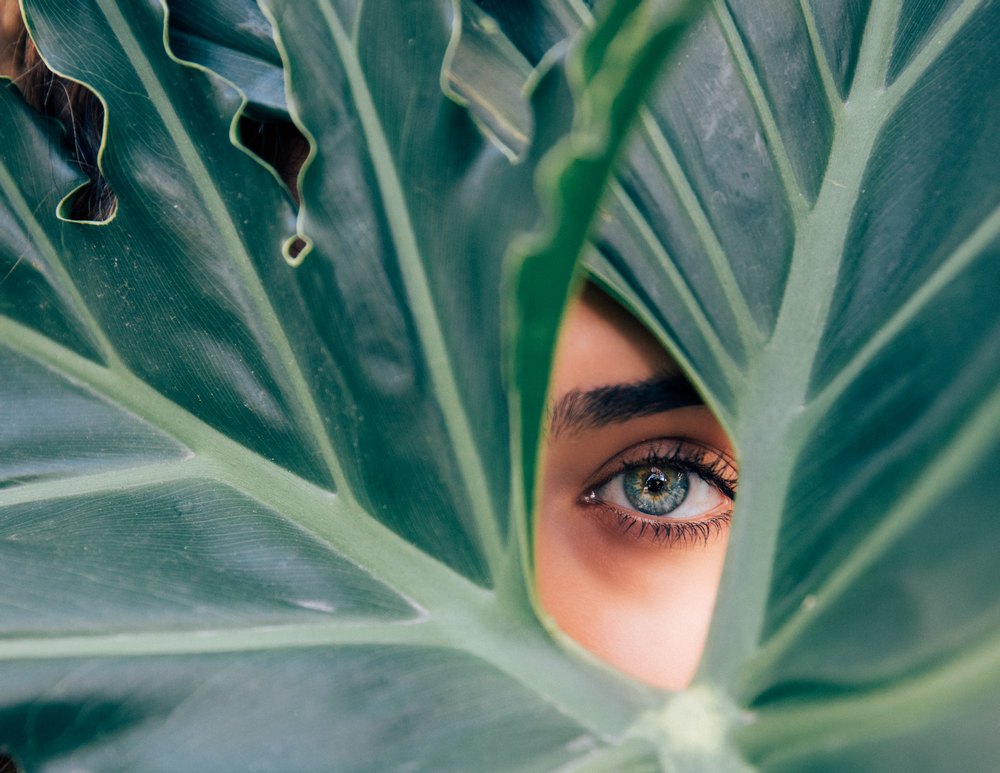 The Nature-Lover's Itinerary
You're seeking peace. Quiet. Perhaps a trail bereft of concrete, reality TV folk, and college punks pumpin' Lil Pump from their portable speakers. Damn kids. Anyway, we hear you and we've got you.
First have your crew rally at Greystone Mansion, where you'll breathe in the early morning air within the lush gardens of Edward L. Doheny's Beverly Hills mansion, as seen in films like There Will Be Blood and The Witches of Eastwick. Once assembled, you'll make sure everyone is armed with their requested allotage of Kiva's Lost Farms Strawberry Lemonade x Super Lemon Haze Sativa gummies for a perky buzz made with live resin.
Next, you'll roll together for Santa Monica's Self-Realization Fellowship Shrine to take a few slow and steady revolutions around the scenic lake and share a short session in its meditation gardens. From there, your choices of trails are near limitless in Los Angeles.
An easy, enjoyable walk filled with migratory birds, tall trees, and calm waters line the Sepulveda Basin Project at the unlikely intersection of the 405 and 101 Freeways. The Baldwin Hills Overlook is nearly always packed with people, but you cannot beat the 360-degree views of this town. A sycamore-stuffed canyon awaits on Brentwood's Sullivan Canyon Trail, which you may even have to yourself if you arrive early. Griffith Park is as large as it is iconic, with 4,310 acres to explore, including plenty of sweeping vistas, and spots for solitude.
As the day comes to a close, you'll reach for a couple of Camino's Midnight Blueberry Sleep Gummies, infused with CBN, chamomile, and lavender extracts, before bringing your bunch to sit on the sands of Will Rogers State Beach, an easily accessed beach without the crowds below the Pier. Or if you prefer idling around the Valley or L.A.'s Northeast, go for a stroll along the L.A. River Bike Path, which stretches along the low waters from Glendale to Long Beach. Ahhhhhh… relaxation achieved.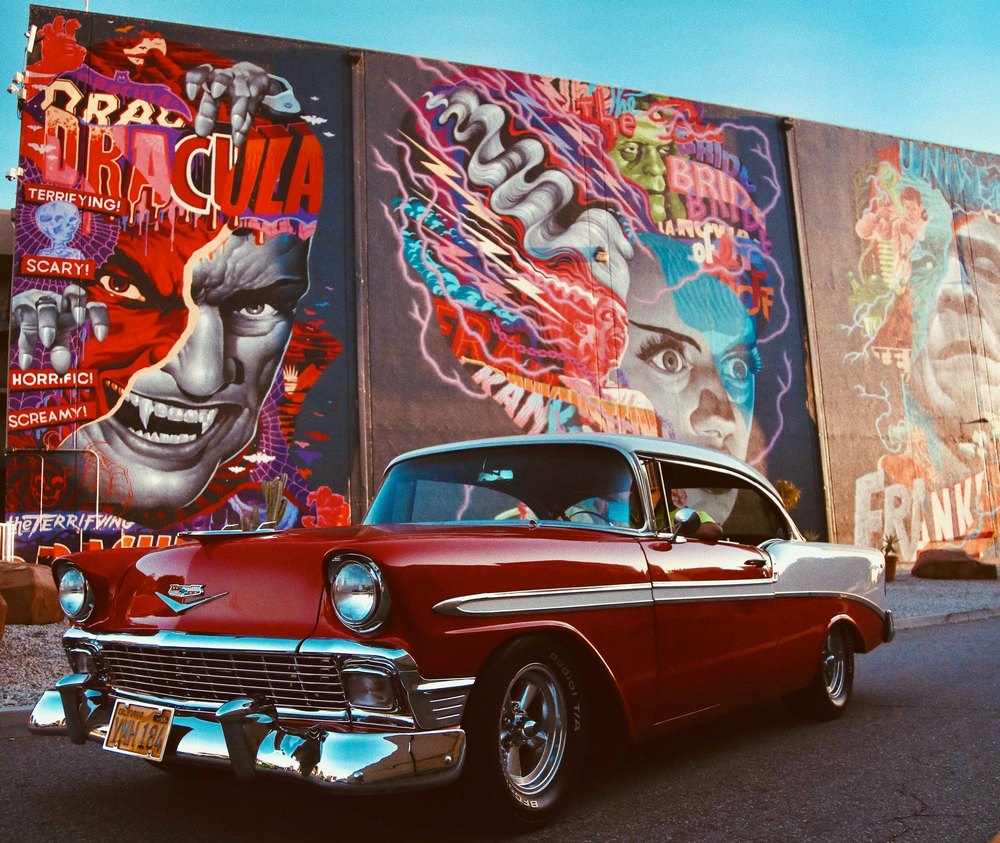 The Art Fiend's Itinerary
You're ready to be visually stimulated. And have your head fucked with. In a good way.
First step? Smoking a bone. So you'll meet your fellow arts fanatics in Downtown's Arts District to share one of CBX's Tropicanna Infused Prerolls, a powerful strain at 41.9% THC that is boosted with .25 grams of THCA diamonds.
Your energy up, you chart a path through the neighborhood's stunning murals, enjoying massive and/or thought-provoking pieces from some of the city's (and world's) best street artists on the walls around you. While strolling, you'll dip into various stops along the neighborhood's Gallery Row, featuring over 50 different art spaces.
Consider a pause at Art Share L.A. to see creative works by the community. And if the timing works out, to take a short class yourself. A visit to the more upscale Hauser + Wirth Gallery will access three parallel shows, typically combining art world darlings past and present with the works of industry-approved up-and-comers.
Nearby, Night Gallery usually has something funky going on, while short drives to West Adams' MuzeuMM and Chinatown's Good Luck Gallery delight with avant-garde weirdness and the work of self-taught artists, respectively.
While we'd love to have you spacing your face in the Van Gogh Exhibit currently in Hollywood, tickets are a hard gambit to obtain. Instead, we consider Wacko/The Soap Plant to be a requisite visit. Packed behind the gifts and hardcover books we could look at all day sits owner Billy Shire's infamous La Luz de Jesus, a gallery committed to "Lowbrow," pop-surrealist, and outsider art since it's mid-80's prime on Melrose. There's always something weird, cool, or ridiculous to enjoy.
Before your next stop, you'll refresh your high with a fresh green bowl of Runtz Cake, an Indica-Hybrid by The Farmer and the Felon, a company that advocates for social justice in cannabis. Your mind at ease, you'll now rest your gallery-floor-weary feet at Barnsdall Park in Los Feliz, in the shadow of Frank Lloyd Wright's historic Hollyhock House. Kick back. You've earned this.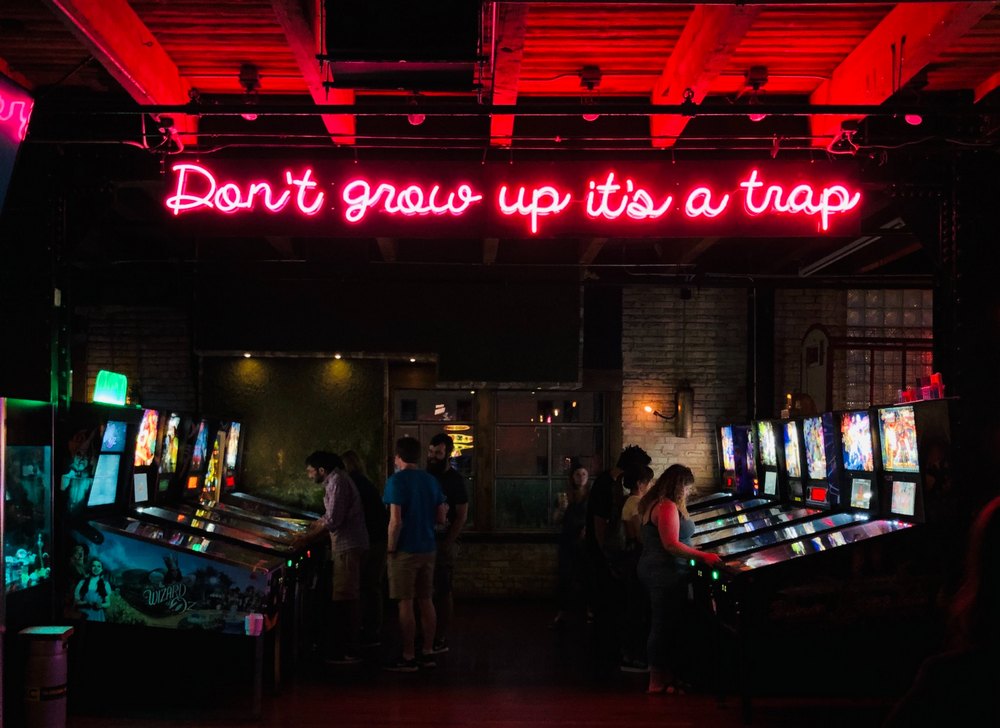 The Gamer's Itinerary
You simply want to get high as a motherfucker and play some video games. Stereotypes be damned. That's fine. This is a judgement-free zone.
So you pack a Heavy Hitters Ultra Potent Banana OG vape pen, your Metro card, and you're off. First, you'll step back in time, opting for the totally eighties vibes of the 40-year-old Family Arcade in Koreatown or the crusty, musty, wonderful arcade on the Santa Monica Pier. Both are filled with classic and contemporary stand-up arcade games, pinball, skeeball, and vibes so old school, you'll be watching out for older kids with mohawks and designs on your quarters.
From there, you'll head Downtown, discreetly puffing on your pen until you land in front of Two-Bit Circus, which combines carnival games with video games, space-age tech, and circus shows in one entertaining-ass "micro-amusement park." It will make you swear off Dave & Busters for life.
After spending the better part of the afternoon there, you'll head over to Eighty Two for more video games, more getting high, and maybe a Dr. Mario cocktail as you chat up some similarly minded cuties in this Downtown gaming bar. Or, if you want to shake off that Street Fighter 2 Hyper Fighting rust, pack the powerful banana pen and head straight to Neon Retro Arcade in Old Pasadena. Their employees can get you back up to proper hadouken shape.
Mama always said not to play video games all day. So to give those tired eyes a break, we find Dodger Stadium to be a wonderful place for the combined pleasures of vape pens, games, and being high AF. If sitting on your butt through nine innings of a ballgame isn't on the agenda, however, get an Uber on over to Mo's House of Axe, Koreatown's premier and only place to throw axes at targets while subtly inebriated.
Assuming you've kept your fingers, you'll get back on the digital path at Koreatown's Blipsy Bar, ultimate confirmation that life is, indeed, beautiful. Part-dive bar, part-arcade, you'll Tilt the pinball machines to live DJs while screaming with strangers, smashing goombas, and revisiting Elevator Action and Double Dragon under the vigil of a stuffed white tiger. It's a party. At least until that Heavy Hitter is empty or you run out of quarters. Whichever comes first.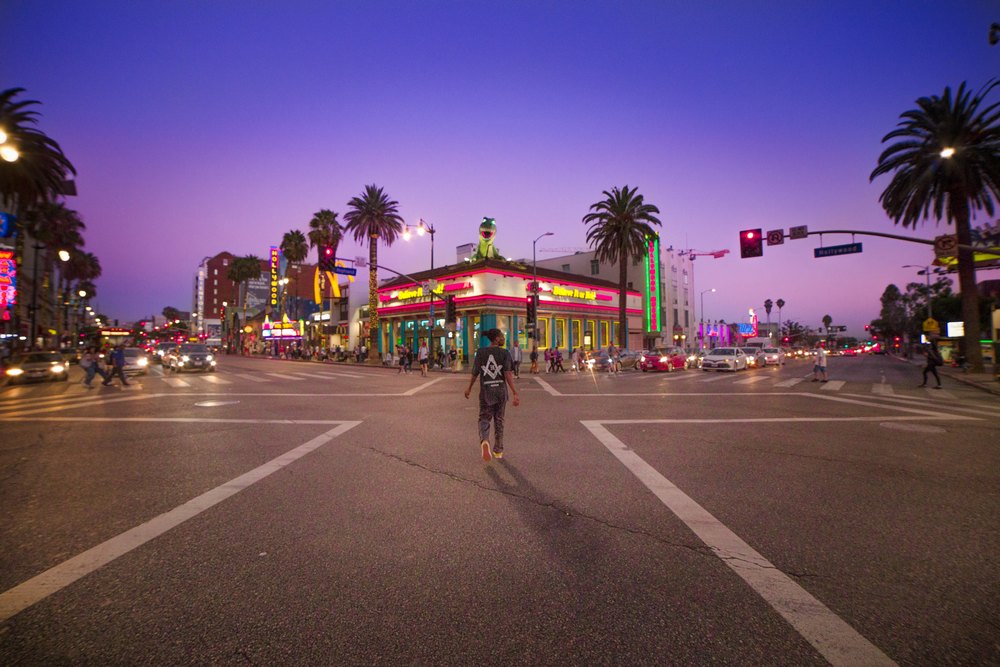 The Day-Tripper's Itinerary
You're weird. Let's say it. It's okay. We're all a little weird. And today you want to indulge in your eccentricity 100% while being stoned out of your mind.
For that you need Hollywood. Historic, dark, and frequently a little heinous, Hollywood Boulevard is the epitome of L.A. weird, where scum-punks, studio audiences, freaks, ersatz superheroes, and tourists-pausing-over-bird-shit-stained-stars-in-the-sidewalk mingle into one big clusterfuck soup.
To get the going weird, you'll start with a devilishly handsome pre-roll known throughout these lands as El Blunto. He comes packed with nearly 2 grams of SFV OG in an all-hemp cigar wrapper and rumor says he once liberated a small village with nothing but a horse, a six-shooter, and a smile.
In this neighborhood, you're guaranteed to see something that messes with your mind and delights, from the absolutely bonkers and unexpectedly awesome L. Ron Hubbard Life Exhibition to the illuminating Hollywood Museum and a currently underway Pink Floyd exhibit that promises immersive sonic stimulation and probably isn't nearly as enjoyable if you're not super-duper high.
In this part of town, you can get super freaky browsing the aisles and dressing up in the city's best vintage thrift shop, have a legendary martini at Musso & Frank, see the world' largest collection of art made by serial killers, and finish the night in a craft cocktail bar fronted by a fake porno video store.
Fun hidden history abounds walking the Boulevard itself, from the bus stop at Hollywood & Vine where Lon Chaney's ghost was often observed to the haunted Hollywood Roosevelt Hotel, where a well-tailored vintage bar revolves around old-school bowling and first-rate cocktails.
For a more direct taste of macabre Hollywood antiquity, head straight to Hollywood Forever Cemetery. There you'll ask yourself seriously probing questions about whose grave to smoke the rest of El Blunto over. Mel Blanc? Bugsy Siegel? Toto? Estelle Getty? This is going to be tough.
If El Blunto doesn't finish you first, other places generally designed to confuse you in L.A. include Culver City's Jurassic Technology, Time Travel Mart in Mar Vista and Echo Park, shows at The California Institute of Abnormal Arts, Dapper Cadaver, Koreatown's Titanic-themed restaurant, and this place just to the south of us called Orange County. We kid.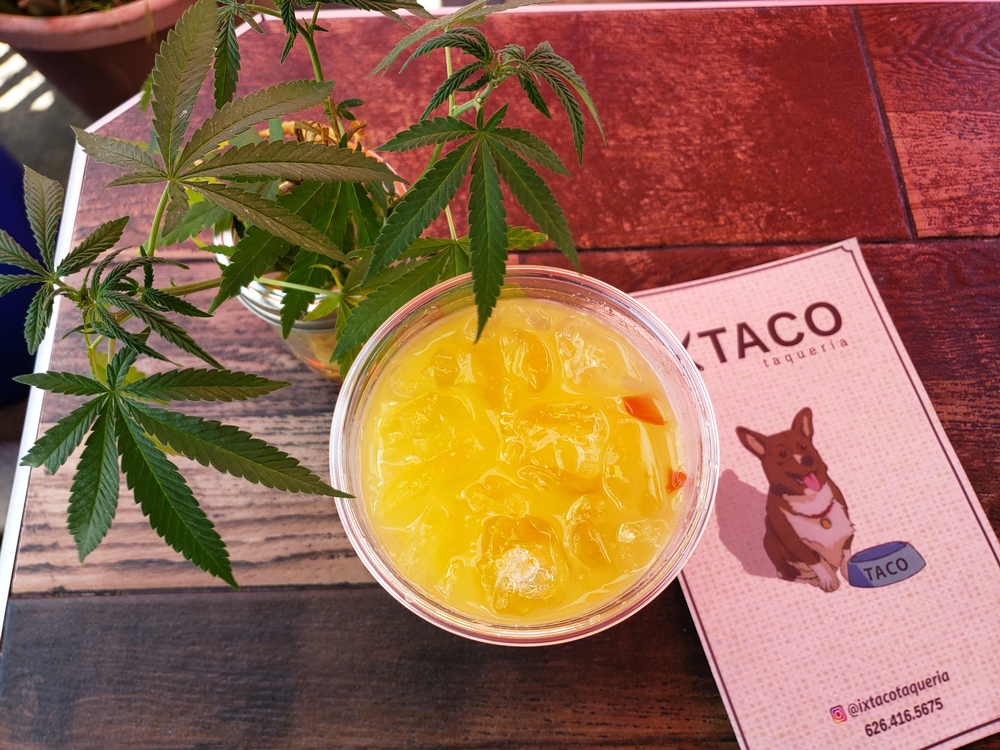 The Taco Tour Itinerary
Fact: All tacos, even just "whatever" tacos, improve when you're zooted. We've done the research.
So we'll keep it short and sweet here. There are so many places to dig in and feast on compelling tacos and great Mexican cuisine around Los Angeles, the choice is really yours.
Maybe it'll be a feast featuring Oaxaca's seven legendary moles at Koreatown's Guelaguetza. Or a massive mariscos binge at 106 Underground Seafood in Inglewood. Or a suckling pig pig-out with mustard salsa at Sabrosos al Horno in Cudahy. Or choice carnitas at Flaco in Hollywood. Or filling your hands with flautas from Los Dorados. Or pay a visit to the 2021 winner of TACO Madness in Highland Park. Or… we could go on and on like this. It's kind of our thing.
But for a more bud-friendly taco experience, consider Ixtaco Taqueria in El Monte, where we've enjoyed the $4.20 CBD-spiked aguas frescas and a massive list of tacos on handmade corn tortillas, as well as the ganja leaves and iconography on display at their take-out window.
Wherever you choose to taco during your urban adventurers, we find that appetites are best bulked up by a healthy dose of Indica, the strain proven best to increase appetite. We like Raw Garden's 80%-THC Cloud Walker vape pen with live resin and the calming effects of Jelly's Ginseng OG strain when seeking the Indica-specific effects of something nice to smoke on.
And there you have it. A surefire plan to get out the door and moving throughout this great city of ours while powered by the plant we love.
Wherever you head, stay safe, and most importantly, have a blast!
Enjoy 30% off your first order with GrassDoor simply by using the code: ROLL1UP.
One of L.A. TACO's co-founders, Hadley Tomicki is a critic and journalist whose work has appeared in the Los Angeles Times, New York Magazine, and many other places.
Stay in touch
Sign up for our free newsletter