Homelessness
Facing Mass Eviction, Hundreds of Tenants in Chinatown Are Fighting Back in Renters Struggle
11:39 AM PDT on June 10, 2019
[dropcap size=big]S[/dropcap]hao Zhao grew up moving all over L.A. County with her mom. First they lived on the Eastside, then in South Bay, and by 2007 they hoped to make a home for good in an apartment complex off West Cesar E. Chavez Avenue in Chinatown called Hillside Villa.
Hillside was built in 1988 with funds from what was then called the Community Redevelopment Agency. This allowed for the apartment complex's 124 units to be set at affordable, with below-market rents. Zhao's mother, who speaks only Cantonese, was able to build a home at Hillside through a Section 8 voucher, which allows recipients to only have to cover 30 percent of their rent.
Upkeep of their apartment was rare, but at least they had a home. "Lots of people are willing to take the most unlivable units just to be able to live," Zhao told L.A. Taco.
But in December of 2018, as luxury apartments, art galleries, and hip coffee shops were continuing to spring up throughout Chinatown, Hillside's 30-year affordability covenant ended, leaving the Hillside Villa vulnerable to the whims of L.A.'s ruthless housing market. Almost immediately, the Hillside Villa landlord Thomas Botz threatened to raise rents to market.
'I'm doing this for my mom.'
Instantly, the Zhao family's rent would go from $1495 to $1950. Other tenants reported their rent is project would be increasing by $1600 in one swoop. The building's owner has defended the changes. "The bottom line is, when you're renting to people below market, the building doesn't generate enough income to support itself," Botz told Curbed LA in April.
As last week's new homelessness figures showed, there is a clear link between the rising homeless numbers and the unaffordability and displacement that have become features of the housing market for tenants in Los Angeles. There are nearly 59,000 unhoused people countywide now, and more than half of them report economic hardship as the main factor for winding up on the streets or in their vehicles. According to a 2018 report by Zillow, homelessness rises faster in U.S. cities where people pay more than a third of their monthly income to rent.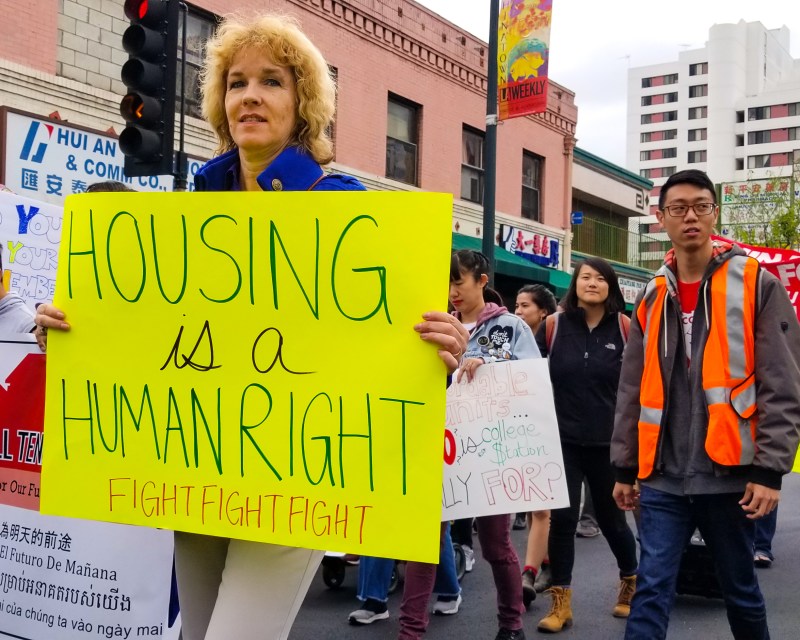 At Hillside Villa, the tenants began talking.
"I have a reputation for fighting these landlords," said Rene AlexZander, another tenant at Hillside. "People started knocking at my door asking for help after they learned of the rent increases, so the next day my husband and I bought flowers for everybody and laid them at everybody's door telling them about a tenants organizations we were starting."
And just like that, a new tenants movement was born in L.A. Six months later, AlexZander, along with Zhao and others are still fighting Botz to stay in their affordable apartments, fearing displacement and homelessness for themselves.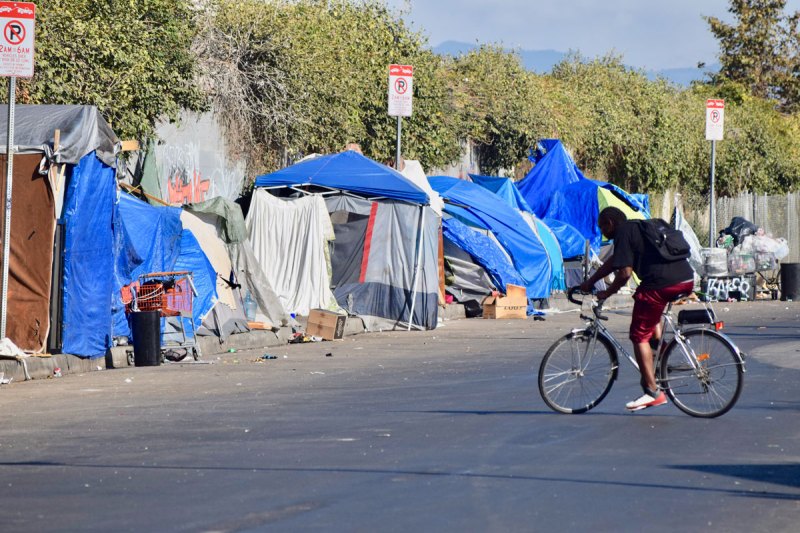 A report released last month found that L.A. now needs 516,946 affordable housing units to meet current demands. That means 25 percent of the city's population can't afford the city's median market rate rent of $2,500.
Even so, everything that people have tried to alleviate the housing-to-homelessness crisis in Los Angeles and in California at large are more or less failing. Last year voters rejected Proposition 10, which would have allowed cities to expand rent-control, a result sowed in part by heavy campaigning from the real-estate lobby.
On the development side, efforts to build new housing are simply unable to keep up with the demand. The city is also slowly losing its affordable housing stock overall even as it adds new affordable units — deepening the problems. Developers across the city built 16,525 housing units last year, but at the same time, a total of 5,256 units of affordable units have already been converted into market-rate housing, and an additional 12,121 affordable units in the city are at risk of suffering the same fate.
Meanwhile, in Sacramento, lawmakers say they want to do something about the statewide housing crisis, but few are putting up the political will to get it done. Bills meant to help have been dying in committee left and right — AB 1482 would have made it illegal for a landlord to increase rent by more than five percent annually; SB 529 would have codified the right for tenants to organize tenants unions without fear of retaliation from their landlords.
That bill was killed on the floor of the State Senate by the real estate lobby, while AB 1482 passed the Assembly, but the bill has already been gutted to allow rent hikes up to seven percent, and for the effects of the bill to only last for three years.
RELATED: Homeless and Missing ~ How Privacy Rules Can Slow Searches For People Lost on the Streets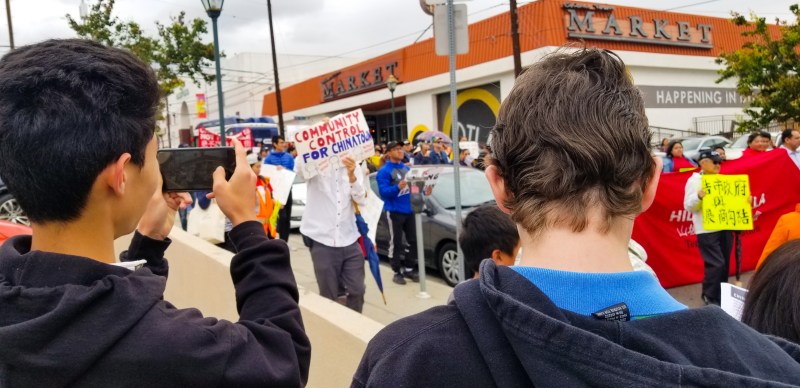 [dropcap size=big]A[/dropcap]nd then there was SB50, the polarizing Hail Mary conceived by state Sen. Scott Weiner of San Francisco. It would have allowed for a realignment of the housing stock statewide centered around so-called transit and job rich corridors."The idea was to build vertically, now, to help alleviate the housing crunch.
Homeowners in L.A. rose up against the measure for fear of losing single-family residential neighborhoods, and anti-gentrification activists said the measure as it was written would have rapidly displaced the last working class Latino and African American enclaves in the state's major cities. Tenant's groups across the state were also largely against it, saying that the bill, and Weiner's ties to the real estate industry, would have meant a profit bonanza for developers, and the building of more unaffordable market rate housing. Last month, SB50 was killed in a committee and won't be taken up until at least 2020.
"This kind of tenant organizing is inevitable. It's inevitable that people are going to ask for a fair rent," Zhao said. "It's inevitable with the current rent gouging going on right now. We see the trend of a few people owning a lot of things and more people that can't afford them."
The Chinatown tenants have not organized in a vacuum. Their precedents include the successful Mariachi Plaza tenant strike, and the Avenue 64 Apartments strike in Highland Park. Like other tenant movements, the Hillside residents are pressuring the city and their Councilmember Gil Cedillo to take more assertive action to protect renters in L.A.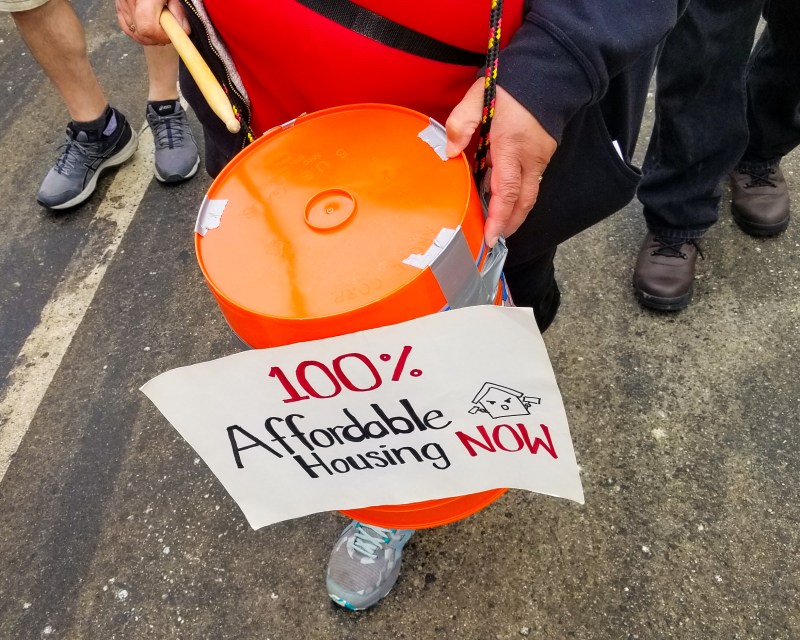 "It's definitely not just isolated pockets, it's something we've been seeing all over. Landlords trying to evict tenants, especially here in Chinatown," said Kris Chan, the co-chair of the tenant power committee at Chinatown Community for Equitable Development. The community organizing group in Chinatown is helping organize the tenants at Hillside Villa, along with the L.A. Tenants Union.
The tenants have held meetings and protested on the streets against their possible eviction. Then, on June 1, Hillside residents involved with the tenants union woke up to new 60 day move-out notices. After months of organizing the tenants at Hillside had initially won a brief extension of their rent increases, with promises from both the city and Botz to work together to keep the homes at Hillside affordable.
The eviction notices were like a punch to the gut, and spurred a round of intense calls and negotiations between Cedillo's office, the Botz family and their lawyer, and the Hillside tenants.
"This is a form of retaliation," said AlexZander, who had just come out of a meeting with Cedillo on June 4. "Cedillo said he didn't know what happened, and that he was just as shocked as the tenants to find out about these move out notices."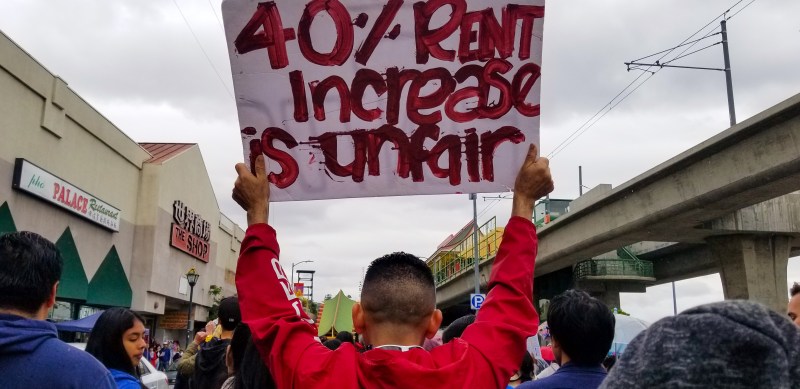 In an email obtained by L.A. Taco sent by Cedillo's office to the tenants union and Botz, Cedillo states: "It has been our intent to negotiate in good faith with the understanding that there would be no termination of tenancy while we work together to preserve affordability at this property. We respectfully request that you immediately rescind the eviction notices no later than tomorrow, 6/05/19, and properly notify all tenants of such action."
On June 5, Botz' lawyer sent a letter to Cedillo's office saying Botz would not rescind the eviction notices. At press time the eviction notices had still not been rescinded. The tenants, day after day, live in fear of displacement. Negotiations continue.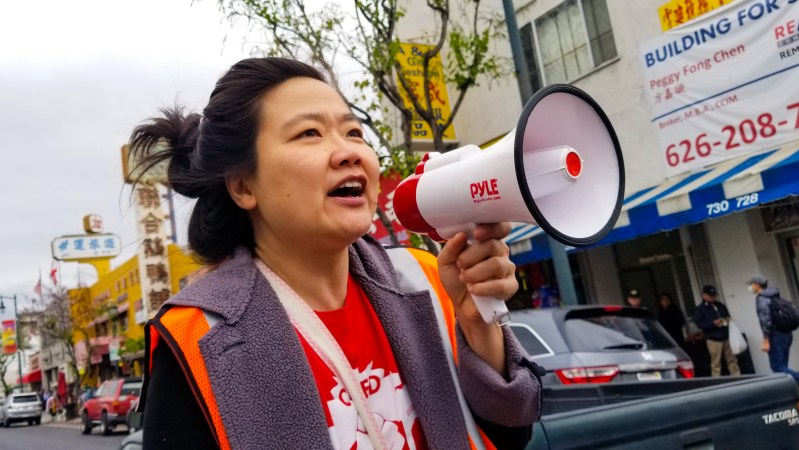 "Until we have a legal document that says these eviction have been rescinded, those evictions are still on the map," AlexZander told L.A. Taco. "Cedillo said that he wants this to set a precedent for tenant relations in Los Angeles, well we're going to hold him accountable to that and make him do his job."
Tenants are leading the charge to pressure the city to actually use their political powers to do something about the affordable housing crisis in this city. Earlier this month, CCED filed a lawsuit in L.A. Superior Court against the city for approving construction of a development called College Station, in Chinatown, which is set to not include any affordable units. (According to the city's Ethics Commission, Cedillo has received around $18,200 in donations from Atlas Capital, the developers building College Station, since 2014, a reminder of the cozy relationships that can emerge at City Hall.)
RELATED: Mayor Shut Down: Shouting Housing Activists Force Garcetti to Cut Short Speech at USC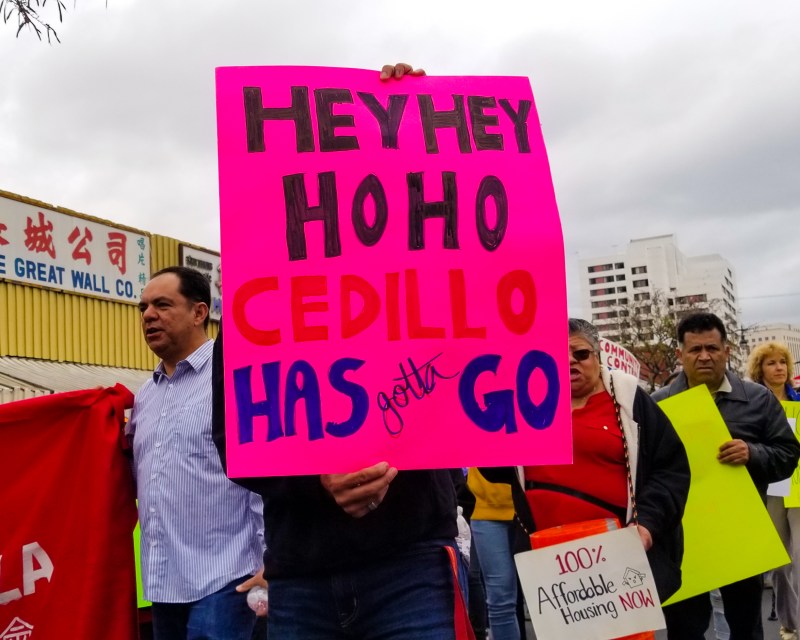 [dropcap size=big]H[/dropcap]illside tenants have even asked the city to consider using eminent domain, which allows the government to purchase private property for public use. In theory, it could allow the apartment to be kept as affordable housing indefinitely. But the strategy is a long shot.
On May 26 hundreds of Chinatown residents, including the Hillside tenants, marched through Chinatown to protest the College Station project, and to highlight the lack of affordable housing options in Chinatown, especially for seniors.
"More and more people are becoming homeless in LA every day," tweeted the group NOlympics, a grassroots coalition group that opposes L.A.'s 2028 Olympics. "Meanwhile, hundreds of thousands of apartments sit empty and city officials are pushing for solid blocks of luxury housing, like College Station."
At press time, the Hillside tenants are still in limbo, but their fight reflects the growing power of the tenants organizing movement to force landlords, and the city of L.A., to actually respond to the affordability and housing crisis and to come up with solutions.
"I'm doing this for my mom," Zhao told L.A. Taco. "She's monolingual and elderly. It's for her and the other families that don't have the ability to move," Zhao said. "It's for our survival."
RELATED: 'End Food Supply and End Encampment on Our Street? Just a Thought.' ~ Hollywood Emails Chart Coordination Against Homeless
Sam Ribakoff is a multimedia journalist and documentary filmmaker from Long Beach, CA.
Read More:
Stay in touch
Sign up for our free newsletter