Featured
The Best Tacos Along the A Line, From Long Beach to Azusa
Fish tacos, low-and-slow carnitas, gorditas de lengua, chilaquiles burritos, and more. All aboard for tacos! From Long Beach to Azusa, let's get tapping.
7:00 AM PDT on August 7, 2023
The Metro A Line runs almost 50 miles in length from breezy Downtown Long Beach to the blazing ranges of Azusa, running vertically along a steel river that arcs into the extremes of northeasternmost Los Angeles.
The A will smoothly chariot you to some of L.A.'s most cherished destinations, including the City of Compton, Watts Towers, Broad Museum and Little Tokyo, the Southwest Museum, and Chinatown.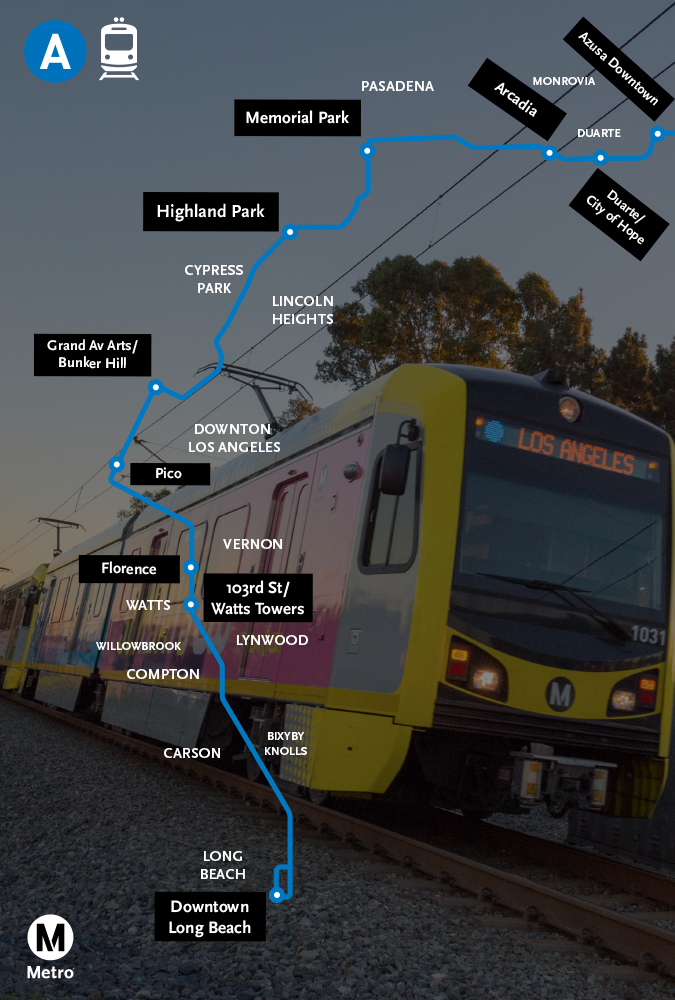 Along the way, you'll also be guided to some truly unique and stellar tacos, from the classic fish tacos you'll dive into just steps from the shoreline in Long Beach to the true birria de chivo (goat) you'll make time for in Florence and the purist triangles of masa packed with huitlacoche and cactus that you'll devour in Pasadena.
All aboard for tacos. Let's get tapping!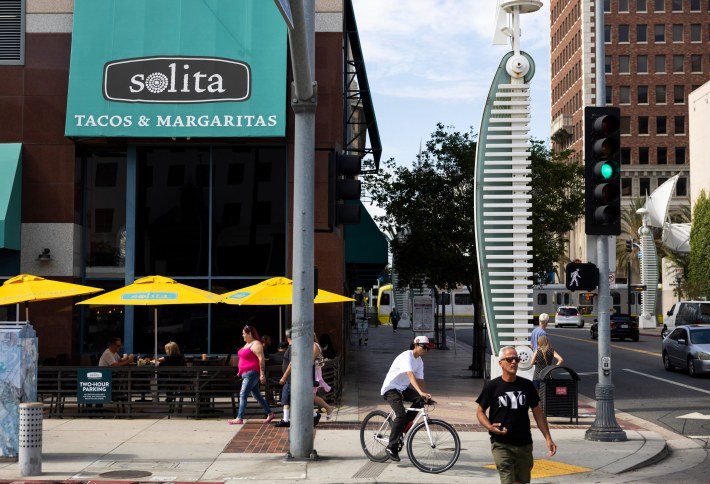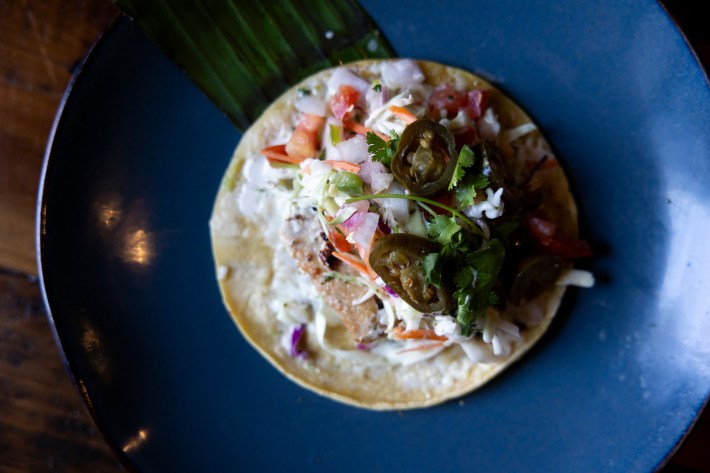 Downtown Long Beach Station ~ Solita
Fish tacos always taste better when the air is slightly briny and a cool breeze flows freely on your face. This full-service newcomer to downtown Long Beach is the ideal spot to duck into for a plate of Baja-style, battered crispy fish tacos and a frozen margarita. Is this restaurant a chain? Sure. But some days you need a reliable place to duck into, should a "Taco Tuesday" require honoring, or just to hold you over until the next time you are in Baja. Solita's happy hour is also popular among both locals and people here for the day for being able to get your fill of tacos—from battered fish, sweet potato and bacon, and chili tofu—with a bucket of four beers for $20. You may not have your feet in the sand of a dreamy Mexican beach, but you're eating in L.A.'s last-standing, working-class beach community, which is just as remarkable.
1 Pine Ave. Long Beach, CA 90802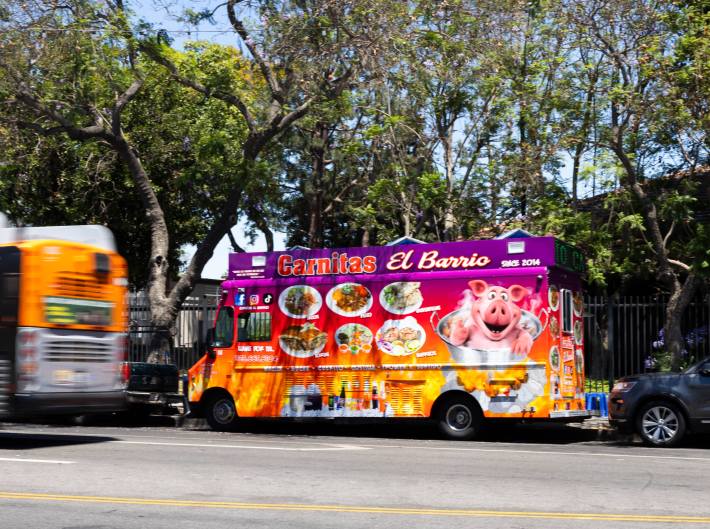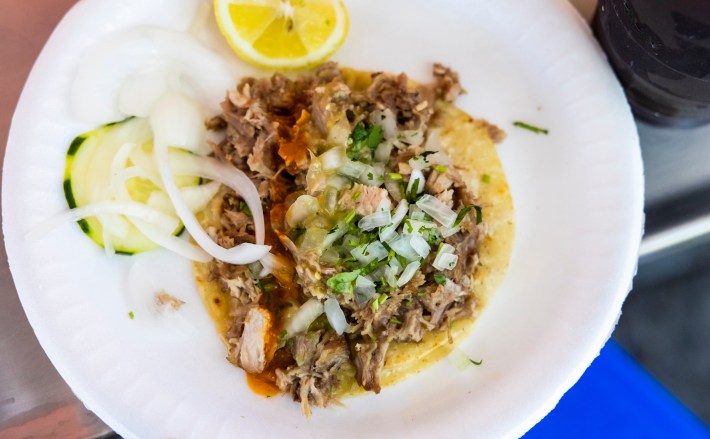 103rd Street / Watts Towers Station ~ Carnitas El Barrio
Carnitas are still an unsung hero of L.A.'s Taco Life, often relegated to a second or third-string position at any given taquería, after asada, al pastor, and birria. Most spots that don't specifically specialize in carnitas just roast a piece of pork butt, shred the meat, sear it on the plancha, and call it a day. But when you run into a true carnitas specialist, like Carnitas El Barrio in Watts, and taste what only pork, salt, and four hours of low-and-slow cooking in a cazo (specialized cooking vessel just for carnitas) can accomplish, it's an unforgettably precious porcine moment. This truck is situated in front of a public library and only carries one thing on the menu: carnitas. 30-year-old owner Jorge Cruz feels that confident in his craft. Working his way up to the launch of his own carnitas truck ten years ago, he sells out daily while parked in his own front yard. Loyal customers have been returning ever since. If you want to eat carnitas like a pro, opt for "surtido," when ordering your tacos, which means a mixture of both lean meat and the confit, caramel-like pork skin. 
10205 Compton Ave. Los Angeles, CA 90002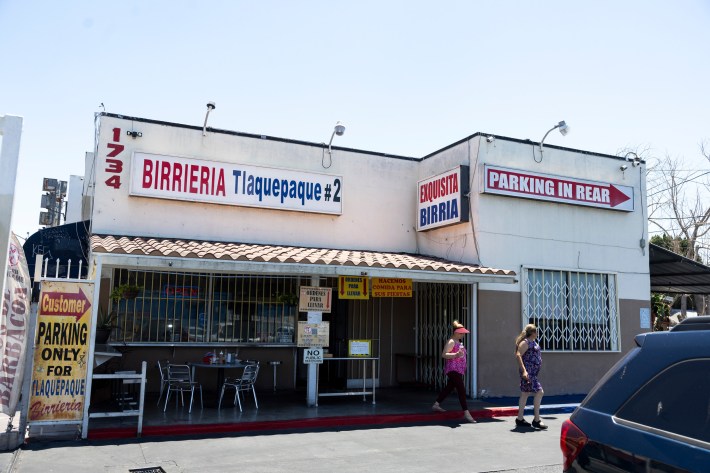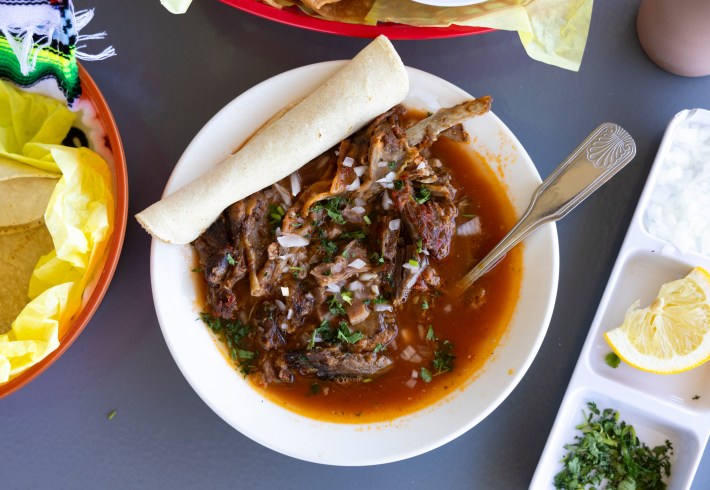 Florence Station ~ Birriería Tlaquepaque 
Don't let the onslaught of beef birria that has overtaken the entire city let you forget about birria's O.G. goat origins. While this recent generation may have grown to fear the grassy flavor of chivo, the bold spices in birria, developed in Jalisco—cloves, cinnamon, ginger—were originally meant for full-flavored goat meat. Beef became the substitute in Tijuana because it was both more affordable and palatable at the same time. However, never underestimate the foodways between Jalisco and Los Ángeles. The family that opened Birria Tlaquepaque over two decades ago is the same family that opened the Netflix-famous Birriería El Chololo in the outskirts of Guadalala. This explains the Mexican folk art rife with grassy hills and livestock adorning the white tiles around the dining room, and why the goat is a little crispy ("tatemado," in Spanish). When the juicy, goat-induced euphoria hits, and you take that first sip of your consomé, you may actually trick yourself into thinking you are in Guadalajara. 
1734 E. Florence Ave. Los Angeles, CA 90001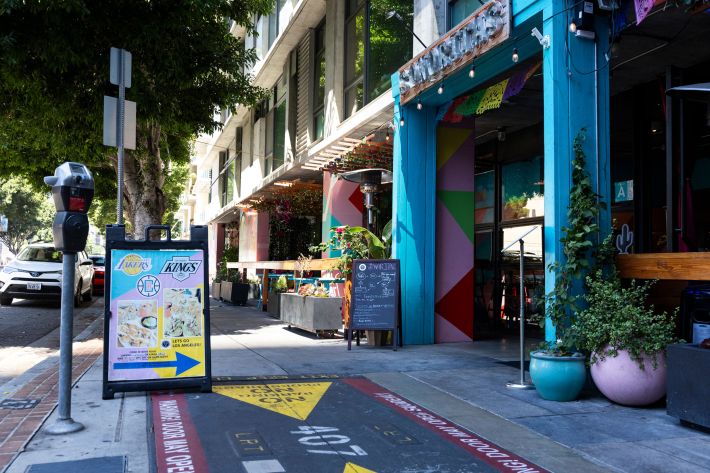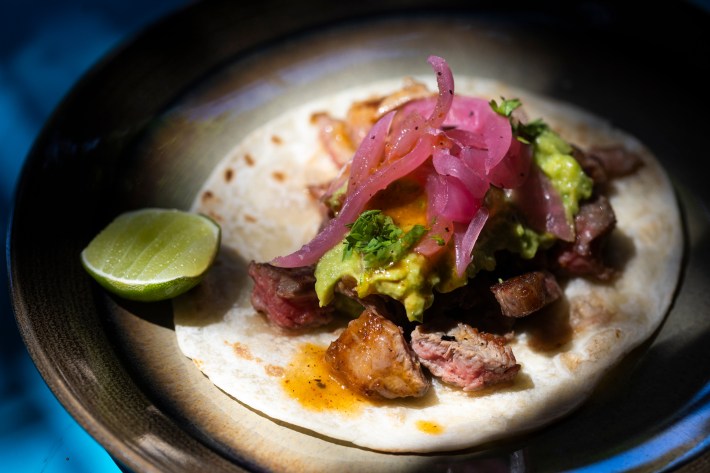 Pico Station ~ Sonoritas Prime
Sonoritas Prime is that rare taquería that first opened on the Westside before demand drove it east. It's not hard to see why a reliably solid, comfortably casual place specializing in Prime-grade beef, organic salsas made from scratch, and handmade flour and corn tortillas would catch on like smoldering mesquite in Downtown. Although there's plenty on the menu for everyone, vegan or pastor-allegiant friends included, stick to the steaks on your plates and in your tacos to taste this Sonoran-style taquería at its best. Your carnivorous options are nearly as lavish and specific as a Korean barbecue combo menu, with luscious, richly marinated, charcoal-grilled cuts like ribeye, filet mignon, lengua, and short rib, as well as in birria de res, all available between your tortillas. That is if you can resist the rip current-strength pull of the steak and shrimp surf n' turf burrito trying to drag you down.
1050 Flower St., Los Angeles, CA 90015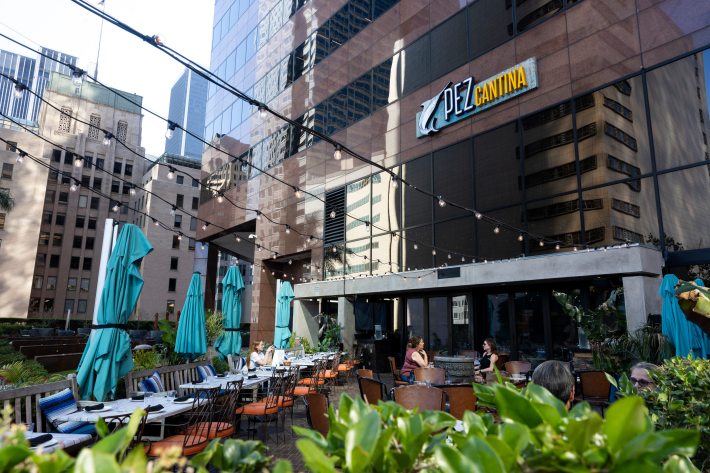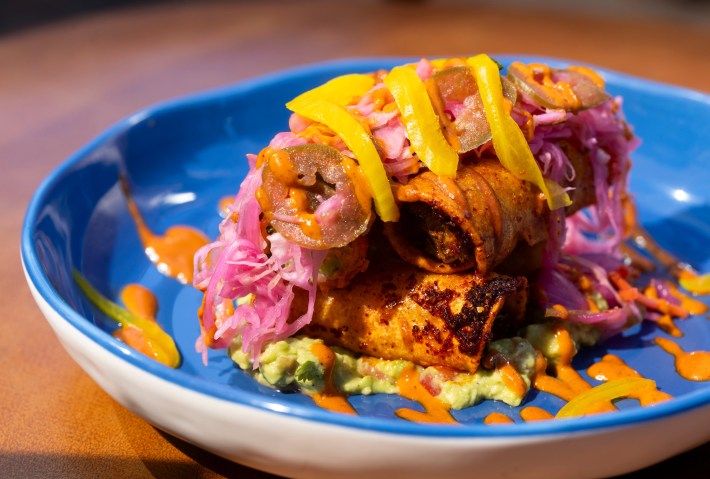 Grand Av Arts/Bunker Hill Station ~ Pez Cantina
Pez Cantina is like your secret, sun-shading, life-affirming palapa stuck right in the thick of Bunker Hill's steel and glass jungle. After a long day of buying low and selling high, or simply wandering around Jeff Koons sculptures wondering 'what in the hell?' Pez Cantina offers an oasis of coastal Mexican seafood, cold cocktails, and semi-tropical good vibes, all at a superior level. Speaking of lil' secrets, the mole amarillo and queso fresco-showered broccoli-and-potato taquitos are so tasty—aligned into a crunchy, cleaved row of brassica-stuffed blunts on a bed of pepita-flecked guacamole—that you'll be stealing them from your plant-based companion's plate. Or skipping the oysters and cocteles completely entirely for their crispy, crunchy, creamy charms.
401 S. Grand Ave. Los Angeles, CA 90071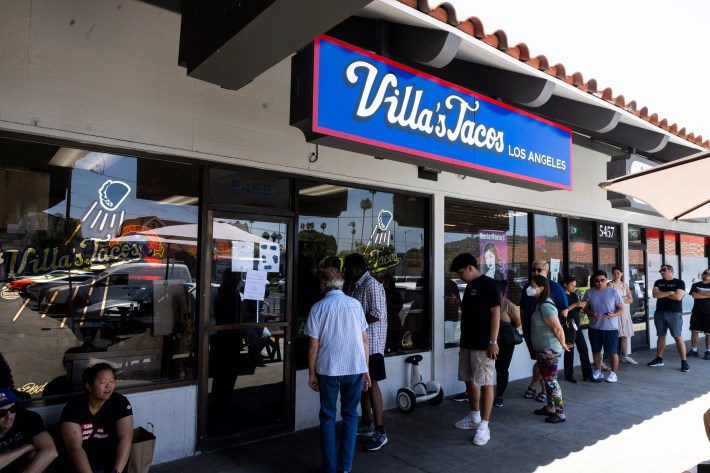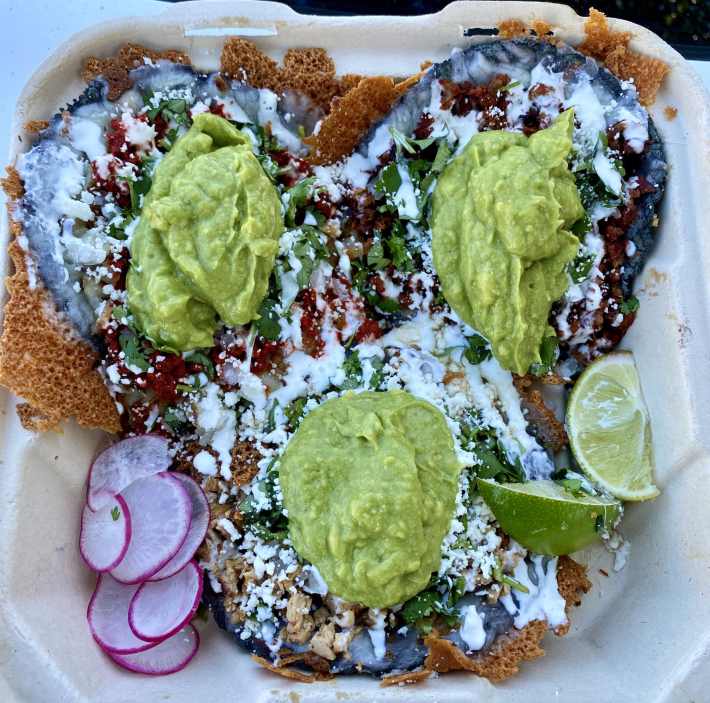 Highland Park Station ~ Villa's Tacos
Cue the Rocky theme for Villa's Tacos, the two-time winner of our Taco Madness tournament, then get off at the Highland Park Station and walk the three blocks over to try it for yourself. Neighborhood legend Victor Villa has inspired the city by living his superlative taquero dreams right in his own neighborhood, building a proprietary menu of tacos teetering with meat, guacamole, crema, cotija, purple-stained onions, salsas, and crispy cheese skirts, served on A Line-blue, pressed-to-order tortillas. Having moved on from his backyard business to his own brick-and-mortar, stop in and enjoy the hospitality and many fruits of Villa's labor with a taco that stars the chef's family's own handmade pork chorizo, bursting with juicy flavor under however many toppings you throw on it.
5455 N. Figueroa St. Los Angeles, CA 90042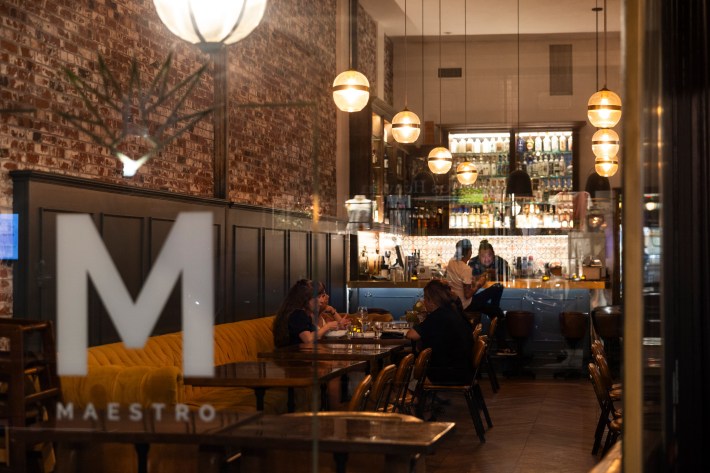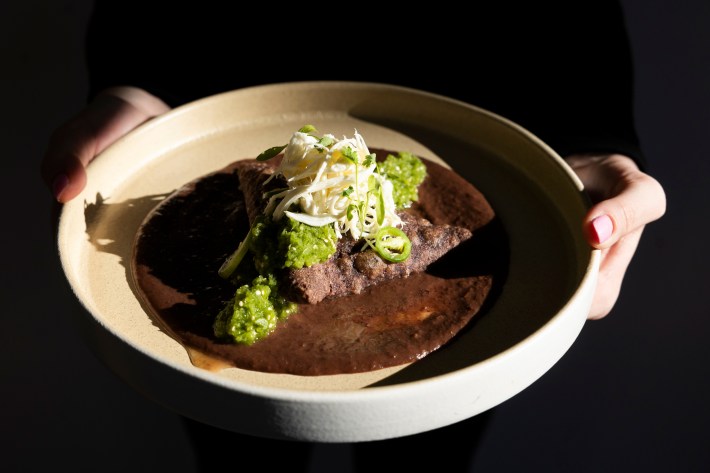 Memorial Park Station ~ Maestro
While we are and promise to remain allegiant to tacos, we would also 100% not be doing our job if we didn't tell you that you could get off at Pasadena's Memorial Park Station (and first glance at John Valadez's "The First Artists in Southern California: A Short Story" piece), walk two minutes to Union Street, and have an incredible taste of Pre-Columbian history and indigenous ingredients. You'll find that in the beyond-savory tetela at upscale Maestro. It involves a fat envelope of masa stuffed with huitlacoche, cactus, wild mushrooms, and corn. That gets folded into a triangular blue corn crepe with the steady hand of an origami ace, the whole thing griddled, then drowned in black bean purée and served with a salsa of raw tomatillo and ragged ribbons of Oaxacan cheese. It's an underrepresented form that will make you wonder why you don't see more of it, especially after enjoying the holy hell out of this one. We almost tried the "tetelas are tacos, too" gambit. But isn't honesty so much better?
110 E. Union St. Pasadena, CA 91103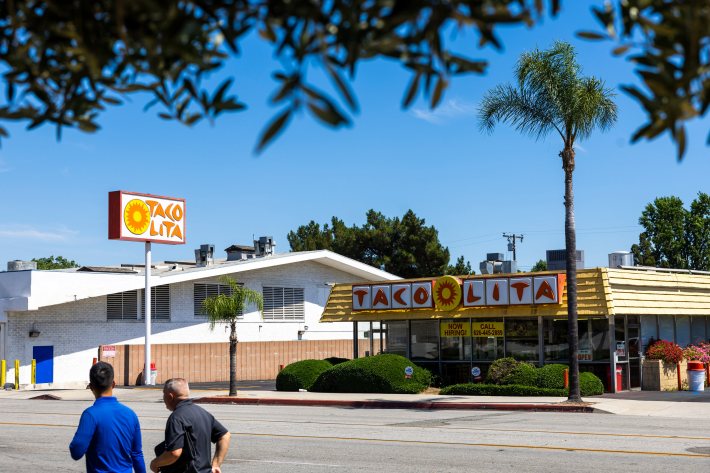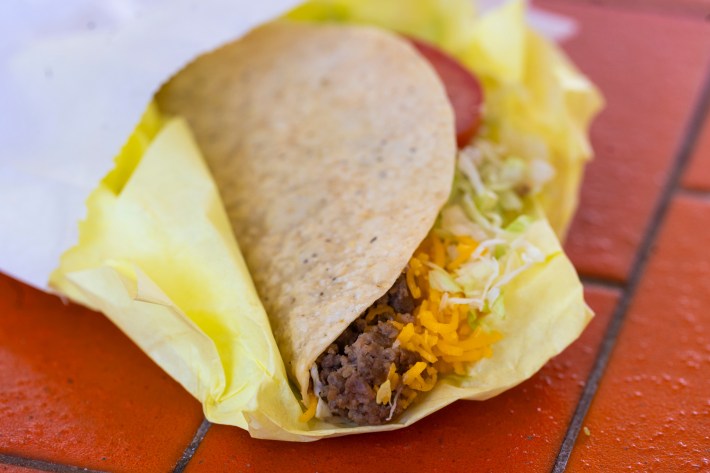 Arcadia Station ~ Taco Lita
Are you going to travel all the way to Arcadia and walk a mile for a hard-shell taco that's two-thirds unmelted cheese and nine-tenths iceberg lettuce? You might. Considering that: A) Taco Lita has been serving roughly the same version of this carne molido taco here with an obsessively beloved salsa packet since 1967. B) L.A. TACO has called a visit here "a rite of passage for Arcadia High School students" and "a classic haunt for any Arcadian on a budget." And C) that there seems to be an actual ghost haunting its bathroom. Hey, get in where you fit in.
120 E. Duarte Rd.  Arcadia, CA 91006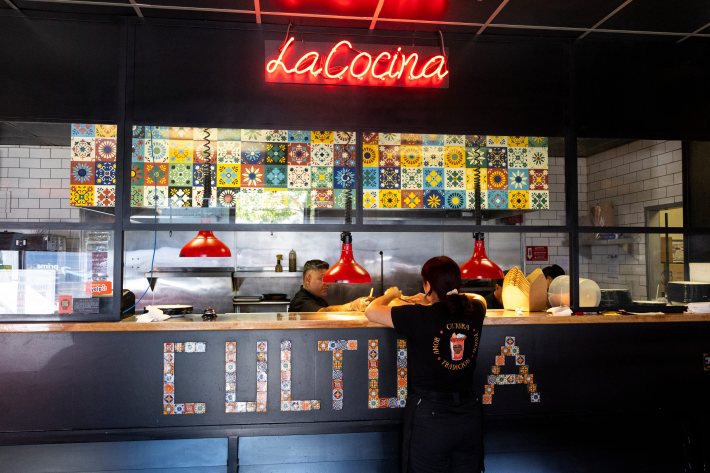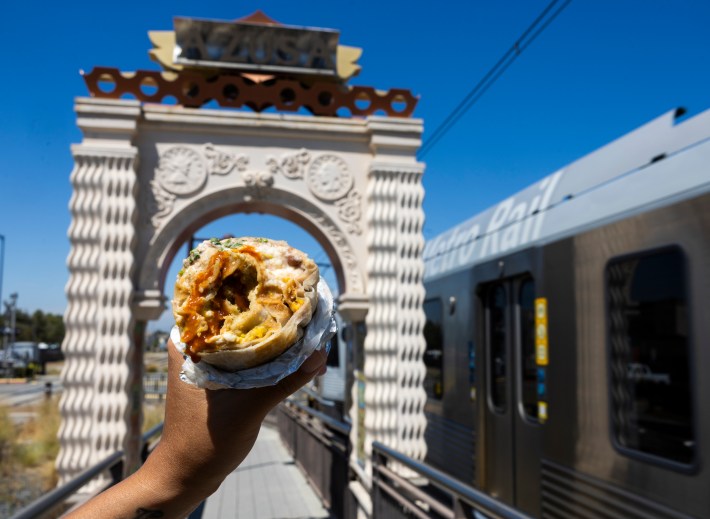 Azusa Downtown Station ~ Café Cultura 
In Mexico City, they do tortas de chilaquiles, but in Azusa (and Santa Ana, where this coffee shop first opened its flagship location), they do chilaquiles burritos. Café de olla fiends are always looking for a new place to satisfy their love for deeply aromatic coffee. Next time you are in the deep San Gabriel Valley suburb of Azusa, head directly to Café Cultura. This Latino-owned café is the kind of neighborhood spot we all wish was within walking distance of our home. It's there whenever you need a low-key spot to grab a nice cup of Mexican coffee to focus and get some work done on your laptop, but it's also there for you on a lazy weekend morning to roll out of bed and feel the need to get unabashedly full. When it's the latter, you'll be satisfied with Café Cultura's chubby chilaquiles burrito, stuffed with tender-crispy totopos in either their red or green salsa, and carefully layered with eggs, crema, cotija cheese, and silky beans. The most surprising part, though is the fact that this loaded and saucy burrito does not fall apart. 
709 N. Azusa Ave. Azusa, CA 91702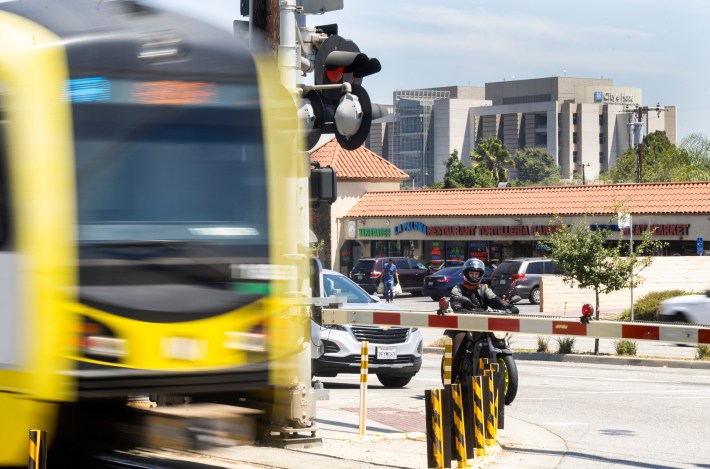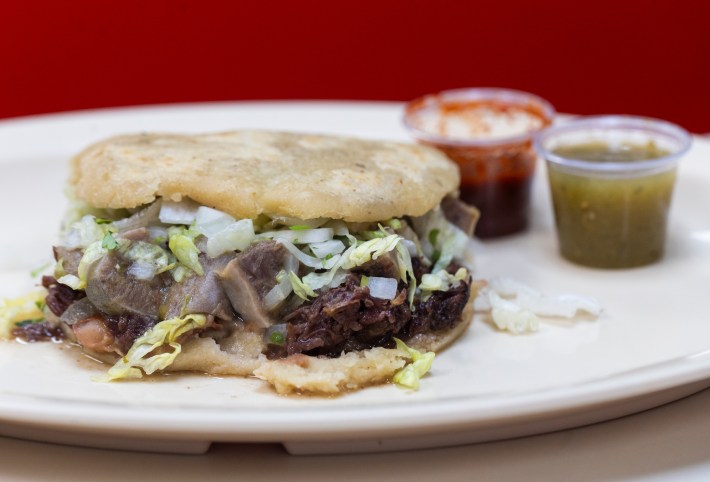 Duarte/City of Hope Station ~ La Paloma 
La Paloma is a bonafide community gem in Duarte. It's a mom-and-pop-owned, staple Mexican foods-triplex that offers its loyal patrons freshly ground nixtamal masa, homestyle guisados from steam tables that seem to never run out, no matter how many ladlefuls you take from it, and freshly baked pan dulce. The proverbial cherry on top that makes this shop even more special is that it is located in the middle of a strip mall. The move is of course to buy a little bit of everything: warm tortillas to go, maybe some freshly fried chicharrón to snack on later, and of course, some pan dulce to dunk in your coffee the next morning. However, if you are hungry, which is impossible not to be once you step inside and get hit with the mingling smells of sazón-filled stews, fresh tortillas, and fresh bread, order a couple of their gorditas de lengua y cabeza. The two cuts are usually where taco lifers end up staking their claims, seduced by the foolproof richness of collagen-filled beef cheeks that make up the majority of cabeza meat, and the melt-in-your mouth texture of properly cooked tongue. When neatly tucked into a crispy, freshly shaped gordita with the works, this guisado-filled antojito is reason alone to travel to the last stop of the A line for nothing more than a bite.
1314 E. Duarte Rd. Duarte, CA 91010
One of L.A. TACO's co-founders, Hadley Tomicki is a critic and journalist whose work has appeared in the Los Angeles Times, New York Magazine, and many other places.
Editor for James Beard Award-winning L.A. TACO. Associate Producer for JBA-winning Las Crónicas Del Taco. Former restaurant scout for Jonathan Gold. Co-Author of "Oaxaca: Home Cooking From the Heart of Mexico (2019, Abrams) and "Asada: The Art of Mexican-Style Grilling" (2023, Abrams).
Read More:
Stay in touch
Sign up for our free newsletter