Sponsored
The Nine Best Tacos On Metro's G Line, From North Hollywood To Canoga Park
Metro's G Line will carry you to some of the San Fernando Valley's best tacos and unique specialties, including mystery box "Desmadre" tacos, towering micheladas, and vegan tacos with eggplant cabeza in Van Nuys.
1:10 PM PDT on October 31, 2023
Metro's iconic G Line weaves throughout the working class neighborhoods of the San Fernando Valley. It's often referred to as the "Orange Line," due to its conspicuous orange "G," which was inspired by the many citrus fields that once speckled the Valley. 
The G's current route takes you from North Hollywood all the way to the west end of the Valley in Chatsworth, a total of 17.7 miles on a divided, right-of-way route that connects hard-working SFV residents to a number of neighborhoods on one dedicated line. 
Turns out, the G is a bit of an O.G., too. It celebrates its 18-year anniversary this year. So we're celebrating by mapping out the most delicious taco adventure for you to get aboard this legendary line, and visit different communities for a bunch of killer tacos.
Let's ride!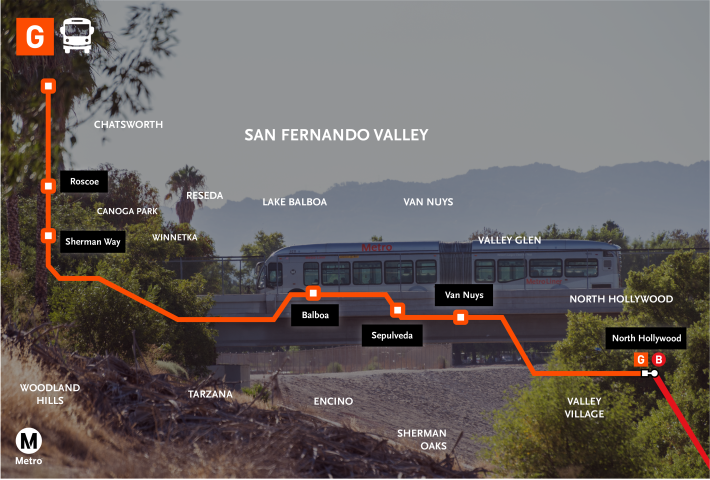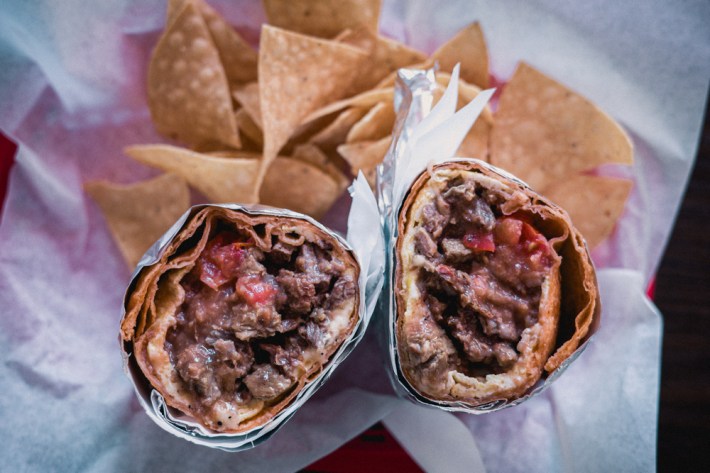 Before you jump on the G-line at the North Hollywood station, it's highly recommended that you make a small detour to sate your rumbling stomach first. Walk southeast on Lankershim Boulevard towards Chandler, hang a right on Chandler, and turn left on Bakman street to find Casita Tacos Al Carbon.
A no-frills, old-school, working-class establishment with a huge menu, the restaurant offers excellent Mexican restaurant staples at affordable prices and in large portions. Soft and hard-shell tacos, sopes, vegetarian eats, and breakfast burritos are among the best picks.
I ordered the Early Bird Burrito, with carnitas as the filling and red salsa as the dressing. It was delicious, filled with egg, cheese, pork, and salsa, making for a nice introduction to the brisk morning.
11300 Magnolia Blvd. North Hollywood, CA 91601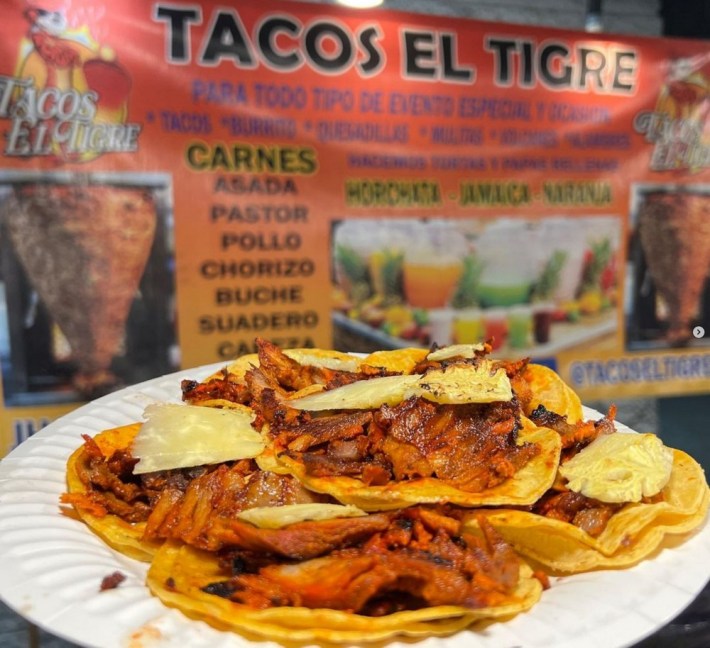 For a late-evening dinner or after-party munchies, jump out of your train at the North Hollywood Station and walk northwest on Lankershim Boulevard toward Chandler Boulevard. Follow the seductive smell of charbroiled meats and the sweet and savory-spiced aroma of al pastor to find Tacos El Tigre on the sidewalk.
Affordable but stacked with options to crush late-night cravings, it offers tacos, tostadas, sopes, huaraches, burritos, and asada fries to pair with your aguas. And whatever came before it (no worries, you took the train!).
A big plus, in my book, is that El Tigre is the only place on this list that also has tripas. Those crispy, crunchy, addictive small intestines, on the menu along with succulent cabeza, suadero, buche, chorizo, pollo, pastor, and asada that all have merit.
5600 Lankershim Blvd. North Hollywood, CA 91601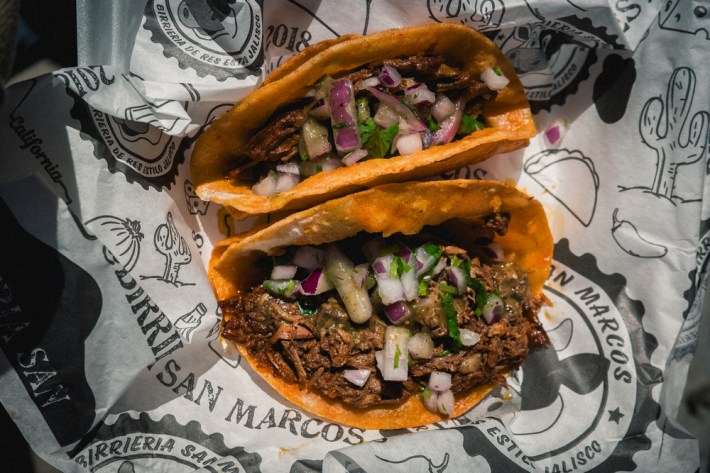 Next we'll head westbound towards Van Nuys Station on Van Nuys Boulevard. From here, you'll take a quick walk heading back east on Oxnard Street towards Hazeltine. Turn right, and you'll see the eye-catching red logo of Birreria San Marcos.
What started out as a food truck in the central part of the San Fernando Valley quickly established itself as a recognized and mighty contender in the widespread Birria Taco trend that engulfed Los Angeles. Today, Birreria San Marcos' trucks can be spotted in multiple locations in the Valley, as well as in two restaurant locations, in Van Nuys and North Hollywood respectively.
Specializing in birria de res (beef birria) estilo Jalisco, the business has a wide menu for any mood you might be in, which includes traditional tacos, queso tacos, tacos dorados, keto tacos, and delicious, deep red consome for you to dip these things into or simply drink straight out of the container. 
From this long list, we love  the crunchy tacos dorados de birria with a side of consome. They're handed over freshly made, the crunchy texture on the outside crackling into the juicy, tender birria inside, everything joining harmoniously in each bite. The rich seasoning and deep flavors of the chiles, resplendent in both the meat and broth, are divine.
5937 Hazeltine Ave. Van Nuys, CA 91401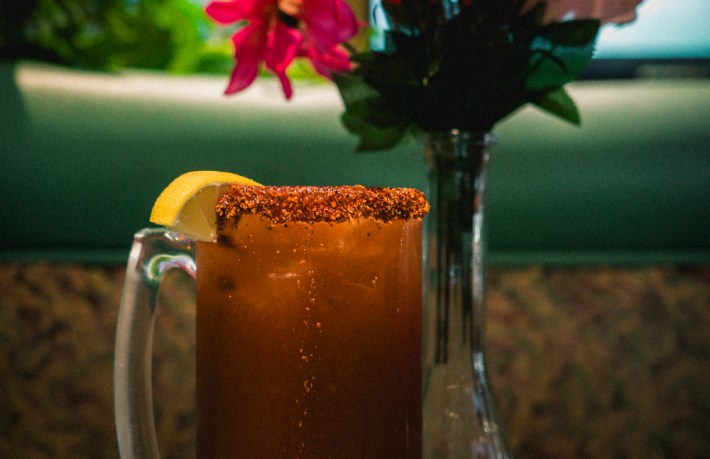 After downing a few tacos or mulitas, you'll head back towards Oxnard Street, make a right, and catch yourself a delicious Michelada just a few feet away at La Sirenita Restaurant.
The vibe here is very low-key and relaxing, except on those days of the week when they also have live mariachi. The classic Mexican restaurant vibes of La Sirenita pair beautifully with their handful of michelada variations. I always stick with the classic of a regular michelada with a Modelo Negra beer-base. The serving is large, and especially after getting topped with limes, makes for a refreshing beverage to balance out the warm-to-sweltering San Fernando Valley sun outside.
Speaking of things that cool you down, the restaurant specializes in mariscos, including ceviche, camarones ahogados, ostiones, and any which way you can conceive of dressing up a fish filet. 
Not saying you should skip their many classic dishes, like taquitos, tostadas, asada nachos, and asada fries if you're feeling more inclined. Just follow your heart and you'll be okay, whatever you do here.
14032 Oxnard St. Van Nuys, CA 91401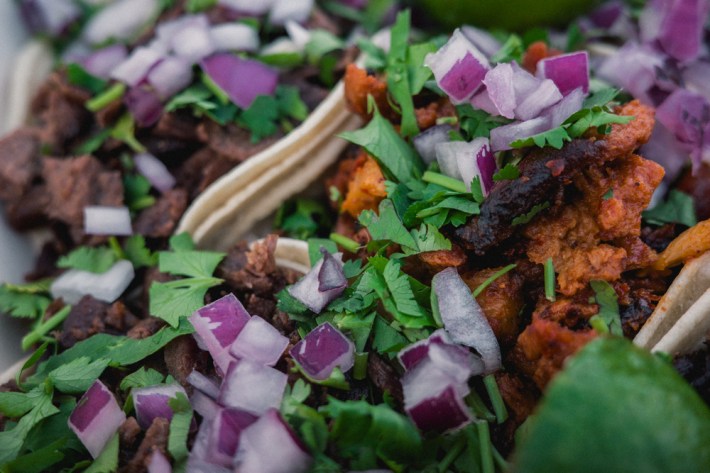 Get back on the Metro at Van Nuys station. We'll get off next at the Sepulveda Station and head southeast towards Sepulveda Boulevard. Make a left and walk 0.2 miles until you see El Cocinero Restaurant in the strip mall to your left.
One of the more successful vegan Mexican restaurants, Jalisco-raised Alex Vargas, aka "El Cocinero," has been transforming our favorite Mexican dishes into vegan versions that taste exactly like the real thing for many years. 
The al pastor tacos pack all the flavor and complexity of the real thing. Your other choices of all plant-based meats include asada, chicharron, 'Chikin,' al pastor, jackfruit carnitas, eggplant 'cabeza,' and birria, as well.
They also serve aguas, including a really great non-dairy horchata for lactose-intolerant types, like myself. Shout-outs are also in order for their refried beans, which taste as good as any authentic, lard-based recipe we've seen, and the delicious salsa chile de árbol.
6265 Sepulveda Blvd. Ste 12, Van Nuys CA, 91411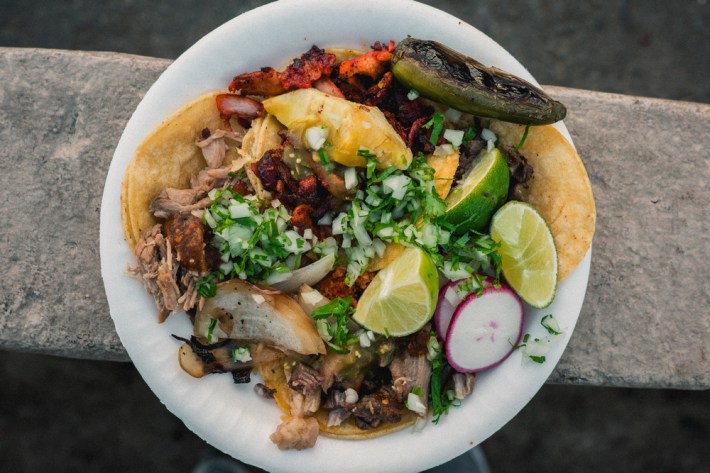 Step outside of El Cocinero and you'll find yourself all 'entubado' with the smell of grilled onions and meats just a few steps away. Tacos El Venado, with multiple locations across Los Angeles, also resides in a location on Sepulveda Boulevard.
You'll find yourself facing a wide variety of meats to fill your favorite form of food vessel. Asada, al pastor, pollo, chorizo, buche, tripas, carnitas, cueritos, and my personal favorite: "Desmadre," a wild concoction of all those meats mentioned above. A literal taco mystery box. 
Aside from the desmadre taco, we enjoy the al pastor, which is nicely seasoned. The carnitas, juicy, with balanced salt, and just the right amount of exterior crunch, are another winner. They also serve asada fries, tortas, nachos, and a loaded potato that you can fill to the brim with meat and condiments.
6315 Sepulveda Blvd. Van Nuys, CA 91411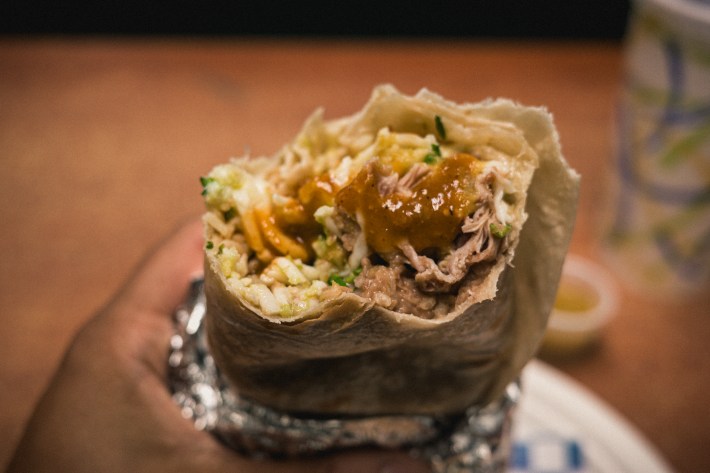 Leap back onto the G-line and head towards the Balboa station, where you'll find the hidden gem of this guide. After a serene ride through Woodley and Balboa Park, surrounded by nature, you'll upgrade the day even further with a stop at Taqueria Juanitos, located on the corner of Balboa and Victory Boulevards.
Adorned with neon-colored artwork that looks perfect for the side of a 1970's-style van, this taqueria has a large variety of menu items, including a healthy dose of vegetarian options, seafood, and house favorites like chile rojo. Making it perfect for groups. Of course, there are also tacos and burritos. Making it perfect for us.
You'll find lengua, asada, pollo, al pastor, and crews of local regulars that seem to frequent the place. My personal favorite at this location is the carnitas, which are full of flavor, right down to the frijoles and salsas. I had the Carnitas Cali burrito paired with the green salsa, which was really 'macheen.' 
We can't wait to come back for the breakfast burrito.
16851 Victory Blvd. Ste 2, Van Nuys, CA 91406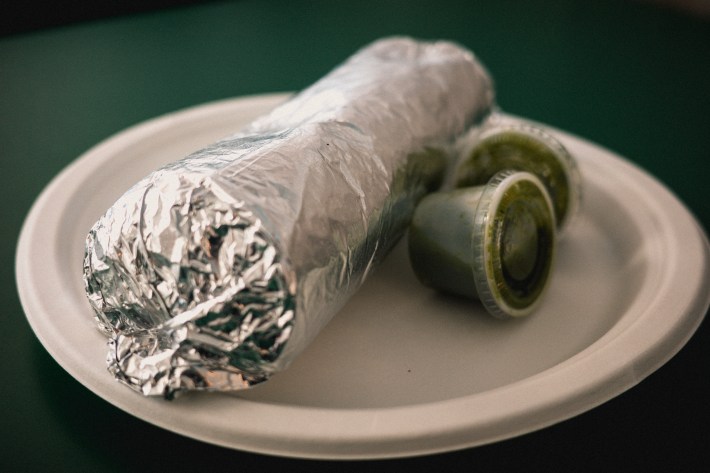 Heading northbound on the G towards the Roscoe station, located at 8310 Canoga Avenue, you're going to want to get off and walk on Canoga towards Saticoy Street. In 0.6 miles, you'll find Big Burrito Taqueria on your right.
Established in 1984 as a taco truck, well-known around the Canoga Park area, the family eventually decided to open a brick and mortar shop. As all taqueros sometime dream of doing, this establishment has kept the same secret recipes on a consistent basis, one key to their success.
Big Burrito's carne asada is really juicy and satisfying, with all the flavors combining for a standout experience. Pair that with the salsas, which are made daily, and you won't find a better quick lunch or dinner in the Valley.
There's a lot of choice in which meats you can get here, which includes lengua and cabeza, along with the more expected taco stars. The burritos are great, and true to the name, big, but the tacos had an added bonus of allowing you to sample their salsas, a point of pride for the restaurant. The salsa roja is spicy and bright, the green salsa milder and nice, with its flavors of fresh tomatillo.
7801 Canoga Ave. Canoga Park, CA 91304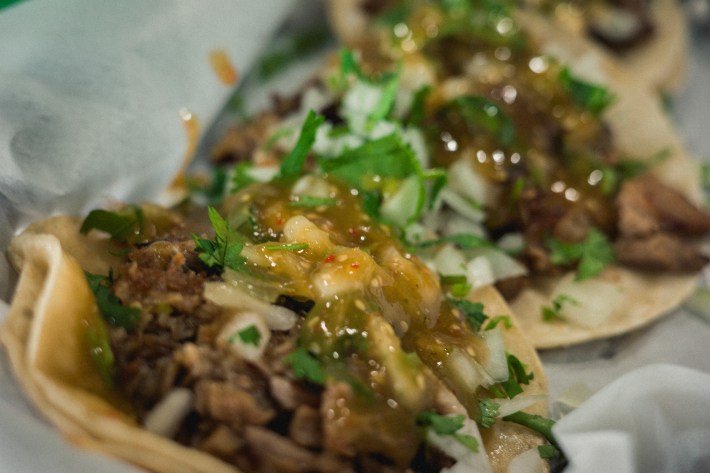 Our second shining gem of this epic taco romp is located in the heart of Canoga Park. 
Walk down Canoga Ave towards Sherman Way, but right before you get there, you'll see an alleyway. Walk through said alleyway towards Jordan Avenue, where you'll hit Taqueria El Tapatío.
Located inside an old burger counter restaurant straight out of the '50s, the discrete restaurant is super small, basically a corridor with a long bar top and a row of stools for a few diners.
The restaurant can be busy during the afternoons, full of local blue-collar workers and business casual-dressed office workers grabbing their first meal of the day or coming through for a quick bite to eat between appointments.
You're treated to complimentary chips and bean dip while you wait for your food, which will be freshly made on a single flat-top grill. Tacos, tostadas, tortas, menudo, burritos, and filling desayunos abound on their menu. They are also unique in the sense that they accept card payments for those nights you don't have a wad of dollar bills in your wallet.  
The taco plate is a great option, putting asada, carnitas, suadero, and lengua tacos into one glorious menu item. I really couldn't pick a favorite because they were all so good, but the carnitas may possibly win by millimeters.
The huevos ranchero covering other tables are sure to bring us back, with huge portions for a really affordable price. One of my recommendations for next time, para la cruda!
Everyone here is really friendly and talkative, too, reminding us of that small-town vibe the Valley still has the power to provide. Hop onto the G Line and come experience it for yourself!
7214 Jordan Ave. Canoga Park, CA 91303
Stay in touch
Sign up for our free newsletter