Featured
Recipe: How to Make Legit Tacos de Canasta at Home
12:08 PM PDT on April 10, 2020
[dropcap size=big]T[/dropcap]ortas Ahogadas El Rey owner Francisco Mota and his son, Abraham, make over 30,000 tacos de canasta each week. Which is why they were L.A. Taco's first choice to teach you how to make these savory steamed tacos at home for your family.
Working together with Goya Foods, we invited the taqueros over to raid the shelves of the Latin food powerhouse brand's headquarters in City of Industry. All so the chefs could recreate this beloved basket-stacked, simple, and practical favorite tacos of Mexico's most bustling cities, using the legendary company's products.
Goya has been there for home cooks since 1936, offering all the pantry staples needed to recreate the best dishes from all over Latin America, including these tacos. Rallying at Goya's offices on a recent morning, the Motas inspected and discussed the full range of goods before stocking up on an arsenal of cans, bottles, and packages they could use to recreate the tacos de canasta they typically make for customers.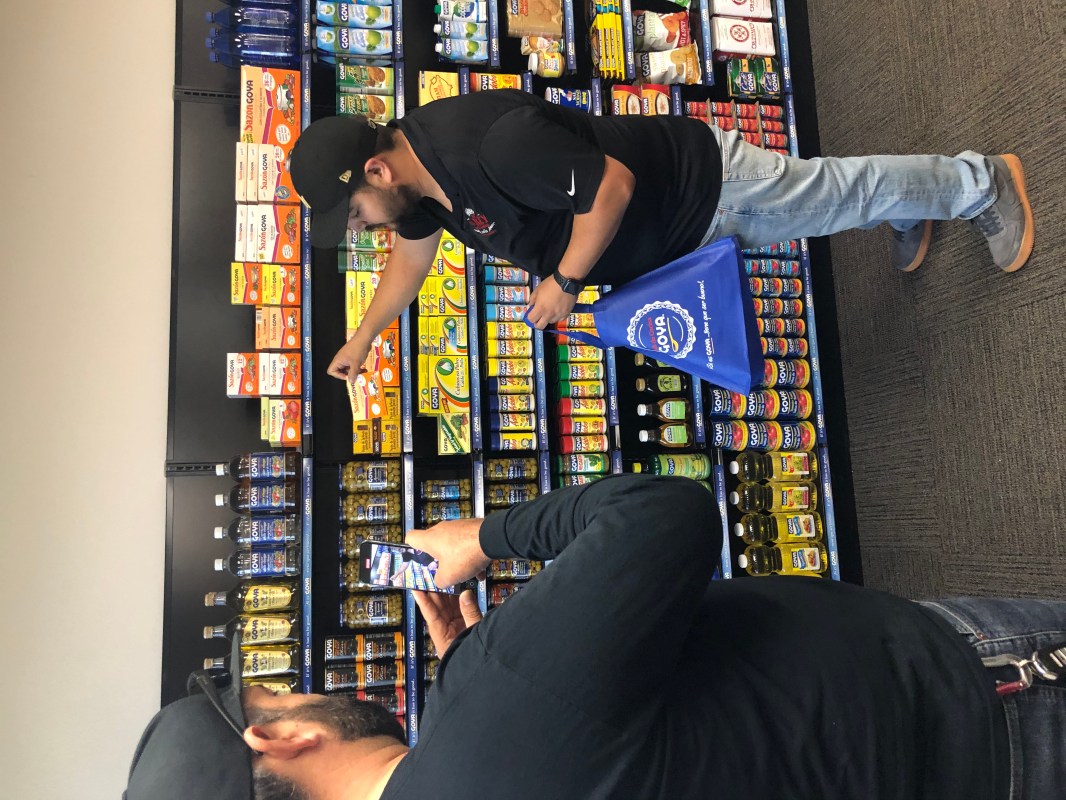 The following morning, L.A. Taco met up with the father-and-son duo in the kitchen of El Rey's El Monte location to put these Goya products into play.
El Rey chose three classic fillings in the taco de canasta style to teach you how to make today: simple tacos de papa, tacos with beans-and-chorizo, and tacos with mole con pollo. When all was done, the tacos would be generously delivered to the employees of Goya for lunch, who have been working 24/7 to safely keep making their deliveries to supermarkets all over the region during this pandemic.
Once the tacos were built and fitted into the basket, came the ultimate taquero secret when making tacos de canasta. Abraham poured bubbling, paprika-infused vegetable oil over the nestled network of tacos with a ladle...
First Abraham cracked open a can of the sliced jalapeños and a can of carrots to make the welcomed curtido garnish, alongside some shredded cabbage for the side. These two elements provide a welcome contrast to the rich tacos in between bites.
Next, he tapped into Goya's own line of vegetable oil to get started on each guisado, working with enviable skill to get all three recipes cooking simultaneously.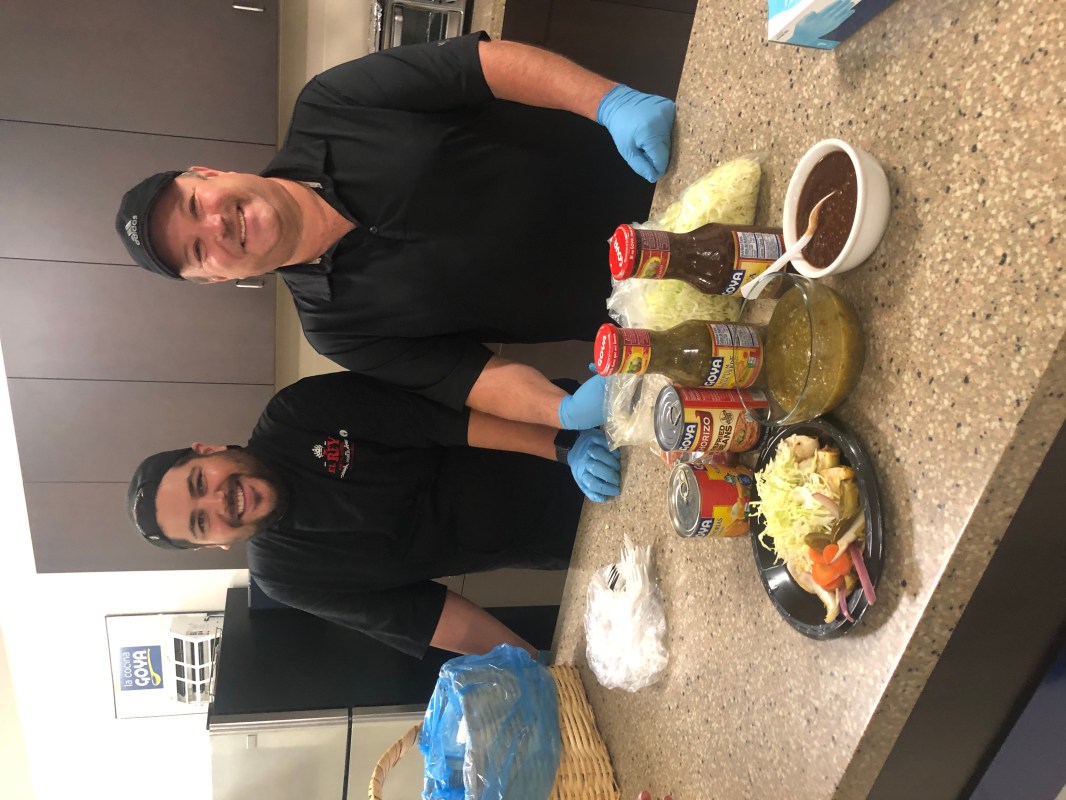 "What you're looking for is a texture that is moist and spreadable," Abraham shared while adding more oil to the papas until the desired consistency was achieved. While the French are known for adding tons of butter to their potato, Abraham prefers vegetable oil for this taco application. "Anytime you add any type of fat, all it's going to do is you give you flavor."
The Goya products impressed both chefs. They appreciated that the chorizo-filled refried beans possess "natural flavor" beyond mere seasoning and specifically liked the jarred mole that bypassed regional preferences for a balance of sweet and spicy.
Within a half-hour, all three flavorful fillings were simmering in the pots ready to spread into soft tortillas. Like a great sushi chef who can make perfect nigiri by touch alone, Abraham needed only his fingers to quickly build a small mountain of uniform tacos de canasta, grabbing small handfuls of filling and rolling them swiftly into each tortilla.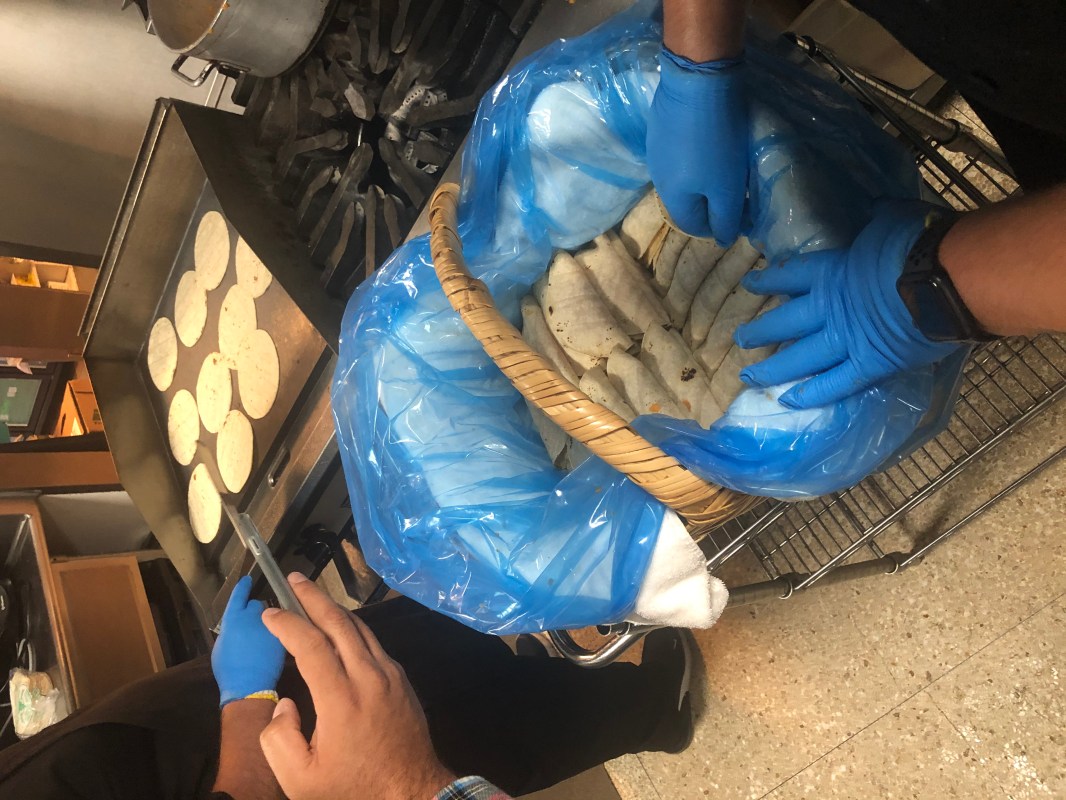 These were layered, naturally, into the namesake canasta, or basket, lined with blue plastic and a towel, in a very specific configuration that allows them to steam together with little room between each taco.
Once the tacos were built and fitted into the basket, came the ultimate taquero secret when making tacos de canasta. Abraham poured bubbling, paprika-infused vegetable oil over the nestled network of tacos with a ladle, before completely sealing the basket up to allow the tacos to steam together and soak up flavor for about ten more minutes before allowing the L.A. Taco team a taste.
Needless to say, they were sublime; soft, creamy, and filling. Ideal with little more than Goya's salsa taquera, salsa verde, and the previously prepared curtido.
But you don't have to take our word for it.
Tortas Ahogadas El Rey is sharing the recipes below so you can prepare these tacos de canasta for a family feast at home. Though a basket could easily last you awhile yourself if you can resist eating them in one sitting.
All you need is a trip to the store to stock up on the following, easily obtainable ingredients, a container of your own and a little less than half an hour of your time at the stove. And of course, we also have a video to help explain the whole process. If you don't have a basket, you can use a few wide pots to stack the tacos.
We hope you enjoy them as much as we and the hard-working staff at Goya did.
Tacos de Canasta, From Tortas Ahogadas El Rey x Goya
(Feeds 10)
Ingredients
--1 pack of corn tortillas
--10 oz. Goya Vegetable Oil, heated and mixed with a teaspoon of paprika
Sauces
--Taquera-style Goya salsa
--Medium heat Goya salsa verde
Sides
--1/2 cabbage finely chopped
--1 can Goya Sliced Jalapeños
--1/2 can Goya Sliced Carrots
--1/2 red onion cut into julienne strips
Before getting started on your tacos, top the sliced onions with the sliced jalapeños and sliced carrots and mix them together, which will allow the curtido time to soak up the vinegar and release flavor. The cabbage will be used by itself to top the tacos later.
Tacos de papa
--3 Russet potatoes, boiled and loosely mashed
--1 pack Goya Sazón Culantro & Achiote
--6 oz. Goya Vegetable Oil
Place the cooked, mashed potatoes into a pot. Sprinkle on Goya Sazón Culantro & Achiote. Add vegetable oil and lightly stir. Place on low heat for 8-10 minutes while adding additional oil and stirring as desired to achieve a smooth "mashed potato" consistency that is easily spreadable.
Tacos de Frijol y Chorizo
--2 cans of Goya refried beans with chorizo
--5 oz. Goya Vegetable Oil
Add beans to a pot. Mix about 1/2 cup to 1 cup of water to soften the beans and make them spreadable. Then add vegetable oil to help create a smooth texture. Place on medium heat until it reaches a simmer then turn heat to low. Simmer for 8-10 minutes.
Tacos de Pollo con Mole
--1 chicken breast
--1/2 can Goya Mole
--2 oz. chicken broth
--4 oz. Goya Vegetable Oil
Boil the chicken breast for about 45 minutes or until cooked. Saving the leftover boiling liquid for later, remove chicken from liquid and shred it finely. Add mole to an empty pot and ladle in the liquid left over from boiling the chicken (or feel free to use a canned or packaged chicken broth) for a smooth consistency. Break the paste/broth mixture up a little bit with a spoon then simmer on the stovetop before adding the vegetable oil and stirring some more. Next, add the shredded chicken and stir to bring the ingredients together, cooking for 8-10 minutes or until the mixture is smooth and easily spreadable.
Readying your basket
Line a medium-sized basket or alternate container with plastic bags on the bottom, a towel covering that, and another sheet of plastic on top, sandwiching the towel between plastic. Place a square of foil-wrapped cardboard on the bottom of the basket as a base.
Making your tacos
Palming a tortilla, scoop up your ingredients straight from the pot with a spoon (as the pot may be hot) and spread it over one half of your tortilla before folding into distinguishable taco form.
 Stack each taco snugly together in the basket, with each filling type facing a different direction so you can differentiate their flavors once everything is done. 
You want the tacos to hug each other and to keep their levels even, to ensure they're sharing heat uniformly. Once you've fitted all the tacos of one particular filling, fold over the top piece of plastic to keep the tacos tightly packed together. 
Once the basket is filled, you'll insulate the tacos by closing the plastic over the entire assortment. 
As the tacos steam together, you'll heat up your vegetable oil and add paprika for color and flavor. Once the oil is hot, you'll open the plastic back up (steam is a sign that things are going right) and ladle the hot oil over the whole top layer of tacos, then cover it up for another 10-15 minutes, letting the tacos steam and soak up flavor.
Once that time is up, your tacos are finished. Top them with cabbage and salsa as you see fit, with the curtido on the side, then enjoy with your family and friends.
One of L.A. TACO's co-founders, Hadley Tomicki is a critic and journalist whose work has appeared in the Los Angeles Times, New York Magazine, and many other places.
Stay in touch
Sign up for our free newsletter