Featured
A Taco Shop Gave Away 800 Tacos to Feed Homeless in Skid Row
1:42 PM PDT on May 7, 2020
[dropcap size=big]8[/dropcap]00 tacos in a couple of hours.
That's how many tortillas former Taco Madness champs—Revolutionario Tacos—handed out during a food drive in Skid Row.
"We made people happy," Susan Park, co-owner of Revolutionario Tacos, told L.A. Taco while a couple of volunteers broke down supplies on a sun-drenched afternoon in Skid Row, after the group ran out of halal chicken tacos, black-eyed peas, collard greens and beef stew with rice pilaf. "I'm trying to start a movement," Susan said the same month she started a non-profit.
That was almost two months ago. Before the novel coronavirus changed everything and greatly reduced volunteer support for non-profits.
Fortunately, Susan saw the warning signs of something catastrophic on the horizon long before COVID-19 made the news cycle. She began buying masks in September (although she insists she didn't hoard them) and by December, Susan and her partner Chef Zadi began greatly reducing their in-dining business hours.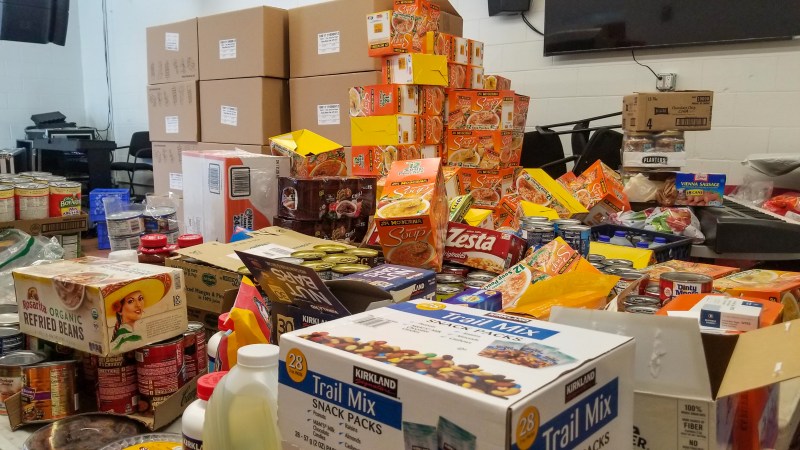 As the daughter of two parents that were born at the tail end of the Japanese occupation of Korea, Susan learned from an early age what it was like to live through difficult times. "1992" as Susan puts it—the year of the L.A. Riots—also had a significant impact on the Korea American, she vividly remembers how the riots had a "devastating" impact on Black and Asian communities. "I have very clear memories of that time," she says.
And then a few years later, Susan recalls witnessing people jump to their deaths from skyscrapers in Seoul during the 1997 Asian financial crisis followed by 9/11 a few years later. "When stuff gets bad for white people, you know it's going to be really bad for everybody," Susan says over the phone in April. "We knew for a long time that America couldn't handle a pandemic."
At the beginning of the year when the first COVID-19 cases emerged in China and business didn't pick up like it usually did—following a string of scandals at USC—the taco shop began limiting their hours to just weekends. Meanwhile, they spent Monday through Thursday delivering brown bag lunches to Skid Row and feeding elderly seniors while also fulfilling catering orders. By February, they established a food bank.
But they didn't stop there. In March, Susan founded a mutual aid fund and helped raise over $9,000 to assist Asian Americans impacted by COVID-19 with essential items like groceries and prepared hot food. 
Funded entirely by private donors and their own money, Revolutionario's food bank has expanded to Orange County and also grown to help poor and elderly African Americans in South Central. According to the Los Angeles Department of Public Health, African Americans have the highest rate of death due to COVID-19, compared to other groups, despite only accounting for less than 10 percent of the county. Also, people who live in low-income communities are three times more likely to die from COVID-19.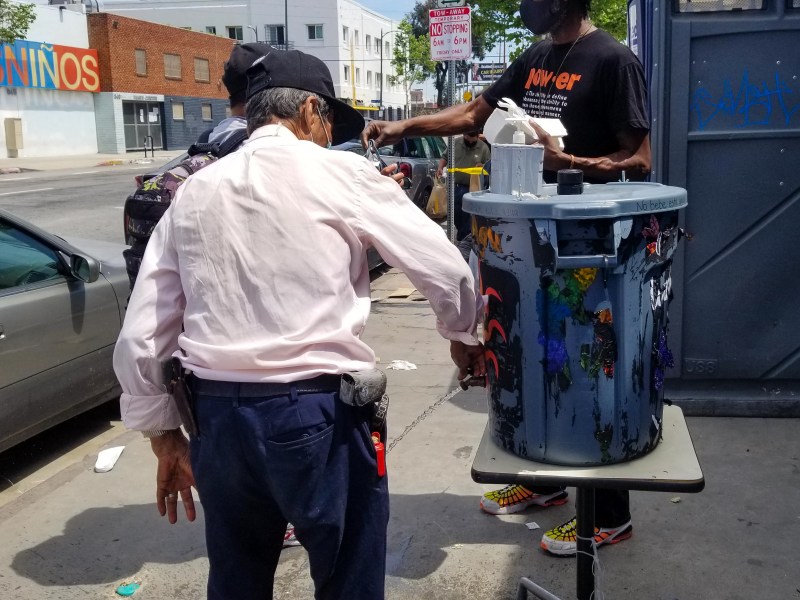 While Revolutionario has been able to distribute food from Orange County to South Central—since the mayor announced safer-at-home orders —they've struggled to get food down to Skid Row. "I've got the goods but no volunteers to distribute," Susan said via text message in early April. She admits that her Skid Row initiative came to "screeching halt," weeks after launching in January, due to COVID-19.
Now more than ever, food is desperately needed in Skid Row—where 13 percent of the city's entire homeless population lives within 50 square blocks.
"With most people now #stayinghome, many of the fragile support systems houseless folks in #SkidRow relied upon have now vanished," Skid Row Power—a new collaboration between the Los Angeles Community Action Network and USC Annenberg—said in a Tweet on April 3, along with a video of longtime Skid Row resident, Donna, describing the dire food shortage, as hundreds of people congregated around the Union Rescue Mission looking for food. "People are coming from wherever they sleep at, looking for food and are unable to get it," said Donna.
Even under normal circumstances, the L.A. Food Bank estimates that two million people county-wide suffer from food insecurity or one in five Angelenos. But with schools closed, street vendors effectively banned and dining rooms shuttered, even more people are faced with uncertainty when it comes to food security.
It's not that there isn't enough food, people just don't have access to it.
"People don't realize how hard it is to move food..."
On a Saturday morning in late February, Melissa Acedera, cleans out the trunk of her Ford hybrid and heads over to her local Ralphs in Burbank.
At Ralphs, she links up with her "plug" Josephine—a.k.a the deli manager—who has several cardboard boxes filled with sandwiches, rolls, salads, danishes, croissants and packages of cheese ready for Acedera. The two exchange a couple of smiles and some thank-yous before Acedera pushes a towering shopping cart back to her car and unloads.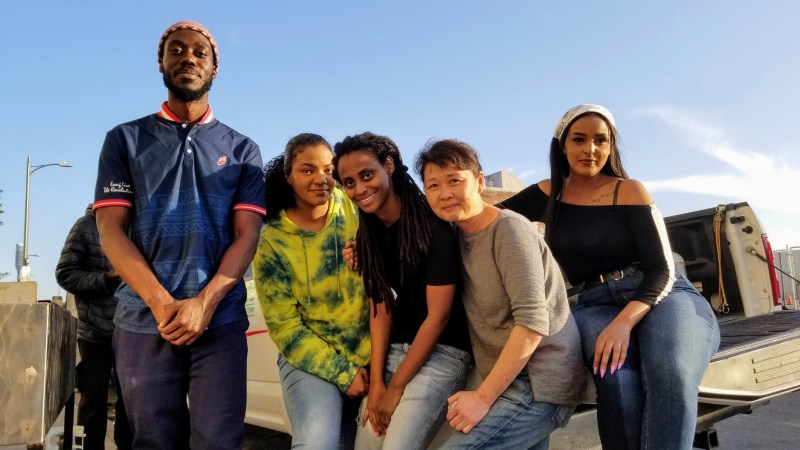 Before the pandemic hit, Acedera did this at most a couple times a week in addition to working a full-time job in the food industry as a consultant and researcher. Now she picks up food from Ralphs almost every other day and distributes hundreds of meals each week to people in need across the county.
"It's been so busy. Since so many spots are closed—so many encampments are cut off from aid," Acedera says via Twitter in late March.
In April, Acedera began partnering with Eayikes and LACAN to bring much-needed aid to the unhoused residents of Skid Row. She says the early April video that Skid Row Power posted of Donna is what led to the collaboration. 
On a hazy Sunday afternoon in late April, while hundreds of people flocked to the beaches of Orange County and Ventura, dozens of volunteers gathered at LACAN in Skid Row. "We have an astounding amount of food, thank you, thank you, thank you, everybody, for assembling this," said Pete White, the Executive Director at the LACAN. According to White, the group assembled over 400 meals that day.
"I have an entire decontamination kit on my front seat..."
"This is the end of week four. It's been crazy man," said Alex Yoon, Executive Director of Eayikes—an educational non-profit that motivates people to move towards community service, "There are a lot of people that have good hearts but just don't know how to accept that." 
Over the past seven years, Alex and the team behind Eayikes have been building their non-profit. When the pandemic hit and the mayor announced "safer-at-home"orders, they partnered with Acedera to create a logistics team of hundreds of volunteers that handle everything from preparing meals to distributing them, Yoon explains, as pairs of people shuffled tables of brown bag lunches, so heavy they caused the tables to bend, from a staging room to the front entrance of LACAN. Together with Acedera and 10 other "chefs", Eayikes contributed over 200 meals on Sunday. 
To safely distribute the food, White outlines a plan to separate people into two lines with DIY hand-washing stations made out of repurposed trash cans at the front of each line, as well as volunteers ensuring people wear masks and keep 6 feet apart.
Before jumping into action, White warns, "Stay inside if you can because we don't want to create a crowd."
The Risk of it All
Acedera admits that she's worried about catching the virus but says she's taking the necessary precautions to ensure she not only keeps herself safe but also the vulnerable populations that she interacts with on nearly a daily basis, "I have an entire decontamination kit on my front seat," Acedera told L.A. Taco in March. She also obtained a highly coveted KN95 mask back when they were difficult to find.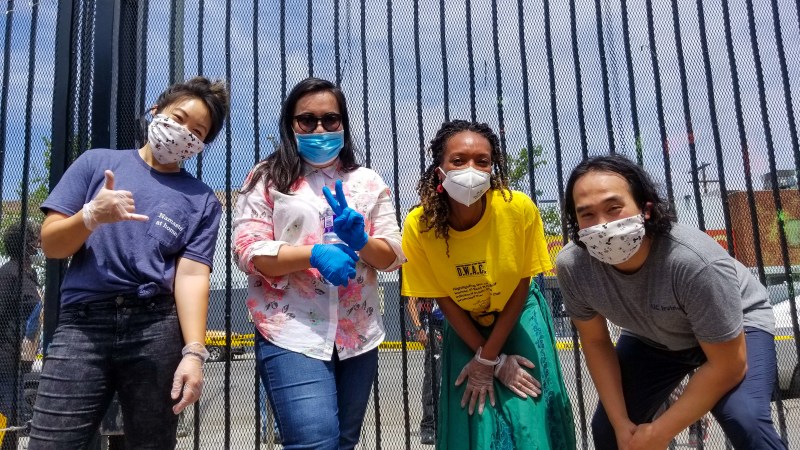 The heightened demand for food has made a job that is already sometimes difficult on the body, economically taxing and morally daunting, that much more grueling but at the end of the day, Acedera feels rewarded knowing that she's making a difference in people's lives. "Beyond the food, it's really about community. I want to make sure that they know that someone cares about them," Acedera said in February.
After making spending the morning getting things ready behind the scenes, Acedera bubbles with excitement as she watches residents of Skid Row finally walk away with brown bag lunches.
"There was always food on the table."
As the daughter of two Filipino immigrants, Acedera grew up in a big family in Los Angeles. From an early age she learned that "everybody needs to get fed" and idolized her grandmothers who she says were all entrepreneurs in some way. She recalls her family always taking in new arrivals and cooking for other people. In Acedera's family – as well as her current circle of food advocates – it's the women that keep everybody's bellies full, "Most of the people I work with are women," Acedera told L.A. Taco in February while on the way to pick up produce from an artist and food advocate in Highland Park.
Not everybody is a fan of Acedera and Susan's work though.
Some people point to a seemingly abundant access to free food as being a part of the problem. In the past, some cities have even tried to outlaw the practice. Late last year, the city of Lancaster unsuccessfully moved to pass an ordinance that would regulate public feeding. Supporters of the ordinance argued that unregulated food posed a public health threat. Good samaritan laws however currently protect businesses and individuals from being held liable for donating food.
Susan says she's had confrontations with three people, including one neighborhood councilmember, who according to Susan had a problem with her focusing her outreach on the Asian and African American communities.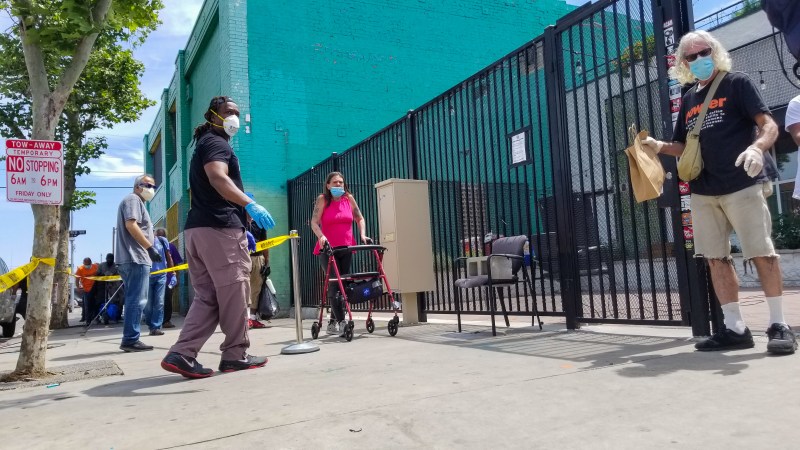 Now more than ever though, food is desperately needed as certain communities—like the unhoused, elderly, and immigrant populations—face food shortages because of COVID-19.
Even under normal circumstances, for the unhoused, having to walk a couple of blocks to find food can be challenging, especially for someone that's disabled or anybody that's afraid to leave their tent and personal property unattended. Between sanitation sweeps, vigilantism, and theft, every time an unhoused person walks away from their encampment, they risk losing everything. COVID-19 is just the latest obstacle that the unhoused are faced with.
While hundreds of meals were being passed out in front of LACAN, Acedera took us into a backroom stuffed with a palette worth of non-perishables that she was able to redirect from a food bank to LACAN – otherwise, all of the food would have gone to the landfill. Acedera says she could have redirected more, but because of limited resources, LACAN couldn't accept it.
Lexis-Olivier Ray is a housing, justice and culture reporter for L.A. TACO.
Stay in touch
Sign up for our free newsletter