Featured
Macheen on Finally Winning Taco Madness 2020: 'This One Is for All the Street Taqueros. Never Give Up'
11:35 AM PDT on May 26, 2020
[dropcap size=big]J[/dropcap]onathan Perez finally did it. 
After being the runner up last year and that devastating last-minute loss to Sonoratown, the lone wolf taquero behind Macheen finally has claimed his Taco Madness champion. His mighty competitor Leo's Tacos were neck to neck as late as Thursday of last week, but in the end, Perez rose above.
"This one for all the street taqueros. Never give up on a dream and know that hard work and talent overcome anything," an ecstatic Perez says when asked about how he feels to finally bring home the prestigious "Best Taco in L.A." title that L.A Taco has been honoring for 11 years now.  
The young taquero continues to reflect on his win, "Taco Madness is like the World Cup for L.A. taqueros and I feel very happy and fortunate to have the support of people stopping by Hermanito and believing in my food."
Stay tuned to our Instagram account this week where we will go live and reward Perez with the Taco Madness champion trophy and the cash prize.
[divider]UPDATE 5-26-2020[/divider]
[dropcap size=big]T[/dropcap]his is it. 
A new Taco Madness champion will be crowned on Sunday night. After almost a month of grueling taco deathmatches, the last two survivors that will show what they are made from are Macheen and Leo's Tacos.
Leo's narrowly beat Koreatown's institution, El Taurino, by only a handful of votes. Whereas Macheen enjoyed a consistently large lead over Tacos Estilo Guadalajara, despite a strong effort from their opponent. If things stay the way they are, Macheen may finally rise to be victorious—after getting knocked down time and time and time again in this competition, having reached the Final Four twice before.
However, we are confident that Leo's will not go down without a fight. Not with their cult following and a perpetually never-ending line of hungry al pastor enthusiasts. This last round will for sure be one for the books.
Will this be Macheen's big year or will Leo's Tacos roast Macheen's heart on a trompo and deny him of a victory he's worked so hard to almost secure? Stay tuned.
The final round of Taco Madness is now open. Vote now. If you do not have Facebook, you can vote on Twitter.
[divider]UPDATE 5-18-2020[/divider]
[dropcap size=big]A[/dropcap]fter three bloody rounds of taco voting carnage and four incredibly close battles that really did go all the way until the final seconds of the round last night. These are the last standing four taquerías that have survived through it all and are so close to victory.
Macheen vs. Tacos Estilo Guadalajara
El Taurino vs. Leo's
Los Dorados LA went down swinging and fighting. The young pop-up taquería out of East Los Angeles rallied an ungodly level of votes at the last minute and while their first-timer efforts were noble, Macheen's three-year hunger for the championship title led him to victory. Jonathan Perez has made the Final Four round for the last three years, will this be his breakout year? He stands as the last rocker skater-turned lone taquero against three institutions.
He will have a formidable foe in Tacos Estilo Guadalajara, Lynwood's al vapor masters who have impressed L.A. Taco with the amount of support they've received. They called in the Mexican reinforcements for voter support, a.k.a., all the IP addresses logged in from Mexico. No doubt, the taquería called in their extended family and friends down there via their tías, tíos, and the rest of Rancho Support Network.
And last but not least, it is a battle of the pastores as L.A.'s two iconic taquerías with El Taurino vs. Leo's square off in a battle of pork. Will El Taurino's non-trompo adobada-style al pastor reign supreme with their caramelized onion-inflected juicy pork? Or will Leo's consistently perfect meat strata of paper-thin, crispy, freshly shaved al pastor from their ever-rotating trompos be enough to crown them as al pastor kings?
[divider]UPDATE 5-11-2020[/divider]
[dropcap size=big]T[/dropcap]he giants have fallen.
Let us offer a moment of silence to Sonoratown and Mariscos Jalisco, two of L.A.'s most iconic taquerías and past champions who have fallen in this round. Their champion spirt fought hard and they both went down swinging, but alas they were no match to competitors' thirst for success. 
There will be a new champion this year. Who will it be?
Will this be Macheen's big year? Jonathan Perez, Macheen's lone taquero, has been in the final four for the last two years and his following has only grown over the years. Putting in work every single weekend at Smorgasburg L.A. with his cerebral-but-delicious tacos that can have everything from squid ink tortillas to butternut squash al pastor. Macheen was also among the top vote-getters this year.
Behind him was Tacos Estilo Guadalajara, the pride and joy of Downey that slaughtered the past champion, Mariscos Jalisco. Winning 73 percent to MJ's final 23 percent. 
Thirdly was Los Dorados LA. They are rising through the ranks of L.A.'s Taco Life at an astonishingly quick rate. Their loyal following who love their crispy beauties guided them to a decisive win over Sonoratown: 32 percent vs. Los Dorados LA's 67 percent. 
With all three birrieros eliminated in this round: Teddy's Red Tacos, Birria Pa La Cruda, and Birrieria Gonzalez. It looks like Angelenos' obsession with birria was not enough to carry the trend into championship level. 
Todo Verde is also OUT. Jocelyn Ramirez and her plant-based followers fought a valiant battle against L.A.'s al pastor OGs, but it was not enough. There are no more plant-based taquerías left.
Taqueria San Miguel (formerly Tire Shop Taqueria) have also advanced. Tijuana-style asada is still in the game. 
El Taurino is holding on, but will their 30 plus years of notoriety be enough to hold off newcomers Chuy's Tacos Dorados from winning their first Taco Madness tournament? 
What does it mean that we still have two crispy tacos in the running in the form of  Chuy's and Los Dorados L.A.? We will all find out soon. 
This next round will be an all-out-war for the following taqueros, so stay tuned and watch the tortilla chaos as it unfolds.
Macheen vs. Los Dorados LA
La Güera vs. Tacos Estilo Guadalajara
One thing is for sure: L.A. Taco's readers love their taqueros and no quarantine is going to change that. You all logged in 10,000 votes in this round. 10,000 clicks in support of your favorite taquero. Let's keep this momentum going as we enter the third round.
[divider]UPDATE 5-4-2020[/divider]
[dropcap size=big]W[/dropcap]ith over 8,000 votes counted in our system, this year is proving to be one of the most exciting first rounds in Taco Madness history. 
The results are finally in. But before the winners are announced, L.A. Taco would like to congratulate all of this year's seeds who fought until the bitter end, aka, 11:59 PM last night. Know that L.A. Taco sees your taco honor and it inspires us to keep working to promote the Taco Life that you have helped establish in Los Angeles. Some of you lost by a mere handful of votes and remember….there is always next year. 
We ended up with some shocking results that guarantee a fascinating second round
Overall, Sonoratown got the most votes, perhaps due to their champion spirit of winning Taco Madness in the past. They will undeniably not give up this year's title without a fight. Fueled by chivis...y que.    
Second up with the most votes are the newcomers, La Güera! Their kingdom of taco devotees built by their various locations around the city did not let them down. Third up was Birria Pa La Cruda! They rose to the first round's podium faster than the impurities in a simmering pot of their complex, robust birria broth. 
Now come the taco disappointments. Last year's runner up, Tacos y Birra La Unica is OUT. Losing to their challenger Asadero Chikali, who rallied their East L.A. base of customers to win in the end.   
Former Taco Madness champion and taquero icon, Guerrilla Tacos is OUT.
El Ruso, who our Taco newsroom listed as their top seed and predicted champion is OUT, losing to a humble Westside stand, Brothers Cousins Tacos. 
King Taco's empire was defeated by its tiny cousin, El Taurino. Proving that despite many arguing that both offer the same food...their loyal Koreatown followers say otherwise.
Chuy's Tacos Dorados, another first-timer has defeated the pork powerhouse, El Momo, who has made the final four three times in their history and always go deep in their rally to the championship.
Todo Verde did very well in total votes and easily outgreen'd Vegatinos (the winners of Vegan Taco Madness in 2019).
With 5,000 total votes, the new-school taqueros behind Los Dorados beat the legendary and controversial Tito's Tacos in the westside...by 10 votes. Remember, all is fair in war and tacos. 
In round two we will see Mariscos Jalisco who always gets to the final four, take on new powerhouse from big bad Downey in southeast Los Angeles, Tacos Estilo Guadalajara. 
Asadero Chikali will try to ride a narrow victory into round two and face another new power, La Güera. 
We wish it didn't have to be this way so soon but last year's champ Sonoratown will take on plucky upstart Los Dorados. All eyes will be on this battle. 
Macheen, a runner up of past years, rallied their fans and will now take on Teddy's Red Tacos, who won the first birria battle against L.A. Birria. 
Brothers Cousins will now try to beat El Taurino, while Birria Pa La Cruda will go against Chuy's Tacos Dorados. Tire Shop is up against Birreria Gonzalez, and Todo Verde will call upon the powers of the plant to try to subdue the stalwart Trompo gods, Leo's Tacos.
For all the proud, few taquerías that are moving on. Congrats. You've earned this victory. 
We are only getting started….it's time to rally and keep your momentum going.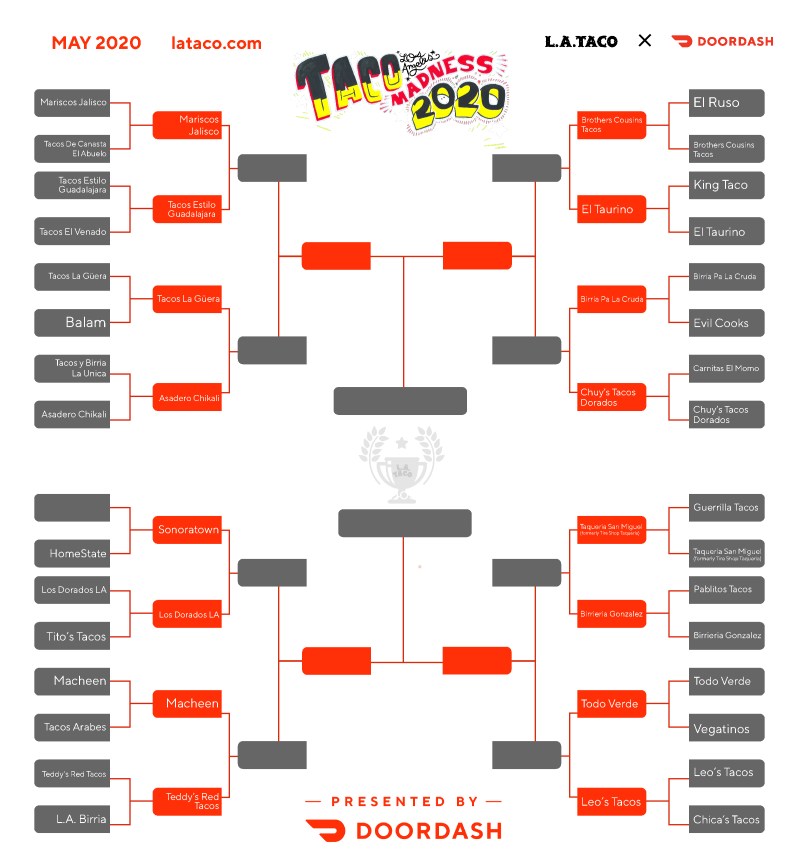 [dropcap size=big]A[/dropcap]after a fierce preliminary Play-In round sponsored by DoorDash that pitted Chica's Tacos versus Tacos 1986 and Chuy's Tacos Dorados versus Cielito Lindo, L.A. Taco is calling the match. Congratulations to Chuy's Tacos Dorados and Chicas Tacos for rallying your fans and customers to carry you to victory. 
You have both fought your way into the Taco Madness main bracket, where you will face your new competitors: Carnitas behemoth El Momo and the al pastor pioneers, Leo's Tacos. The updated bracket, along with the first round of competition including 32 taqueros dueling against each other, is now open. Hearts will be broken and egos will be destroyed, but all is fair in love and tacos. 
 was on its way to being a groundbreaking year for tacos in Los Angeles. We witnessed the birth of a new generation of street vendors, including L.A.'s first flauta specialist and oven-roasted goat birria taquero, thanks to the city finally legalizing street food. While our taco universe may currently be on hiatus, it has never been more important to support our taqueros. 
Introducing L.A. Taco's 11th annual Taco Madness online tournament, presented by DoorDash. 34 taqueros, one cash prize, who will rise above the rest and be victorious? There can only be one Taco Madness champion in Los Angeles!
Many of our favorite taqueros may not be open serving tacos, but we can keep L.A.'s taco lifestyle alive by voting online and celebrating your favorite taquero from our homes. To quote a great Taco Editor, "Tacos will prevail." They always have and this too shall pass. 
The 34 contestants in this year's bracket celebrate timelessness and L.A.'s ever-evolving taco culture. To honor the latter, we are welcoming a new fleet of taqueros and taqueras that are competing for the first time. This includes power players like Pablito's Tacos, whose zesty Peruvian-tinged tacos have been making a green salsa splash in the Valley and Burbank. We also proudly welcome a couple of paisa neighborhood taqueros like Brothers Cousins Tacos and Tacos La Güera's street empire to the mix to see how their local followings stand against L.A.'s taqueria media darlings. 
In a fight that will surely break up relationships and start generations-long family feuds, we are finally pinning L.A.'s two institutions against each other: King Taco versus Tacos El Taurino. Who do you got? Choose wisely and accept your consequences as they come.
The Flour Tortilla Conquest of Los Angeles continues marching forth with more and more taco lifestyle followers experiencing the simple pleasures of thin, handmade flour tortillas the way millions of norteños in Mexico have been for decades. Last year's Taco Madness champion, Sonoratown, has had L.A.'s flour tortilla game on lock for the past for about the last half-decade. They've probably singlehandedly changed L.A.'s perception of flour tortillas. However, this year, bracket newcomer El Ruso will surely give them a run for their paper-thin flour-y tortillas with their current reign of media coverage and crossover into L.A.'s mainstream taco life.
Birria is also here to stay. This year, all the heavy hitters like Teddy's Red Tacos, Tacos Y Birria La Unica, and more are all fighting for L.A.'s best birria bragging rights. 
Here at L.A. Taco, we are equal opportunity taco eaters. It would be remiss to not acknowledge the driving force of our fine city's plant-based tacos, you can bet a round of tacos that Todo Verde and Vegatinos will be up in the mix rallying the vegan community to help them prove to the world that vegan tacos can be just as good as their meat-filled counterparts. 
To make things interesting this year, thanks to DoorDash, we are introducing two "play-in" rounds with four taco competitors that are currently available for delivery through their App. For the first one, we have the two Historic Core taqueros fighting for DTLA dominion: Chica's Tacos versus Tacos 1986. Secondly, it is a battle of old school versus new school by way of the nearly century-old crispy beauties of Cielito Lindo up against the savory, juicy, proudly American Mexican tacos at Chuy's Tacos Dorados.
Taquerias have always been there for us in the past and when this is all over, they will be still there for us. So right now, let's all be there for them and show them that they are still in our hearts and soon, in our bellies again.
L.A. Taco wishes all of the participating taquerias the best of luck. Remember, there is always next year. But right now, it's time to fight. 
Let the taco battle royale begin...
Mariscos Jalisco
Sonoratown
El Ruso
Guerrilla Tacos
Tacos Estilo Guadalajara
Los Dorados LA
Carnitas El Momo
Pablitos Tacos
Tacos La Güera
Macheen
Birria Pa La Cruda
Todo Verde
Tacos y Birria La Unica
Tacos Arabes
King Taco
Leo's Tacos
Tacos De Canasta El Abuelo
Teddy's Red Tacos
Brothers Cousins Tacos
Taqueria San Miguel (formerly Tire Shop Taqueria)
Tacos El Venado
Tito's Tacos
El Taurino
Birrieria Gonzalez
Balam
HomeState
Evil Cooks
Vegatinos
Asadero Chikali
L.A. Birria
Tacos 1986
Chica's Tacos
Cielito Lindo
Chuy's Tacos Dorados
Stay in touch
Sign up for our free newsletter