Featured
Can Street Vending Survive the Pandemic? L.A. Vendors Face Harsh New Reality and LAPD Enforcements
12:51 PM PDT on March 19, 2020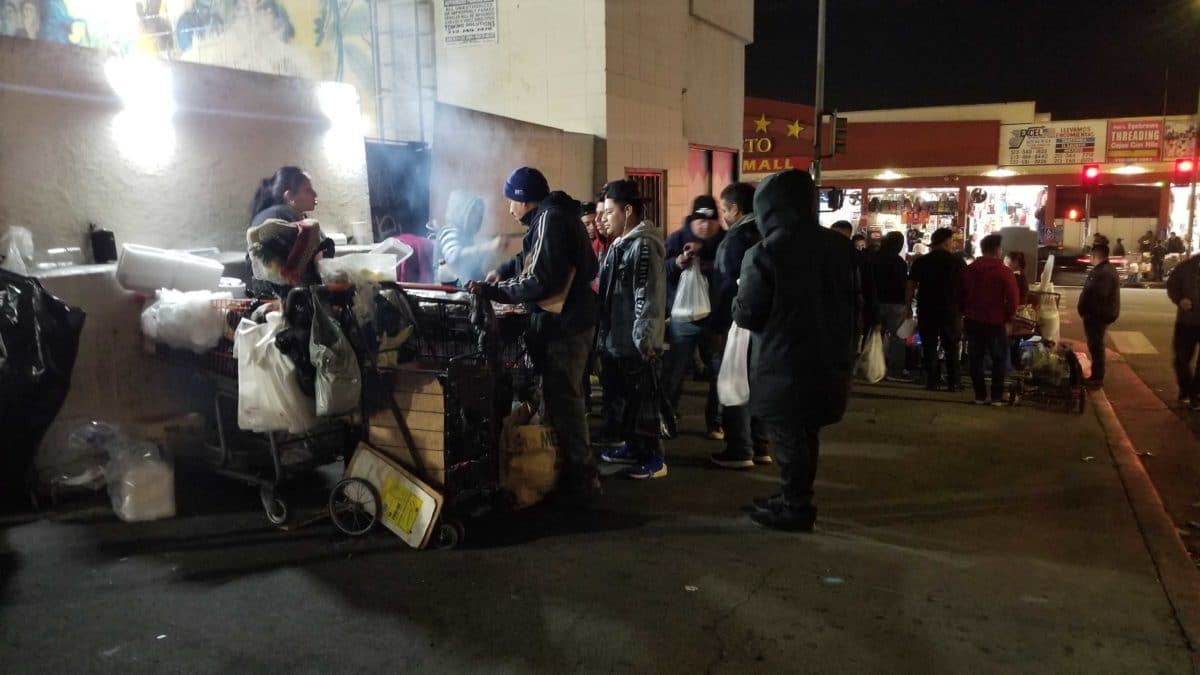 [dropcap size=big]L[/dropcap]APD versus Street Vendors
When all is said and done, this is the new reality that we are looking at during the Coronavirus crisis and maybe beyond. 
This week, Mayor Eric Garcetti announced a citywide mandate to close all bars and restaurants, but does this apply to L.A.'s fleet of thousands of street vendors such as taqueros and fruit stands as well? 
As of Tuesday evening, yes, for the most part. 
After a lengthier than usual (eight hours long) city council meeting, the city's councilmembers unanimously approved an "emergency motion" raised by Councilwoman Monica Rodriguez that calls for the LAPD-assisted immediate enforcement of ceasing street vendors without a permit from the County Health Department from setting up right now amid coronavirus concerns.
This does not mean an outright ban on street food but the city along with LAPD is going to start shutting down food stands that do not have a permit from the Health Department in the streets of L.A. This permit is a separate one than the L.A. City permit required for street vending. Our sources indicate that the street vending permit will not be enough if you are a street food vendor and that you will still need the County-issued permit. The current ruling's language also indicates that if you are among the 29 street vendors in the city (from the thousands of street food vendors in the city) with both a County-issued health permit and a street vending permit for L.A. city, you may continue to operate. 

This motion abruptly ended the six-month grace period that the city initially offered to street vendors for them to catch up to the city's new laws surrounding its decision to legalize street vending—almost four months earlier than originally promised.
The decision to close down L.A.'s street vending network along with restaurants to prevent the spread of COVID-19 may sound like common sense to many. Some, like Antigua Coffee Roasters in Highland Park, even took it to Instagram to post their stance. In the post, they tag Garcetti and the Health Department, they state: "If we are mandated to completely shut down then we will comply with the order...how will you enforce street food vending? Do not turn a blind eye." 
The reality is that this is not the case from the perspectives of street vendors themselves who are already some of the most vulnerable communities in Los Angeles. Many, living on L.A.'s margins are undocumented immigrants or elderly who have taken it upon themselves to create work. It is undoubtedly true that the spread of COVID-19 needs to be stopped at whatever means necessary. It is also true that it is decimating the economy and things are going awry at an alarming rate, especially the hospitality industry. Whether it was the right call to end the grace period for street vendors remains a controversial topic.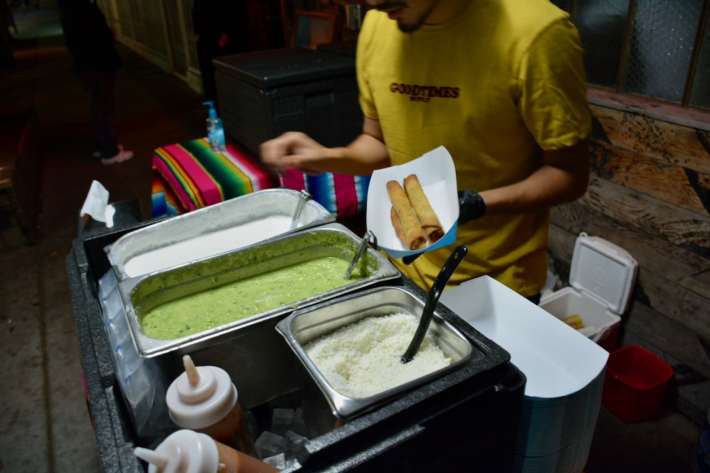 "COVID-19 is hurting everyone, but I'm afraid this policy is not only going to immediately kill the [street vendors'] businesses, but it may also even criminalize them," says Rudy Espinoza, an outspoken advocate of street vending rights in Los Angeles and the Executive Director for Inclusive Action for the City. "At the same time, I have great sympathy for the decisions that our leaders are making to keep all of us safe. My hope is that if we are barring street vendors from making a living, we are also providing resources to them, including direct cash assistance, to help them cope with this disaster impacting our whole city."
"Federal programs, state unemployment benefits, and other resources will not reach them."
He reminds L.A.Taco that "street vendors are the original 'to-go' food entrepreneurs" in the city. However, while restaurants and brick and mortar food businesses have been offered an option of still doing business via delivery and take-out orders (even though ultimately it is a minuscule gesture business-wise), under the current emergency motion, this will not be offered to the vastly celebrated unpermitted street vendors that the city is known for. 
The biggest fallacy of it all is that despite legalization on January 1st, 2020 the Health Department does not have the capacity to permit the street vendors we know and love to begin with, according to Espinoza. They are both constrained by the State retail food code and have not had the capacity to develop the classifications needed locally to permit sidewalk vendors. "Because the Health Department interprets the retail food code very strictly. Even fruteros can't technically cut fruit on their carts," says Espinoza.
In the laser words of Espinoza: "Asking [street vendors] to prove they have a Health Department permit, at this moment, is essentially saying you can't vend at all because it's nearly impossible to get one."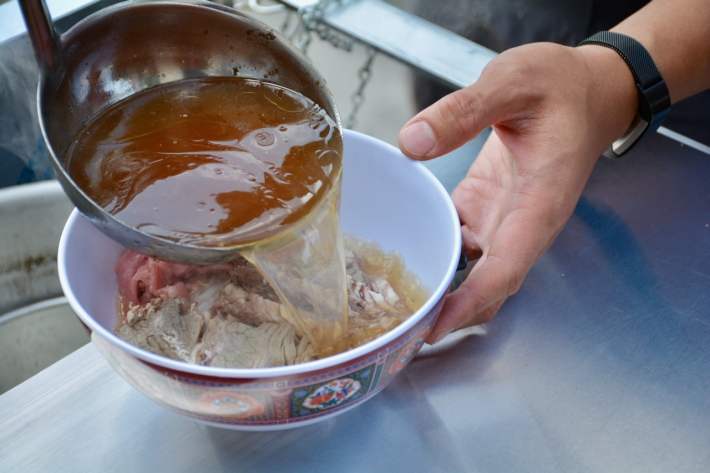 "I looked into and tried to obtain that permit, but the barrier to obtaining is very high and since nobody is doing it and the city's regulations haven't made it easy, I was turned off," says Ngoc Nguyen of the popular street pho pop-up. His wife Cynthia Gong and he operate the stand, and have graduate degrees and work in the medical field. And they haven't been able to figure the system out themselves.
"The timing is really bad, this motion may cripple and exacerbate the problem of street vendors operating without a permit," Nguyen says. He has found a loophole in the street vending system by partnering with local businesses and is offering takeout frozen pho kits that way. 
Not all street vendors are this fortunate.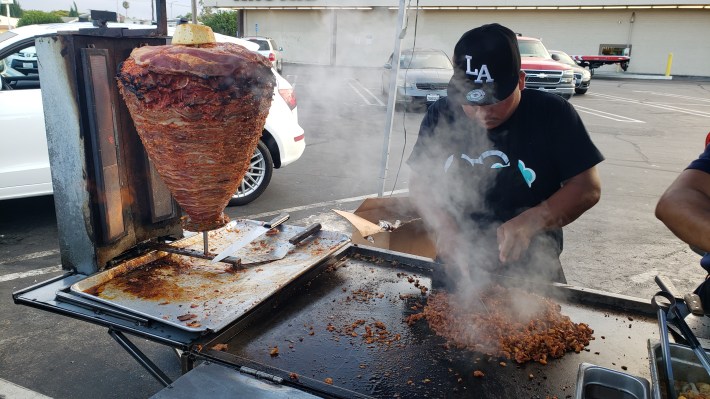 "We had not heard of yesterday's news yet," Hugo Muñoz of Brothers Cousins Taqueria in West L.A, shares with L.A. Taco (en Español). "But there was a police car parked near us last night with the officer just looking at us without getting off his car. Today, there was another officer in a vehicle doing the same thing." Muñoz goes on to say that Street Services once came over and handed him a pamphlet to become a permitted vendor, but when he tried to call and ask for more information, the city responded that the pamphlet's guidelines applied to food trucks—not grills on the street.
"We've been working on getting that permit, but it's not as streamlined as we thought it would be."
Muñoz echoes the sentiment that is common from other street vendors: a food truck out of reach financially. According to Muñoz, he'd need a minimum of $100,000 to get started. He also believes his customers flock to him because he is a stand and specifically not a truck. The former is seen as being more "authentic" to some taco lifestyle followers in Los Angeles, thanks to the enticing allure of the smokestacks emanating from the roasted meats and open fire that is immediately apparent in a stand and not a truck. (Ironically, this same open fire is a hazard according to the city.) 
Nonetheless, he worries that this new law will "finish him off," since sales have already been dwindling with the social distancing in full effect.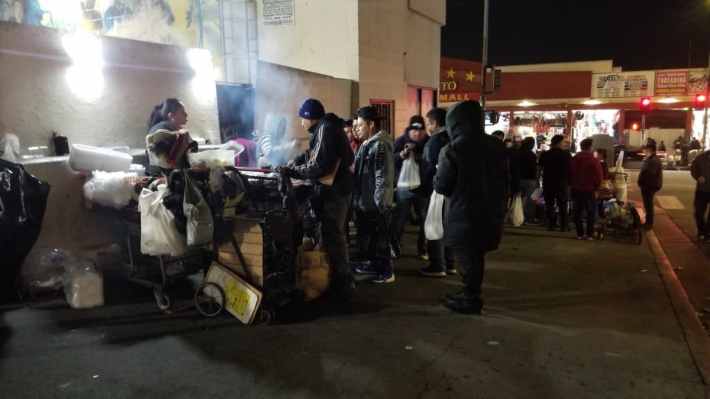 As of last night, L.A. Taco has confirmed that this newly implemented motion has not affected the hub of street vendors that gather around MacArthur Park. Our reporter Lexis-Olivier Ray on the ground there did confirm more police presence. "They drove by filming on their phone," he says. "They circled the block twice in five minutes."   
Other new-school taqueros like Steven Orozco of Los Dorados LA are taking this moment to expedite his process to become permitted. 
"Adapting to our environment and changing laws is nothing new for taqueros. After all, we're just out here surviving and squeezing by."
"We've been working hard on getting a trailer, so all this does is make me speed up the process and work even harder and longer hours to make this happen," Orozco shares with L.A. Taco. Like Nguyen, he expresses frustration at the permit process. "We've been working on getting that permit, but it's not as streamlined as we thought it would be." 
When informed that the city will now be utilizing the services of LAPD, Orozco is not surprised. He reveals that he has also already been cased by Figueroa Street's foot patrol during his service in front of La Cuevita on Thursday and Friday nights. "They've come in the past and asked how long we have been doing this for and other questions like that, but I'll be ready."  
Cesar Martinez, the owner of Avenue 26 Taco stand in Lincoln Heights expedited his permit process and got two limousine-equivalent taco trucks to replace his lauded taco stand overnight. "Last night was our first night in our new trucks and our customers have been understanding and are still supporting us," Martinez says. "Adapting to our environment and changing laws is nothing new for taqueros. After all, we're just out here surviving and squeezing by." Under normal circumstances, the transition to food trucks from this tried-and-true taco spectacle in northeast Los Angeles would have been met crowds and loud cumbia. Last night, the mood was somber and lonely, like the rest of the city right now during the quarantine. 
There is no denying that shutting down meeting spaces of any kind is beneficial in the time of highly contagious pandemics. Let's just all hope the erasure of street food in Los Angeles is not an unintended consequence of it all.
While their business has been down, Ave 26 Tacos is maintaining its hours (5 PM to 1:30 AM on weeknights, and 5 PM to 2:30 AM on weekends). Martinez is thinking about opening a little earlier as well to try to get more business. He is understanding of the city deciding to do this but still feels for the street vendors since he recognizes that they are often the most vulnerable. 
Other fully permitted street food vendors, like Jimmy Han of Love Hour, empathize with the city's decision to enforce the shutting down of unpermitted vendors for the greater good.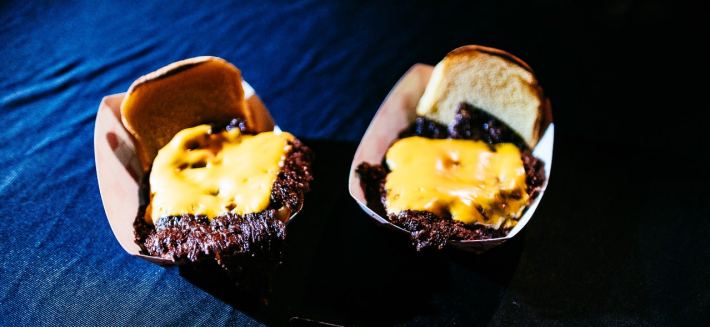 "I think it's a good thing. While we want everyone to have the opportunity to make a living and the freedom to serve the community, the new ordinance helps protect the community from spreading the virus," Han says. "Before the national emergency and global pandemic, we could have had some loose standards and decriminalization of street vending but now we have to consider the health implications with a deadly outbreak. Yes, our businesses will suffer, but it's for the greater good. I think we all should appreciate stringent health codes and practices that our local health departments enforce." 
After much deliberation, Han and his staff are deciding to pop-up this Friday and Saturday afternoon in Koreatown. 
"Chefs are compelled to feed the community in a time of need," Han says. "It's what they do."
There is no denying that shutting down meeting spaces of any kind is beneficial in the time of highly contagious pandemics. Let's just all hope the erasure of street food in Los Angeles is not an unintended consequence of it all.
Memo Torres and Erick Galindo contributed to this special report. 
Video courtesy of @hastey_so_tasteyyy on Instagram.

Editor for James Beard Award-winning L.A. TACO. Associate Producer for JBA-winning Las Crónicas Del Taco. Former restaurant scout for Jonathan Gold. Co-Author of "Oaxaca: Home Cooking From the Heart of Mexico (2019, Abrams) and "Asada: The Art of Mexican-Style Grilling" (2023, Abrams).
Read More:
Stay in touch
Sign up for our free newsletter