My Favorite Taco
My Favorite Taco: System of a Down's Shavo on Armenian Eats, Asada, Alvarado Weed, and Life With Synesthesia
2:33 PM PDT on March 21, 2022
Anyone who has ever had their lives changed from a show by L.A.'s own System of a Down knows the band spills over with legendary reserves of kinetic energy. A high spirit that similarly springs from a conversation with the band's renowned bassist, Shavo Odadjian. When not touring with his fellow Armenian-American hard rockers, Shavo stays in perpetual motion, making music with the RZA and the great George Clinton, starting new projects like his trap-influenced band North Kingsley, and launching his own successful cannabis brand, 22Red, among other passions the Hollywood-raised musician pursues. He's also a chill, true Southern Californian at heart, as L.A. TACO recently found while having the pleasure of chopping it up with Shavo about the food he grew up on, buying weed on Alvarado as a teen, his connoisseurship of kind bud, and his favorite taco in the city. Take a look.
Hi Shavo. You were born in Yerevan, Armenia, but left when you were five. How did your family come to live in Hollywood? I was born in Yerevan and then in 1979, at five years old, my entire family migrated to L.A. It started off, because the borders were closed back then, we weren't just able to come right here. We moved to Moscow, yes, the dreaded Moscow. We had to go through all these maneuvers to come to America, so then we moved to Rome and became citizens of Rome, then moved to Queens, where I lived for a few months. And then moved to L.A. and made our home in Hollywood, California. This part of East Hollywood wasn't Little Armenia then, but we resided on North Kingsley Drive, which is the name of the new band: North Kingsley. That's where I grew up.
What did you grow up eating at home and who did the cooking? My grandmother. My mom's mom, God rest her soul. She did most of the cooking. My grandma was the foundation, she was the matriarch of the family, everyone revolved around her, she was the sun, you know? She would cook a lot of stuff, bro. Too many to name. She would do stuffed grape leaves that were really good. She used to do the stir-fry thing before I even knew what stir-fry was. It was amazing. There are a lot of Armenian things that are just delicious, y'know, and you just can't really compare them to anything else.
When she went, I was about 19. It was hard for everyone to deal with. She was young, about 59 or 60, and it was a tragic thing after a surgery, where she came out good, but then later developed a blood clot in her lungs. Just out of nowhere, she died, very unexpected. I've gotten over it but her memory lives on. When my grandma passed, my mom just became her. My mom watched and now she's taken over that role.
Going into your high school years, where did you like to eat outside of the house? Hot Wings Café. There's a place in Glendale and one on Melrose, and maybe even another in Pasadena. Gotta give them a big shoutout. We'd go there, and in L.A., hot wings weren't big yet. This place was the one that did it correctly, with the buffalo sauce and the blue cheese dip, it was just delicious. I also went to Baja Fresh a lot when it just started. And also, in Burbank, Tommy's Burgers, it's all over Southern California. We used to go there a lot. Yes, those three places are always in my memory.
What kind of role has Mexican food played in your life as a Southern Californian? A big role, very much so.  Growing up here, most of my friends were Latino, Latina. I just bond with the Hispanic people, I really do. So when I go to South America, it feels like a big family. They're very amazing, cultural, happy, you know, I adore them. And the food is amazing. I love burritos, tacos, enchiladas, all of it, tamales. Bring it on. Bring it on right now. You're making me hungry. It's lunchtime.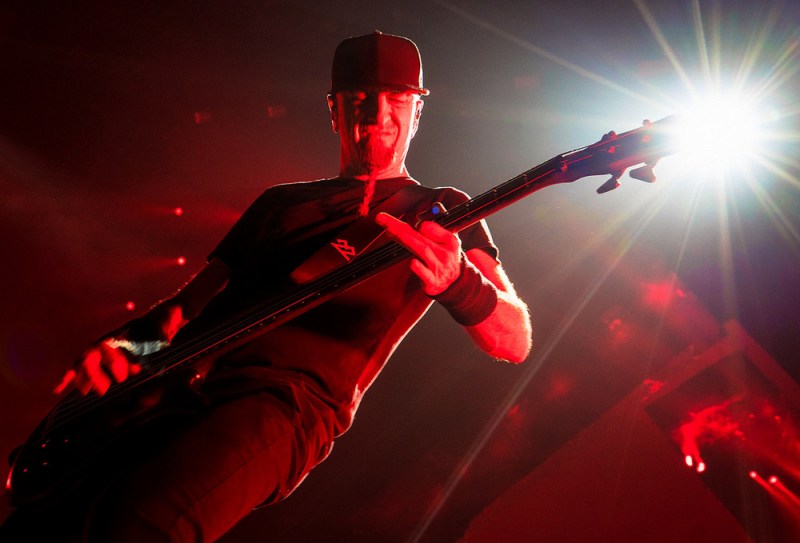 Perfect. So then, for the most important question we can possibly ask. Shavo, what's your favorite L.A. taco? You're asking all the right questions. There's a place in Glendale called El Sauz Tacos on San Fernando Boulevard at Chevy Chase. It started off as a taco truck from the same owners. I would go when I was in high school. Then there was a place across the street, like a little hut, that they took over, where you could sit and eat. They got rid of the taco truck then. It's still there. They also have a #2 location in Glendale, on Colorado.
You can't go wrong, it's fresh, it's clean, delicious. The homemade salsa alone is to die for. I would get extra salsa, bring it home, and put it on other things. I usually get four tacos and a burrito. But I haven't done that in a while. I'm trying to watch my weight, watching what I eat, because when you get older, you can't eat the same amount and look the same. Nowadays, I'll go and either have a burrito or four tacos, instead of having all that together. I do the carne asada, but recently changed how I eat. So now I'm doing a little al pastor and grilled chicken. But every time I think of El Sauz, I think of the carne asada with onions, cilantro, and that salsa. That's just the way it should be. Period. Man, I want to go to El Sauz now.
Are there any Armenian restaurants you love in L.A.? One more shout out, to Carousel Restaurant. There's two locations, one in Hollywood, and one in Glendale. Carousel, I mean, authentic, authentic Armenian food, I love it. There's also little spots, here and there, like little holes in the wall that make really good kebabs and stuff. Then there's a new spot, not so new, but new for me cuz I've been here forever, called Raffi's Place in Glendale, it's also delicious. It's more Persian-Armenian-style food, whereas Carousel is more Lebanese-Armenian food. And there is a difference, even though they have the same names, some of the stuff like the kebabs, but it's the way they prepare it is different. I like both. You can't really choose sometimes, you just gotta flip the coin and go.
You're known to experience synesthesia, where various senses can be triggered by stimuli that normally might only affect one sense. Personally, certain corn tortillas give me a sense of the color purple. How does your synesthesia manifest? Mine are in words, numbers, and letters. When I read, I'll see color in my head of words and letter. For the American alphabet, if I think of a letter, throw me a letter and I'll tell you what color it is. T, for example, is red. G, brown. I don't know, why, it's just brown. And same way for numbers. Two is red, 1 is white, 3 is yellow. They always have been. Hence, 22Red.
You've toured the world extensively. Do you have a favorite international cuisine? I obsess over Japanese food. I love sushi. I love udon. I love all of it. First time I was in Japan was '98. I think it was the first time I had sushi. I wasn't crazy about it. I didn't know what to expect. You know, you're younger, things are different, your mind isn't as open to things. Then I had it in L.A. and couldn't get enough after that. I went to the right spot, met the right chef, bonded with the chef. There's this thing that you have with the chef when you sit at the bar. It's more like one-on-one, you ask them what's good, they'll serve you something that's not on the menu. You'll look in their eyes, they look at you, they watch you eat. It's more of a personal experience than going to a restaurant, ordering at the table, and eating without seeing the chef. When you see the chef right in front of you, there's an experience there.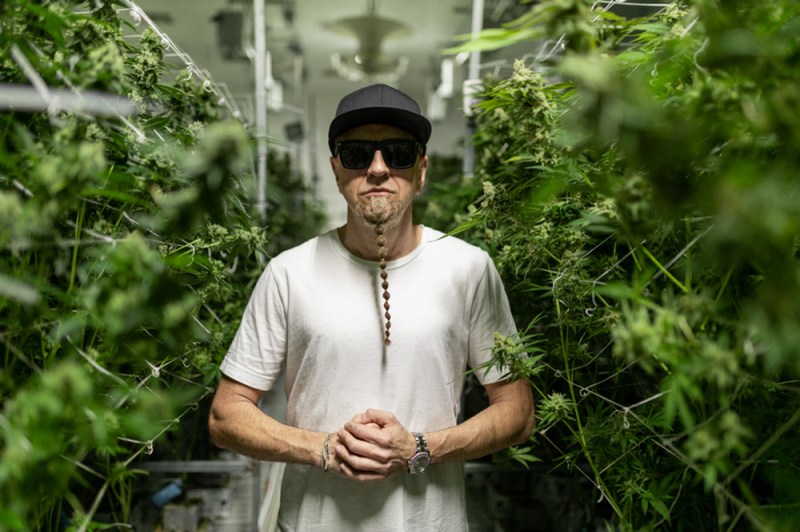 In a different realm of connoisseurship, what led you to create 22Red, your cannabis company? I have been a connoisseur and an advocate of cannabis since the first time I smoked it. Well, I did try it once at a concert when I was 18 or 19. I just took a puff, didn't even get high, didn't learn nothing about it. Then the second time: when we started System, our guitar player, Darren, he smoked a lot. We hung out a lot because we wrote music together, we had the vision together.
Before we even had a drummer, we'd sit around and talk about how the band's gonna be and we'd be smoking weed. We'd go to Alvarado, buy some weed off the street, off of some dude on the corner, like a nickel sack or a dime. That's all we had, we didn't have any money. We still lived with our folks. We'd get some weed and go to the studio. We had a studio before we had a band. We'd smoke that weed and talk about how great the band was going to be, what we were going to call it, what the process is going to be like, and what we were going to do. We kind of manifested the whole thing under the influence a little bit.
That's when I became an avid smoker and I started enjoying it. More than just becoming a couch potato, it took me—you can already tell I'm a lively person. I like to do things. I don't sit around unlike those people who smoke weed and don't do anything, that's what I'm an advocate for—it inspires me. Some people trip out on that, but that's what it does.
So years pass, I'm smoking. I've been all over the world. This is when there's a turning point in my life. It was around '99, 2000. We were in Amsterdam and I met Arjan Roskam and Loja from the Green House Seed Company. They invited me to the harvest tasting of that year, we happened to be there during the High Times Cannabis Cup, it was legit back then. The tasting was up in their apartment with a Thanksgiving table set-up of bowls and bowls of weed with numbers on them and placemats with our names on them, it was nicely organized. And I'm talking about branches the size of my arm.
I'd never been around so many genetics. In L.A. our weed from Alvarado was like the "dirt," the "stress." We'd occasionally get good weed, but didn't have the money to get like, fifty sacks of the Church or the Kush. Usually we'd smoke the dirt in the back of the van.
So these guys just opened me up and I became that connoisseur. I went by their coffee shop and they gave me like two ounces of their best weed. And I was a little disappointed. I said, "Can I just get everything on the menu, but just like in small amounts? I don't need a big ounce, I'm only here for two days. I just need a small amount of it all so I can sit there on my balcony and taste all this shit." And they looked at me and that's when they said, 'okay, this guy loves it for what it is, not just for getting high.' And that's when they invited us to the tasting. After that, I was a connoisseur and everywhere I go, I try to taste what they have.
Years past, L.A.'s legal, California becomes a medically legal state. And everybody wants me to start a brand or name a strain under my name, and I was opposed to all that. I didn't want to do any of that. I said, 'you guys do what you do and I'll smoke it and enjoy what you grow.'
Well, come 2017, me and one of my best friends wanted to start a brand, wanted to do something cool with our taste, as in clothing, apparel, skateboarding, something like that. Then a third friend, Sean, came in, who happened to be a grower in L.A. Someone who, today, is world-renowned, though I didn't know how great he was then. Once I saw his situation and grow, I said 'now we can do this, now I believe in this.' Because I really never wanted to put my name on anything I didn't know the process behind it. 22 is not a celebrity brand. It's run by a celebrity but it's not a celebrity brand, as I think that's a handicap. There's so many out there that are asked, that I never wanted to be compared to someone that just puts their name on something and doesn't know what that something is.
I know every strain, I know every taste and smell, I know what it does. Because my process is I take all the weed, I have a relationship to it first, before I put it out there for anyone else. I make sure 'this is real, this is good, this is something I approve of' then I put it out. It's all grown by people I know and deal with every day. That's the process of how 22Red began. It wasn't that everyone's getting into cannabis so now I'm getting into cannabis, not what happened. It was that I was at the right place at the right time with the right people, the right situation. That's how 22Red was born. It started with three stores in California three years ago. Now it's in three states and hoping to grow, but I'm not looking for a quick grow. I'm looking for steady growth. I'm growing the brand, building the brand, and I want the brand to never get tainted. I make sure that everything that goes in our jars or our joints or our concentrates will be the number one. There hasn't been one bad review yet in any states. And I'm proud of that.
One of L.A. TACO's co-founders, Hadley Tomicki is a critic and journalist whose work has appeared in the Los Angeles Times, New York Magazine, and many other places.
Stay in touch
Sign up for our free newsletter