Sponsored
L.A.'s Top Street Vendors and Artists Unite to Create One of a Kind 'Legal' Tamal Carts
10:00 AM PST on February 7, 2022
This article was produced in collaboration with our partner, Rockstar Energy. 
L.A.'s food vendors and street artists share a lot in common.
Both tend to work in a semi-legal limbo, too often forced into the shadows while passionately pursuing a living. They can experience the soaring highs of being admired by critics and media influencers alike while simultaneously getting snitched on by neighbors, hated by their competition, and hounded by officials.
But if there's one quality that artists and vendors share that we wish to gather and celebrate today, it's their certified hustle.
While street food is often spoken of in terms of a cool trend, on the other side are vendors working hard against the odds to fulfill their dreams, or simply feed their families, often with perilous consequences. Life for a street food vendor can typically be quite complicated, driven to navigate a labyrinth of city codes, rigid regulations, prohibitive fees, and physical corners to try and turn a dollar.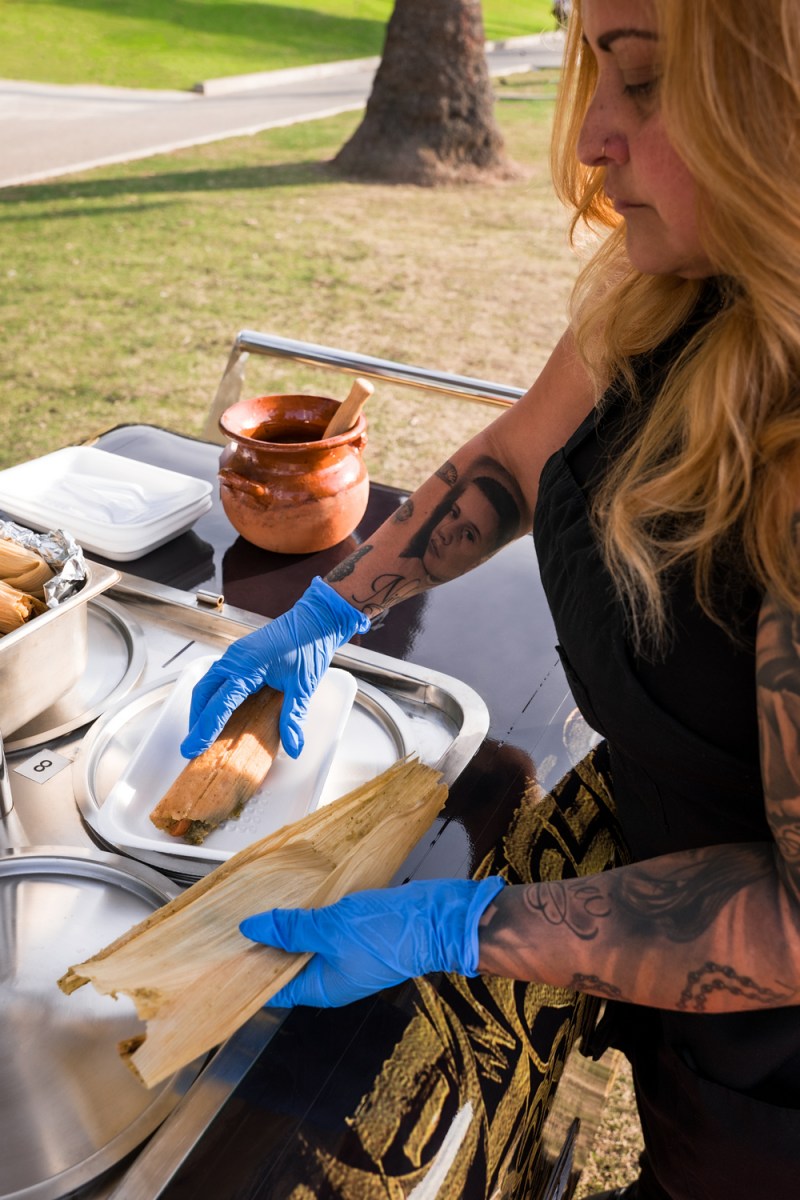 In acknowledgment of their service to its hometown of Los Angeles, Rockstar Energy is teaming up with L.A. TACO to give five new street-legal food carts from Revolution Carts to five of L.A.'s hard-hustling entrepreneurs who need them, to endow them with instant certification. Rockstar Energy's purpose is to champion and fuel the hustle, which is why it spent weeks searching for vendors who could most benefit from instant certification.
Along the way, Rockstar asked five of L.A.'s most renowned artists to step out from the underground and provide unique designs and embellishments to be wrapped around the remixed vendor carts.
Then Rockstar recently brought the two forces together under one roof, allowing mutual appreciation to flow between artists and chefs as they admired each other's work.
"I think it's really cool seeing the combination of two different kinds of L.A. hustles, with both artists and vendors," says Compton-raised muralist Mel Depaz, whose work takes place in and often reflects life in the L.A. area. "I just feel really honored to be part of it. I grew up on street vendor food, and it's cool to give back to vendors."
Depaz and the other artists—Defer, Ezra One, Never Made, and Ernesto Yerena—were each provided with the blank canvas of a cart from Revolution Carts to create artwork for Shane's Tamales, At Bev's Tamales, La Masita Fina, and Tamales Olmeca, and Poncho's Tlayudas, respectively.
Created and painstakingly designed by founder Ricardo Gomez and Revolution Carts' team of advocates and engineers, the new carts were crafted to make the work of street vending as easy as possible, particularly seeing as they come with pre-approved, legal L.A. City Sidewalk Vending Permits.
Called "The Tamalero"—since it was initially designed for tamal vendors—the beautiful, lightweight carts are easy to roll and fit a lot of finished product, with the ability to keep them warm for up to nine hours, keeping vendors from having to dash back and forth to a trunk-bound cooler or push their wares in a jerry-rigged, equipment-balancing contraption of their own design.
"You put them in there, and they stay warm," says Beverly Estrada, the owner, and chef of At Bev's Tamales. "People can walk with these carts instead of pushing them in shopping carts."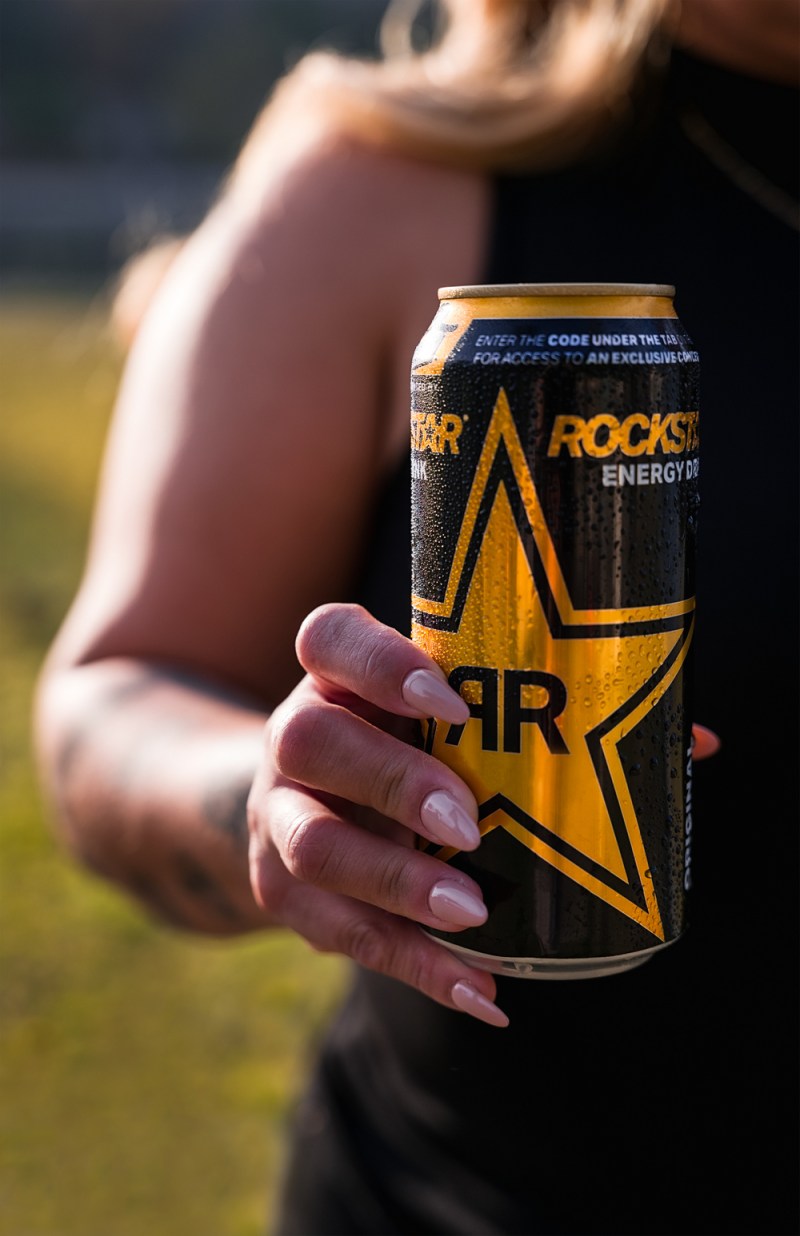 While choosing which street chefs and street artists to bring together, Rockstar heard the story of one vegan tamal vendor who works until his hands are chronically numb. And the trails of a mother of four living in perpetual fear of having her tamales thrown out by the health department. And a young woman who countered her pandemic depression by delving into her love of tamales, discovering her family's own hidden history along the way.
Rockstar wanted to honor these stories of unparalleled hustle with a street-legal gift that would hopefully erase some of the challenges our hometown heroes face. While giving artists a spotlight to create enduring artwork that would grace the carts and help promote each business.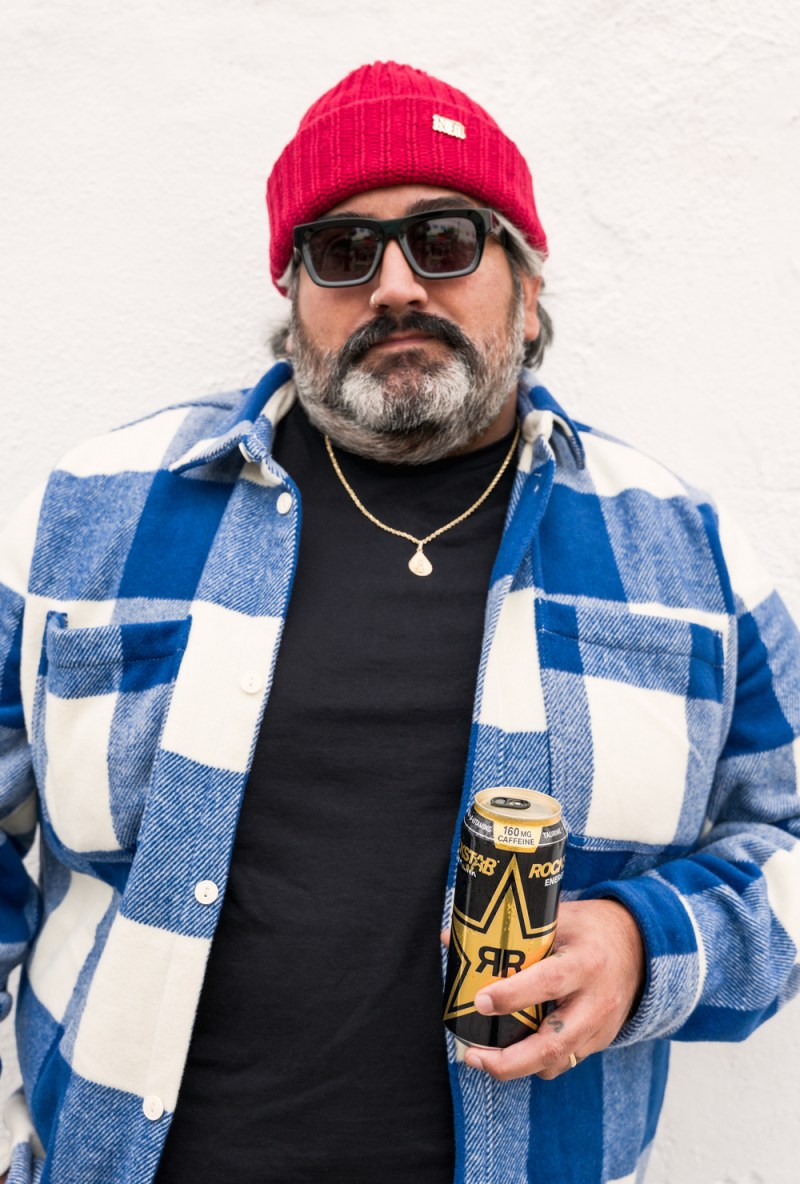 Rockstar Energy salutes these vendors and artists as cornerstones of what makes Los Angeles a wonderful home for so many of the rest of us, with dreams of empowering them to pursue their livelihoods freely and safely amid a surge of public attacks and persecution by both criminals and city officials.
The work that they do, and their striver's mentality, serve as an inspiration to us all, connecting us with cultural currents that run deep in Los Angeles.
This celebration of the collaboration between L.A. food vendors and artists will culminate on February 10 with a mercado-style celebration of both the vendors and artists at Angel City Market in the Downtown Arts District. There will be music, friends, food, and Rockstar Energy, banding together to honor the spirit of hustle so wonderfully embodied by these special guests in attendance.
Let's meet the winners and artists right now.
Tamales Olmeca owner Yunia Funes Mata has earned the respect and admiration of both street food fans and L.A. fine-dining mecca Bestia, where she works as a server. Pushed into the tamal game by the pandemic, the Guadalajara and D.C.-raised chef flew home to learn the secrets of her aunt's beloved tamales, receiving massive encouragement from her co-workers and chef Ori Menashe to turn her recipes into a business. Her tamales, which come in birria de res, bean-and-cheese, duck with mole, chicken-and-guajillo, rajas, date mole with butternut squash, and carnitas varieties have caught fire, with Funes Mata doing double duty at the restaurant and her own kitchen to make it all work. Rockstar Energy noticed her hustle while looking far and wide for L.A. vendors in need of leg-up. Funes Mata has been paired with Carson-based artist Francisco Reyes, aka Never Made, to design her cart. His radial image of hands book-ending a flame is meant to symbolize the passing of a handmade MesoAmerican recipe down through the generations, one that resonates deeply with Funes Mata, a lover of hands who says, "The beautiful hands and colors Francisco painted; I could not believe that just happened."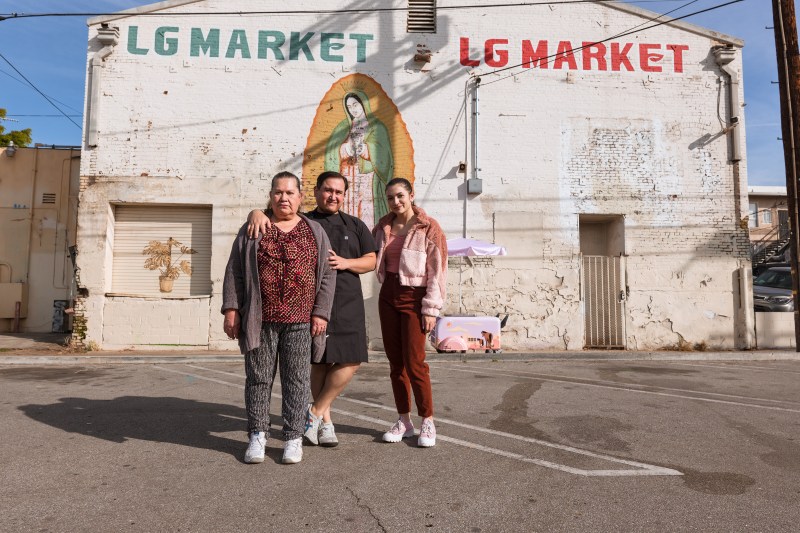 Chayanne Sarabia works so hard his hands hurt. The 34-year-old owner of Shane's Tamales wakes up at his home in La Mirada each morning to find his fingers numb, a result of the persistent carpal tunnel syndrome that stems from making everything for his vegan tamales from scratch. Sarabia started making tamales out of necessity, unable to find vegan versions that resembled the ones he grew up on. Today, the business is widely admired for its vegan renditions of true comida casera: a soy-based "chicken" simmered in a green chile sauce, mushroom-and-soy-based "pork" in a red chile sauce, and the bean-and-cheese with roasted peppers. With a rigorous schedule of events and pop-ups that frequently draw long lines and sell out, Sarabia reminds us that all the time-consuming work of his day-to-day hustle isn't always guaranteed to be that profitable, especially with the heavy permit fees he's required to pay for each event. "It's taken quite a toll on me physically. I do everything by hand," he says. These are the exact ills Rockstar Energy is hoping to ease by gifting this hard-hustling entrepreneur his own legally permitted tamal cart from Revolution Carts, hoping to empower street vendors with the kind of thoughtfully constructed equipment that bolsters their business and champions our hometown heroes. "The cart is definitely going to help a lot," Sarabia says.  The cart given to Shane's Tamales was designed by artist Mel Depaz, known for her bright, positive designs that often incorporate scenes from L.A. communities. She says, "I think it's really cool that Rockstar is combining two different kinds of L.A. hustles, with artists and vendors. I just feel really honored to be part of it."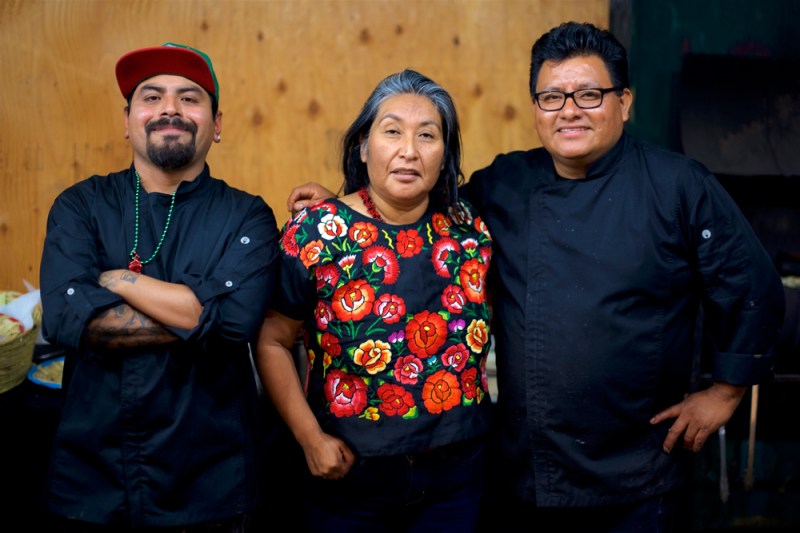 Since launching in 2017, Ponchos Tlayudas has achieved a level of renown that million-dollar restaurants dish out big dollars to marketing companies in hopes of attaining, with a glowing feature in the New York Times and a perpetual 5-star Yelp rating under its belt, among its accolades. A small operation first established as a Friday night pop-up in the South Central backyard fronting the Frente Indígena de Organizaciones Binacionales, an organization fighting for human rights for indigenous people in the U.S. and Mexico, Poncho's succeeds on the strength of one titular dish: the Oaxacan specialty of tlayudas, wide, paper-thin tortillas laden with meats, asiento, cheese, and roughage. Alfonso "Poncho" Martinez is a Zapotec chef and trained musician who came to the States from the town of Santo Domingo Alborradas in Oaxaca's Valles Central in 1999. His wife, Odilia Romero, a highly respected Zapotec-Spanish-English translator, activist for the rights of indigenous people, published academic, and co-founder of Comunidades Indigenas en Liderazgo, came from San Bartolome Zoogocho in Oaxaca's Sierra Norte in 1981. Two of the distinguishing merits of Poncho's crisp, indulgent, folded tlayudas are the charcoal coals used to grill both meats and tlayudas, and perhaps more unique, the filling of moronga, handmade blood sausage one doesn't typically see, taught to Martinez by Romero's family. Word of mouth and local media helped bring crowds of people to Poncho's, including large groups of Oaxacans representing various regions across the Mexican state, who would arrive from across town, or further, for a familiar taste of home. Even Mayor Eric Garcetti paid a visit. With city guidelines requiring rigid specifications and permits to operate legally, Rockstar Energy partnered with L.A. TACO and Revolution Carts to ease the burden on our valued street vendors. As fans of Poncho's Tlayudas, Rockstar wanted to give back to the business, giving them a fully permitted cart of their own.  The company also paired Poncho's with the ideal artist: Boyle Heights-based Ernesto Yerena Montejano, who identifies as Chicano and Indigenous and is known for powerful collaborations with voices like Zach de la Rocha, Chuck D., Manu Chao, and Shepard Fairey. Yerena is celebrated for a commitment to social issues, community heroes, and activism.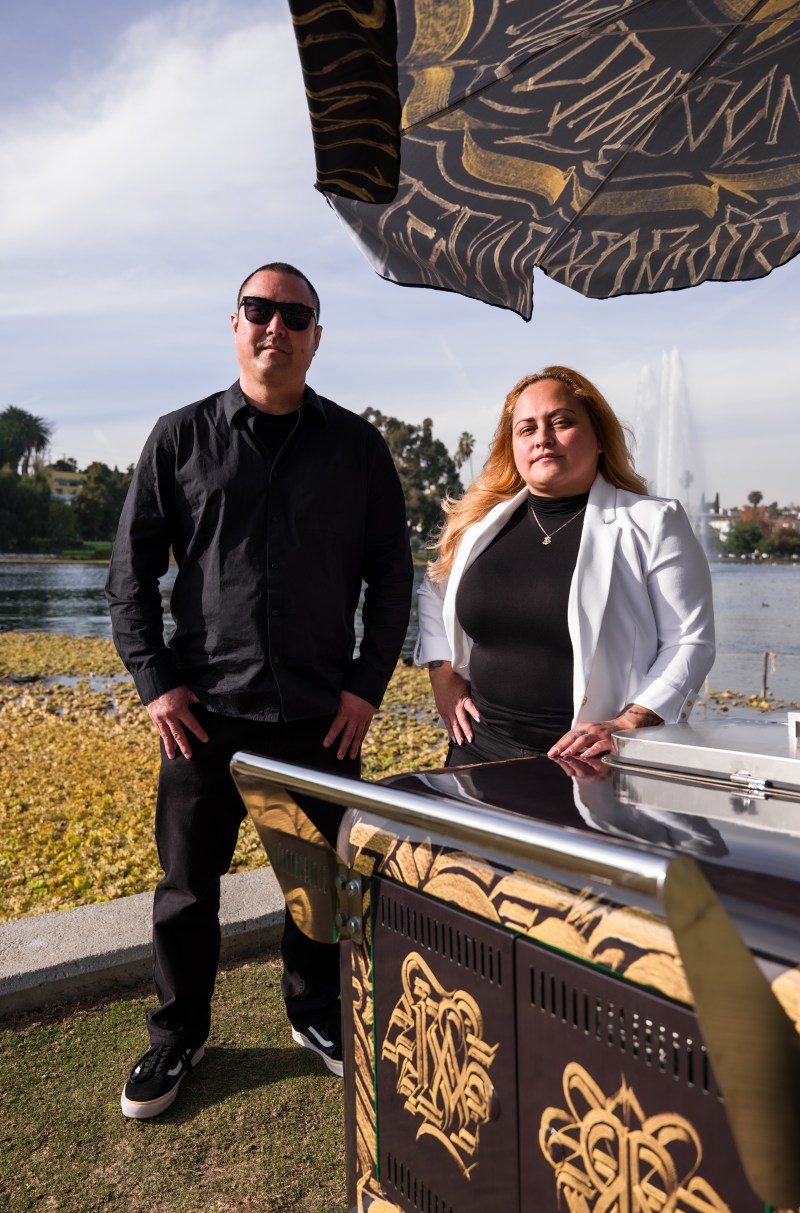 Webster's Dictionary should define the word "hustle" with a picture of Beverly Estrada, the owner of At Bev's Tamales. After clocking out of her job at Trader Joe's, the mother of four immediately clocks into her career as a tamal vendor in her USC-adjacent neighborhood, offering her menu of five handmade tamales—respectively featuring birria, mole, rajas, pork with salsa roja, and chicken with salsa verde—at all hours of the day and night. Bev's Tamales was forged out of necessity, one of many celebrated businesses that sprung out of the pandemic when this hard-working entrepreneur found her days slashed and began seeking a profitable outlet for her ideas and energy. Estrada enjoys raves on social media, with follower comments like "by far the best tamales I have ever tried." Still, nothing is easy in the street food game. Not only are tamales hard work, but she reminds us that "vendors like me have to hide in the shadows, whether it's morning or night. If you get caught, they toss your food without even hesitating when you're out there hustling to provide for your family." Champions of the hustle, Rockstar Energy searched its L.A. hometown for street food vendors in need of their own legal street carts. AtBev's social media posts quickly caught sight of the company, which vocally backed and promoted Revolution's new carts. Being gifted a cart by Rockstar and Revolution feels like a game-changer and lifesaver for Estrada. Not only is there the intrinsic benefit of the cart carrying a health department permit, but she also marvels at the way it fits a lot of tamales and keeps them heated for hours. For At Bev's cart, she was paired with legendary L.A. artist DEFER, who decked it out with his original artwork. Estrada not only knows the artist's work but shares a personal connection with him through her tattoo artist, one of DEFER's close friends. "I can't explain how much I appreciate the lettering and the food cart together. I'm speechless," Estrada says. "What are the odds that DEFER and the food cart are going to be combined? And they'll be all mine!"
La Masita Fina's Cristina Torres is the rebel in her family. Not for making the kinds of dangerous choices kids usually gravitate towards when defying their households. In her case, it was all about opting to attend culinary school instead of becoming a mariachi like the rest of her clan. Powered by memories of making tamales with her mom for the holidays and learning of her dad's secret past as the head chef at Tequila Willie's (the now-shuttered Manhattan Beach sister to the El Torito chain) pushed Torres to launch La Masita Fina during the pandemic, concentrating her culinary expertise and hustle on the classic tamal trio of pollo con chile verde, puerco con mole rojo, and rajas-and-cheese, all made by hand. From deliveries and pick-ups to selling on the street, the Carson local graduated to pop-ups, something she'll be able to do more frequently and easily with one of the Revolution Carts Rockstar is giving her. To date, acquiring and affording permits has been an obstacle. "I'm so stoked that this cart has the ability to take care of this problem," she says. "It has that legal aspect and will make it a lot easier to set up and pop-up at more locations." She also received a boost when Rockstar paired her with EZRA ONE, one of L.A.'s most thrilling graffiti artists, admired for lettering that bursts with bright colors and wild flourishes alongside his mind-bending, photo-realistic characters. "We want to support the hustlers," he tells L.A. TACO, motivated by meeting Cristina and learning her story. The South Central and South Bay-raised artist has a lifelong love of street food himself that he has carried with him throughout his career. "When I heard about Rockstar's project, I was like, 'I'm on board.' I have a soft spot for street vendors. Doing graffiti and murals in the streets all these years, I've gotten a lot of love from street vendors when they're watching me and my crew paint. And how cool is it to have your art piece on the street vendor cart?"
One of L.A. TACO's co-founders, Hadley Tomicki is a critic and journalist whose work has appeared in the Los Angeles Times, New York Magazine, and many other places.
Read More:
Stay in touch
Sign up for our free newsletter