News
What President Lopez Obrador Means for Los Angeles and Mexican-Americans at Large
9:51 AM PST on December 3, 2018
[dropcap size=big]O[/dropcap]dilia Romero, president of the Frente Indígena de Organizaciones Binacionales in Los Angeles (FIOB), looked around the inauguration luncheon happening for the new president of Mexico on Saturday, and realized with a laugh that she was "the only Indian."
Romero, a native Zapotec speaker of Oaxaca and a longtime resident of South-Central, decided she would try her luck in a roomful of diplomats, ambassadors, presidents, and sitting royalty at the National Palace. She was invited "last-minute," in a process she called "mysterious" and rushed — she didn't get a plane ticket from L.A. till the day before.
At the luncheon, Romero got up from her seat next to the ambassador of Ukraine, and marched toward the table of newly installed President Andrés Manuel Lopez Obrador. "I said, 'Hola Andrés Manuel, como estas? Felicidades, señor presidente,'" Romero recalled on Sunday.
Lopez Obrador, known by his initials AMLO, didn't miss a beat. He turned right around and responded: "How are the compañeros from the FIOB?"
The pair greeted and embraced one another — he remembered her from a previous meeting, the mark of a truly great politician, in any context — and Romero asked for a selfie.
There's King Felipe VI of Spain in the background.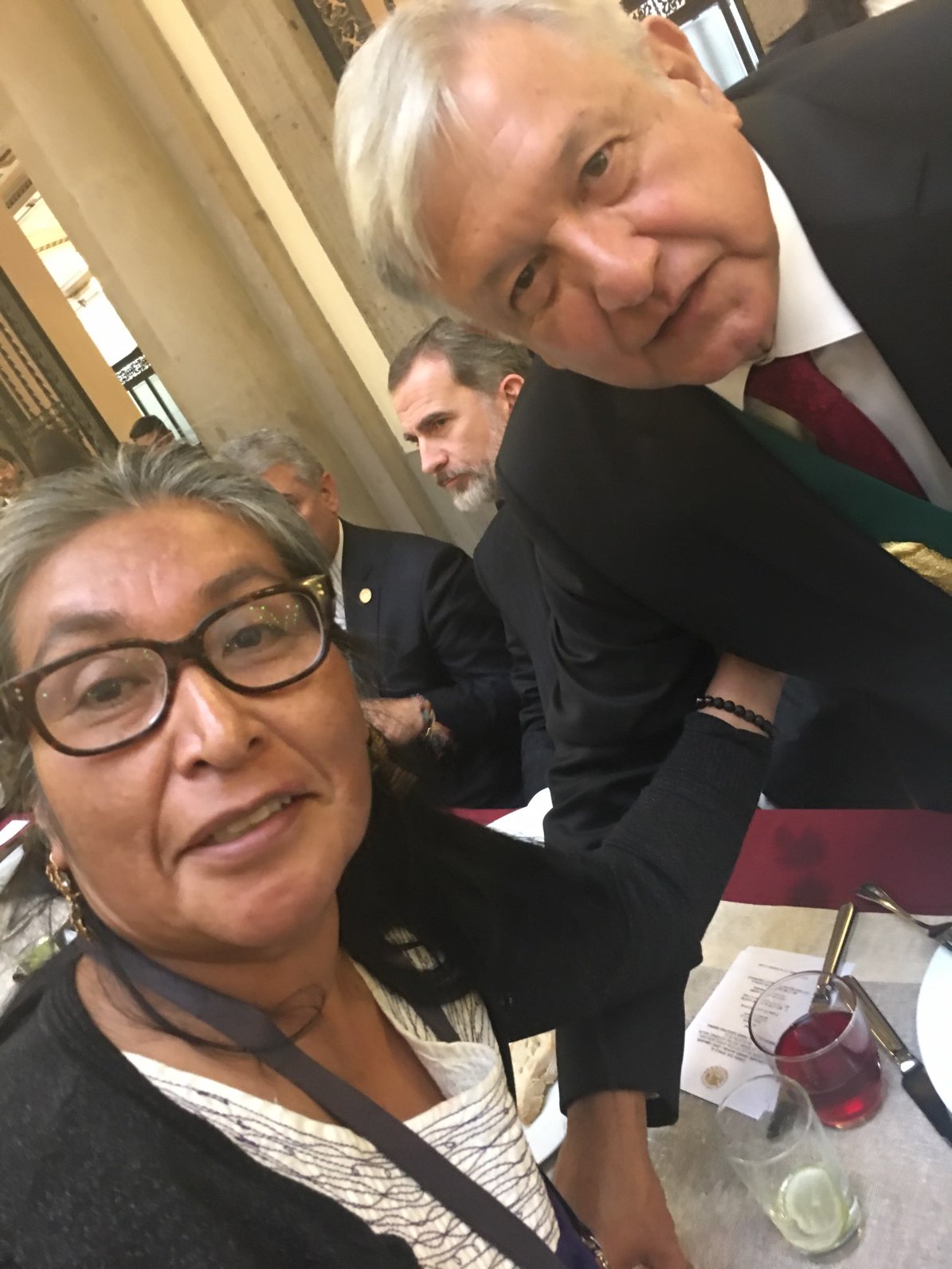 "It's one of those things you think, 'I'm from the sierra,' I never imagined I'd be in a room like that, as beautiful as that, with all these people that make decisions about how humans live, what policies to create, and we're all in one room," Romero recalled. "It was really amazing."
After that, Romero approached Evo Morales, the indigenous president of Bolivia, and got a selfie with him, too.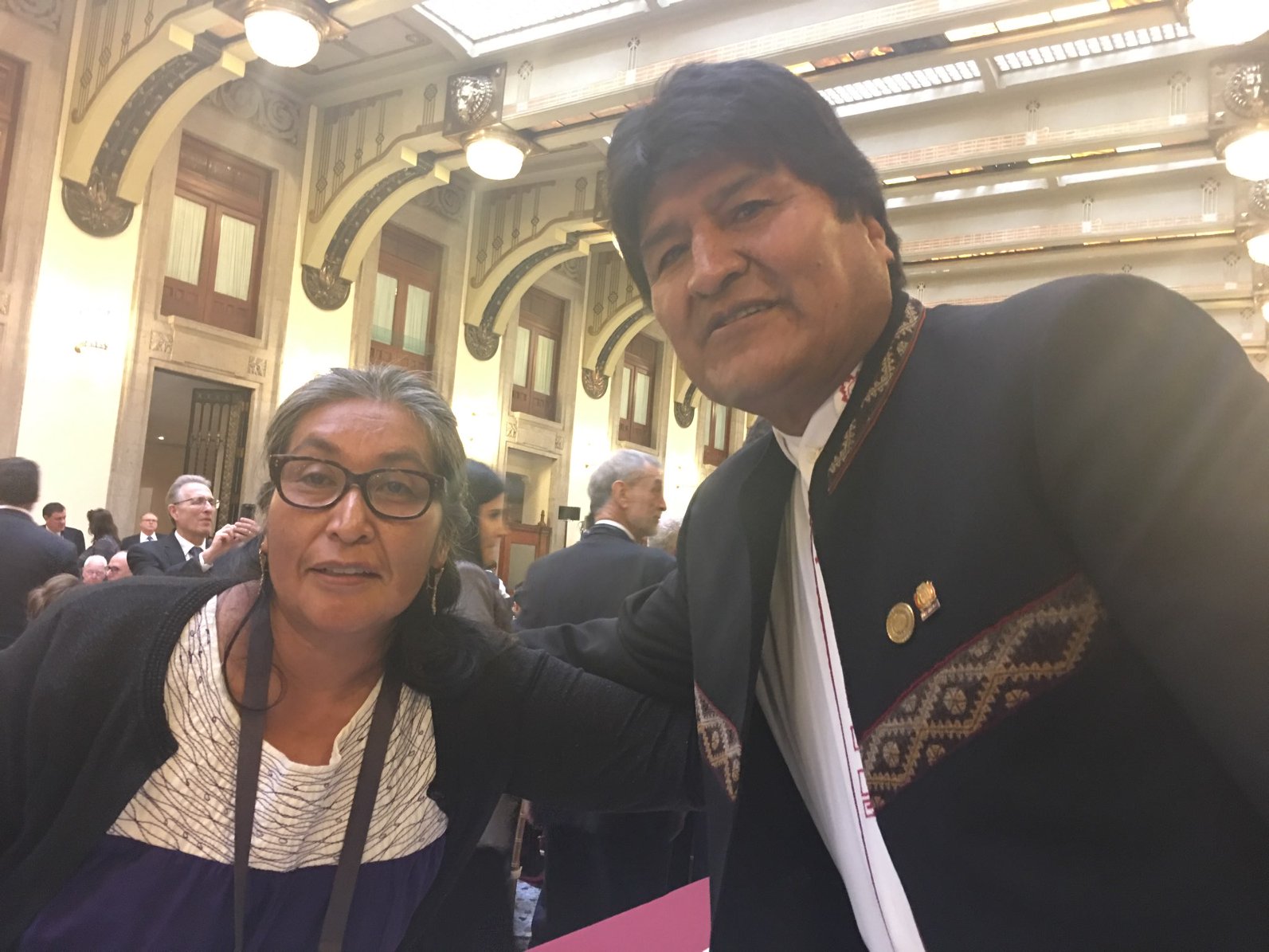 [dropcap size=big]A[/dropcap]n extraordinary thing happened in Mexico this weekend. The country seemed to be briefly be stricken by a highly unusual mood, one that many of us never thought we'd see in our lifetimes  — exaltation and hope.
On Saturday, December 1, AMLO became president of Mexico, the first classical leftist president of our southern neighbor since the end of the Mexican Revolution.
His inauguration day marked a radical shift from the same moment six years earlier, when tens of thousands of protesters streamed onto the streets of Mexico City and violently clashed with repressive riot police as former President Enrique Peña Nieto came to power.
Hoy, hace 6 años pic.twitter.com/Xs7Mq5YLmo

— José Merino (@PPmerino) December 1, 2018
This time, locals and invited guests told me, there was virtually no police presence around the Zócalo in central Mexico City. "There was minimal police, no fences around the palacio, I had never seen that before," a friend who lives in downtown told me.
There, thousands watched as AMLO submitted to a lavish indigenous ceremony in which representatives from Mexico's 68 indigenous nations bestowed on the new president the "bastón de mando," a symbolic 'staff of command' meant to connote trust and leadership.
RELATED: Trump Calls Lopez Obrador ~ AMLO Presidente!
While other presidents or presidential candidates had received a 'staff of command' from specific communities or groups over the years, Saturday's ceremony was unprecedented: on an inauguration day, with a majority of nations present. It signified a never-before-seen acknowledgment of the core role that indigenous Mexicans play in the formation and identity of the country — all at the center of political power.
AMLO won election on his third attempt to the presidency on July 1.
"It's very sacred," Romero said. "He's given it to take care of humanity, to take care of the water, everything, all the natural resources of the indigenous people."
After decades of repression, neglect, forced migration to the north, and cascading violence in the form of the U.S.-backed drug war, something seemed to have shifted — even if momentarily — with the indigenous ceremony that took place around AMLO.
However he goes on to govern, Lopez Obrador will not only be accountable to voters and the press, but also directly to Mexico's original pueblos, in a way no president has ever before.
[dropcap size=big]M[/dropcap]any indigenous Mexicans, of course, live in Los Angeles. It's a question that will linger for many in the coming weeks and months: How will an AMLO presidency affect Mexican immigrants and Mexican-Americans?
The politician frequently visits the United States for rallies and campaign appearances with migrant communities. AMLO is no stranger to Chicago, L.A., and New York. However, observers note, he rarely makes reference to migrants or dual-citizens north of the border in speeches.
During his inauguration speech this weekend, Lopez Obrador did make a nod to the sacrifices and resilience of Mexicans in the United States — another first. "During the neoliberal period, we became the second country in the world in terms of migration," Lopez Obrador said, according to the official transcript of his remarks at Mexico's congressional chambers.
"Twenty-four million Mexicans work and live in the United States," he went on, apparently grouping both immigrants and U.S. citizens of Mexican descent. "We have the example of our compatriots who out of necessity have gone to build a life in the United States, and now they send their families $30 billion annually."
These words are a good sign, but only a start, said journalist and author Eileen Truax. More than 70 years uninterrupted rule under the authoritarian PRI (Institutional Revolutionary Party), and two presidential terms of the right-wing PAN (National Action Party), resulted in great waves of migration to the United States, which AMLO promises to cease.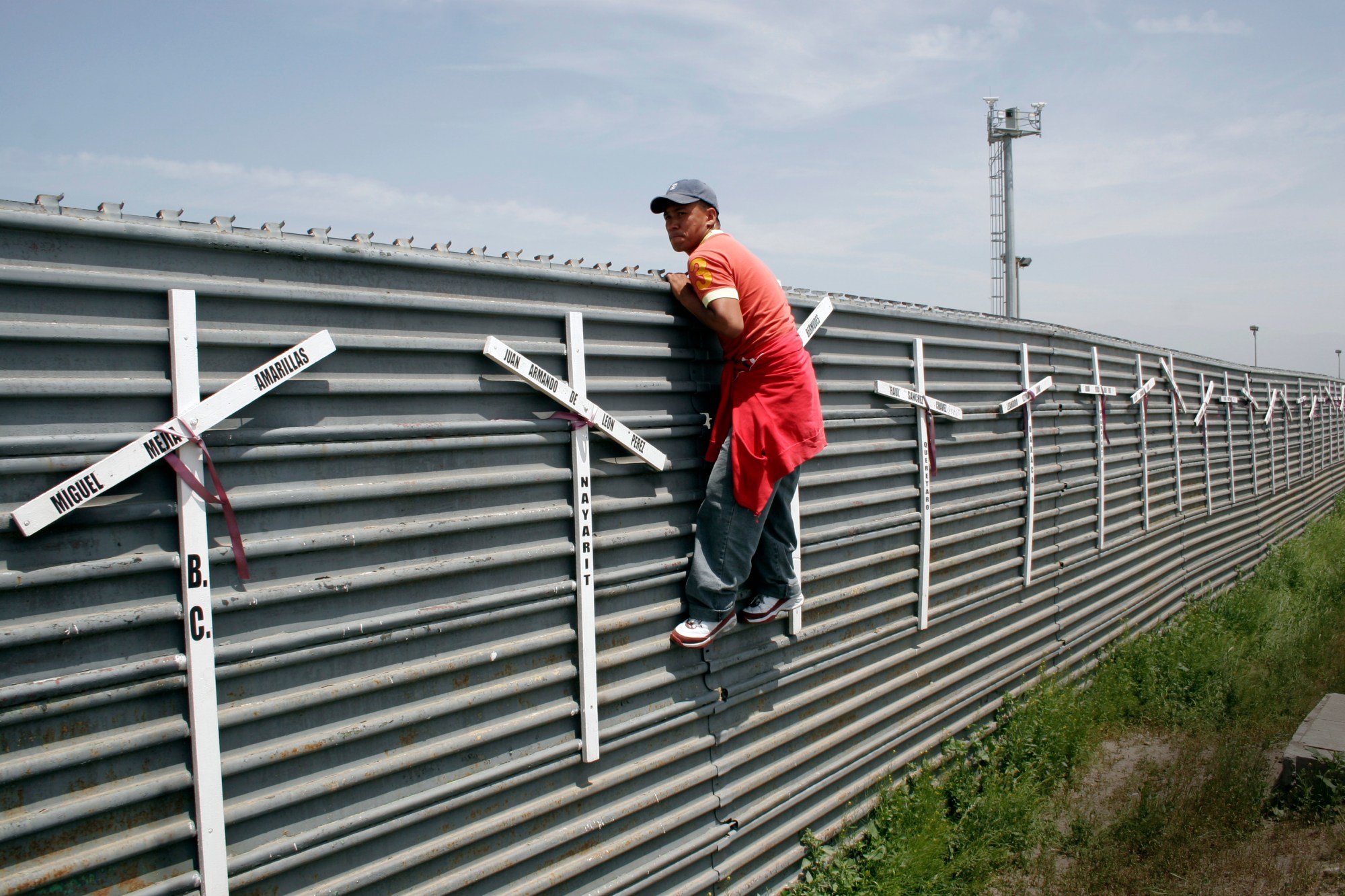 Migration north is a brain-drain, a population drain, and a fundamentally destabilizing phenomenon for both Mexico and the U.S., although for neoliberal, free-market enthusiasts, it's always been a sort of too-bad, oh-well status quo.
"People will tell you, 'I love Michoacan and I miss Michoacan, but I can't return to Michoacan because they kidnapped my brother,' for example, or I'm from Chihuahua, I'm from Sinaloa, and it's the same thing," Truax told me.
Mexican migrants in the United States continue to prop up both countries' economies through taxes, remittances, and purchasing power, but in a cruel contradiction, they have limited rights in both countries. Mexicans only recently earned the right to vote in elections from abroad.
Truax, a former writer for La Opinión and recent author of "How Does It Feel to Be Unwanted?" said that in years of visits to Los Angeles, AMLO speaks before crowds, but rarely sits down and listens. As president, he may pay more heed in this direction.
"He acknowledged that in his first official speech, to me that's huge," said Truax, who watched the inauguration while at the international book fair in Guadalajara. "It means that maybe he hasn't listened to us, but he's seen and he recognizes the sacrifice that Mexicans in the United States have made to keep this country running."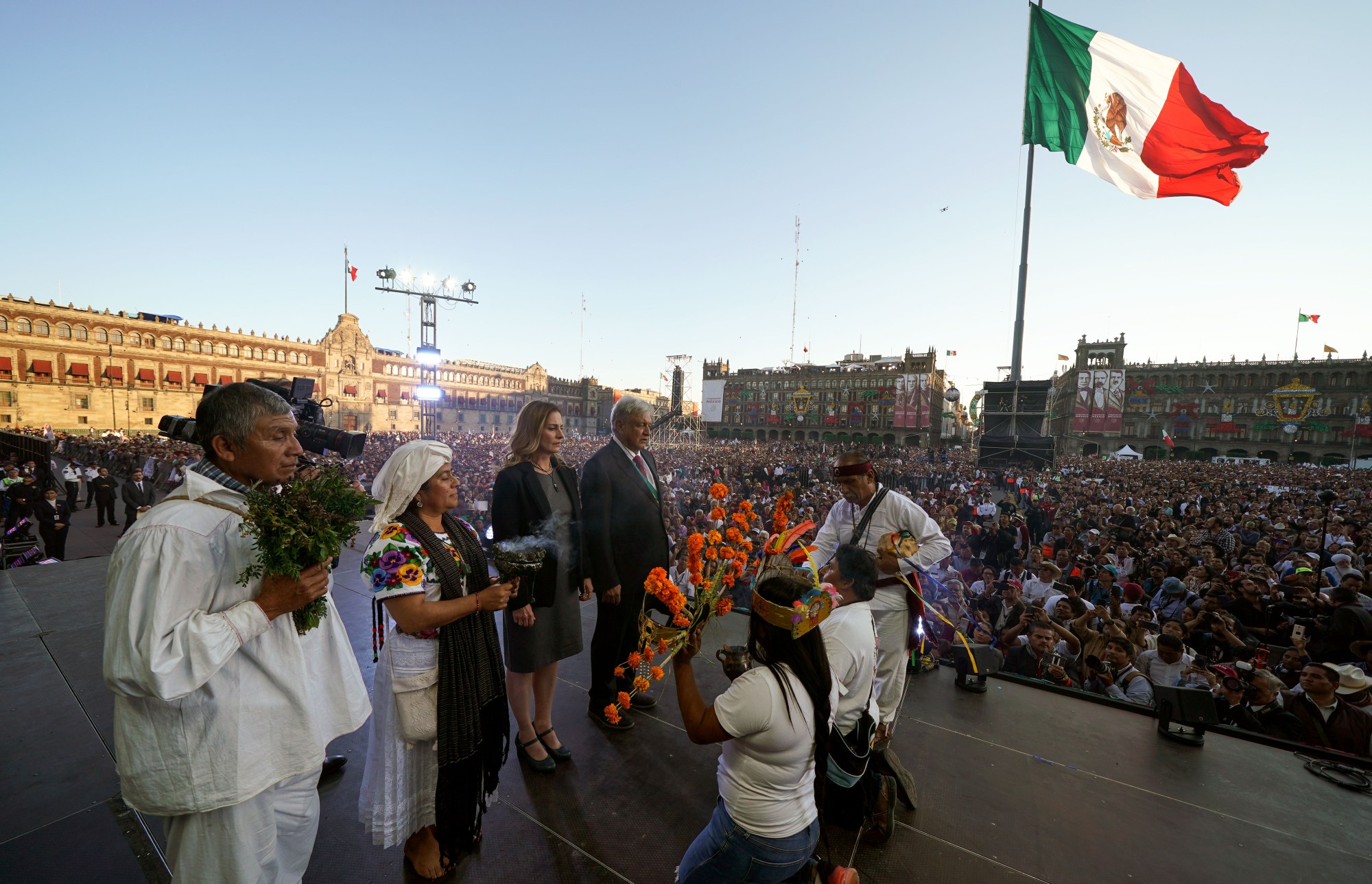 And now comes the hard part. If Saturday was filled with hope, and Sunday with reflection, today brings reality.
Lopez Obrador faces incredible challenges as leader of an incredibly complex and unruly political body. His own coalition already shows signs of strain. Many of the promises he's made seem unreachable, and some of his proposals or first actions — like rejecting use of Mexico's Air Force One — have for many the dubious scent of superficial populism.
Romero added: "Yes, we gave him the barra de mando, which means we will walk with him, but also be very critical."
RELATED: John Oliver Destroys Mexico's Presidential Candidates on 'Last Week Tonight'
Daniel Hernandez is editor emeritus of LA Taco, serving 2017-2019. He is currently a staff writer for the L.A. Times. He is former Mexico bureau chief for VICE News, and former staff writer at the Los Angeles Times and LA Weekly. Daniel is author of the book "Down & Delirious in Mexico City."
Read More:
Stay in touch
Sign up for our free newsletter