Tacos
Eating the Most Delicious Street Food in SELA and East Los with L.A.'s Most Talented Mexican American Redhead, Mapped
1:43 PM PDT on August 2, 2021
[dropcap size=big]E[/dropcap]rick Galindo says he experiences time differently. He can think of when he was seven years old and instantly is teleported back to that time. He attributes it to a perceptual thing, "I think my brain is fucked up," he tells me on our way to some of the best taquerías in our part of town. The foo swears he's Kurt Vonnegut or Dr. Manhattan. But strangely enough, I believe him.
Galindo is the first person I ever spoke to when I started writing for L.A. TACO back in 2018. He was the managing editor at the time, and  I pitched a guide to the part of L.A. I was from Southeast LA or SELA, where we're both from. Galindo thought focusing on one place might be easier, so I ended up writing about Mexican wings. He gave me a shot when I needed it and set me on a new career path. 
When I asked him why he accepted the pitch, he claimed that it had nothing to do with my SELA background. Maybe I'm a romantic, but I like to think he accepted it because he saw something in me that's undeniable about the people from SELA—a sense of pride for a part of Los Angeles that often gets erased from the conversation. He later admitted it might have had something to do with it, subconsciously.
Since then, Galindo and I became close friends. I'd even considered him my mentor. He listened to and answered my incessant questions about pitching and writing. I felt a strong sense of camaraderie, knowing that the person I was working with came from the communities I grew up in. And I take pride in knowing someone who is on a path to accomplish greatness.
Speaking of greatness, Galindo and his wonderful team at LAist studios put out a beautiful podcast called Wild. It's a show about growing up in the pandemic, but that's just the tagline. When I listen to it, I hear the ambition and lived experience of a redhead Mexican kid growing up in the 'hood. I hear emotional stories of personal and career triumphs, emotional growth, deconstruction of systemic issues, complicated ideas of home, poetry, sketches, humor, and love. When I listen to Wild, I feel proud that a foo from SELA made it. 
"Southeast L.A. forever!" Galindo proudly proclaims in the opening monologue of the first episode.
Last Friday, Galindo agreed to ride around town and try some tacos. We spoke about the show, what it was like making it, trying to figure out what it was, and food, always food.
The Taco Stops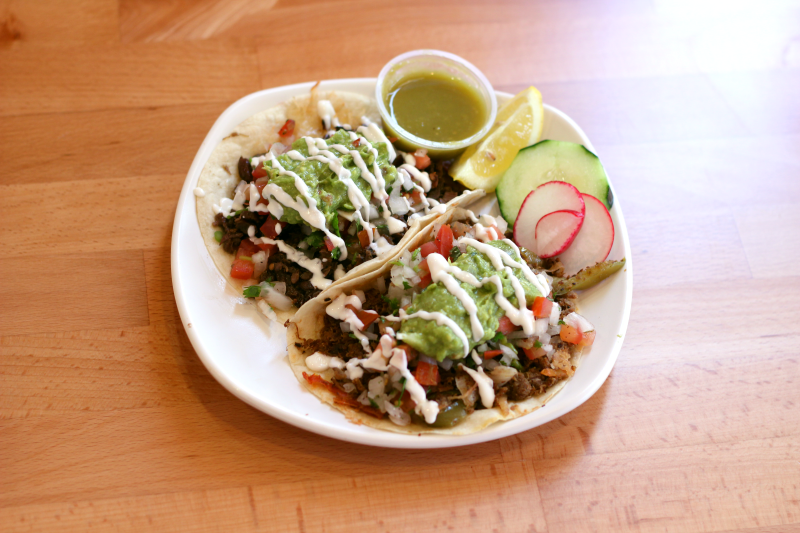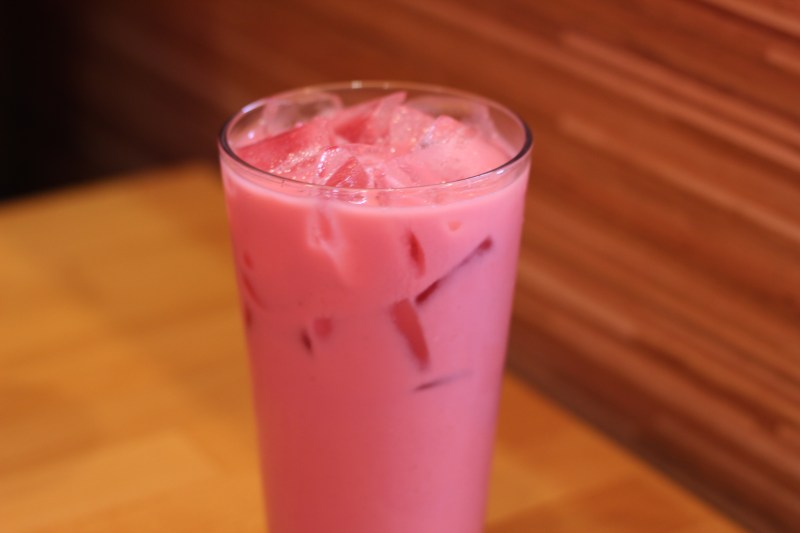 Our first stop was Taquero Mucho in Downey. It's a relatively new taquería that serves classic taquería fare like tacos and burritos, but Galindo suggests their taquero taco. A taco with your choice of carne on a flour tortilla, melted cheese, sour cream, pico de gallo, and a healthy scoop of guacamole. He was right, the generous serving of asada was well seasoned with a hint of smoke, and the extra condiments made this a filling taco, like the one you'd make at home, adding all your favorite toppings.
"I also have such a respect for the food, respect to the people that make it, respect for the people that harvest our ingredients. Respect for the people who work in the factories that get the meat, like all that shit, to me, is the lifeblood of L.A. It's the lifeblood of society, man. Without that, we ain't shit..." - Erick Galindo
Our next stop was El Zarape Michoacano, a small restaurant in Bell Gardens that's known for selling Michoacán specialties like "enchiladas placeras," a regional style of grilled enchiladas served throughout Michocán. The plate is massive, red enchiladas that are folded over in half moons and filled with potatoes, then topped with lettuce, cotija, a splash of tomato salsa topped a well-seared piece of asada, a sear block of panela cheese, and two fried potato coins (think mojos from Shakey's but estilo Michoacán). While sharing this giant plate of enchiladas, I asked him about the importance of food to introduce people to his world. 
"I think I just grew up with that. Food is love. Food is family. Food is culture. Especially when you are a descendant of recent immigrants, the food is the way you can connect to your Mexicanness," Galindo explains. "Almost every party we've ever had as kids was really about the food, the quinceañeras were about the food, the weddings were about the food, the way you got to know your grandma was over food."
"And in the pandemic, food became all our comfort," he says as he eats a spoonful of red enchiladas. 
When the show talks about food, it's used as a way to bring you into Galindo's world. It's a way to give a sense of place and the textures that make the audience feel like we're part of his family. In episode five, he introduces the show with: "My mom is clearly winning the argument and making some out-of-this-world tamales rojos."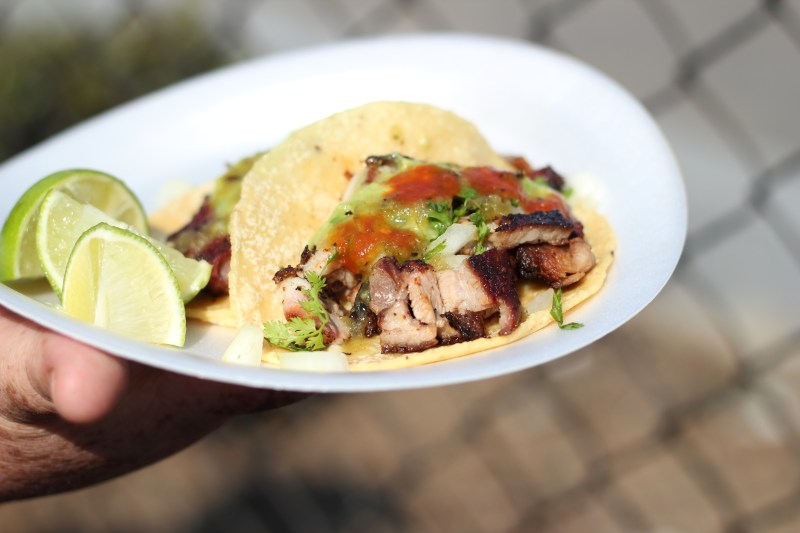 Next, we head to East L.A. Our first stop is Don Pollón, a lonchera parked on the side of Atlantic Boulevard. We each go for a rib taco that chops down grilled pork ribs into bite-size pieces. "That tastes like the ultimate backyard carne asada taco," says Galindo, "It's got me inspired."
Sharing a plate of tacos with Galindo and riding around the city instantly transports me to 2019. We are in Galindo's car, cruising in the streets of Downtown L.A., talking about the times when Galindo went through hardships. Like a guided tour at Universal Studios, Galindo points out when he got into a fight a few years ago.
"Los Angeles seems to be the hardest on you when you've missed," he says in episode one of Wild.
L.A. TACO was a lifeline for Galindo at a point when the city was being particularly hard on him. But don't get it twisted. In that same ride through Downtown L.A., we talk about our ambitions, our dreams, and tacos.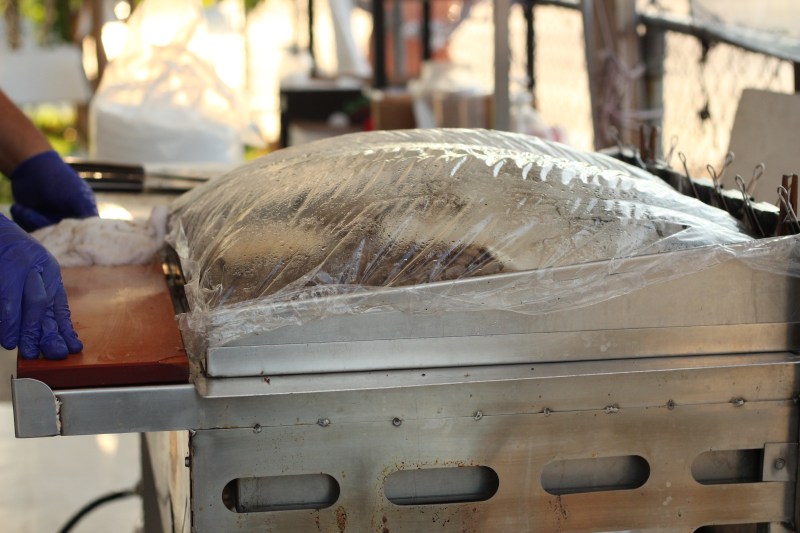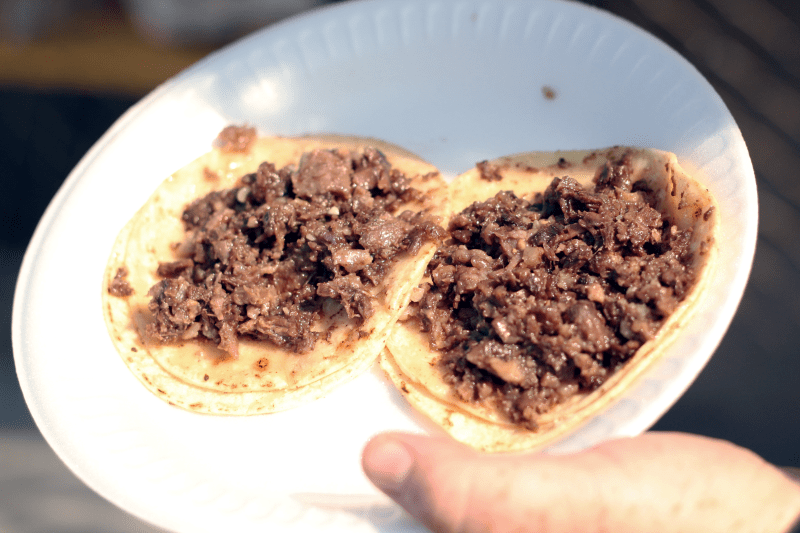 Cut to mid-July2021. I'm sitting at Poncho's Tlayudas watching Galindo give a speech at the Wild wrap party. Among other things, he talked about how wild life can be. In the speech, he provides a chronology of his last few weeks, watching In The Heights at LALIFF, visiting the "Ave 26 night market," and playing poker with stand-up comedians. I could sense how uncomfortable he was being the center of attention, but we were all there to celebrate his win. Hearing him give the speech reminded me of driving in Downtown L.A. where we were making plans to take over the world. And now I'm witnessing it.
Our next stop in the East Los taco crawl is a low-key spot called Tacos El Toro. They specialize in Jalisco-style tacos al vapor. The taquero will lift the plastic veil as clouds of the steam escape. He'll grab a chunk of cachete or cabeza, quickly break it down, and throw it on a steamy tortilla. Tacos al vapor is Galindo's favorite style of taco, along with TJ-style. "This is a vibe. You got the whole family out here and eating tacos in front of their house," he says, "it's beautiful."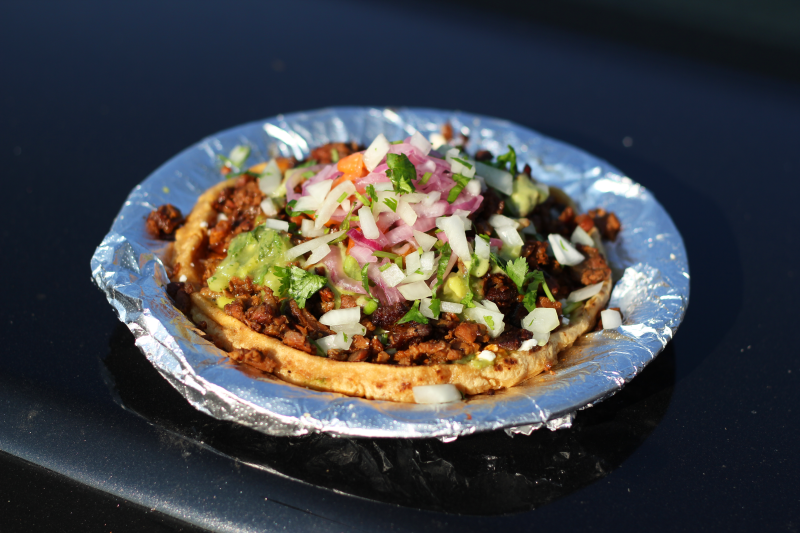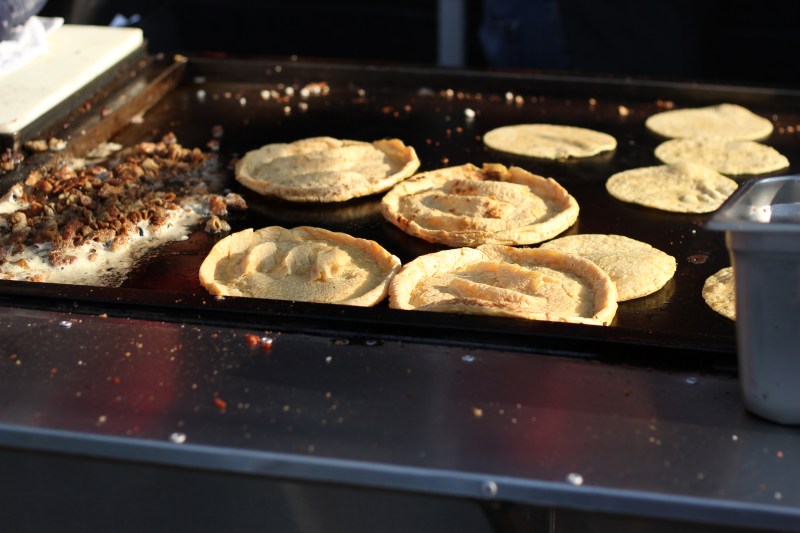 We talk about the importance of food to our city. "I also have such a respect for the food, respect to the people that make it, respect for the people that harvest our ingredients. Respect for the people who work in the factories that get the meat, like all that shit, to me, is the lifeblood of L.A. It's the lifeblood of society, man. Without that, we ain't shit," he explains.
Our last stop is Taco San Juditas which specializes in TJ-style tacos. We pull up to this busy puesto that sets up on Olympic, and I order us two tacos and a picadita. The latter is like a large sope that starts as an oversized corn tortilla on the plancha. The taquero will grab it, put a towel over it, and pinch the edges to form it into a tortilla bowl. Then they'll spoon over red or green salsa, or both for "bandera-style," and a healthy portion of cheese and a mountain of asada. 
Special shout out to all the people who made WILD possible and do yourself a favor and listen to it.
Megan Tan - Senior Producer
Lushik Wahba - Producer & Sound Designer
Victoria Alejandro - Producer
Marina Peña - Associate Producer & Fact Checker
Shaka Mali - Associate Producer & Announcer
Eduardo Perez - Sound Engineer
Antonia Cereijido - Executive Producer
Erick Galindo - Host & Editor
List of Spots and What to Order 
8260 Firestone Blvd, Downey, CA 90241
What to order: taquero taco.
6212 E Gage Ave, Bell Gardens, CA 90201
What to order: enchiladas Michoacanas.
450 S Atlantic Blvd, Los Angeles, CA 90022
What to order: rib taco. 
600 Bradshawe Ave, East Los Angeles, CA 90022
What to order: cabeza, cachete, and labios tacos
4716 E Olympic Blvd, East Los Angeles, CA 90022
What to order: picaditas (bandera-style)
Cesar Hernandez is Lynwood's second best export behind Weird Al, and a writer and podcaster. Illustration by Tommy Gallegos.
Read More:
Stay in touch
Sign up for our free newsletter