Watering Holes
Micheladas Mean Summer in Los Angeles ~ 19 Micheladas to Drink in 2019
4:49 PM PDT on June 18, 2019
[dropcap size=big]I[/dropcap]f last week's heat wave served as any reminder, summer 2019 — once this damn June Gloom is over — is going to be an inferno. And as some of us have secretly known for years, there is practically no remedy for heat better than a cold-ass michelada — that's any classic Mexican lager, over ice, lime juice, and a mix of seasonings that usually includes Worcestershire sauce, Maggi sauce, any old hot sauce, Clamato, and/or other variations on the theme.
Under some bonafide city heat, "miches" are becoming synonymous with the weekend, the sort of relaxing elixir that perfectly accompanies some fresh mariscos or tacos. No michelada is complete without a salt or salt-and-Tajin rimmed mug.
While L.A. had been dabbling in micheladas since the early 2000s, it's safe to say that now the city is hip to the michelada across the board. These days, they're everywhere! And many L.A. food entrepreneurs of course are bringing the latest michelada fad from Mexico, "botanera" style, which is basically the drink topped with a full-blown crown of mariscos. They're sort of like Bloody Marys on steroids.
The origin of the michelada is not definite. One prevailing theory is that the term "michelada" is a portmanteau of the phrase "my cold beer" (like saying "mi chela helada" three times fast). Either way, it is closely associated with the simpler "chelada," which in Mexico is generally known as a beer with salt and lime, and is usually served as a hangover's "hair of the dog."
But honestly, does it matter right now? Long extended days of summertime heat are just around the corner, and miches better be in your cooling arsenal. This list is nowhere near definitive, but it will help you make a few early maneuvers in the rich landscape of L.A. micheladas. We've divided the selections between traditional bars, michelada pop-ups, and botanera-focused IG vendors. A little bit of the old and the new, so ... Enjoy!
Mostly Traditional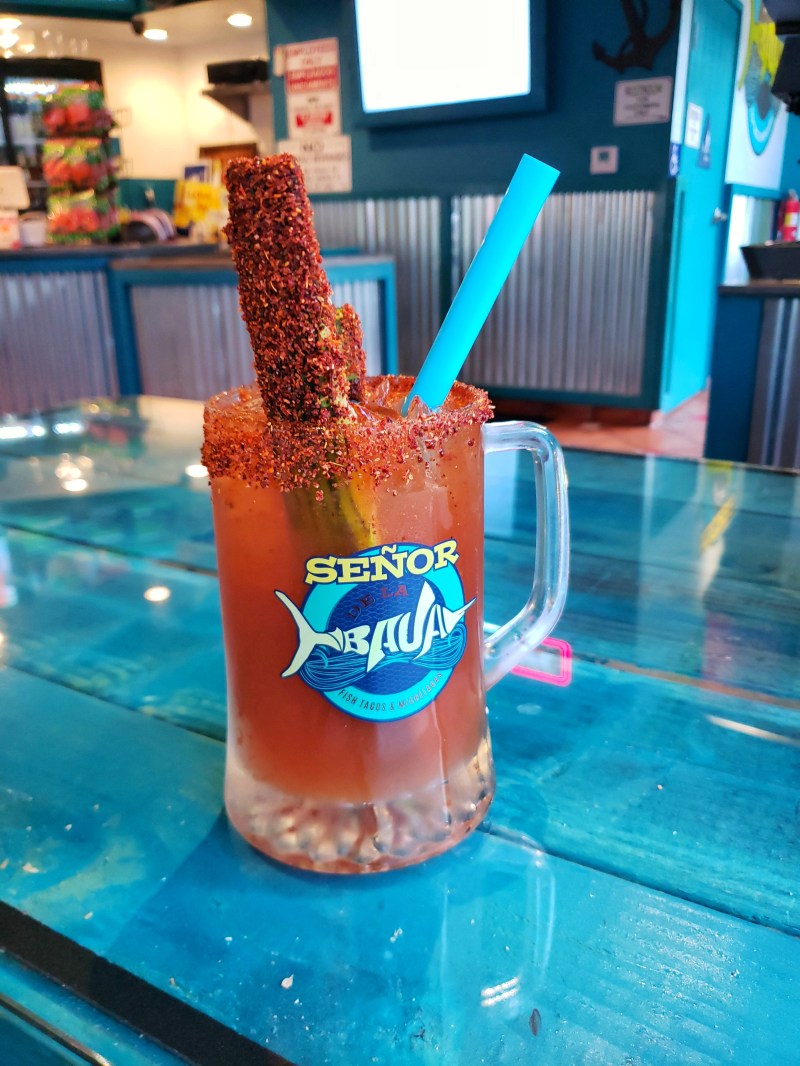 1151 W Carson St., Torrance
Every traditional michelada here is served with a cucumber spear that's been encrusted with Tajin and chamoy. The pepino is a nice touch that you can snack on in between tragos or just eat it all at once before your miche. They also serve micheladas botaneras, with ceviche and other goodies. One of the South Bay's miche strongholds. — Cesar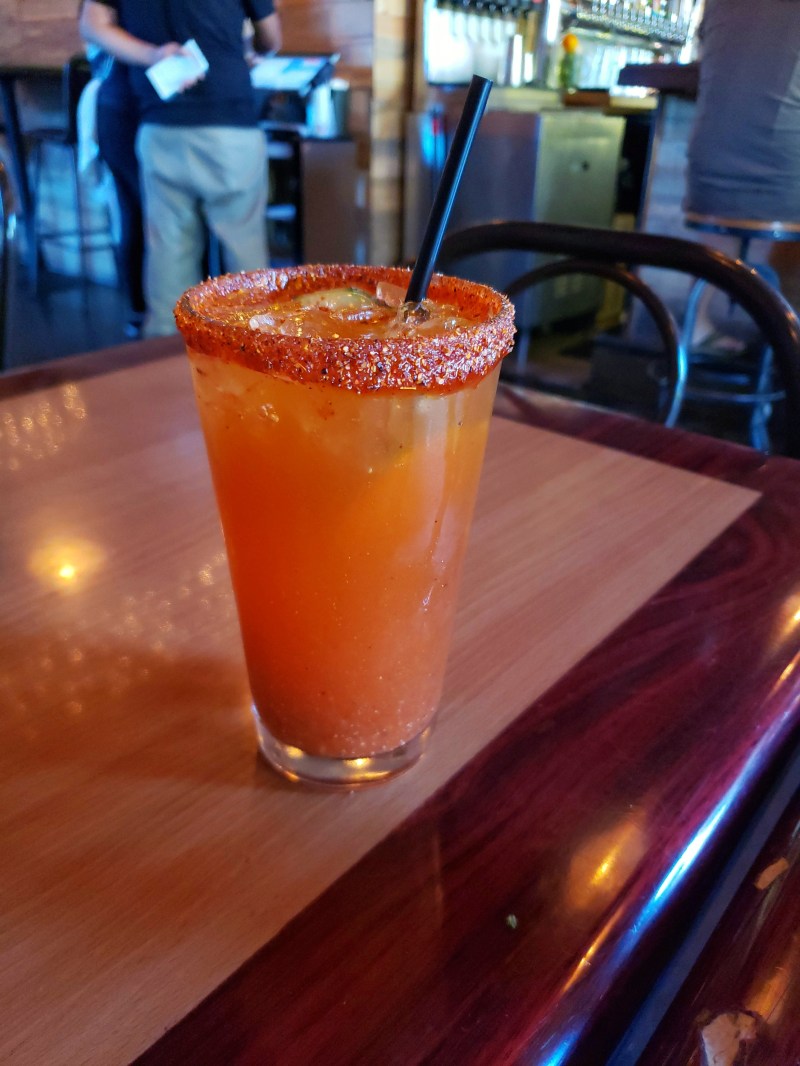 11045 Downey Ave., Downey
Located in on a strip in Downey behind Porto's, Bastards is an unassuming sports bar that has cheap beer and the current ball game on TV. The michelada here isn't extravagant or showy; it revels in its simplicity. More than anything, it is what I want from a michelada - not too much Clamato and not too much beer. — Cesar
Taco María
3313 Hyland Ave., Costa Mesa
Better known for their award winning tacos with godly blue corn tortillas, and after recently being awarded a coveted Michelin star, Taco Maria has a secret — they make a killer miche. The bar subs out the Tajin for a smoked salt rim, and they use a craft Mexican beer to shake things up. The taste of beer is present but not overwhelming and the smoked salt changes the game. The smoke from the rim gloriously infuses every sip. — Cesar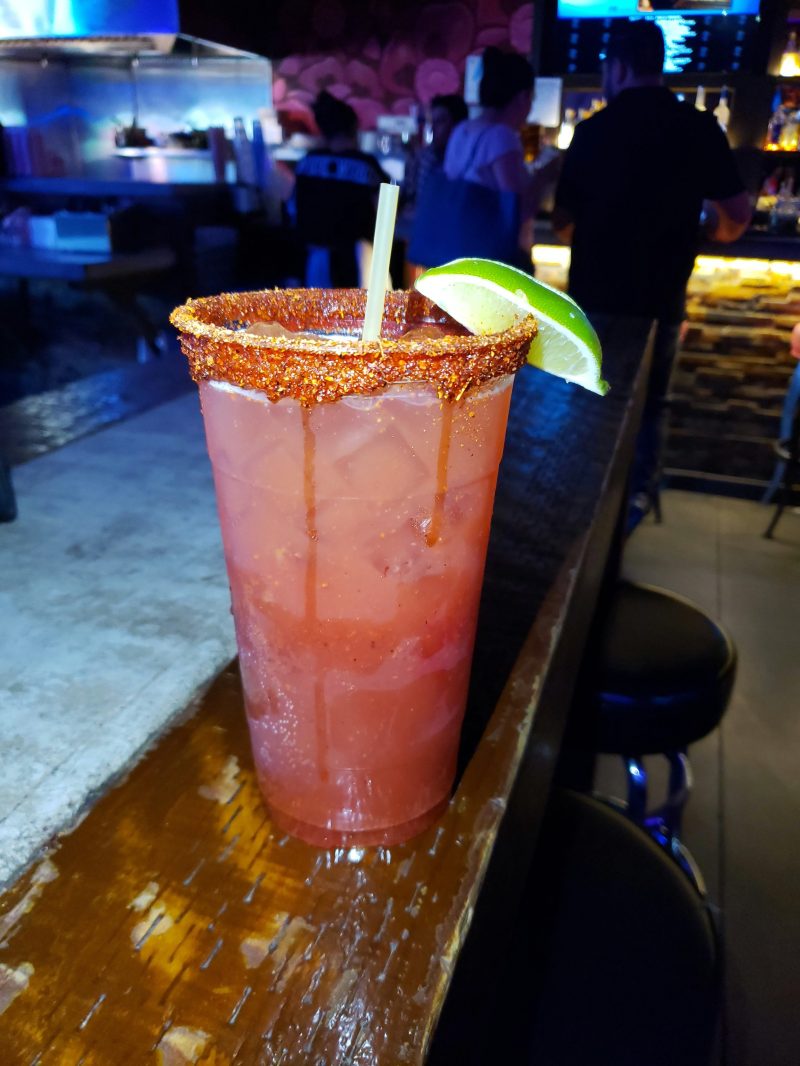 5812 S Santa Fe Ave., Huntington Park
Novacane is a flourishing South East L.A. hangout for a younger Latino/mixed crowd and we love it. The bar is named after a Frank Ocean song and is known for their cocktails and food, as well as big-ass micheladas. Streaks of chamoy decorate the inside and outside of the cup, which will definitely end up all over your fingers. — Cesar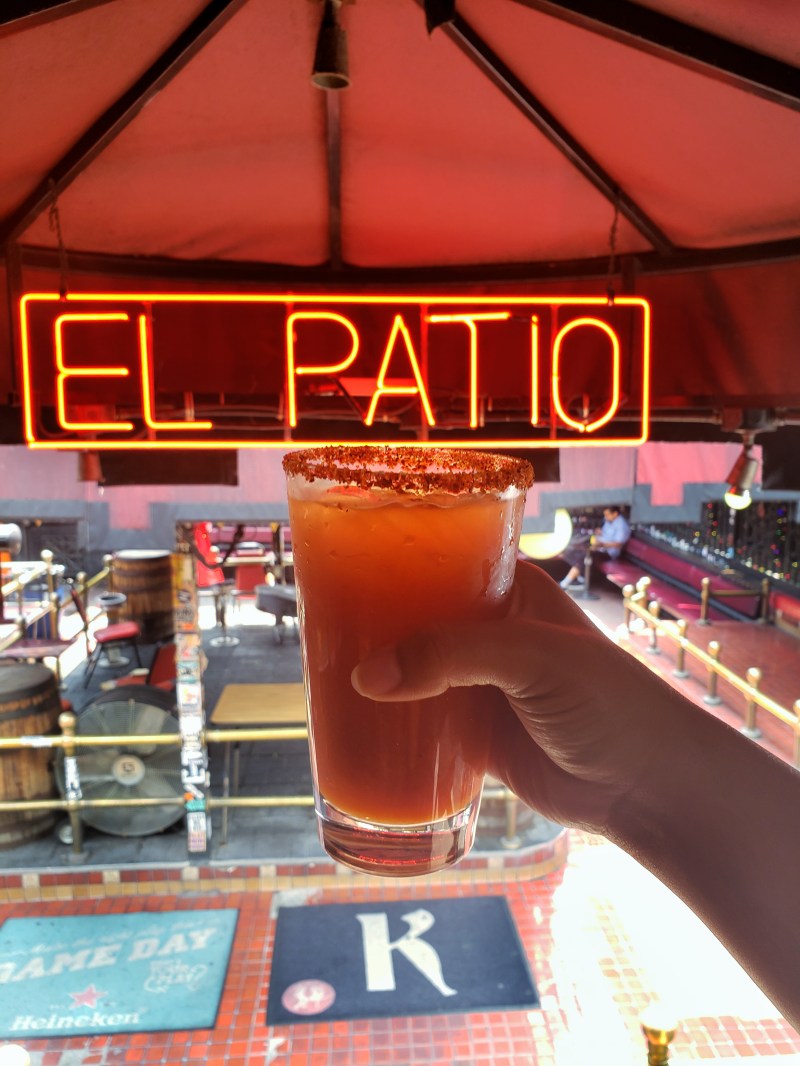 336 S Hill St., Los Angeles
One of the few remaining true Mexican cantinas in downtown serves a super solid miche: simple and direct, like they do south of the border. It's a dark bar with an outdoor patio, and during the day, there are always old-timers hanging out and buzzed tías dancing to whatever's blaring through the speakers. One of the best parts of the bar is the outside area, with a second bar. Order a miche or two — they really know how to handle the pour here. — Cesar
11669 Sherman Way, North Hollywood
One of the most popular spots in NoHo, you can usually expect a wait to get a table, but if it's you and a friend, a seat at the bar might be quicker. Their michelada is light, refreshing, and drinkable without sacrificing flavor. You could go through a few of these without feeling heavy and full from Clamato, unlike other micheladas. The best part is that they have a great tasting menu at reasonable prices, which explains why there's always a line. — Memo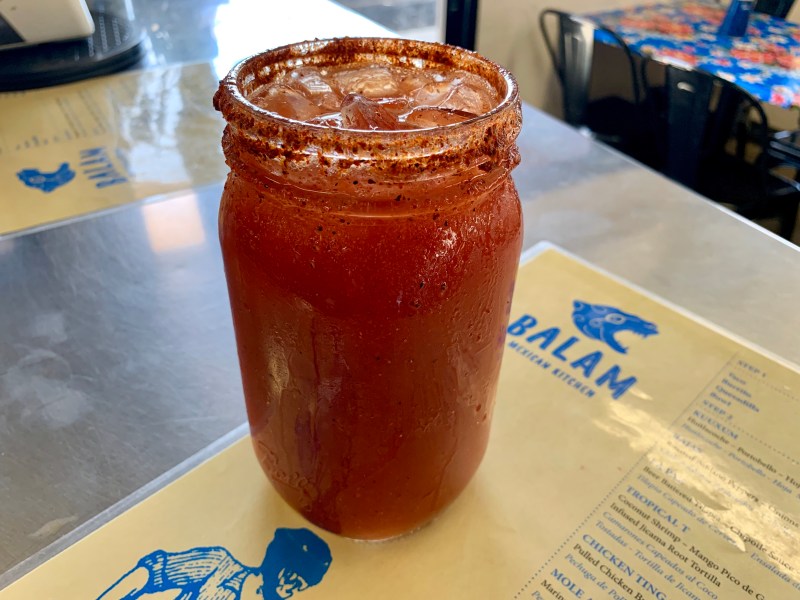 11700 Long Beach Blvd., Lynwood
Balam is located on Long Beach Blvd, just south of the 105 off ramp in the city of Lynwood. They are best known for their bold flavors and outside-the-box thinking that has won them a Taco Madness competition. To be honest, I didn't even know they made micheladas until by chance I saw somebody order one. Turns out their michelada is just as fantastic as the tacos. Full flavored, crisp, light, and enjoyable. In my opinion, this is how I envision a michelada tasting whenever I crave one. I personally recommend you pair it with their Tropical T taco, the only taco in L.A. that is served on a "tortilla" of jamaica-marinated jicama. — Memo
Smorgasburg, 777 Alameda St., Los Angeles
If you're looking for variety and a michelada made successfully with with craft beers, I Love Micheladas at Smorgasburg should be your go-to. The miche-truck consistently offers a high-quality selection of interesting beers that beckon to be paired with a michelada kick. Have it with a mango beer or try my go-to, the Del Rey IPA. You may have to go through their whole list to find your favorite, or you might just end up liking them all. Surrounded by dozens of the best food vendors and great music, the Sunday setting can't be beat. Bonus: you can buy the mix in bottles and take it home to try with one of your favorite beers. — Memo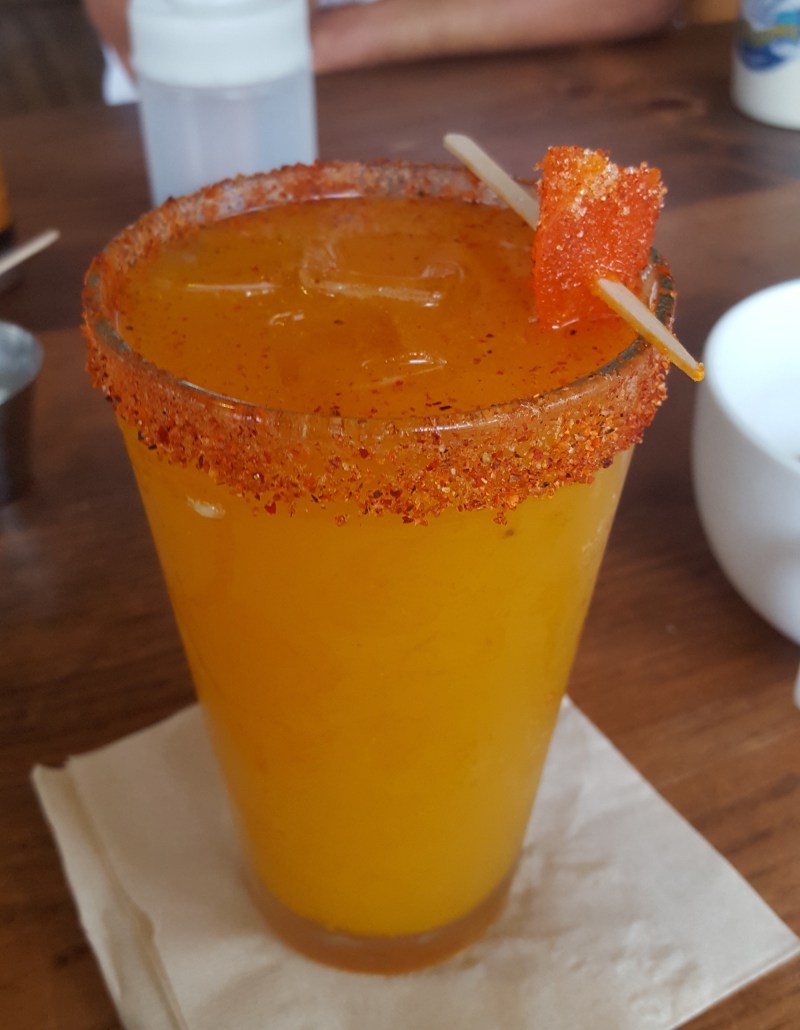 201-200 E 4th St., Santa Ana
Whenever I'm driving between L.A. and the border need a quick pit-stop, I lean off the 5 and pop into Alta Baja, a unique market and OC staple founded by Delilah Snell (who is married to taco lord Gustavo Arellano). Snell's specialty shop and kitchen has grown into an expansive spot in historic Santa Ana's inviting Fourth Street food hall. The market is a beacon for all your home Mexican cooking and drinking needs: carefully selected small-vendor and imported foods, wares, treats, and a bevy of Baja beers and wines to go. There's a robust menu of brunch and lunch dishes — and a slate of flavored micheladas. My favorite is La Chiquita, a sweet yet spicy citrus miche made with passionfruit puree and yellow chile, and garnished with a piece of chile mango candy. Really nice when you need a break from the weekend traffic. — Daniel Hernandez
Spicy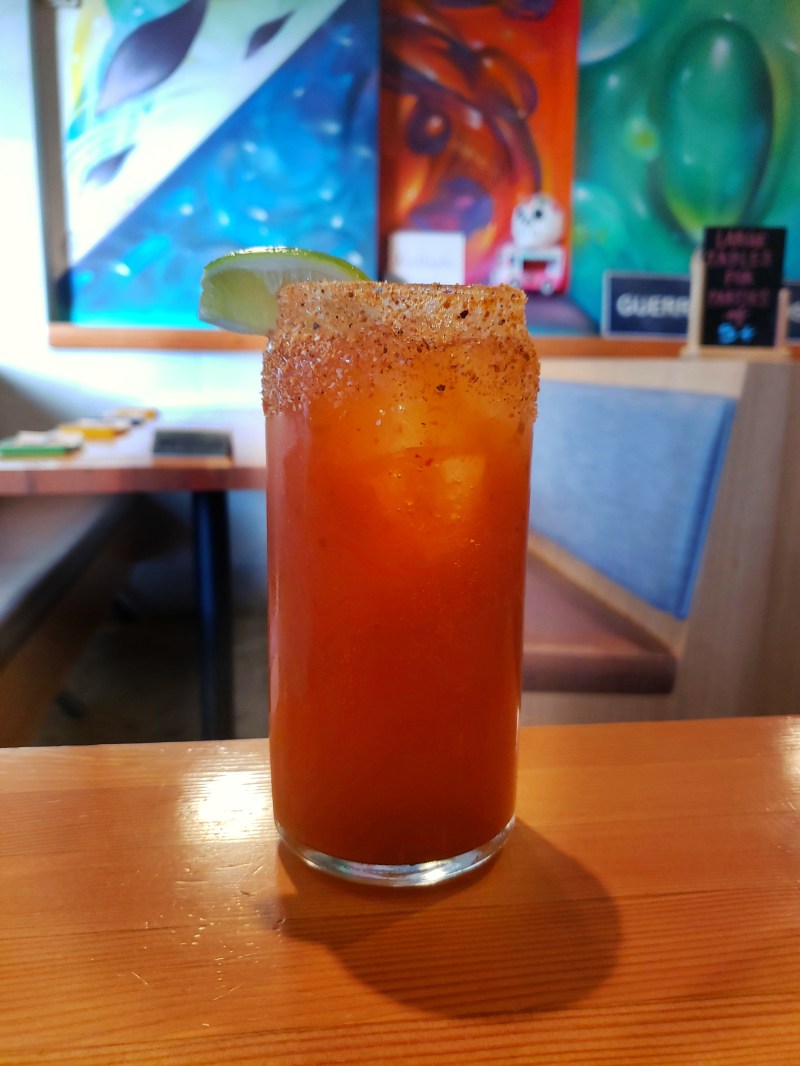 2000 E 7th St., Los Angeles
Wes Avila's bold venture into making drinks has brought us two micheladas to sip on, a roja, which is their spicier version of a "traditional" michelada, and a pineapple habanero. The miches have improved since they first opened last year. Personally I (and my gut) appreciate they took out a few peppers out of the miche mix. It makes it a lot easier to drink more than one. — Cesar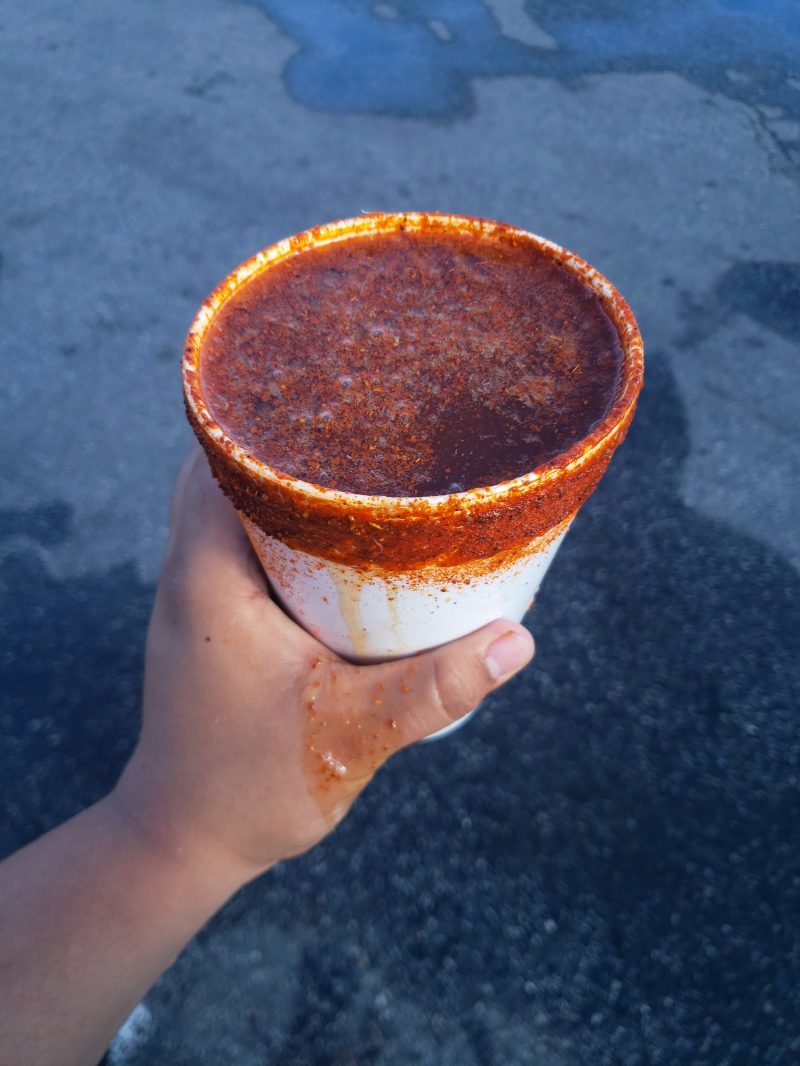 11042 S Inglewood Ave., Lennox
One of the South Bay's hidden secrets is the michelada at a local Mexican butcher shop. The only thing is that you have to provide is your own beer. No worries, the carnicería is conveniently located next to a liquor store. The cup comes with a chile rim and their housemade mix. The ladies use a shrimp based tomato juice and their own secret blend of dried chiles. Make sure to ask for extra limón, otherwise it's all heat without acidity. — Cesar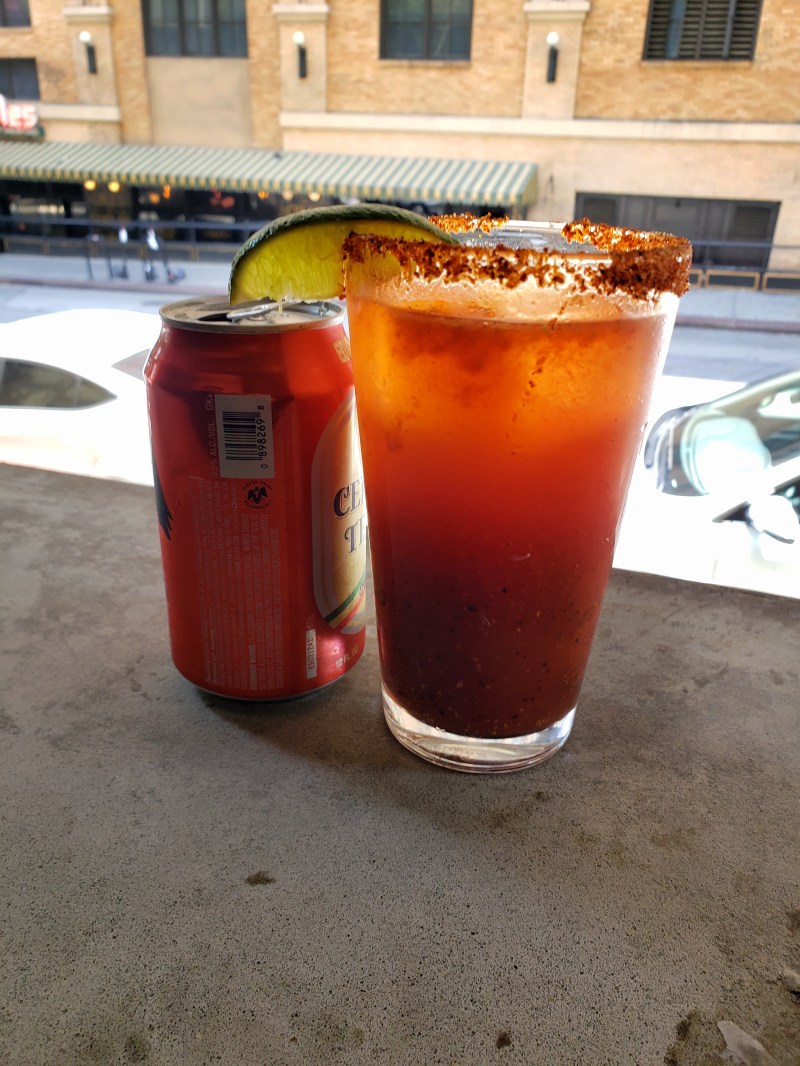 107 E 6th St., Los Angeles
This mezcal bar has a litany of Mexican favorite cocktails like palomas, but for our purposes, the spicy michelada is a standout. The heat isn't immediate, but after a few sips you'll start to feel the spice crawl into your throat. The mix is thicker than most, likely from the chiles, and is delightfully savory. — Cesar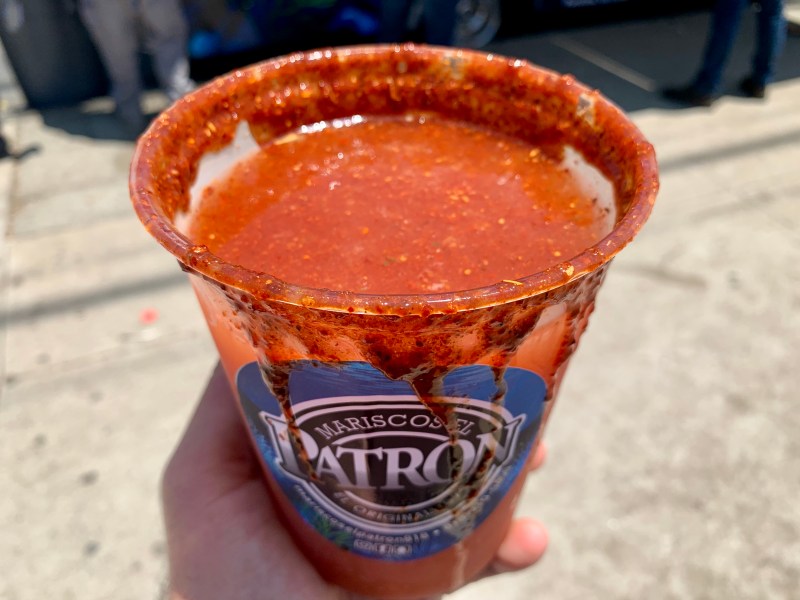 9801 Laurel Canyon Blvd., Pacoima
If you need a good punch in the taste buds to wake up your palate, this is the michelada for your. The spices and ingredients are abundant. Easily filling, I don't think you can drink more than one of these, but that's probably all you'll need. You'll definitely want to pair it with some of their good mariscos to offset the strength of the michelada. BYOB. — Memo
Hawthorne, two locations
Mariscos El Chuy has two locations, while the OG spot is on 11613 S. Inglewood Blvd., I've grown fond of their second location on 11602 Hawthorne Blvd. El Chuy's is the kind of place that has a lot going on: big screens showing the partido, you might see a local 'conjunto' that will play some corridos for your table at $10 a tune.  It's also one of the few mariscos places in the South Bay that also has an extensive sushi menu. More importantly, the micheladas are on point. A bit spicy, full of flavor, and great for the hangover. Thursdays they have large micheladas for $5 and tacos de gobernador, marlin, camaron, and pescado for $2 each after 5 pm. One of my go-to spots. — Memo
Botaneras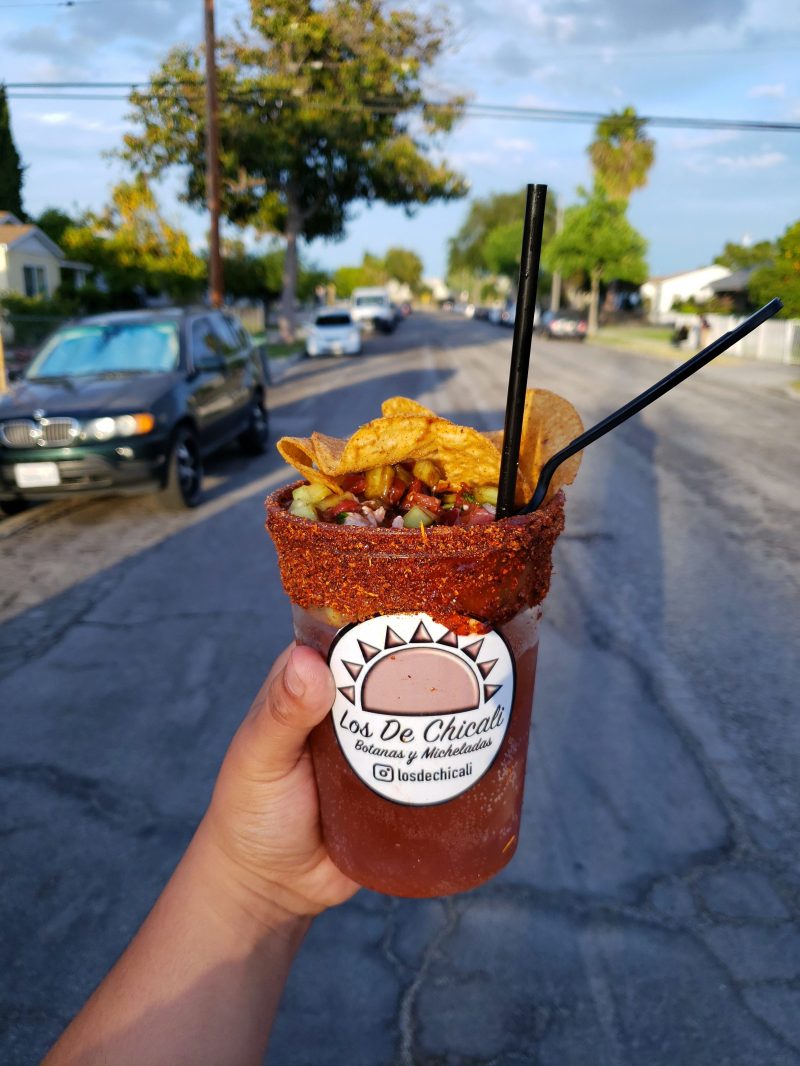 L.A. - Hit up IG for ordering details
Los De Chicali is like a michelada Uber. You put your order in and they'll give you a window for delivery. The miches here are served with a bowl filled with customary botanas. Usually it's either shrimp or fish ceviche but they also serve aguachiles, all on a bed of tostitos. The rim of the miche is usually chamoy and Tajin. Sometimes they'll use flavored chamoys made in-house. I was lucky enough to try the sandia-flavored one and it was a surprisingly great. But the star of the show is the ceviche with the tostitos. Very refreshing, love the use of cucumbers and tomatoes, and how the flavors go with the chips. — Cesar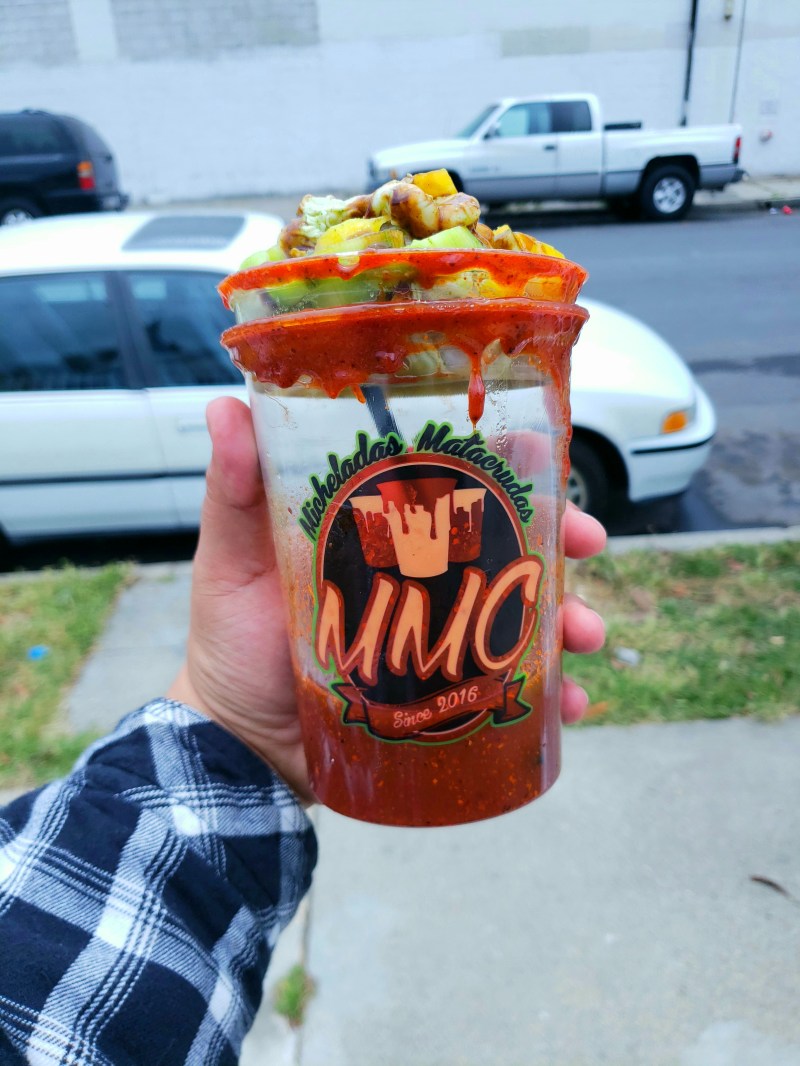 Cudahy - Hit up IG for ordering details
Probably one of the biggest name in the IG michelada game, Matacrudas (that's "kills hangovers" in Mexican slang) serves a fantastic aguachile michelada with mango chunks over their homemade miche mix. This place is also BYOB. The mix is thick and well-spiced which combines well with any beer. The food is equally impressive. The perfect bite can be assembled on top of a Matacrudas tostito - shrimp, mango, and cucumber. It equals mariscos heaven. — Cesar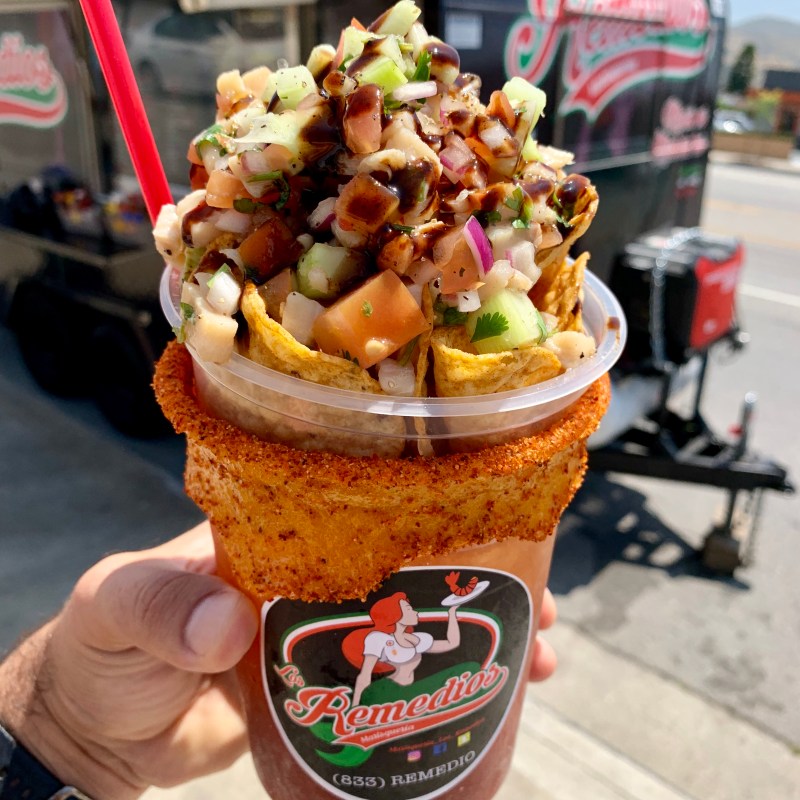 8431 Sunland Blvd., Sun Valley
The Cevichelada is what I recommend here. If a quick remedy is what you're looking for, this ceviche in a michelada cup will do you good. They have a great tasting ceviche served nacho style over perfectly paired seasoned chips, which sit in a cup over their refreshing michelada, which is available in a variety of chamoy flavors ranging from original to naranja. It's BYOB or they can prepare it "virgin" style. Nonetheless, this combination of ceviche and the michelada is a hit that anyone can get into. — Memo
14319 Hawthorne Blvd., Lawndale
Don't be fooled by the outside appearance of this joint. Once you step inside you'll feel like you came to the right place. Order their 24 oz. michelada with mango beer, to give it a sweet undertone. It also comes with jalapeño, cucumber, a celery stick, and chile drizzle, which make it a memorable michelada indeed. Load it up with al pastor sliders, bacon wrapped shrimp, or mac-and-cheese poppers to make it a complete meal. — Memo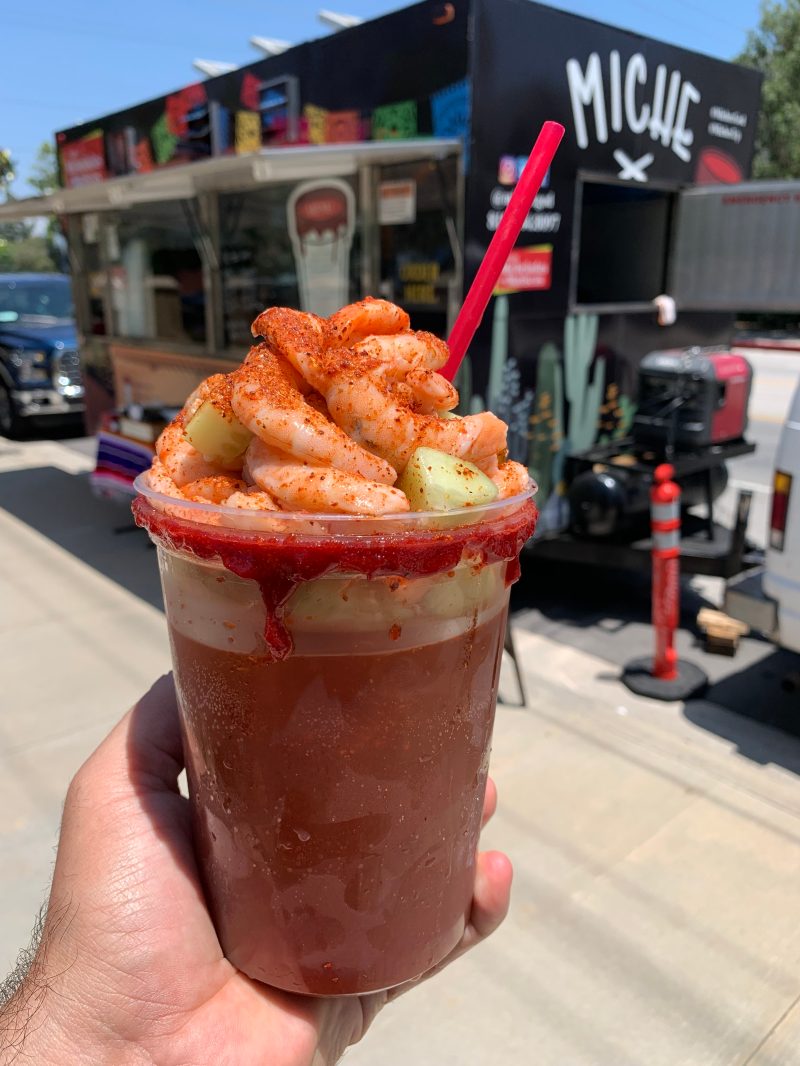 Sylmar, via IG orders
A cup of perfectly prepared shrimp with cucumber, Tajin, and lime served on top of a michelada with a straw through the top, MichexGod's miche feels like you're having a refreshing fruit cup on a hot summer day. There's a hint of tomato sweetness in there without enveloping the other flavors. Get it with two fish, shrimp, or pulpo tacos, served with a special green sauce. This is one spot you can bet I'll be making the drive back to Sylmar to have again. — Memo
RELATED: Beer For Every Barrio: Border X Brewing's 'Chicano 2.0' Cervezas Are Right at Home in Bell
Daniel Hernandez contributed to this report.
Cesar Hernandez is Lynwood's second best export behind Weird Al, and a writer and podcaster. Illustration by Tommy Gallegos.
Read More:
Stay in touch
Sign up for our free newsletter