Art
In a Rapidly Changing L.A., This OG Muralist From South Central Captures Communities As They Transform
11:10 AM PST on January 28, 2021
[dropcap size=big]O[/dropcap]ver the last 30 years, Michael Massenburg has been one of the most influential public artists in Los Angeles. His painted murals, collages, and tile mosaics for Metro, Cal State Dominguez Hills, ESPN, the Fabulous Forum, Los Angeles Southwest College, and the Central Avenue Jazz Festival among many other locations always bring dynamic color palettes, incorporate local knowledge and pay tribute to everyday heroes. 
Massenburg's two newest murals "Above the Water, See the Light," and "Joy" at the Van Ness Recreation Center in South Central Los Angeles celebrates the transformation of the community underway now through the new Olympic-sized swimming pool and accompanying pool house. His murals honor the people who use the park daily and foreshadows the future aquatic champions who will grow up using the new pool. 
The new murals at Van Ness Recreation Center are located adjacent to the pool and on the eastern and western outside walls of the new pool house. A world-class Olympic-size pool was recently built on the northern end of the park and it is a major development for the park and neighborhood. 
Illustrating Living History
The Van Ness Recreation Center is located at Van Ness and Slauson, just north of the Inglewood border. The park includes a community center where Massenburg has taught art classes along with basketball courts, a gym with volleyball courts, a baseball field, and a large grassy field always filled with runners and walkers. 
The new pool offers an important new element to the park and neighborhood. In the same way, people talk of certain neighborhoods with countless fast-food eateries and few grocery stores as "food deserts," neighborhoods with very few pools or even parks and green space are truly concrete heat islands.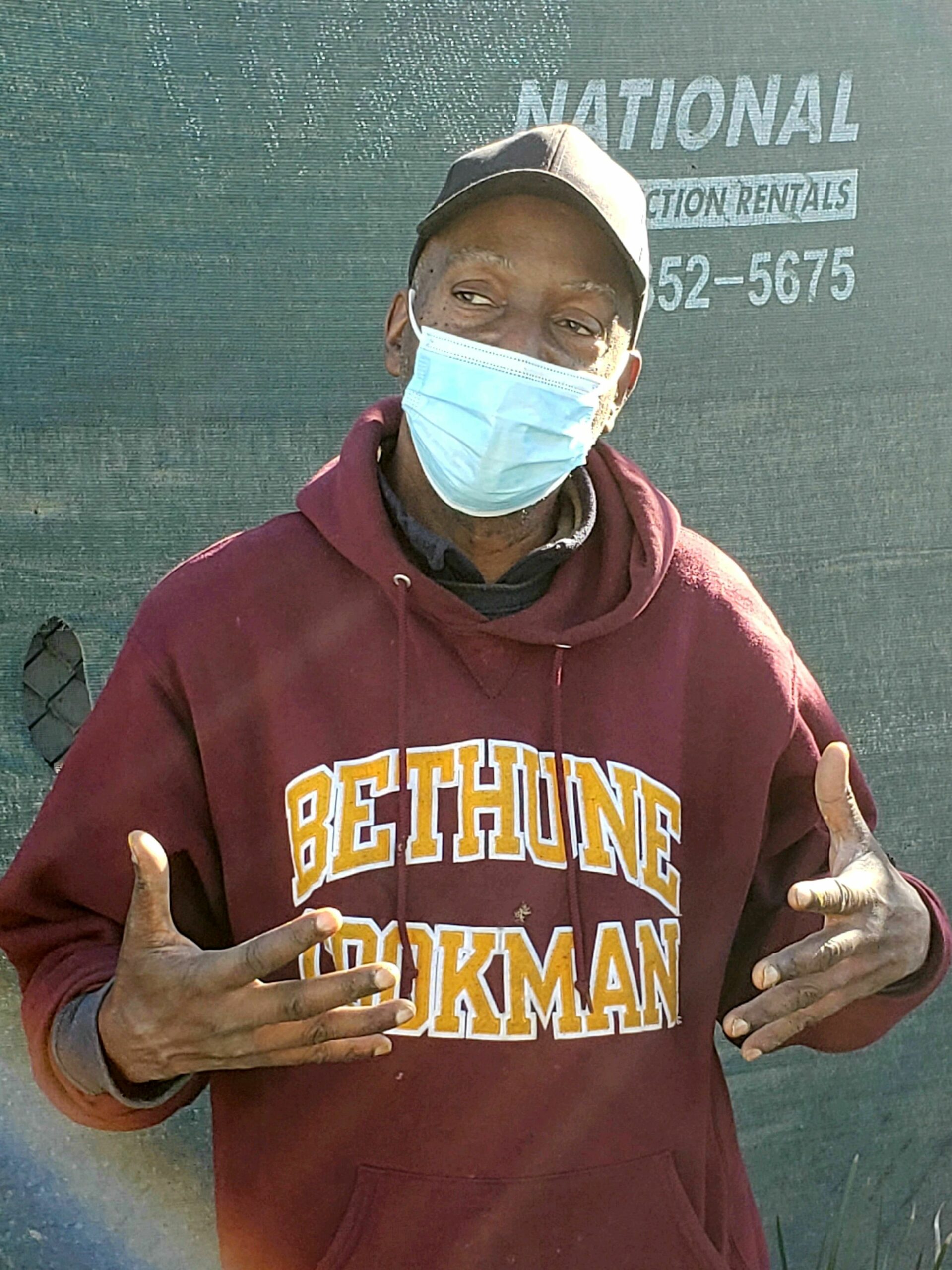 For all these reasons, the new pool and murals serve multiple purposes. One of the first is to give inner-city residents more access to swimming, especially in the hot summer months. For Massenburg the new large pool and accompanying pool house "bring positive benefits of health, self-esteem, socialization, and family connection to the community." 
Known for his figurative work, the murals celebrate these benefits by illustrating joyful, creative reflections of local residents that regularly use the park. Massenburg loves to illustrate living history. "With his color selections, collage elements, and use of space," the native Angeleno poet Nikki Blak states, "Michael Massenburg writes a kaleidoscope of poetry in the spatial context of a rapidly changing urban landscape. He has so beautifully captured the magic of our beloved Los Angeles neighborhoods through his dynamic use of color and the care with which he portrays his subjects." 
Massenburg prides himself on creating functional art that fulfills the needs of the community where it is situated and these latest two murals carry on his uncanny knack to capture the spirit of the people and neighborhood. The concept for the two murals is quintessential Massenburg with its well thought out conception. The eastern wall shows the vantage point of the Van Ness Recreation Center above the water and the western wall shows local neighborhood youth swimming underwater in the new pool with light shining through the water. 
"He has so beautifully captured the magic of our beloved Los Angeles neighborhoods through his dynamic use of color and the care with which he portrays his subjects."
The eastern wall mural, "Above the Water, See the Light," is a 38-feet long acrylic painting. Massenburg has been assisted in painting it by his apprentice Jonah Elijah. They spent close to six weeks through November and December finishing the mural. It shows a panoramic scene of different moments occurring around the park utilizing a colorful palette reflecting the water and sky using blues leading into the green to reflect the grass, plants, and trees. 
Massenburg has spent a lot of time at the park and he always loved the way sunlight filters through the trees there at sunset. Before he started the project, he was walking around there one late afternoon taking photos at dusk when the title came to him and his inspiration for the mural crystallized. Within the light silhouetting through the mural, you see a boy shooting a basket, a kid jumping into the pool, a father playing with his son and daughter, and a young woman with a gold medal around her neck representing the future Olympic champions from the local community who will be training at the Van Ness Recreation Center. 
The mural on the western wall is 34-feet long and it shows several young people swimming underwater. Aptly titled "Joy," light filters through the water, and the youthful swimmers are shown smiling and enjoying their swim. This mural is ceramic tile and will be installed in mid-January. Both murals use light as a core element and as a unifying force to connect them. "Light can help us see," Massenburg declares, "Direct us, give us positive energy. I wanted to convey that idea in these murals." 
The positive energy around these new murals is echoed by both local residents and city officials. Felicia Filer, the Public Art Director at the Los Angeles Department of Cultural Affairs, the civic agency sponsoring these murals says: "The Van Ness Recreation mural project punctuates all of the things we value, family, sport, and community gatherings and yet have had to put on pause because of the pandemic. The messages in his mural await us and speak to the possibility of a better future."
A Generational Pivot 
The importance of the new pool and adjacent murals is reiterated by Jamal Hill. Hill is a professional swimmer and longtime lifeguard who grew up in nearby Inglewood that is thrilled about the new pool and accompanying mural. "It's a generational pivot in my eyes," Hill says "Because this story told on the walls of the pool house will be lived out by them and then kids will begin to look not only at the mural but to truly experience a culture of aquatics in their community."
Generational pivots are the type of transformative action that Michael Massenburg has built his career on. The project at Van Ness Recreation Center is especially close to his heart because he lives less than 10 minutes away, grew up just south of the park, and has taught art classes at the Van Ness Recreation Center over several summers. Massenburg believes in the power of art to offer a new narrative to transform a community. He has done similar work in spaces like Cal State Dominguez Hills, the Watts Towers Art Center, Inglewood Central Library, and in Leimert Park. The transformation of the community is accomplished not only by the aesthetic beauty of the art but the conversations started and centered around the imagery.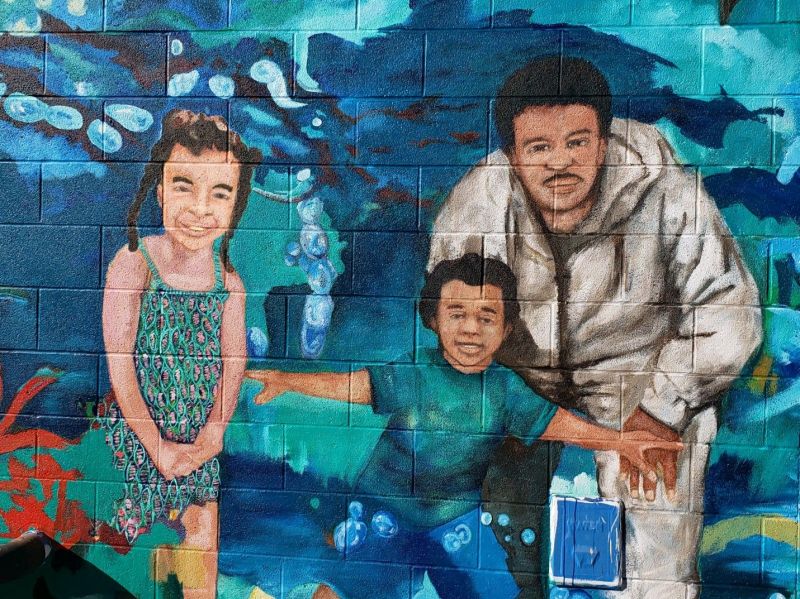 Massenburg has been assisted on the Van Ness Recreation Center murals by the 26-year-old artist Jonah Elijah. "It's truly been a great learning experience working alongside Michael Massenburg," Elijah says. "Being that I just graduated from Claremont Graduate University with my Masters in Fine Art, diving directly into the world during Covid, Michael giving me the opportunity to assist him on something historic like this is amazing and truly a blessing." 
I spent five mornings in November and December watching them work and talking with them about the new pool and their artistic vision with the mural. Besides their mutual love of art, they both love 1970s funk and soul music and basketball. Massenburg has joked that their partnership is like LeBron James and Anthony Davis. For those not familiar with this reference, he means the accomplished veteran working with the young phenom. 
 "Every day I try to plan out at least three to four questions to ask him about life and the art world just to get some insight about this journey I'm stepping into," Elijah confesses. "Because I know he has seen it all and still doing it all so picking his brain for knowledge is an everyday task for me. Being that my father raised me on all the music he likes from the 1970s and 80s funk to the beginning of hip hop through the 90s. We can relate to a lot because I'm knowledgeable about things that the average 26-year-old isn't. Every day I'm able to practice my painting skills which I truly enjoy and I get to study Michael's process. It's something I'm definitely not taking for granted." 
His professional art career really started at the Watts Towers Art Center right around the Rodney King Uprisings....to the tile mosaic Nat King Cole mural on the Capitol Records Building in Hollywood.
Now that the Van Ness Recreation Center mural is done, they are painting another mural together again through January at Community Coalition on 81st and Vermont that is nearly 100-feet across and 20-feet tall. 
This generational exchange of artistic knowledge is the value system Massenburg inculcated from a very early age. Though he was born in San Diego, Massenburg has lived almost his entire life in South Central and Inglewood. After attending both Long Beach State and the Otis Art Institute, his own art career was fostered by his elders and community artists like the recently deceased John Outterrbridge, John de Heras, Richard Wyatt, and Charles Dickson. The community artist ethos of passing knowledge and encouraging the next generation of artists is the value system Massemburg grew up with.
Over the years Massenburg has also been close with poets and writers like Nikki Black, Wanda Coleman, Father Amde Hamilton from the Watts Prophets, Kamau Daaood, and Lynell George. Massenburg used key lines from Daaood's poem, "Leimert Park," in the 70-foot mural in Leimert on the back of the Vision Theater. Massenburg also included Nikki Black in both the Vision Theater Mural and at the Farmdale Metro Expo Line station mosaic tile installation he created.  
In 2013 Lynell George wrote about Massenburg for KCET's Artbound. Her piece, "Public Art, Private Stories: Michael Massenburg Collages Los Angeles," states: "If you've spent some time exploring the city outside of your car in certain corners of Los Angeles County, you might have glimpsed some of Massenburg's work -- commissions or public art projects he's had a hand in—most likely without even realizing it."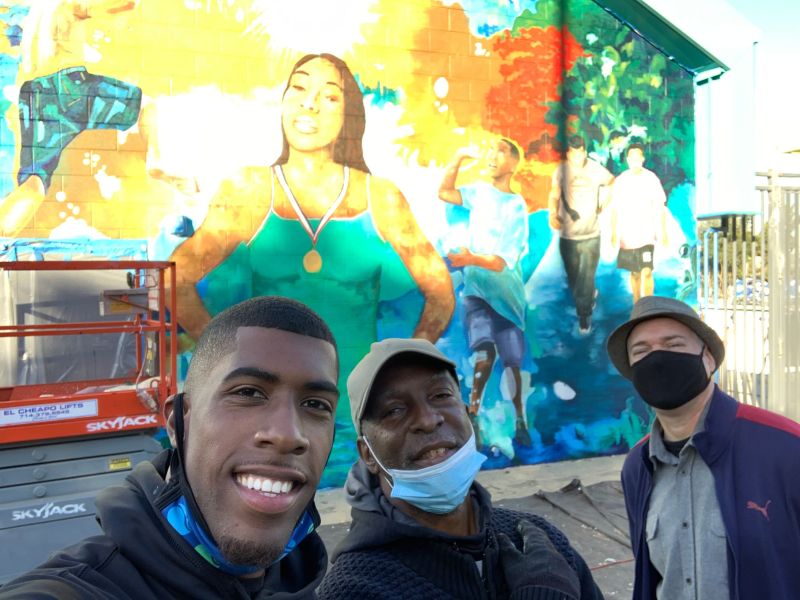 George is right, Massenburg has worked all over Los Angeles County. He's been painting community-minded work for over three decades. His professional art career really started at the Watts Towers Art Center right around the Rodney King Uprisings. Leaders there like John Outterrbridge saw Massenburg's work and encouraged him. Around this same time, Massenburg also worked with artists like Richard Wyatt who had Massenburg assist him on the tile mosaic Nat King Cole mural on the Capitol Records Building in Hollywood and the tile mosaic mural for Metro at Wilshire and Western.  
Massenburg's first public art project was in the early 1990s in Watts for Metro Art. He worked with students from Jordan High School and together they painted a mural. Alessandra Moctezuma was the Metro Art Public Arts Manager at the time and she says, "We were both young when Michael did the mural project for the MTA. He was one of the kindest and most sincere artists I worked with. Besides being a great painter he had a way to connect with the community and sense what needed to be communicated through the art." Massenburg always incorporates local knowledge and feedback from community members in his work.
Transforming Communities 
As the 1990s unfolded Massenburg found himself doing public art not only across Los Angeles County but nationally as well. In 1997 he painted "Jazz Eras" a 10 by 25-foot mural about the history of jazz at the American Jazz Museum in Kansas City, Missouri. Around this time Massenburg also completed a cycle of paintings, "Echoes of Icons," that celebrated musical legends like John Coltrane, Betty Carter, Miles Davis, Robert Johnson, James Brown, Public Enemy, RUN DMC, and NWA.    
Everyone that knows Massenburg extols his capacity to inspire and transform communities through his work. Overton Loyd is a prominent artist and illustrator who's created album covers and installations for funk superstar George Clinton and he has known Massenburg for over 30 years. "Michael transforms communities through art," Loyd shares. "It's not what he does, it's who he is." 
For Massenburg, it comes back to using art as a tool to uplift the community.
In addition to his prolific artistic production, Massenburg has helped transform the community through policy and political engagement. Over the last decade and a half, he has served as the President of Inglewood Cultural Arts and as an arts commissioner for the City of Inglewood. Both his home and studio are in Inglewood and he's played a major role in the city's art scene. He has also taught dozens of classes and workshops across Los Angeles for over two decades. He's painted murals internationally and also been displayed in the California African American Museum in Exposition Park.   
For Massenburg, it comes back to using art as a tool to uplift the community. Returning back to the new murals at Van Ness Recreation Center, we see a concrete example of art promoting well being, health, self-esteem, and beauty. For the Inglewood-born professional swimmer Jamal Hill the new murals are not only "a generational pivot," they advocate swim equity and social justice.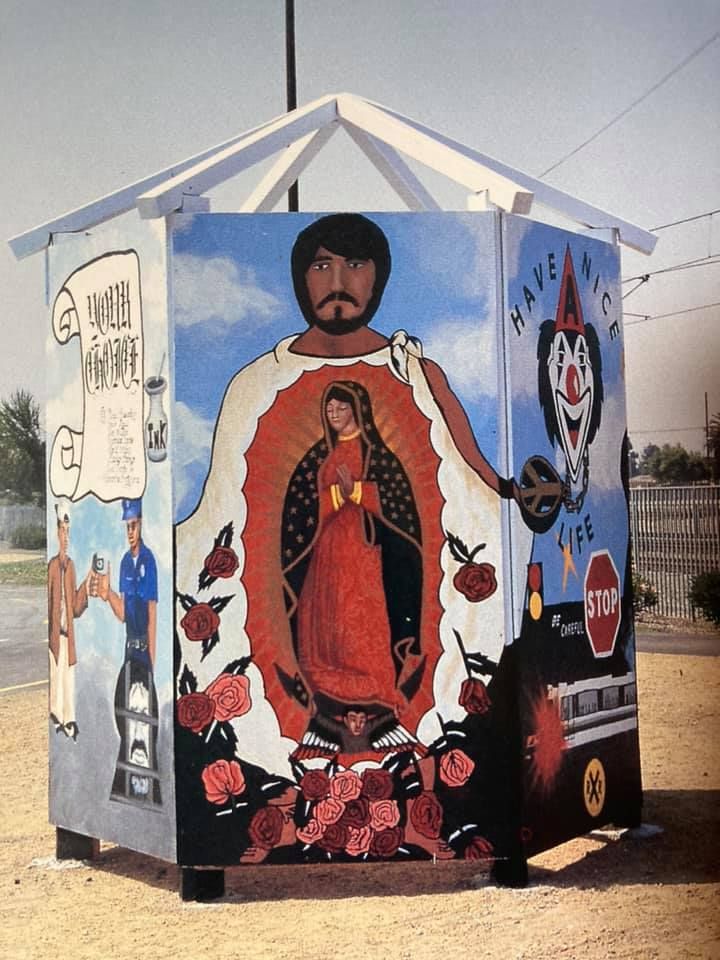 Hill is also the creator of a nonprofit organization "Swim Up Hill," that teaches swimming to all age groups and especially people of color who may not have ever had a chance to learn. For Hill, his mission—to promote a culture of aquatics as a way of uplifting his community—is illustrated perfectly in these new murals. 
"When I saw that mural it made me think of my niece, 7,  and nephew, 3," Hill says. "They're going to grow up in this neighborhood and always have a big clear image of aquatic heroes that look like them and their friends. They will see the painting and point out the different characters and say 'that one's me, I'm a champion swimmer!' Or, 'that's me over there, I'm a lifeguard!'" 
This type of direct connection between art and community is what keeps Michael Massenburg painting. Felicia Filer, Public Art Director at the Department of Cultural Affairs reiterates his central role as a torchbearer opening doors with his work. "Michael Massenburg is a veteran L.A. muralist," Filer exclaims, "Who has been instrumental in bringing beauty and inspiration through his murals to not only the African American community but to all Angelenos." 
Massenburg's approach as Nikki Blak exclaims, "Is heartfelt and intellectual, conveying movement, and grace through breathtaking pieces that ignite our curiosity and inspire us to tell our own stories." Like he did at the Van Ness Recreation Center, Michael Massenburg paints the future world he wants to see inviting viewers to join him in the process of transforming the community.   
Mike Sonksen aka Mike the PoeT is a 3rd-generation Los Angeles native. Poet, professor, journalist, historian and tour-guide, his latest book "Letters to My City" was just published by Writ Large Press. He teaches at Woodbury University.
Read More:
Stay in touch
Sign up for our free newsletter