Los Angeles
Meet the Pissed Off Bicyclist Watchdog Fighting For Safer Streets In L.A.
9:00 AM PST on January 19, 2018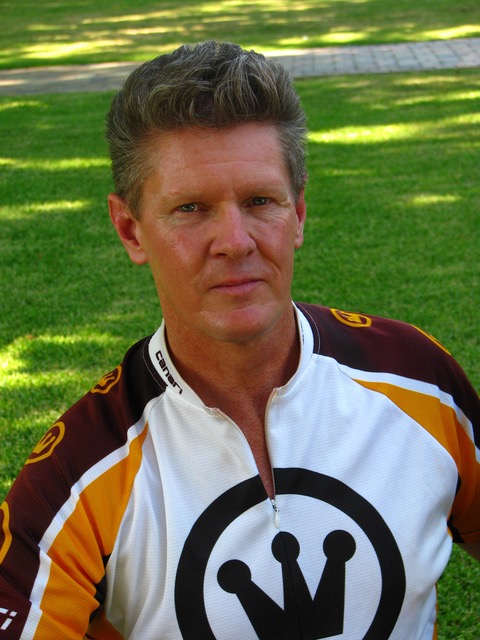 Ted Rogers faces a monster of a challenge every day. While riding a bike on the road can be potentially dangerous in any city, Rogers is trying to make streets safer for cyclists in Los Angeles, a city that is widely known for its car culture and the worst traffic in the world.
Los Angeles County was named the deadliest for pedestrians by the Auto Insurance Center after analyzing 2014 data from the National Highway Traffic Safety Administration. According to Vision Zero Los Angeles, nearly half of the people killed on streets of L.A. every year are either walking or cycling.
Ten years ago-- long before these numbers were out-- Rogers, a lifelong cyclist, decided to take the issue of making streets safer into his own hands. After becoming angry about the lack of bike lanes around his neighborhood and many others around the city, he started a blog named BikinginLA. The blog was a space for him to write about the challenges cyclists faced in L.A., because he felt no one was addressing the pressing issues at hand. His anger sparked many blog posts and soon he found out that many other people felt the same way he did. As his writing developed, Rogers began to feel that bike advocacy was his way to contribute to the world.  
Now, Rogers runs a site dedicated to news and information about bikes all over Southern California. At times, highlighting news from around the world. The site has become Southern California's leading source for bike news and advocacy news, especially for Roger's reporting on the number of cycling deaths that happen in the region every year.
Rogers found that 62 people died after being struck by cars while riding in 2017. Almost half of the deaths occurred in L.A. County. Rogers relies on verified news reports, Coroner confirmations, and family members to find these numbers. He's also been notified by police in L.A. and Orange Counties in the past. Rogers began tallying deaths around 2010 when he realized no government agency was doing it fast enough.
Roger's passion for bikes and bicycle safety has also led him to serve on the board of the Los Angeles County Bicycle Coalition, a leading bicycle advocacy non-profit organization. He's helped develop the bike plan for the Mobility Plan 2035, a project aiming to provide more options to move around in the city. The various modes of transportation in that plan include cycling.  
L.A. Taco spoke to Rogers about his site, reporting on cyclist fatalities and bike culture in Los Angeles.  
L.A. Taco: What do you love about bike riding?
Ted Rogers: Everything. Geez. I love the freedom, the accessibility that it gives me. I love the sensation that it gives you like you're flying. I love its ability to take you into neighborhoods that you would never see. Driving a car, I mean people in L.A. go from one place to another with their windows rolled up and never experiencing the neighborhoods that they drive through-- if they go through them at all-- and don't just bypass them on the freeway.
I found that I can ride my bike absolutely anywhere. I can go in neighborhoods that I would never see, anywhere from Koreatown to Latino neighborhoods to predominantly black neighborhoods and I found that no one ever bothers you if you're on a bike. They just let you go and you can experience that freedom, the smells, the sounds and the sensations and just everything about this city. You become part of it, rather than being separate from it in your glass sealed container as you go down the street.
L.A. Taco: What made you want to start a blog about biking in LA?
Rogers: There are so many reasons. First, one being that I was royally pissed off. I lived in Westwood at the time near Century City and they rebuilt Santa Monica Blvd. and put in some pretty decent bike lanes. They're not perfect, but they are some of the better ones that L.A. had built at the time, but then when you get to the Beverly Hills side and it throws you into heavy traffic. There is no way to keep going safely after that. On the other side, it drops you off in the middle of Santa Monica Blvd. at the on-ramps and off-ramps for the 405 freeway and again no safe place to ride a bike there. I was pissed off about that. I was pissed off about the lack of bike lanes almost everywhere in the city. Nobody was doing anything whatsoever about it at the time. I started writing about that and found that there were a lot of other people who were just as pissed off as I was.
As I wrote more and more about this, I came to realize that everybody wants to change the world, but I'm just one guy. I don't have what it takes to change the world. I'm not Dr. King. I'm not Gandhi. I can't make these big changes, but what I can do is make it safer for people to ride a bicycle in Los Angeles and that by extension will change the world.
When did your blog expand to Southern California?
Pretty quickly. I started writing about just Los Angeles and then very quickly came to realize that people in San Diego were fighting the same battles and that they had the same problems in Riverside and San Bernardino. The hard part was actually limiting it to Southern California, finding a place to draw the line because I found that we are all fighting exactly the same battles and we all have exactly the same problems. The only difference in L.A. is that we're bigger.
You have a "survival tactics" section. Why?
Yes, in part because people were asking me for advice on what happens in this case or what happens in that case. I've been riding for 25 years as an adult and I knew a lot that some people might not know, so I just wanted to offer my advice and things that I had learned the hard way over the years. There are a lot of things you can learn reading a book or you can learn in a class, but there are other things you learn the hard way by riding on the streets every day.
I encounter people all the time that say, "Hey I've been riding my whole life, I only ride sidewalks and on bike trails," and it's like well you don't have to do that. There are safe ways to get out and do it on the streets and there are things that I've learned myself the hard way like how to fall on a bicycle. I've got some very painful lessons in that. I rather teach someone else that hasn't experienced that yet, so that they know what to do if it happens.
Eventually everybody falls. It's inevitable. Sooner or later everybody is going to fall off a bike.
What's the most challenging thing about running your blog?
When I started doing [blogging] there were not many stories about bicycling in the press. Now that things have exploded in recent years, there are literally thousands of stories about bicycling every day and sifting through those, going on the web and spending a couple of hours finding all the stories and writing about them, I find that I'm often up until three or four in the morning just trying to finish everything.
How do you calculate cycling fatalities?
That's the other thing that is the hardest thing about this. Tracking bicyclist fatalities and writing about the people who are killed on bikes in Southern California is emotionally really, really draining. When I started, I started it because I was really upset when I read about a bicyclist who was killed in, I think it was Temecula area, Hemet or something like that. There were only two paragraphs about it in an entire news story and it had absolutely nothing about the person who died.
Just here's someone on a bike. He got killed and that's it. I found that so offensive and as I started looking into it more, I realized that most bicycling fatalities never get reported by anyone, anywhere. I just thought that was so wrong. I didn't want to do it. It probably took myself a good month to talk myself into doing it. Finally, it came down to how could I ask someone else to do something that I'm not willing to do myself and with that I got started on it. I've been tracking all bicycling fatalities in Southern California, a seven county area, since 2011. Before that I would write about a few of them as they came up, but I made a point to try to keep track--I guess I started in the middle of 2010.
How do you find out about the deaths?
Most of them I find out through the press. They've gotten much better about reporting these things. Although then you get into Riverside and San Bernardino and they are horrible about writing stories. They say it happened but offer no details, never giving the name and never doing any follow-up. So you never know what happened. I also learn from the coroner offices. I think in every county other than Los Angeles, the coroner posts press releases online, so you find out about them there.
I've been notified by people in the organization that put ghost bikes up around the city. I've been contacted by family members to say that to say this member of our family passed away. People will just tell me at random that they know of a bicycling fatality that happened, people who read my blog.
Occasionally, members of the police department will contact me and say, "You know this happened last night. The story is not out there yet so maybe you want to look into it." I always rely on a credible source. If I find out about a bicycling fatality that happened somewhere and I can't get confirmed by a coroner or the police or the press, or a member of the immediate family, then I will not write about it. It has to be confirmed by someone somewhere. I'd say last year there were two or three that people told me about that I was never able to confirm, so they are not included in that count.
How is it hearing from a family member who has lost a loved one?
Dealing with a close family member who died is incredibly difficult for anyone. To offer these people comfort is the most rewarding thing that I do and it's the hardest thing that I do. I'm a very emotional person. I'm very empathetic -- because of that, I try not to meet these people in person because I will take on their pain and I'll experience that same emotion myself. I try to keep it to phone calls and emails.
I think there was one case where I went out of my way to meet the family members and that was a case where a young man was killed on a layover at LAX. He rented a bicycle and went for a ride. He was on his way home to Australia for Christmas and I had contact with those people several times over the years trying to help them as they dealt with the legal case on the other side of the world for them. When one of them came out to Los Angeles, I made a point to meet this one person just because I felt close to them and one of them didn't know that somebody cared.
Can you imagine losing somebody you love in Australia and all these legal cases go on? It's a strange city that this person had never been in and you would be desperate to know that your loved ones have not forgotten. I never met him, but I care that it happened.
Do you think events like CicLAvia and bike sharing programs work to make LA a more bike-friendly place?
The jury is still out.
It should. CiCLAvia is a wonderful program that gets people out on their bikes and rediscovers the joy of riding a bicycle. I think that really helps build a demand for safer bicycling facilities. Bike sharing has potential to really transform things by getting more people out on the streets and getting more bikes on the streets and the city will eventually have no choice but to build safer bicycling facilities to accommodate these bikes. I live in Hollywood now and Hollywood Blvd. is supposed to have a protected bike lane on it according to the bike plan and so far there's been absolutely nothing.
The metro bike program, once that gets there, is going to be rented by tourists who don't know the city and don't know the streets. They are going to be out there in mass numbers riding bicycles and unless we give them a safe place to ride, it's going to be a disaster.
What do you think about the Mobility Plan 2035?
I think in theory it's wonderful. I was part of the process that helped design the bike plan that was incorporated into the Mobility Plan. The problem is, it is just a piece of paper until they put paint on the street.
They are not putting paint on the street yet.
What do you think about the memorials, like the ghost bikes and the footsteps painted on City Hall in November, that use art to honor people that have died on the streets?
I'm a big supporter of ghost bikes. Let's put it this way—I absolutely hate them. I hate every ghost bike. I hope I never see another ghost bike, but that's because I hope no one ever gets killed again. Until that happens, I think ghost bikes are great way of both remembering the victim who died needlessly and reminding people to drive safely. Same when they put the shoes and spray painted at City Hall for Dias de Los Muertos. It sends a message to drive safely and it sends a message that all these people died needlessly.
You can follow BikinginLA on Twitter @BikinginLA
This interview was edited for length and clarity.
Jennifer Velez is a multi-media journalist covering news and culture in L.A.
Stay in touch
Sign up for our free newsletter