Investigative Report
How a Mecanico From El Sereno Took On Cops, The D.A. and a Major Construction Project To Hold It Down in His Neighborhood
12:01 PM PST on November 9, 2021
[dropcap size=big]F[/dropcap]rancisco Gonzalez's dream was to own a mechanic shop in El Sereno, the neighborhood where he grew up. That dream became a reality when Gonzalez started G-Spot Automotive but shortly after that, it turned into a nightmare. Over the course of about 15 years, Gonzalez endured regular visits from a task force of law enforcement agencies poking around for illegal parts and stolen vehicles, a criminal case that he says was bogus, as well as a multi-million dollar city construction project that brought his business to a standstill.
We explore Gonzalez's story in Episode 4: "Progress Over People" in our podcast with Neon Hum media called Smokescreen: The Sellout, an investigative series about the community that fought back against gentrification and former Councilmember Jose Huizar.
Flanked by Ascot Hills Park's sun-scorched foothills, G-Spot Automotive is positioned on the corner where Soto Street, Mission Road and Huntington Drive all converge on the border of Lincoln Heights and El Sereno. Today it's one of those frustrating intersections where you can get stuck at a light for what feels like an eternity. But back in the day, when the Soto Street Bridge was still around, it was a beacon.
"The [Soto Street Bridge] was our gateway. So When we came to the bridge, and we went through the curve, like I knew, okay, I'm almost home," Yolie Garcia, an El Sereno resident since childhood and co-founder of the El Sereno Historical Society, recalled during an interview with L.A. TACO and Neon Hum. "So that was a landmark for us growing up."
"To me, it was like a different world," Yolie's husband, Jorge, another co-founder of the Historical Society, recalled moving to the neighborhood from South Central when he was in middle school, during a joint interview with his wife. "It was so open. You know, there was so much nature here. I remember seeing hawks and snakes and thinking, 'Wow, where am I?' You know, because to this day, it's a very open landscape. I was like, you know, this is a beautiful little island in the middle of a city."
Built in the mid-1930s, the Soto Street Bridge was originally part of the famous Pacific Electric (P&E) Railway system but was later converted into a bridge for cars during the 1960s, the heyday of freeways and motor vehicles in Los Angeles. When the El Sereno Historical Society attempted to designate the bridge a historical landmark, it argued that "the Soto Street Bridge was built during the zenith of the P&E Railway and much care was taken in its construction. It's a one-of-kind bridge, probably the last of its kind in the City of Los Angeles."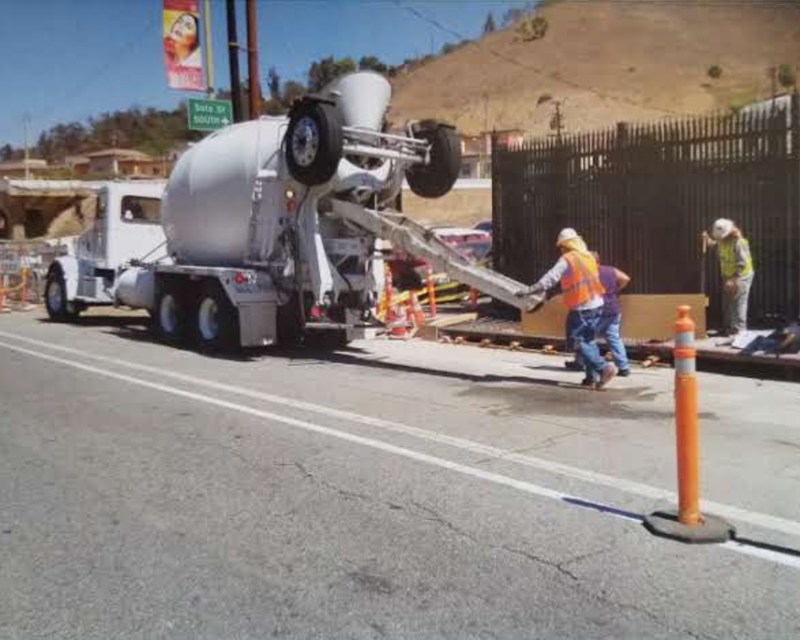 The iconic art-deco style bridge became unsafe though, according to the Bureau of Engineers (BOE). The underpass lacked painted sidewalks and light signals. And within a six-year span starting in 1994, there were more than 45 accidents, 37 of which reportedly involved injuries. Not only that, but the bridge railings were not up to par, effectively making the Soto Street Bridge obsolete, according to the BOE.
A year before former Councilmember Jose Huizar took office in 2005, the city council hatched a plan to demolish the bridge. But the project lagged and didn't break ground until about a decade later when Huizar was completing his second term. The Garcias say that Huizar's office sided with a housing association that was pushing for the bridge to be demolished rather than the community fighting to keep it intact.
More than seven million dollars was initially pooled together from a handful of special funds to make the project happen, in addition to millions of dollars from the city. But in order to transform the intersection, the city needed to acquire a series of plots of land, including a piece of Gonzalez's property.
About a year after the city council approved a proposal to demolish the bridge, Gonzalez said he began receiving regular visits from a regional taskforce appropriately called TRAP (The Taskforce for Regional Auto Theft Prevention). The county-wide collaboration to investigate car theft combines the resources of the Los Angeles Police Department (LAPD), L.A. County Sheriff's (LASD) Department, The Los Angeles District Attorney's Office and California Highway Patrol (CHP) under one umbrella.
Finding himself in the crosshairs of the TRAP unit was intimidating, Gonzalez said. "Twelve cops at a time rushing in with guns, like we're like criminals or something," Gonzalez's father, Richard, painted the scene during an interview in front of G-Spot Automotive this summer. "They were looking for whatever they could," Richard said.
"It took all the joy from working on cars out of us man, like literally we had to deal with this. It scared the shit out of everybody, [they] interviewed everybody separately, you name it bro," said Gonzalez.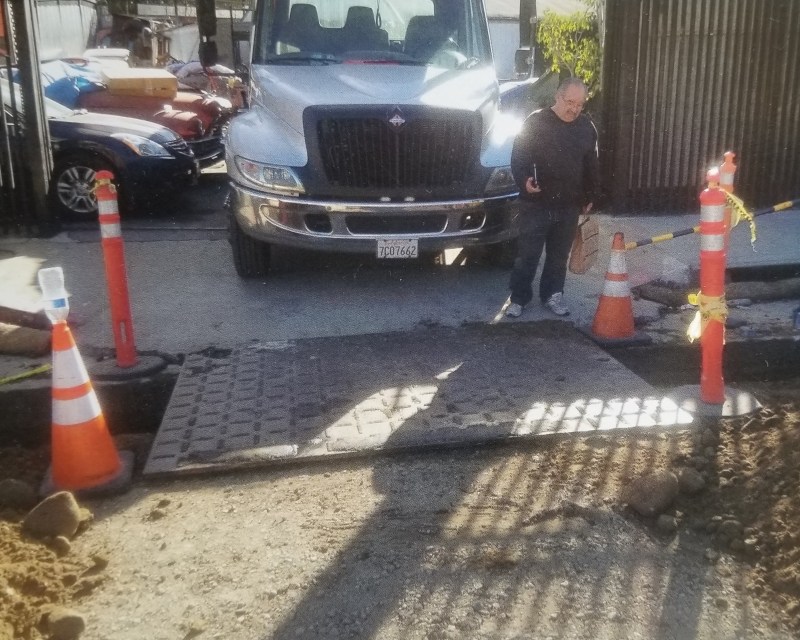 "His dream turned into a nightmare. His dream of having a car shop and all that turned into a nightmare," said Richard. Both father and son said this happened every couple of months for years. 
After the visits from the task force began, the city made Gonzalez what he describes as a low-ball offer to acquire part of his property. Although he was not opposed to selling, he turned down their offer because he felt the parcel of land the city wanted was worth $1 million, not the mere $200,000 he had been offered. 
Years later, just before the street widening project began and after he refused the city's offer, Gonzalez was charged with a felony in 2013. But not for stolen parts or car theft, he was charged with workers compensation fraud. In a complaint, the District Attorney's office alleged that Gonzalez failed to report all of his employees to his insurance provider, resulting in a fraud of a couple thousands dollars at most. Gonzalez vehemently denies any criminal wrongdoing. 
The charges against Gonzalez were later downgraded to a misdemeanor and eventually dismissed. 
But it's important to note the charges initially came out of The Healthcare Fraud Division, a troubled unit at the Los Angeles County District Attorney's Office. In 2018, a deputy District Attorney blew the whistle on sexual harassment within the unit. Later, the whistleblower alleged that she faced retaliation from the head deputy at the time, Jennifer Snyder, and other supervisors. 
This wasn't an isolated case. Within a five-year span starting in 2014, 19 male and eight female employees have been accused of sexual harassment. District Attorney Jackie Lacey disputed the allegations while she was in office.
The internal documents reveal that deputy District Attorney's worked in fear in order to please their superiors. This reportedly had an impact on the cases that they filed, including possibly Gonzalez's.
Raising even more questions about why Gonzalez was targeted, through a confidential source, L.A. TACO obtained an internal letter from 2018 that alleges that prosecutors within the unit were under immense pressure for years to file a record number of felony cases in order to qualify for an annual grant and other financial incentives. "One [deputy district attorney] has told me that they have probably filed cases that should not have been filed, but felt pressured to do so, and regretted it," the anonymous letter reads. "They told me they filed it out of fear of wanting to get along with head deputy [Jennifer] Snyder & assistant head deputy [Ed] Miller..."
Reached for comment in February, Snyder, the head deputy of the Healthcare Fraud Division at the time, denied that there was any correlation between the bridge demolition project and the charges against Gonzalez. After explaining what Gonzalez went through, Snyder responded: "I was blissfully unaware of any of that stuff. I appreciate that sometimes people make connections that may or may not exist….I have no knowledge of that."
Snyder did confirm that Gonzalez's case was investigated by the California Department of Insurance, the same agency that reportedly funds the grant that put pressure on deputy District Attorneys to file cases. Recently, when asked about the anonymous memo, Snyder said: "The 'memo' and the allegations contained therein have been widely circulated to an array of public agencies and officials over the years. The allegations are simply and demonstrably untrue." 
A couple months before the demolition of the bridge started in 2014, Gonzalez spoke to the media about alleged harassment he said he faced as a result of not selling his land. "They have a $14 million project going on in front of the shop...I'm thinking they want to put a Starbucks at this corner at the end of their 14 million dollar project," Gonzalez told NBC 4 that the constant visits from law enforcement was a concerted effort to push him out.
To beat the case, Gonzalez hired a hungry attorney fresh out of UCLA law school, Paul Cook. They spent roughly two years in and out of court, Gonzalez said. "I took care of Paul just to take care of me. I worked on his cars. I painted his cars...whatever I could do you know financially to cover anything...I mean dinners you name it man. I paid for it. On top of trying to make a living, you know what I mean, so it was stressful...stressful." During numerous conversations with Gonzalez's attorney, Mr. Cook, he expressed that his client was innocent and that the charges were ridiculous.
Gonzalez claims that one of his customers nearly fell into the ditch and some of his lowriders and other vehicles were damaged while careless construction workers poured concrete.
While Gonzalez fought the case, in August of 2014, the bridge demolition began. Before the construction, Gonzalez hoped to become a homeowner. "I had my savings for a house bro. And I wasted the whole everything just to stay open during those times."
According to Gonzalez, the construction called for a giant trench to be dug right in front of his shop, which made it difficult for customers to get in and out safely. Gonzalez claims that one of his customers nearly fell into the ditch and some of his lowriders and other vehicles were damaged while careless construction workers poured concrete. A gate that surrounds the shop was also damaged.
Hundreds of photos provided by Gonzalez reviewed by L.A. TACO back up Gonzalez's claims that the construction interfered with his business and vandalized his property. Numerous photos show various construction vehicles, including a cement truck and an excavator, obstructing the entrance to G-Spot Automotive. The photos also show that at one point, the majority of the left turning late leading up to Gonzalez's shop was blocked off before a trench was dug (they did leave the entrance to the shop accessible though). To get to his shop, a large piece of metal was used to bridge the gap. For years, Gonzalez said he put up with this.
"There were complaints about the sound, complaints about the traffic because lanes, you know, at one point or another were being reduced," Yolie Garcia, the El Sereno Historical Society co-founder from earlier recalled.
Several months into the construction, Gonzalez said he reached out to Huizar for help.
According to an internal Council District 14 (CD14) field report obtained by L.A. TACO and Neon Hum through a records request, Gonzalez asked for a meeting in March of 2015. "Francisco Gonzalez, owner of the auto body property where construction is going on currently is asking to meet with our office and the project engineers to discuss his issues related to lost business due to the frequent blocking of his driveway," the report reads. "I did visit him on Thursday and witnessed first hand the unprofessional way those foremen speak to him in front of his customers." Gonzalez said that meeting never happened.
To make things even worse for Gonzalez, the city installed several small concrete poles in front of a second entrance to his shop that made it easier to move cars around. Now customers are forced to back out onto a busy street, and there's no street parking nearby. And if you're heading south on Mission Drive, good luck turning into G-Spot Automotive, there is no left-hand turning lane anymore.
All of this has made it more difficult to conduct business and attract customers, Gonzalez said. Even long after the construction, the business hasn't recovered. Last Friday, Gonzalez told L.A. TACO he had to close the shop of his dreams, now he only helps a few people out with their cars occasionally.
About a year before his house and office was raided, standing a few hundred feet away from G-Spot Automotive, Huizar celebrated the completion of the street widening project during a ribbon-cutting ceremony in October of 2017, with representatives from the Los Angeles Department of Transportation (LADOT) and CalTrans, the state agency that manages California's freeways. "I first want to say thank you so much to Councilmember Huizar," Seleta Reynolds with LADOT said before helping to cut the ribbon. "He is a true leader in transportation on the city council and he is always looking out for everyone no matter how they travel...he cares about it all and he really challenges us to build what we call 'complete streets,' that aren't just for one person but they're for everybody."
Ironically, the reason the bridge was demolished in the first place was because the intersection was supposedly dangerous but to this day Gonzalez says there's a blind crosswalk just outside of his shop. He has to warn customers to be careful before crossing. The city also said they would beautify the new intersection where the gateway to El Sereno used to be, but today it's as dull as most other major roadways in Los Angeles. In place of the bridge, there are a few small metal butterflies and a plaque with recently-indicted Councilmember Jose Huizar's name on it.
Lexis-Olivier Ray is a housing, justice and culture reporter for L.A. TACO.
Stay in touch
Sign up for our free newsletter