Los Angeles
Tracing L.A.'s Mexican and Irish Connection for St. Patrick's Day
12:23 PM PDT on March 16, 2018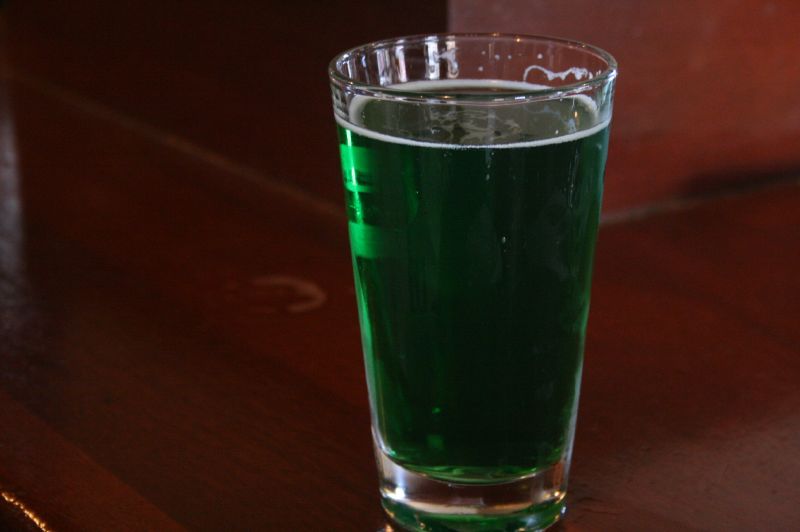 Last year, I missed celebrating St. Patrick's Day in Ireland by a week.
I had spent the last six months living in Limerick and traveling around Ireland on one of the dreamiest of scholarly fellowships, the Fulbright. When I wasn't writing, researching, going to libraries, or presenting my work, I was going to pubs — another form of research — all over Limerick and Ireland. From where I was at the University of Limerick, it was easy to travel north to Galway, south to Cork, or east to Dublin and Waterford. I drank plenty of Guinness, Murphy's, Beamish, and my favorite Irish craft beers from Franciscan Well and St. Mel's. I ate my share of meat, veg, potatoes, fish, chips, and porridge. I wore shades of emerald green for sports teams from Limerick City and the Famous Glasgow Celtic, with a dash of red for Munster Rugby. And I listened to lots of Irish traditional music, flutes, fiddles, and all.
For me, pretty much every day in Ireland was St. Patrick's Day. Still, when March 17 rolled around last year, I was home in Whittier, barely over the jetlag, and yearning for a bit of Ireland. I wanted to celebrate St. Patrick's Day in a meaningful way. Cans of Guinness from Ralph's weren't going to cut it. Green beer, plastic shamrocks, noisy bars, no thanks.
Instead, I remembered that here in Los Angeles, we have lots of Irish connections to honor on this day. I'm not just talking about the area's Morrissey fans, who view March 17 as just another occasion to celebrate "St. Steven Patrick Morrissey Day." Though we're not exactly New York, Boston, Chicago, Philadelphia, or even San Francisco when it comes to sharing deep diasporic ties to Ireland, Los Angeles boasts its own Irish ties aplenty, even if they're not very well known or simply have been forgotten.
[Boyle Heights] gets its name from Andrew A. Boyle, an Irish immigrant born in County Mayo and raised in County Galway in the west of Ireland.
L.A.'s regional Irish, Latino, and Mexican cultural and historical relations have been routed mainly through Catholicism, wine-making, and border wars back when California was Mexico. Los Angeles, like much of the U.S. Southwest before and after 1848, bears the traces of these "distant relations" between Ireland and Mexico that continue to shape diplomatic and cultural ties in cities throughout Texas, California, and the U.S. Southwest.
We need to look no further than Boyle Heights. The East L.A. community gets its name from Andrew A. Boyle, an Irish immigrant born in County Mayo and raised in County Galway in the west of Ireland. According to the Boyle Heights History Blog, Boyle joined "a group of Irish colonists" in New York who "migrated to Texas in 1834" and "settl[ed] in the Mexican territory at a place called, naturally, San Patricio, on the Nueces River between San Antonio and Corpus Christi." Boyle landed in Los Angeles in 1858 after stints in New Orleans, Nicaragua, and San Francisco. Once settled in Los Angeles, Boyle sold shoes and made wine from mission grapes, offering his first vintage for sale in 1863 at his shoe store.
Nearly a hundred and fifty years after Andrew Boyle arrived in Los Angeles via San Patricio, Texas, East L.A. band Ollín started playing their now-famous annual St. Patrick's Day show. Every year, the brothers Rodarte and fellow bandmates perform songs by Anglo-Irish band, The Pogues. Their hallmark is performing The Pogues' classic 1985 album, Rum, Sodomy & the Lash live in its entirety. The band acknowledges "the whole San Patricio thing" as an important part of the connection they feel to the music and spirit of The Pogues and this album in particular. They refer to the 1847 San Patricio Battalion, led by John Riley of Co. Galway (born in/around 1818, the same year as our Andrew Boyle in the neighboring Co. Mayo). The San Patricios famously fought on Mexico's side against the U.S. in the U.S.-Mexican War of 1846-8, which resulted in the creation of the very border that exists today between the U.S. and Mexico.
Ollín joins Los Lobos as "just another band from East L.A." with musical ties to Ireland, routed through the legacies of the San Patricios and Mexico's own national saint, Our Lady of Guadalupe. Los Lobos collaborated with another borderland Chicana musician, Linda Rondstadt of Tucson, Arizona, on the 1996 album Santiago by the venerable Irish traditional music ensemble, The Chieftains. The song? "Guadalupe," naturally. Rondstadt would join The Chieftains again in 2010, this time with Ry Cooder and several marquee Mexican musicians such as Los Tigres del Norte, Chavela Vargas, and Lila Downs. The album was San Patricio. The artwork featured a graphic of La Virgen de Guadalupe holding the body of an Irish soldier ala Pieta.  
From South Texas to East L.A., the San Patricio connection is probably the best-known historical example of Irish-Mexican comradeship forged through Catholic solidarities and armed resistance to imperialist wars. The cultural legacy of the history of the San Patricios continues to resonate throughout Mexico, Ireland, and the U.S.- Mexico borderland region. It remains particularly strong in this age of post-Brexit and calls for border walls. We see it in the music, literature, artwork, and diplomatic observances in Mexico, Ireland, and in borderland U.S. states that were once Mexico.
When he was the Mexican Ambassador to Ireland from 2011-2016, Carlos García de Alba participated in several events in Dublin and Galway that marked the historical ties between Mexico and Ireland. During his five years in Ireland, García de Alba played a large part in expanding what he calls the "soft power" of Mexico in Ireland — the culture, travel, tourism, intellectual, and international relations the two nations enjoy and maintain today. We can go back to at least the San Patricios of 1847 to understand these continued mutual affinities.
In five years, García de Alba helped open new stores from the Belfast-based burrito chain, Boojum, in Dublin and Galway; brought a group of Mexican bag pipers called San Patricios Battalón to march in the Dublin St. Patrick's Day parade; organized and founded Ireland's only mariachi ensemble, Mariachi San Patricio; developed academic connections with Chicana/o and Mexican studies programs and faculty at Trinity College Dublin, University College Cork, and Maynooth University; and cut the ribbon at the opening of Picado, a boutique Mexican grocer in Dublin.
"Someone told them they're Anglo Saxon or Viking, but they're Latinos," García de Alba says of Irish gente. He was half kidding. Now based in Los Angeles and working as the General Consul of Mexico, García maintains his strong ties to Ireland. He will spend this St. Patrick's Day in Guadalajara, Mexico, with colleague and friend Finbar Hill, the Honorary Consul General (Emeritus) of Ireland and L.A.'s only diplomatic representative from the Emerald Isle.
So when you turn to March 17th in Lalo Alcaraz's "La Cucaracha Cartoon Calendar," and you see where he tells us to "Remember, the Irish are Europe's Chicanos," maybe now it makes better sense.
"Everyone's Irish on March 17," so says the sign at the Guinness brewery in Dublin. But Hill is more specific. "I often say, 40 million Americans claim Irish heritage every day and about 200 million more on St. Patrick's Day," the Hon. Gen. Consul proudly states. As the diplomatic heads of their respective countries, Hill and García de Alba often appear together at cultural events that are co-sponsored or jointly supported by the Consulates of Ireland and Mexico.
Both dignitaries will attend the opening of a photo exhibit by Irish artist and photographer Maeve Hickey at Loyola Marymount University on March 26. "Border Life/La Vida Fronteriza" will feature Hickey's photographs of life in the Arizona/Mexican borderlands of the Sonoran Desert.
So when you turn to March 17th in Lalo Alcaraz's "La Cucaracha Cartoon Calendar," and you see where he tells us to "Remember, the Irish are Europe's Chicanos," maybe now it makes better sense.
Maybe, like my father, you went to Cantwell High School in Montebello named after an archbishop from Limerick and run for decades by Irish Christian Brothers. Maybe you read Helena María Viramontes's short story collection, The Moths, and recognized a little bit of James Joyce's The Dubliners, after which the East L.A. Chicana writer modeled her debut collection of stories. Maybe you'll down shots of Sino Tequila, a brand that markets the fact that their tequila is aged in Irish whiskey barrels, with your bottles of Heineken and Coors Light — hey, those are brewed in Ireland, too. Or maybe you'll chow down on taquitos made with corned beef hash from the can topped with guacamole and cheddar queso, green and orange like the Irish flag.
It's St. Patrick's Day, and we're in L.A We have lots to celebrate.
Sláinte, salúd, and cheers!
Melissa Mora Hidalgo was born in Montebello and grew up in the L.A./O.C. borderlands of East Whittier and La Habra. She holds a Ph. D. in Literature from UC San Diego and is the author of Mozlandia: Morrissey Fans in the Borderlands (Headpress UK, 2016).
Stay in touch
Sign up for our free newsletter