Food
More Than Your Favorite Peruvian Dish: Exploring the Dark History of Lomo Saltado's Cross-Cultural Roots
10:26 AM PST on March 8, 2021
[dropcap size=big]T[/dropcap]he Vox Kitchen sits on the southern edge of Orange County's Little Saigon, in a regional rivulet that dips into Fountain Valley. It's tucked into the corner of a sprawling strip mall, but it's no hidden gem—wait times can easily reach an hour if not more on weekends (that is, when there's not a deadly pandemic floating in the air). 
Secure a table and scroll through Its well-executed menu of Asian fusion delights like garlic spicy noodles and crab congee, and you'll encounter the house special: "saltado" shaken fries. A glance at its description reveals recognizable elements: potatoes, onion, tomatoes, rice, and meat—either filet mignon, rib-eye steak, or chicken—served with a piquant, bright green aji sauce. Two things dawn on you the first time you see this. A.) It's lomo saltado! B.) Why hadn't I thought about lomo saltado as an Asian fusion dish? 
"The Vietnamese community had no idea about Peruvian food," explains Vox's Owner and Executive Chef Viet Nguyen. "What I wanted to do was to open them up to its possibilities."
Nguyen's noble goal hints at a much bigger rationale. This venerable staple of Peruvian cuisine may initially look out of place here, but it more than belongs. To fully understand why, you must dig past the warm approachability that the dish brings at your neighborhood Peruvian joint, all the way down to its roots. There, you'll witness lomo saltados transformation from a simple meat, potato, and rice dish to one of the world's finest examples of cross-cultural culinary expression. It is a historic amalgamation of two countries and continents that demonstrates how a good plate of food can serve as the ultimate gateway to the world.
The Chifa Tradition
Lomo saltado springs forth from Peru's chifa tradition, a culinary fusion of Peruvian and Chinese cuisines, specifically Cantonese Chinese fare. "It's a dish that provides great perspective because it represents an important cultural cross-section in history," says Nguyen. This history is as fundamental to thoroughly appreciating the dish as the tomato's acidic squirt or the onion's sharp, earthy bite. It's why just referring to chifa cuisine as "Peruvian Chinese food" feels out of place, if not coldly dismissive. Doing so glosses over its origin story, which is unfortunately brutal.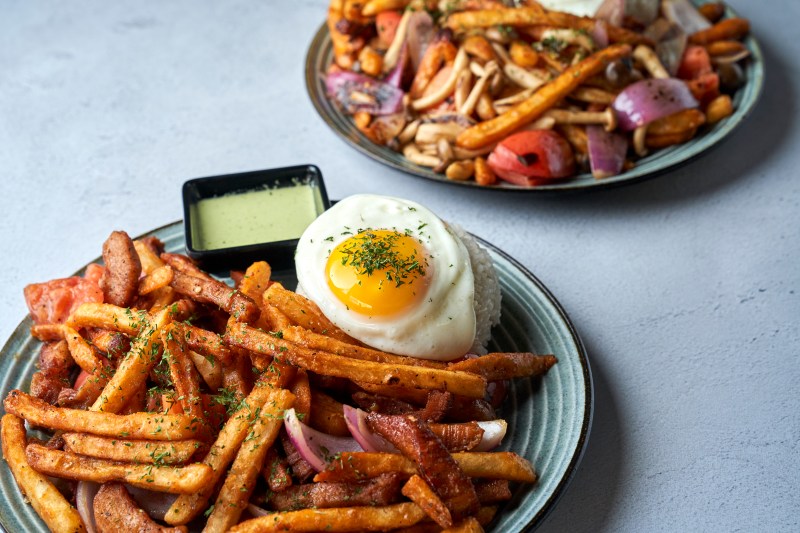 The first wave of Chinese primarily came to Peru from the Cantonese region in 1849, as indentured servants between the ages of 9 and 40, meant to replace Peru's emancipated slaves. Over the next quarter-century, they labored under heinous conditions created by unethical owners and enhanced through government aid, and it exacted a devastating toll: almost half of the approximately 100,000 Chinese men that came to Peru between 1849 and 1874 died from poor treatment, exhaustion, or suicide.
Life for the Chinese was still harsh when the labor trade ended in 1874, but they gradually became an integral part of Peruvian society, becoming planters, small business owners, artisans, store owners, and restaurateurs. Because the laborers were mostly male, a healthy percentage of them married Peruvian women, and Chinese culinary sensibilities began to weave their way into Peruvian dishes. A new cuisine called chifa—which translated into the regional style of Spanish "to eat rice"—was born. 
When the connection is realized, lomo saltado becomes more than a delicious plate of food.
It's surprisingly tough to pick up on these chifa roots when you're scarfing down a heaping plate of beef and potatoes and washing it down with a glass of Inca Cola. This is downright remarkable when you step back and deconstruct the dish with a cool head that's not distracted by the promise of your next mouthful. 
After all, the main protein is thinly sliced, stir-fried beef. Heck, its very name loosely translates to "stir-fried beef." Soy sauce is a common ingredient. The dots are there to connect. "The dish itself is essentially a Chinese dish with Peruvian influence," Nguyen states. Don't fret if you haven't drawn the lines. 
Just like pretty much any "national dish," lomo saltado's standing as a dish synonymous with Peruvian culinary identity tends to halt hardcore examination. Besides, the dish's relentlessly accessible flavors can easily distract from deeper in-the-moment pondering. "When you see those main ingredients, you start salivating," Nguyen says. "You don't even have to know what they're doing in the dish because they're so familiar and so comforting." At the same time, it's worth taking a step back. When the connection is realized, lomo saltado becomes more than a delicious plate of food. 
Its chifa origins add a dash of history, one that hopefully compels you to seek out more expressions of chifa fare like arroz chaufa and tallarin saltado. More importantly, it opens you up a deeper understanding about the world, its people, and the connections that exist between us as humans that, sadly, get ignored by so many with ruthless vigor. 
Going Beyond Lomo Saltado
A new player in Los Angeles' sparse yet important chifa landscape, appropriately named Chifa, opened last Thanksgiving. Located in Eagle Rock, it's an aesthetically arresting venue: The giant heart-shaped window carved into the bright sea green building initiates curiosity, and the interior's dramatic zebra-striped walls, marble tabletops, and green velvet chairs capture attention. Look past this sleek if not slightly racy design, and you'll find decades-deep roots that burrow into a more personalized expression of chifa cuisine.
The gold Chinese characters emblazoned over the restaurant's entrance (which translates to "kuok wai" in Western characters) are a direct nod to these roots. According to Chifa's co-founder Humberto Leon, the restaurant's moniker deliberately calls back to the restaurant his mother, Wendy "Popo" Leon, operated in Lima, Peru, during the 1970s. "In a way, we're re-opening her original restaurant here, over 40 years later," Leon said. "It's a new place, but it also feels like a homecoming of sorts."
 

View this post on Instagram

 
A deeply personal element underscores the restaurant's reimagining. Popo opened the original Lima venue in 1975, during a dark period of dangerous military insurgency that would eventually compel the Leon family to leave Peru in 1977. Humberto recalls hearing stories about Popo's harrowing efforts to feed customers and protect her business during the conflict; a relatively common practice involved her pausing in the middle of dinner service to grab something white—usually one of Humberto's diapers—and visibly wave it as a gesture of peace when guerrillas walked past. 
Chifa's story honors the cuisine stemming from this turbulent past through its menu. It is an interpretation of homestyle fare that emphasizes the duality of flavors Humberto and his family have held fast since arriving in Los Angeles. The menu includes free-range chicken poached in aged soy sauce and a wellness soup inspired by reading the day's weather. "Most people have told us that our food tastes like home cooking," Humberto said. "We really make the effort to make our food feel like somebody's parent served them something special, so that's great to hear." 
"It crosses so many cultures in general. I mean, who can't relate to beef, potato, tomato, and onion?"
Chifa currently doesn't have lomo saltado on their menu. Its absence isn't an attempt at an ironic twist. It's quite the opposite: Because of Los Angeles' strict pandemic protocols for restaurants, Leon's holding that dish back until in-person dining can return to some sort of relative normal. He aims to ensure his customers' first encounter with their interpretation of the dish is the best it can be. Considering the faint flavor of delicious char from the intense heat is best enjoyed as soon as it leaves the wok and the frustrating potential for fries to lose their integrity as they're transported from a restaurant kitchen to your couch, Leon's decision seems more than fair. Until the iconic dish debuts here, chifa-inspired plates like Peruvian skewered beef heart and woodfired pork toro await to deepen guests' understanding of the cross-cultural cuisine.
Adding Fusion to Fusion
There's a good reason why Nguyen calls Vox's house specialty "saltado" shaken fries instead of lomo saltado. His version of the dish deliberately references another dish, and by extension, a completely different type of culinary culture. As its name suggests, his version peppers in callbacks to the Vietnamese dish bò lúc lắc, commonly known as shaken or shaking beef. 
On its own, bò lúc lắc's cubed beef base is a shining example of French influence on Vietnamese cuisine - eating red meat in Vietnam didn't really happen until the latter stages of French colonialism in the 1920s, then it flourished. During their imperial reign, the French also introduced potatoes, an aspect that organically connects lomo saltado to Vietnamese culinary sensibilities. Nguyen further binds the cultures together in nuanced ways, such as adding oyster and hoisin sauce to the dish to accompany its soy sauce. These elements add fusion to fusion, providing even more robust epicurean exploration opportunities, cultural appreciation, and human understanding. In this case, it also provides a glimpse into a tragic mutual touchstone—French colonialism unleashed its brand of deadly indentured servitude on the Vietnamese people for six decades.
Ultimately, these layers serve an essential purpose for Nguyen, particularly given the pastiche of cultures in the cities included in Little Saigon's sprawl, such as Garden Grove and Santa Ana. "There's a large Hispanic community in Southern California, and there's also a huge Asian community. That's obvious," Nguyen says. "This is why lomo saltado's an important dish. Its ingredients connect both communities. It crosses so many cultures in general. I mean, who can't relate to beef, potato, tomato, and onion?"
The Vox Kitchen: 16161 Brookhurst St. Fountain Valley, CA 92708 (657) 231-6493 www.eatvox.com
Chifa: 4374 Eagle Rock Blvd. Los Angeles, CA 90041 (323) 561-3084 www.chifa-la.com
Where Can You Get Lomo Saltado?
Any Peruvian restaurant worth their salt will feature lomo saltado on the menu. Of course, Los Angeles is rife with plenty of options for you to choose from, including a few that make additional forays into Peru's chifa traditions. Here are a few that should be on your radar:
El Rocoto
Owner and Chef Jorge Chan's own journey as an immigrant of Chinese Peruvian descent shapes the chifa-leaning menu of this famous South Bay staple. An umami-rich soy sauce broth binds the flavors of the lomo saltado, making it a customer favorite. The dish is an ideal jumping-off point to explore other chifa dishes on the menu, like the wok-fried rice dish chaufa de mariscos and the chow mein entrée tallarin trozos pollo.
El Rocoto: 1356 Artesia Blvd, Gardena, CA 90247 (310) 768-8768 www.elrocoto.com
Mario's Peruvian & Seafood
Under normal conditions (read: pre- and hopefully post-pandemic), the wait for this unfussy West Hollywood Peruvian strip mall joint is long. Parking's also tough, although that's not exactly shocking given its zip code. One bite of their simple, straightforward, and reasonably priced lomo saltado makes it worth the pain and effort to get here.
Mario's Peruvian & Seafood 5786 Melrose Ave, Los Angeles, CA 90038 (323) 466-4181 www.mariosperuvianseafood.com
Puro Sabor
There's a separate section of saltados on this Van Nuys restaurant menu, so it's fair to say they take the dish seriously. The classic rib-eye strip-starring lomo saltado leads off the lineup of a dozen different versions, each featuring a mix-and-match of various proteins, including chicken, shrimp, and seafood. Can't decide? The eponymous "puro sabor" version features rib-eye, chicken, and shrimp.
Puro Sabor: 6366 Van Nuys Blvd., Van Nuys, CA 91401 (818) 908-0818 www.purosaborperuvianfood.com
Misky Misky
This West Covina restaurant filters Peruvian cuisine and chifa fare through an ambitious modern lens, and their lomo saltado is no exception. Yet its modern touches, such as rice seasoned with minced garlic, are nuanced twerks instead of deconstructed madness, and they add unique depth to the dish without sacrificing familiarity.
Misky Misky: 125 N. Fairway Lane, Wst Covina, CA 91791 (626) 966-0600 www.miskymisky.com
Rich Manning is a freelance writer who lives in Fountain Valley, CA with his wife and two daughters, and is likely eating a burrito as you read this.
Stay in touch
Sign up for our free newsletter