Music
Johnny Marr's Los Angeles ~ An L.A. Taco Exclusive with the Legendary Smiths Guitarist
11:06 AM PDT on October 15, 2018
[dropcap size=big]I[/dropcap] apologized to Mr. Johnny Marr for not asking him anything about his music during our interview.
In the hour or so we sat at Crossroads Kitchen in West Hollywood, we didn't talk about the awesome sold-out-show he played the night before at the Ace Hotel in downtown. I didn't ask him about his current 43-city tour in support of his kickass new album Call the Comet, his third solo project after three decades of making beautiful guitar music with other bands. I am kicking myself for not asking him about the Mexico City show he played at El Plaza Condesa before coming to Los Angeles.
Maybe I didn't ask these questions because I had just finished reading Marr's 2016 autobiography, Set the Boy Free. This passage about press interviews rang fresh in my mind:
"It's difficult in interviews to avoid repeating yourself when you're asked the same questions all the time. In my case, the entirely predictable thing that everyone knows is coming is: 'Will The Smiths ever re-form?' I've had thirty years of head-scratching with that question….You just have to hope that the journalist is a bit clued-up on and cares enough not to ask such a predictable question…" 
I definitely would not ask Johnny Marr about The Smiths or its various former members, not even to note the cosmic coincidence that Marr's L.A. show at the Ace fell on the thirty-sixth anniversary of The Smiths' first-ever show in Manchester at the Ritz, 4 October 1982.
For Taco readers who grew up listening to KROQ 106.7FM in the 1980s and 1990s, Johnny Fuckin Marr needs no introduction. The guitar god is best known as the founder and co-songwriter of the hugely influential indie rock band from Manchester, The Smiths.
After the band's infamous split in 1987, Marr went on to play, write, and collaborate with a long list of legendary indie/alternative rock acts including Talking Heads, The Pretenders, The The, Pet Shop Boys, Modest Mouse, and Electronic with New Order's Bernard Sumner.
Marr has lots to say about L.A., particularly regarding the deep cultural connections he feels to the city and its myriad creative influences on him as a prodigious guitar-artist, musician, and songwriter for over thirty years. He spends several months per year here working on various projects as he has since 2009, when he recorded Ignore the Ignorant with Manchester's The Cribs. "I use the work as an excuse to stay in L.A. My friends in L.A. have been my longest friends," Marr said.
Besides the work and business of making music for a living, what else keeps Marr, a brilliant rock music artist for a generation, coming back to L.A.? Which neighborhoods does he like to visit? And where does he go for vegan tacos when he's in town?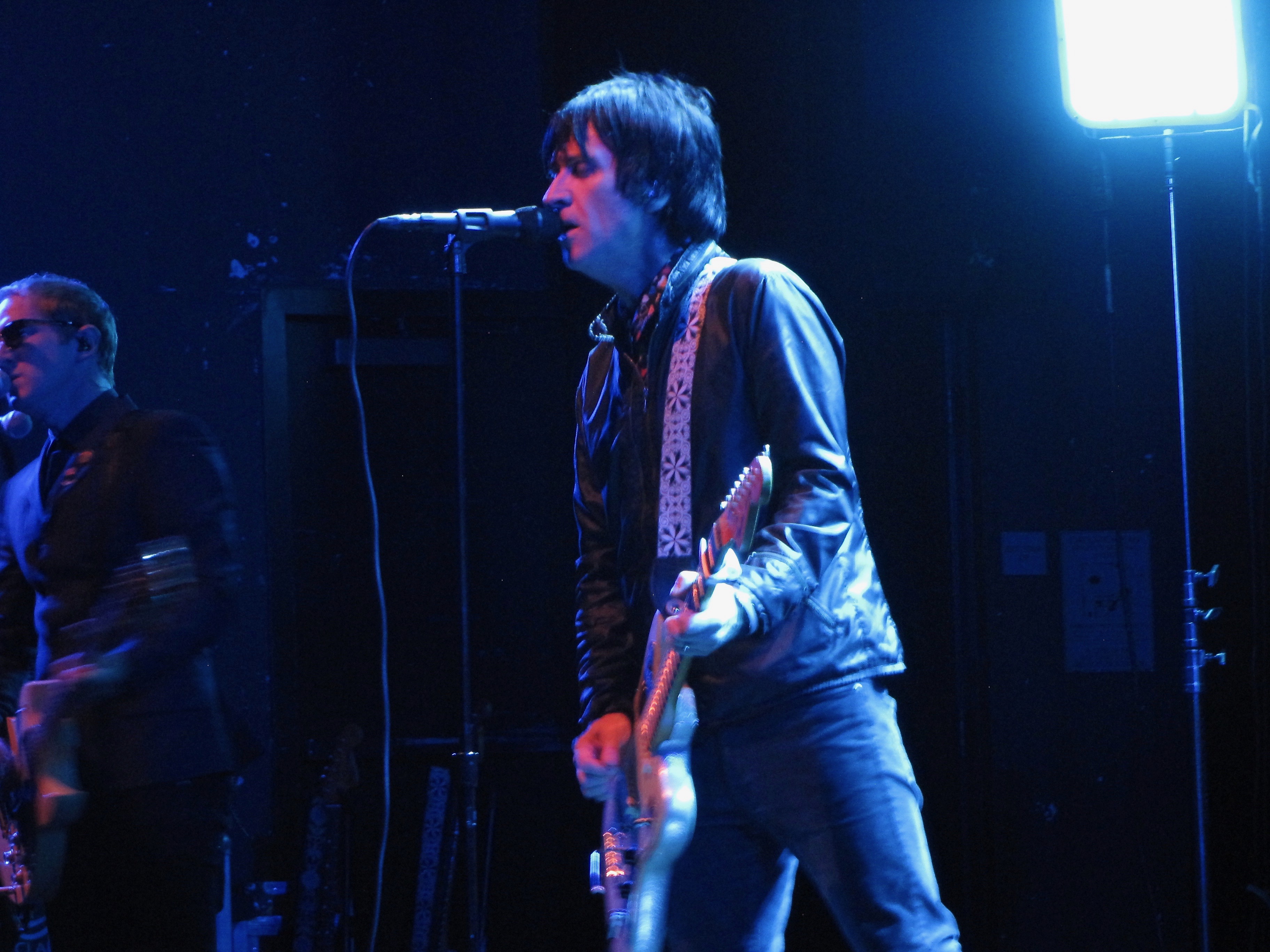 L.A. Sounds
[dropcap size=big]J[/dropcap]ohnny Marr has some great L.A. stories, and they all come back to music. After settling into the booth, we jump right into conversation when he notices the Kid Congo Powers & the Pink Monkey Birds pin on my jacket. "I like that," he says smiling.
I learned about Marr's admiration of Kid Congo Powers, the La Puente-born punk/rock guitarist of The Gun Club, The Cramps, and Nick Cave & The Bad Seeds fame — who named his solo band, the Pink Monkey Birds, after a Bowie lyric from "Moonage Daydream" (1972) — while researching my 2016 book, Mozlandia: Morrissey Fans in the Borderlands.
"It started as I was discovering glam rock music in the UK. [They were] formative years. And glam rock connects with L.A.," says Marr. "I was a ten-year old boy listening to [Bowie's] Aladdin Sane." It blew his mind. The first song he taught himself to play on the guitar was "Jeepster" by T. Rex, another important influence.
As for the Los Angeles connection to glam rock, Marr pointed to the legendary club promoter and DJ Rodney Bingenheimer. Bingenheimer is often credited with introducing glam rock to Los Angeles in the late 1970s and 1980s through his club Rodney's English Disco, and on the air as a DJ and host of his show Rodney on the Roq on KROQ. Around that time, the burgeoning greater East L.A. punk scene introduced the world to "roots-blues-punk" bands such as X and The Gun Club.
But it was the unconventional L.A. pop-rock outfit Sparks that Marr says was his "initial introduction to L.A." In the early 1980s, he found L.A.'s The Gun Club and New York's The Cramps. Brian Tristan, stage name Kid Congo Powers, was the rocking guitar maestro from Bassett High School who played for both bands in the early and mid 1980s.
A 2014 article by the South El Monte Arts Posse locates El Monte and "the greater San Gabriel Valley" as critical cultural sites for the emergence of "homegrown punk talent that eventually became very influential in punk culture internationally." This musical talent included Jeffrey Lee Pierce, founder-singer-guitarist of The Gun Club, and Kid Congo Powers, "Chicanos of mixed background" who grew up in the SGV.
To the young Marr in Manchester just starting to write songs for his new band, The Smiths, the sound and music of The Gun Club, The Cramps, and Kid Congo's guitar-playing in both bands served as fresh inspiration.
As Marr explained, "they had a very left field aesthetic and approach" to music, compared to the dominant electronic sound of UK popular music in the 1980s. "In 1980s industrial Manchester, [their sound] was unusual and sexy." He was attracted to the "swampy, rootsy, live-style" sound of these bands.
At one point, Marr considered The Gun Club "the best thing around." Their musical influence on Marr ran deep enough to inspire the rousing guitar riffs on The Smiths's global mega-hit, "How Soon Is Now."
Noting similarities between himself and Kid Congo as working class, informally-trained, self-taught guitarists who both found creative inspirations in punk music and glam rock — especially Bowie — Marr says he "could relate" to the Gun Club and Cramps guitarist from La Puente.
These routes of 1980s transnational musical connections from "homegrown" to "international" make it possible for a "Mancunian-Irish kid with a guitar" to find Chicano punk music all the way from greater East L.A. and vice versa. Thanks largely to Rodney on the Roq, by the time The Smiths made their L.A. debut in 1984, fans were primed and ready for them.
RELATED: Support Stories Like This & Become a Member of L.A. Taco Today!
L.A. Story
[dropcap size=big]I[/dropcap] asked him what some of his best L.A. moments as an artist, musician, and international rock star for 35 years have been. "I thought about this on my way over to meet you, my big L.A. moments. There are so many," says Marr.
He begins with his first trip to Los Angeles in 1984 with The Smiths. "We had a lot of dreams about Los Angeles. We wanted to be noticed by L.A., not in the business sense, but [in terms of] wanting to be part of the culture."
As a band, Marr says, "The Smiths were very obvious about being part of L.A. popular culture. We were conscious ourselves of the history and pop culture of L.A." He points to the band's association with James Dean and the Hollywood movie stars that adorned their album covers, as well as his admiration of the English author Aldous Huxley, a favorite of Marr's who lived in the Hollywood Hills.
A big moment that still stands out for Marr were the two nights in 1986 when The Smiths played at the now-defunct Universal Amphitheater. He writes about these shows in his autobiography: "The first night in LA was attended by some celebrities, and Joe Dallesandro, the cover star on our first album, came to meet us backstage. The Smiths' shows in L.A. were always an event."
Over thirty years later and sitting not too far from where it happened, Marr remembers this moment well and identifies its greater cultural significance: "We liberated straight boys," he tells me.
He explained that when he and The Smiths first came to the US, they immediately noticed what he described as "jock" culture, its narrow expectations around conventional masculinity, and that the American boys who rejected it were mocked and teased. Marr recalled his own unconventional style choices over the years — his bouffant, dyed hair, make-up — freely borrowed from his sisters, their magazines, and his musical heroes.
"What the straight world didn't get right is that it didn't fuckin' matter if a straight boy wore make up," he says to me, proud of the culture that The Smiths created for such boys to do so without judgment.
Marr's post-Smiths life brought him back to Los Angeles plenty of times. He recalls other "big L.A. moments" that include playing in front of 70,000 people at the Memorial Coliseum with The Pretenders as U2's support act on their Joshua Tree tour; playing with The The at the Wiltern in 1989 on the Mind Bomb tour; and Electronic's first show at Dodger Stadium opening for Depeche Mode in 1990.
Fast-forward to 2010, when Marr marked another big L.A. moment while working with Hans Zimmer on the score for the Christopher Nolan thriller Inception. "Back when Inception came out, we did the premiere at the Chinese Theatre. It doesn't get any more Hollywood for a British musician," he muses.
He also mentioned that the first movie soundtrack he played on was Dennis Hopper's 1988 film, Colors, about cops and gangs in East L.A.
"What I was attracted to about Los Angeles, without knowing what it was, was that it's a creative place — you can invent yourself in L.A." Marr cites examples from Dr. Dre and Eazy-E to Zoot Suit Riots that represent the richness and influence of the "artistic communities" in Los Angeles that have inspired his own creative output over the years.
He acknowledges a personal connection to these communities, describing himself as someone from an immigrant, Irish, Catholic, and working-class family in northern England. "We built all the roads and brought all the music," says Marr, referring to the Irish contributions to an English society that nevertheless regarded them as second-class citizens. He recognizes such parallels in the stories and music that come out of L.A.'s subcultures, which very much "sounded familiar" to Marr.
RELATED: Interview with Thee Commons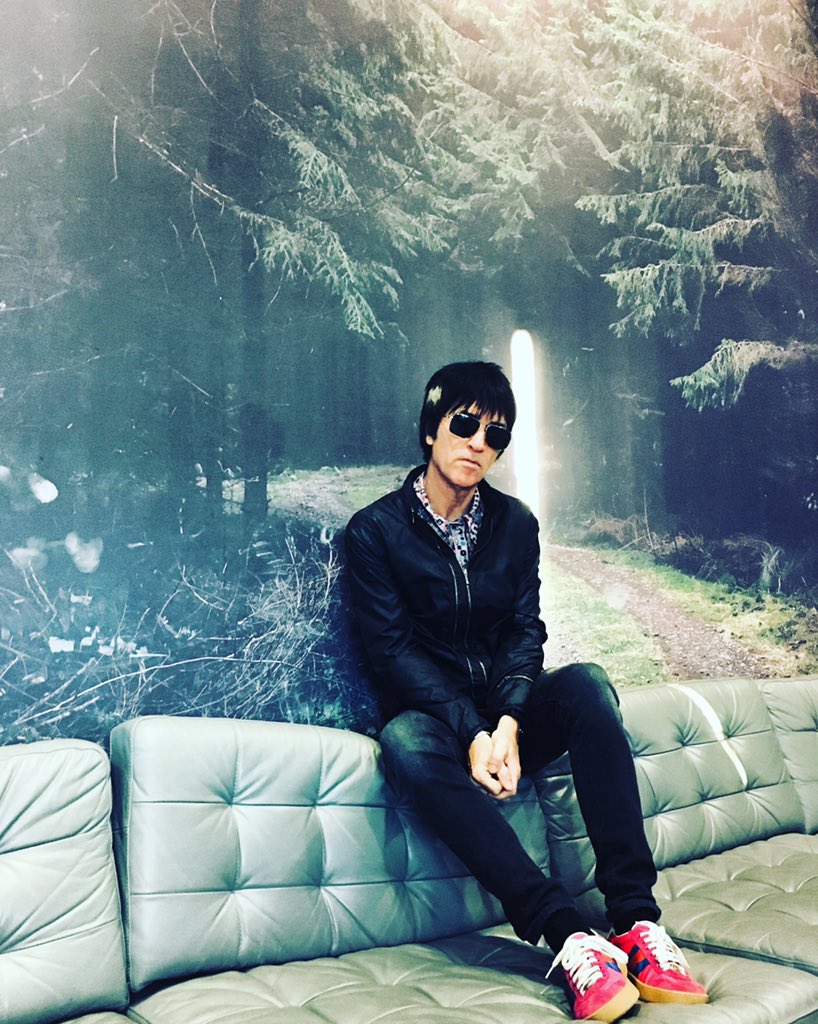 L.A. Life
[dropcap size=big]O[/dropcap]ver the years, Marr says that he got to know several parts of the city. One of the first places he lived was Kings Road in the Hollywood Hills because Huxley lived there, and the hills remain his favorite part of L.A.
"Now that I work in movies more, I'm in Santa Monica and Venice a lot," says Marr. He was on his way to Pasadena after our lunch and also mentioned visiting friends in the Eagle Rock, Silver Lake, and Glassell Park.
"And the Valley," Marr says, recounting another L.A. story for me about the time he ran five marathons in one week. The Cribs has just finished recording Ignore the Ignorant. "We were staying in the Valley," Marr says, "I'd take off for three hours and run." He got to know the Valley quite well.
"A big part of my life in L.A. is Shamrock Tattoo," Marr adds, calling the social club owner and tattoo artist Mark Mahoney a friend. Marr got his first tattoo at Shamrock when he was with Modest Mouse. "I wanted to show my commitment to the band," he says. "And a tattoo was a great way to do it."
Marr said he came back to Shamrock because "it was a place that felt soulful. It had a family atmosphere, but it was still refreshingly underground and authentic. And Mark Mahoney does the best work."
Marr has fourteen tattoos now, all done exclusively by Mahoney at Shamrock. As he tells me this, he turns to show me the ray bird tattoo on his neck, then rolls up his left sleeve to show me several more, all black-and-grey fine line inking done by Mahoney, including a portrait of Aldous Huxley on his left biceps. As I admire the image of Huxley and all the other Mahoney tattoos on Marr's arm, I recognize the familiarity of the style — puro Chicano homie fine line art.
"It's Mexican-style," says Marr, pointing to Mahoney's work all over his arm, and I smile. "You have a Mexican-style tattoo, and I have an Irish-style tattoo," I say, telling him about the Claddagh tattoo on my shoulder.
There we were, showing each other tattoos, and I can't help but ask him really quickly about Ireland, shamelessly telling him about my recent six-month Irish Fulbright stay in Limerick and how I totally understand what he means about feeling familiar in a distant place, one he had only read and heard about through pop culture.
"The great thing is that I have my own band now, so I get back to Ireland often," says Marr. He has played the big Electric Picnic festival in western Ireland, and when his tour lands in Dublin next month, his family's hometown of Athy will honor him as part of its "Made in Athy Musical Trail," a celebration of the Irish town's musical history and links to some of its biggest stars.
The bill arrives, which means my time with Marr is near the end. I thank him for his generosity and all that he shared about his life in Los Angeles. I asked him two more burning questions for our Taco readers that Marr kindly answered:
What are some of your favorite places to eat in L.A.?
"I come here a lot," he says of Crossroads. "And when I'm in the studio — I'm a studio rat — and when I'm lucky enough to eat, it's Café Gratitude."
Have you tried any vegan tacos here?
"Yes, at Trejo's Tacos."
Final L.A. thoughts?
"In thirty-plus years, I've got different relationships to different parts of the city," Marr says. "I don't think it's ever gonna end."
Let's hope it never does.
(Quotes not from the interview are taken from Marr's 2016 autobiography, Set the Boy Free. The writer wishes to thank L.A. Taco, Chloe Walsh, and Johnny Marr for making this happen.)
RELATED: 10 Artists/Music Genres Mexicans Love that American Music Critics Ignore 'Cause They're Too Obsessed with Morrissey
Melissa Mora Hidalgo was born in Montebello and grew up in the L.A./O.C. borderlands of East Whittier and La Habra. She holds a Ph. D. in Literature from UC San Diego and is the author of Mozlandia: Morrissey Fans in the Borderlands (Headpress UK, 2016).
Read More:
Stay in touch
Sign up for our free newsletter